This post is a paid for advertorial in collaboration with Olympus PEN and Karen Millen.
07/10/16
Improve Your Fashion Blog Photography
And Meet me for some Photo Tips!
With the new
Olympus EPL8
now finally arriving to the UK, it is the perfect time for some blog photography tips. I have been meaning to offer some advice as to how to make the most of your Olympus Pen, or blogging camera, for some time, and with a new camera update, it couldn't be more appropriate. You probably know that I have been a huge fan of the Olympus Pen for a few years, and so many of you picked up a camera last year when I worked with Olympus to offer you an insane discount code to buy one. So I know there are a multitude of bloggers and aspiring photographers out there armed with the Olympus Pen, which makes me so happy.
This is a wonderful camera. Compact enough to fit in your bag but with some fantastic features that makes this camera the perfect blogging accessory. Its aesthetics make it a flatlay queen, but there a number of technical aspects to this camera that really do make a huge difference for photography and vlogging. I have used this camera now for over two years as my every day vlogging and travel camera!
The flip screen is great for selfies and vlogging on the go and the detachable flash makes flash photography super simple, without hindering the size of the camera if flash isn't your thing. But I feel this camera really comes to life when you invest in compatible lenses. For me, the 45mm lens is the fashion lens. Not extremely expensive (in terms of generic lens prices), but it really can make a big difference to fashion photography. With a 1.8 aperture, this will help to keep you in focus whilst your background is blurred and a perception of depth increased. All of the images in this post were captured on the Olympus Pen EPL7, with the 75mm lens, which does a similar job to the 45mm. It is however a little pricier, and you have to stand much further back to get your subject entirely in shot – yet the quality speaks for itself. The 45mm lens will do a very similar job though and give you very similar results.
But further to that, this camera is quick to capture photos, so you barely ever miss a trick. It has a number of art modes, so you can play around with more creative effects (e.g. pop art, soft focus, grainy film, sepia), as well as Scene modes, that change the lighting and settings according to where you are, such as night scene, sports or macro close ups for example. Or if you prefer, stick it onto automatic and click away without a care. But for those that prefer a little more control, the camera has a Manual mode (M) with full control, Aperture priority mode (A), Shutter Speed Priority mode (S) and Program Mode (P) where the aperture and shutter speed are automatically set.  Such modes are not usually found on such compact cameras, hence why this little gem has that something special.
But it isn't all about the camera, and therefore I thought I'd share some more tips as to how I take my blog fashion photography!
Oh and read on to the bottom of the page to enter a competition to meet me and steal some of my style and photography tips!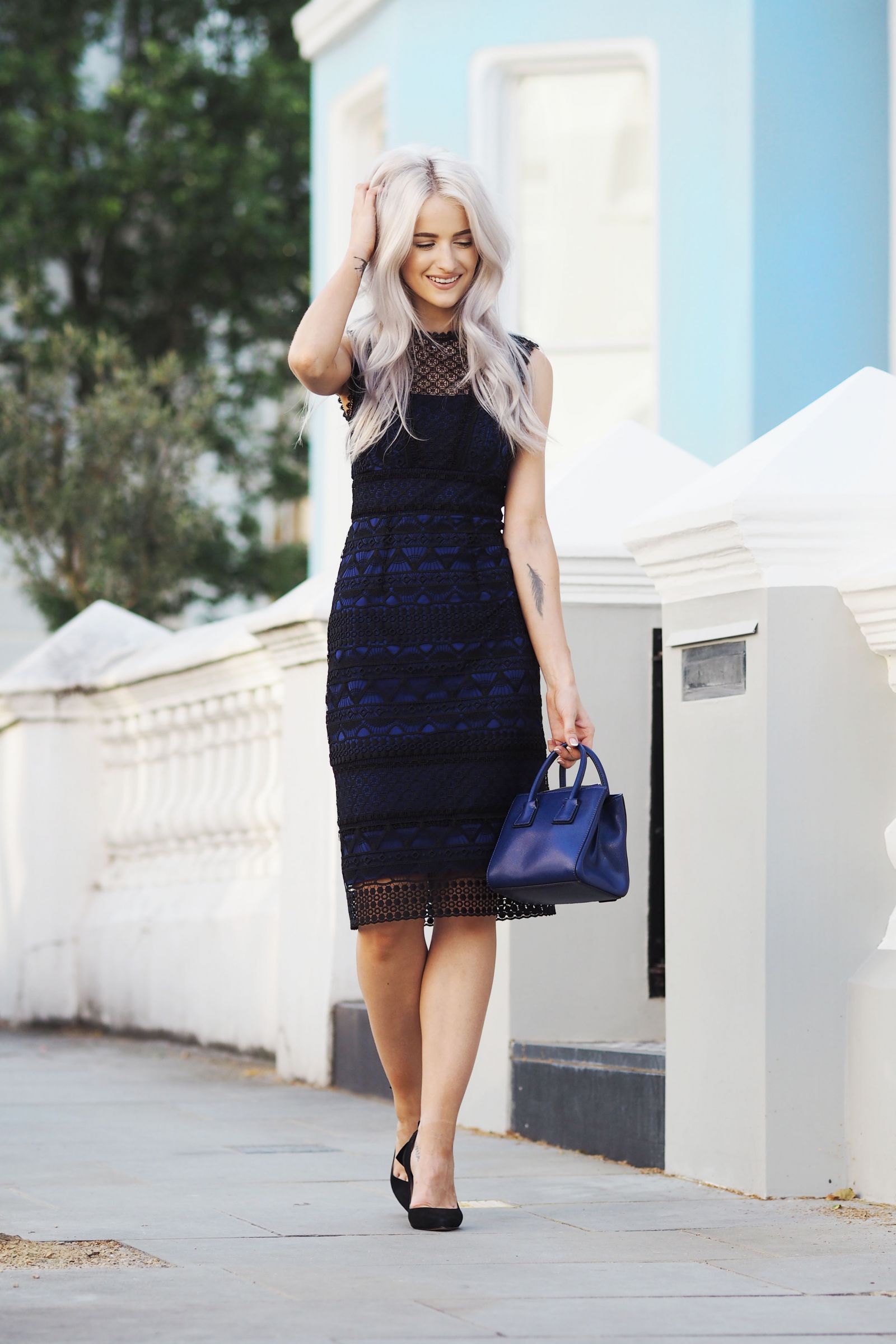 My inspiration for outfit styling comes from everywhere. Vogue, my favourite fashion bloggers, Pinterest, Tumblr and my Instagram feed to name a select few. I tend to find pieces that I adore or that I know will suit my figure, and from there I begin to pair those garments and accessories into outfits. I love to mix textures and colours together and generally like to ensure I have one piece in the outfit that has that talking point or is key for the season. You only need to scan the latest accessories and styles to hit the larger luxury and upper high street stores to notice the trends taking place, and from there it is all about making your own statement and style from them.
This outfit was paired together for a ladies cocktail evening. The type of night spent with your favourite girls in your favourite bar having a glass of wine or a cocktail to start the weekend. The Karen Millen Graphic pencil Dress is classy and sophisticated with the high lace scalloped neck, and the sleeveless lace details are truly flattering over the décolletage. The midi length, just covering the knee, elongates the figure and creates a feminine yet comfortable silhouette and the open lace to the lower hemline provides that final detailed finish. I feel the navy and black shades throughout the dress are a flattering colour palette for so many women and can transcend seasons for an all year wearable piece. I paired it with a navy mini tote and a pair of classic black stilettos. Have a peek here for a little more occasion wear inspiration.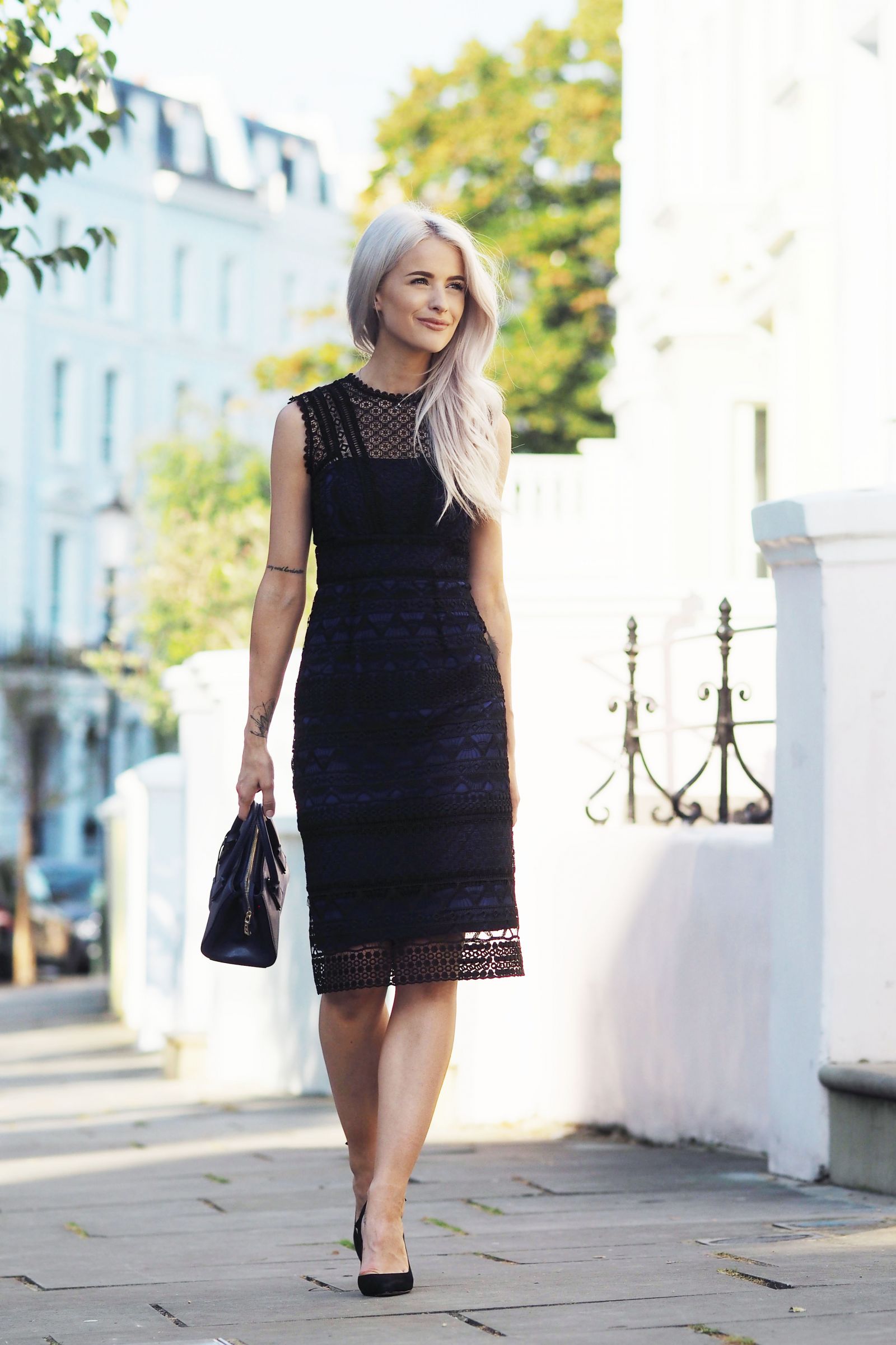 2 .
CHOOSE
YOUR
EQUIPMENT
Choosing the best camera for your desired look is key. If you really want to create imagery that wows your audience, the quality of camera and the lenses you purchase really can be paramount to this. Don't get me wrong, a small, compact camera can do the trick and create fantastic imagery, but it may not have the depth of field (that beautiful background blur) or the sharpness and colour quality that you desire. I remember years ago I emailed Jennifer Grace from NativeFox to ask her what camera and lenses she used. It was the top of the range camera and lens and I was at a point where that sort of camera was well beyond reach. But over the years I played with lots of different cameras and worked out how to make them work for me. Now I use lots of different cameras for different requirements. I will generally have my Olympus Pen to hand due to the portableness of its size and the excellence of its features for what I need. For Fashion Week especially, it's the perfect camera to slip into my handbag for snapping models on the runway. It is quick, easy to use and creates excellent imagery. The 17mm 1.8 lens is my favourite for this sort of image, however the 75mm and 45mm lenses are my go-tos for my own outfit shots. The shots in this blog post were all taken on the Olympus EPL8 with the 75mm 1.8. The depth of field on this lens is wonderful and creates such high quality imagery for such a small bodied camera.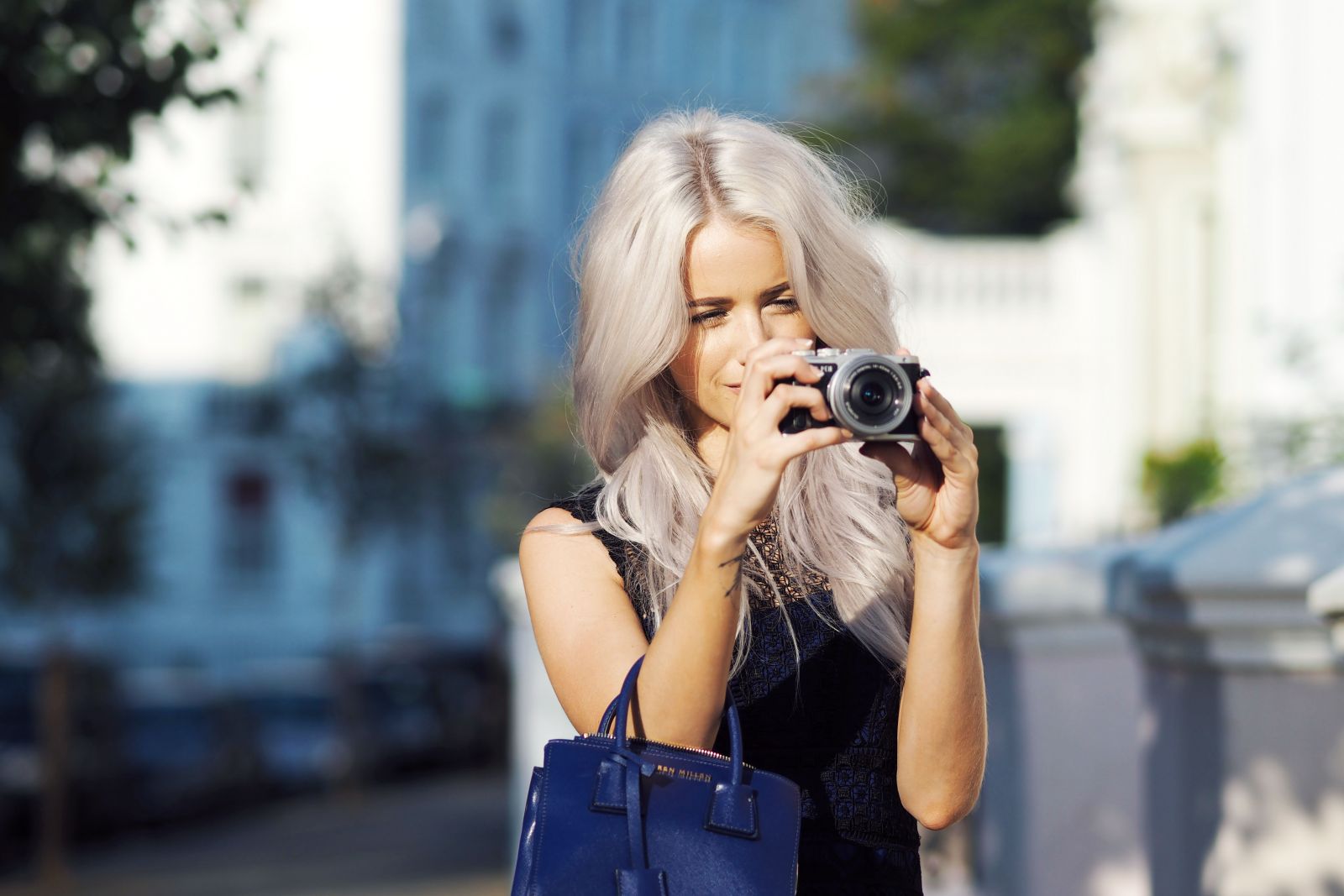 3 .
LIGHTING
IS
ESSENTIAL
The lighting is the one thing that can be the make and break of your imagery. If the sun is too bright and overhead, the shadows will be cast all over your face and create unflattering shapes. If the sun is gone altogether, your camera will be struggling to stay in focus and high quality and you will find your images may appear grainy. I prefer to shoot when the sun is at around the 4pm mark. It isn't quite set, but it is casting a golden light over your location. This helps to enhance colours, skin tones and in some cases blur out imperfections due to the exposure of the sunshine. In these photographs, we shot with the sun directly in front of me – helping the sun to shine directly over me and my outfit. However, it does cause issues with your eyesight and I always need to take breaks away from staring in the direction of the sunshine. It all depends on how bright the sunshine is that day. If you take your shots with the sunshine behind you, you can create great silhouette shots where the sun is peaking over your shoulder and creating lens flares. This can look so beautiful, but beware that your outfit will be in low light due to the camera trying to deal with the sunshine being directly in the lens. You just need to play around with your settings, and quite often use photoshop later to crank up the brightness of you and your outfit but to retain the colours and brightness of the sunshine from behind.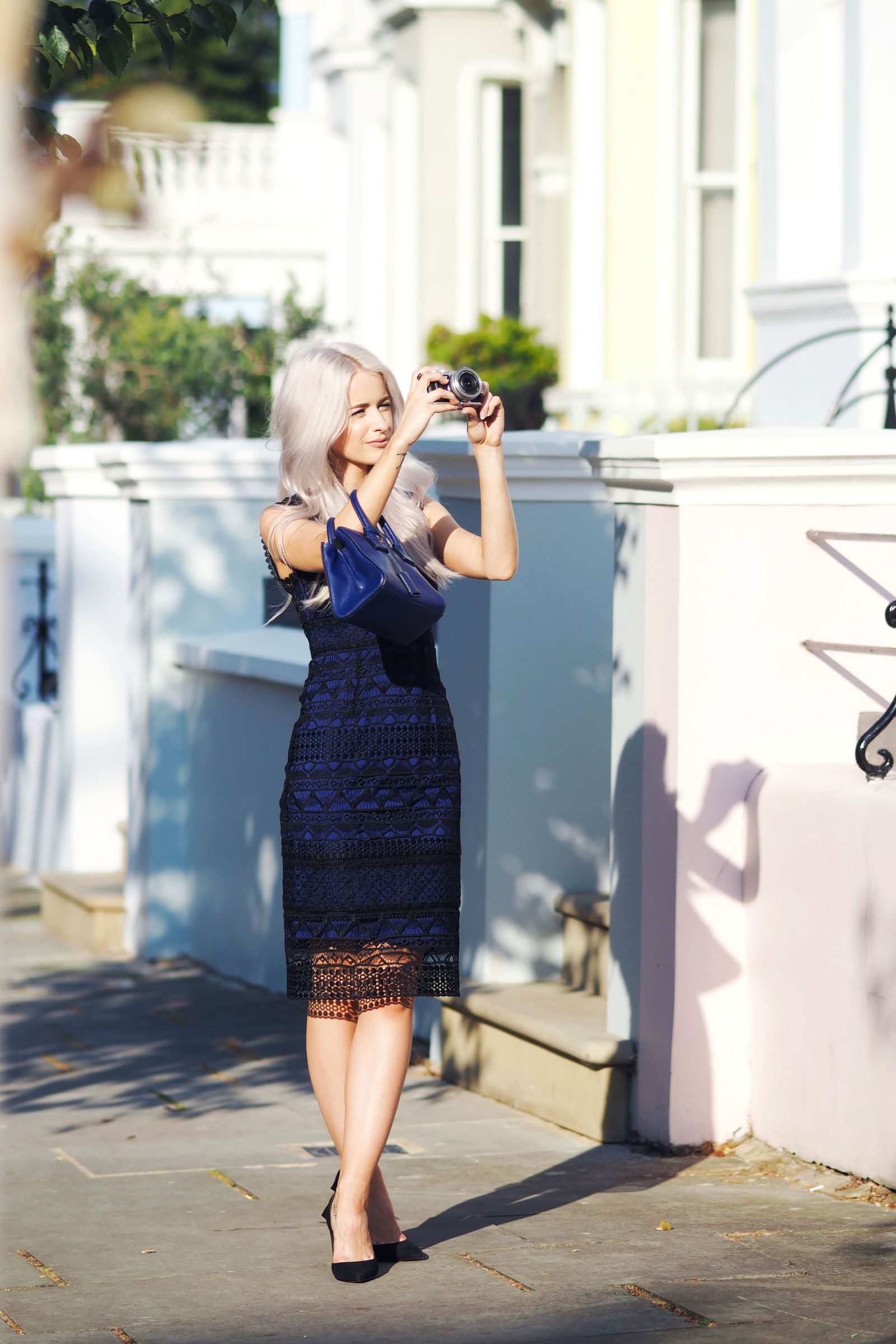 So many people I know have bought top of the range cameras and the Olympus Pen, and as they are unsure as to how they can make the most of it, they set it to auto every time they use it. This is fine and auto will try to make the most of the environment you are in, but it won't give you the ultimate control to get the very best of your photo. The main things to keep in mind are the aperture, the shutter speed and the ISO. If you can get to grips with how to work with those three settings, it will vastly improve your photography. The aperture, or the f-stop, I like to keep at around 2.2-2.5 when I am the subject. Any lower than this and your camera will be struggling to get everything in focus. I'm sure you've seen shots of people where literally one eyelash is in focus and everything else is not. That is because they had set their aperture too low. 2.5 is usually the perfect setting for me, making sure that my whole outfit is in focus and the background is blurred. The higher the f-stop, i.e the higher the numbers going up from 4 to 10 for example, the more your camera will be getting in focus, and therefore less blur.
For the shutter speed, the lower the shutter speed, i.e 0-150 for example, the more light will be entering your camera and therefore will brighten up your photo. So if you're taking shots and it is too dark, lower your shutter speed to bring in more light and brighten them up. If your shutter speed is set too high, say 2500, the less light it will be allowing in. So if you're stood outside in a really brightly lit, sunny street, you may want your camera on around 800-2000 shutter speed, as the sunshine is providing the light for you and you won't need to let in so much light.
But then, the third setting to master is the ISO, which controls your camera's sensitivity to light. Generally, the lower the camera's ISO, the less sensitive it is towards the light. See it as, the more light you have in your environment (very sunny street for example), the less you will need your camera's sensor to do to process it – and therefore you only need a low ISO. The higher the ISO, in the thousands for instance, the higher its sensitivity to light, which means that you can allow more light into the camera when you're losing your light. Higher ISO settings are often used at night for example. It is often a dance between the shutter speed and the ISO as to how much light and brightness is in your images. Generally if I am shooting in a sunny lit street, I'll have my ISO at around 100-150 and my shutter speed at around 1200. And from there I will dance around, generally more so with the shutter speed, to find the perfect brightness. My camera is set to Manual by the way in order to manipulate all three of these controls.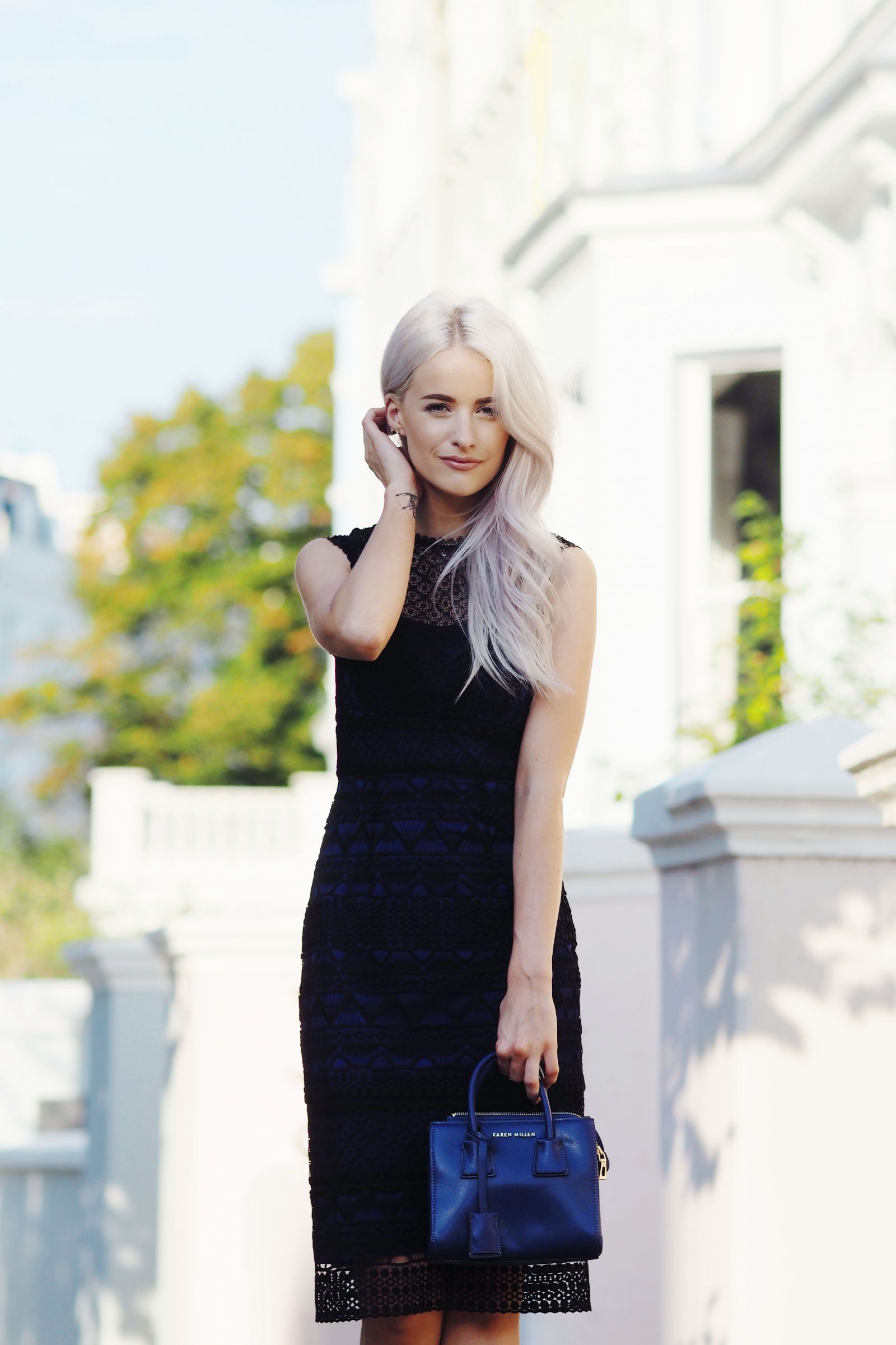 The location of your imagery really does make a difference too. It says something about your look and your outfit. I remember a long time ago I shot an outfit in a church yard, because at the time, it was an outdoor location with real sunshine and would add some character. I was wrong. It looked a little morbid and gave a strange impression to the imagery. It did not work at all. Similarly, taking photographs in your back garden is absolutely fine if you're short on time and just need to show off your outfit quickly. However, moving your imagery to an outdoor location, in a real life situation, to a place where you would generally be walking or sitting or standing, creates a sense of realism to your photographs. People will be able to see themselves stood where you are stood and also wearing what you are wearing. As soon as I realised this, the quality of my imagery and the style of shoots that I created entirely changed.
Finding great locations can be time consuming and difficult though. I like to keep an eye open when I'm in a cab, searching for streets that look aesthetically beautiful, houses that look interesting or for places that could be great for a more editorial piece. I tend to write down the street names in my phone and come back to them when I have a particular outfit or project in mind.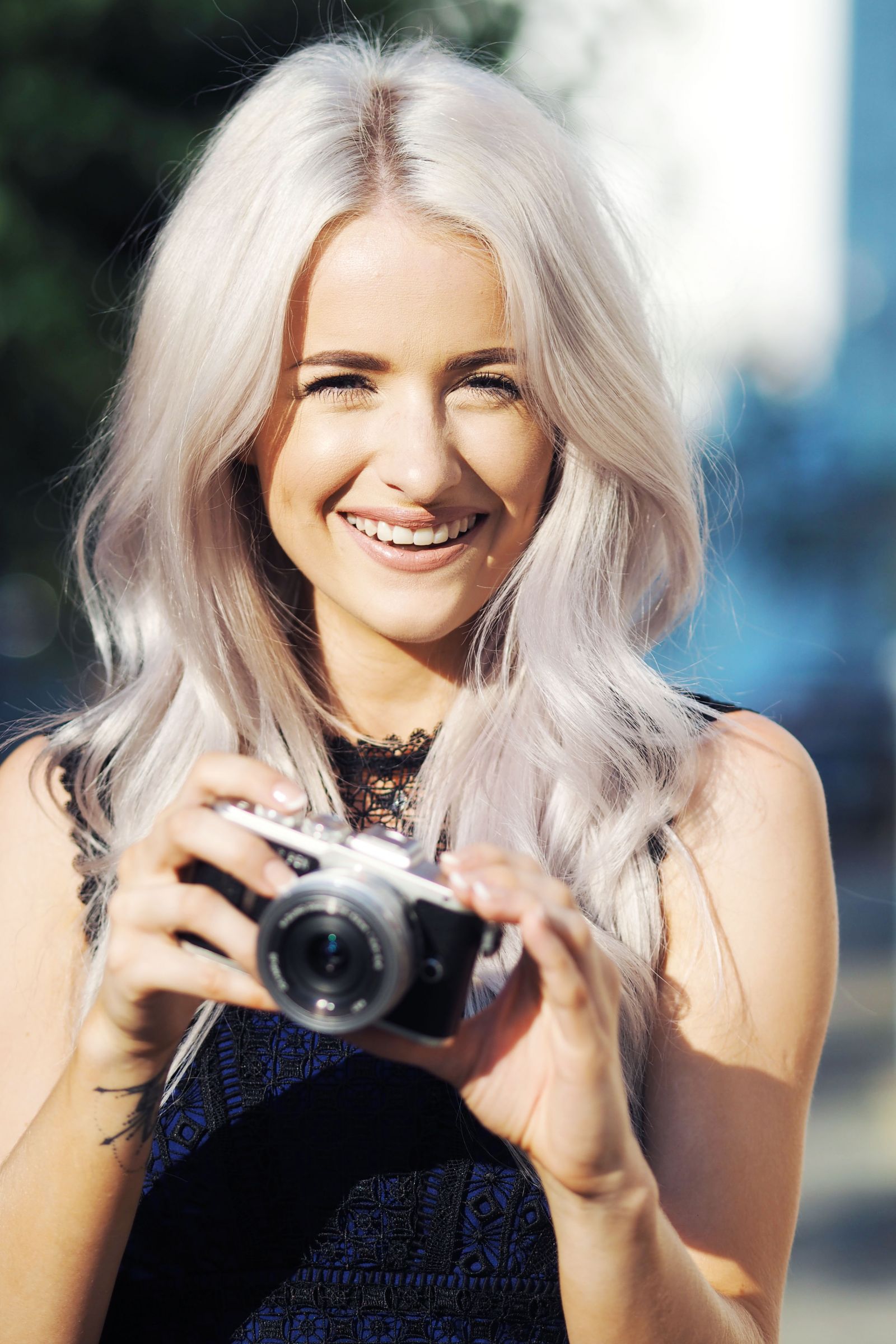 You may notice on my blog that there is a bit of a theme when it comes to my imagery. Whilst I want to show you my outfit in full, so you can get a great feeling for how it looks overall, I also want to give you an idea of the fabric quality, the details on the shoes or the bag or to offer more angles of the key pieces. It's the way I like to look at imagery and to be inspired, so I like to offer that to my readers too. I have a few full length outfit shots in both portrait and landscape, a few mid shots including my upper torso, a number of close ups of just my neck upwards, to show details like my makeup, necklines or sunglasses. I also like to include close ups of the bag, my shoes, the fabric on the dress perhaps. As well as some imagery of my location to give more context.
And when it comes to poses, due to posing for a living for the last three years, I have worked out a few angles that I like. I want the imagery to be fun and happy so I prefer to smile in a lot of the photos. Yet at the same time, I like to retain some realism and include imagery that feels a touch more candid and 'papped'. Play around with different poses and don't feel awkward or shy. It's your way to work out what looks best for you. Try it out in front of the mirror or have someone you feel totally comfortable with, taking your photos. And just work it!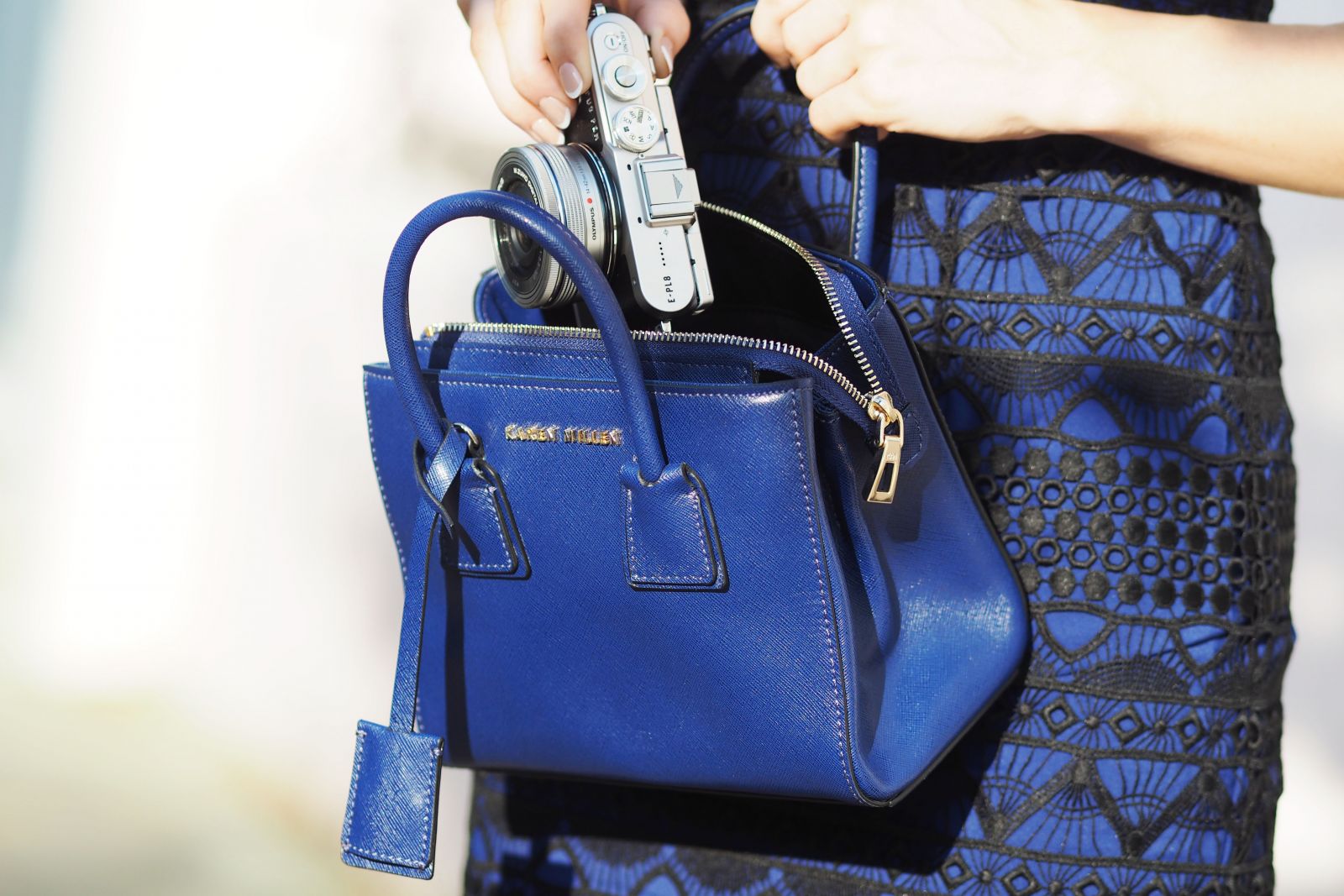 If you also have an Olympus Pen EPL7, or the newer EPL8 as you can see here, you may like a few more top tips for usage. And as someone that has used and loved this camera for a number of years, here are my best tips for getting the most out of this compact camera.
Find the smart screen. This camera has a super smart mode, but it is tucked away. Do this step before you start using your camera, as it will save you so much time. Go to Menu > Custom Menu (fourth setting down with a cog symbol) > go to option D >  Control Settings > iAuto. In here select the LIVE SCP mode and untick the other two. Now go back to the previous screen and to P/A/S/M. Again select LIVE SCP and untick the other. Go back and select Art and select all three options. And once more, go back to SCN and again select all three options. Now, go back to your main photo screen to take a picture and press OK. You will see a large smart screen pop up! This will now enable you to manage so many more controls on your camera, such as the size of the image, the saturation, the colour balance, the ISO and the white balance. Play around with this for a while until you work out what everything can do.
The P Mode and the A Mode, otherwise known as the Program and Aperture Priority mode, I find to be the modes I use the most. If you want to be able to play around with your exposure a little easier, go to 'P' and use your spin wheel, on the top of the camera to the left of the on/off button. Spin it right to brighten your image or left to darken it – this will come in so handy when you're out and about or vlogging. In 'A' mode, you can have more control over your aperture and background blur. In this mode, use the same spin wheel to change the settings of your aperture. Remember that the lower numbers provide more blur, higher numbers provide less blur, due to the amount of light the aperture is allowing in. By the way, I'm trying to be as least untechnical as I possibly can be here, so that it makes much more sense to anyone who is struggling. For anyone who gets their cameras, you probably get this already.
Competition Time!
Firstly, I really hope this was inspiring and/or helpful! If you have any other specific questions on the camera, feel free to tweet me @inthefrow or comment below and I'll either add it to this post or reply right back to you!
AND now is the super exciting bit!
Come and join me for a special event at the Karen Millen Covent Garden Store on the 19th October from 6pm! I'll be sharing my styling and shooting tips with you as well as lusting over all of the clothing! Plus you'll get the chance to get behind and in-front of the camera too! Places are limited, so as soon as you can, just visit the Karen Millen x Inthefrow page to find out more and RSVP! Can't wait to meet some of you there!
Sign up here for a weekly catch up of everything Inthefrow