15/10/16
Kirini Mykonos Retreat
For Ultimate Peace and Quiet
After covering three recommendations of
where to eat and drink in Mykonos
on the blog, I felt I needed to give a touch more info on where we stayed. Mykonos is becoming unbelievably popular for Brits and most Europeans and International travellers alike due to its beautiful scenery and upbeat nightlife. Those white walls set against the cliffside with the bright blue of the sea below – it captures the attention of so many travel and photography lovers all over the world. You really cannot take a bad photograph here. But for those looking for a touch of peace in the daytime and somewhere fun to party in the evenings, Mykonos is a destination that so many people love to return to every single year.
In honesty, the party scene isn't really my thing, which is why our hotel, the Kirini My Mykonos Retreat, was the perfect place for us to stay. It was so secluded and quiet, position on an unnamed road about 15 minutes cab ride away from Mykonos Town. We did head into Mykonos Town one evening to experience it, and it's got so much going on there from restaurants to photography hot spots and little stores. Plus the nightlife. But for some ultimate relaxation, Kirini Mykonos, alike to Katikies in Santorini which we visited a few months earlier, was the perfect spot. Beautiful scenery, peace and quiet and wonderful staff.
Be aware though, that with only 15 cabs on Mykonos Island, hailing a taxi doesn't really happen. You can pick up a cab near the centre of Mykonos Town, but you might be waiting a little while. However, we were given the number of a private car firm which really helped get from A to B – so make sure you do this! Especially if you want to get out and about. In honesty, I would also think about renting a car if you're interested in seeing a touch more of this Island. But if chilling out in the sunshine, and retreating from pretty much everything, is your deal, then this is the spot you're looking for!
The rooms are super cosy and cute, situated in the white cliffside caves complete with curved corners and arched doorways. There is a really modern and clean aesthetic to the interiors, with white washed wooden tables, bedframe and side tables, but an injection of colour in the bathroom with a bright yellow theme. The shower room is only small, but ample for what you need, and every room is cleaned for you every day. To the outside lay two sunchairs, but in honesty we never used them – opting instead to go along to the poolside for the daytimes to relax (and work). Just above our room was the restaurant too, but we were never bothered with noise whatsoever. It was cosy, clean, chic and a touch of modern Greece.
With two pools, a spa, a bar and a beautiful restaurant, there were a number of amenities to make use of. We spent pretty much every day by one of the pools next door to the spa, as we found it practically secluded every single day. The view over the bay was spectacular, and the pool was always glistening aqua in the sunshine. It also had a smaller jacuzzi pool too which was perfect for just sitting, relaxing and gazing out to the sea, but you could also relax on the sofas that were poolside, or on the sunbeds if you preferred. But to the second pool, there was a bar for any drinks top ups and similar sofas to relax on. So lots of choice depending on where you wanted to bask in the sunshine!
The Spa was also such a treat. We both had an hour long massage which totally relaxed us for the day, and the masseuse was really attentive and happy to show us the vast number of beautifully fragranced oils they had available for the treatment. Of course I headed towards the vanilla and coconut scents, as who wouldn't want to smell like icecream?!
And the restaurant – if you haven't already read my post about the food at Kirini Mykonos, have a peek at this 3 best places to eat in Mykonos post! The food and service is a dream. We ate here for two nights and every morning that we stayed there and could not fault it. If you're staying at Kirini, I would definitely suggest you eat here at least one evening, as it really is delicious and the view is perfect.
Are you tempted to head over to Mykonos? Be aware that this is probably the windiest place I have visited, but in the warmer summer months, it is a great way to keep cooler. But for taking photos, its quite the feat! Yet, for those that enjoy a retreat in the gorgeous sunshine with a touch of seclusion, Kirini My Mykonos Retreat is really one for those that wish to escape. We found ourselves feeling overwhelmed on one evening that we strolled into Mykonos Town, as we had become so used to the peace and quiet at Kirini! So for those that want some time away in a luxurious setting, then this is a wonderful retreat spot. Plus, with just a fifteen minute taxi ride into the town, you can have a bit of both worlds. More restaurants, sight seeing spots and beautiful Mykonos streets to get lost in – but at nights you can retreat back to Kirini for some R&R!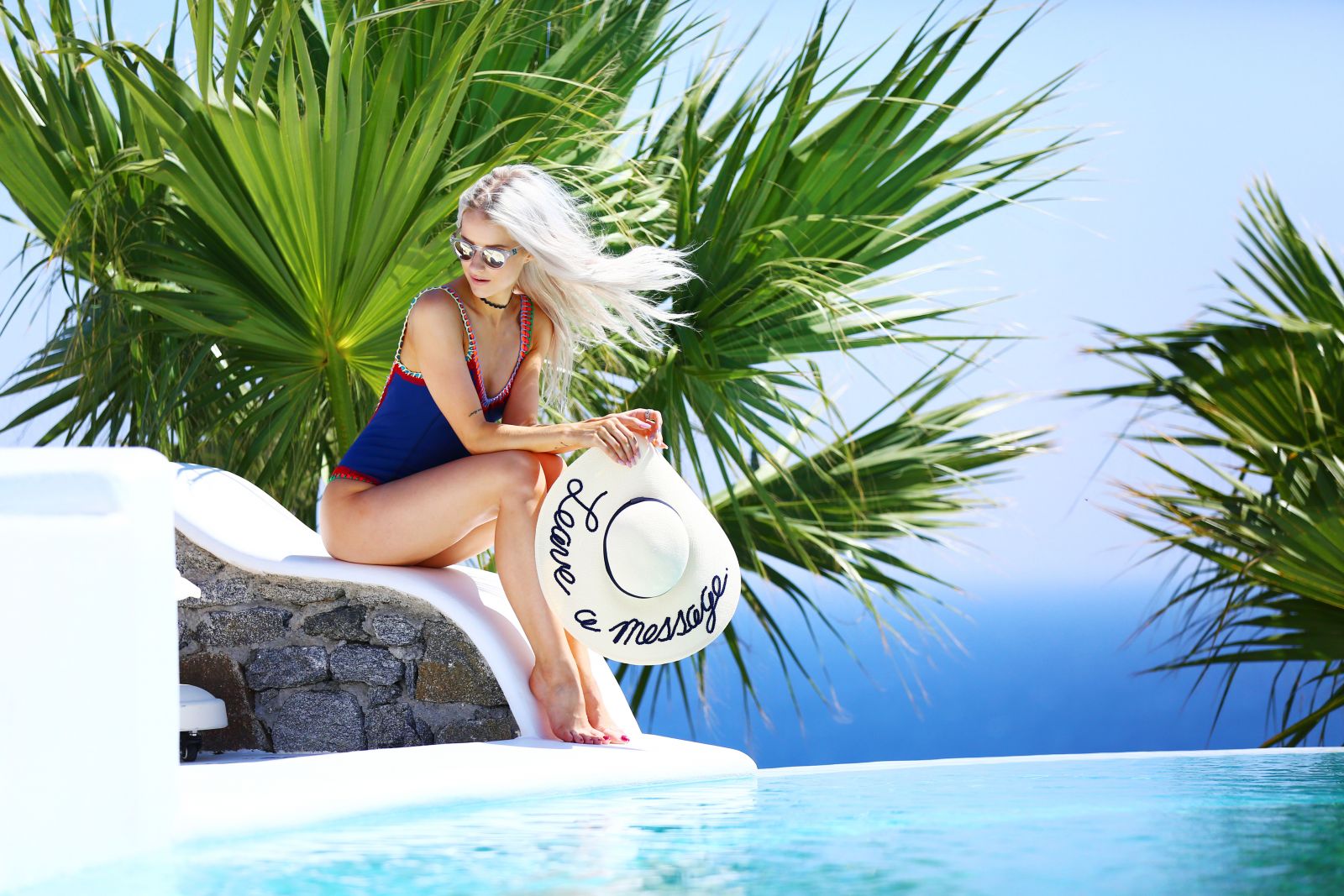 Thankyou to DiscoverGreece for inviting us along on another beautiful Greek adventure! For more info on Greece, please visit Discover Greece.
Sign up here for a weekly catch up of everything Inthefrow