05/10/16
I'm a L'Oreal Paris Hair Ambassador
And I Still Can't Believe it!
It just dawned on me that I hadn't shared my huge and exciting news on my blog. If you don't follow me on
Instagram
or
Twitter,
which I know some of you probably don't, then you won't have heard what has recently happened. So here's the goss… if you didn't happen to read the title.
I have just been signed to the one and only L'Oreal Paris as a Hair Ambassador. Yep, me. And my hair! Can you actually believe it?! Four years ago, starting this blog, I never would have thought I would have had the opportunities I have come across, and to actually call myself a L'Oreal Hair Ambassador is literally a dream come true. But seriously, a beauty bloggers dream of dreams, coming true, right now.
It is me, alongside a small group of gorgeous UK blogging and Youtubing gals, known as the Beauty Squad. And my particular role is all things hair. I'll be bringing you lots of new info and demos of the latest new L'Oreal Paris Hair products to hit the shelves, on both the blog and my Youtube channel. I'll also be popping up on the L'Oreal Paris Snapchat from time to time as well as the L'Oreal Youtube channel. So where you see something new has come out from L'Oreal Paris hair, the chances are that I will be covering it first!
And I could pinch myself at how grateful and happy I am to be given this opportunity. L'Oreal is the hair brand of hair brands, with the most incredible spokesmodels, wonderful teams and the most innovative technologies behind the scenes. And I have never felt more proud to collaborate with such a huge beauty brand on such an enormous project. An ambassadorship is something that every blogger probably dreams of; I know that I did. And it is all down to the support of my readers and followers that I have been given this wonderful opportunity. So thankyou, to all of you, for always being there, for reading this and for supporting me over the last four years, in any way, shape or form!
And the reason I mention this now? I was putting together the images for this post, taken just a few days ago in Paris during Paris Fashion Week, where I was staying with L'Oreal Paris. And I realised that this is the beautiful city that I may be spending quite a few weekends in the coming year! And, this was my first trip with L'Oreal as one of their new Ambassadors, visiting the Paris team as a member of the family. It feels surreal!
But this was my outfit for our first day in Paris, attending a number of shows and visiting the team! I couldn't wait to share this Roksanda dress with you – it is truly adorable! The fabric, the drape, the texture and the colours are the perfect harmony. I am absolutely in love. And with this regal accessory from Launer London, it felt like such a feminine and dainty combination. You can buy this exact colour way in the Royal navy, white and gold just here, with proceeds from the sales of this design going towards the Queen's charity, the Queen Elizabeth Scholarship Trust. But there are so many beautiful Launer London bags in varying colour ways to choose from – I just know I will probably invest in the stunning patent baby pink at some point, as that is what attracted me towards this brand when I first discovered it.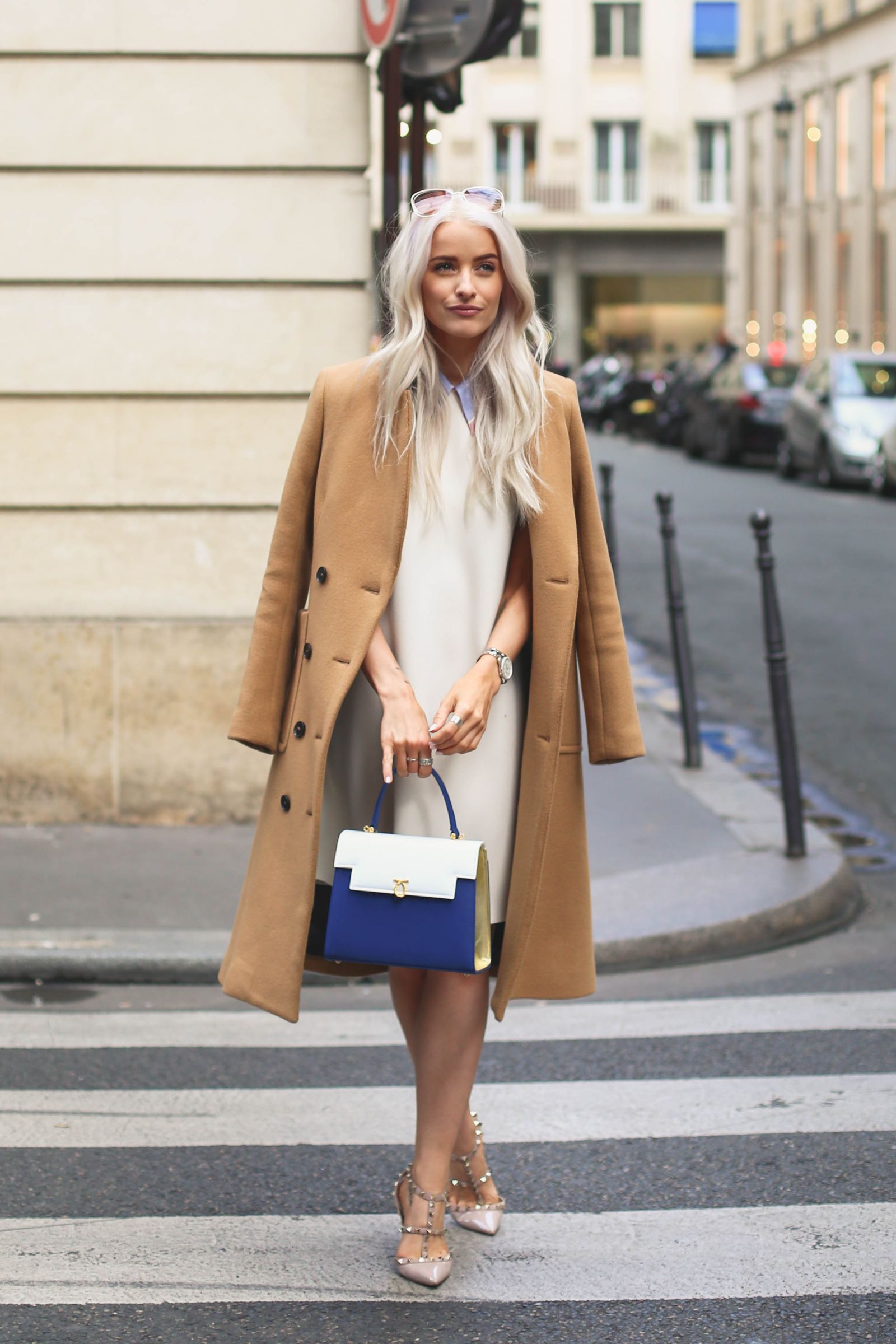 I cannot wait to hear what you think of the news!!
Sign up here for a weekly catch up of everything Inthefrow