13/10/16
3 Places to Eat in Mykonos
The Restaurants I would highly Recommend
Let's be honest, Mykonos is one of those trendy places to be seen right now. A whole host of Instagrammers made their way over to the beautiful Greek Island over the last year and everyone wanted a piece of the Mykonos pie. I know that I did; hence why I booked a flight over there to see it for myself. And I feel that the Island is going to be on the hit list for a few years to come. It happened to Santorini six months before, the Maldives six months before that, and each place became that dreamy, must-visit destination at the top of most people's travel lists.
I love that Instagram can have that effect on a country or Island's tourism though. The beauty of Instagram as a platform, is its visual focus and the way in which you an tell a story via imagery. There has never been a platform like it before and thus, people are becoming more inspired by certain trends, places, people, things to eat and drink, because they are seeing it laid before them in the most perfected, filtered way possible. And honestly, I don't think it is necessarily a bad thing. Instagrammers can show the public a subject in a wonderful light and provide a touch more inspiration for everyone to try it for themselves. And through this, a number of restaurants have thrived, as have particular hotels, designers, products, clothing and countries even. The power of social media!
But, because Mykonos is such a gorgeous Island to visit and we had such a wonderful time there, I figured I wanted to share just a tad more info on where to go to eat if you visit. I know a few people have asked me about what restaurants I'd recommend, and there are three on my list.
Kirini My Mykonos Retreat
Okay, so I'm slightly biased here as this was the restaurant at our retreat hotel, Kirini Mykonos. But honestly, there are not many hotels that make food this delicious. Whether for a delicious breakfast in the morning, or an evening meal, this is truly a restaurant to visit. The staff were so friendly, helpful and attentive; always going that extra mile. And the view over the sea from the tables is absolutely beautiful. There is also a low seat covered in cushions looking out over the sea that we frequented for a couple of nights with a glass of wine. So perfect.
For breakfast, we opted for the same dishes every single day. An iced vanilla latte for me, coffee for Alex, plus a grapefruit juice and orange. For me, scrambled eggs on toast or an omelette, and for Alex, a large smoked sausage, scrambled eggs and tomatoes. And on a few occasions, a delicious stack of fruit pancakes and a fruit salad. The breakfast was included in our hotel room price, so we definitely ate our fill. I'll be covering the aspects of the hotel in another post soon, but for now I'll just let you know, it comes very highly recommended!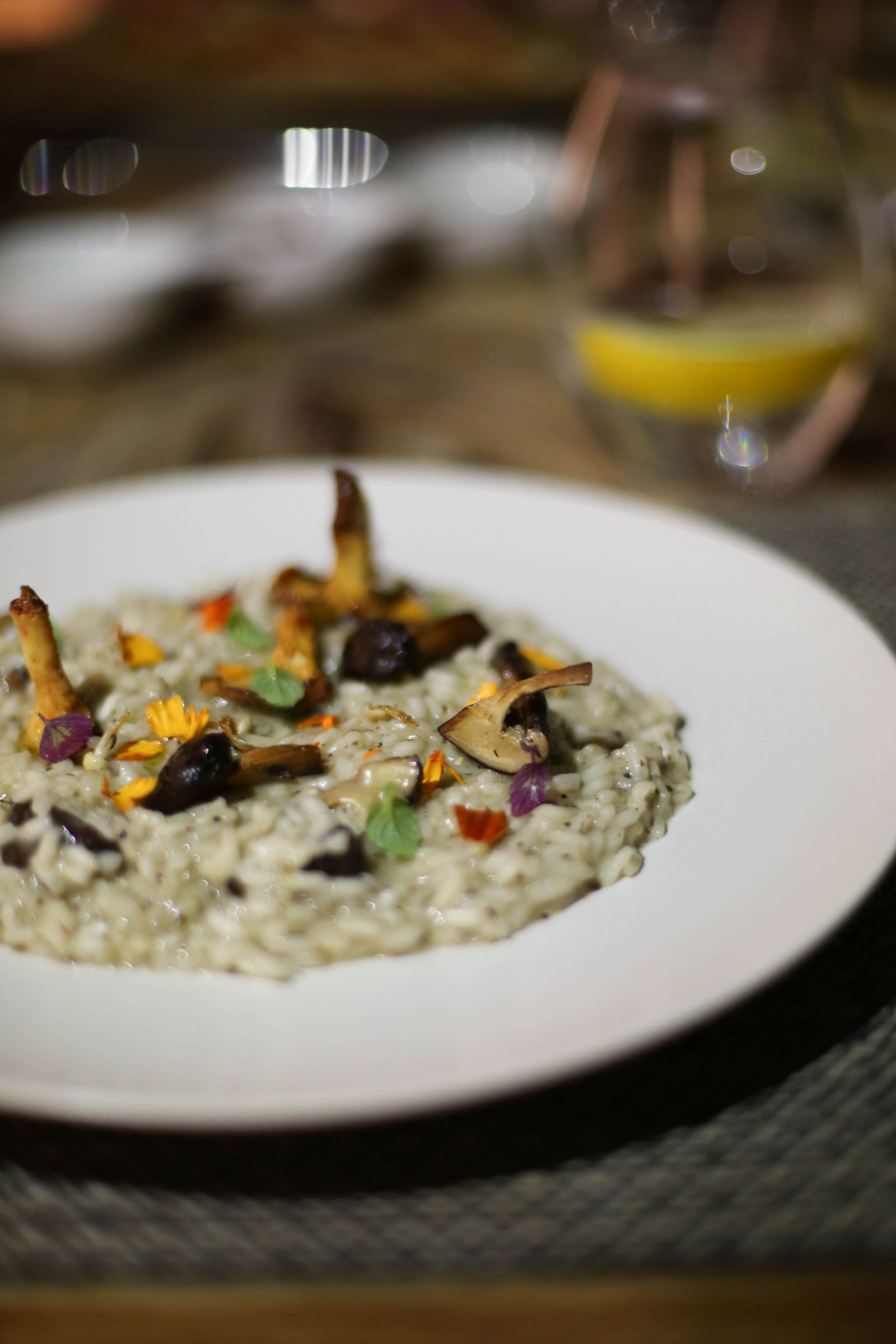 For dinner, there is a concise but fantastic selection of dishes on offer.  From the rolled calamari fried squid, delicious mushroom risotto and the most divine deconstructed Greek Salad, we ate here twice on our trip, and left both times with a smile on our faces. Everything was beautifully presented, alongside the perfect wine choices, the view of the Sea and truly delicious flavours. I really recommend you take a cab over to Kirini My Mykonos Retreat from where you're staying, and try it for yourself. Seeing as the roads in Mykonos all seem to be unnamed, ask for the Hotel at this location: Aleomandra, Mykonos 846 00.
Bill and Coo is the hotel that you may have already heard of. It sits much nearer to Mykonos Town and therefore much nearer to more nightlife and places to walk to; yet isn't too close that you're going to feel claustrophobic. Yet, we went along to try their cuisine after a recommendation and I would put it high on my list of favourite places I have eaten. The restaurant is named the Bill and Coo Gastronomy Project, with head Chef Athinagoras Kostakos developing and creating the most unique and sensory dishes. It is Gourmet at its best and true Michelin Star quality dining. We were absolutely blown away. Local, fresh ingredients presented in a sensory, experiential manner. I could not recommend this more!
Nesaea is part of the Nice n Easy restaurants group, which you may spot around Mykonos. We went along to Nice n Easy on the seafront in Mykonos Town. You literally cannot miss it on your right as you walk down the steps away from the beautiful windmills. And whilst the view over the sea was beautiful, I must admit the hustle and bustle of this much faster type of restaurant, felt a little busier than what we were used to. I'm definitely the sort of gal who likes to feel comfortable, a touch secluded and out of the way of the crowds walking past me, when I'm sat in a restaurant. So in honesty, whilst the staff were lovely here, it isn't somewhere I would go back to – just in my preference.
However! Nesaea is part of the same restaurants group, but with something unique to offer. This is a new project from the group, set in a really up and coming and more secluded Easterly part of the Island on the beach of Agia Anna in Kalafatis. We therefore had a 40 minute drive over there from our hotel on the very west coast, but I feel the trip was justified after eating their food. This is a restaurant for Greek cuisine with a modern, local, farm to table concept. The head Chef was creative, interesting and brimming with passion for his food. He wonderfully brought every dish to our table and asked for feedback, to which I had ran out of superlatives; it really was that superb. The flavours were fresh and distinct and the presentation was exquisite. I just remember thinking, how will they manage to create food to this quality in really high quantities come the height of summer. And I truly hope they're able to. Highly highly recommended, with a very chilled out vibe, a modern, chic decor and a group of friendly staff members.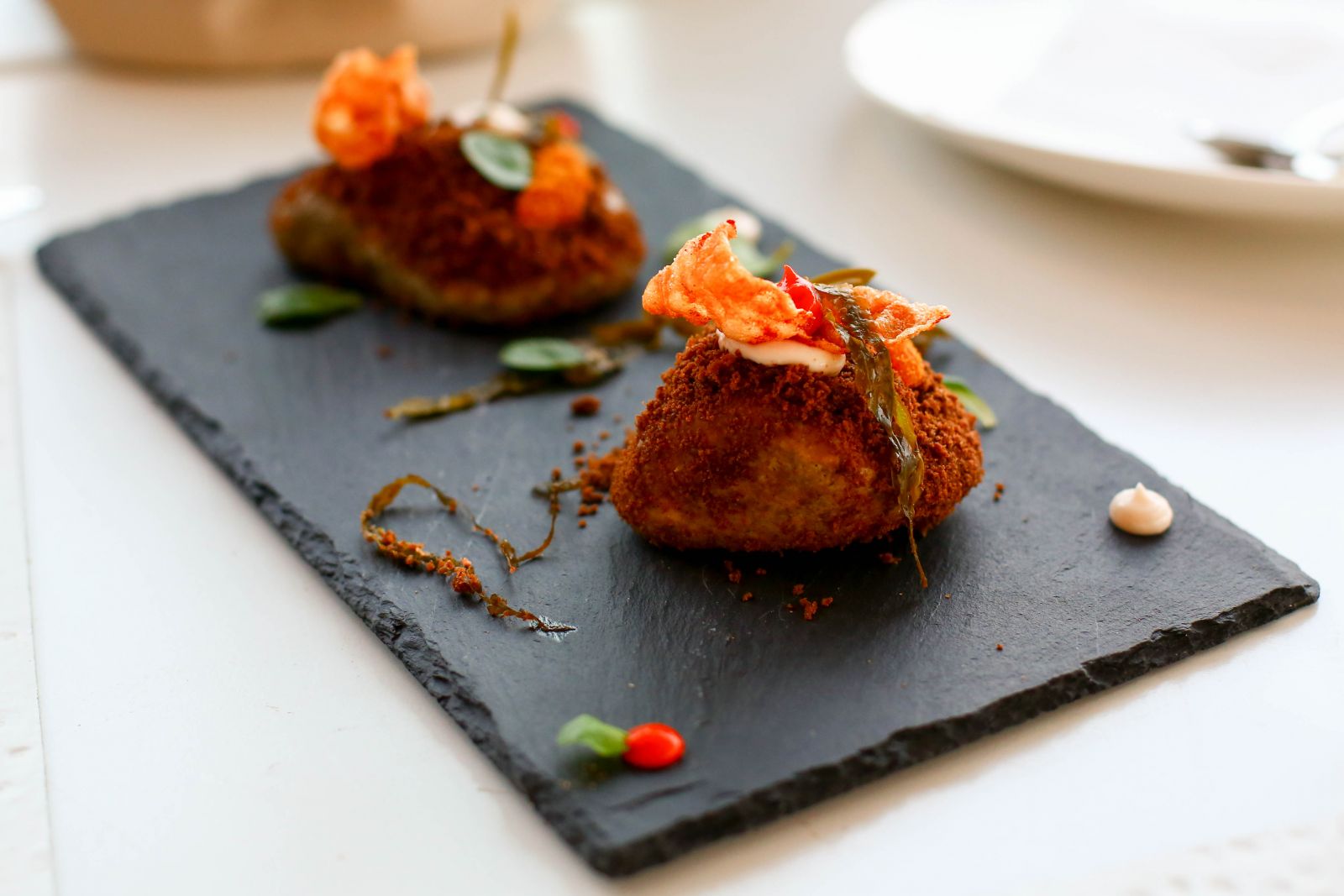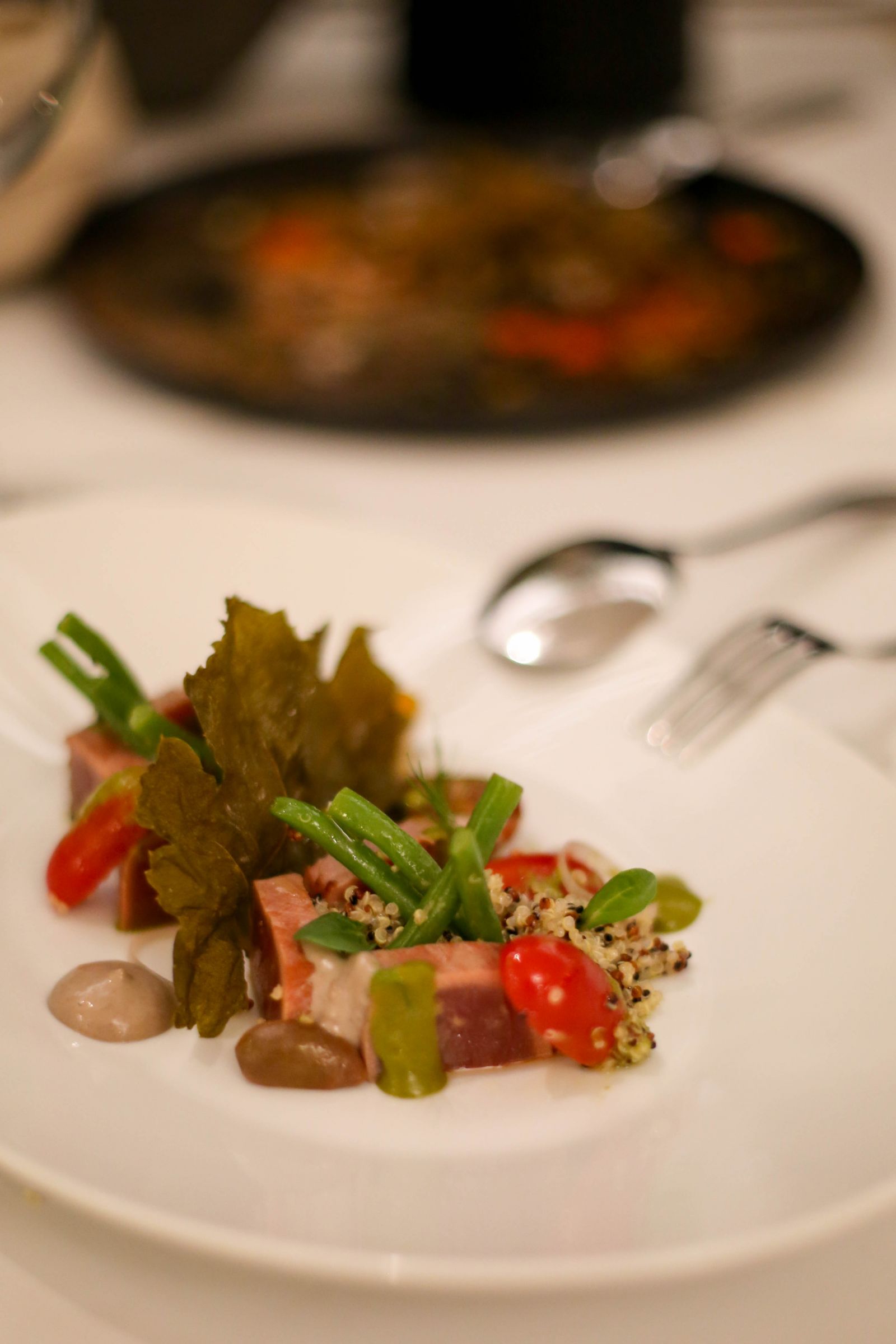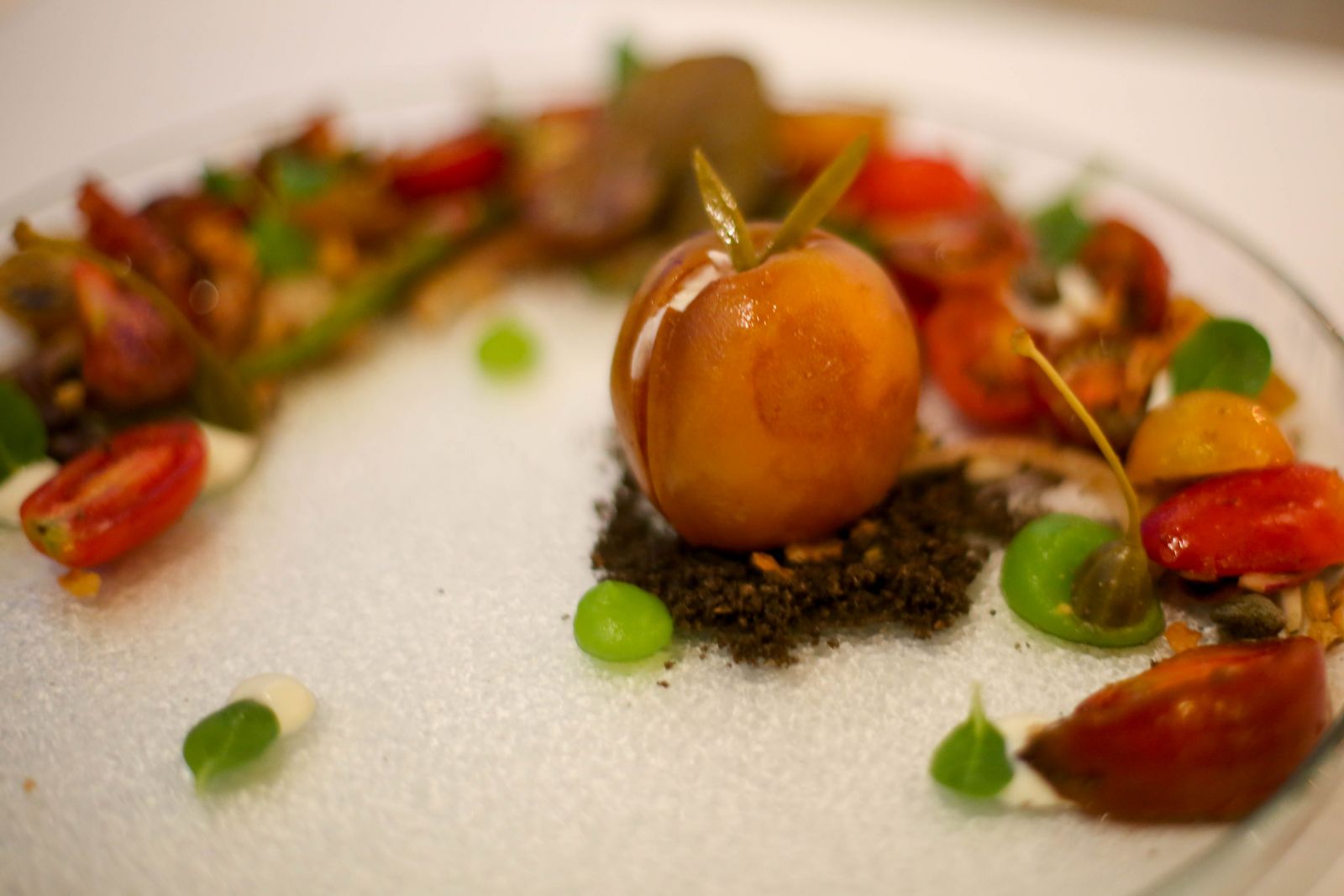 If you have any other Mykonos Restaurant recommendations, please feel free to leave them down below! Have you ever visited any of these three? What did you think?
Thankyou to DiscoverGreece for inviting us along on another beautiful Greek adventure! For more info on Greece, please visit Discover Greece.
Sign up here for a weekly catch up of everything Inthefrow