Bright light city's gonna set my soul, gonna set my soul on fire.
14/08/16
How to Spend One day in Vegas
Las Vegas is not the fave of all, but certainly a fave of mine. I feel it often has that marmite effect on people. Some really don't have much time for the heat, the lights and the dollar signs. I've had numerous conversations with people who aren't all that sure if they would ever return, to which I always look extremely gobsmacked and generally scream "Whatttttt?!" in their faces. For others, Vegas is somewhere to let loose and just take everything with the biggest pinch of salt. It is a city unlike any other, with a slot machine on every corner, a mammoth hotel within 200 feet and the hottest breezes you will ever come across in North America. Truly. I have visited around 35 states, and none were hotter than the city of Las Vegas.
I have been three times now to the Bright Light City and have been taken with it each and every time. It's somewhere to lose your inhibitions, have as much fun as you like, eat, drink and generally be merry. And I couldn't recommend it enough if you're after some time in the sunshine, accompanied by everything I have just mentioned. So, I wanted to just give you a little run down on what I would do with just one day in Las Vegas.
There are so many hotels in Las Vegas and all with a fairly reasonable price tag. Hotels are scrambling for your attention, just to get you into their hotels and onto their slot machines. It just depends how much you're willing to pay and whether you fancy upgrading to a posh suite for the evening or not. I have visited a few of the large hotels in Vegas and have chosen my favourites.
For a cool set up inside an absolutely mammoth hotel/mall on the strip, the Luxor is a hotel I had so much fun staying in. The building is shaped like a pyramid, meaning that the rooms are built upwards around the edge of the triangular shape in tiers, and down below is a casino, theatre, shopping mall and pretty much everything else you will need. You don't really need to leave this place for your whole holiday; which is just what they want.
For something off of the main strip, and back into the old school area of Vegas, the Golden Nugget is a vintage hotel that leads right onto Fremont Street. This is where you can watch a cool light show above your head, as thousands of lights and lasers flash to a music medley from your favourite artists. Think Queen, Bon Jovi etc. I'm probably not selling this to you very well, but it's a lovely way to spend ten minutes of your evening!
But The Wynn hotel definitely trumps them all. This is a tad more luxurious then the rest, with beautiful interiors to the lobby and more refined rooms and features. I treated Alex and I to a Tower Suite room for the evening, which had an awesome floor to ceiling view over Vegas and a mega sized bathroom. Plus a few extra touches that made it pretty special.
For something cheap and cheerful though, the Mirage Hotel is good enough, with more of a Holiday Inn vibe to the decor. But I have also been told the Cosmopolitan, Venetian and Bellagio are pretty special.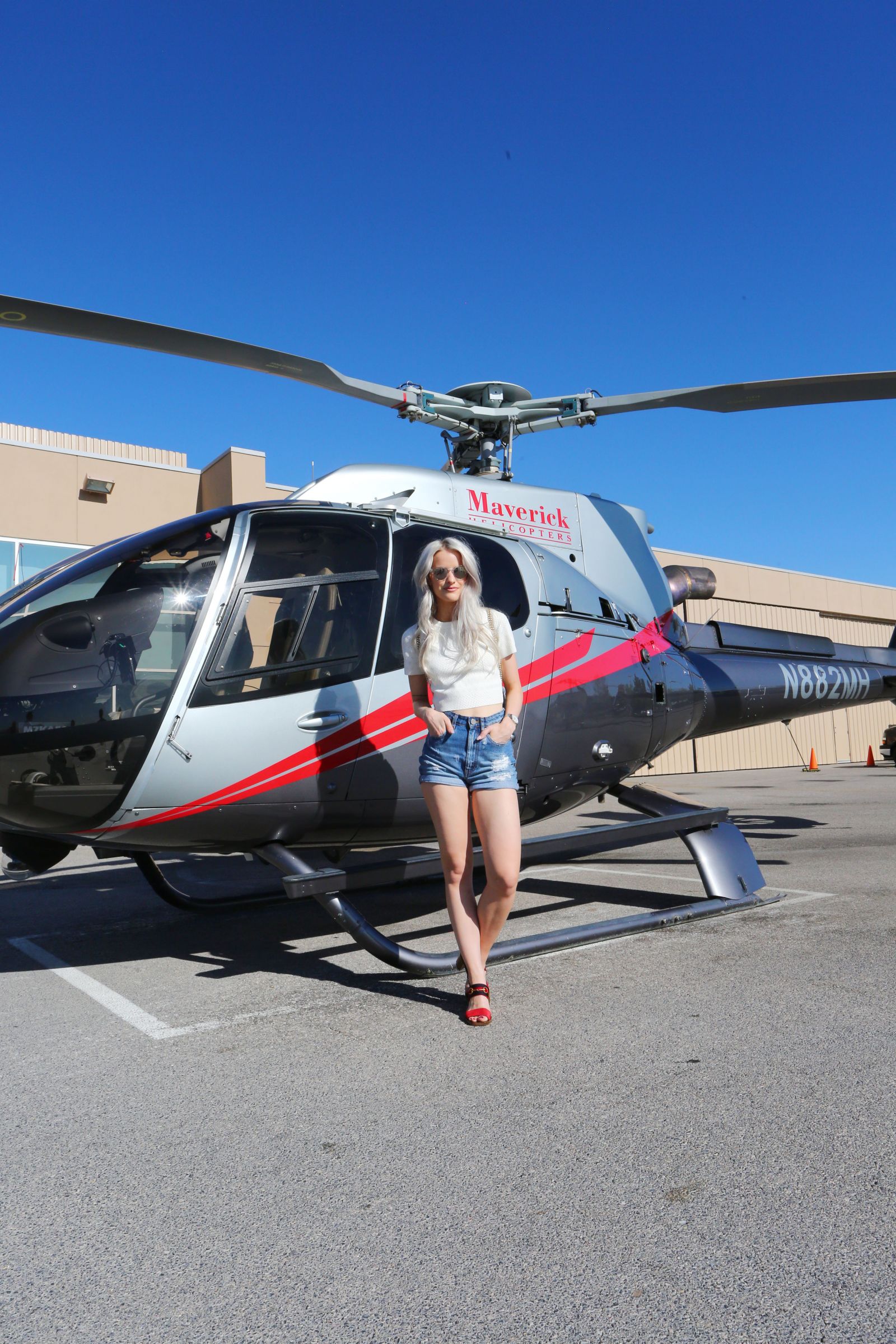 This is probably going to be one of the most pricey activities you've ever done, but definitely one of the most memorable. We took a ride with Maverick Helicopters over the strip in the morning for about 30 minutes. It costs around $150 per person, but the view is pretty spectacular. In honesty I feel this would be even better in the evenings too with all of the lights of Vegas lighting your pathway.
But, for $600ish, you can take the helicopter right the way over to the Grand Canyon. This ride takes about 3 hours and is obviously more costly, but this is a trip of a lifetime. If you don't think you will ever get the chance to visit the Grand Canyon any other way, then just do it. Honestly. If you can afford that extra amount on something unique, then this is one of those trips that should not be missed.
Welcome
to fabulous
Las Vegas
If you're a fan of going home from your trip with every cliche photo imaginable, first of all, have no shame. A good posed shot in front of a landmark or florescent sign is a must for your photo album. And second of all, make sure you head to the Vegas sign. It is actually about two minutes away from the Maverick Helicopters base, but positioned on a road that seems to ride towards the desert. Any taxi driver will know where to find it though, so head there with your camera and get yourself one for the photo album!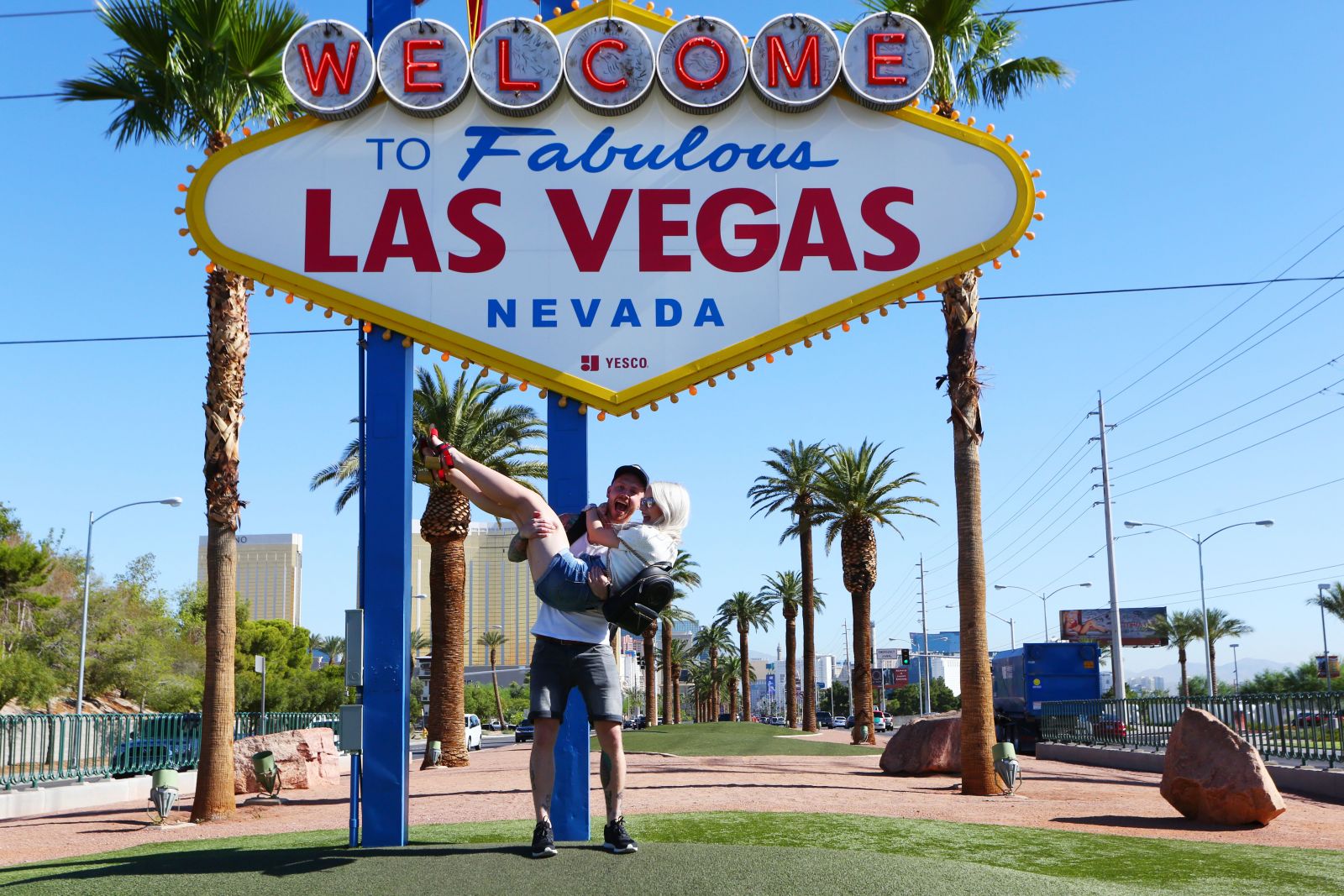 I don't class myself as the most outgoing person when it comes to heading out for drinks every Friday. In fact I think I may have been 21 when I last did that more than once a year. But when it's a special occasion, or a trip of a lifetime, I feel you need to live a little. That experience isn't going to come around again, or at least for a very long time, so just let your hair down and experience something out of your comfort zone. Vegas has some amazing nightlife and awesome clubs. We headed to a club inside the Mirage Hotel, 1 Oak, and had a great booth overlooking the dance floor. They played hip hop all night and even Lil Jon turned up to rap along to all of his legendary tracks – you remember Yeah by Usher, right?! But the whole night was so much fun; and I cant remember the last time I went out like that. But there are also some amazing clubs at the bottom of the Wynn and the Encore hotels, one being indoor and another outdoor, but both equally awesome. XS especially is a night out worth having.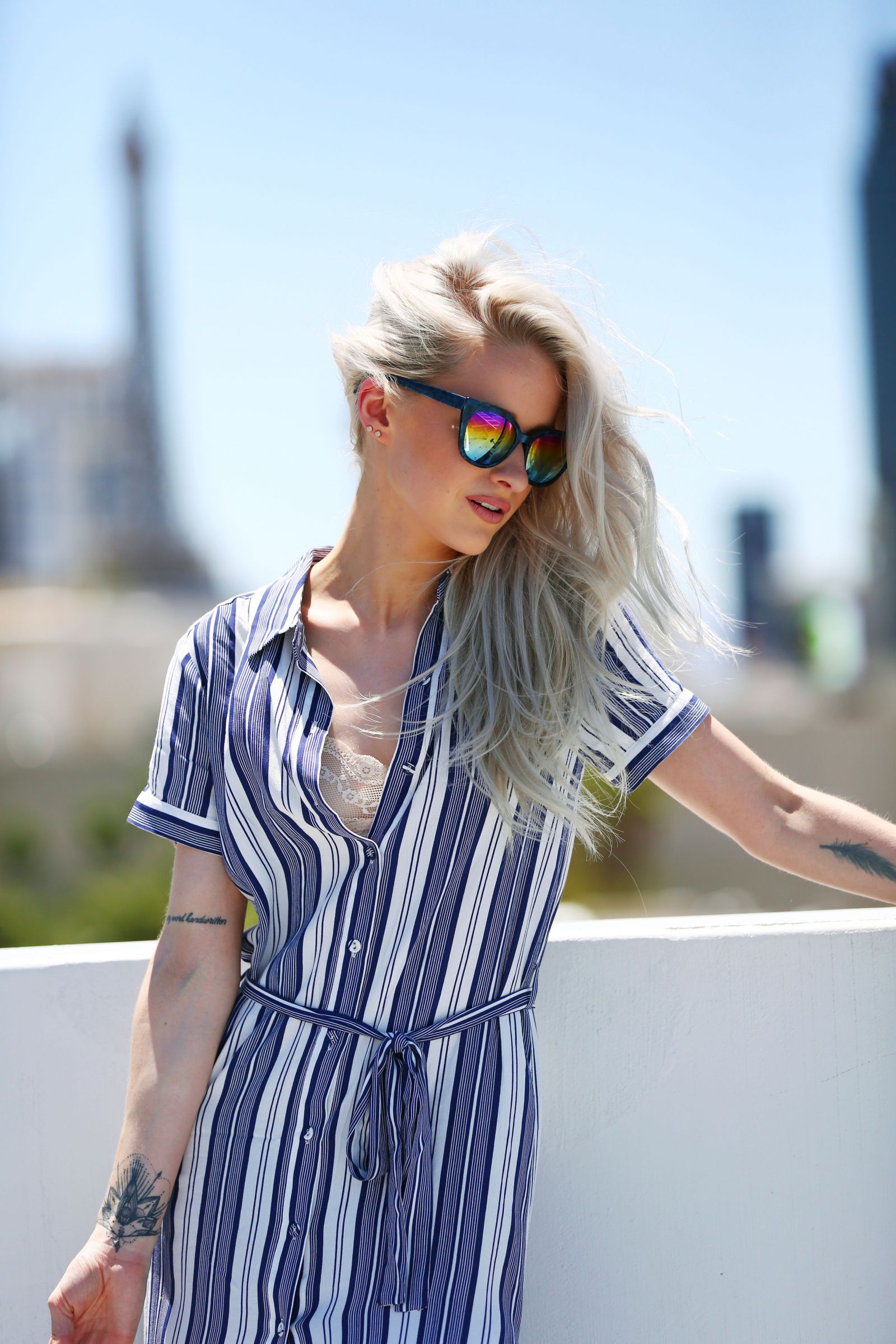 There are some tasty places to eat in Vegas, despite what you might imagine. For a big all you can eat buffet vibe, Caesar's Palace is $45 per person but has the best selection I've seen for an all-you-can-eat! Definitely recommended. For a night filled with beer and burgers, Beerhaus is a total gem. This is a classic beer hall style, with an assortment of different beers for the drinks nerd. Delicious food, some small salads for us non meat eaters and lots of cool drinks. But for something super special, try out The Harvest inside the Bellagio. The food was really delicious and the place just had a more luxurious feel than anywhere else I saw in Vegas, whilst also being somewhat relaxed.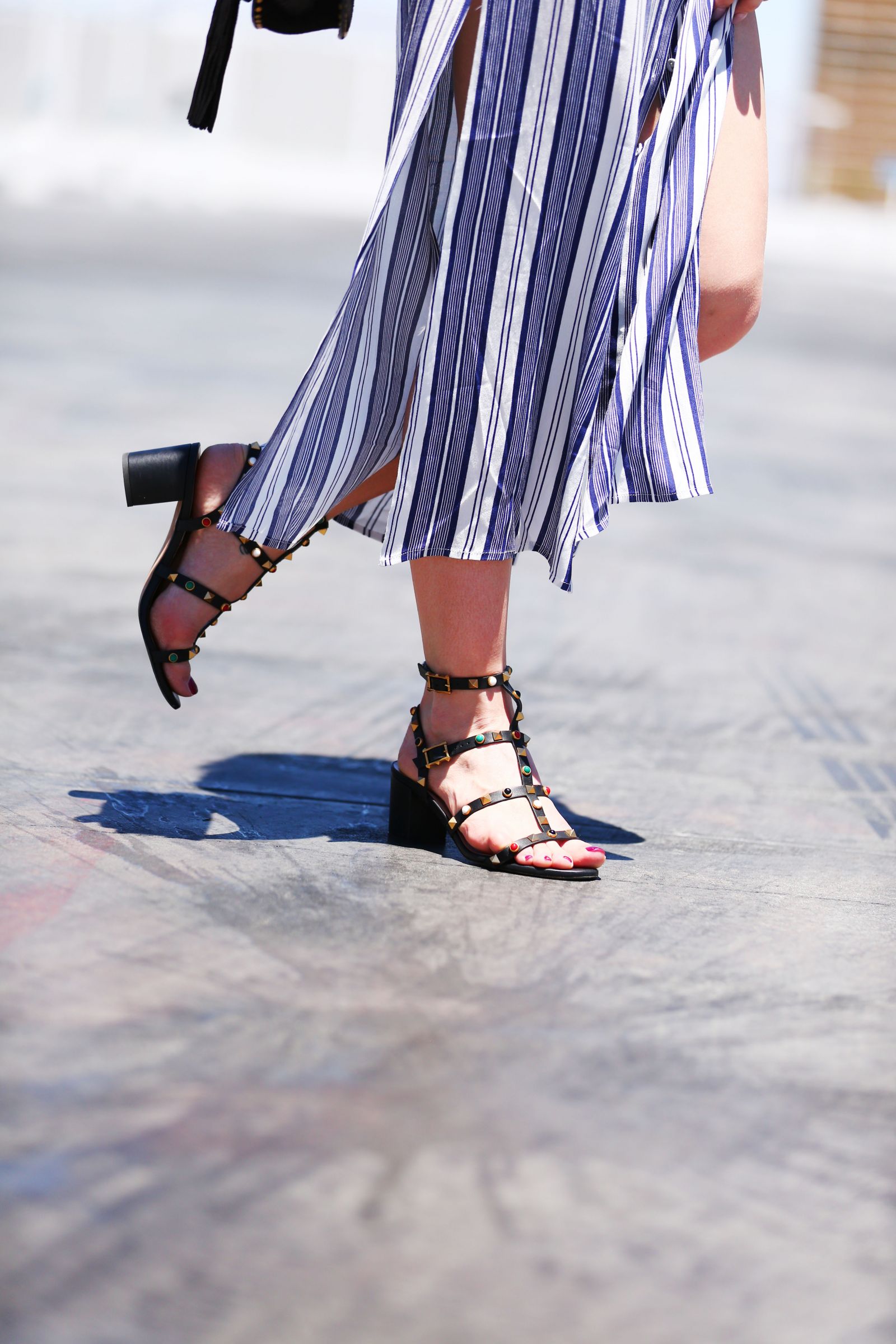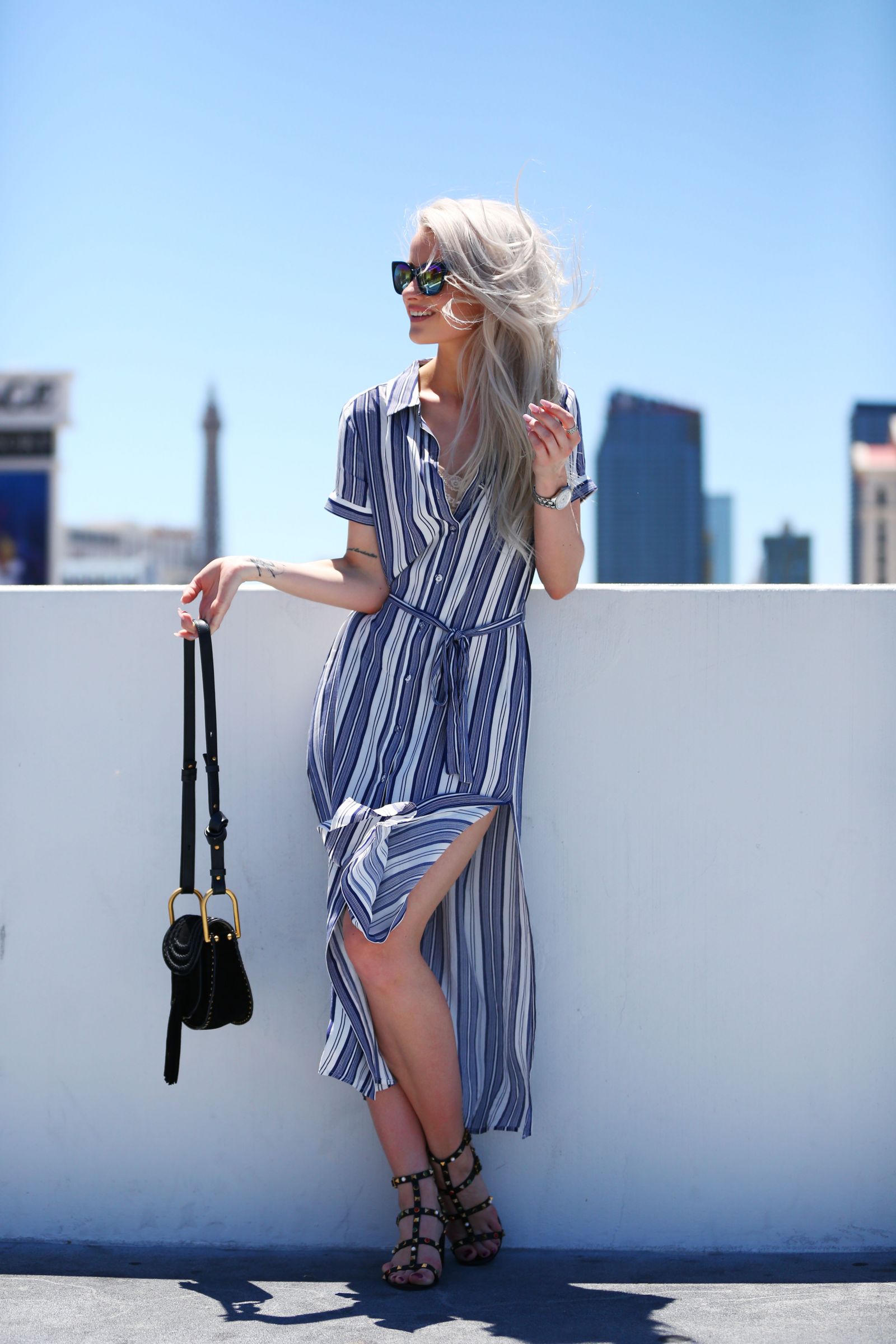 Honestly, I don't think you can go to Vegas without experiencing a show. The theatre, circus and musical world out there is huge, with most of the hotels having resident artists and acts that play all year round. So the theatre tradition is fully engrained within the Vegas holiday lifestyle. We were able to watch two magnificent shows whilst we were in Vegas this time around and I would highly recommend both. The Beatles Love show, by Cirque Du Soleil, was breathtaking even for the non Beatles fan. Don't get my wrong, they have made some excellent music, but they're not a band that I have in my playlists. However, I could not wait to see this show and my excitement was truly justified. The circus acts, the dancing and the performance was spectacular and I truly urge you to go along and see it inside the Mirage Hotel. You won't regret it.
But for something a little less music based, but just as exciting, we also watched O by Cirque Du Soleil. This takes place over the top of a huge swimming pool that the performers dive into, dance inside and disappear underneath. And it is jaw dropping. Watching someone fall that far into a tiny swimming pool with no apparent bottom, put me on the edge of my seat.
But if you're lucky enough to be in Vegas when Britney or Celine Dion are playing, please just go along for me. I would be so so jealous.
How would you spend one day in Las Vegas? We all have our own trips and experiences and it's so great to share. You may have done something totally different and had a whale of a time, so let everyone else know in the comments!
Big thankyou to Virgin Holidays for an epic Las Vegas experience and for showing me even more of what this city has to offer. For more info on their Vegas holidays, just go right here!
Sign up here for a weekly catch up of everything Inthefrow