10/07/16
What I'm Wearing for Summer
On my Skin
I may have taken these photographs last month in Santorini after falling hopelessly in love with every single product, but I've only just found the time to write down where they're wonderful. I whittled down all of my holiday makeup products to just these ten items that have taken up a big place in my heart when it comes to summer skin. Back in the UK I have my favourites for the climate and my lack of tan. But when I'm away in the sun, and I want to keep my base quite summer appropriate yet enhance my look, I alternate my makeup products thoroughly. And because so many of these products have not yet made their way onto the blog, I felt they deserved to be shouted about. So here are the products I'm really adoring currently for my summer travels!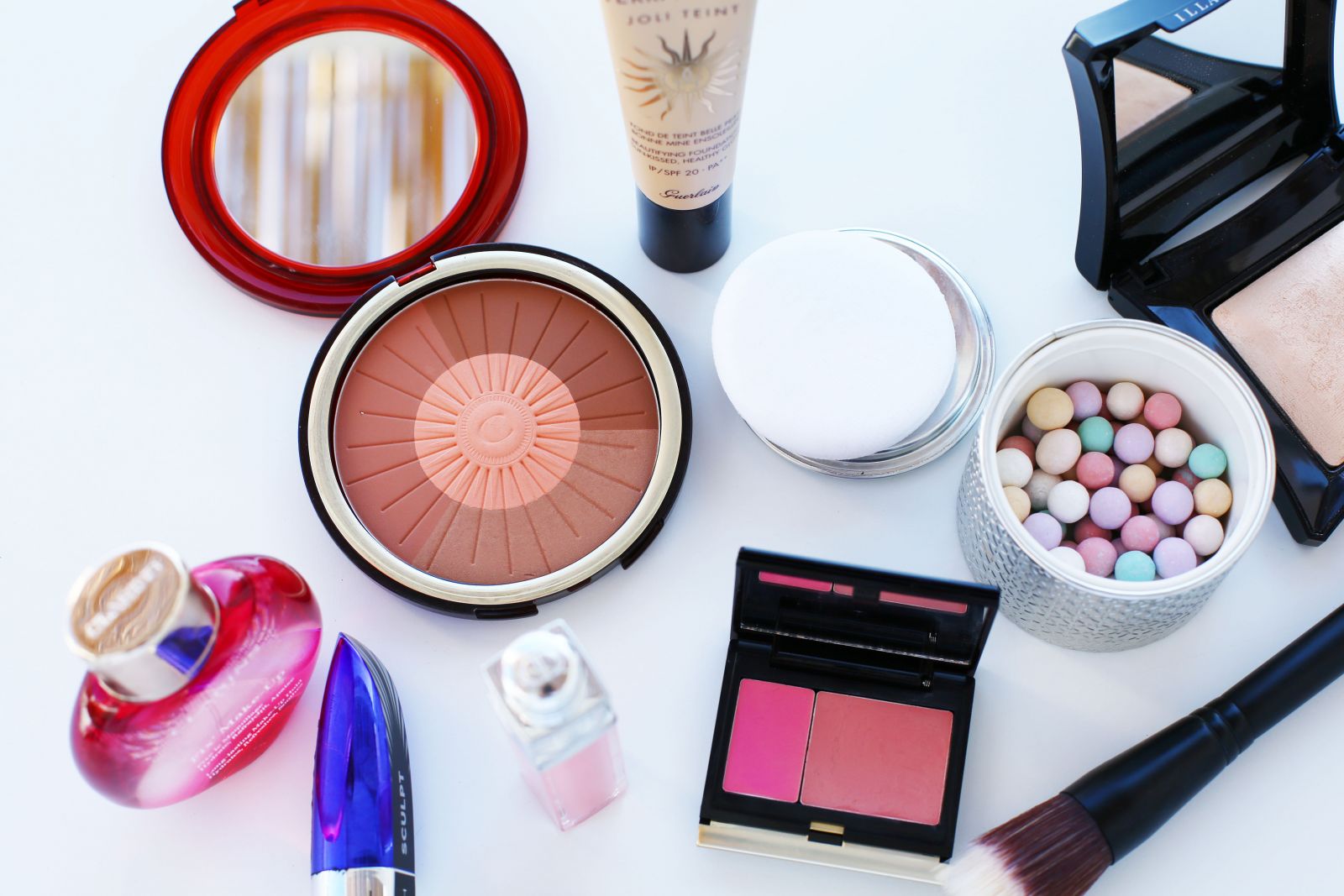 Skin.
Lets start off with tools. Whilst my beauty blender is never too far away, I find it can take some time to buff in your foundation if you don't have a brush handy. The Rodial Foundation Brush has recently been that brush that I reach for. The bristles are spread quite far apart, meaning that you don't get a really heavy coating of foundation like you would with a tightly packed kabuki for example. Rather, the brush lightly disperses the product onto your skin, with a lighweight and stippled feeling almost. I find that after applying, I will often go back over my skin with a beauty blender just to remove any brush stroke marks; but its application onto the skin is gorgeous. So I just see this as a two step process.
Guerlain Terracotta Joli Teint.
In the sunshine, I like to mix up the foundation or base that I'm wearing, all depending on how tanned I am and how hot the sunshine is. So I've been playing around with lightweight and glowy foundations and bb, cc and tinted moisturisers recently, searching for my faves. The Guerlain Terracotta Joli Teint is a foundation, but I would have said it was a tinted moisturiser if I wasn't certain. It has quite a thick consistency whilst also being workable and easy to blend. And with the glow pigments inside, this almost mimics a sunshine tan when you wear it. My skin looks much more sunkissed after application. And with SPF20, this is great for a light amount of sun coverage if you're just nipping into the sun for a short time!
There are quite a few version of the Guerlain Meteorites. They seem to bring out new beautiful packaging and slight colour variations quite often, as this is obviously a best seller for a reason. Whilst the packaging is seriously gorgeous, filled with gorgeous pearls of powder with scented violet notes, the product inside really is a gem. I sweep a brush into the pearls to pick up a coat of powder before buffing this lightly onto my skin where needed. It is great as a setting powder and for mattifying areas of the face with too much product or shine. Yet, retains illuminosity and brightness due to the colour of the pearls. I'm smitten with everything about these little pearls of joy.
Colour.
Clarins Limited Edition Summer Bronzer
When it comes to summer bronzers, Clarins seriously up their game every year. For the past four years at least, I remember Clarins having thee most coveted bronzer on the market; often combining gorgeous packaging with something extra special inside. This year they have incorporated more orange tones to the compact, with a coral blush housed within a dial of three bronzed shades. With a swipe of your brush through the compact, you could pick up all four shades and be left with a really coral toned finish. But carefully whirling the brush around the edge of the shades will offer a warm bronze complexion. Which needless to say I am loving. Plus, I have been using this as my eyeshadow recently, so even more reasons to use!
Kevin Aucoin Creamy Blush Duo in Pravella and Janelle
I have never really been a cream blush girl before now. I've dabbled, but always gone back to what I knew. Cream anything can be quite daunting to those who are not as accustomed to makeup application, but it really doesn't have to be so scary. If you have the right tools, you're 90% of the way there. With this product, a stippling brush is what I would recommend. Something that can loosely pick up the product on the tips of the loose bristles and light apply it to the skin. The Real techniques duo fibre contour brush is absolutely my favourite for this. But I have taken to this product mainly because of the shade. A mauve nude to the right with a mid pink shade to the left, which are usable together or alone. And I have been applying this to my lips too – because a girl can't have too many nude lip colours!
Illamasqua Beyond Powder in OMG
If you're in the market for a golden toned highlight that seriously packs a punch, you might want to rush out now to pick up the last of this incredible powder. It seems to be sold out in a lot of places, but rightly so. The pigmentation of the golden highlighter inside is so beautiful, with a copper gold finish (I'm not talking yellow at all, phew) which can immediately light up the cheekbones. I haven't been as excited for a new product release recently until this landed in front of me.
Eyes and Lips.
Bobbi Brown Cream Shadow Stick in Taupe.
Holy moly have I discovered a gem here. My best friend Rebecca had a wonderful Bobbi Brown makeup artist create her wedding day look and part of it was the cream shadow stick. The shade Taupe is that bronze matte eye look that you can try to achieve with just bronzer, but never get entirely perfect. This is so workable and buildable – just sweeping the colour onto the eye out of the stick and then using a buffing brush to create the shape you desire, is the easiest process. For those days when you're in a hurry, you can create a stunning eye look in minutes!
I've definitely sang the praises of this product on every social media channel known to man, and it is still in my must-haves. When my eyelashes are curled naturally – due to my LVL lash treatment I have topped up every 6 weeks (think lash perm), this mascara works the way it should. Building, volumising, separating, coating in intense black and providing a false lash effect to my lashes. It really does what it says on the tin.
Now I don't wear gloss all that often. Mainly because I'm currently in a matte lip obsession. But when I'm on holiday, my love of lips that gleam in the sunshine definitely increases. The Ultra Gloss range from Dior is beautiful, non sticky, high shine coverage and great pigmentation. But for me, the show stealer is the shade So Real, which is the shimmery, non-colour gloss in the collection. It is more of a nude, light coating with shimmer. For wearing over your favourite shade of lipstick when you just want some more oomph, this is a winner.
Setting.
No makeup face would be complete without a mist and spritz of setting spray. Not only to hydrate the skin, but to set and fix makeup in place all day. The new Clarins Fix Makeup almost fooled me for a perfume when I first spotted it, due to its classy glass bottle and appearance. But in fact this is a very lightweight spritz that helps to refresh the skin and fix your makeup. I've been pretty taken with this product since I got it and it definitely deserves more love!
What are your summer skin and makeup favourites? Do you love to doll yourself up even if you're away or do you prefer the makeup free feeling? I love both, but theres nothing more lovely than sheer makeup over a tan!
Sign up here for a weekly catch up of everything Inthefrow