Conrad Rangali, Maldives
Summer Holiday Essentials: In the Suitcase
I can't believe this is the last outfit I have to show you from the Maldives. Apologies that it has taken me so long to get all of these posts to you, but I can't tell you how long it takes me to slot them all together. And when Im travelling, I run out of time somewhat. However, I wanted to get this final post to you as its actually one of my favourites. Everything I'm wearing here are pieces I got specifically for the trip as updated summer holiday essentials for my travels.
So, I figured it would be a great time to go through the items and accessories I take away with me on trips abroad, especially when there's sunshine involved. I have already been on so many trips this year and it isn't even June yet. So you could say I have a bit of a routine and list of products I like to pack when I'm jetsetting. From shoes, clothing to accessories, these are my suitcase must haves!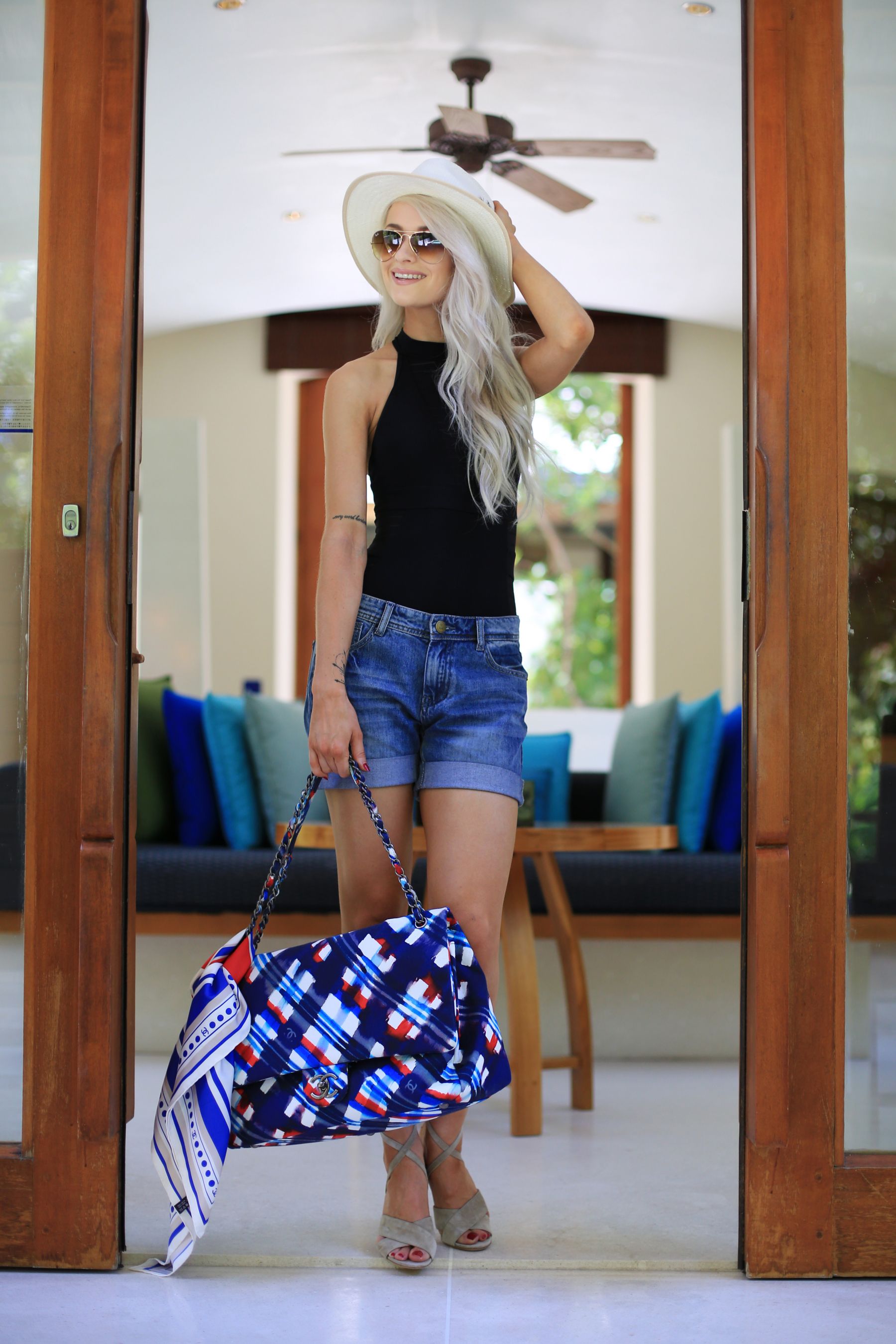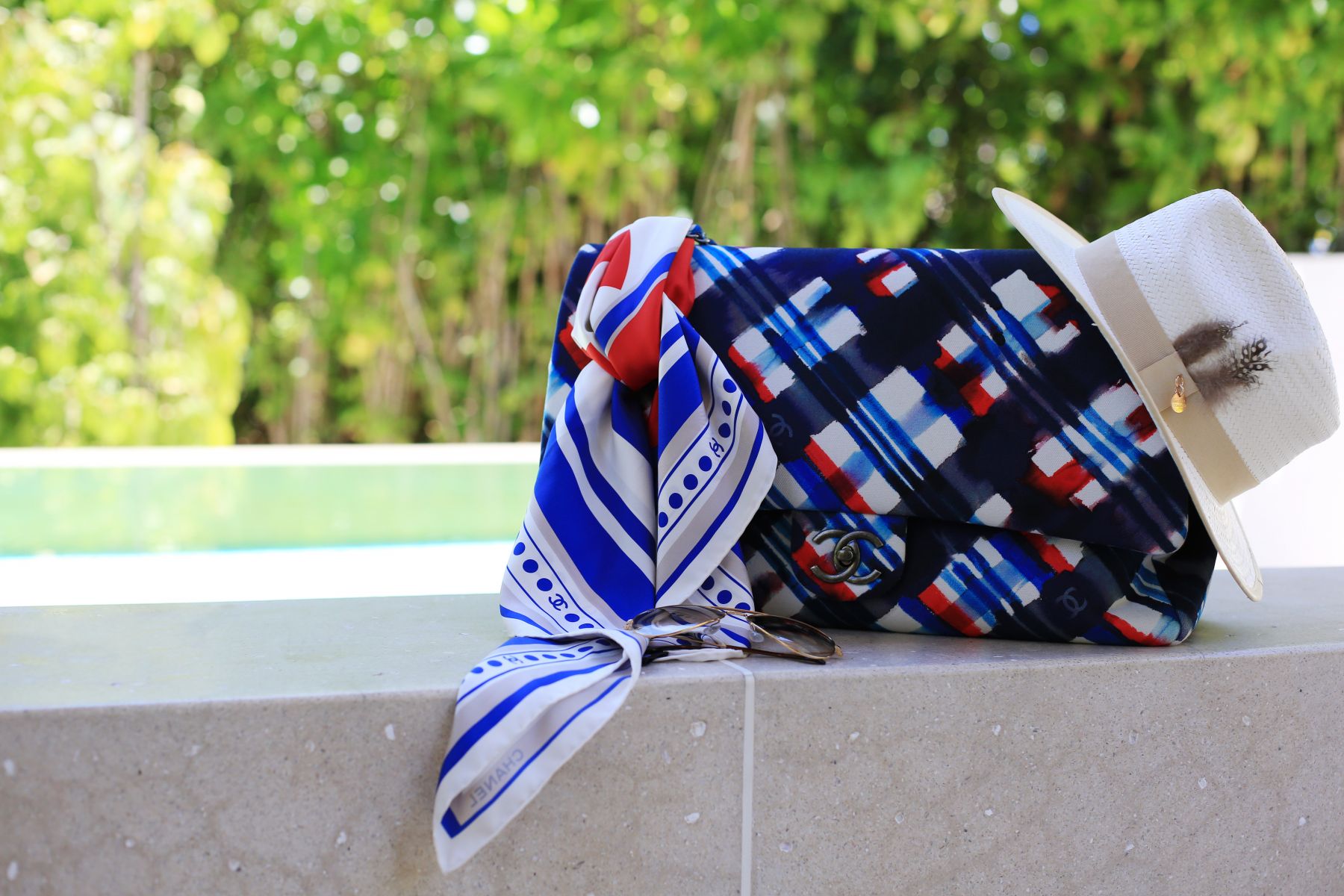 Let's start with the luggage bag. I had been searching for a piece of luggage for the airport as my carry on baggage. It needed to fit my laptop, camera, toiletries, hairbrush and all the other paraphernalia you often find hidden at the bottom of your bag. But I also wanted something chic, unique and not half bad to look at. I was scouring the Internet for something that fit the bill and just couldn't find exactly the right thing. I was going to go with a backpack, yet I find they never fit quite enough inside, and taking them on and off your back can be a little tedious in an airport. So it was in Hong Kong at the airport when we wandered into Chanel to pass the time and my eyes caught sight of the Large Flap bag in Canvas. This does come in two colour ways and I was more drawn to the other initially, due to how much red and white it had on it. But after thinking about how well the white would fare against plane floors, I opted for the bag in blue. For the amount of travelling Ive done recently, this has been a dream luggage bag. It fits everything inside all of its compartments and whilst it does get a touch heavy on my shoulders, I love it to pieces when Im wandering through the airport with no makeup on and I just need something pretty on my arm.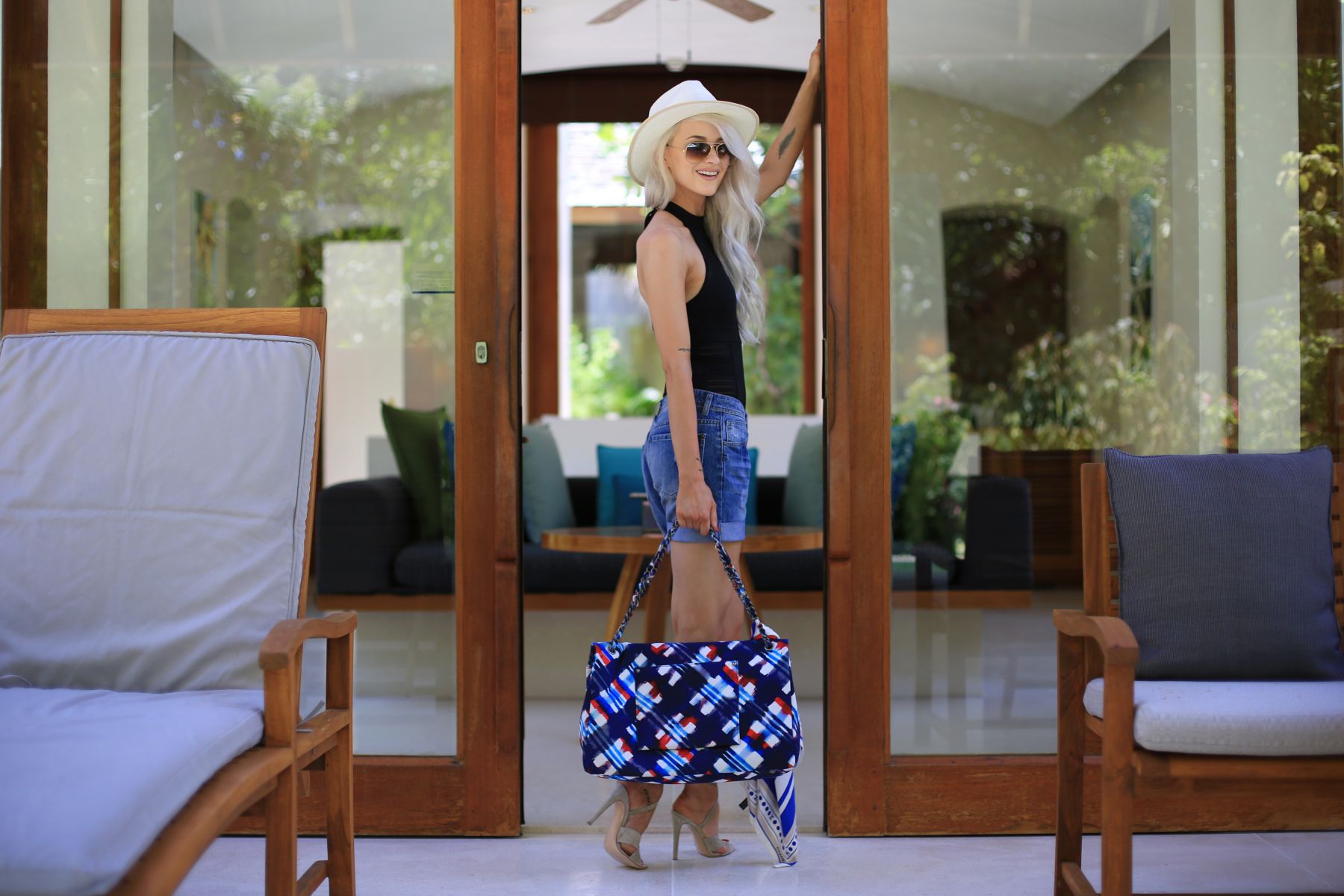 Hats. They really are the most annoying item to pack in your suitcase. My tip is to turn them upside down in your suitcase and pack your clothes around the edges, and then fill them with your lingerie to keep their shape. But taking a hat on your holiday really is an essential. Regardless of if you're fair skinned, blonde or neither, protecting your face and your scalp from the sunshine is definitely necessary. Too many times when I was younger, I would burn my scalp so badly and could barely brush my hair. Plus having a hat shielding your eyes and forehead from the sun is really important.
I have a huge sun hat from Melissa Odabash that I adore, which keeps all of my hair, face and neck out of the sunshine usually. I always feel like J Lo when I'm wearing it. But for this trip, I also had the Melissa Odabash Helen Trilby with me in a beautiful white and feathers tucked just inside the cream banding. Again this was a lovely size for not being too over the top, but worked well to shield my eyes, forehead and hair.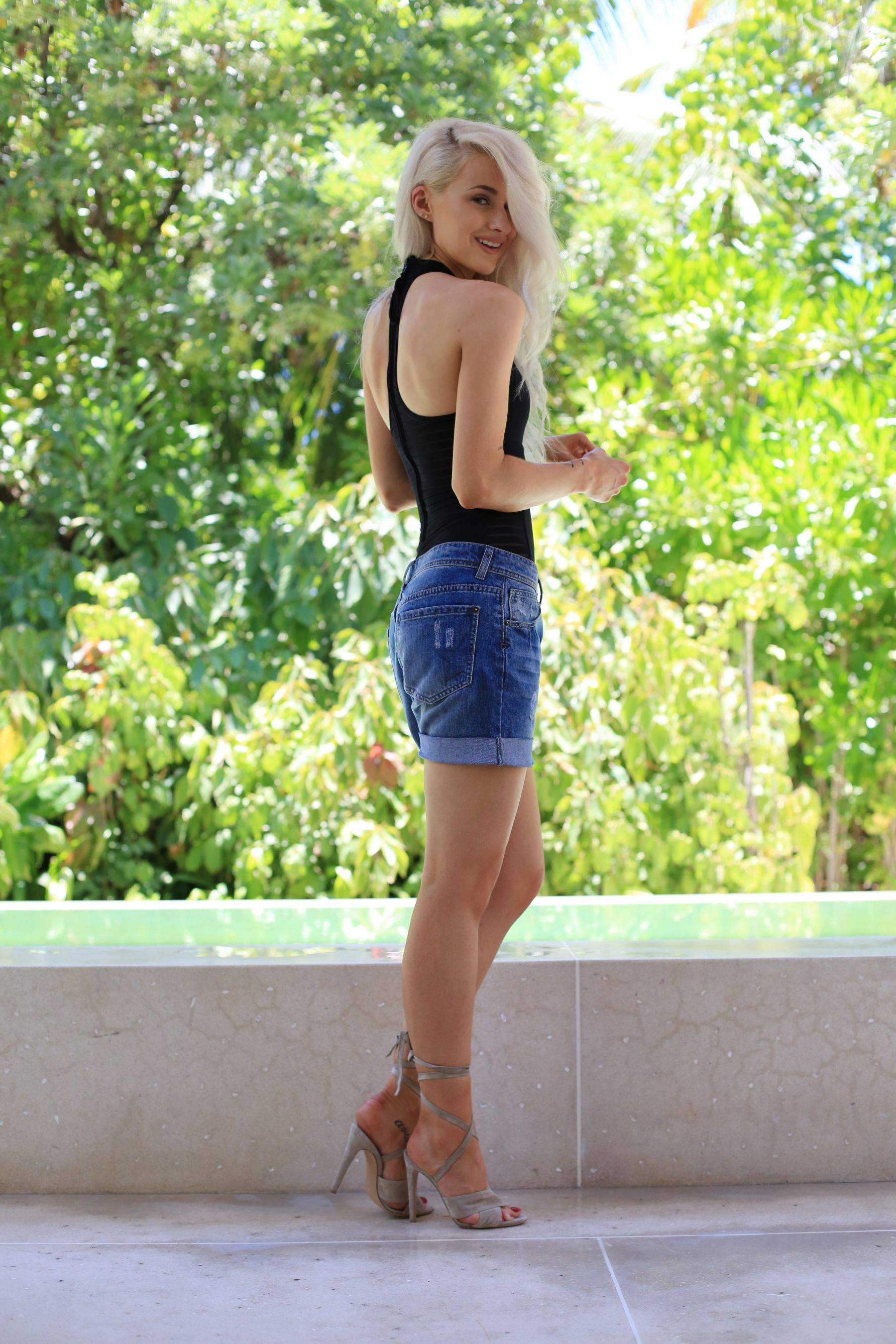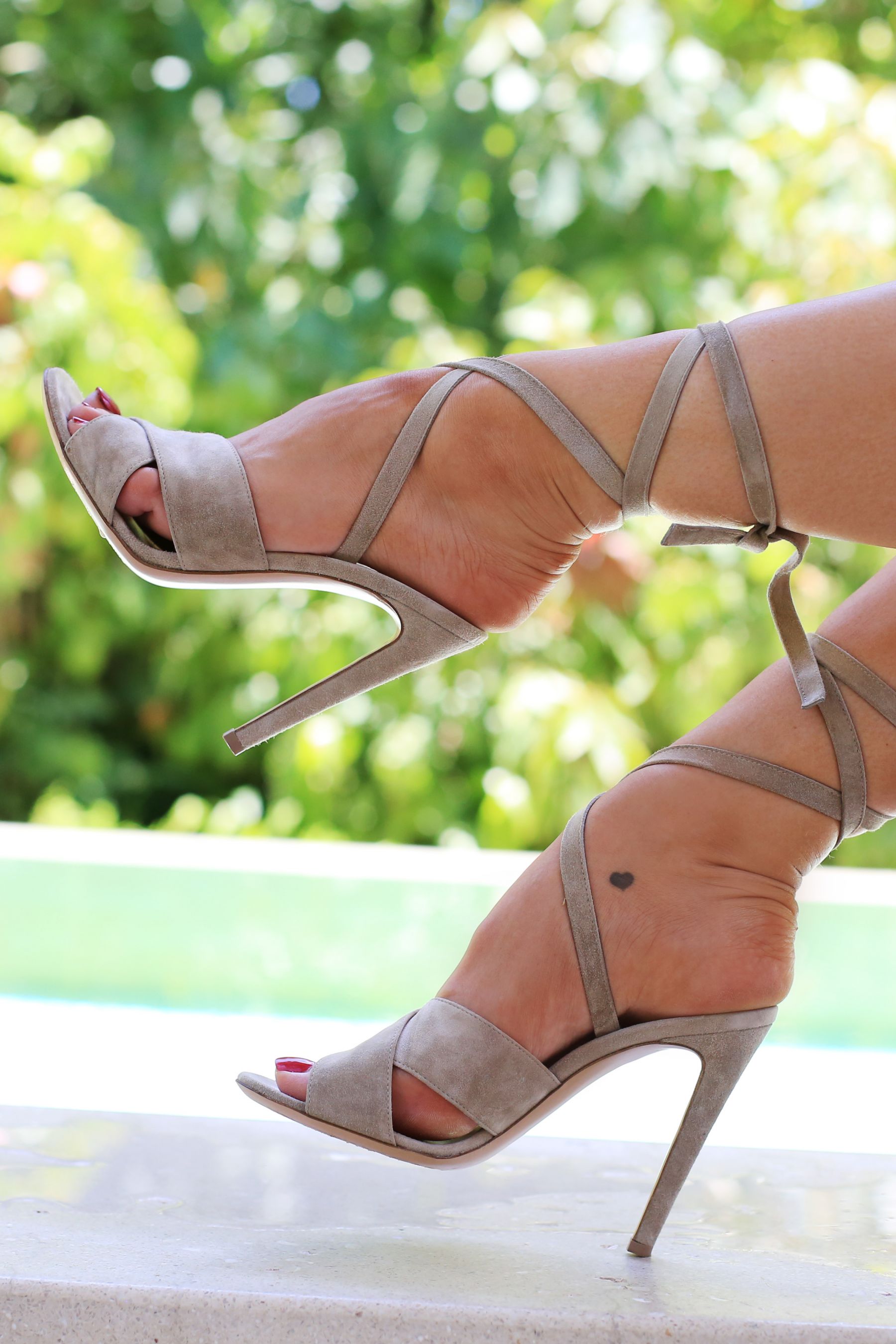 Shorts. How difficult is it to find a great pair that are not too short, not too baggy, not to tight around your waist and nether regions and actually look flattering?! I have struggled to find a good pair of shorts for years and only now and again do I stumble upon a pair that I'm satisfied with. This pair of Denim shorts from Hush have turned into that pair that I pack every single time I go away now. They're not uncomfortably tight but not too baggy either, so they create a really great shape on my figure. They're also just the perfect length, with turn ups and some small distressed details. They tick all of the boxes and more and they're actually so affordable too! I love to dress them up with a cute top and heels, or just go casual and chilled with flat sandals, a hat and a camisole.
Heels. Love them or hate them, I feel that it's nice to pack at least one pair of heels for a trip away. In the Maldives, you honestly don't need to wear heels or any shoes at all for that matter, but there were a few nights when I wanted to dress up, for myself. So I threw on a pair of heels and off I went. I don't buy my heels for them to sit in my cupboard forever! But this pair, the Gianvito Rossi Chrissy (of course, Im still obsessed with this brand), are that wonderful colour of suede, light grey beige that go with everything you would like to wear. Whites, blacks, colours, will all go with this shade of heel, plus with them being so strappy, they have a heeled sandal vibe, and I'm all about that right now. So for me, these were an essential when I was packing. An easy, wearable and flattering heel for any occasion.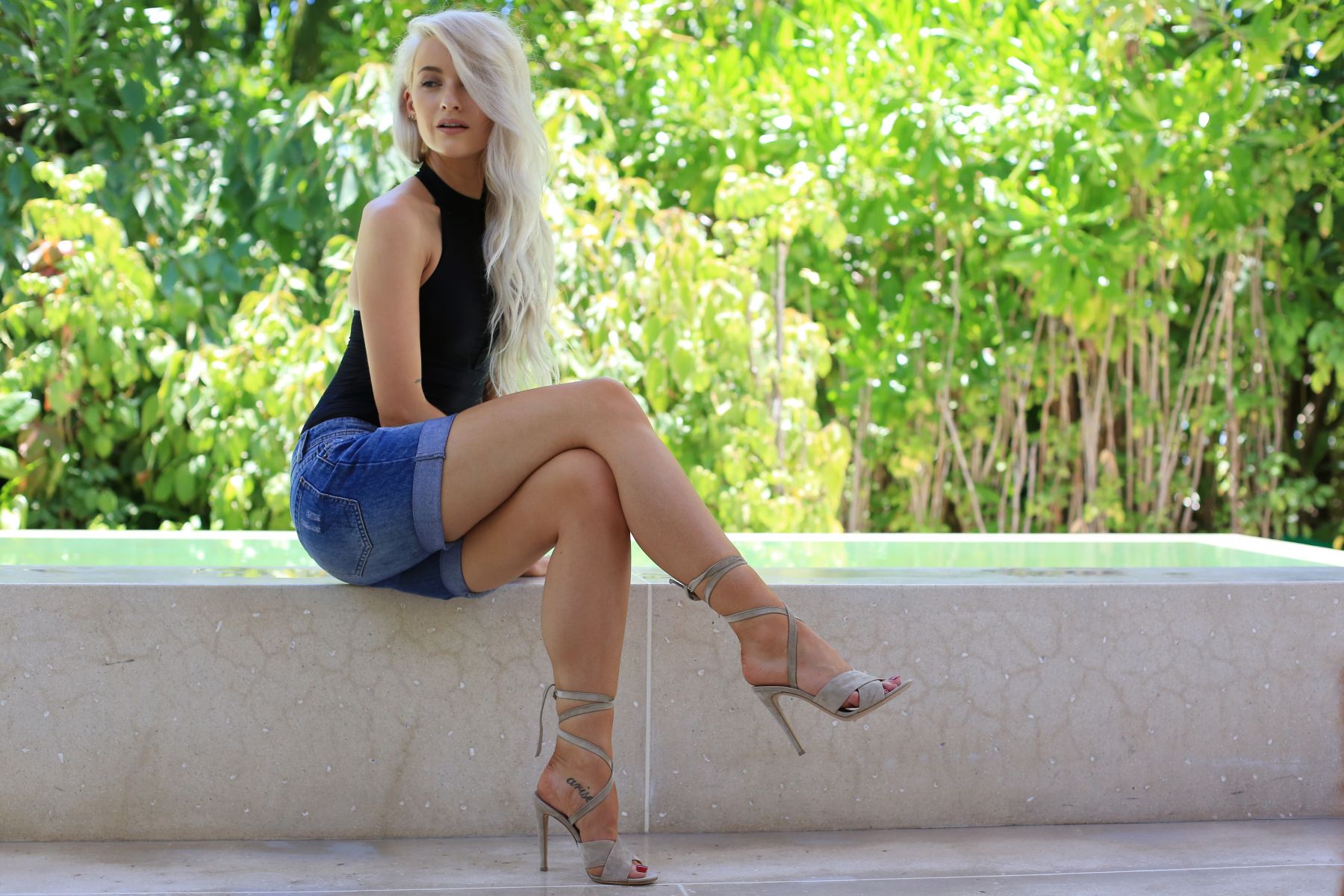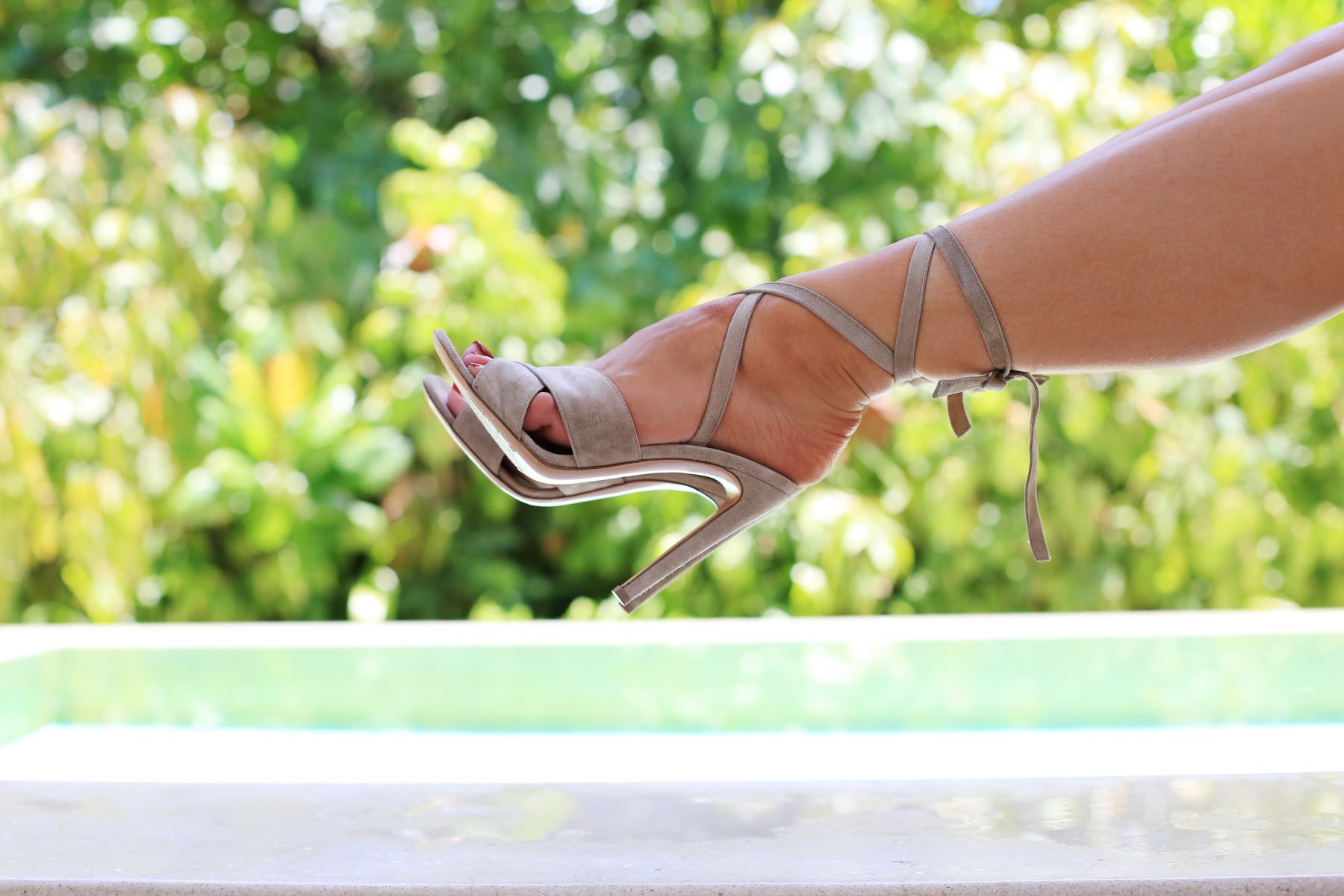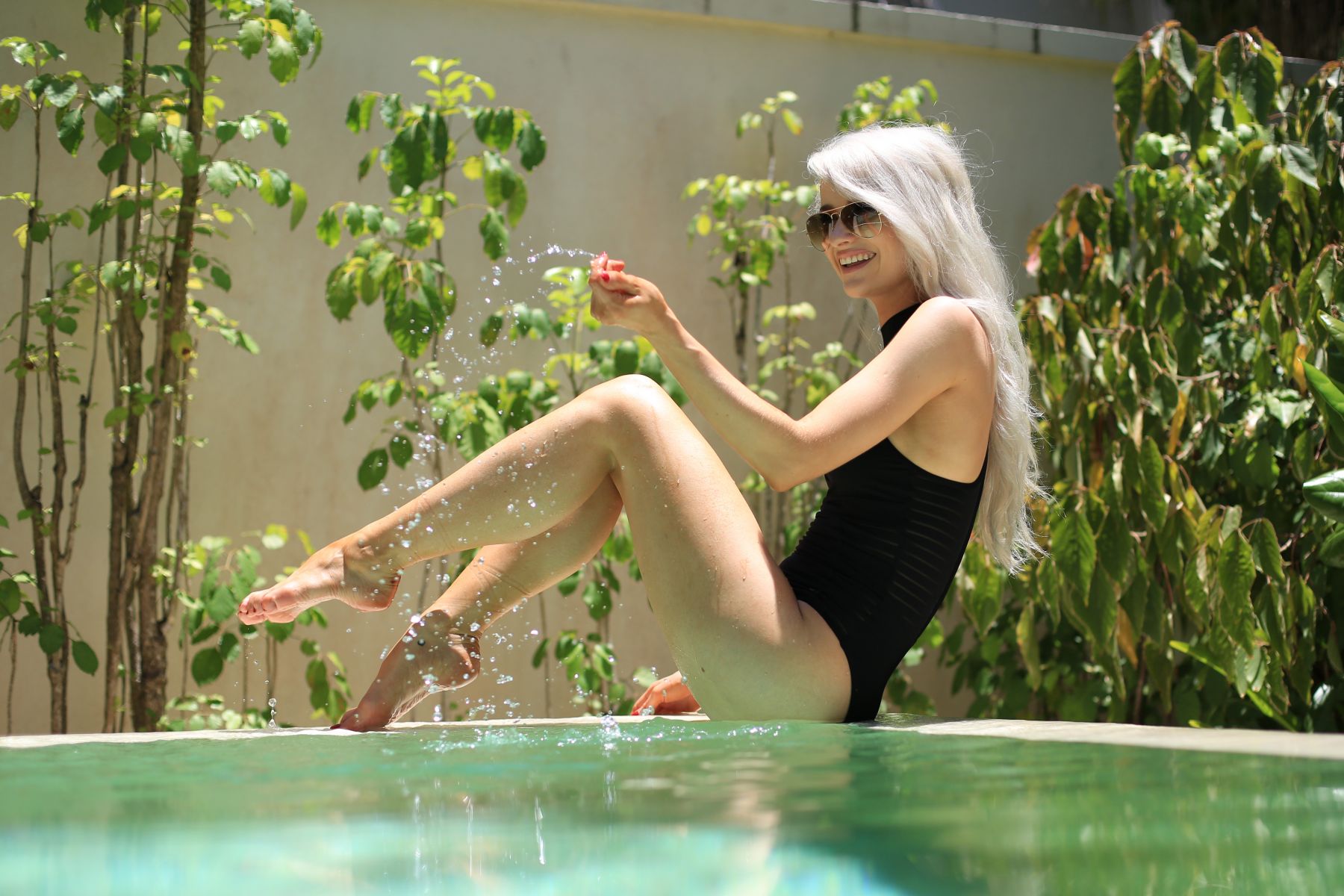 One Piece Swimsuits. I love the fact that the swimsuit really made its revival last year. Bikinis are lovely and carefree sometimes, but there's something so classy and sophisticated about a one piece swimsuit. Plus, the number of flattering and intricately details swimsuits you can buy now makes them more flattering than bikinis in most instances. They also double up as bodysuits depending on the type you buy. This suit from Jets really boosted my confidence and made me feel slender and elongated. I don't know if you can quite see from the images, but along the front over the bust is a ribbed mesh effect which goes up into a high neck, and it was just the most gorgeous swimsuit I've ever worn. Simple and elegant and perfect just thrown on with shorts for a more relaxed casual look.
Sunglasses. It's a given and not even an essential, its a requirement. But finding a pair that you love and feel your best in is what I'm talking about. I have a multitude of sunglasses and I somehow manage to whittle it down to a collection of about three pairs that I take with me for a week away. I really adore the oversized, thick black rimmed sunglasses that you see from Celine and Dior, but then I am a massive fan of everything Ray Ban do. You might already know that if you read this blog. I have so many different pairs of the classic Ray Ban style, from Aviators to Clubmasters and Wayfarers, but for this trip I actually bought a pair of large gold Aviators as a change from a silver pair I have. And with the bronzed gradient through the lenses and the gold trim, they were so beautiful with a tan. On those days when you want to be barefaced, throwing on a big, beautiful pair of sunglasses is all you need!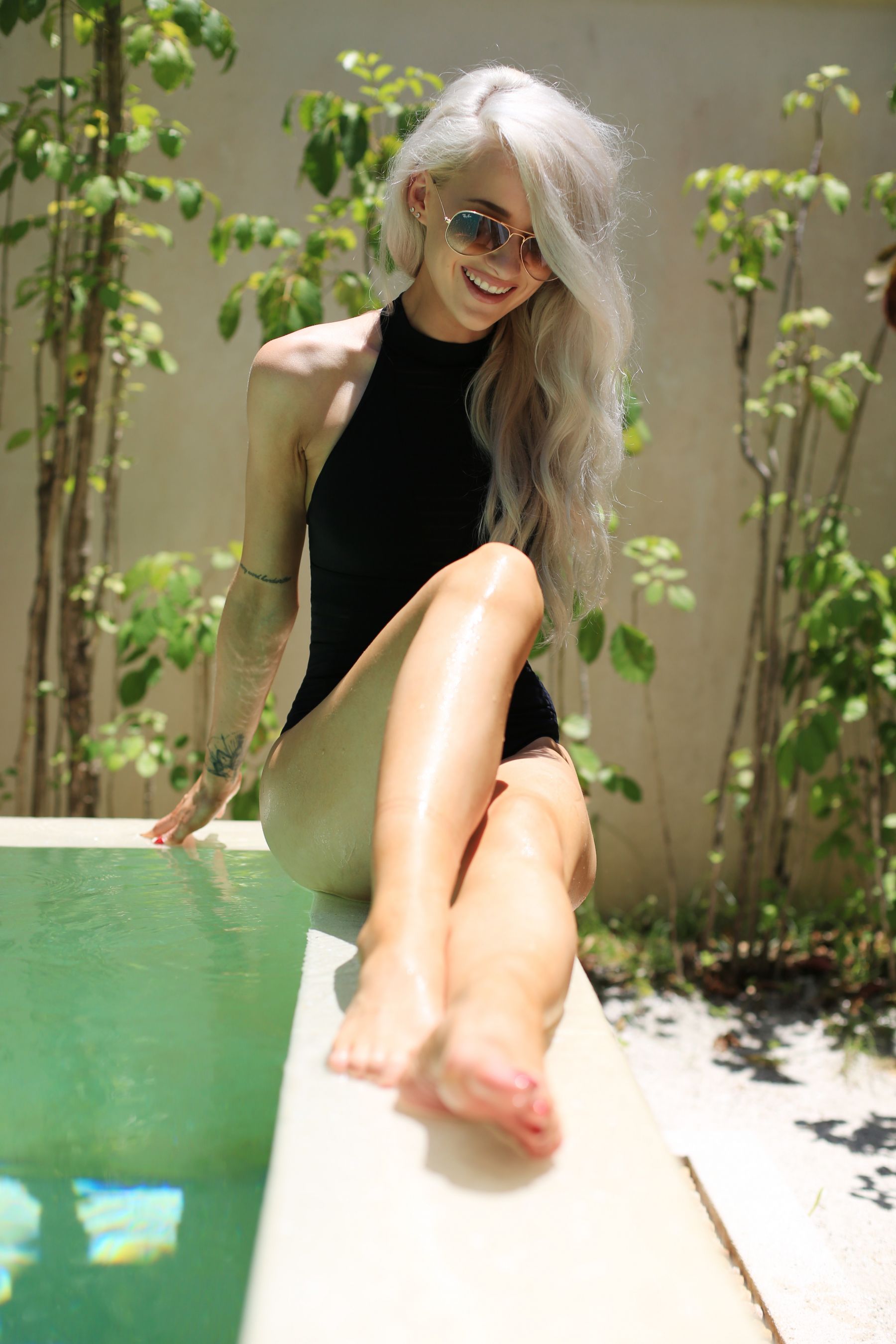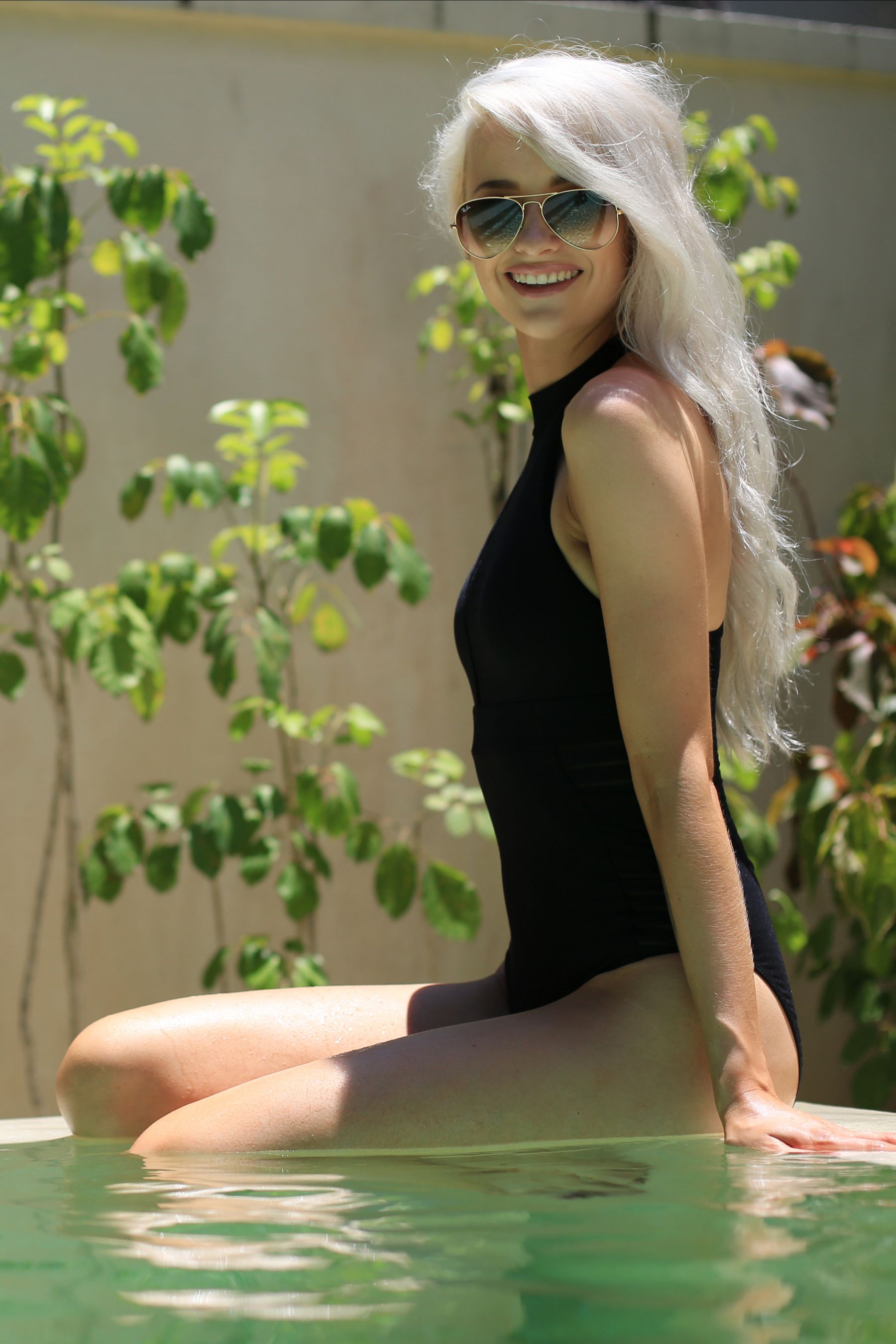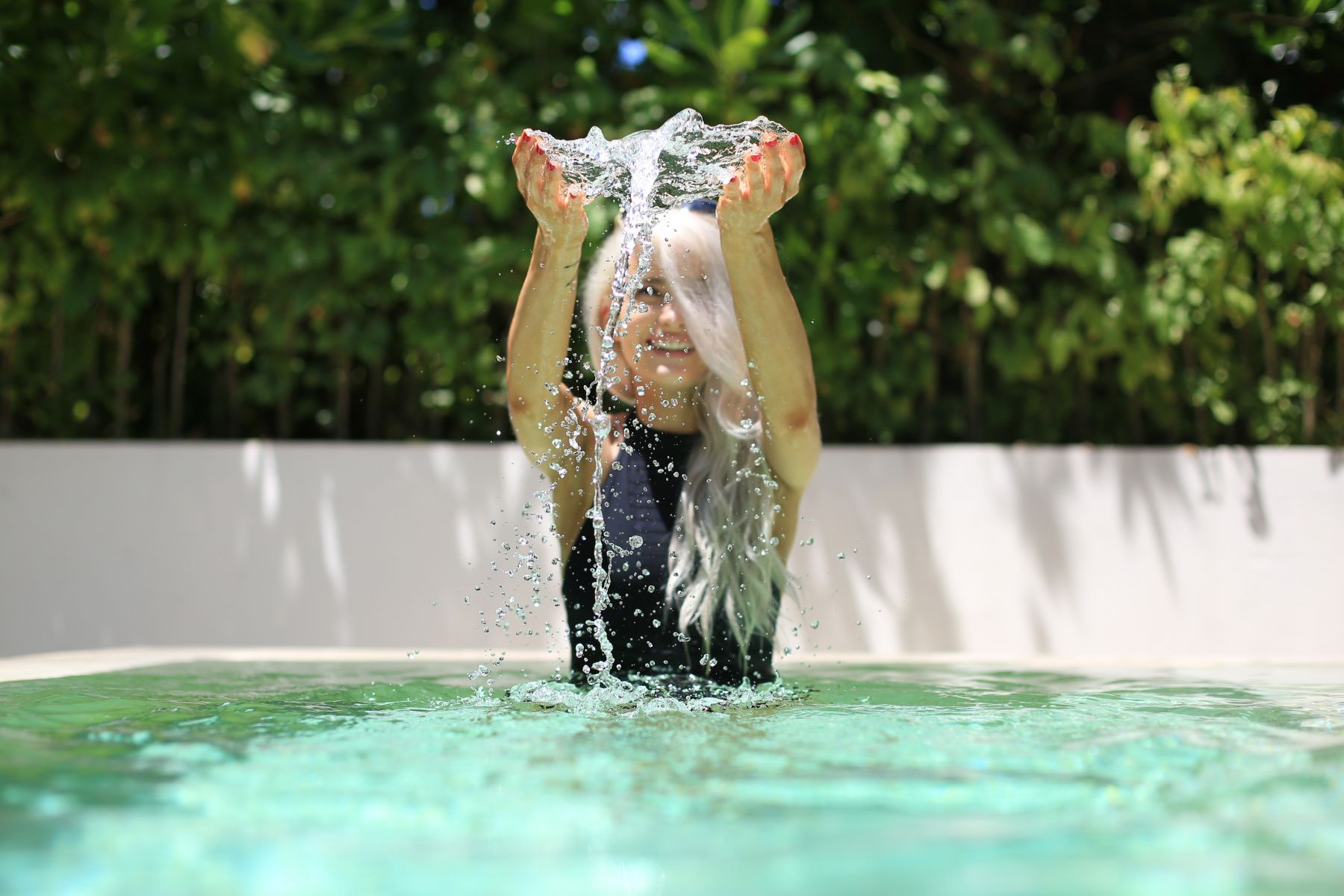 What are you holiday must haves? What products specifically couldn't you go abroad without? There are so many more essentials I take with me, but I will probably feature them in an upcoming post. But for now, these pieces were some of my favourite accessories and pieces I took with me and I had to share! I hope you have some amazing holidays booked for summer!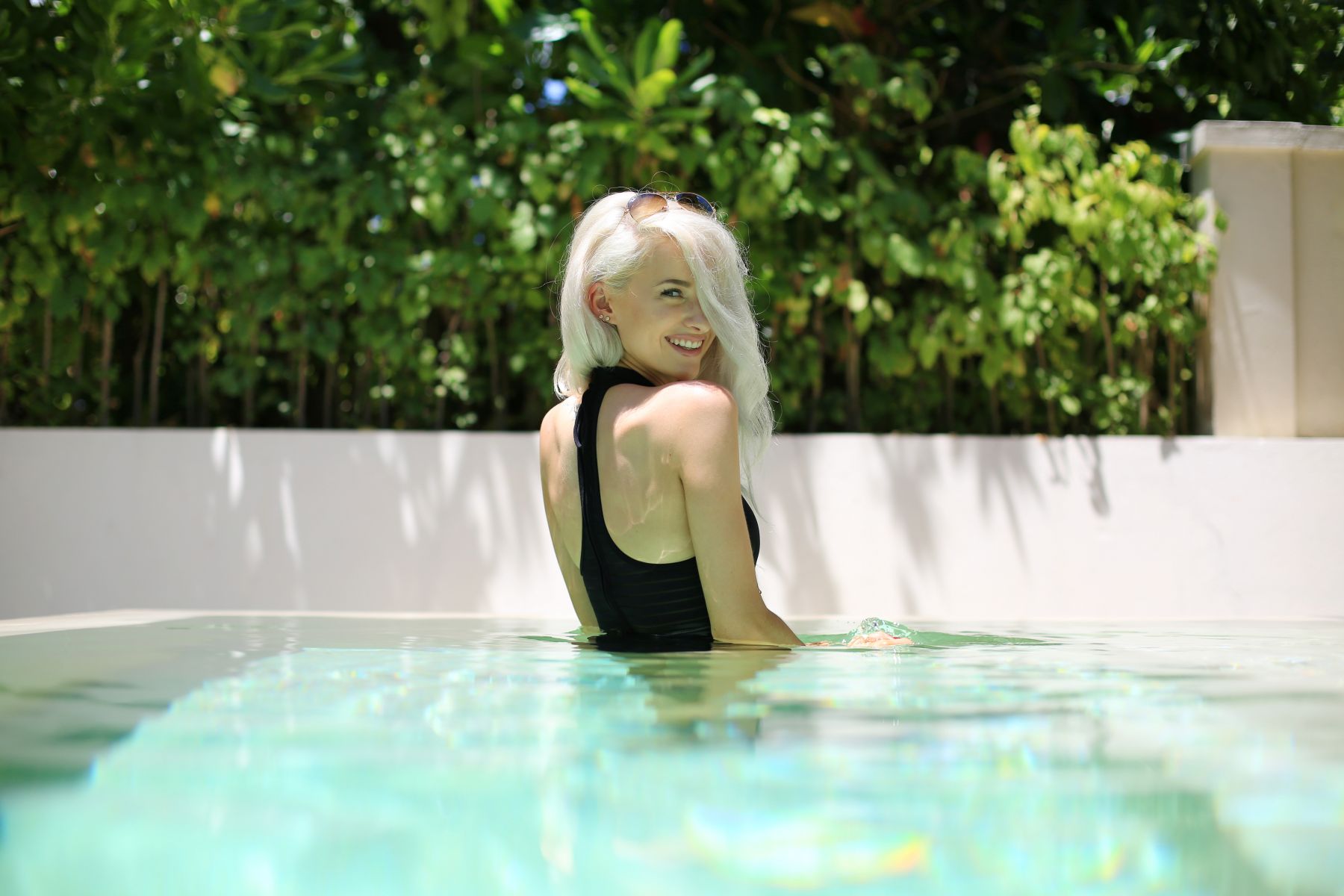 Sign up here for a weekly catch up of everything Inthefrow