This is a paid advertorial in collaboration with UGG
Oia, Santorini
Exploring the White and Blue Isle
For the last few years, or for as long as Bloggers have been roaming the beautiful white and blue buildings of Santorini, it has been high on my bucket list. The opportunity to take a multitude of photographs against white backdrops is irresistible for most bloggers, but to also spend time in the sunshine and to explore such a beautiful Island was something I had to experience. In honesty, we didn't actually make it out of Oia, pronounced E-A apparently, because with just three days there, the majority of the time we just wanted to sit and enjoy the sunshine. With more time, I'm sure we would have done a sailing cruise or made our way into Fira or nearby towns, but Oia was the place on my dream list, so that's where we primarily stayed.
After a few days by the pool and eating our way through the Feta supplies of the Island, we spent our last day roaming around this small and beautiful town. We stayed at the Katikies Hotel, which is beyond wonderful if you're looking for somewhere 5* and luxurious. But from there, we could walk right down the marble pathways through Oia and take in so many places I had only seen on Instagram previously. It took us a few hours, of course stopping to take photos at any opportunity, but it was such a gorgeous afternoon. Romantic, beautiful and relaxed.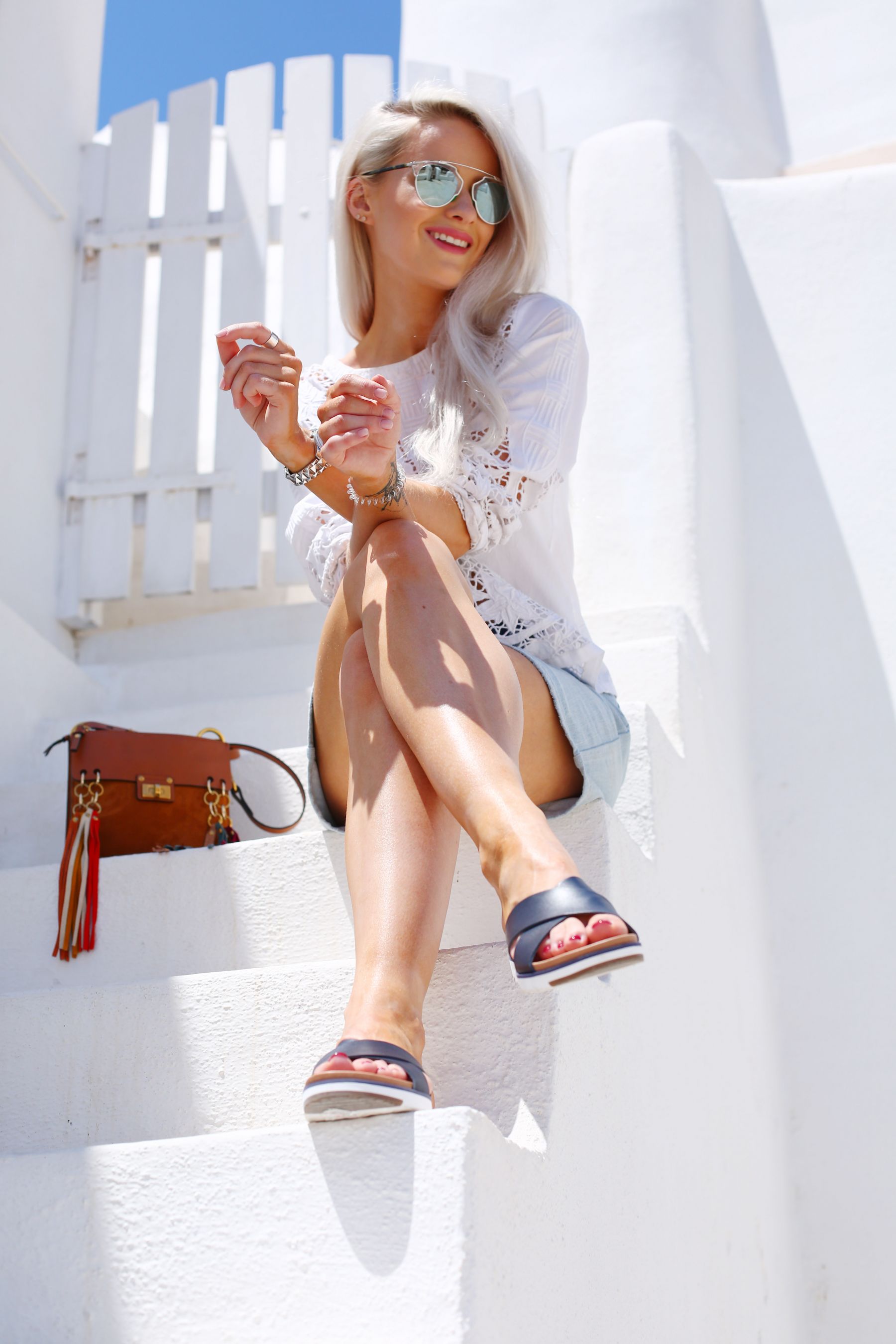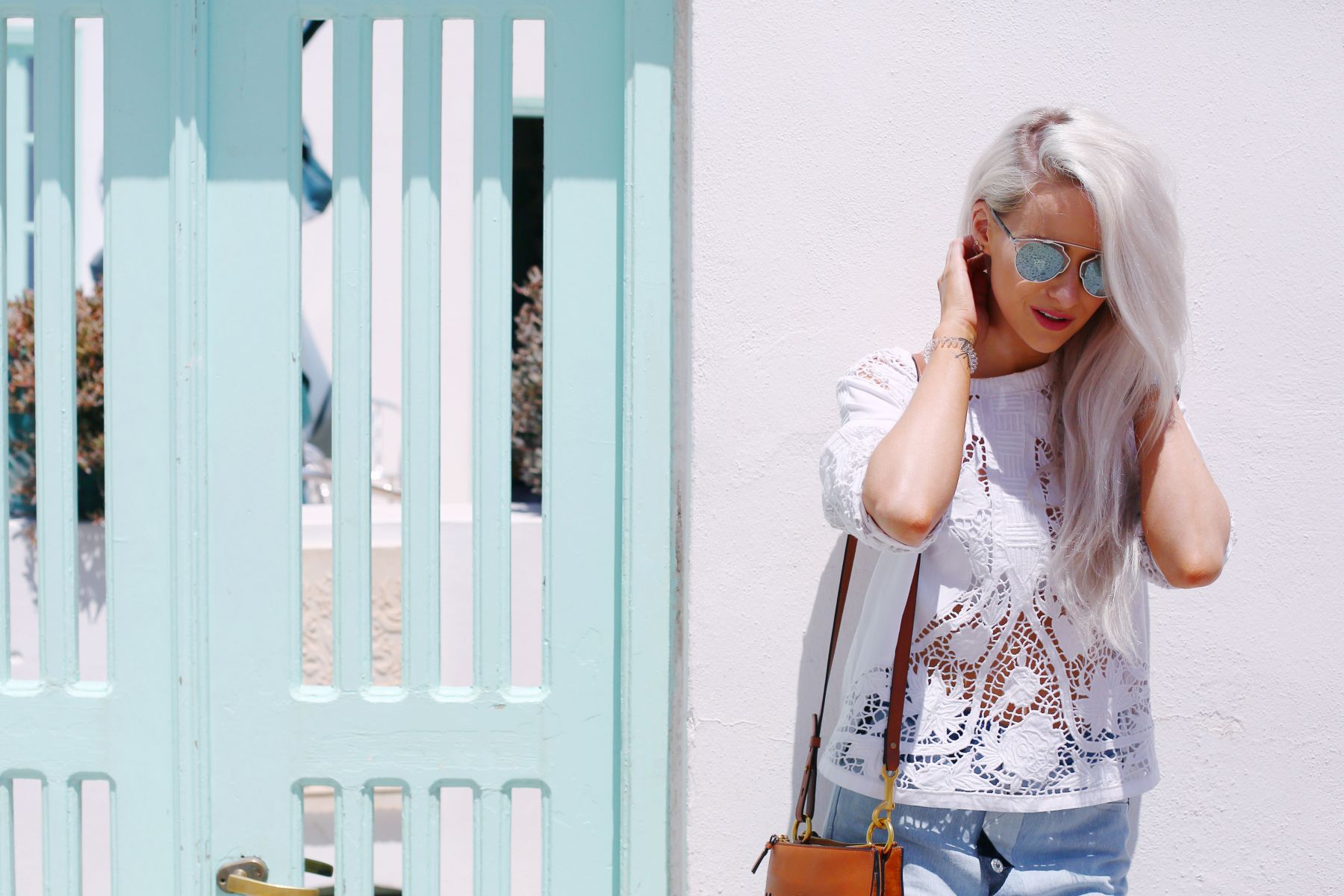 Oia is one of those gorgeous little towns that you will have seen in picture perfect photographs. Pastel shades and whites overlook the bluest of blue seas in the cliff faces of Santorini Island whilst dark blue hues mark the tops of Churches huddled together down the back alleys. You could easily spend a day here wandering around the streets, stopping in the quaint little stores along the way and relaxing in a cafe overlooking the sea. We stopped in a pastry and pizza cafe called Skiza quite close to our hotel, with a beautiful view on their upper terrace over the sea. I went for the spaghetti with pesto and mozzarella whilst Alex opted for a huge Pepperoni pizza, and with a coke and beer, we were pretty much in heaven.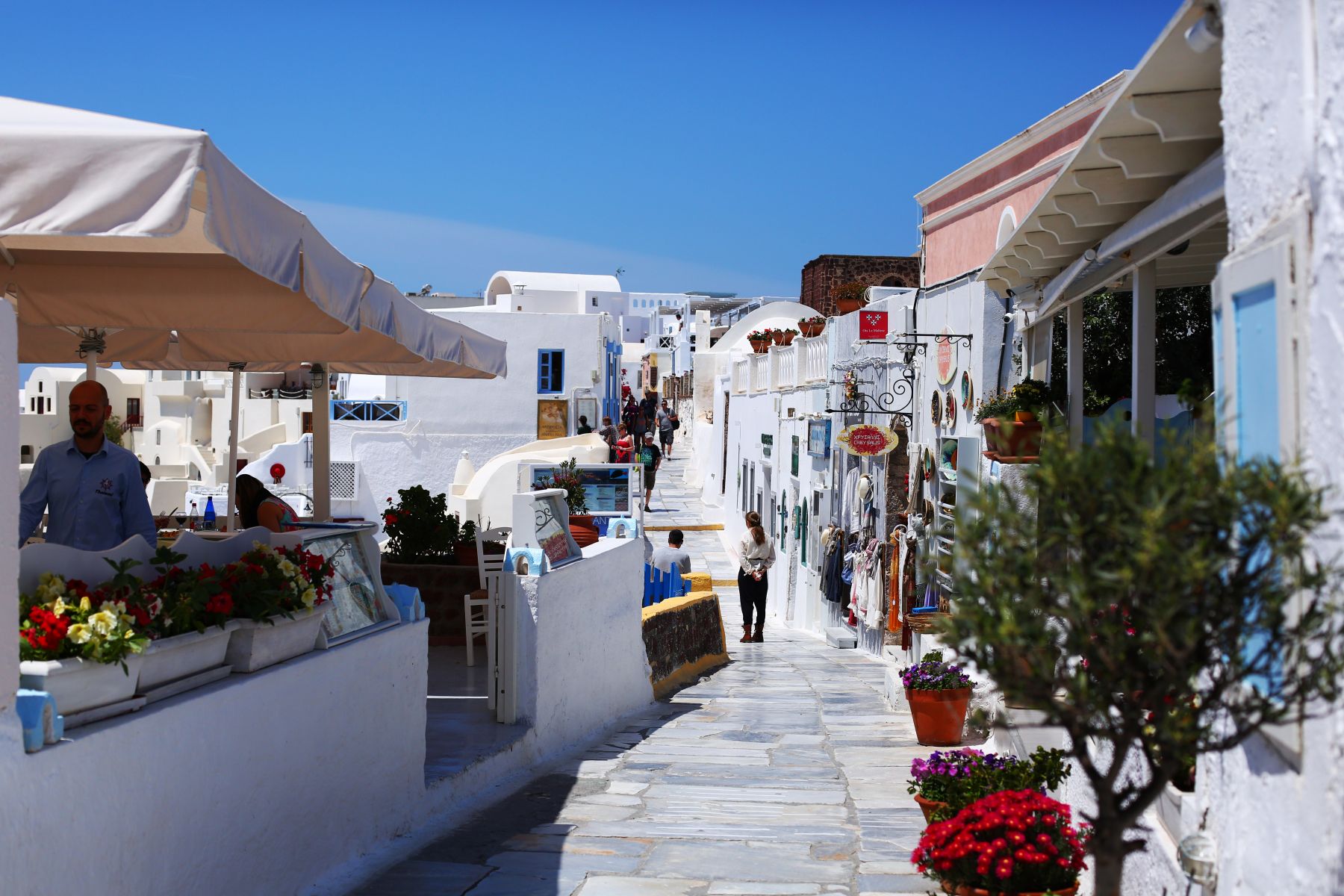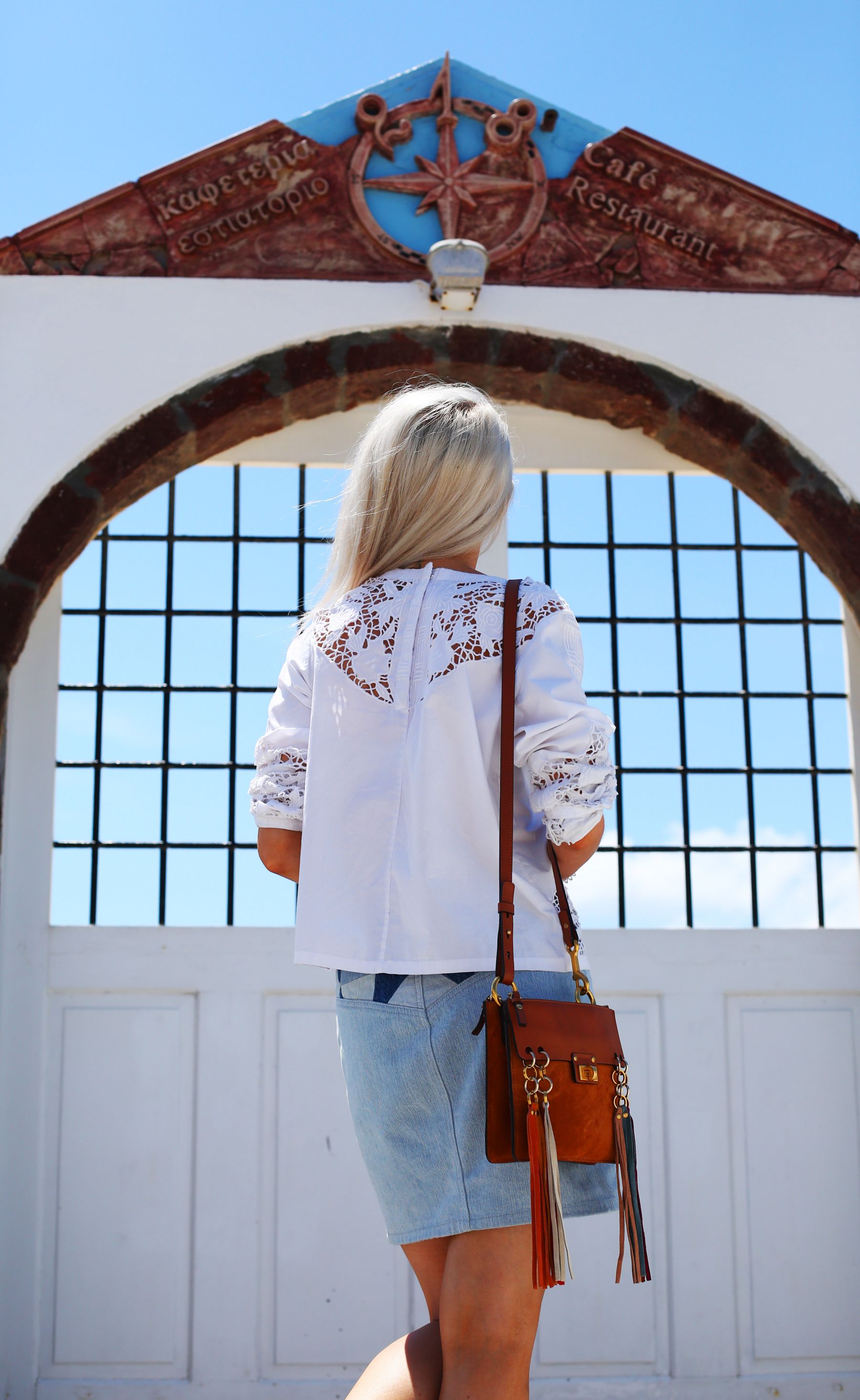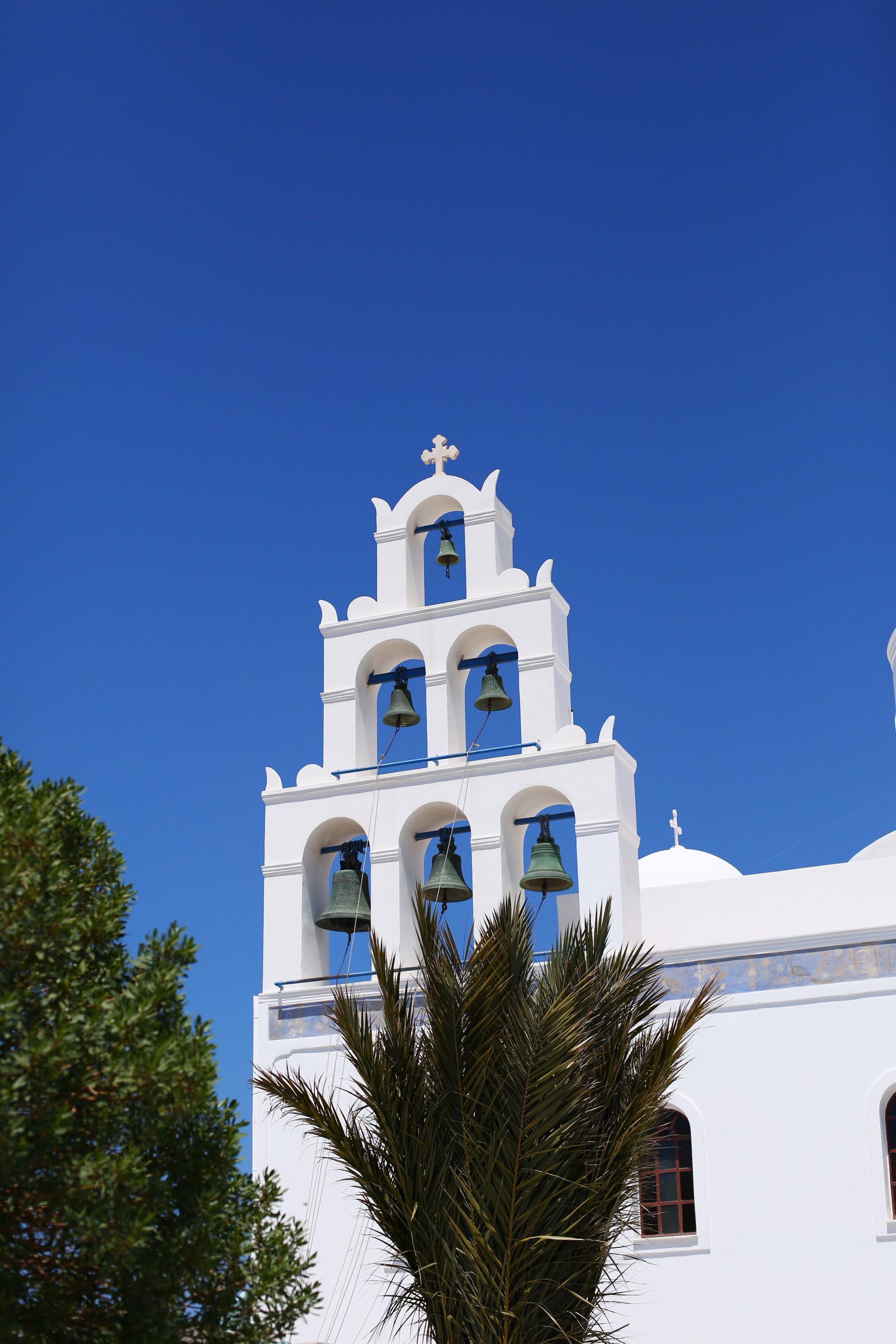 The Church of Panagia of Platsani in Oia Caldera Square
You cannot walk 20 steps here though without having your camera at the ready. Every corner is a new sight, whether it's the sea winking through an alleyway, a bright white Church silhouetted by the sunshine or a cluster of pastel coloured turrets, caves and buildings. But there are doorways here and there that do not even seem to lead to anywhere, but they are beautiful and ornate and wonderfully photogenic.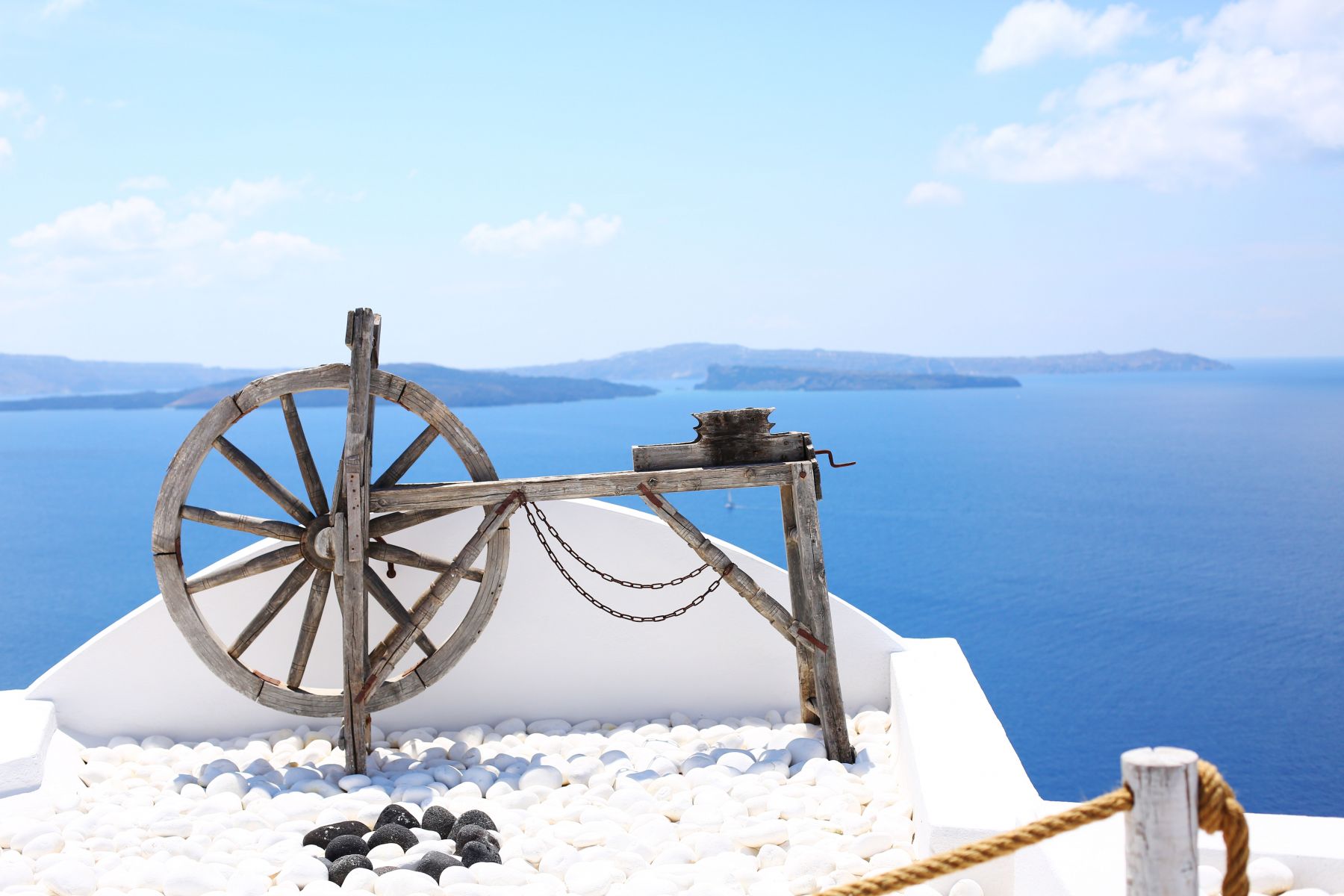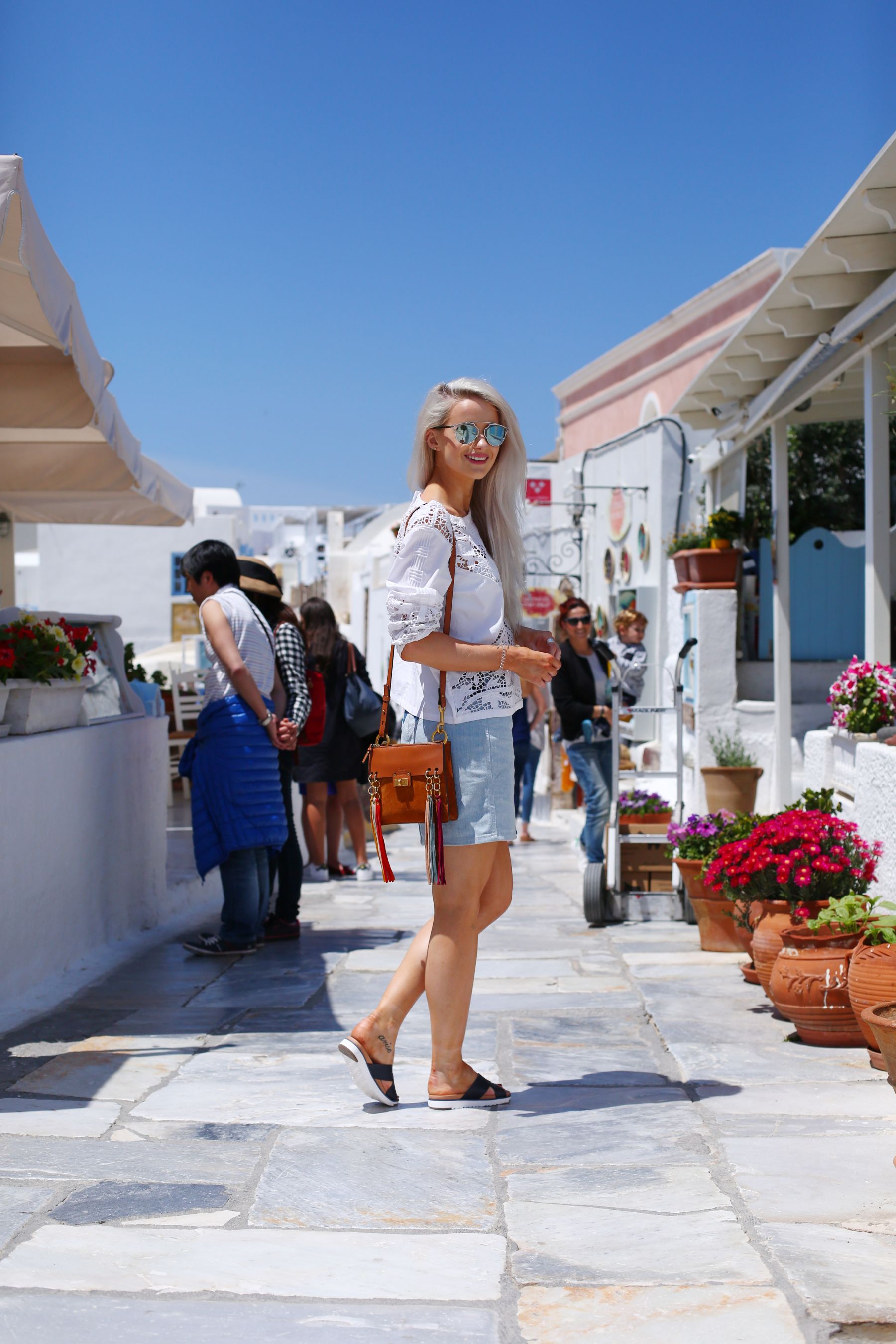 With the weather being warm but the wind always there in gusts and breezes, I decided to cover my shoulders with a new, white embroidered top from Maje. In hindsight, it was probably a tiny bit too hot for this top, but I didn't feel uncomfortable and preferred having my shoulders covered from the sunshine. I paired it with a Diesel Skirt with patchwork pieces down the centre for a touch more colour and added even more vibrancy with the Chloe Messenger bag in tan. And on my feet, a new pair of UGG Kari Sandals in black which were so comfortable for the walk around the town. I honestly didn't realise UGG sold sandals until recently and I'm so glad I was introduced to them! They have an athletic feel to their style yet the curves in the sole create a more feminine touch. For extra comfort, the sole moulds to your feet, making them perfect for walking around and exploring on your holiday, just like I did. Plus, I always had them with me by the pool so I didn't burn my feet on the hot floors. The wind in Santorini really makes you feel as though the sunshine isn't burning hot, but the floor says otherwise!
We stumbled upon a church yard with a white staircase leading up to goodness knows where, and a Chinese couple were taking some romantic wedding photos there. After they had walked away, we ran inside the yard to take some photos where they had been, and the white stairs on white wall with the blue sky was just such a perfect spot. I can see exactly why so many Asian couples make their way to Santorini to shoot their wedding photography. It's so idyllic!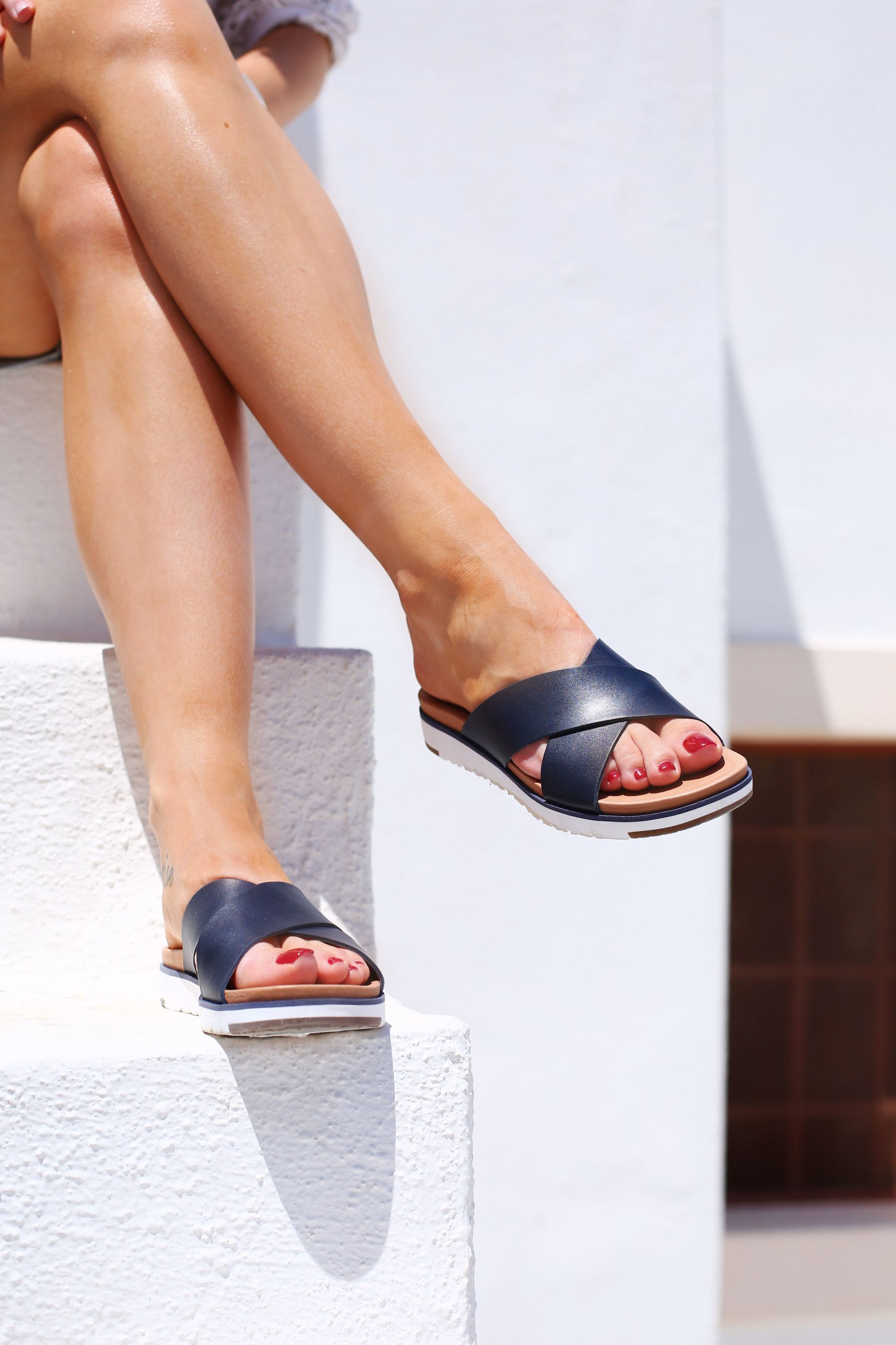 The town is a wonderful set of winding streets and alleyways, leading to more picturesque scenery, and it's worth getting lost down all of the alleyways you can, just to find those epic photo moments. But the main street is lined with lovely little stores, from designer clothing to more upmarket pottery and plates, to the type of stores that sell all of your holiday presents. But nothing is run down or tacky, just enough of what you may like to buy as you're wandering around. And when you need to, there are so many places to stop to get a drink or a bite to eat, all with a fantastic view over the sea.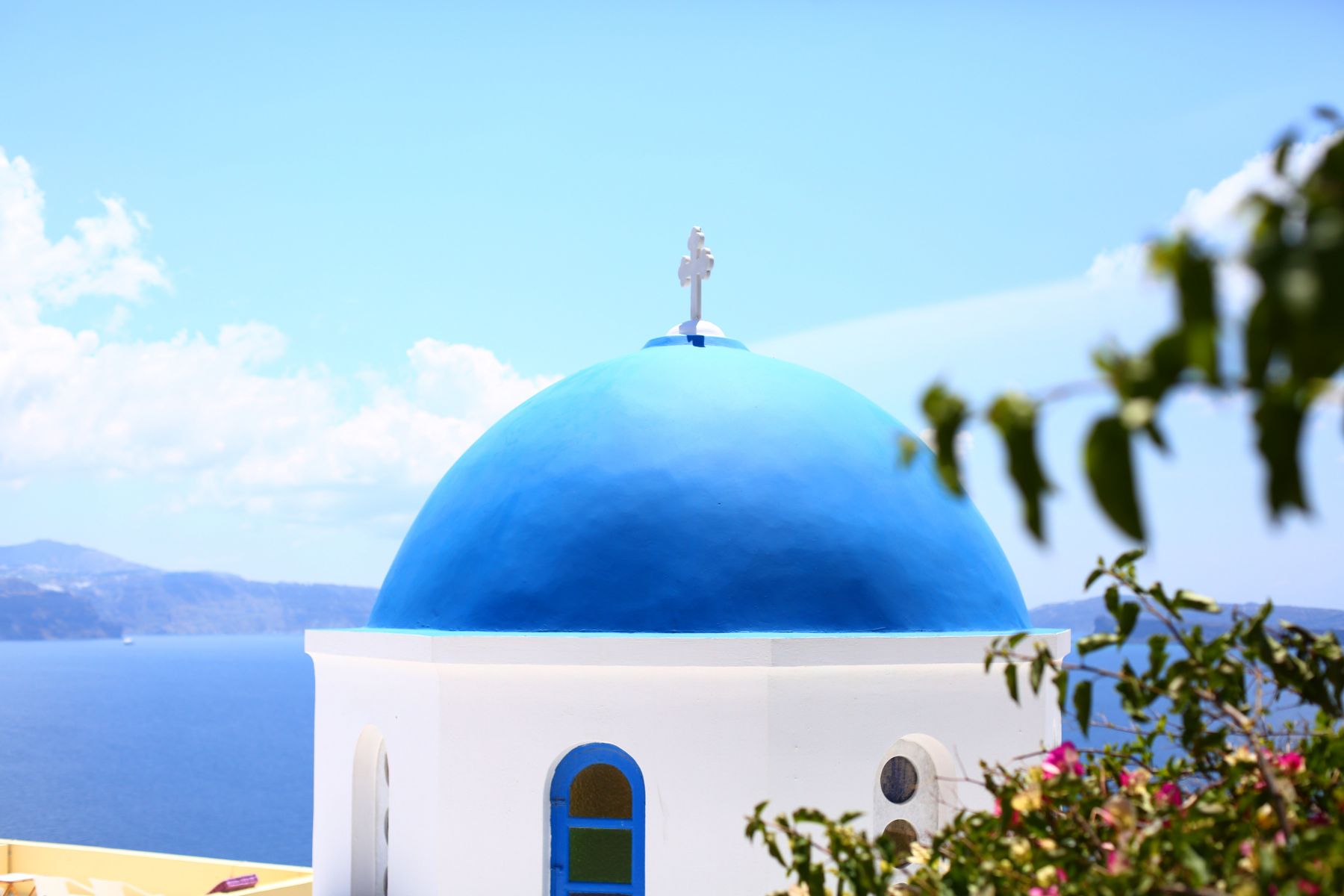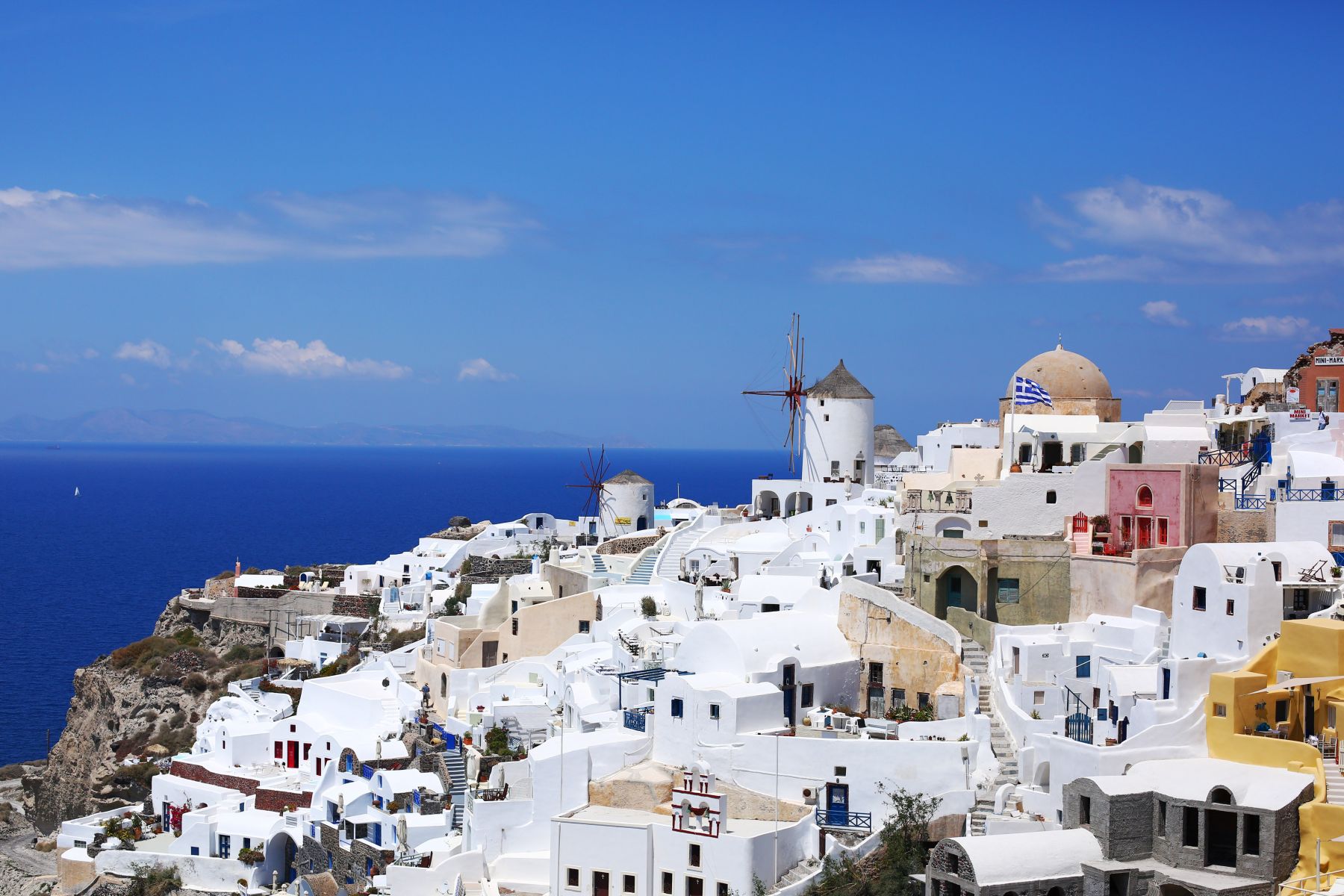 We got to a section of the town where the marble street split into two and we could see a number of tourists climbing up a small hill into what looked like ruins of an old building. The land it stood on jutted out into the sea and provided such a great view looking back at Oia at the clusters of buildings housed within the cliff. A pathway of alleyways, doorways and windows all leading to somewhere, bathed in sunlight and gleaming in whites and pretty pastels. And at this point, couples and lovers from all over the world had attached padlocks to the railing to declare and secure their love, in one of the most romantic and beautiful places I have ever visited.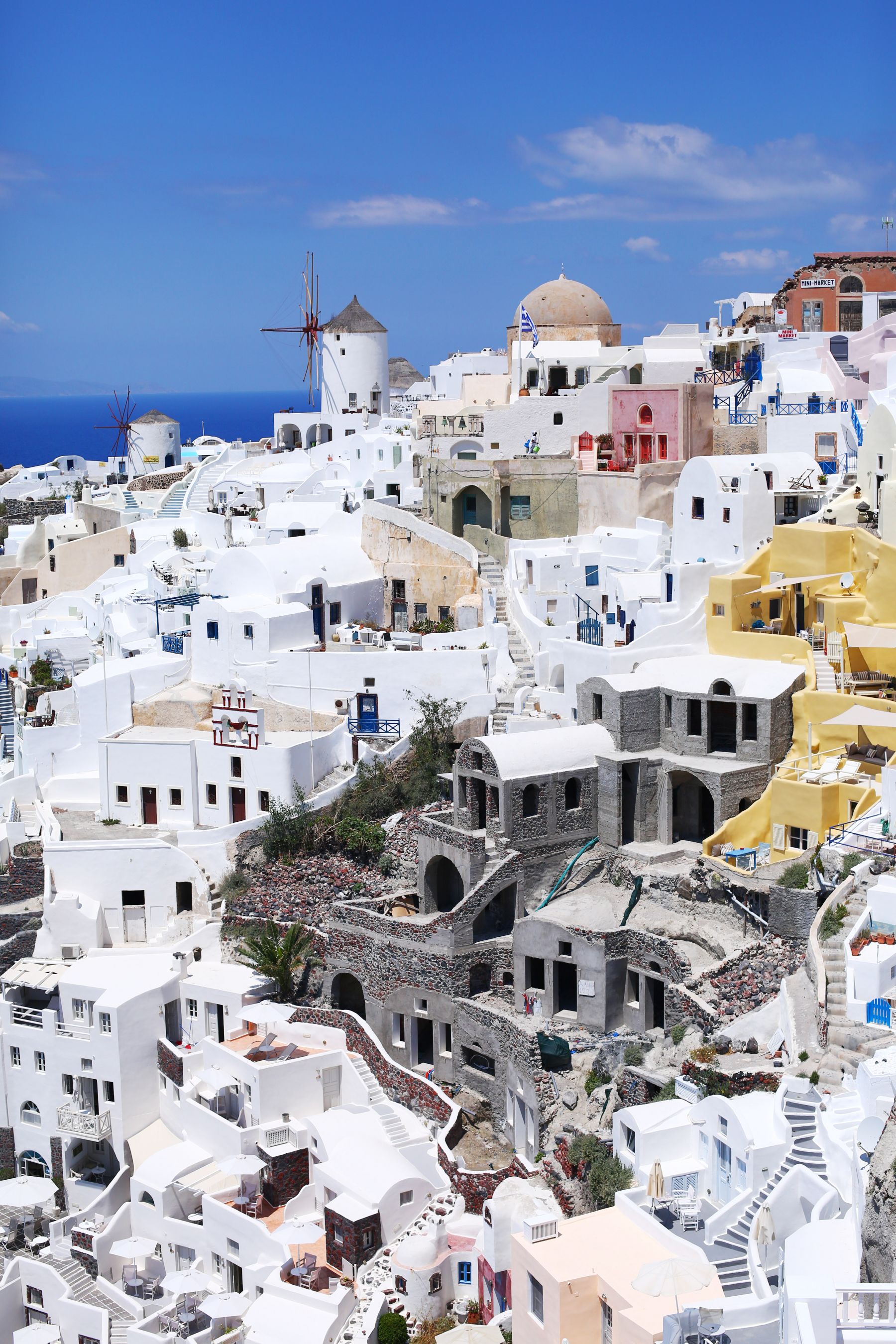 If you're looking for the stunning blue topped Churches, we found them hidden and tucked away from the marble street. Find a jewellery store named Alexandrios if I'm not mistaken, and just to its left is an alleyway. Follow it all the way down and you can't miss the Churches in front of you. They make for the perfect Santorini photograph and are the landmark that you will recognise immediately.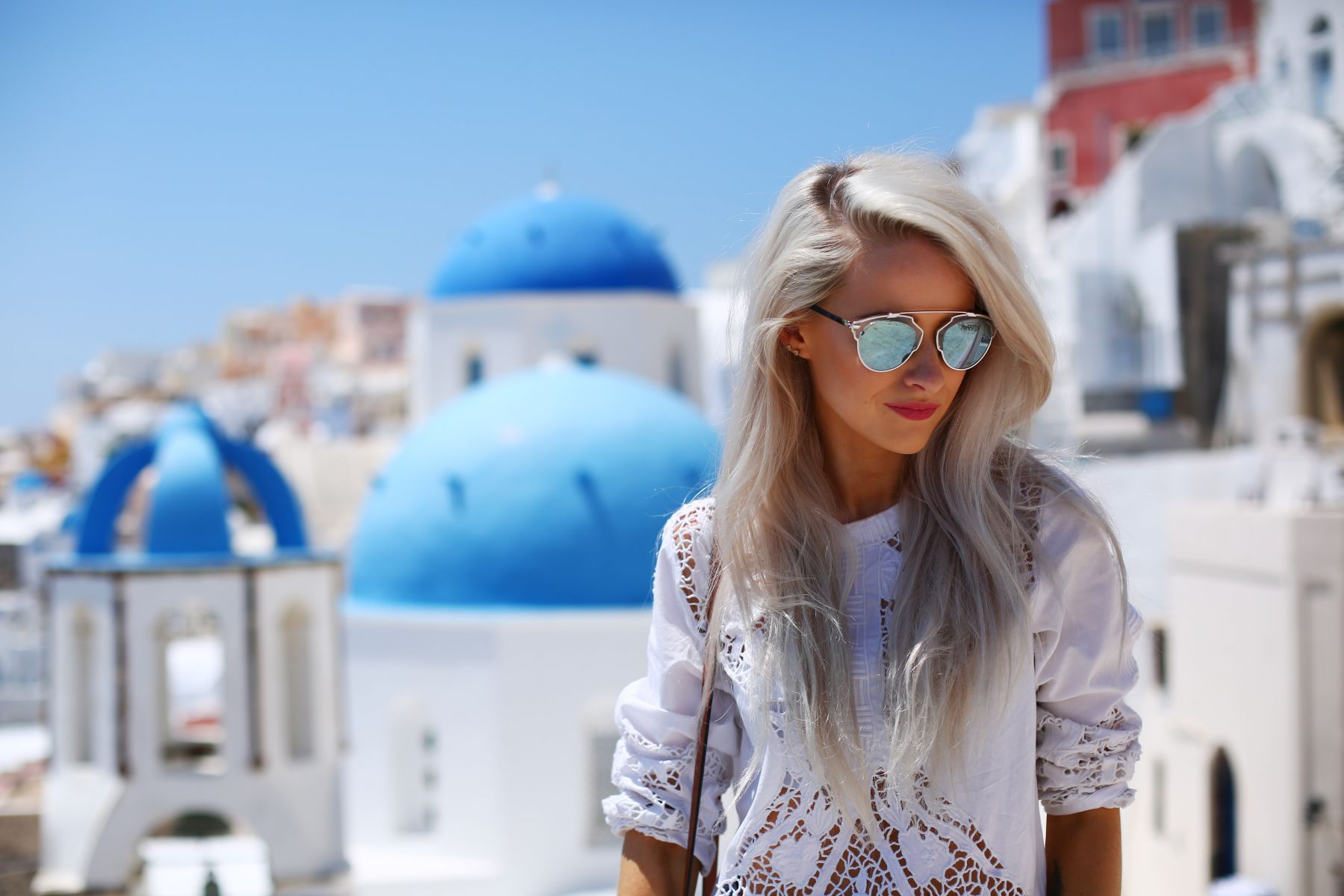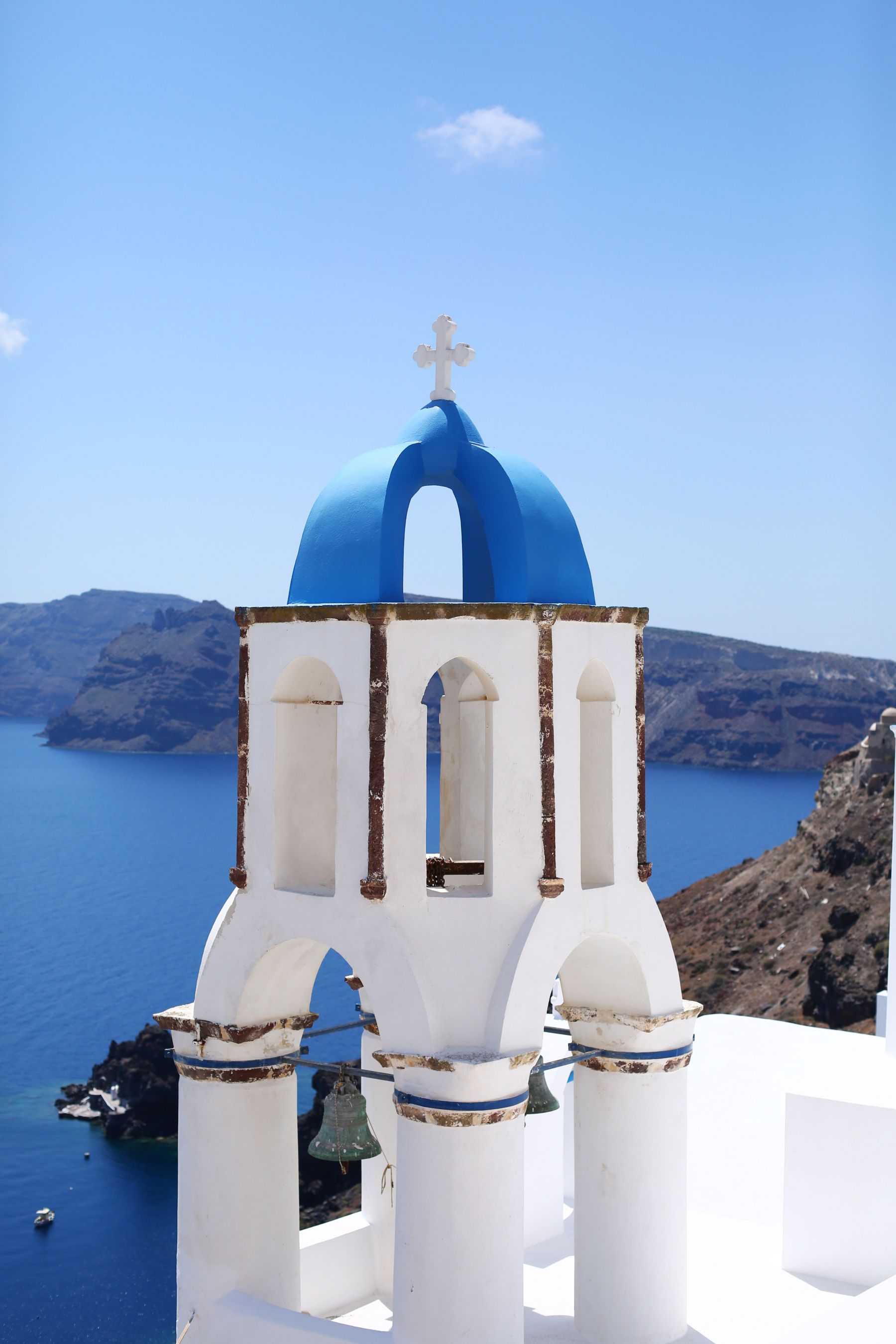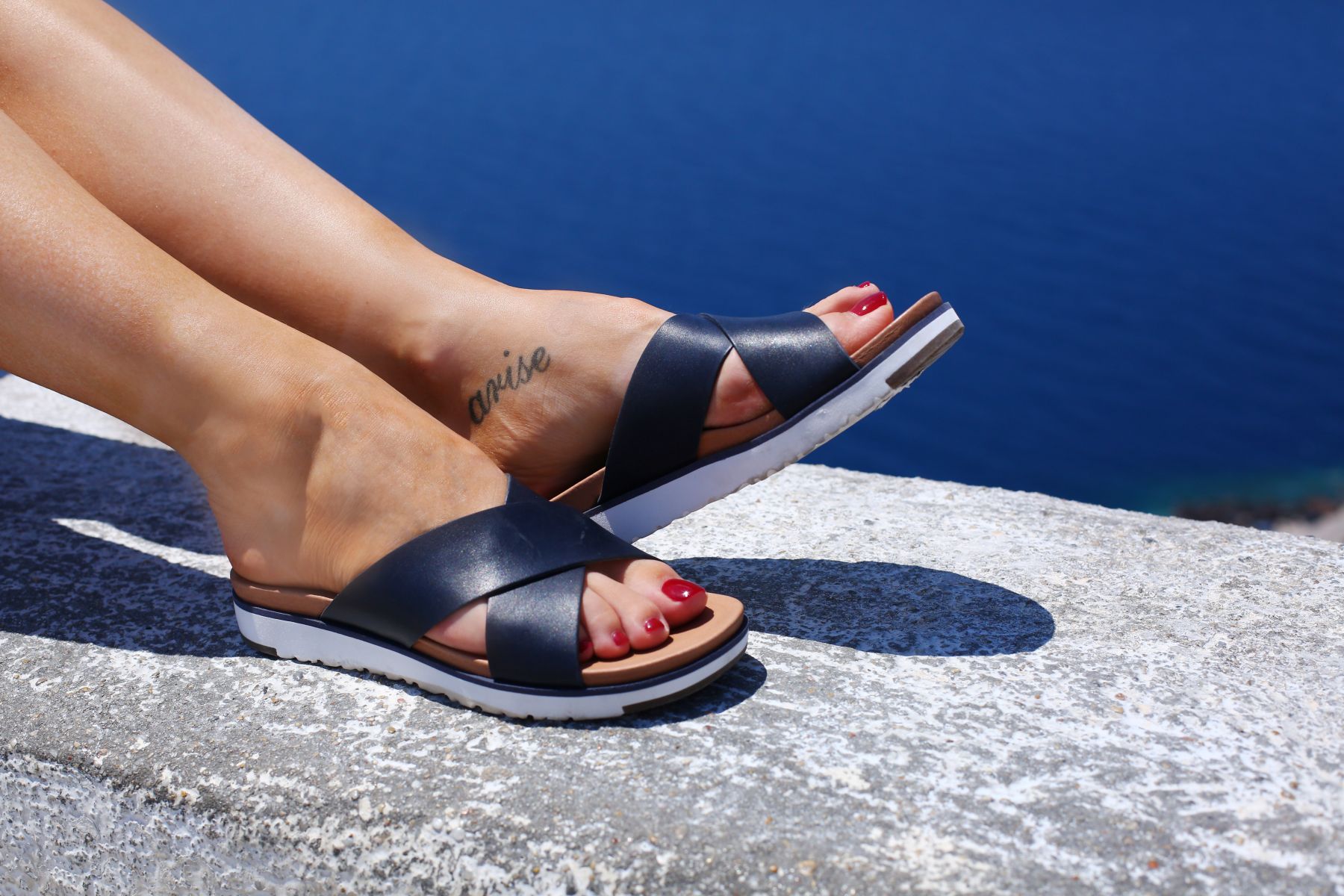 If you guys know of any other gems in Oia that I missed, please do write them below for anyone thinking of visiting Santorini! I'd also love to know where else I should visit in Santorini if I head back there again. We had the most amazing time, I truly recommend Oia, Katikies and Santorini overall!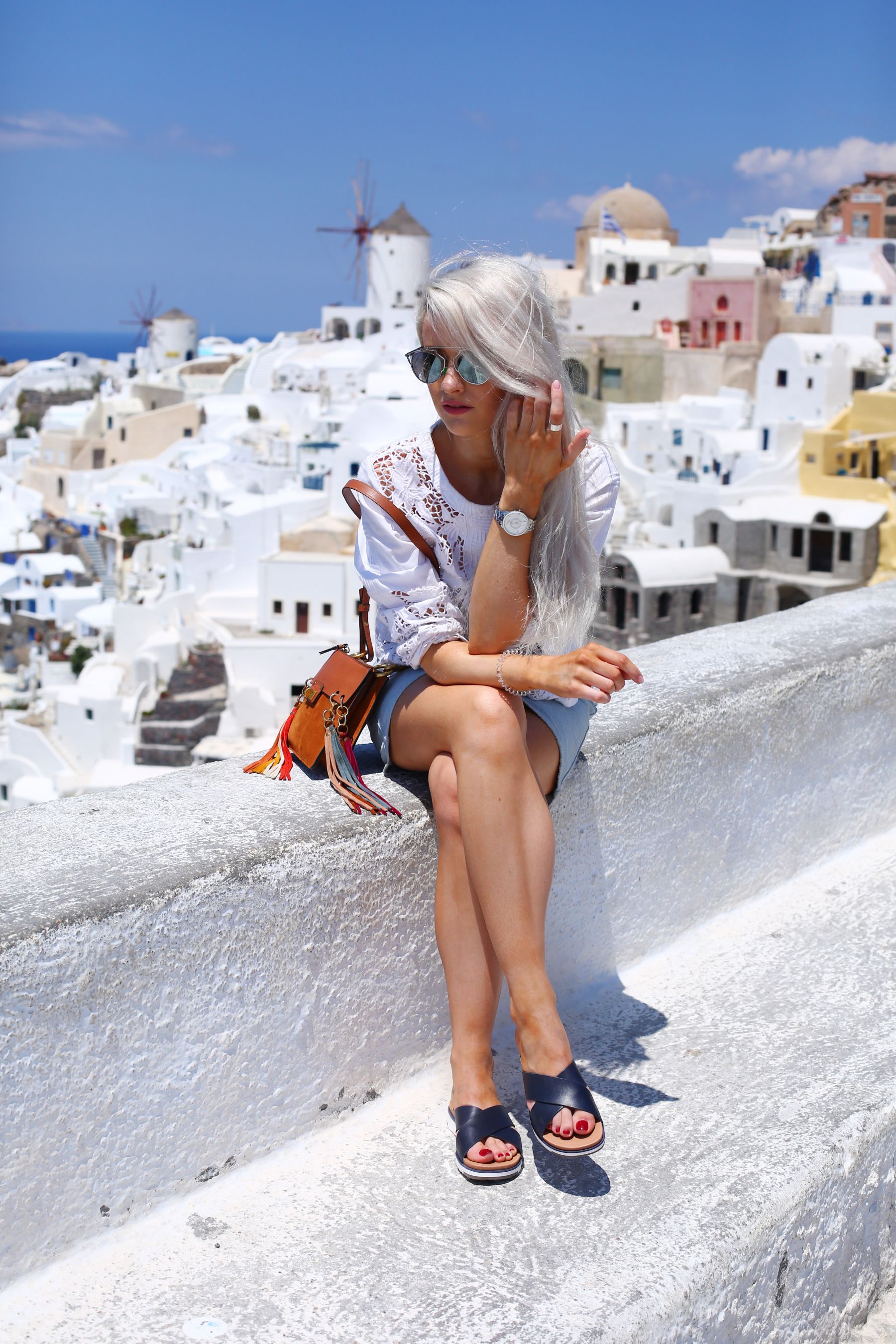 Sign up here for a weekly catch up of everything Inthefrow