A paid advertorial in collaboration with SK-II. 
The Beauty Cupboard
Skincare Secrets and the SK-II Facial Treatment Essence
For as long as I can remember, I have always been rather over protective when it comes to my facial skin. Over protective in the sense that I quite often dislike people touching my face, for fear of a slight bit of dirt upsetting my pores and breaking me out the next morning. So much so that I also try to keep my hands away from my face throughout the day, just to try to protect it as much as I can. It may seem like a great length to go, but nothing gets me down more than finding a break out on my face, especially before I have an event, or a dinner or a photoshoot! But this is just one way in which I have pro-actively looked after my skin over the last ten years or so.
I remember I used to use just one product. A face wash. This was before the blog and before my understanding of skin and dehydration and the importance of moisturising and hydrated skin. It was also before the time that I truly discovered makeup and learned how to layer it for more beautiful skin effects. This in turn means that my skin has more product on it day to day, but more makeup does not mean dirtier skin. If you keep on top of your skincare regime, you can have the best of both worlds.
As a blogger, specialising in all topics, but starting out with more of a beauty focus, I must admit that I do feel pressure to keep my skin looking fresh and radiant. I had never known just how bright and illuminated you could make the skin, before I started to research into all of the wonderful creams, toners, masks and serums that you could purchase in stores. And as soon as I found out the benefits of certain types of products, I was completely hooked. My skin has never looked or felt better than it has in the last few years, and that is mainly due to enhanced knowledge and also a passion for the products I am using. I get so excited when I find a new skincare product or makeup item that really enhances my skin's texture and the way it makes me feel.
I have a few steps that I swear by when it comes to taking the very best care of my skin and I thought I'd share them with you. I'm sure you already carry out a few of these steps, but if not, perhaps it could help you mix things up a bit and give you skin a little bit of revitalisation!
1.
Always take off your makeup before bed. The makeup will just sit in your pores all evening, gathering sweat and further dirt and not allowing your skin to breathe. Regardless of how tired you might be, be sure to take off your makeup properly (I'm not talking wipes here), and cleanse your skin at the very least.
2. 
When you're out and about, moving from Underground to the bus to your desk to the fridge, try not to touch your face all that often. You never know what your fingertips may have picked up somewhere along the way, and placing your hands onto your face is only going to pass on germs. I often find that it's a sure way to avoid random spots.
3.
Cleanse, tone and moisturise. It is as simple as these three steps and they work together like three peas in a pod. Take off your makeup, cleanse your skin with an exfoliating, foaming or gel cleanser depending on your preference, use a light toner to remove any further residue and to brighten and tighten the skin and finish with a layer of your favourite moisturiser to rehydrate. Clean, bright and hydrated! Or if you're not a big fan of the toner, switch to a Facial Treatment Essence in its place.
4.
I must admit that I really adore battery operated exfoliating devices. Some people dislike them, some people love them, and I feel its about finding one that works for your skin type. Have a look back through the blog for some of the devices I would recommend, but I honestly find that they remove makeup and residue even more thoroughly than anything else can. You want your skin being as clean as possible, before applying your beautifying lotions and potions.
5.
Use a wash cloth to remove your cleanser and face washes. When I moved to using a cleansing cloth rather than just my fingertips to remove makeup and cleansing lotions from my face, I found the amount of product you remove with the cloth is ten fold. You can really grab onto the products and wipe them away from your face.
6.
Finish your cleansing routine with one final, beautifying step, such as the SK-II Facial Treatment Essence. It will round off your routine with a product that will really get to work on your clean skin. When your skin is cleansed and entirely free of residue, this is the best time for products to get to work on the layers of your skin, so take the opportunity to show your face some love.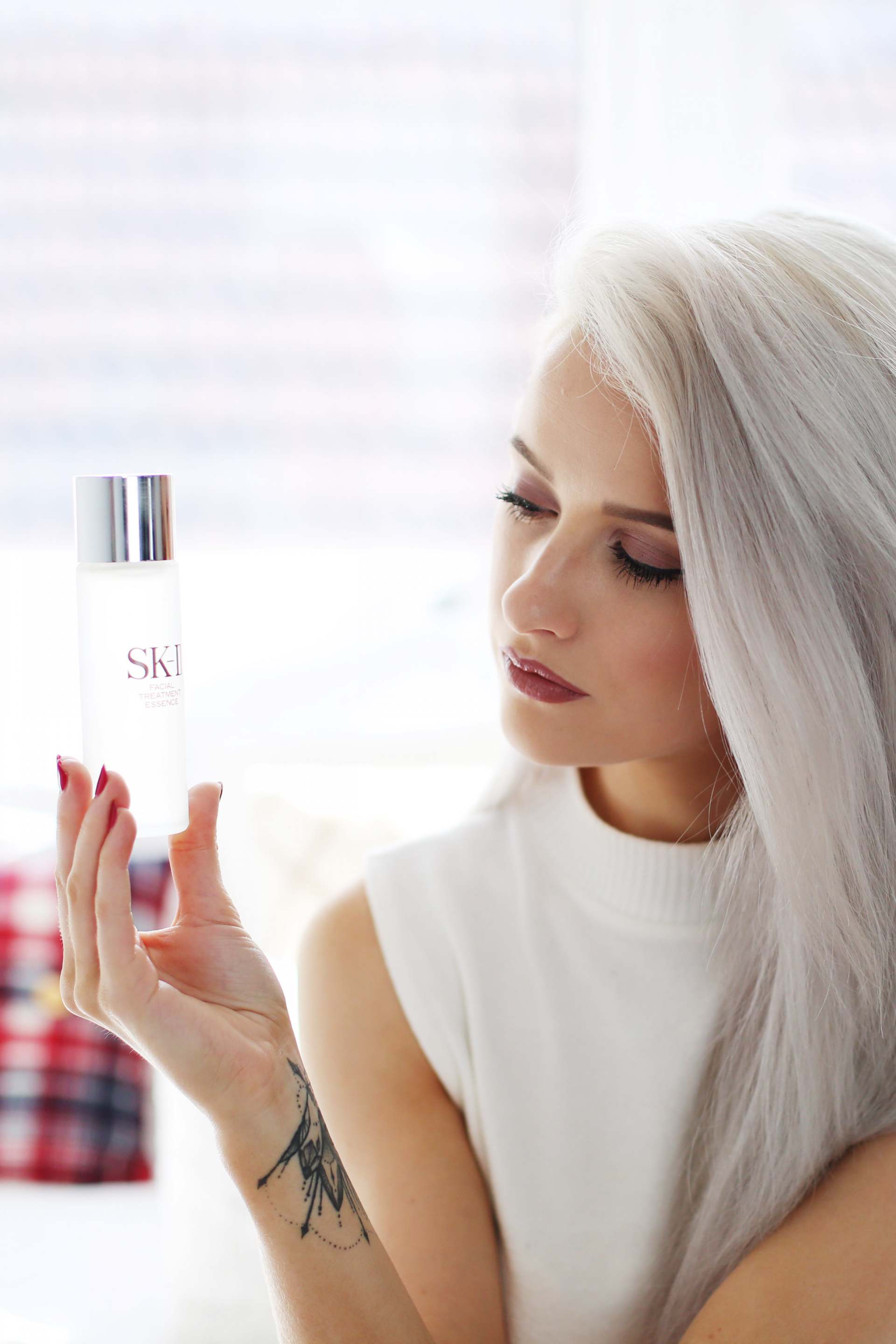 The SK-II Facial Treatment Essence
The SK-II Facial Treatment Essence is a product I have been trying out for the last few weeks. It is the best selling product for the luxury skincare brand and I was so intrigued to see how it could fit in with my current routine. It turns out that this is that final finishing touch to your skincare regime. The step that will moderate the skin's surface after a hard day, when all you need is some rejuvenation. This is a miracle water, that the skin soaks up after cleansing and before you apply your moisturisers or serums.
The product contains 90% Pitera, an ingredient discovered over 30 years ago that contains amino acids, organic acids and minerals. The three work together to enhance the skin, ultimately increasing evenness, reducing the visible appearance of wrinkles and fine lines, improving the skins firmness and elevating its radiance. The ingredients work on the skin to gently exfoliate and refresh, resulting in more beautiful, radiant and balanced skin. This will also help the skin to absorb the serums or moisturisers you apply post Facial Treatment Essence, helping the skin to obtain the maximum effects of your skincare regime.
I prefer to decant a small, teaspoon amount onto a cotton pad, before gently dabbing and pressing all over my cleansed face and neck. It is absorbed quickly into the skin like water, and the only after effect is a slight tightening. After this I will apply any eye creams, serums or moisturisers like usual and therefore this has only added one extra, beautifying step to my current regime. You only need a small amount and therefore the product will go much further than you may expect. But there is certainly a reason why this is a cult, best-selling product for this prestigious Japanese skincare brand.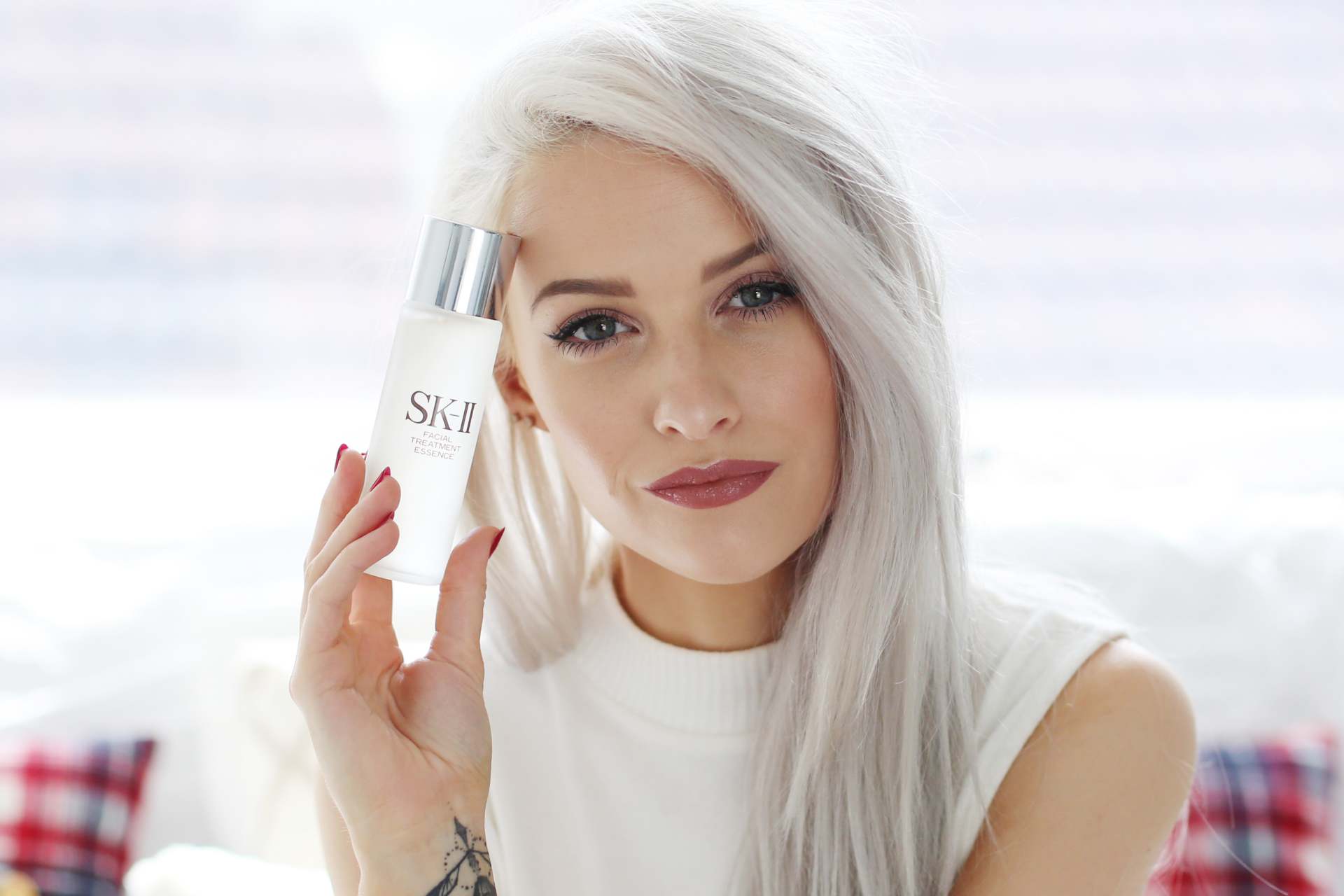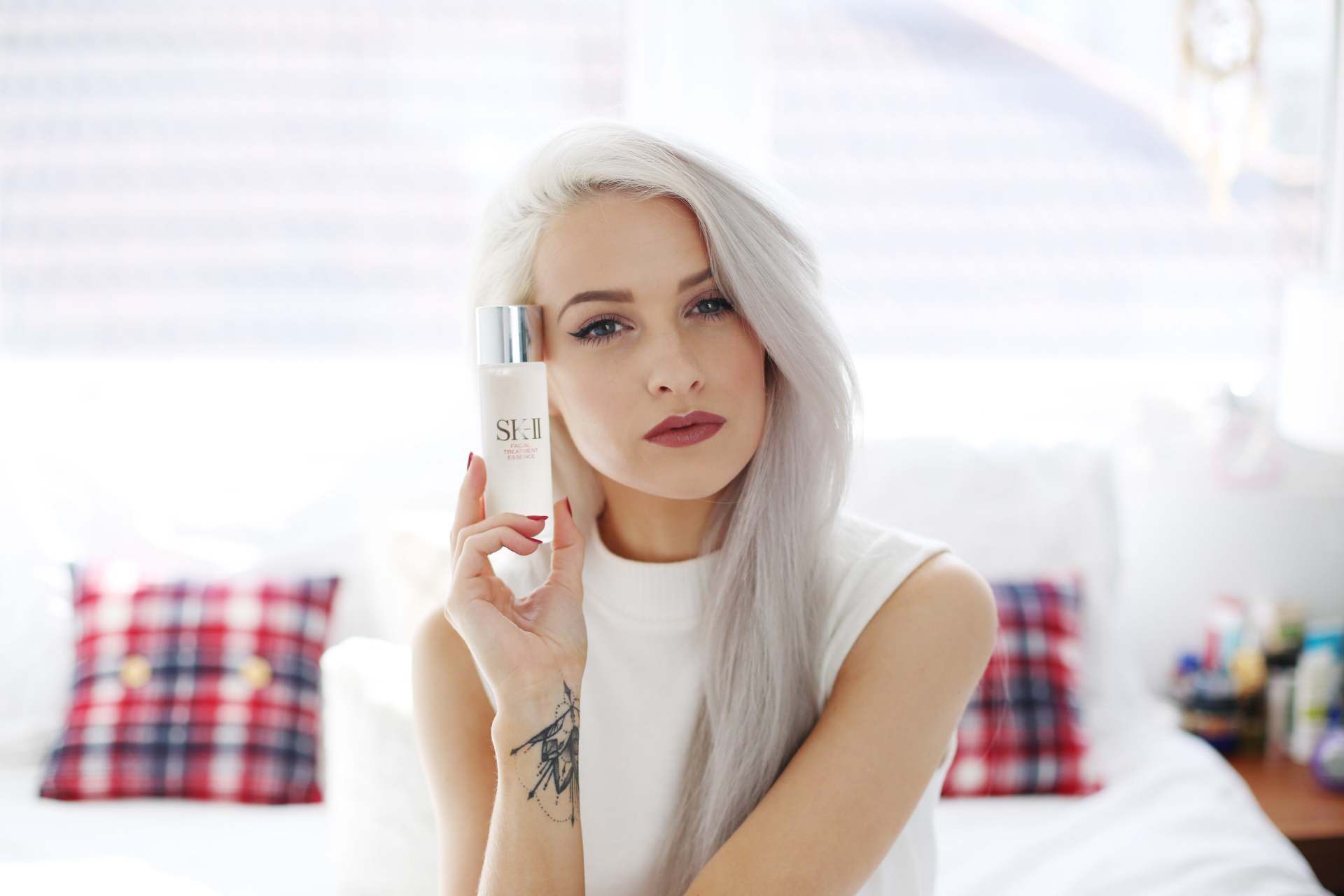 With this being the first time I have featured SK-II on Inthefrow, which always makes me really excited to feature something totally new, I would love to know your thoughts on this! Have you tried the Facial Treatment Essence? How is it fitting in with your routine? Or are you interested in trying this now? You can pick this up in Harrods in the UK, as well as in the World Duty Free stores at British Airports! Otherwise I have linked a few other places to buy it online for the UK, US and hopefully a few other countries in the world!
Sign up here for a weekly catch up of everything Inthefrow