The Beauty Cupboard
Dolce and Gabbana Beauty Luxuries
I must admit it's been some time since I posted a new beauty makeup look. But when I find some new makeup products that I love, these become my favourite posts to write.
In honesty, up until a few months back, I wasn't even aware that Dolce and Gabbana had designed a line of beauty products. I'm not sure if I just never looked for it, or if it wasn't promoted mainstream, but I was really intrigued as soon as I heard there was a beauty product line alongside their fashion collections. These particular products were actually launched a few months ago, but they're still available in one or two places, so I figured I would share my thoughts on them.
There are a lot of fashion labels now distributing branded beauty lines, but finding the best products in the noise is what I aim to achieve. With Givenchy, Guerlain, Armani, Chanel, Tom Ford and Dior all ruling the luxury beauty roost, it is no surprise that Dolce and Gabbana also stock a line of luxurious treats. I just wish I had realised sooner. Slap on the wrist. But hey, better late than never, and certainly a line that I am very happy to know about!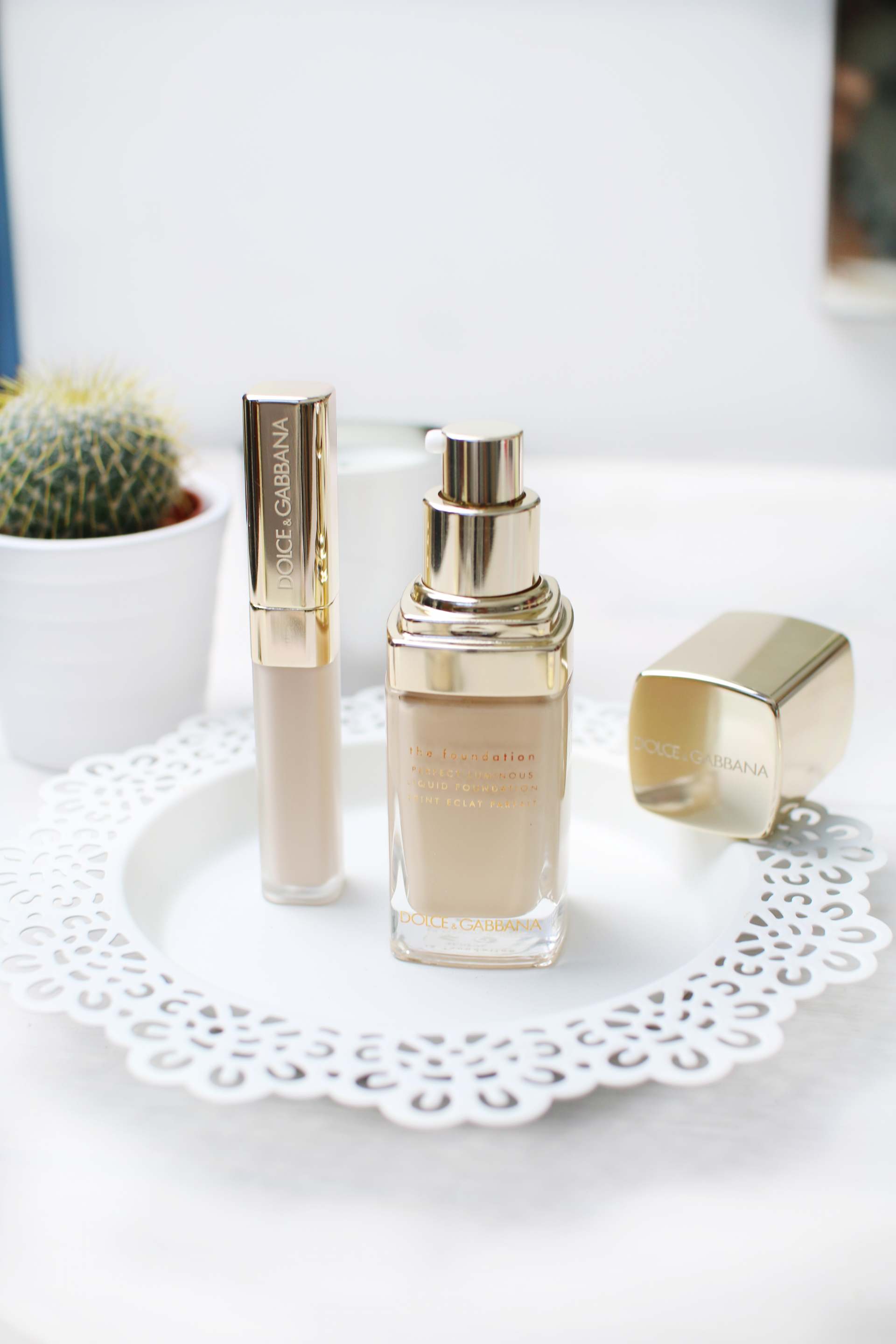 There were seven products that I tried out, as my first look into the Dolce collection, and the base was certainly my fave. The Dolce and Gabbana Luminous Foundation was fresh and lightweight whilst offering medium, buildable coverage. In the shade beige, I found the colour a pretty great fit for me, and certainly nothing that a bit of bronzer down the neck cant help with. But the whole packaging is super luxurious and in a number of shades, there's a good chance you will find a shade that works rather well for your skin tone. Is it my favourite ever foundation? Maybe not. But did I enjoy wearing it? Definitely! I liked the coverage a lot, the experience of using it was easy, the shade was great and the product is actually really lovely. It definitely gets the thumbs up from me. And with the Perfect Matte Concealer, they do work rather nicely together. Although in the shade ivory, it was a touch too light perhaps for the beige of the foundation. I had to blend a little extra. Yet it is pretty easy to blend and with a light to medium coverage that was great for my undereyes. I would definitely recommend having a look at the products if you spot them in a store soon!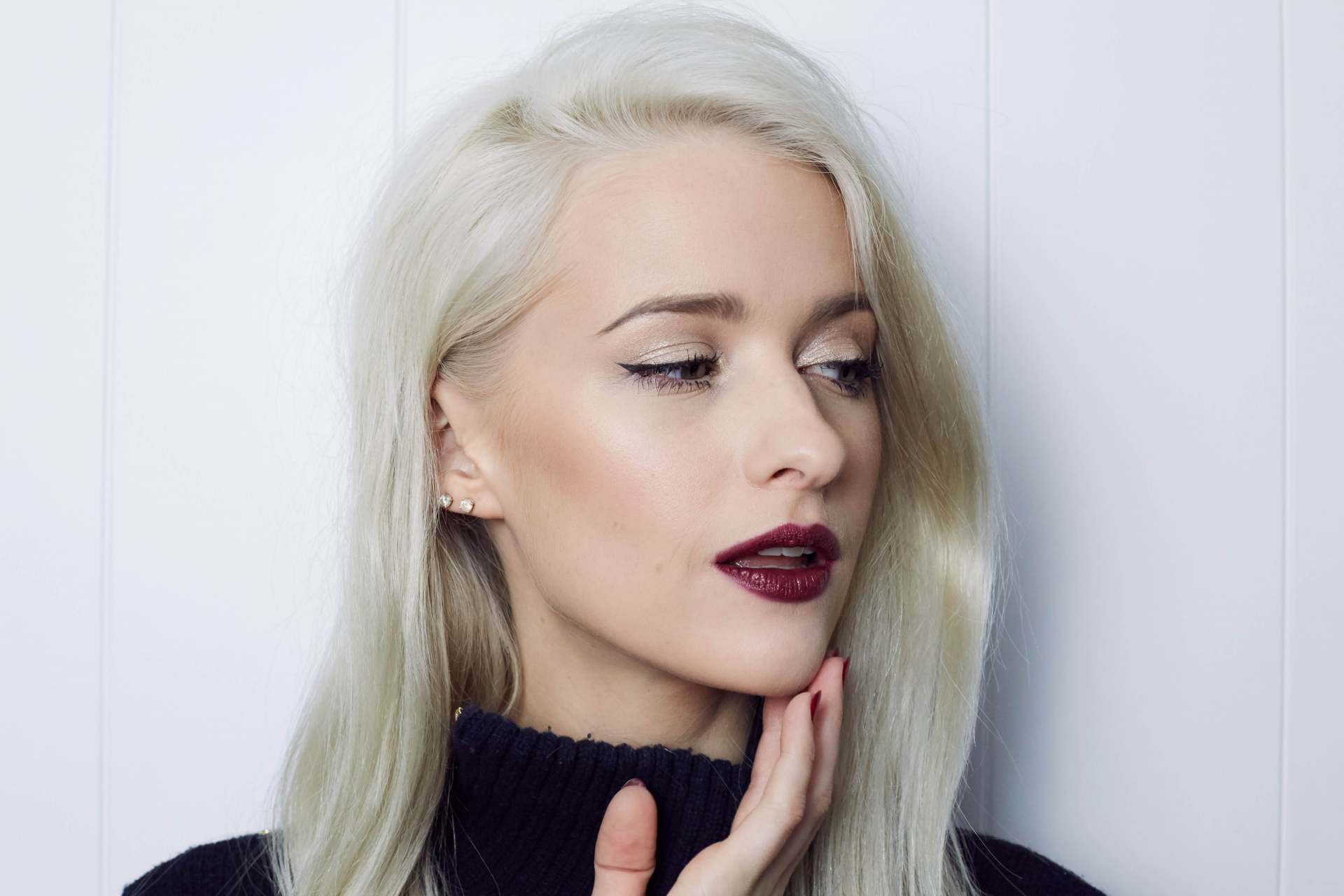 The lipsticks and liners were also pretty darn great. The Dahlia lipliner with Dahlia lipstick worked a treat and created such a vampy yet wearable finish. Not too plum or black to make it far too gothic. The deep red looks great with a touch of black eyeliner and an otherwise perfected base. The consistency of the liner was easy and fuss free to apply, not being too soft, but also not so hard that you literally need to bore the pencil into the lips to get any colour pay off. This rested in the middle of the two forumlations, with a great colour pay off and lovely sharp and workable nib. And to finish, I added Dahlia lipstick over the top. Again with a colour almost identical to the liner and with a wonderful sheen to finish. Not to drying or too matte, but that wonderful, wearable formula.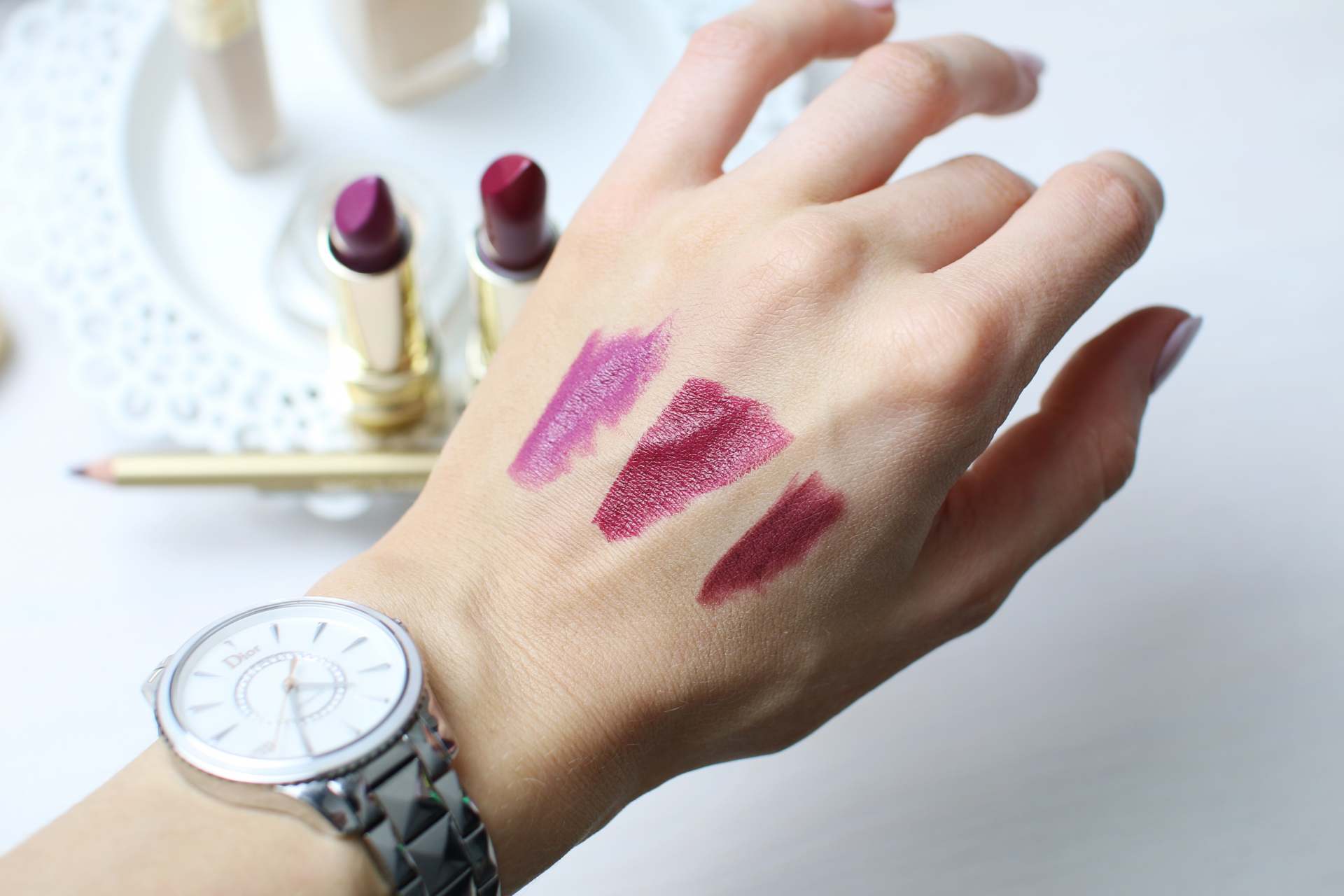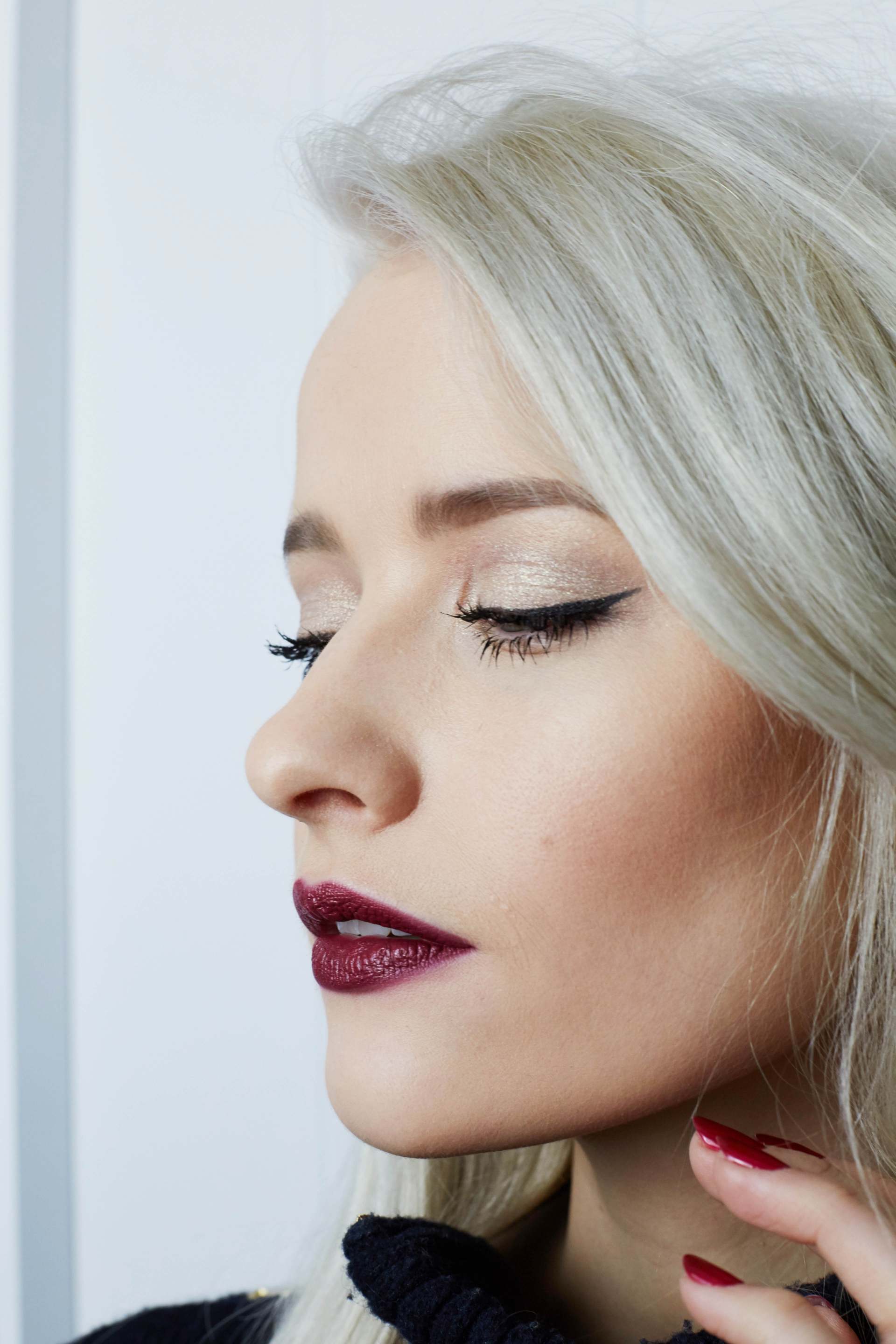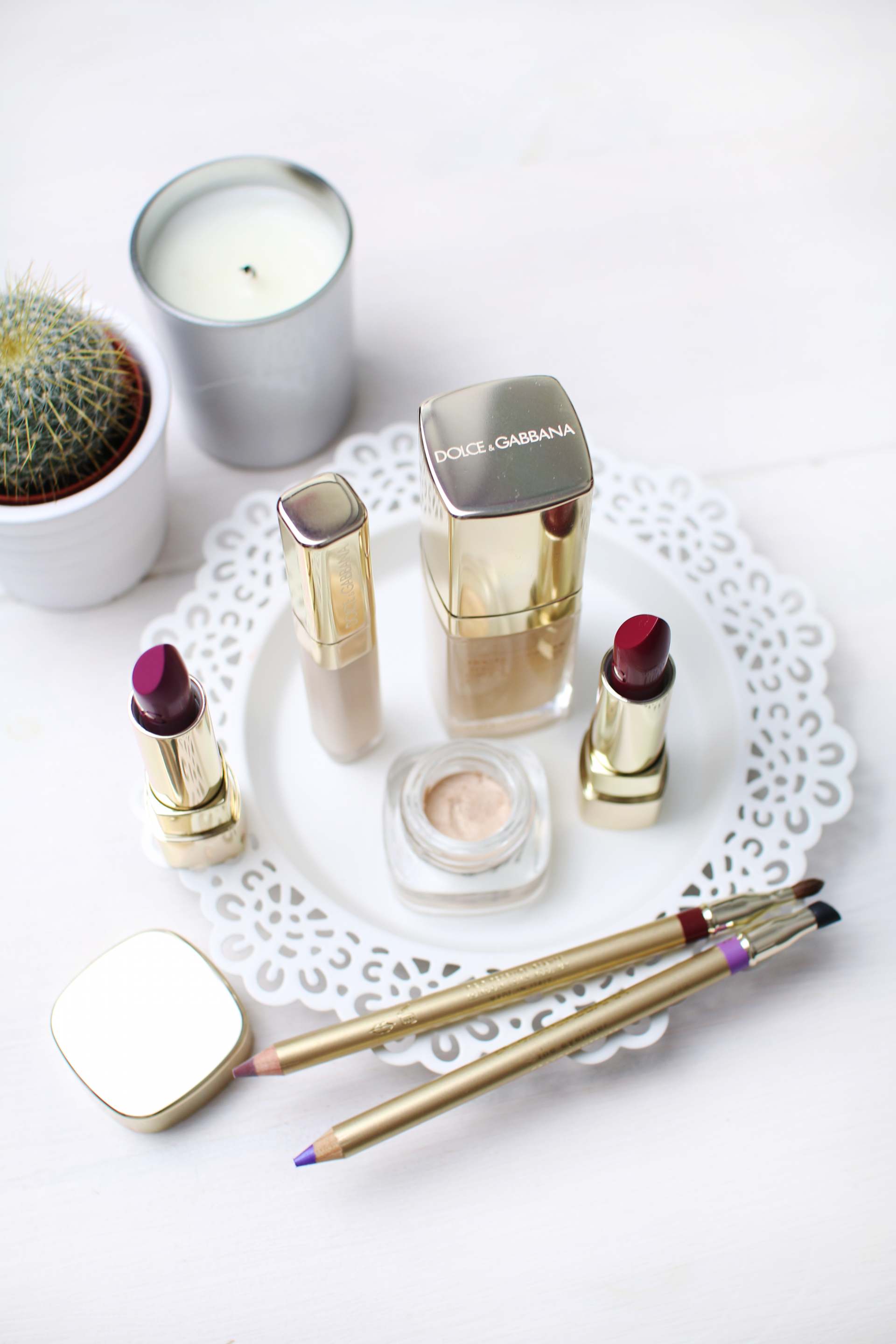 You may be aware that I quite like my champagne tones on the eyes, and shimmer is a big favourite. So I was pleased to open up this cream Mono eyeshadow in Pearl Dust to find this stunning golden cream inside. This isn't too much of a dry formula, so you can really work a brush or your finger into this and sweep it onto the lid for a bright and shimmery finish. It is just one of those products that you will probably find yourself reaching for really often. Whether you want to wear it alone over a bare lid, or tapped over the top of another eyeshadow shade, it can really help your eyes to look bright and fresh. And there is also the lilac eyeliner in the collection, although not worn on my eyes for the photos. But if you're looking for even more of a brightening colour pop, that would certainly be a pretty way to go!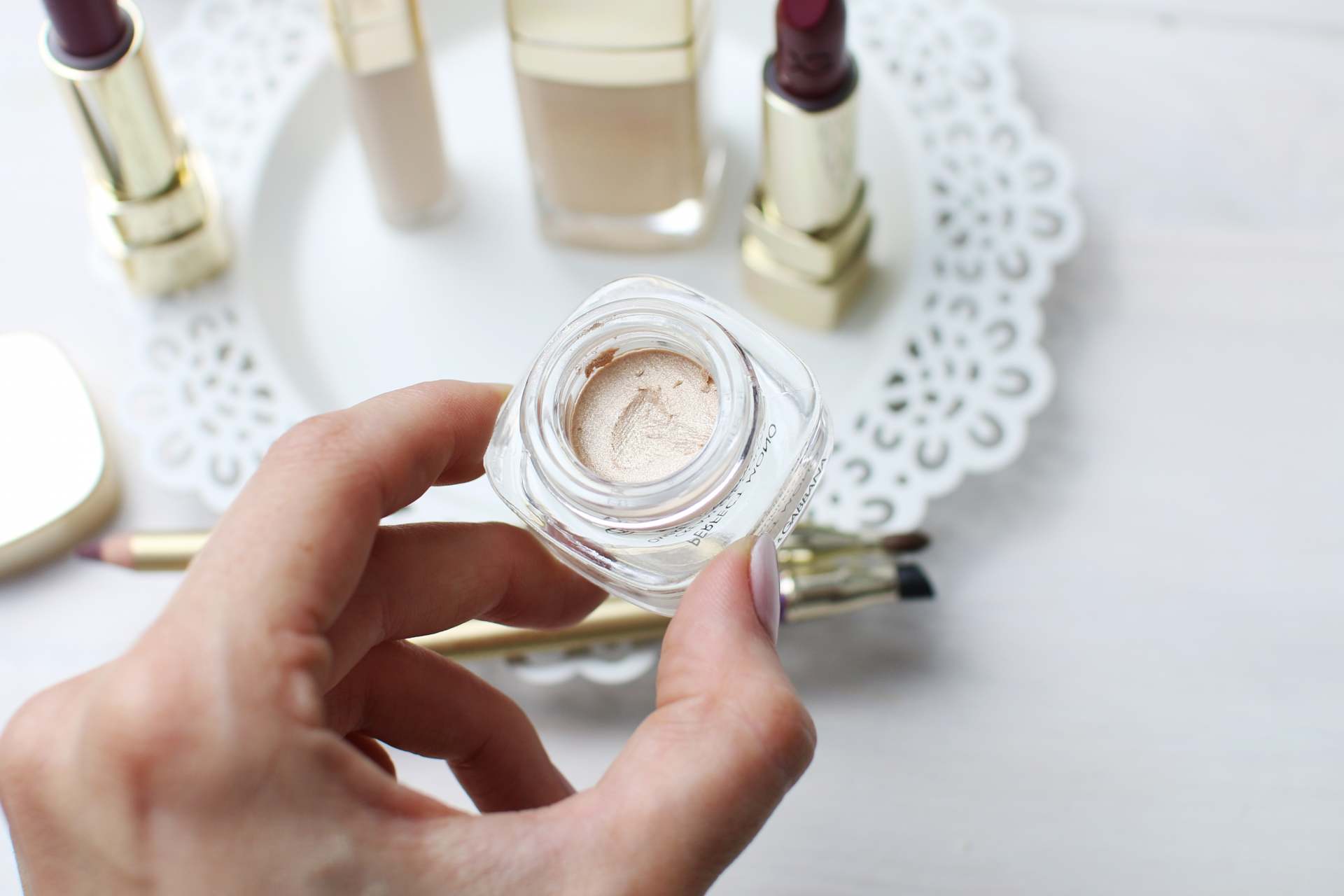 Have you tried Dolce and Gabbana Beauty? What did you think? This is certainly not the only time you'll be seeing this brand on the blog, so please do also let me know if you've seen an amazing product and would like me to review it!
Sign up here for a weekly catch up of everything Inthefrow