Paris, UK
Louis Vuitton Twist
Louis Vuitton have really raised their game in the last five years when it comes to their accessories designs. I remember that around ten years ago, there was a smaller variation of patterns and colour ways to choose from in their range, and I was never the girl who adored the patterned LV print. However, the last few years have seen the introduction of bright, vibrant colours and more subtle logo inclusions, that have seen me lusting over this brand so much more. That's when I knew I needed to invest in the Louis Vuitton Twist.
In a black Epi leather and silver hardware, with a petite over the shoulder structure, this was the type of bag that had my name written all over it. The LV Epi leather is made from and finished with plant juice and extracts with painting techniques added to the outer layer, to create a water resistant, almost scratch-proof finish. Whilst it isn't immune from abrasion, I always worry about bags and their resistance to scratching, so this textured appearance is one that I don't have to be so delicate with. When I saw that it was available from a French seller on Vestiaire Collective, in an almost perfect condition and with a pre-owned price tag, I was totally sold. In fact, I've become so obsessed with finding other bargains on Vestiaire Collective from other luxury sellers from about the globe – you might want to have a nosey if you're looking to buy or sell anything premium you haven't worn in a while!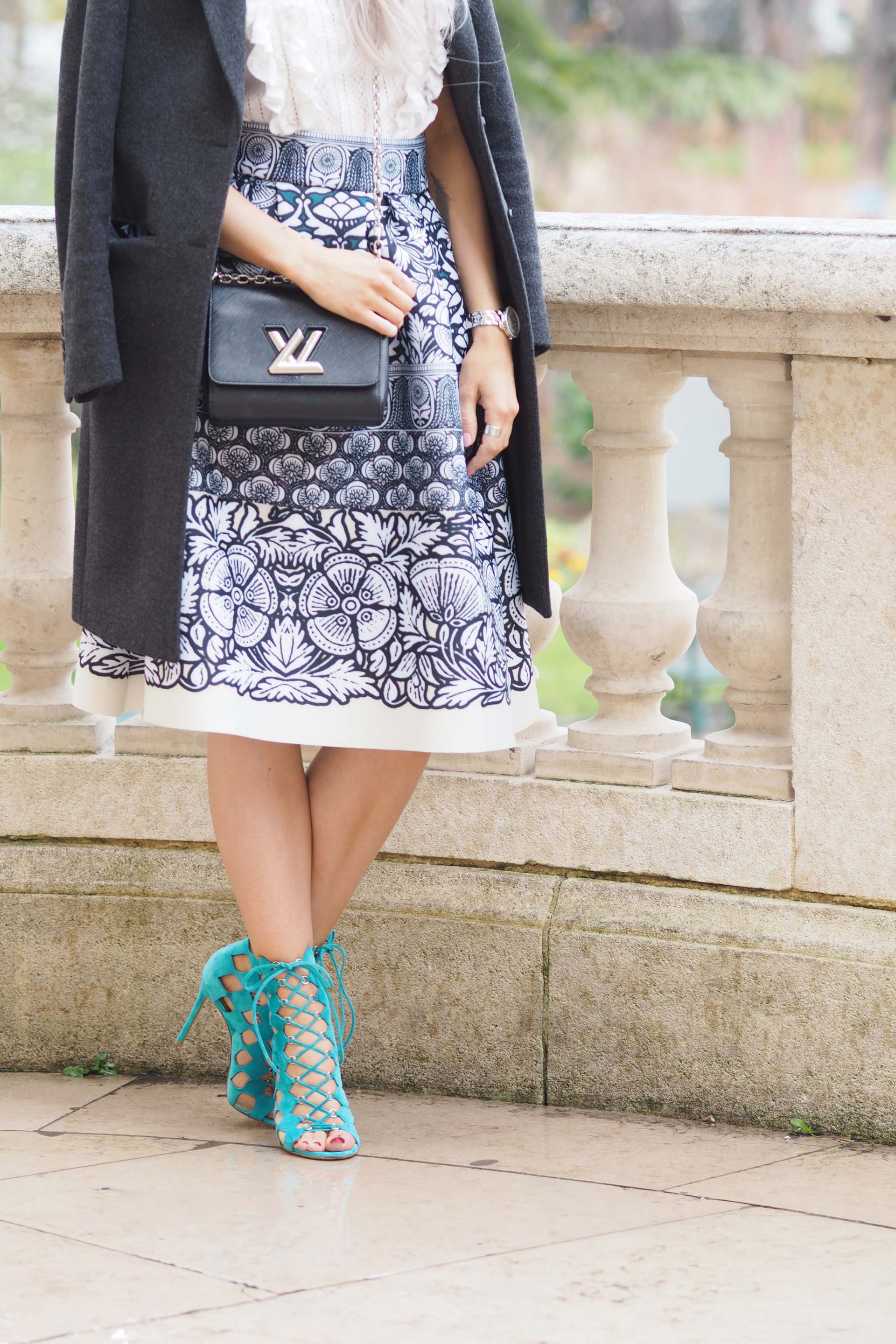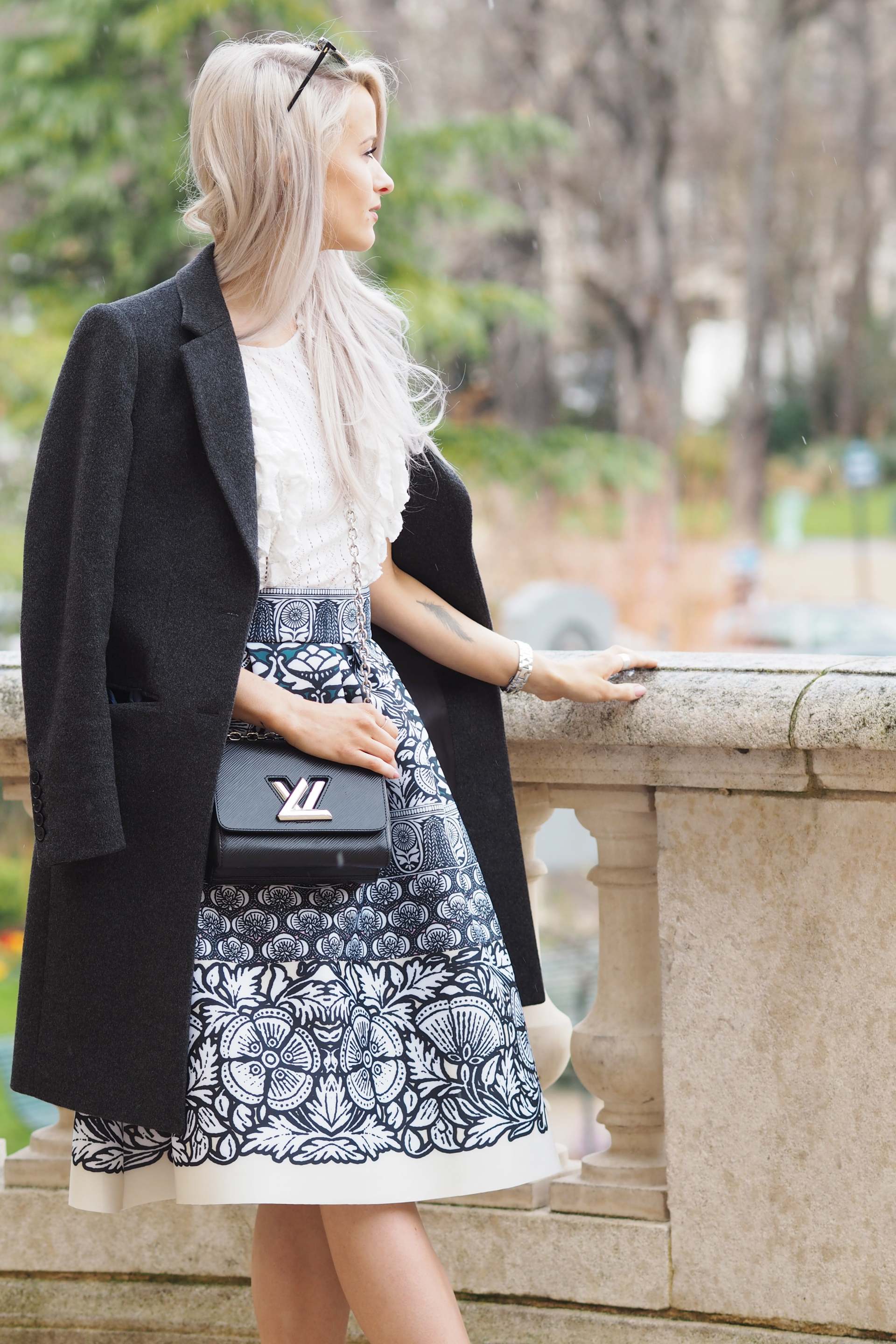 I bought this Maje top and skirt when I was in Paris the first time this year, for Couture Week. Since then, I have passed the skirt hanging on my clothes rail and swooned over it each and every time. I had to bring it with me for Paris Fashion Week!
In honesty though, this bag would have gone with absolutely any outfit. I just decided to pair it with a more colourful ensemble on this occasion. The green caged heel Gianvito Rossi's are from Luisaviaroma – an online Italian store that stocks so many of my favourite premium brands, and ships within days. I don't know why this brand is not more popular over here, as it really is super simple to shop, return and purchase from this website. I have picked up a few pieces from there recently, including a gorgeous Equipment striped shirt and Valentino Rockstuds, so I must say I'm a bit of a fan now!
But these Gianvito Rossi's have remained in my shoe cabinet for a few weeks, so pairing them with the Maje outfit was top of my list! Over my shoulder I also flung the Joseph Grey coat from Very Exclusive, which I wore a few times over London Fashion Week and cannot seem to get enough of. The charcoal grey just breaks up an outfit rather than a stark black, and with the cream and blues in this outfit, I thought it was a subtle, warmer layer.
But this bag is one of those all round pieces for any occasion. Date nights with a little black dress and nude heels. Casual wear with a pair of skinny jeans, heeled boots and a roll neck. On holiday with a pair of Levi's denim jeans, a cool plain white tee and strappy ankle sandals. And with the texture and finish, you're very unlikely to scratch or ruin it, wherever you go! Excellent for festival season! I'm absolutely smitten!
Maje top / Maje Skirt / Gianvito Rossi Heels / Joseph Coat / LV Twist / Ray Ban Clubmasters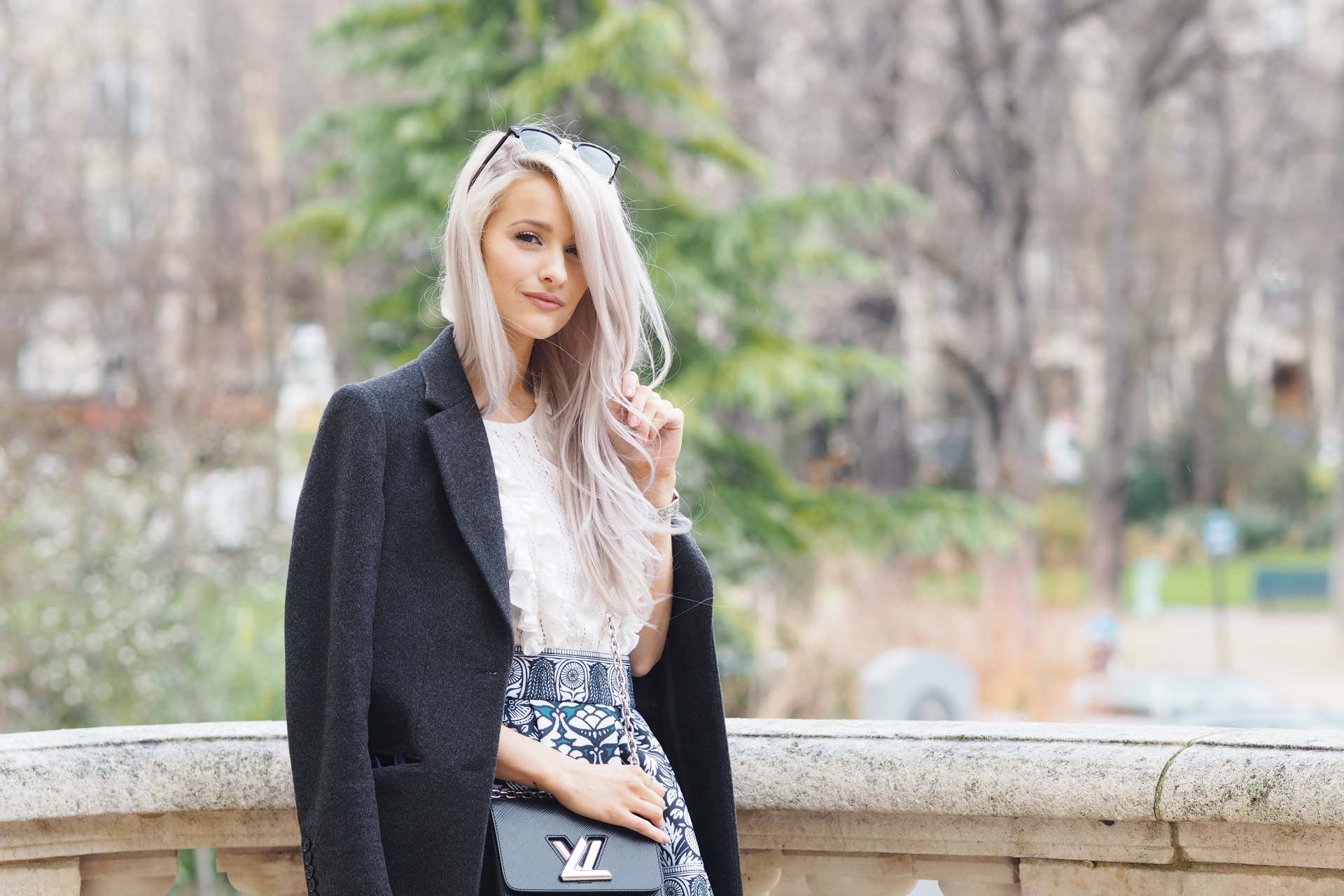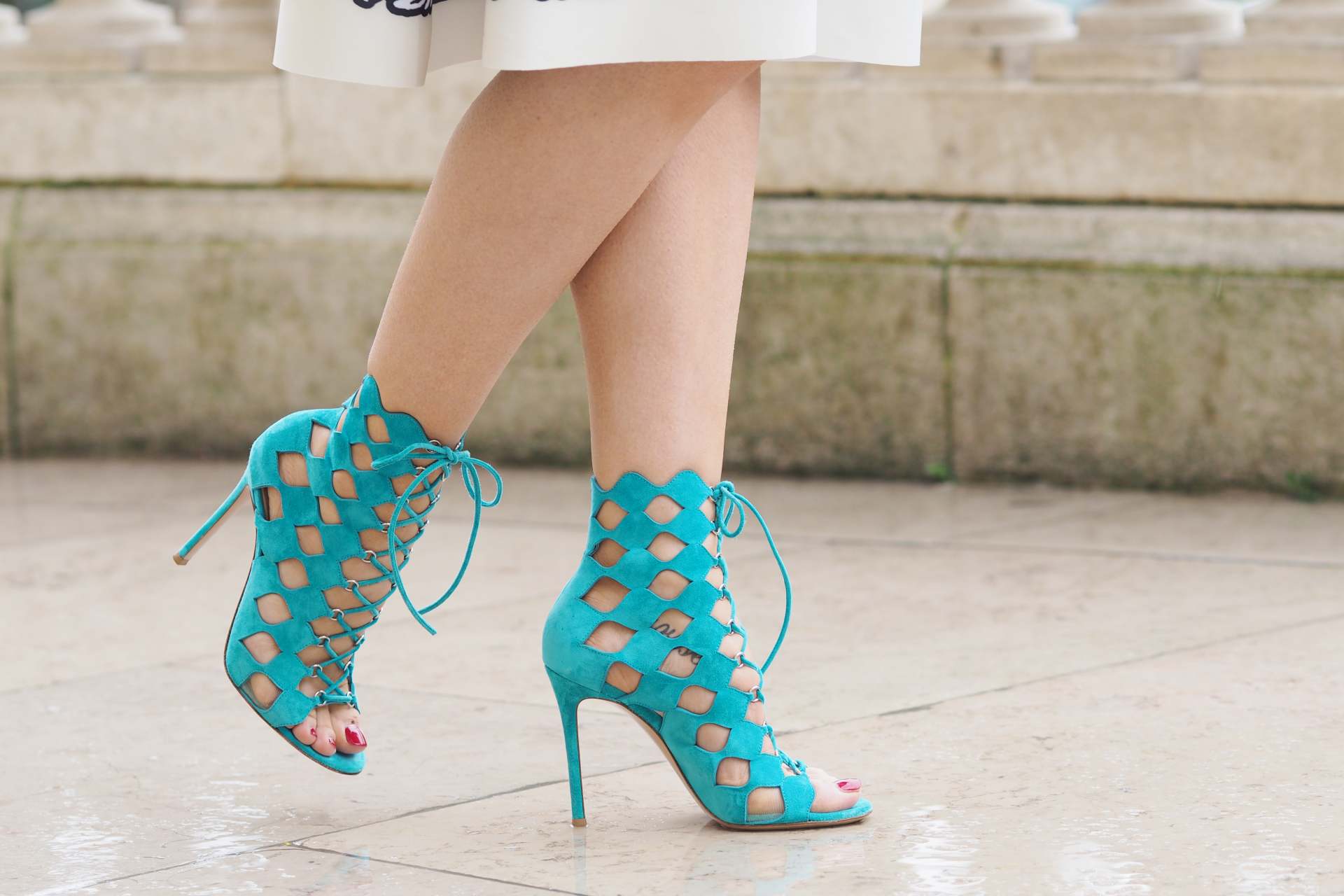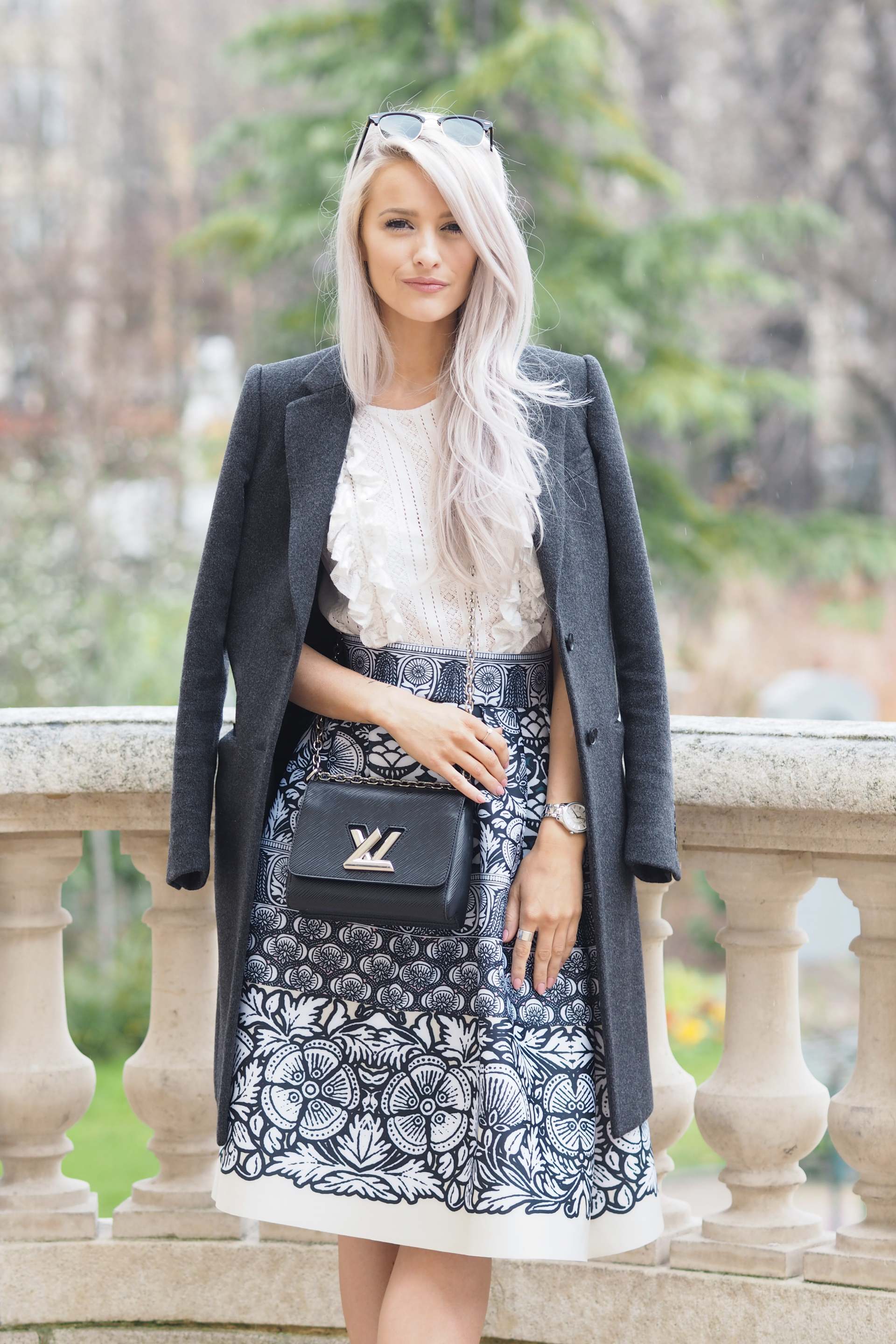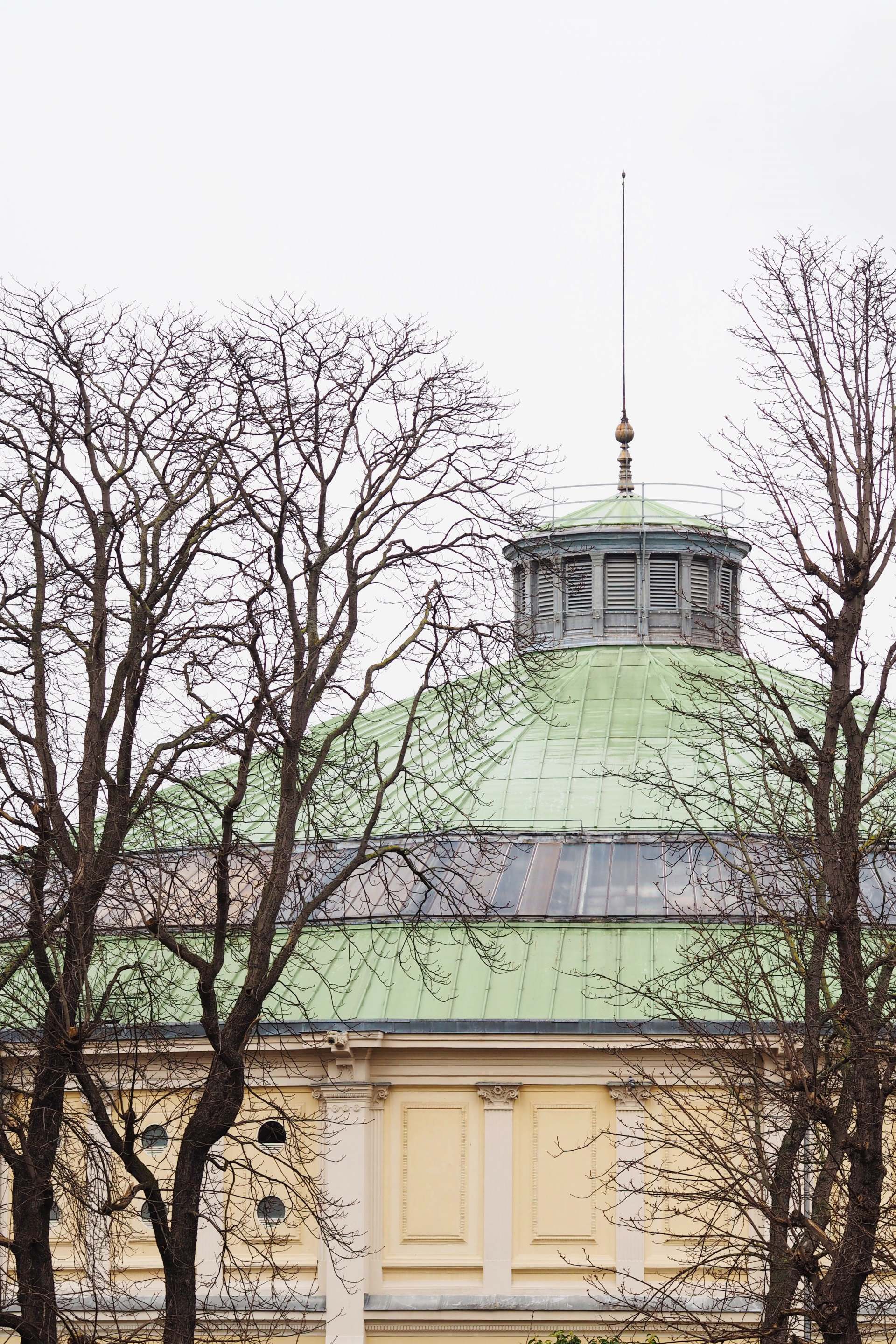 What do you think of the recent Louis Vuitton collections? Are you as smitten as I have been recently?
Sign up here for a weekly catch up of everything Inthefrow