Hong Kong
MCM x Tobias Rehberger
I've touched down in yet another incredible city I've wanted to tick off my list for quite some time. So many people had recommended Hong Kong to me as a must-see, so the chance to visit for a few days was too exciting an opportunity to miss. But it wasn't only for travel and curiosity purposes that I wanted to visit this cool, metropolitan city. This time I have been invited with MCM, the German luxury accessories label who are celebrating their fortieth year in 2016. But this year is a dual celebration, with the launch of their artist collaboration with Tobias Rehberger, a German Contemporary artist and sculptor. Rehberger has completely transformed the MCM flagship store in the centre of Hong Kong into an Art Installation titled, "If you want the rainbow, you gotta put up with the rain." In fact we are heading to the installation on Wednesday night for the opening launch party, which is set to be a huge, star-studded event, so I cannot wait to show you what happens. Stay tuned for tomorrow's blog post for that! And follow my snapchat – inthefrow – for everything as its happening!
I have a few MCM pieces to style up for the party and I'm yet to decide on footwear! But what I have seen so far of the MCM x Tobias Rehberger Art Installation looks incredible, and I feel so lucky to be a part of it!
I was lucky enough to fly Business Class to Hong Kong, meaning that I slept over what would have been the UK night, waking up to Hong Kong nearing the end of the day. I've luckily therefore not been smacked with a load of jetlag, and am somehow managing to hold it together. We flew with Cathay Pacific, which until now I hadn't heard of, but their service was pretty fantastic. Just being able to lie flat on a plan is a total godsend though, especially when it's for twelve hours!
We landed in Hong Kong and had a member of concierge find us and escort us through a private security desk, before we knew we were in the car and whizzing off to the hotel. The Four Seasons.
We dropped our bags and tried not to lie down, in hopes it wouldn't make us too tired. We only have a few days to spare in the city and really want to enjoy every moment, so sleep is never on the agenda. Our room in the Four Seasons is beautiful, with a huge window to one side of the room looking out over the Harbour. A stunning sky line stares back at us, and at night it is ever more magical.
The beds are super comfy, the bath is large and they have all the little extras you require. Plus, the hotel walks directly into the IFC shopping Mall, which I will never complain about! So our stay is more than comfy and cosy.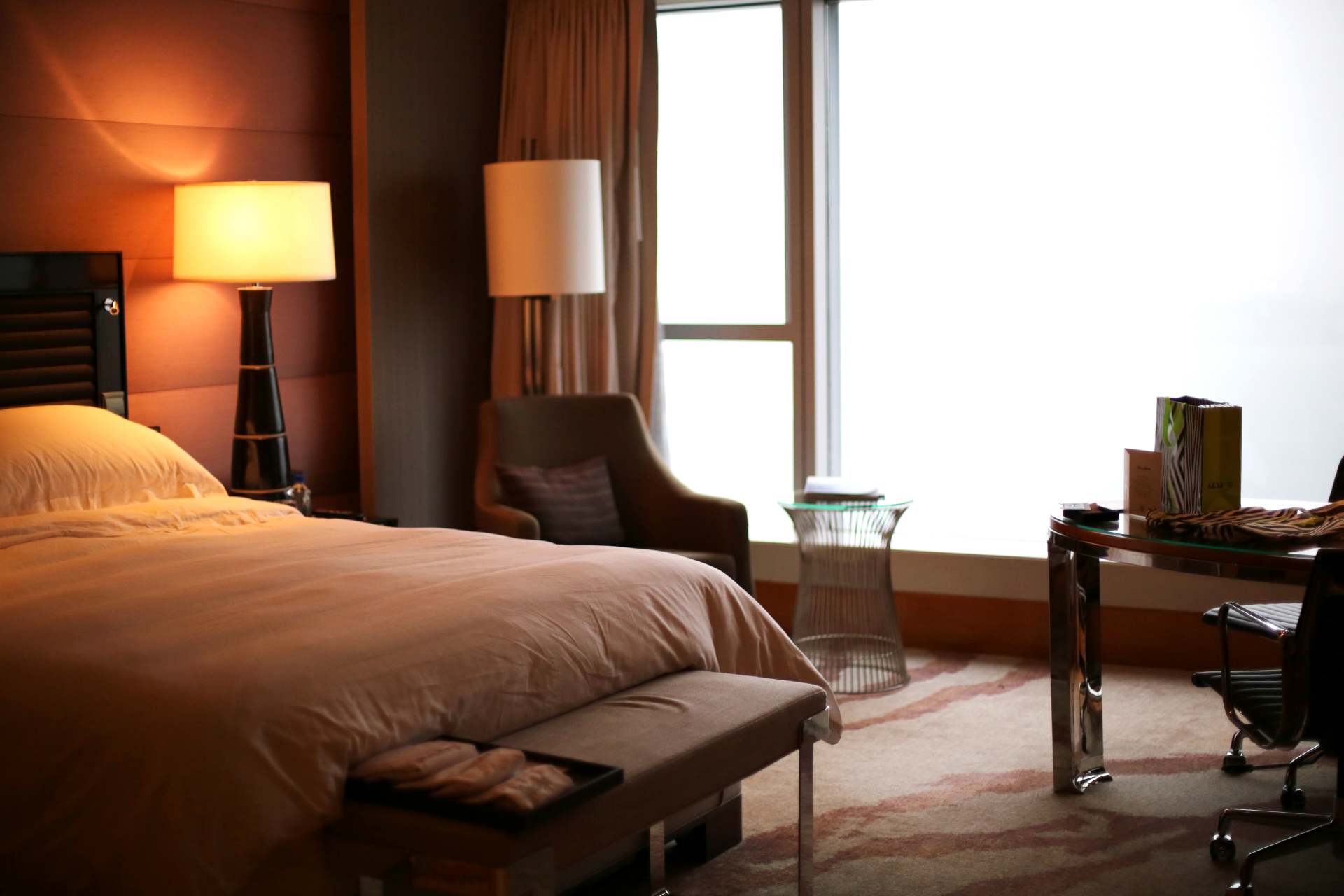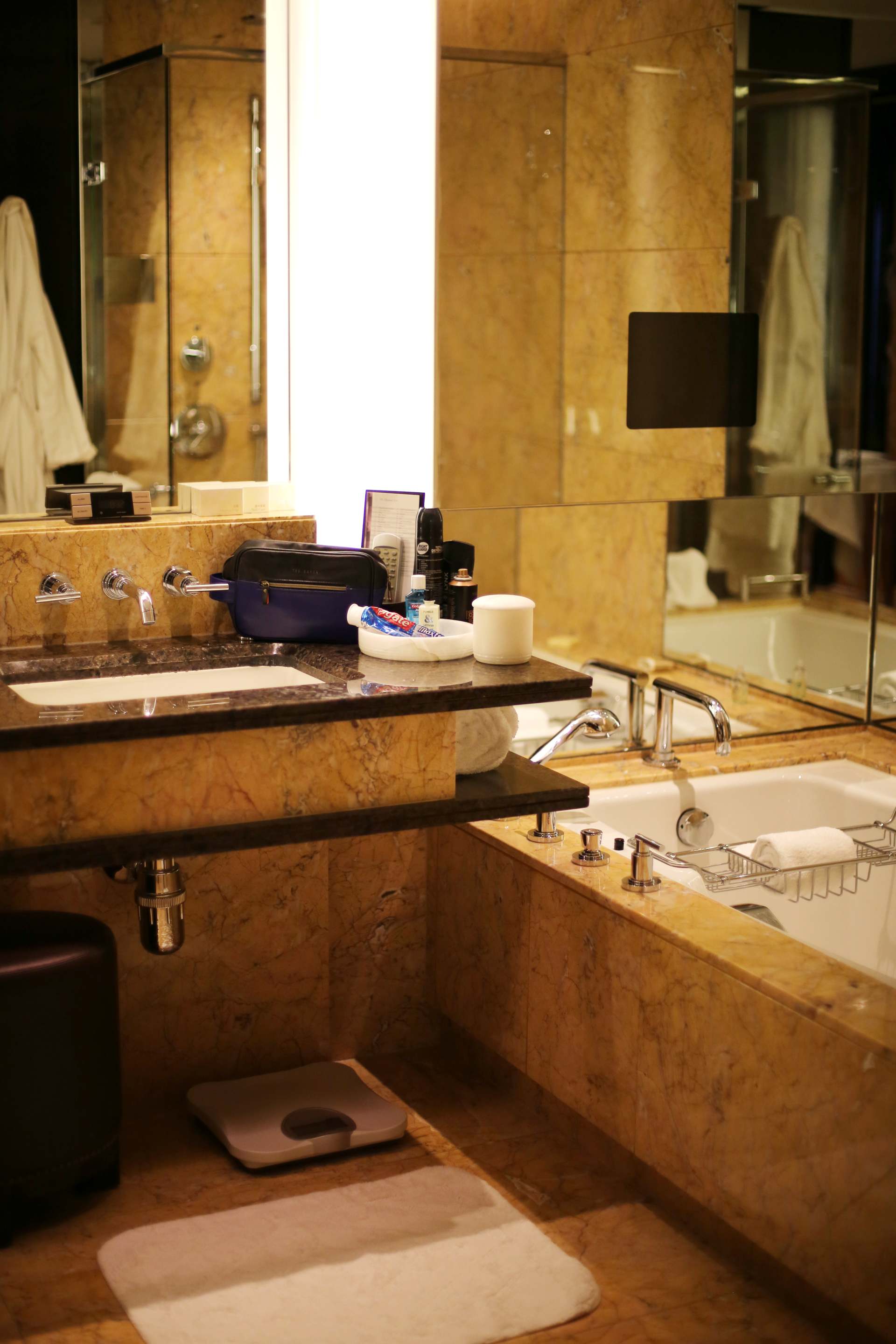 As we had arrived quite late, we quickly ate in the Chinese Restaurant situated inside the Four Seasons, which was super delicious with the friendliest staff, and swiftly got ourselves ready to sleep. After a 12 hour flight, we couldn't wait for some time to rest before a busy few days!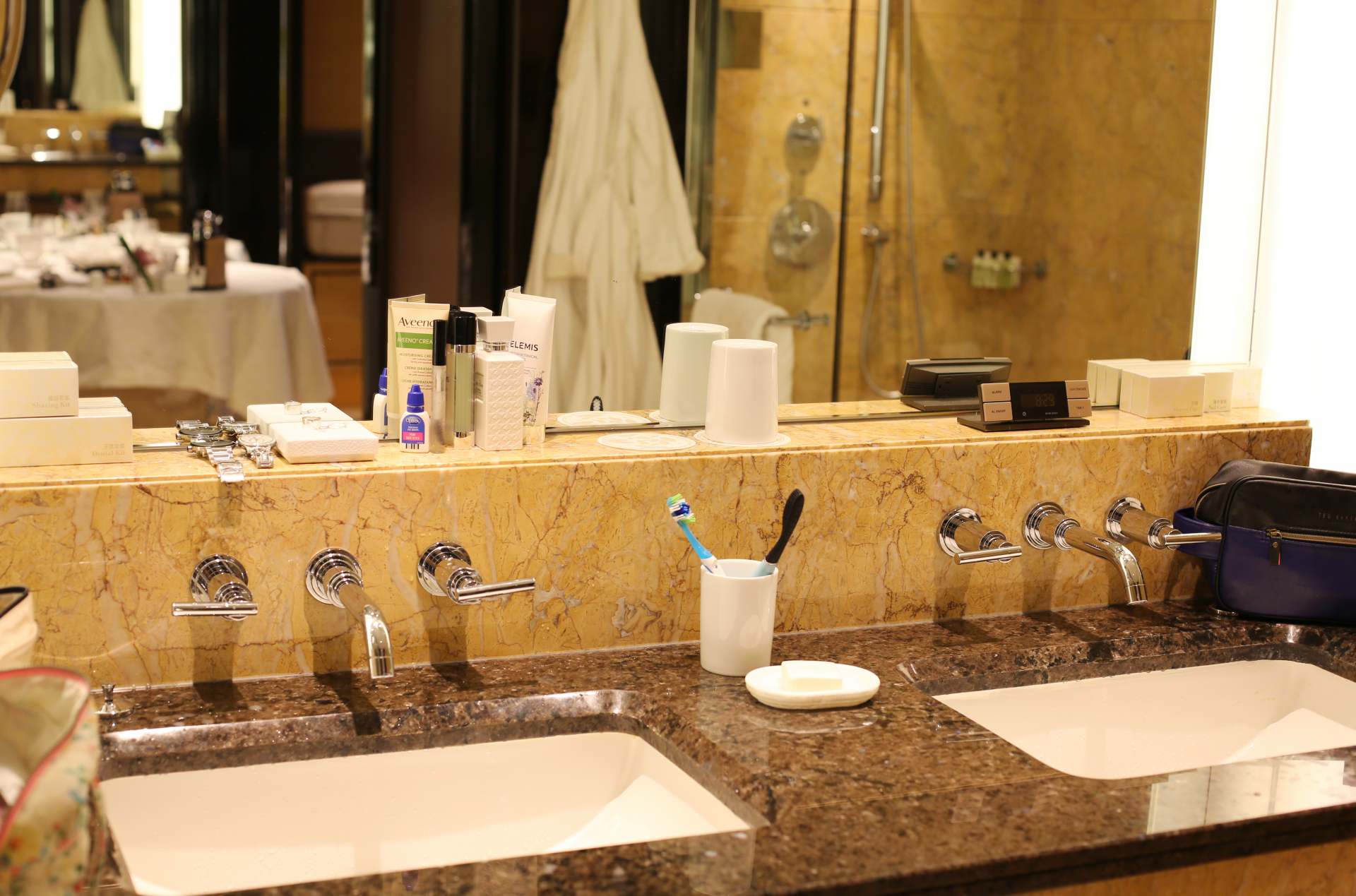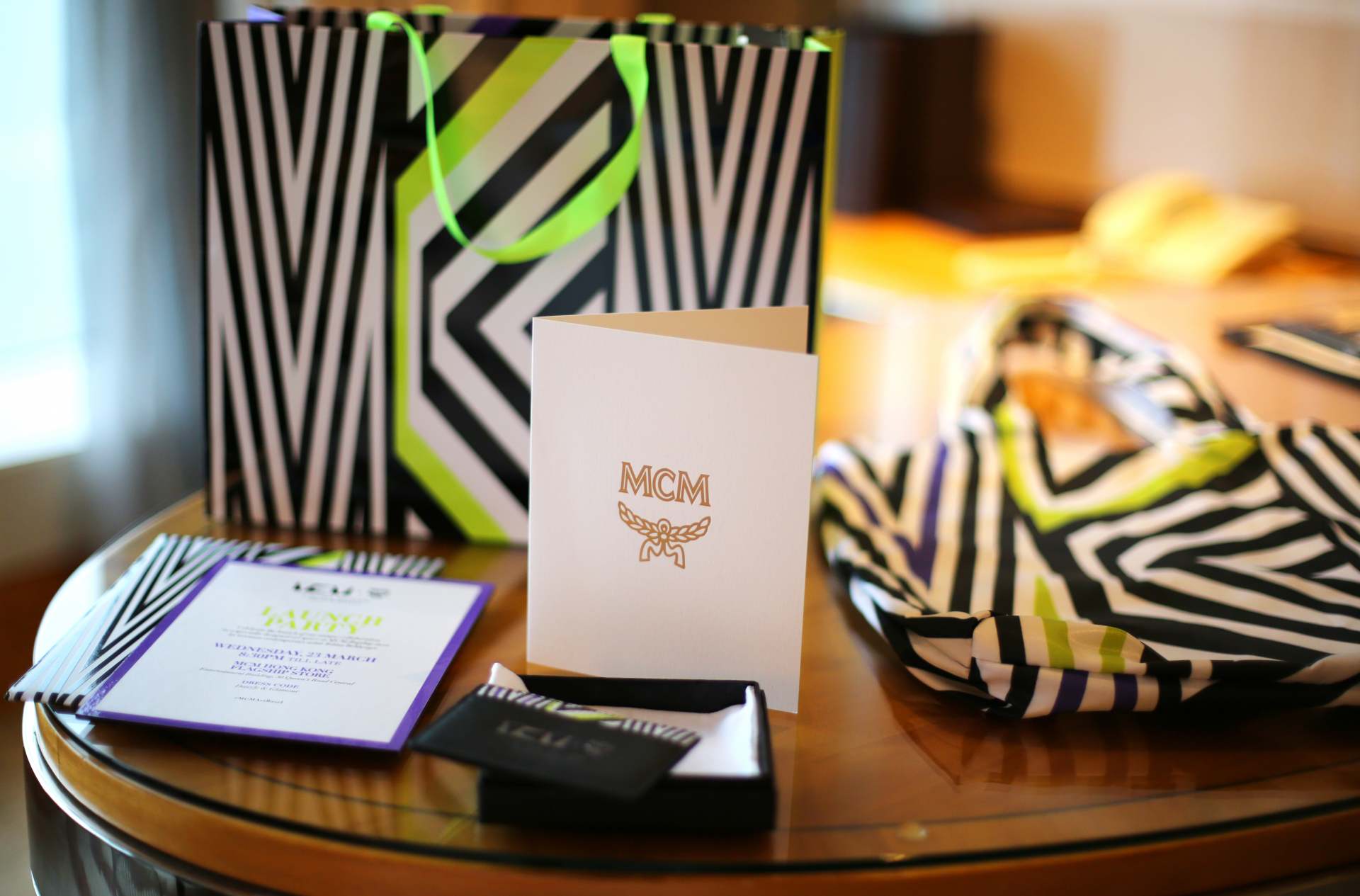 And on the desk of the room, MCM had delivered a gift set for the MCM X Tobias Rehberger collection. Inside the printed bag I found a foldaway bag in the signature creative print, incorporating a lime green and pastel indigo purple, as well as a lookbook of the collection, an invitation for Wednesday's private event and a small card holder. Such a gorgeous treat for our arrival and such a great way to learn all about the new limited edition collection!
The Tobias Rehberger collection was inspired by WW1 camouflage and integrates the MCM logo in a bold and geometric feel. You can see the lettering of the brand through the three sections of the printed design as the stripes move from vertical in the M through to a diagonal print to the C. It is subtle yet suits the creativity and graphic edge of the MCM brand so wonderfully! This graphic style also runs through the artistic installation within the store launch party, and I cannot wait to see how the event comes together!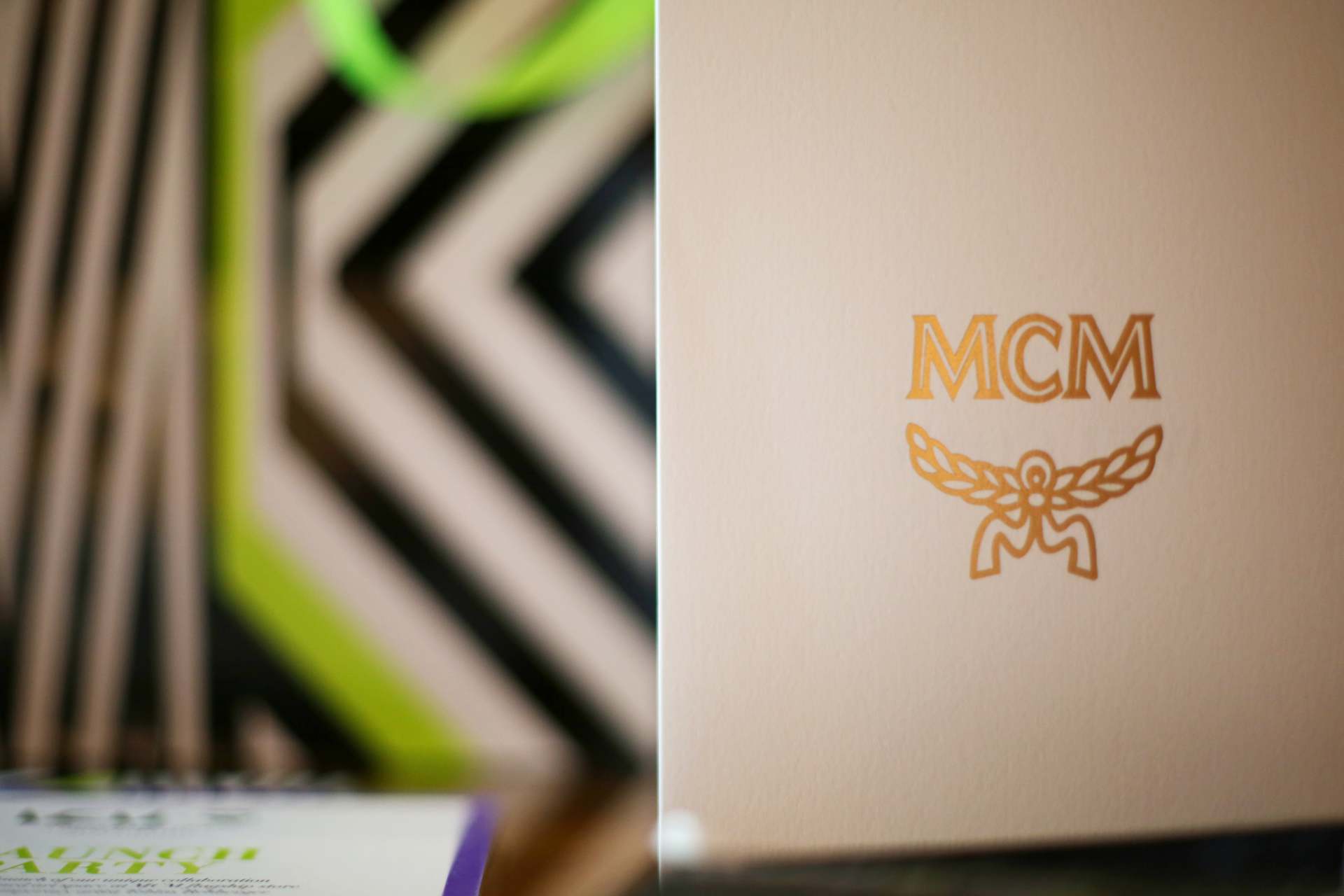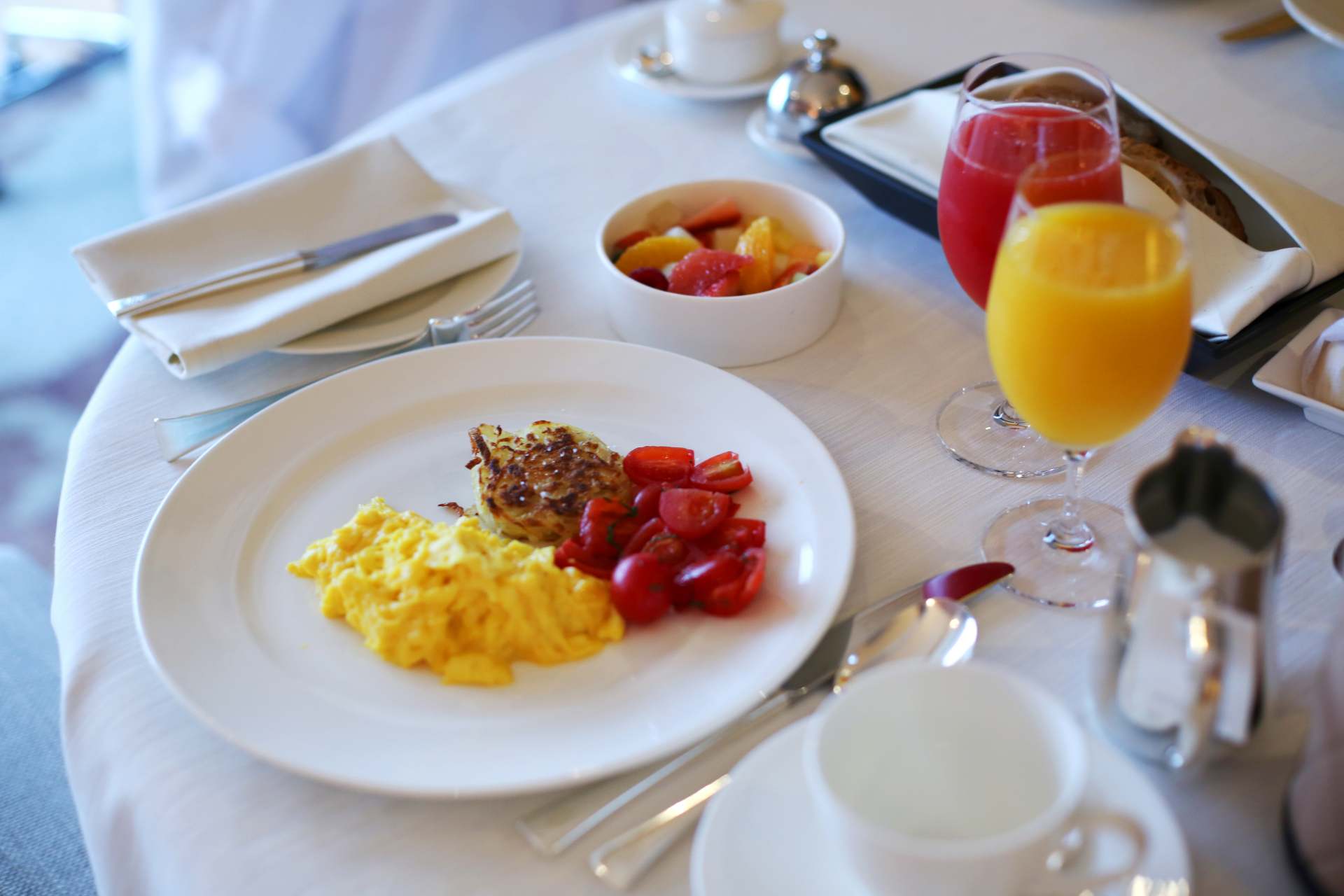 The next morning, of course we couldn't leave without having breakfast in bed overlooking our window vista view. I ordered my usual scrambled eggs on toast with a fruit salad whilst Alex opted for smoked salmon and egg on muffins, accompanied by the tastiest Watermelon juice. We ate and showered and got ready for the day!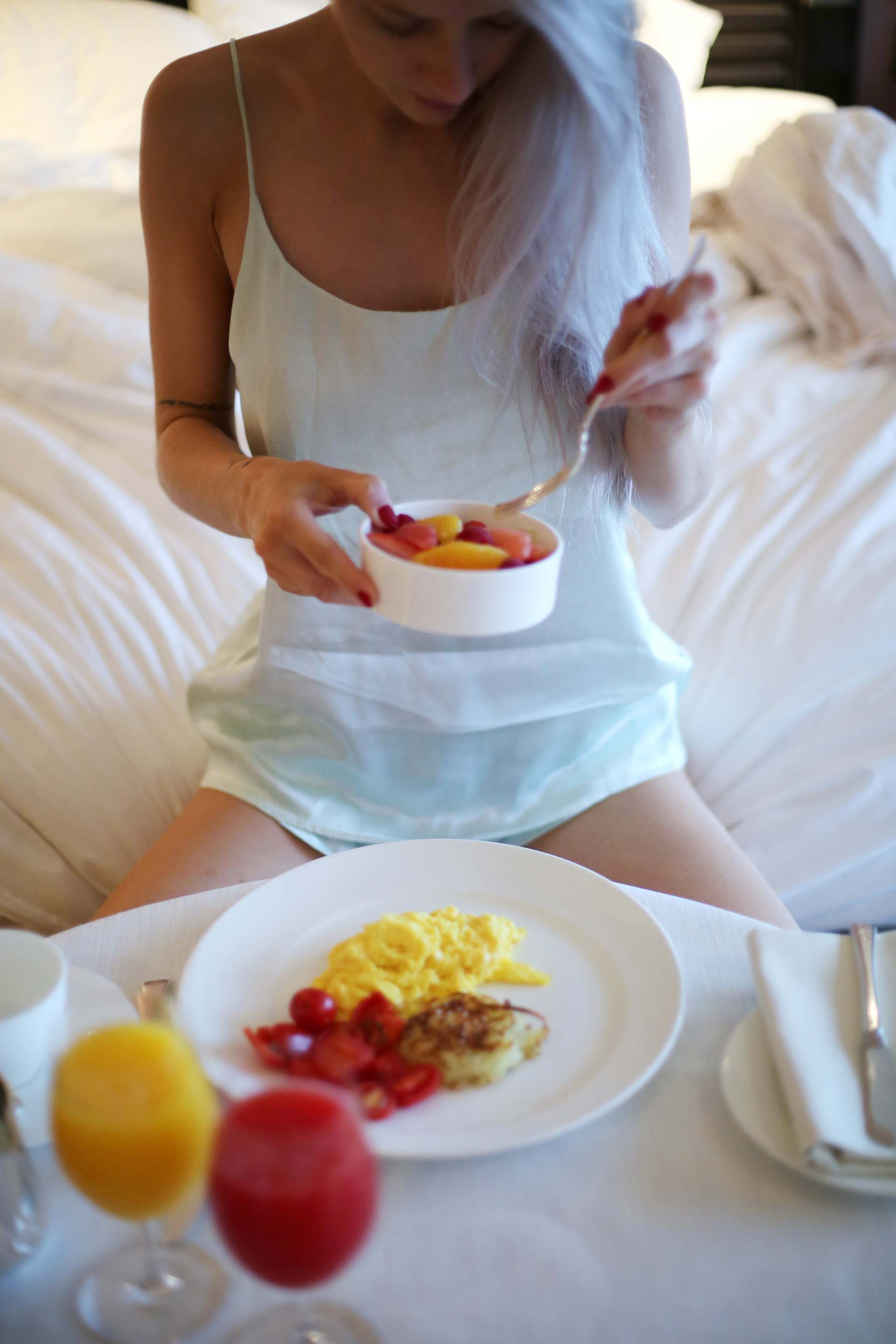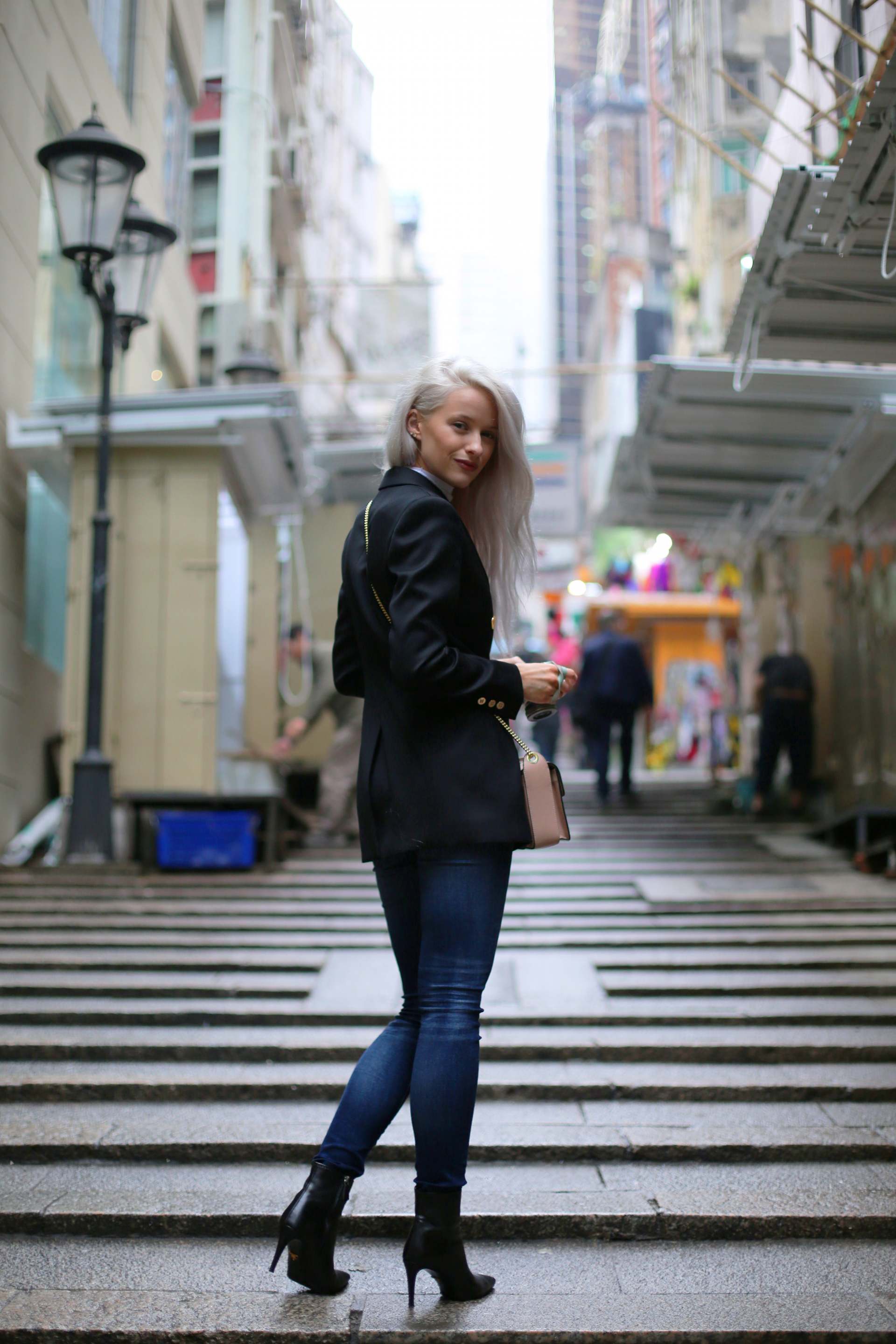 As the Four Seasons Hotel connects directly to the IFC Shopping Mall in Hong Kong, which just happens to be one of the biggest and most luxurious and beautiful Malls I have ever seen, we decided to go and have a look around. Be warned though, the shops do not open until 10.30, so our eager need to shop at 9.30 was very much ahead of schedule. But, it therefore gave us more time to go out into Hong Kong and have a wander around.
We just walked into the City and almost got lost on purpose. Wandering around the streets and exploring alleyways and new stores. This is such an incredible city, I had no idea what to expect before we arrived but I must admit my mind has been blown. It is so interesting and vibrant with something new to see around every corner.
My next few blog posts will be all about my experience in Hong Kong, more about the collection, the Launch event and also my photoshoot with Elle China! So be sure to check back in a few hours time!
Have you been to Hong Kong? Please do give us any recommendations if so, and let us know if you loved it! We're so smitten with this incredible City!
This post is a Paid for Advertorial in sponsored collaboration with MCM.
Sign up here for a weekly catch up of everything Inthefrow