Regent Street, London
A Burberry Afternoon Tea
In a city that is always so busy and chaotic, Burberry Thomas's Cafe, nestled inside the Burberry Flagship store on Regent Street, has become my haven. Whether it is for drinks with the girls, lunch meetings over scones or somewhere to sit and treat myself to an iced latte, Thomas's Cafe has firmly become my number one spot.
I am so surprised as to how many people have still not stumbled upon this wonderful cafe, but yet without wandering through the beautiful Burberry rails, you may not have known it was there. And again I think this is why I adore it so. It doesn't feel too rushed, or too full, or too loud. Instead, a relaxed atmosphere, a beautiful menu and a stunning décor. It has not been taken over by the hustle of London, but sits quietly and proudly behind the Burberry store. 
And if you needed an excuse to book a table for the first time, this is certainly the opportunity. Thomas's Cafe have devised a delicious Mothers Day Afternoon Tea, with an assortment of finger sandwiches, miniature cakes and pink bubbles. And I can proudly say that I was invited to try the menu, before anyone else. Let's just say, you and your Mum, will certainly not be disappointed.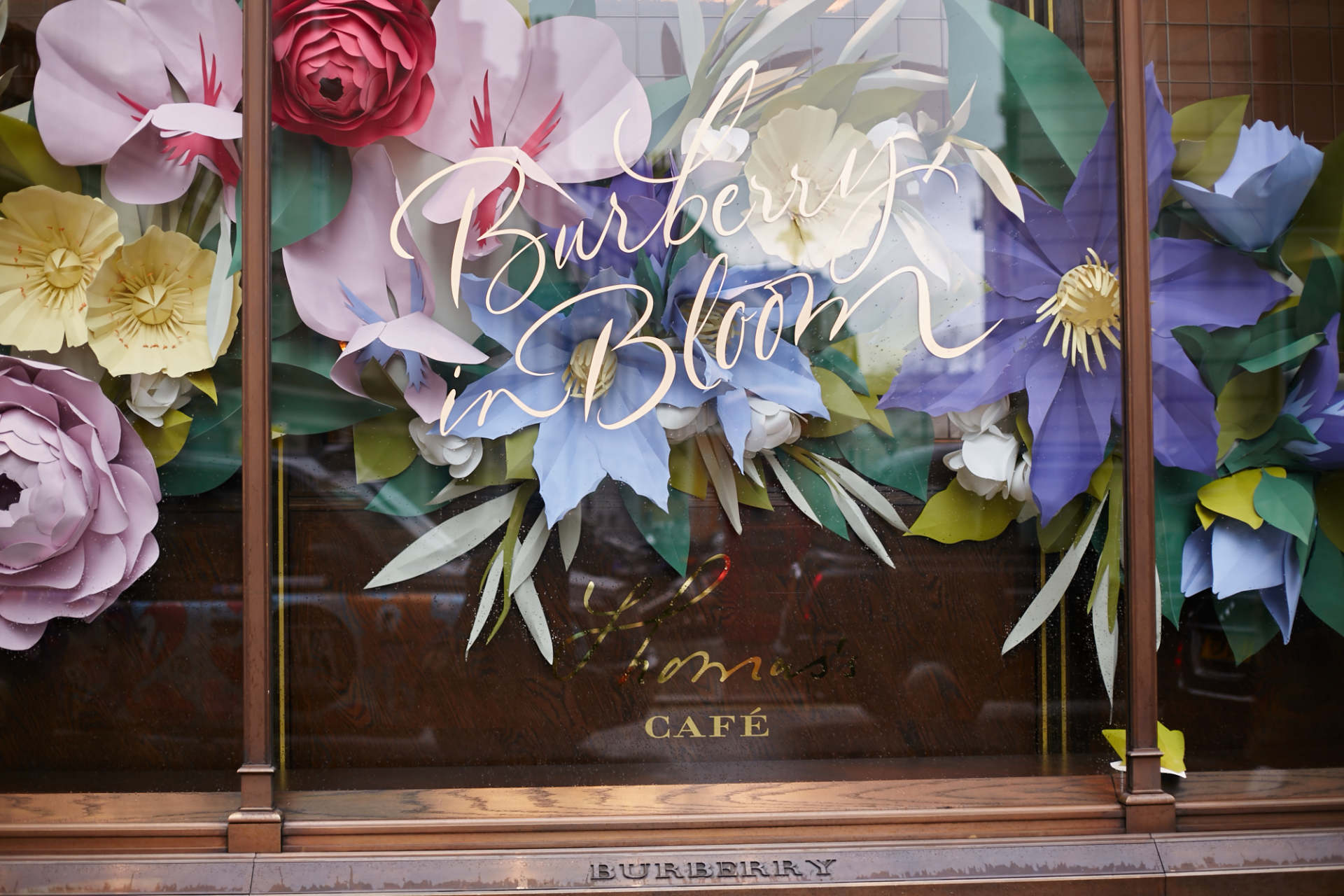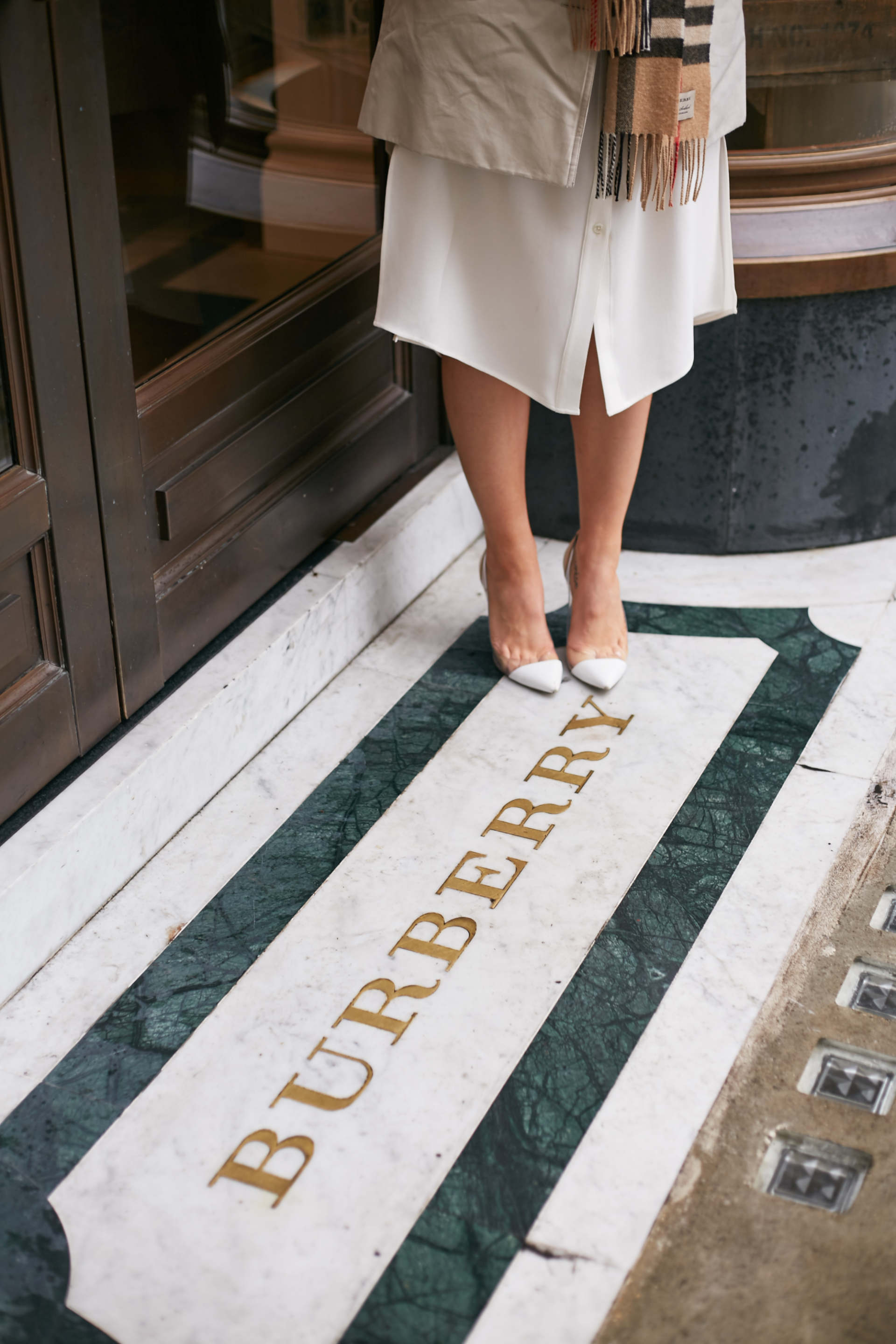 The Beautiful British Cafe
Burberry Thomas's Cafe is an all day spot, open from 8am until last sittings at 8pm, offering British Classics for breakfast, lunch, afternoon tea and dinner. I have eaten here morning, noon and evening, and can truly vouch for the quality and deliciousness of a variety of the food options on each menu. In fact I can not tell you how many times I have recommended this Cafe to friends and family and dragged them along for an afternoon latte. On one occasion, myself and three girl friends spent four hours sat eating, nibbling and chatting, and frankly did not want to leave.
In the mornings, if I am feeling in need of a treat, the Scotch Buttermilk Pancakes with honeycomb and rhubarb compote is the most incredible dish. I have never tasted pancakes so fluffy. Or the crushed avocado with poached eggs is a blogger favourite dish that I am more than happy to order every day of the week.
But throughout the day, the menu includes salads, small bites, larger bites and an assortment of delightful fish dishes. Salmon, oysters and lobsters, halved or whole. The ham and cheese toasted sourdough bread was a favourite before I gave up meat, but the fishcakes and scones are absolutely delicious too. And with seasonal produce supplied by artisan and small UK farmers, the Cafe is constantly alternating the menu options and adding more favourites.
This is a menu that doesn't overload you with options, but keeps it short, sweet and selective. Only the best will do. And I cannot miss the opportunity to declare their Agave Iced Latte as the best Iced latte in the city. In my latte loving opinion of course.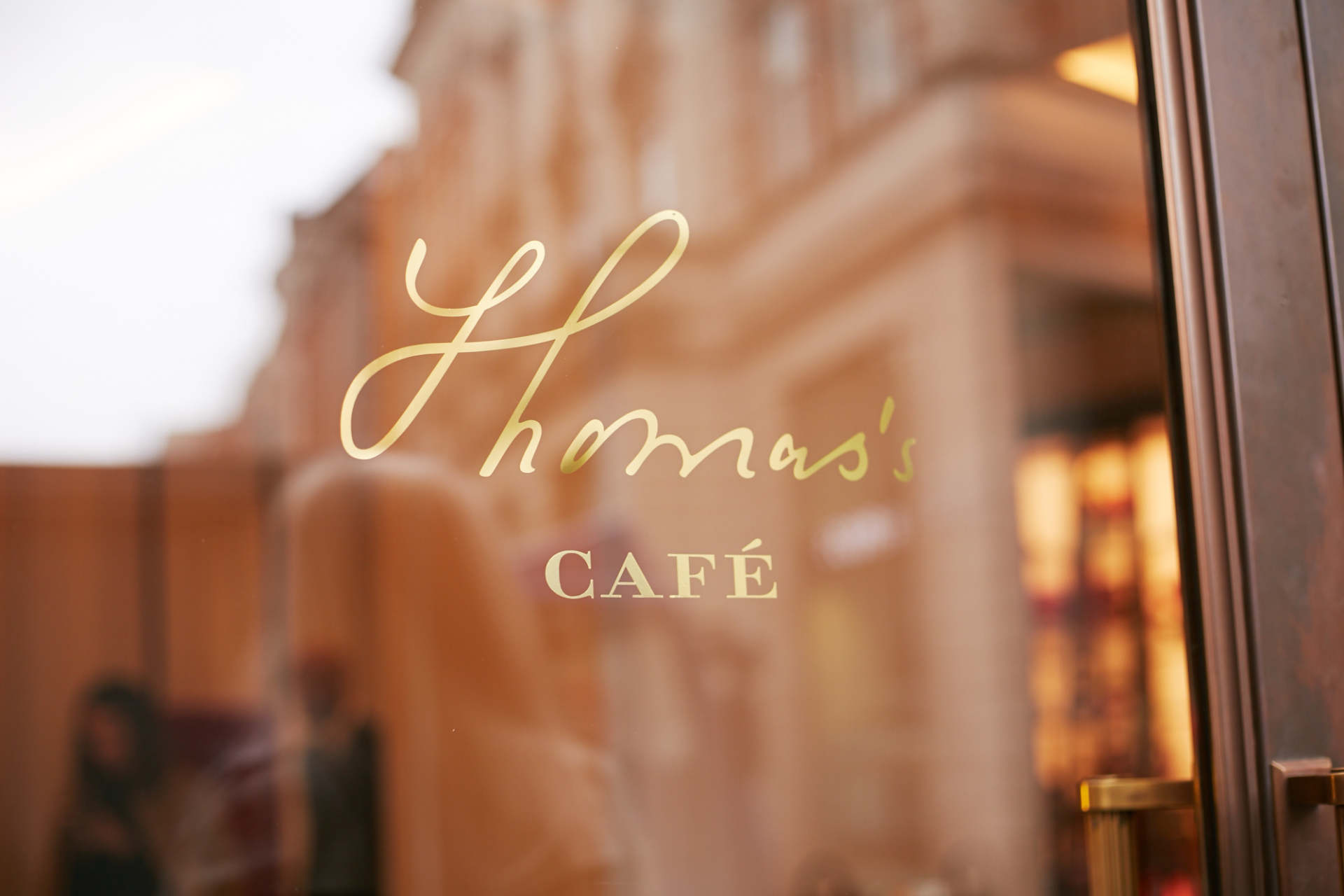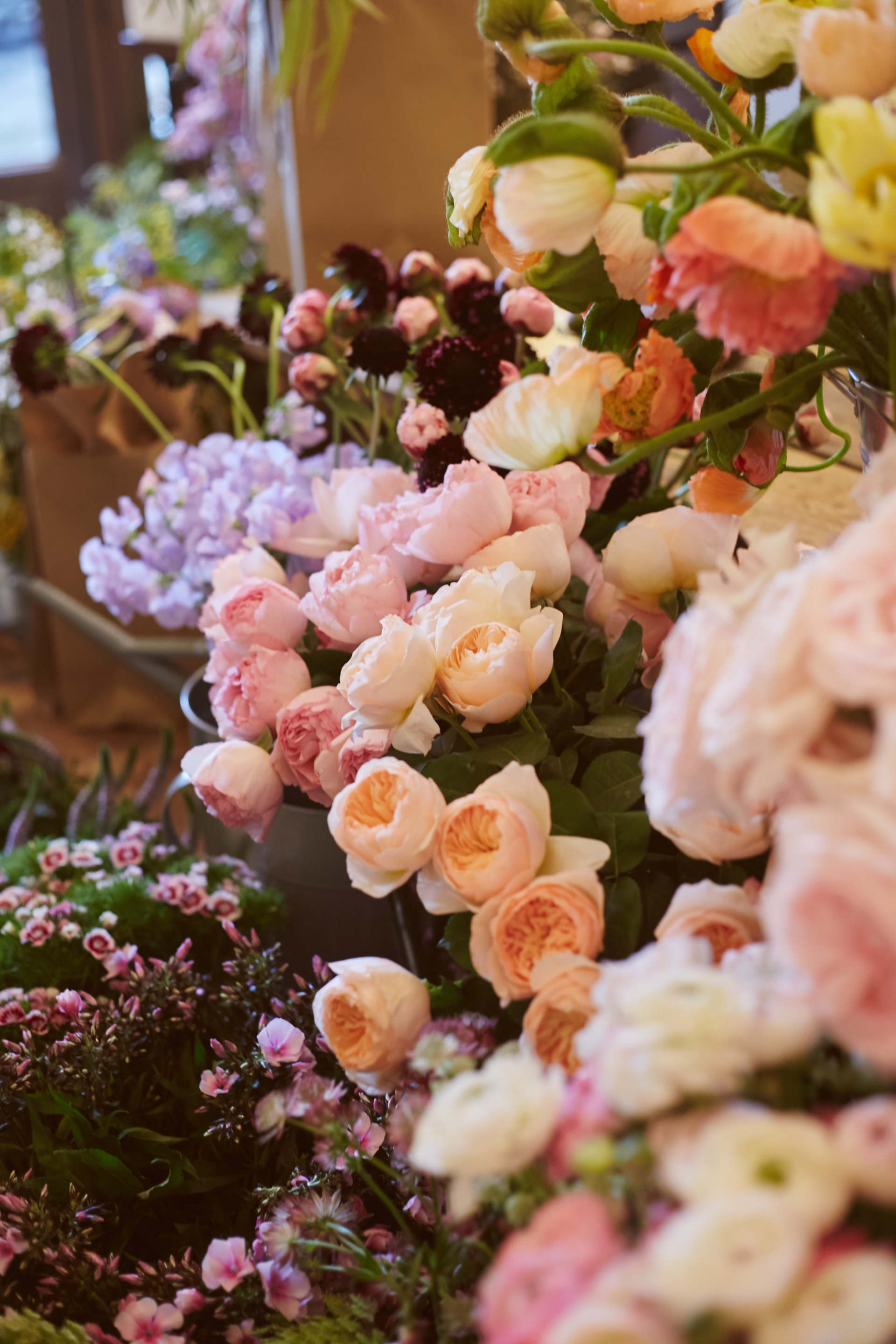 Stepping inside the main entrance to the Cafe, just off of Vigo Street, you will be welcomed by a stunning floral pop up, available for the next few weeks. A collaboration between Burberry and Rebel Rebel Flowers, the small stand offers gorgeous English flowers in Burberry Boxed bouquets. A wonderful gift for Mums – or for you!
The florist pulls together a dream bouquet using an assortment of country flowers that I shamefully could not name, but look to have been taken from the grounds of the most stunning English Manor. The colours are so vibrant, and the whole of the cafe is lifted by the fragrance notes found in the signature My Burberry Eau De Parfum. You cannot help but to swoon as soon as you enter the Cafe doors, before being seated at your table. It is these extra special touches that makes this Cafe, and this brand, so innovative.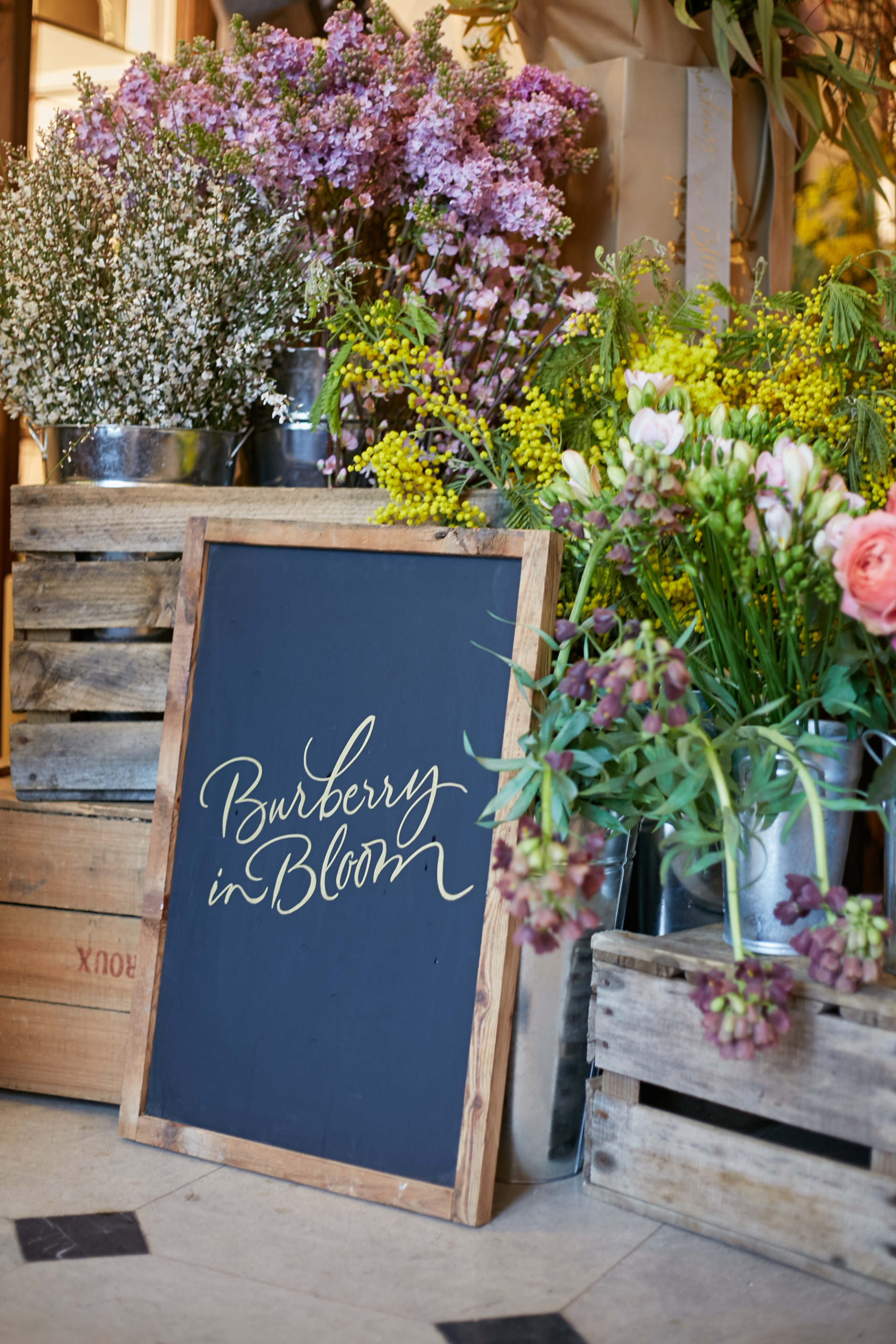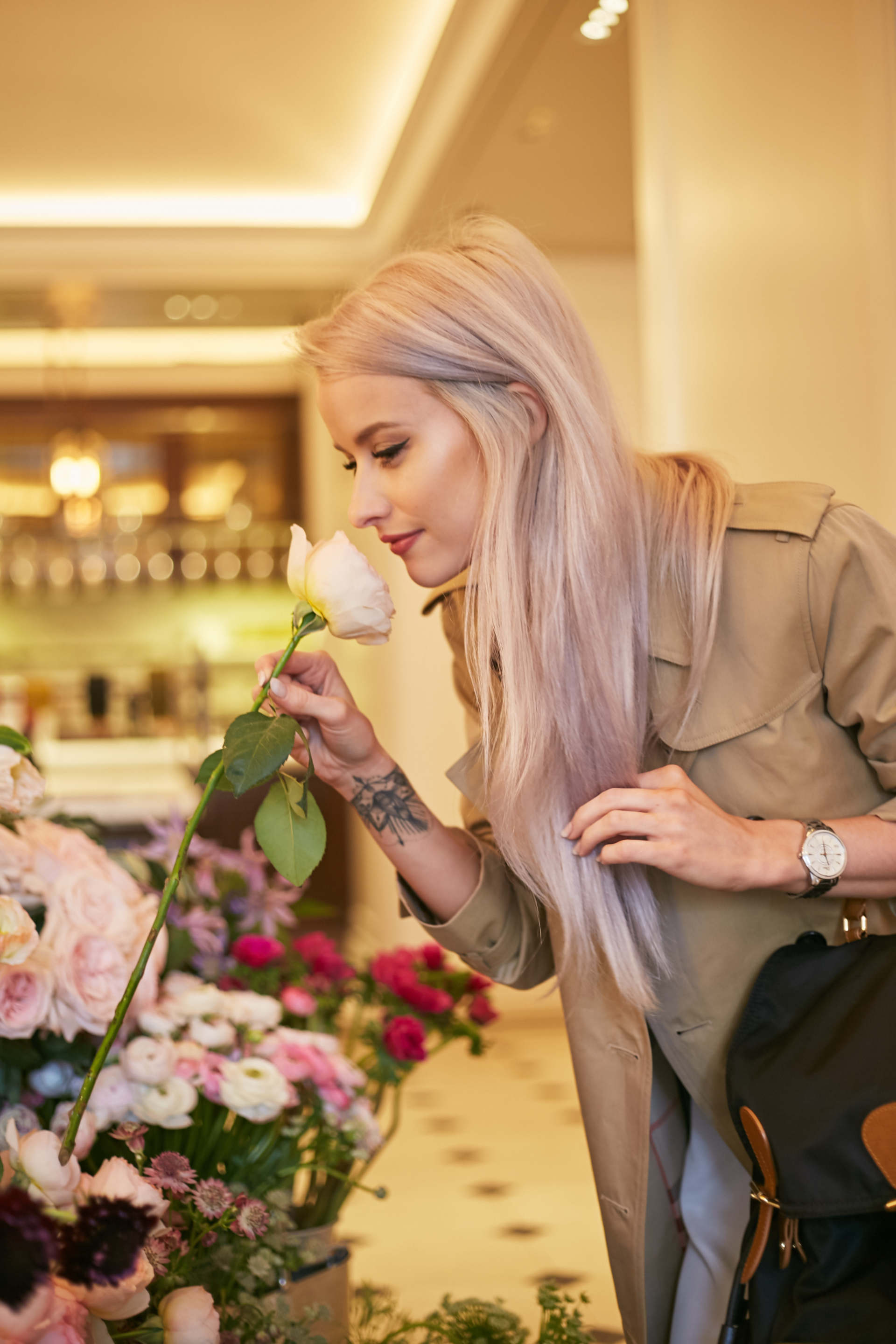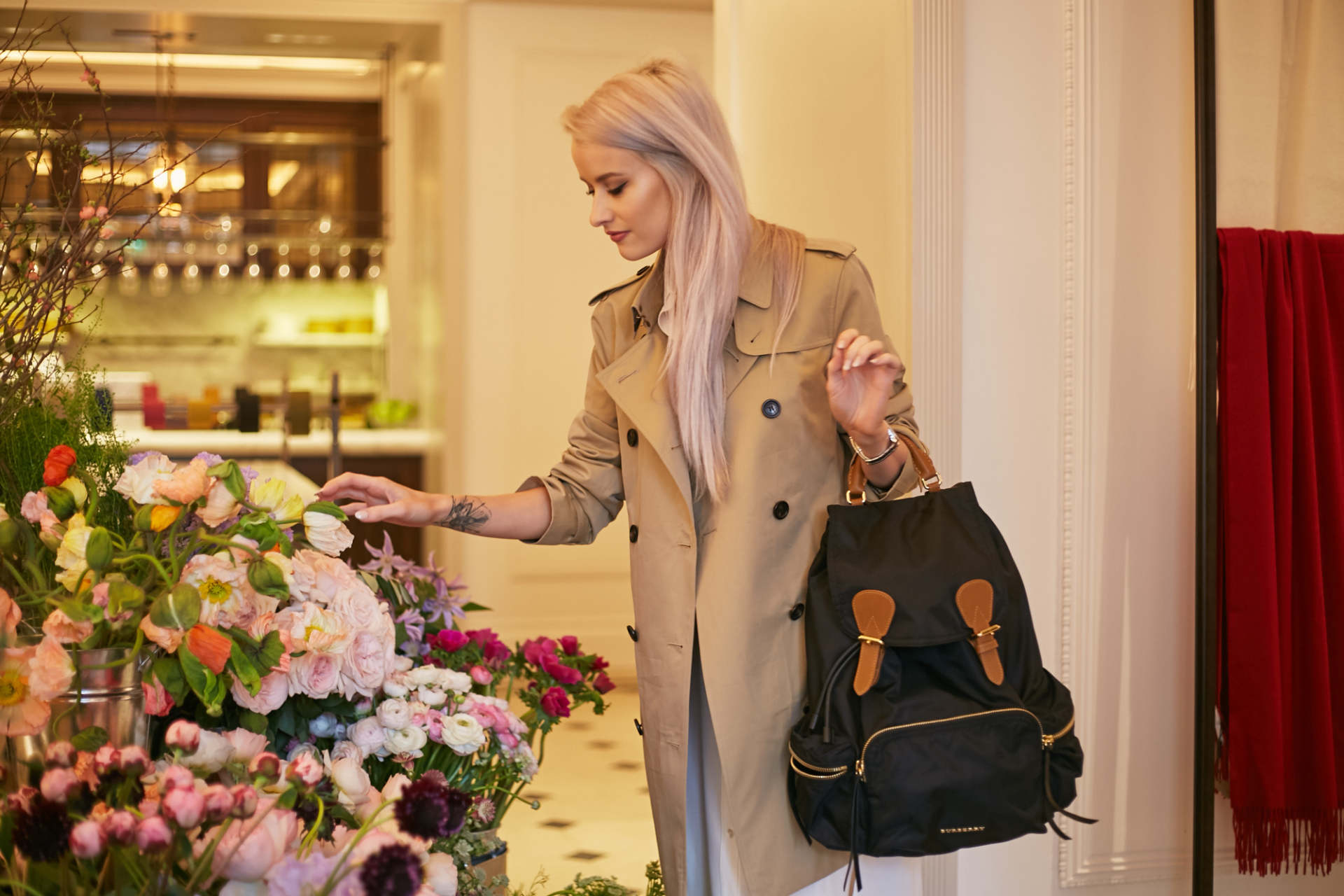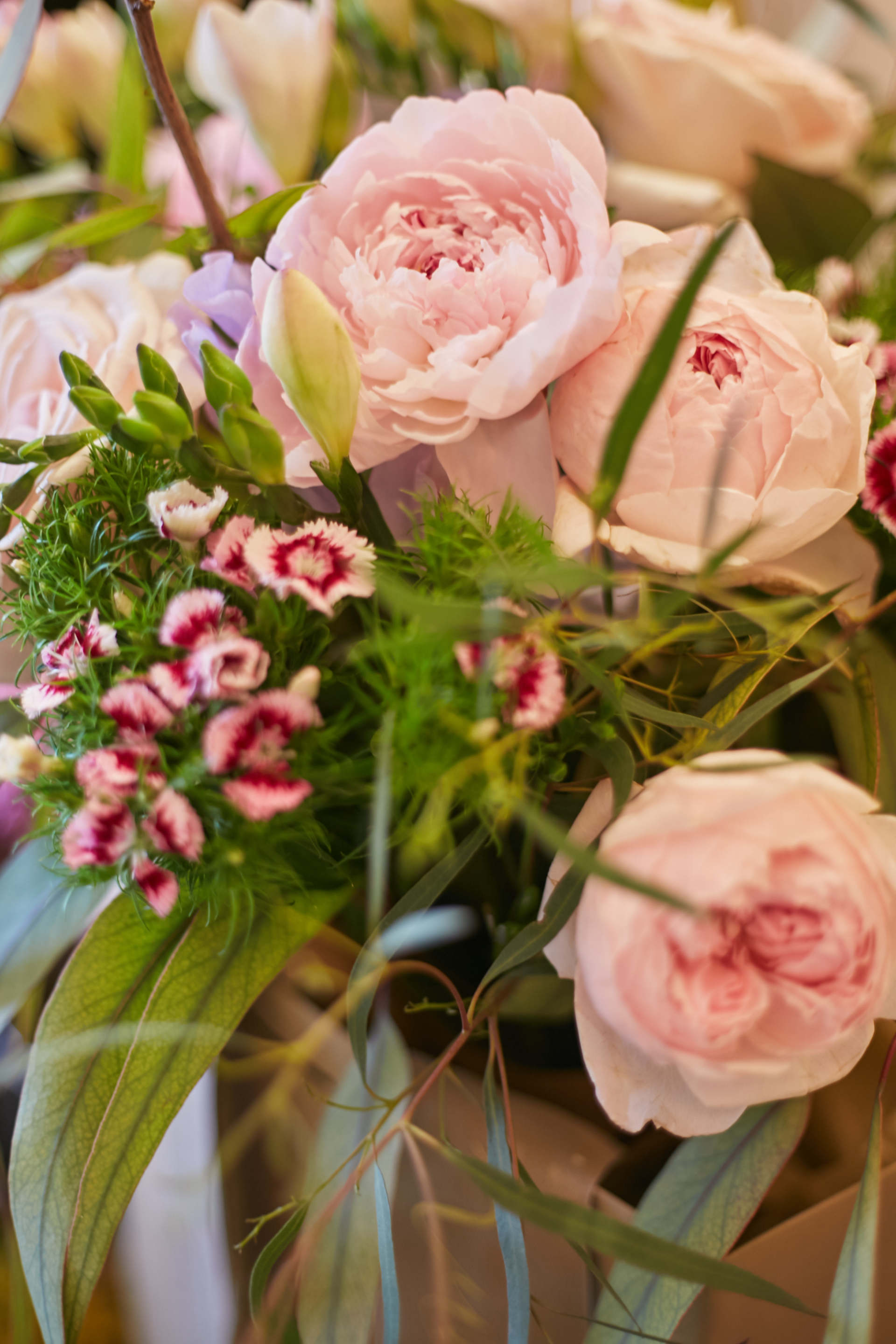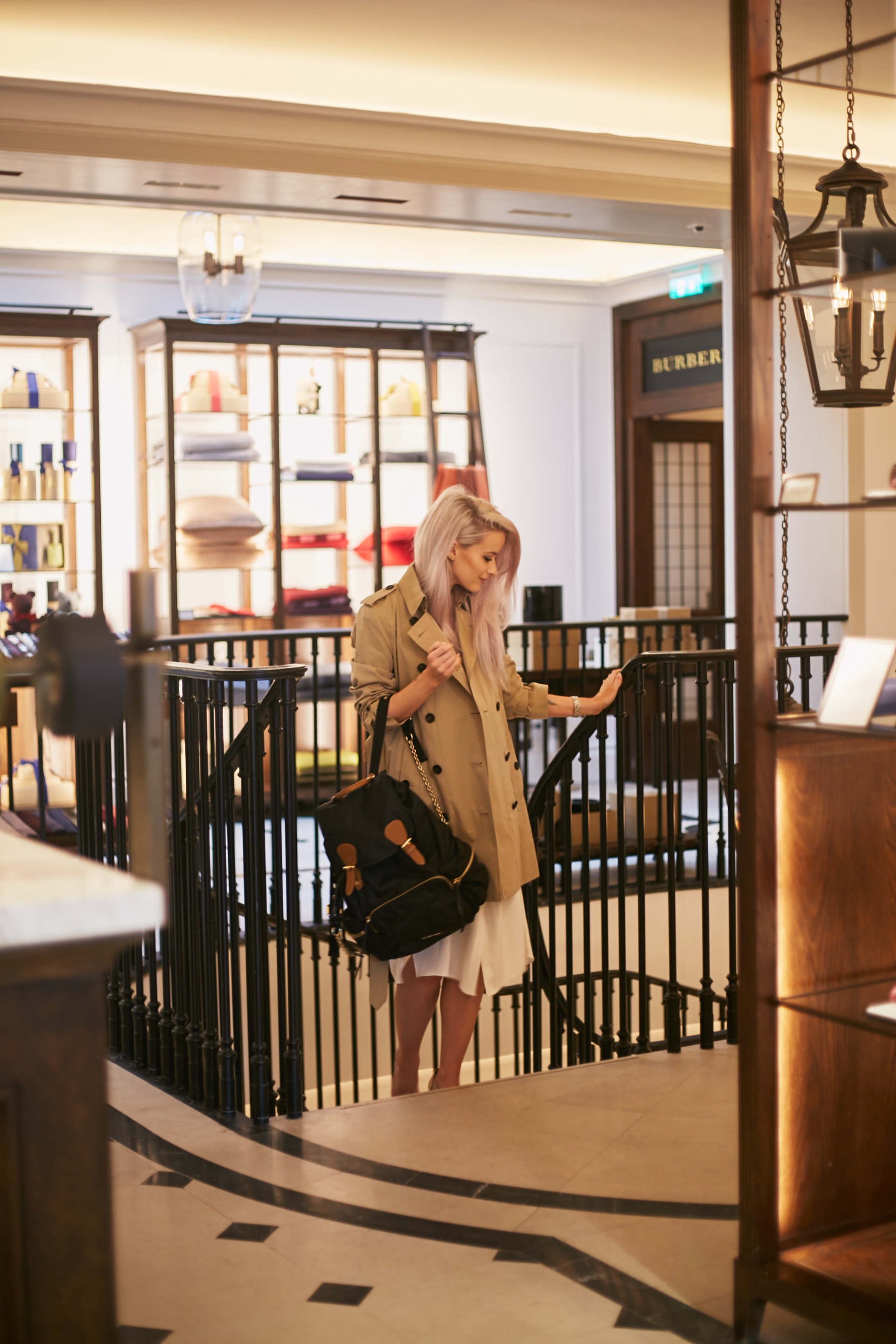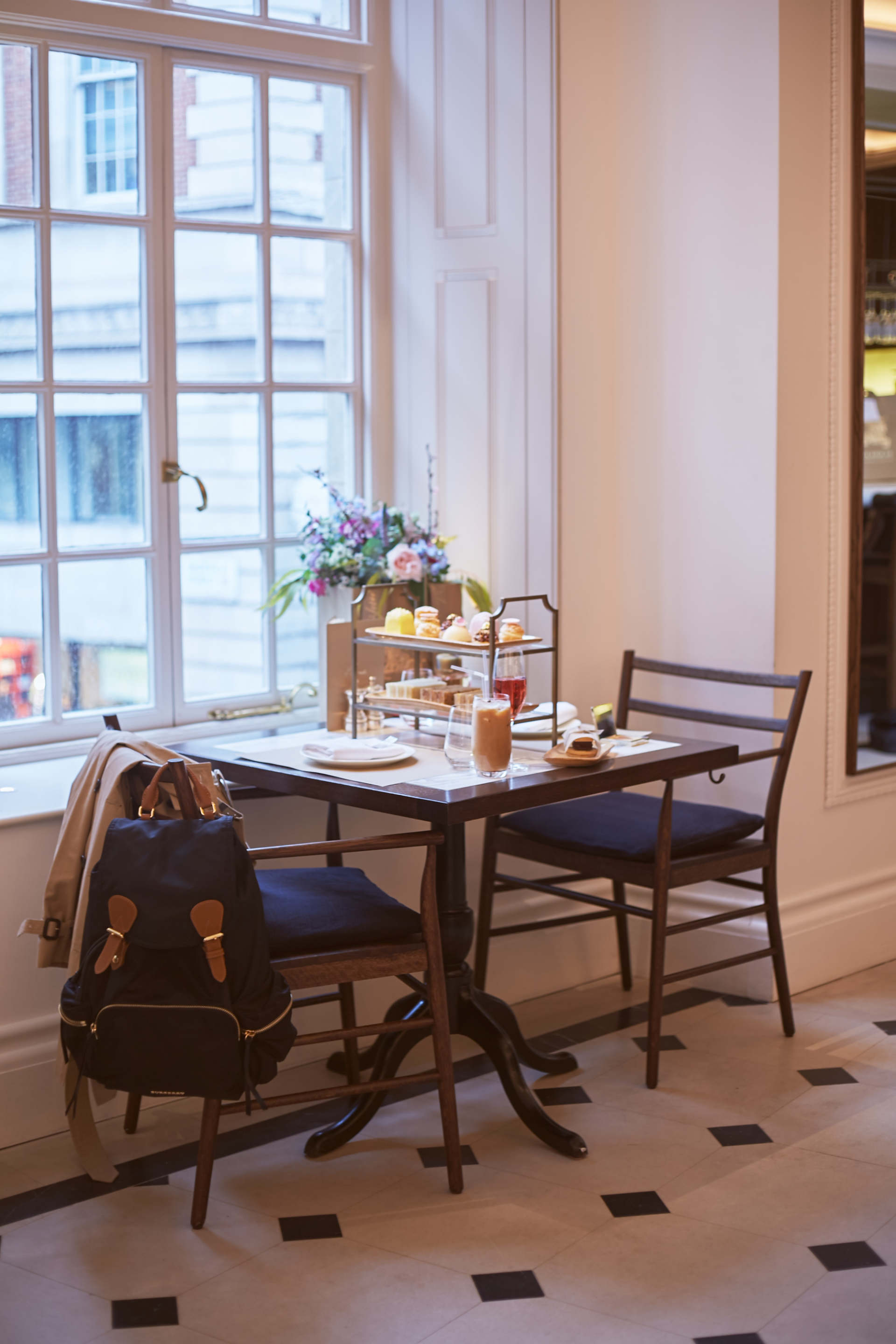 You can be seated upstairs or downstairs inside the Cafe. I must admit that I adore the upstairs area for the beautiful spiral staircase, the marble topped bar and the wonderful light coming through the tall windows along the width of the room. This is also where I tucked into my Mothers Day Afternoon Tea; a special menu of cakes, choux buns and champagne.
Served on a brass and glass shelved cake stand, the miniature cakes and sandwiches are brought to the table in true Burberry style. The row of fingers sandwiches, adorably cut into perfect rectangles, hold cucumber and cream cheese, salmon and egg mayonnaise fillings on brown, seeded and white bread. They were delicious and just enough as not to fill you for the main event. And I'm not referring to the Indian Summer Gold Tea.
The row of sweet treats on the top shelf of the cake stand, are *almost* too beautiful to eat. The best Afternoon Tea's in my opinion, are those that create something unique, pretty, artistic and yet somehow edible, and Burberry has surely ticked all of those boxes. Inspired by the notes in the My Burberry fragrance, the cakes include a Bergamot Choux bun filled with Bergamot cream, and a fondant fancy in a shade of pink Centifoia Rose. 
A raspberry and rose, white marshmallow coated in white chocolate and a crystallised freesia, sit next to a Walnut Whip Chocolate dream, with layers of chocolate, praline and walnuts. With a tiny Victoria sponge and a yellow fondant fancy to finish, you are absolutely spoiled for choice. 
And of course, a side of champagne and an iced latte.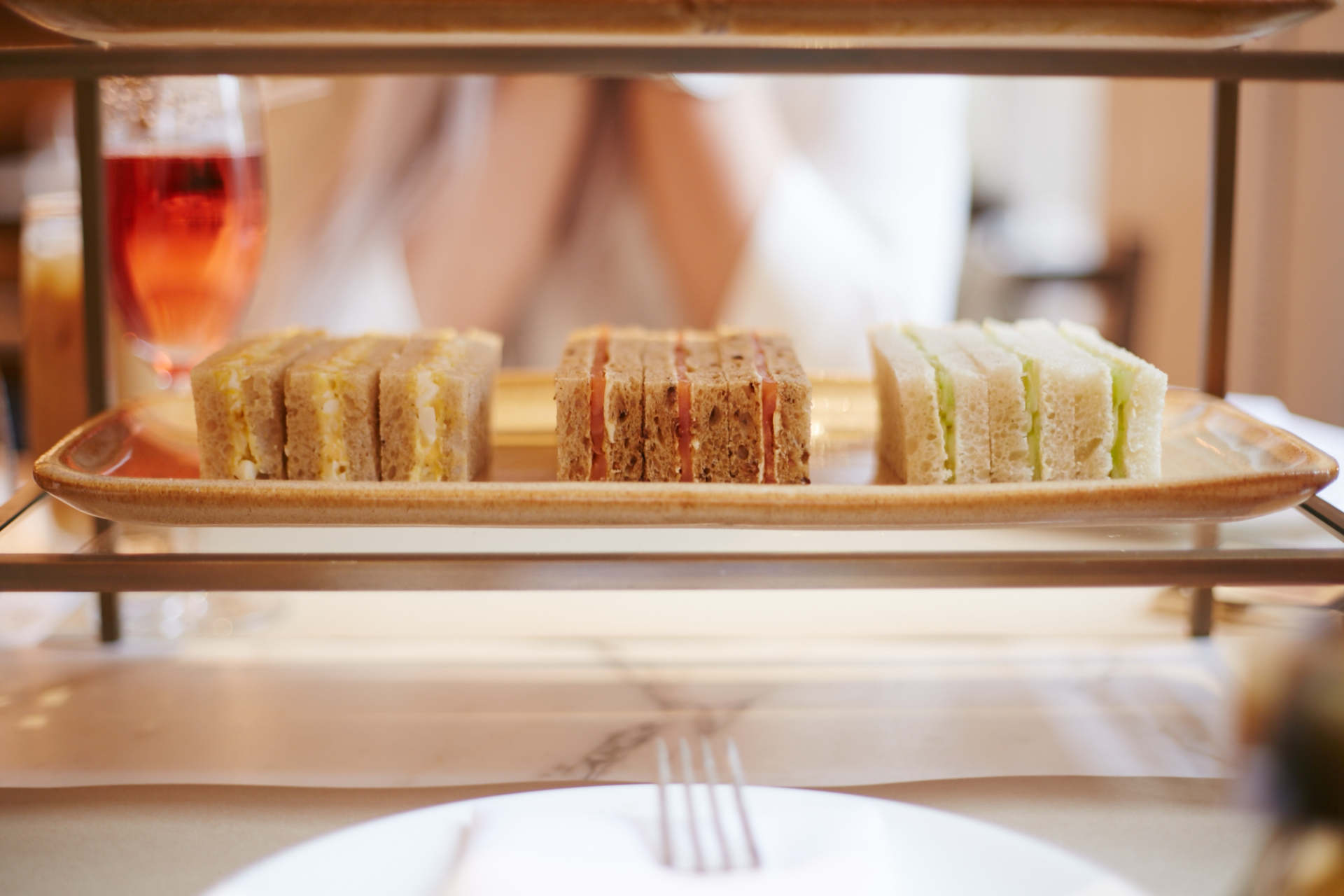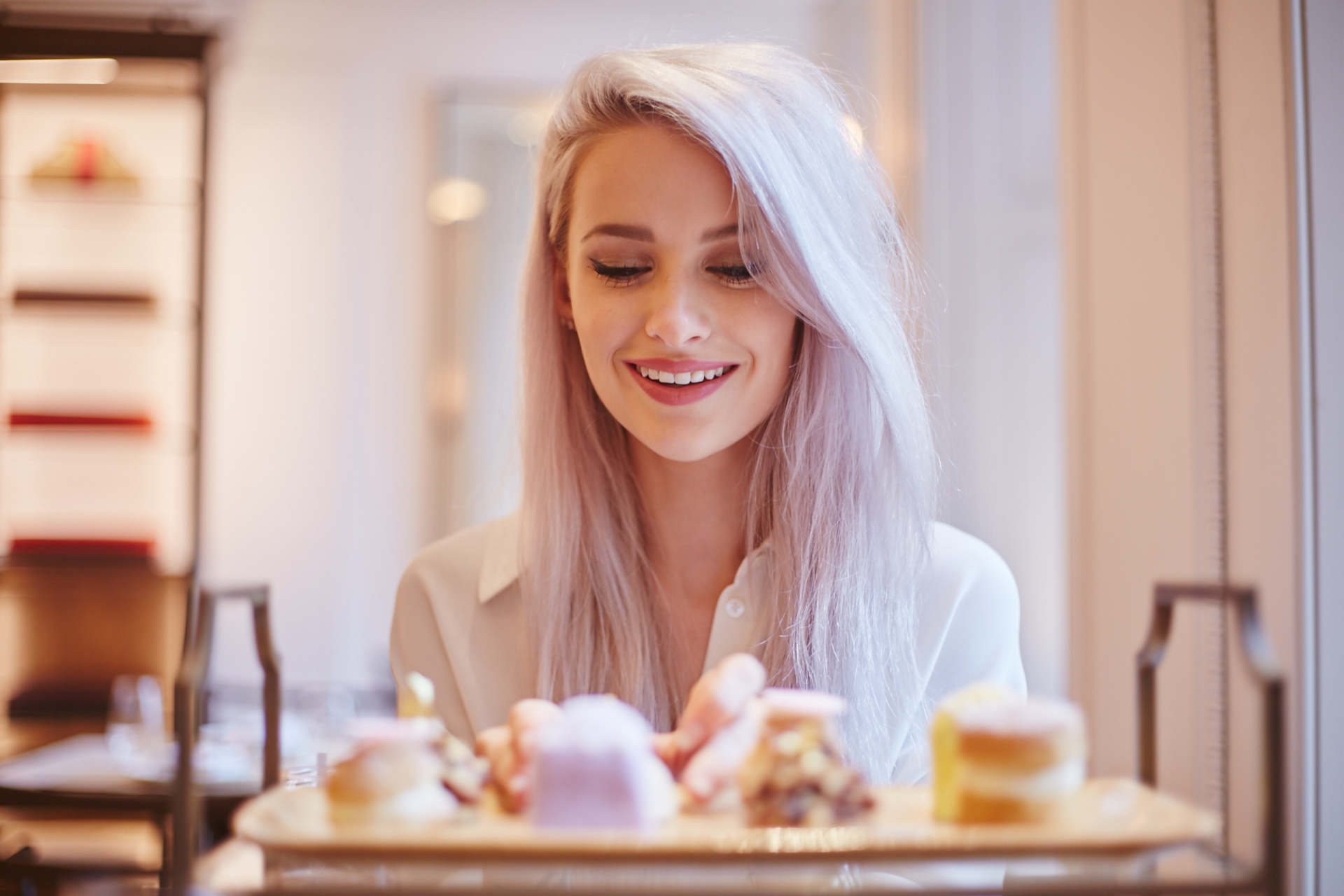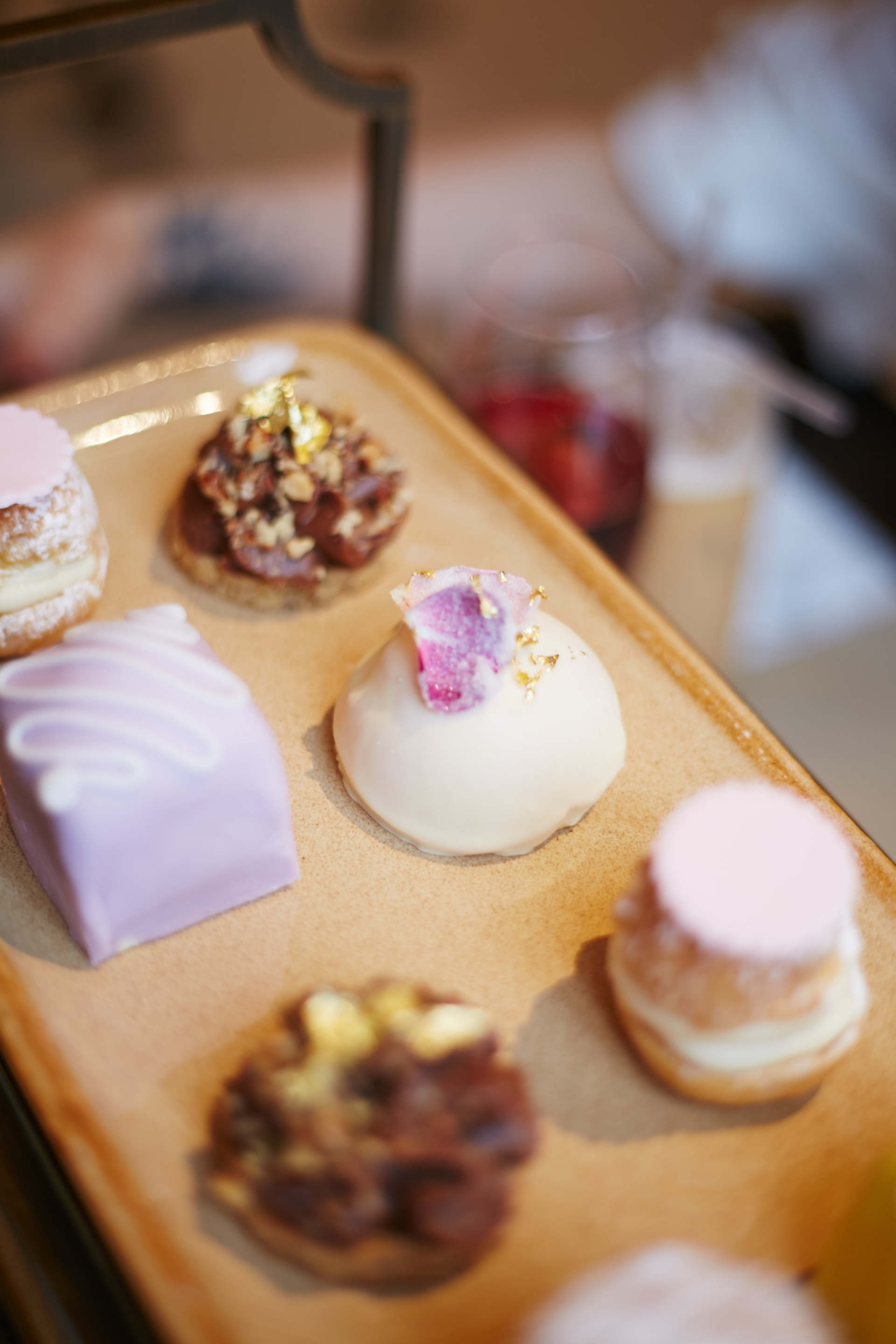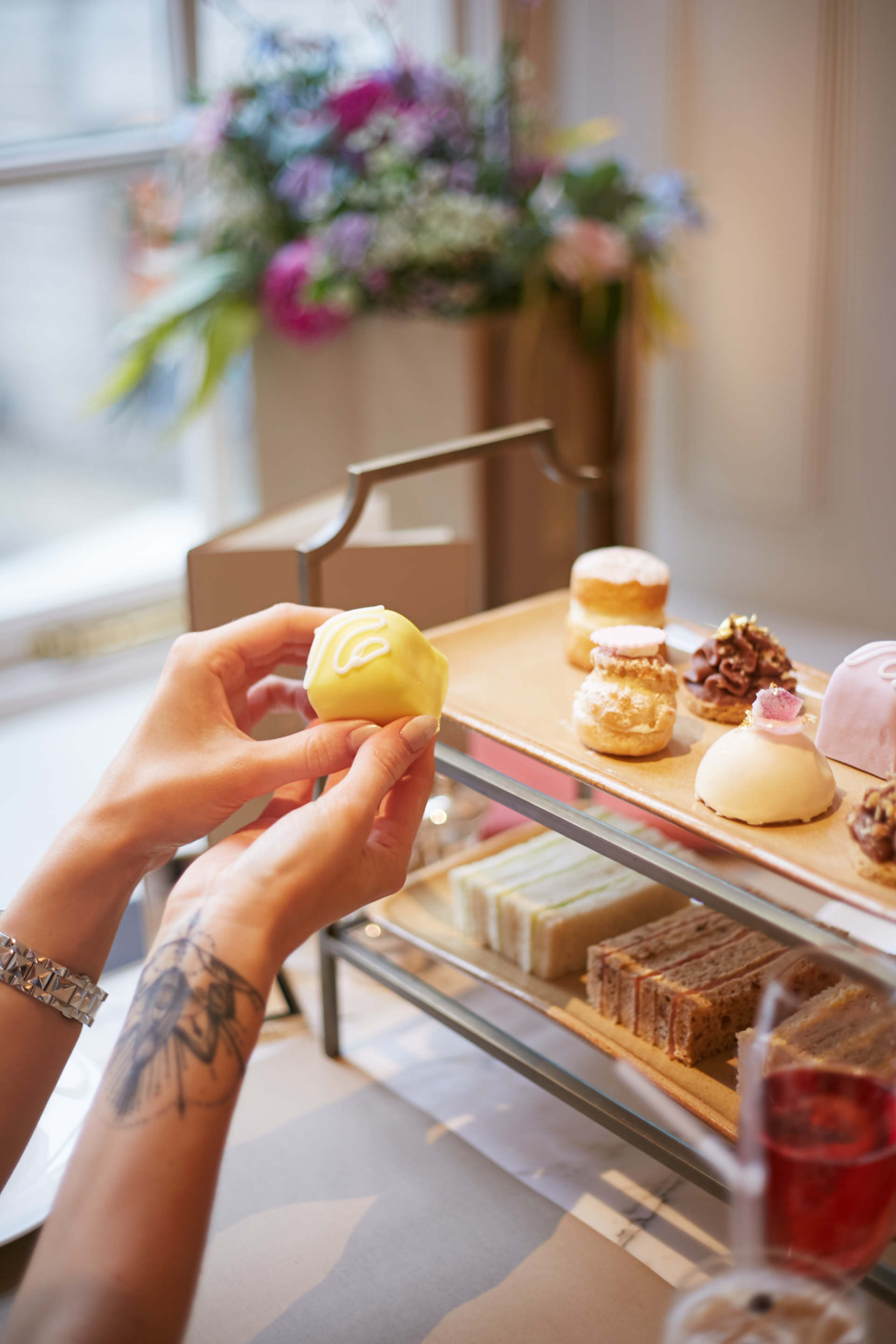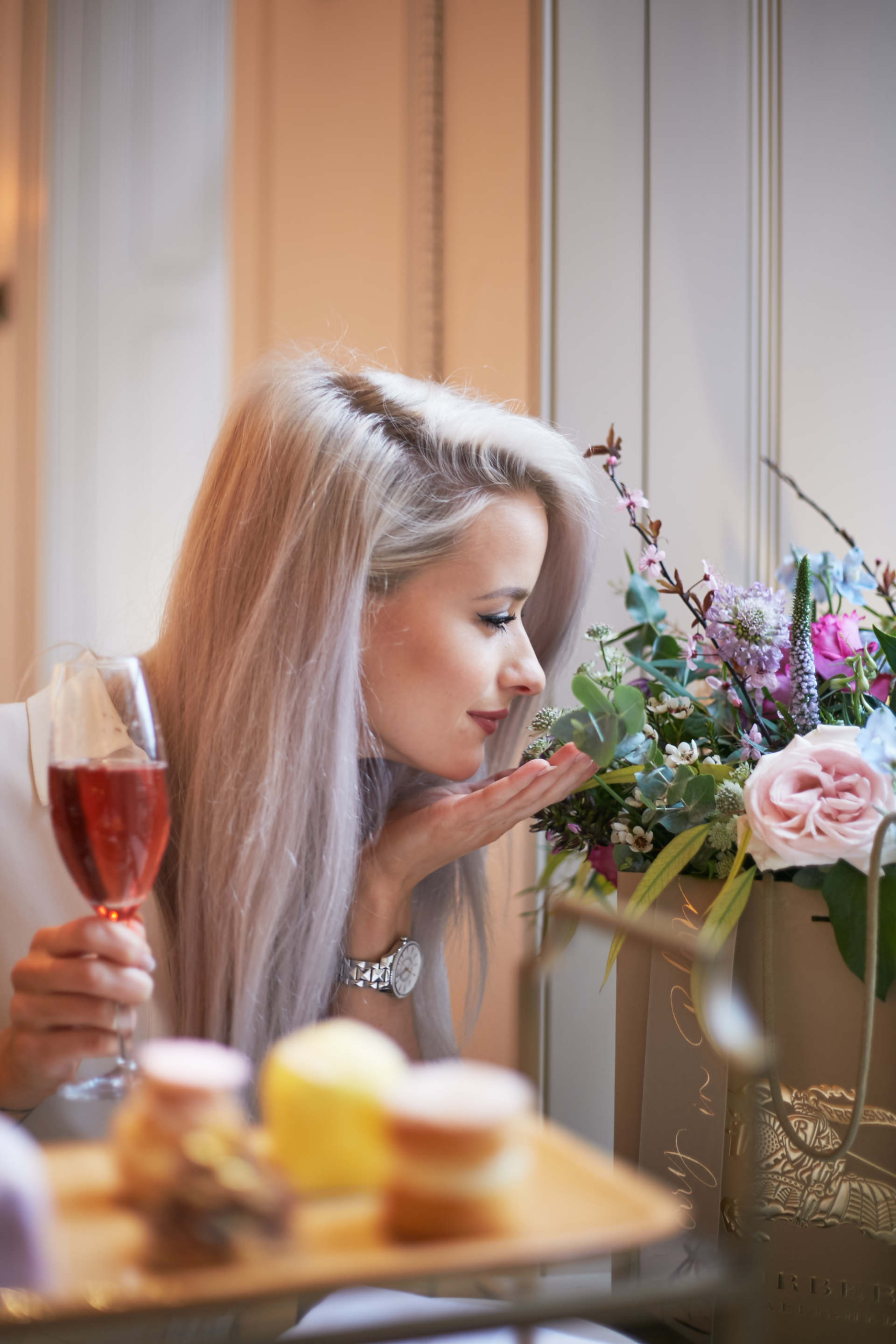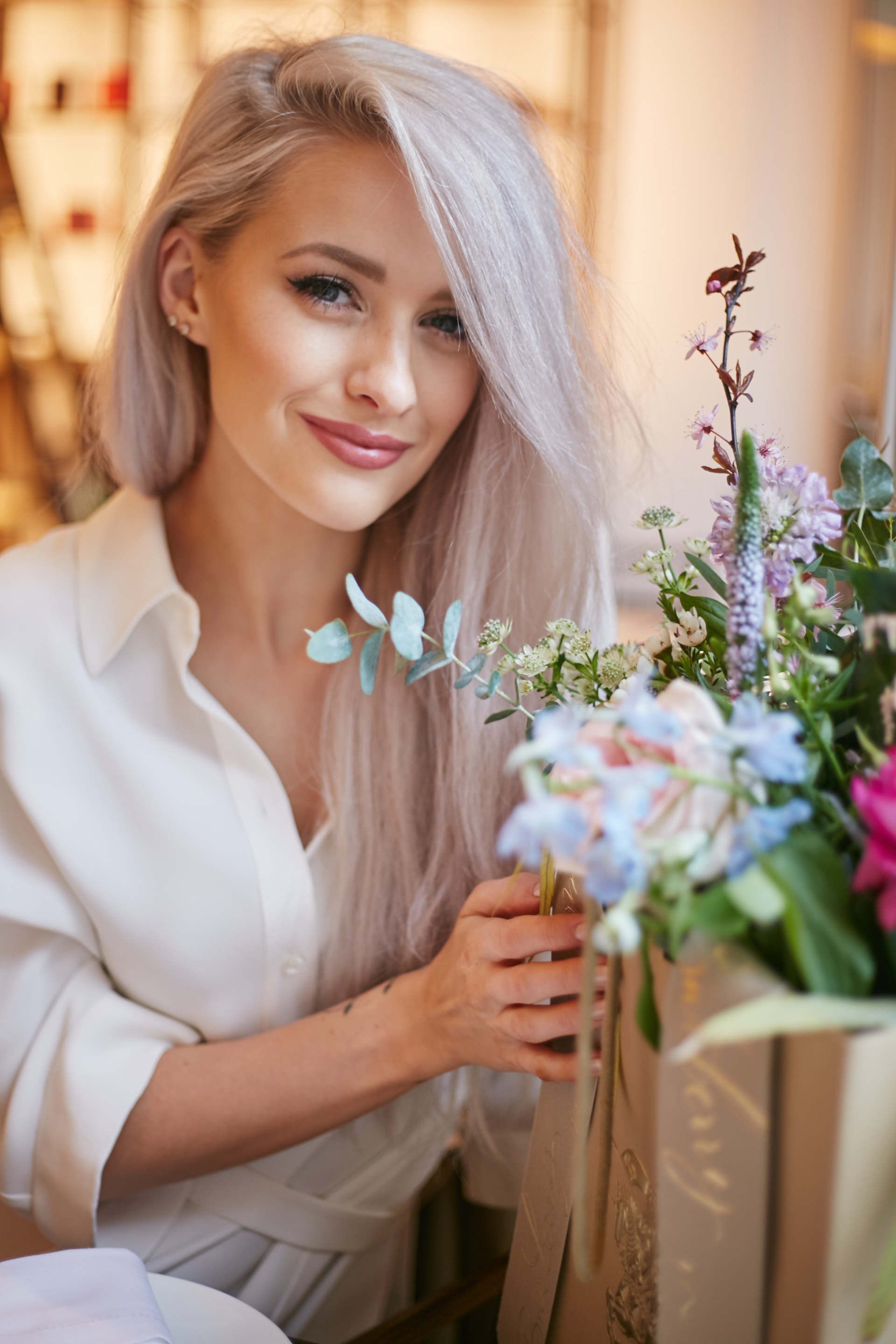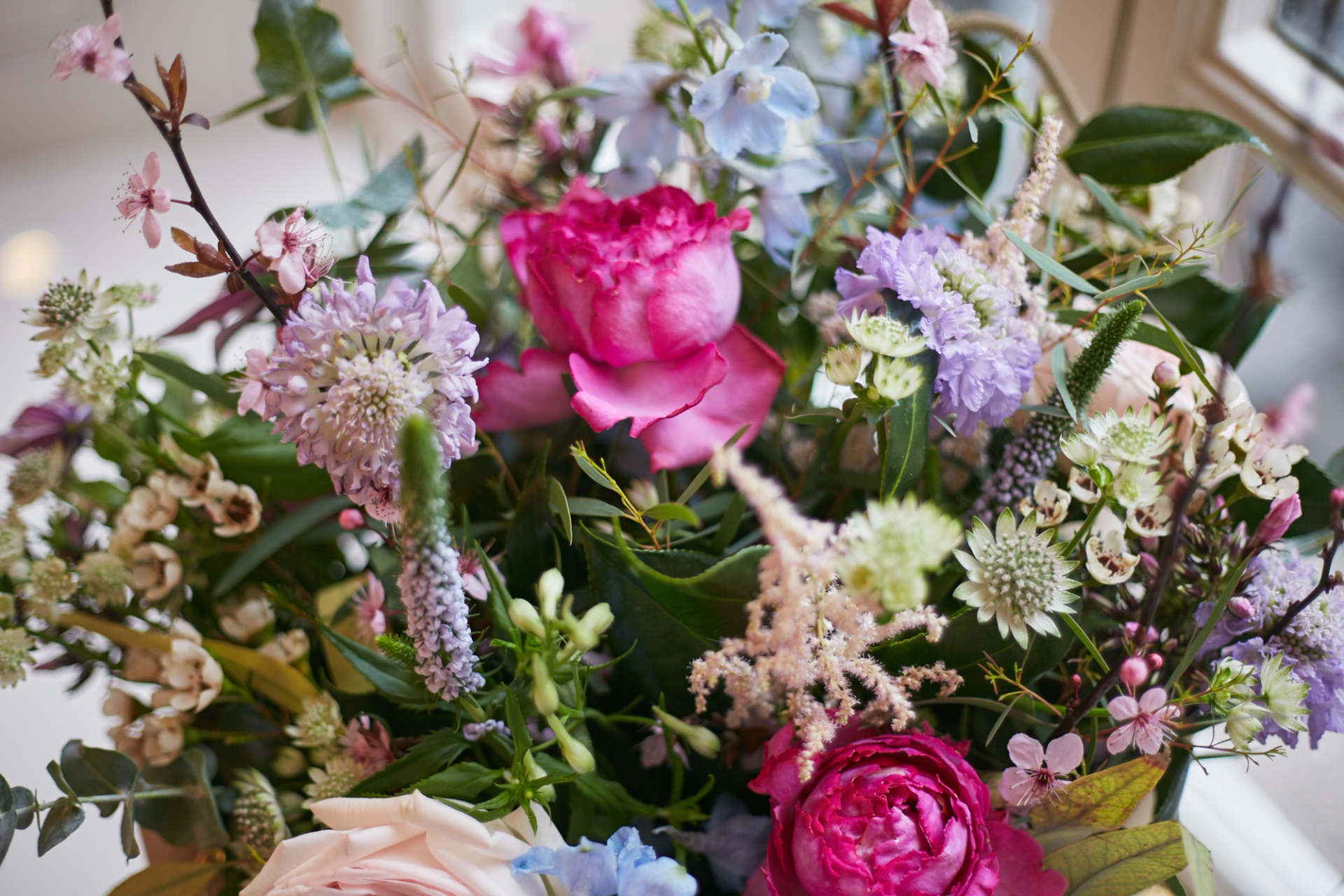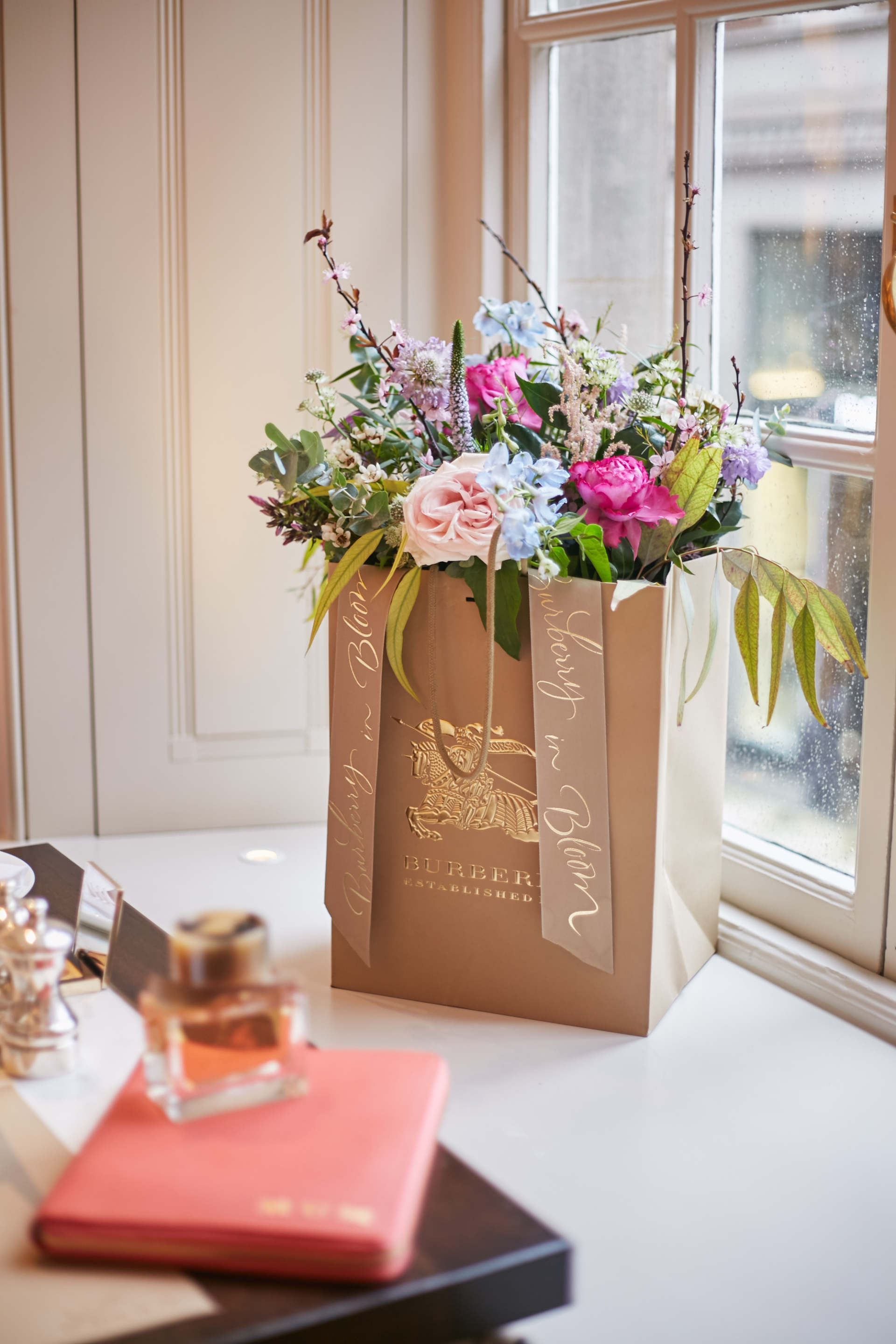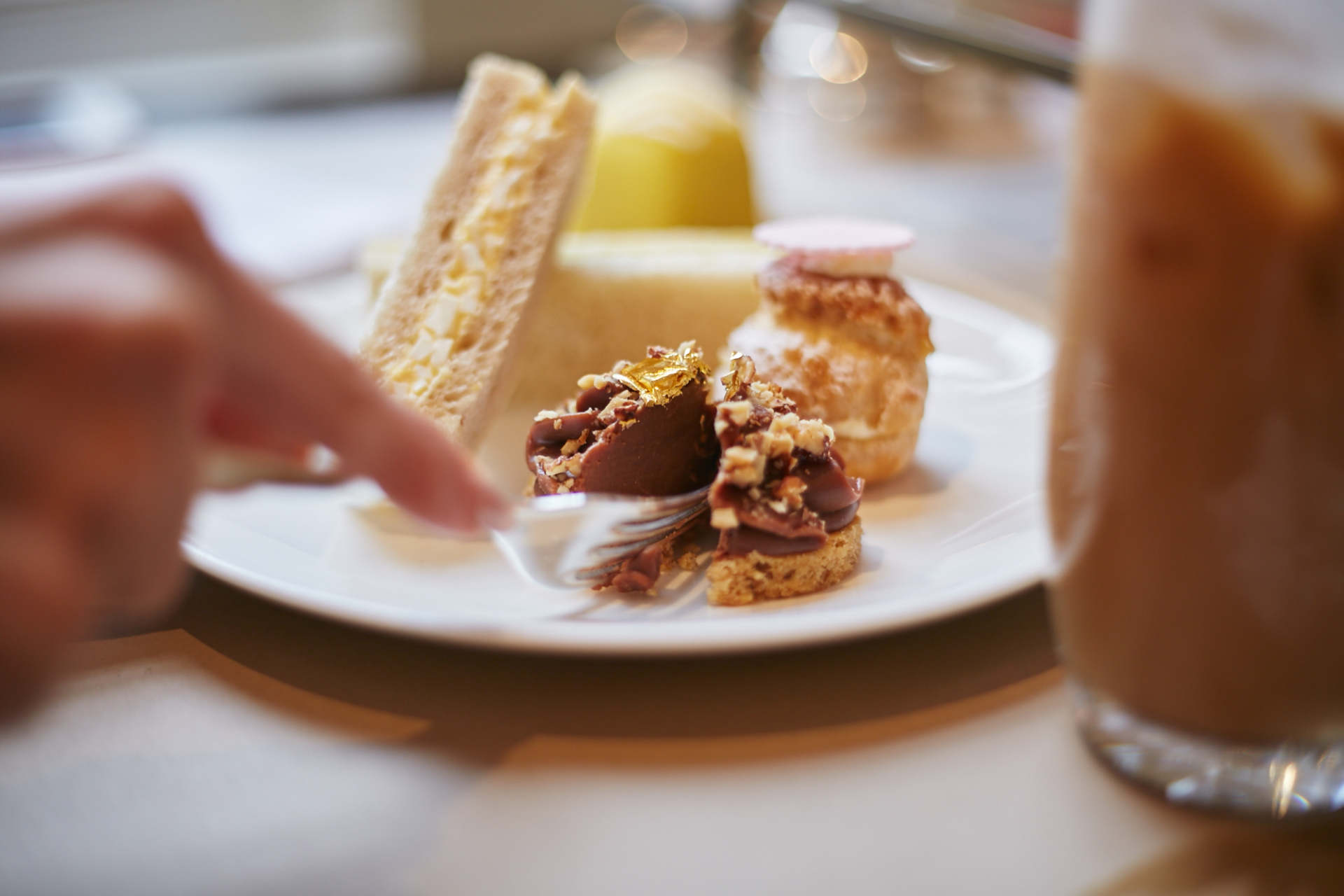 Thomas's Cafe is an immersive, Burberry experience. The surroundings and decor are British and exquisite, but also dressed with an assortment of enticing Burberry gifts. You can be sat at your table, tucking into your sandwiches, whilst gazing upon your favourite colour of leather bound notebook, pencil case, makeup bag or cushion. Thomas's offers a personalised gifting experience, with an array of wonderful present ideas, which again makes it the perfect spot for a Mothers day celebration.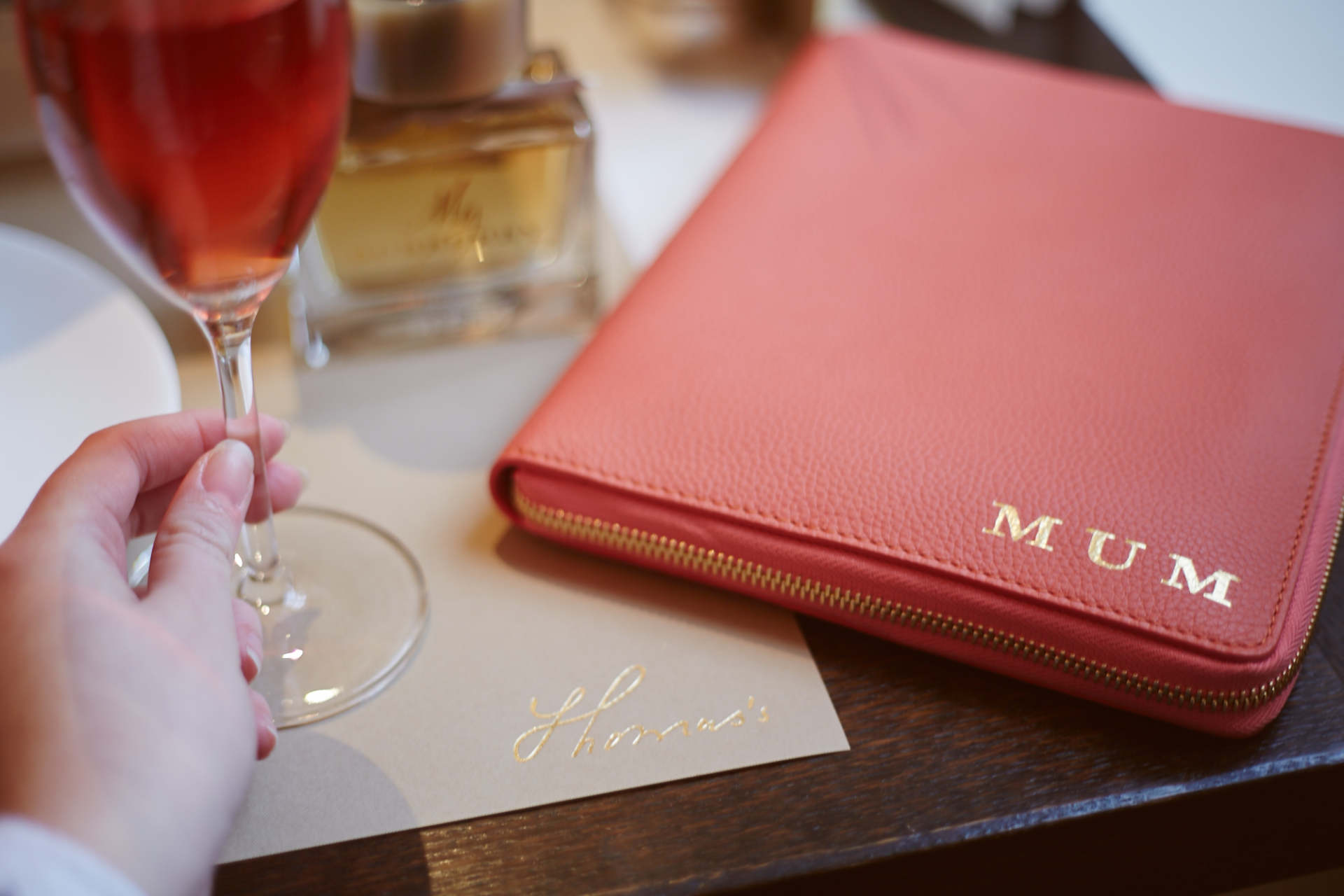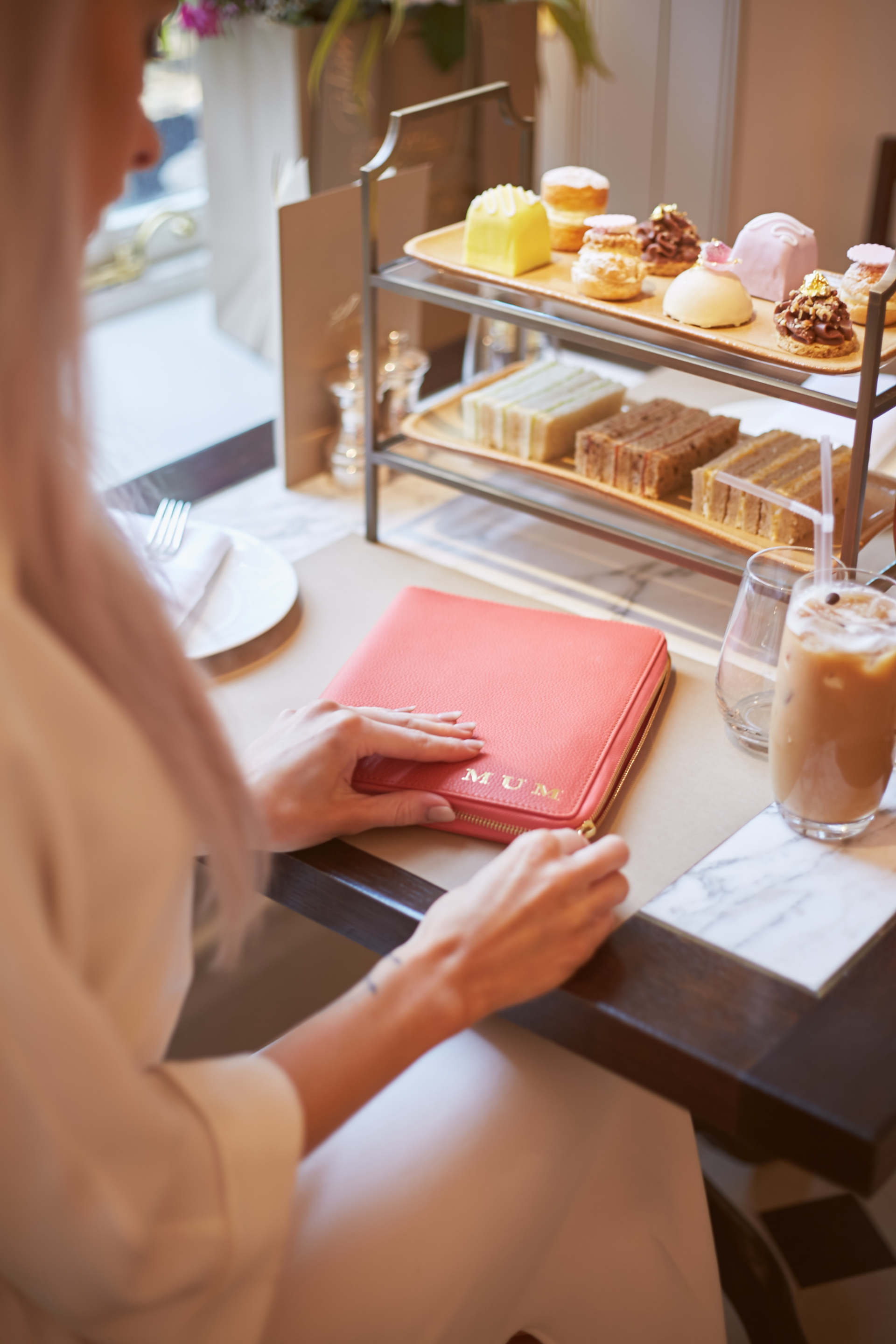 The collection of gifts are updated seasonally, with new colours or patterns being integrated into the famous styles. Possibly my favourite gifts in the room centre around home dressing, including thick woven throws, blankets and huge, cosy cushions. Candles in beautiful fragrances always catch my eye every time I visit and the knitted Teddy Bears are beyond adorable.
There are also an assortment of games, including playing cards, dominoes, dice and backgammon, housed in Burberry wallets and bags as well as travel orientated gifts such as luggage tags, passport covers and travel sleeves.
But you will also notice an abundance of beautifully coloured Stationary: notebooks, diaries, desk accessories and writing equipment; which I gaze at lustfully every time I leave the cafe. In fact it was through my constant visiting to the Cafe that I formed an obsession with a set of Make Up Bags in gorgeous patterns and shades.
But what makes this treasure trove of trinkets and treats so magical, is the personalisation element. Each gift can be personalised in the store by a skilled craftsmen, who can embroider and emboss the textured leathers, to create a one of a kind gift. A notebook monogrammed with 'Mum' and 'Burberry' for Mothers Day sounds like a gift I would be more than excited to send. But following monogramming, on cushions, scarves, bags and even the Burberry Trenches now, each gift is then gift wrapped at specialised stations. Printed and solid ribbons are up for the choosing and personalised gift cards from a paper embossing machine can accompany your gift.
For a really special gift, the My Burberry EDP and EDT found next door at 121 Regent Street, can also be monogrammed with your desired name as a special present.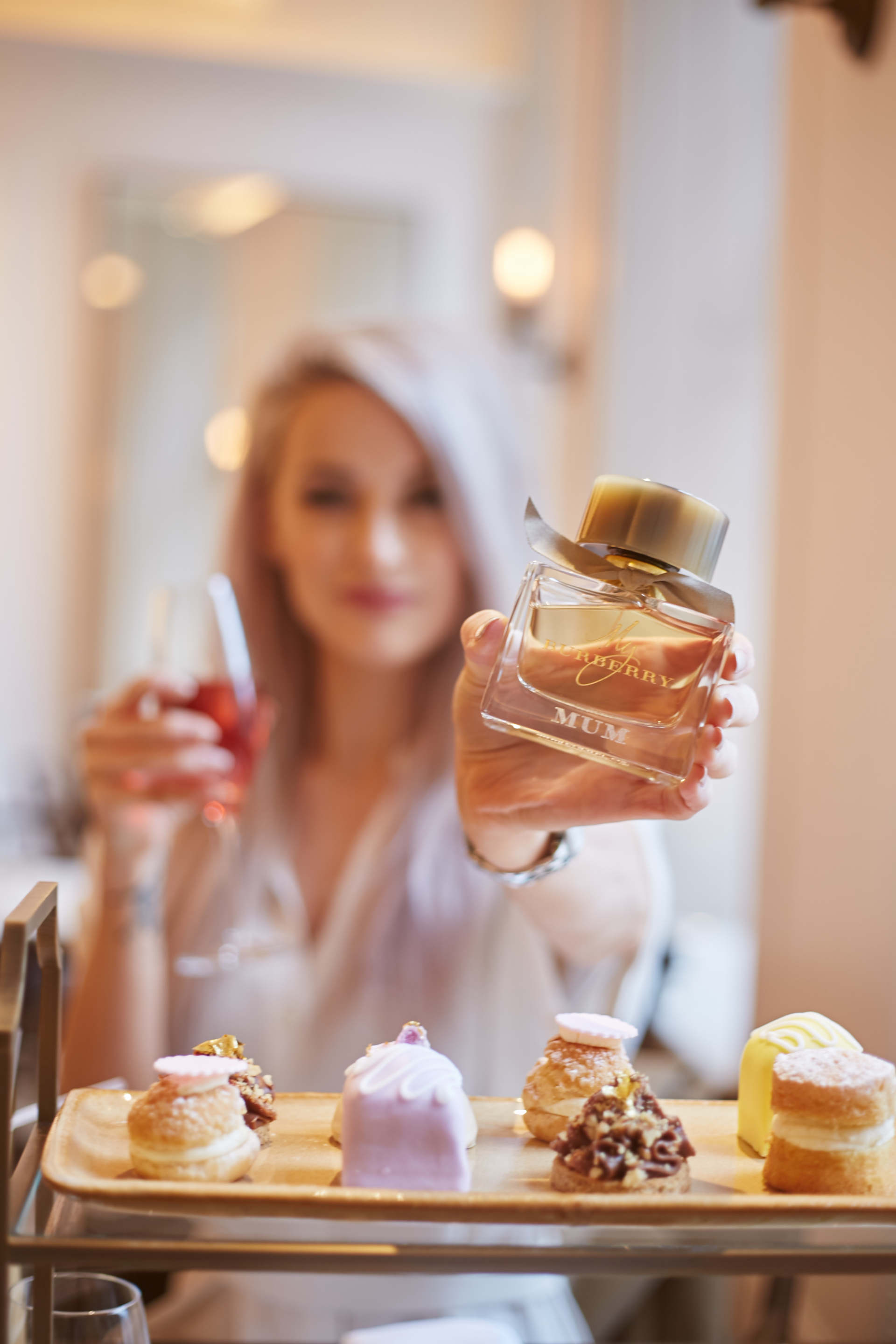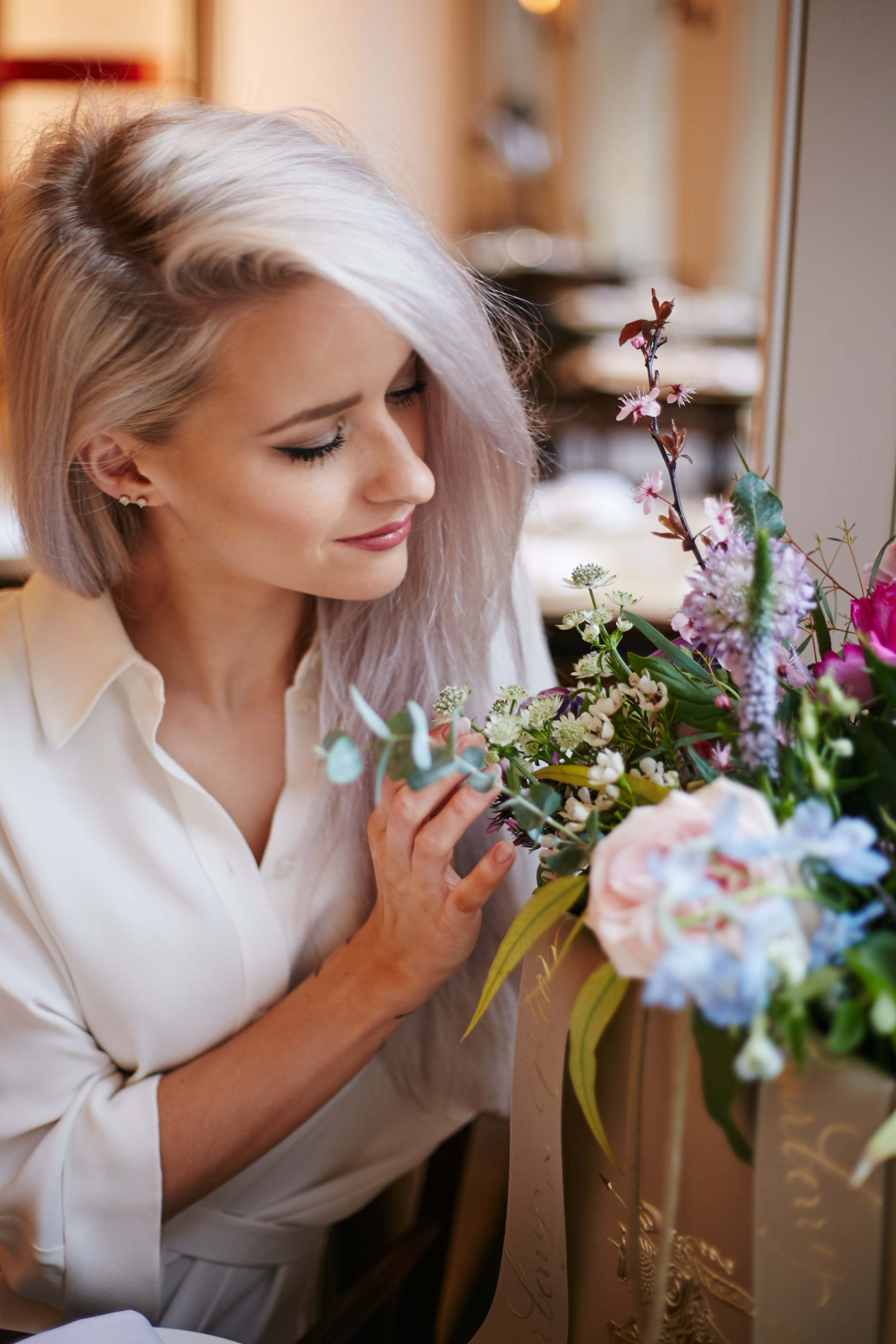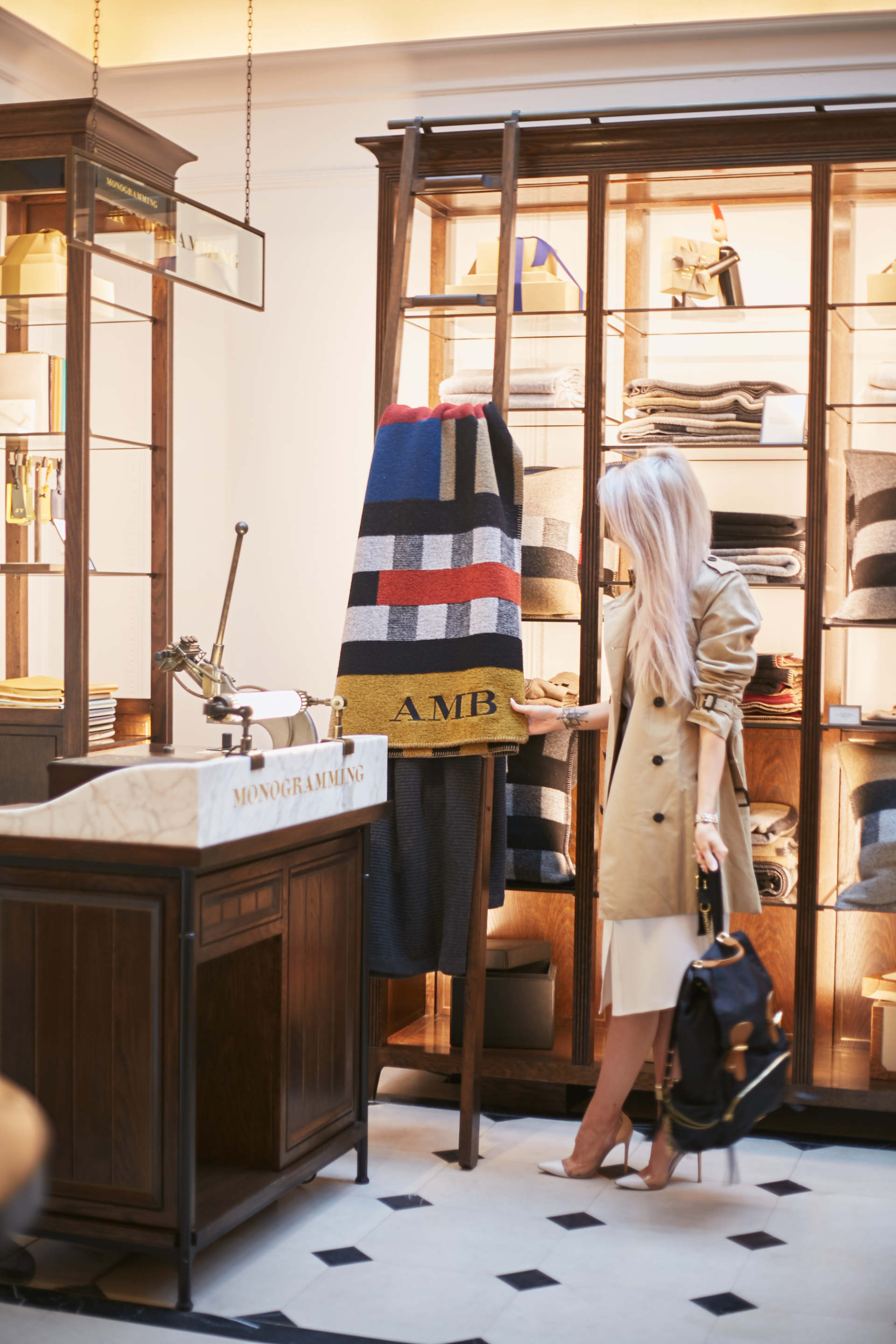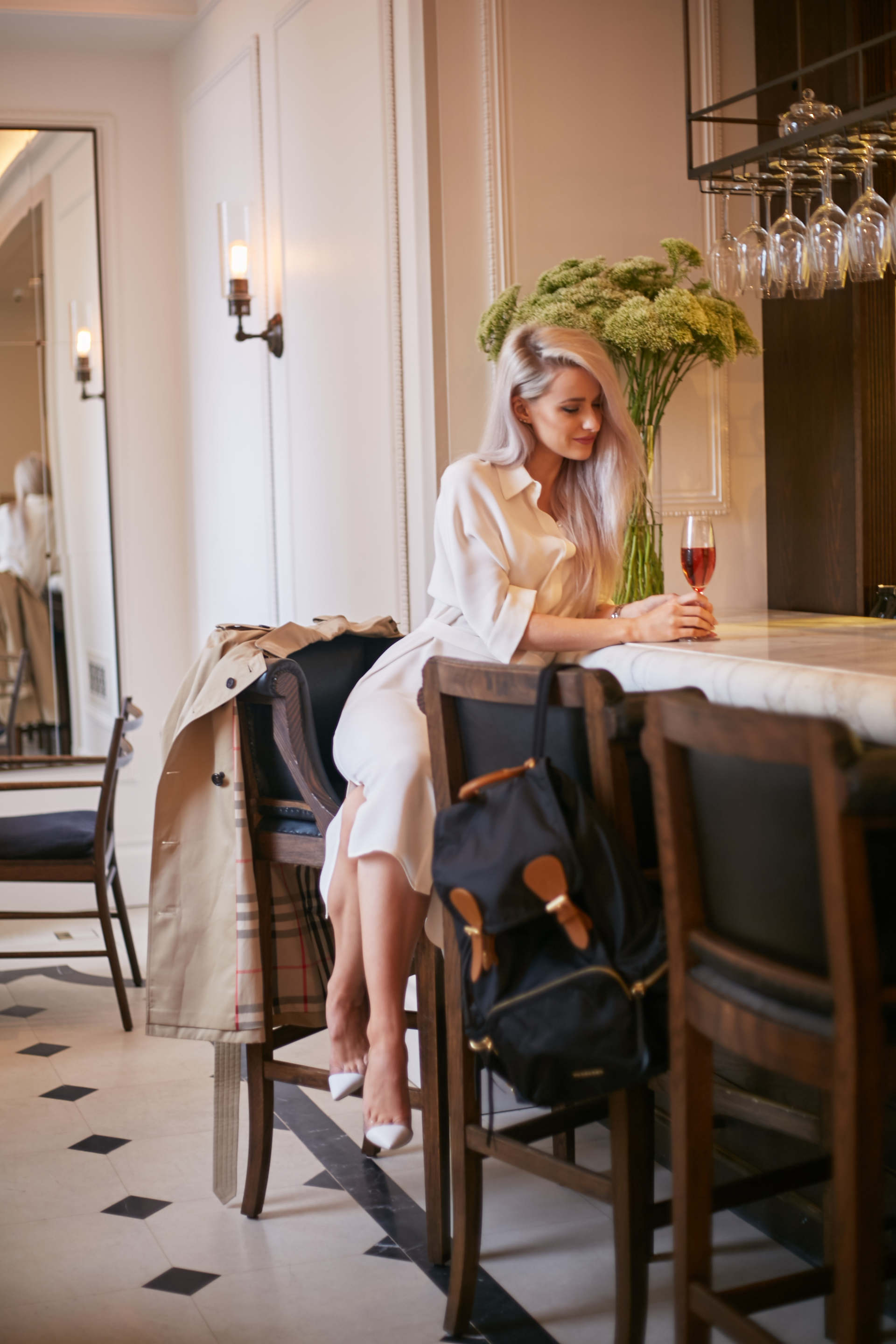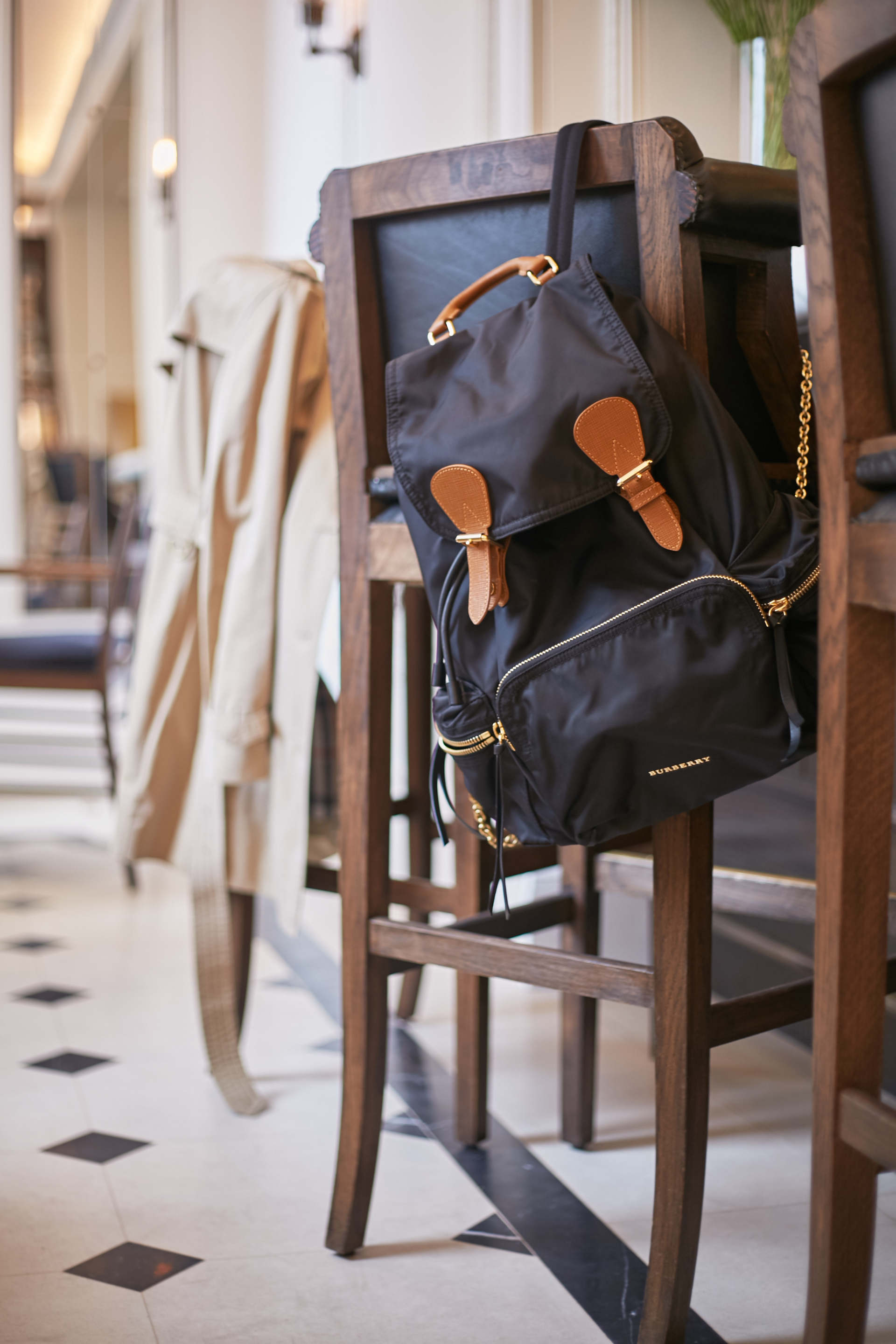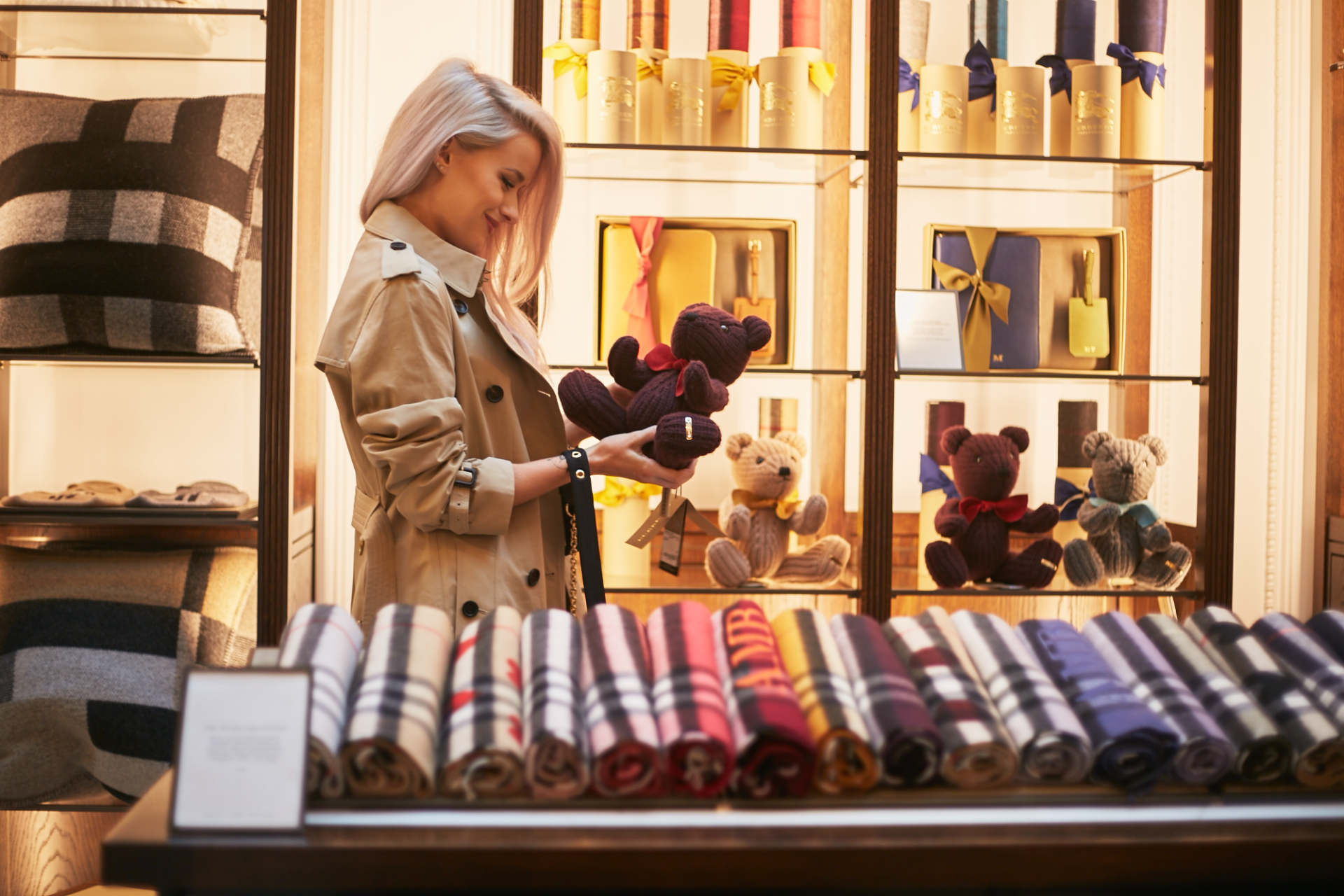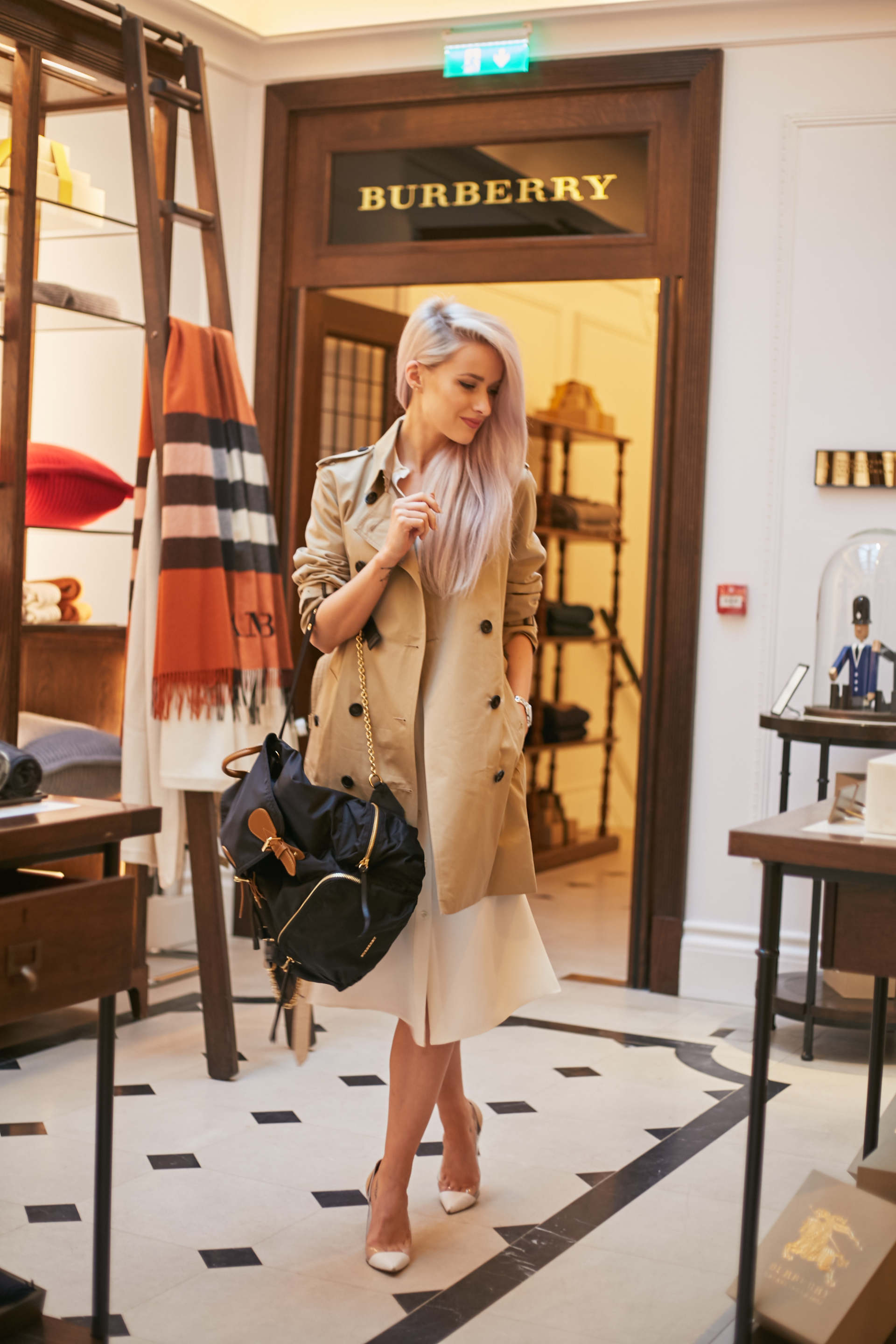 I could spend hours in this boutique cafe, sipping on my Iced Latte and catching up on my emails whilst being looked after wonderfully by the waiters. And afterwards, prancing around the store and the gifts and dreaming of a whole collection of Burberry stationary.
It is the whole atmosphere and ambience of Thomas's Cafe, as well as the decor, service and exquisite menu, which keeps me coming back. Their attention to detail in the creation of the ultimate customer experience, from store to Cafe, is innovative and unique to say the least.
From the marble monogramming station, to the wooden ladders reaching to the upmost shelves on display, or even the dark wood and tiled flooring throughout the building, I could not feel more inspired when sat inside. And surrounding myself with Burberry cushions, throws and stationary is something I would happily do, everyday.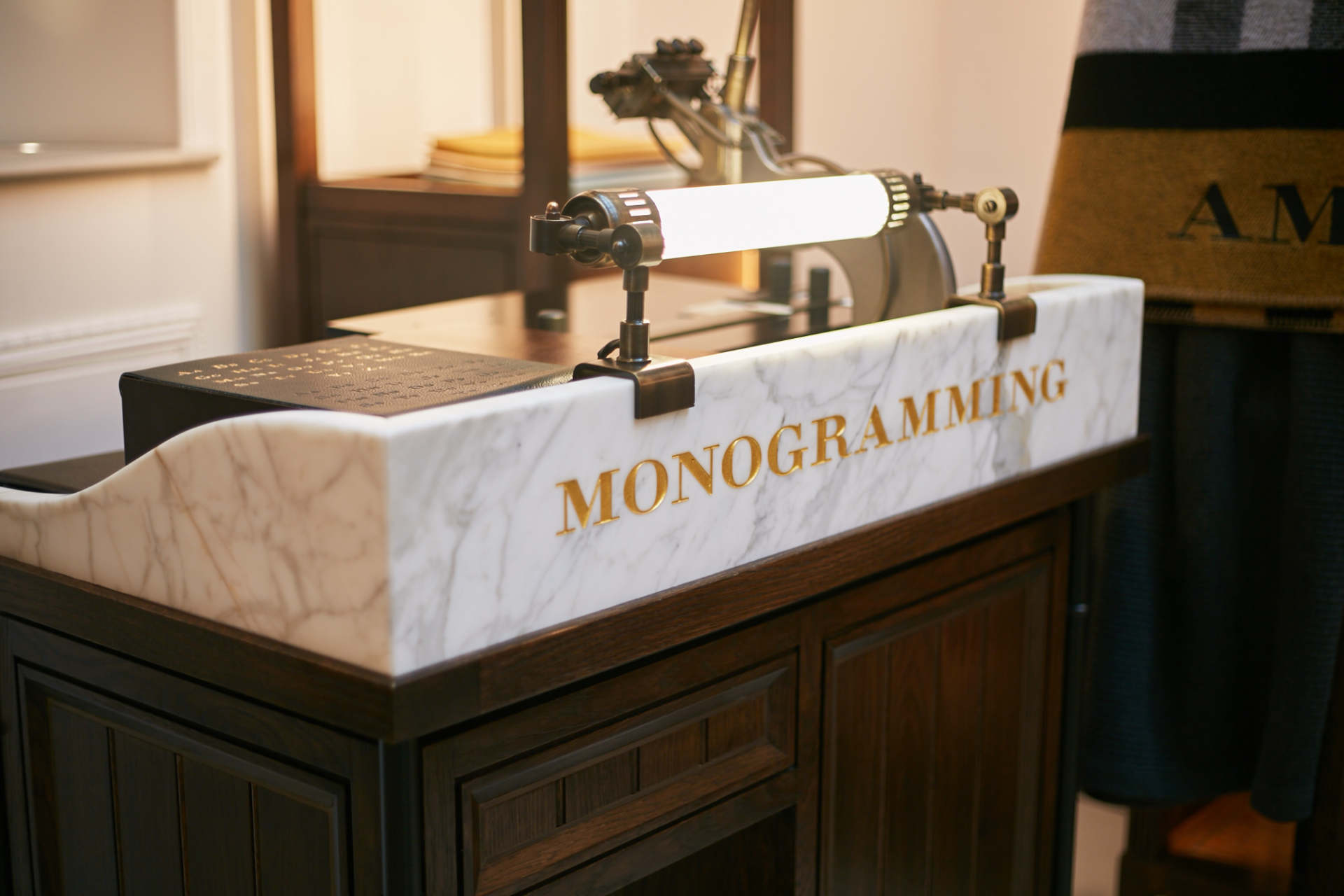 Burberry have truly thought about the perfect way to celebrate Mothers Day in style, from handpicked flowers to monogrammed gifts and a beautiful afternoon tea, there is no other place I would take my Mum this Mothers Day. But I would truly suggest booking a table as soon as possible, as this little haven is sure to get booked up in no time!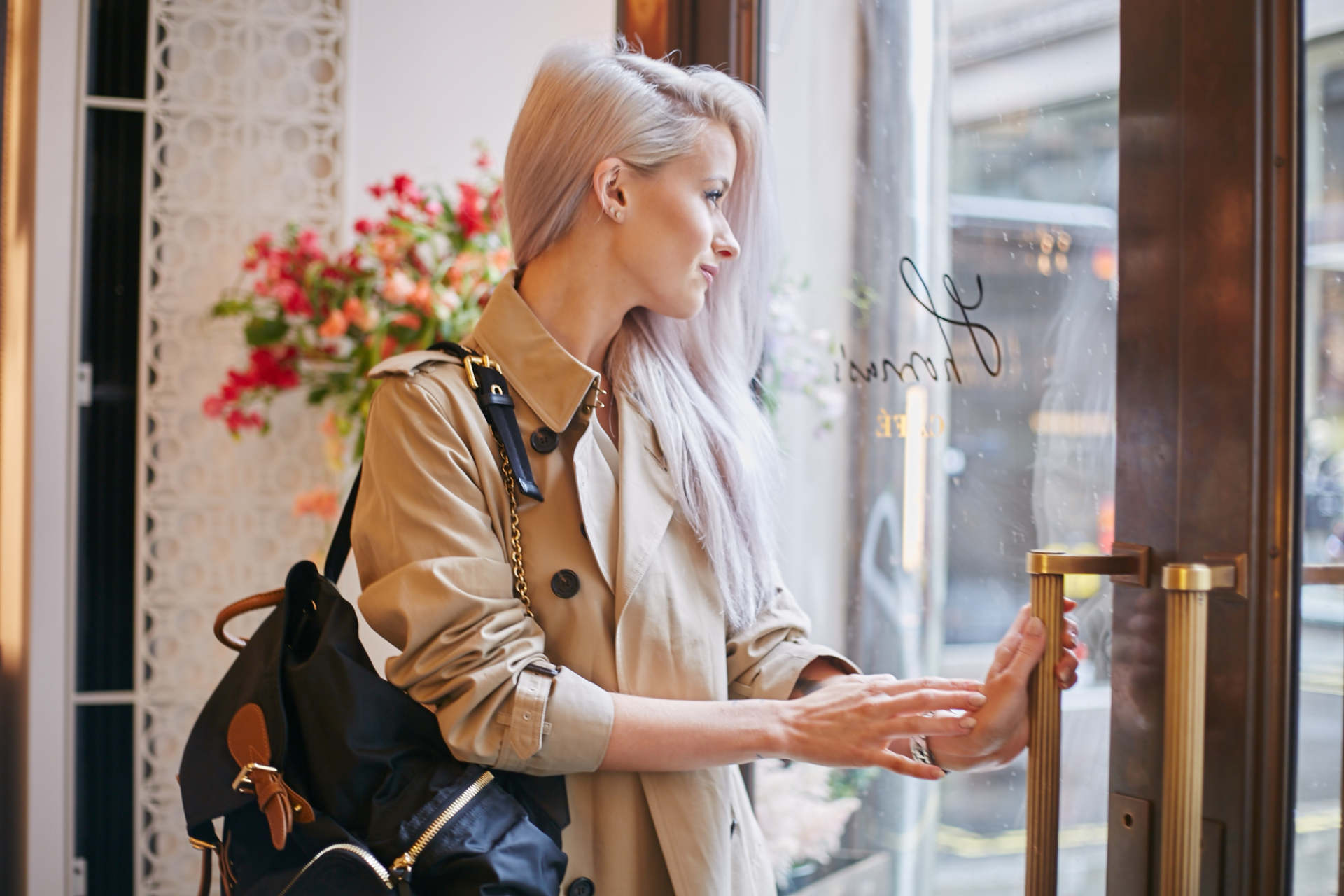 Sign up here for a weekly catch up of everything Inthefrow