London, UK
LFW AW16 Day 3
For the last season, SS16, all three of these shows were some of my absolute highlights. Topshop Unique with their 90's vibes, Mary Katrantzou with a beautiful array of underwater inspired designs and Anya Hindmarch, offering bags emblazoned with retro brand logos and a dance display. They photographed beautifully and really had me inspired for spring clothing.
And this season, all three have brought Autumn back with a bang. Each has incorporated fantastic outerwear into their collections, with Anya especially designing a number of jackets I cannot stop thinking about for my Autumn/Winter wardrobe. And Mary Katrantzou, reinventing Americana and the modern day Dolly Parton. Big shoes, flame patterning, western vibes, clashing prints and jewel tones.
Topshop Unique was all about the textures and woodland colour palette, with the biggest nod to the shades of the British Autumn. And you might be glad to know, velvet and roll necks will most probably be in your winter wardrobe again this year!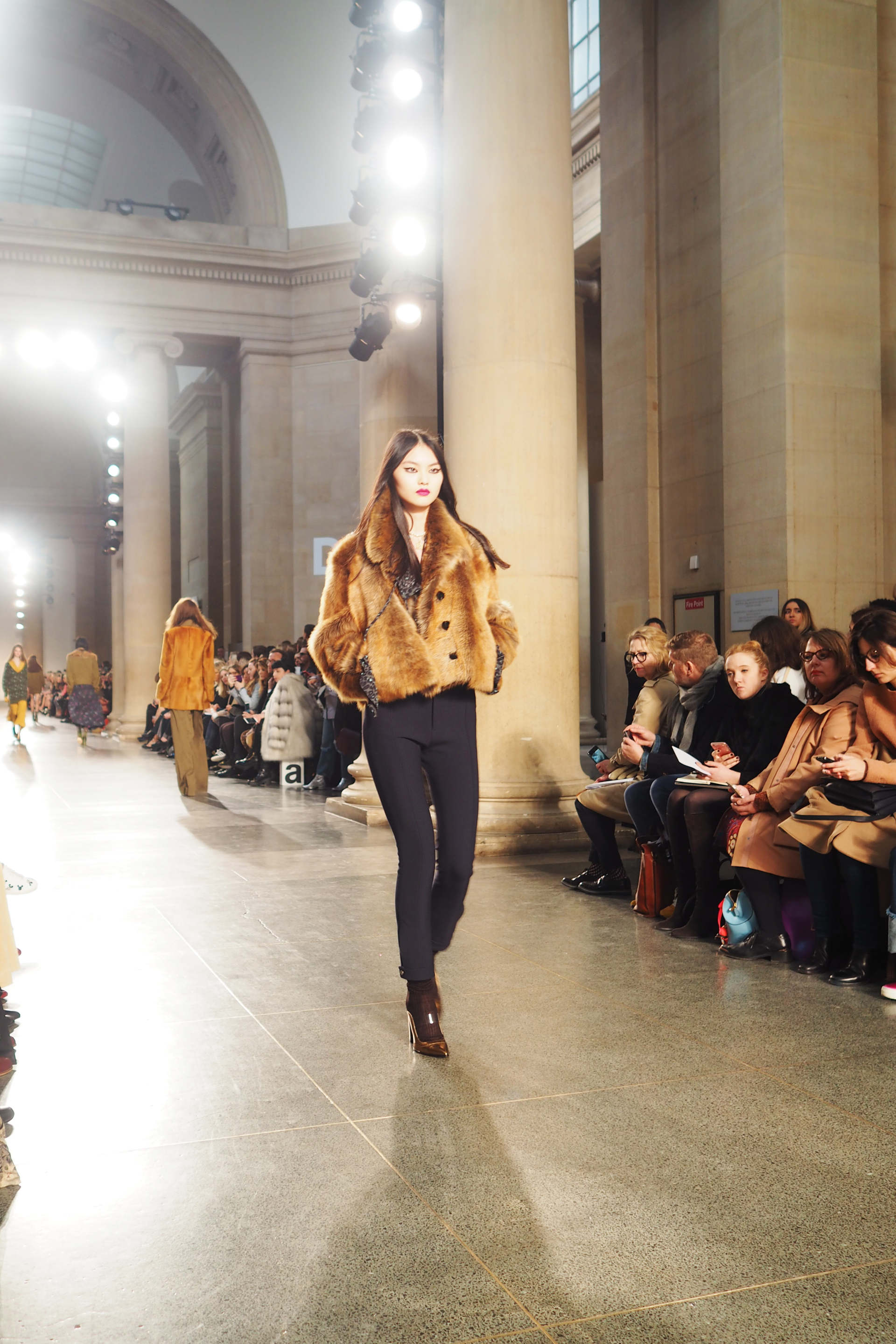 Shades of Autumn at Topshop Unique
I always look forward to the Topshop Unique show. There is always such a huge buzz around it, and for bloggers like myself, securing a ticket to the show means a first glimpse at a premium/high street fashion hybrid for Autumn. I have attended now for the last three seasons I believe, and every time it has been the one most spoken of, asked about and lusted over.
This year it took place within the Tate Britain, set against the beautiful white stone walls of the gallery's interior. I adore this room for show viewing, as there is something so ornate and prestigious about the setting. I could not wait to see what the brand had in store.
The vibe was certainly Autumnal, from textures to patterns and colour palettes. Faux fur jackets in varying lengths, with the most beautiful panelling I have seen from this fabric. There was faux fur to collars, stoles and maxi gilets. Then our wintery fabric preference, velvet, strutted onto the catwalk in skirt and dress form. The low V neck maxi dress below is a piece I absolutely have to own come August!
But alongside the velvet and the faux fur sat wool, leather, patterned jewels, sequins and suede; all of our late year favourites. The tall ankle heels boots are so perfect for later in the year too; you all know how much I adore a pointed toe boot! And the colour palette in muted khaki greens, white, black, grey, mustard and golden browns, combined with the fabric textures, just felt to me like something out of an autumnal woodland scene.
The voluminous and often 80's party hair, individual to each model as last year, was created using a mixture (where needed) of the Techni Art full volume mousse and Infinium hairspray by Anthony Turner for L'Oreal Professionnel.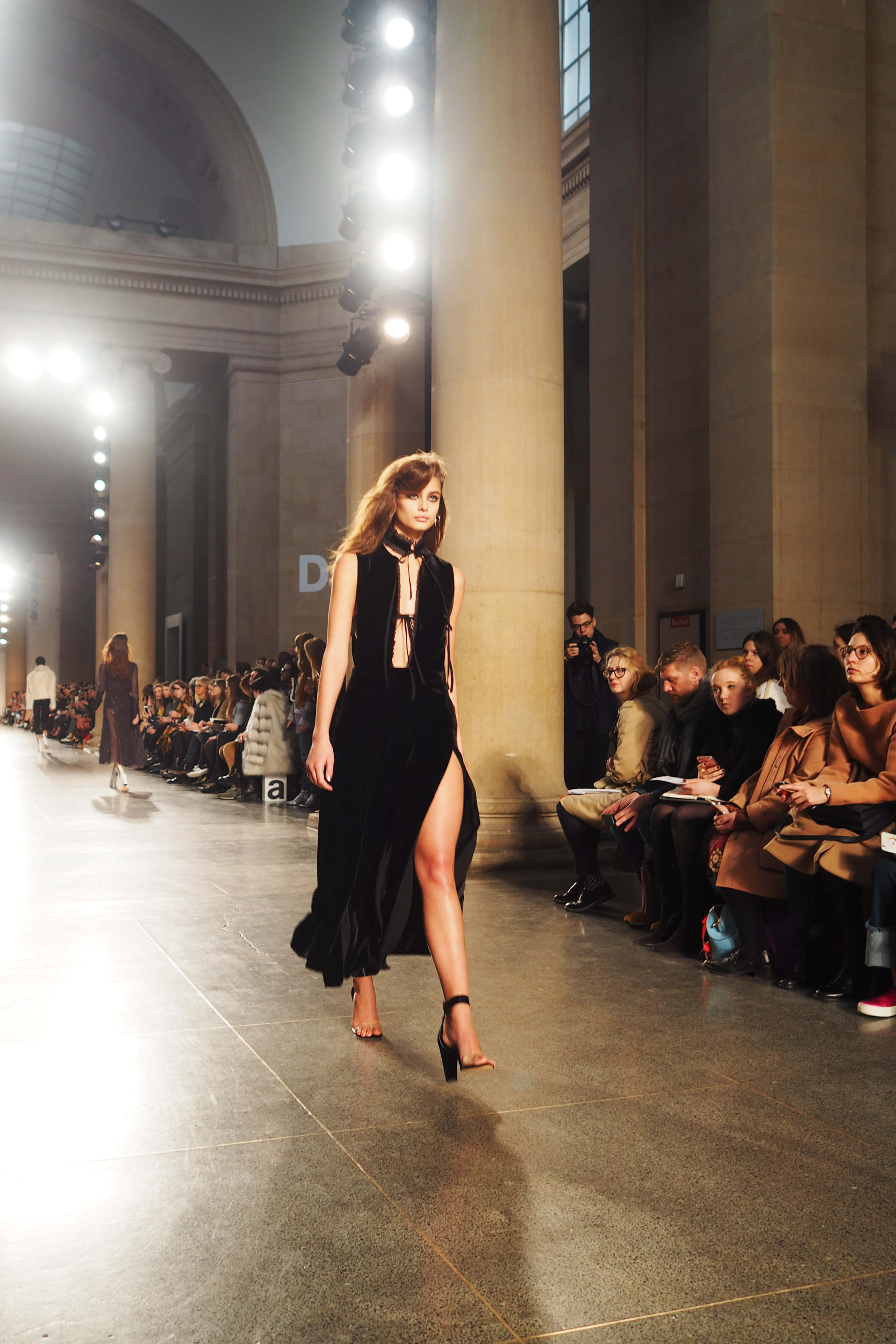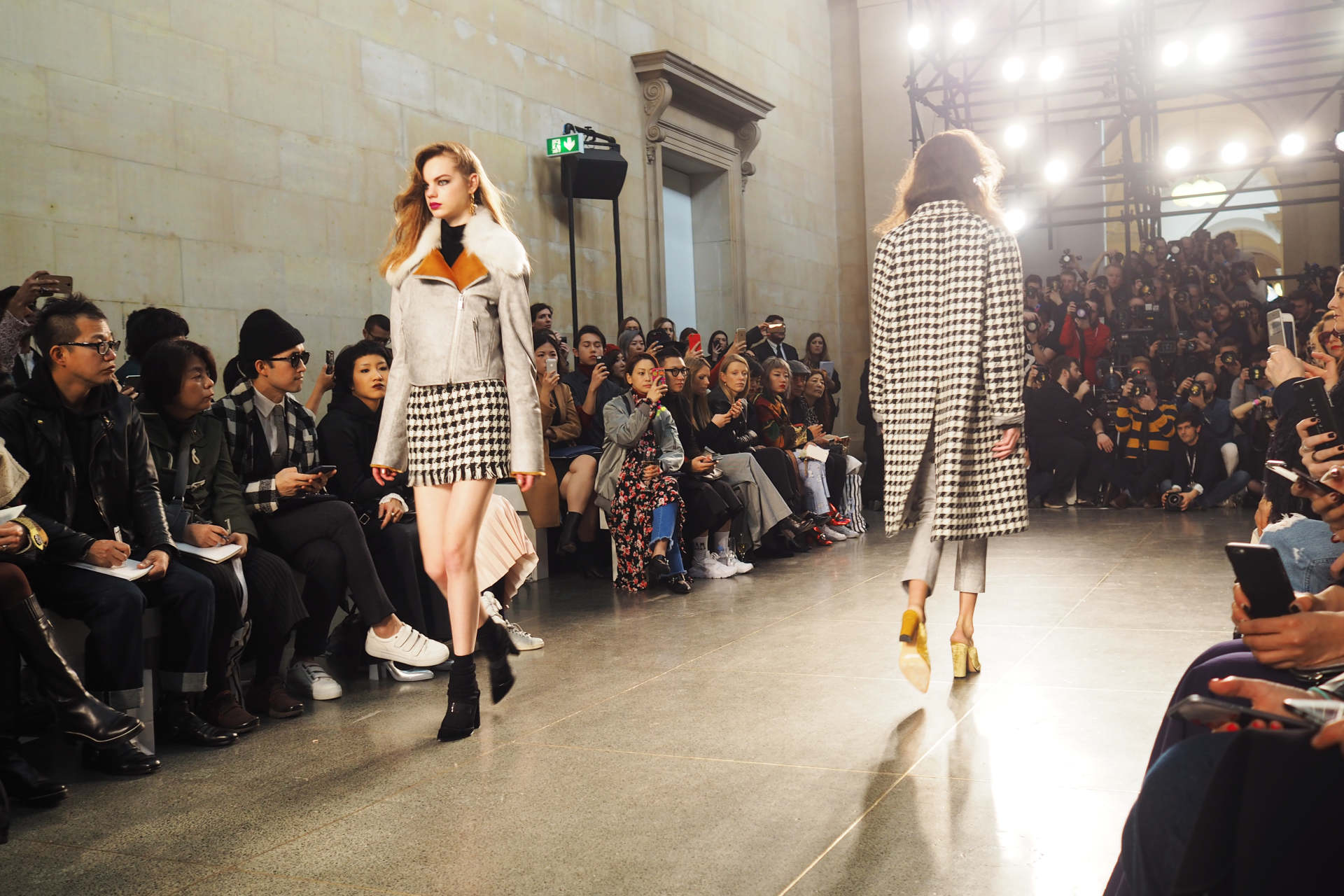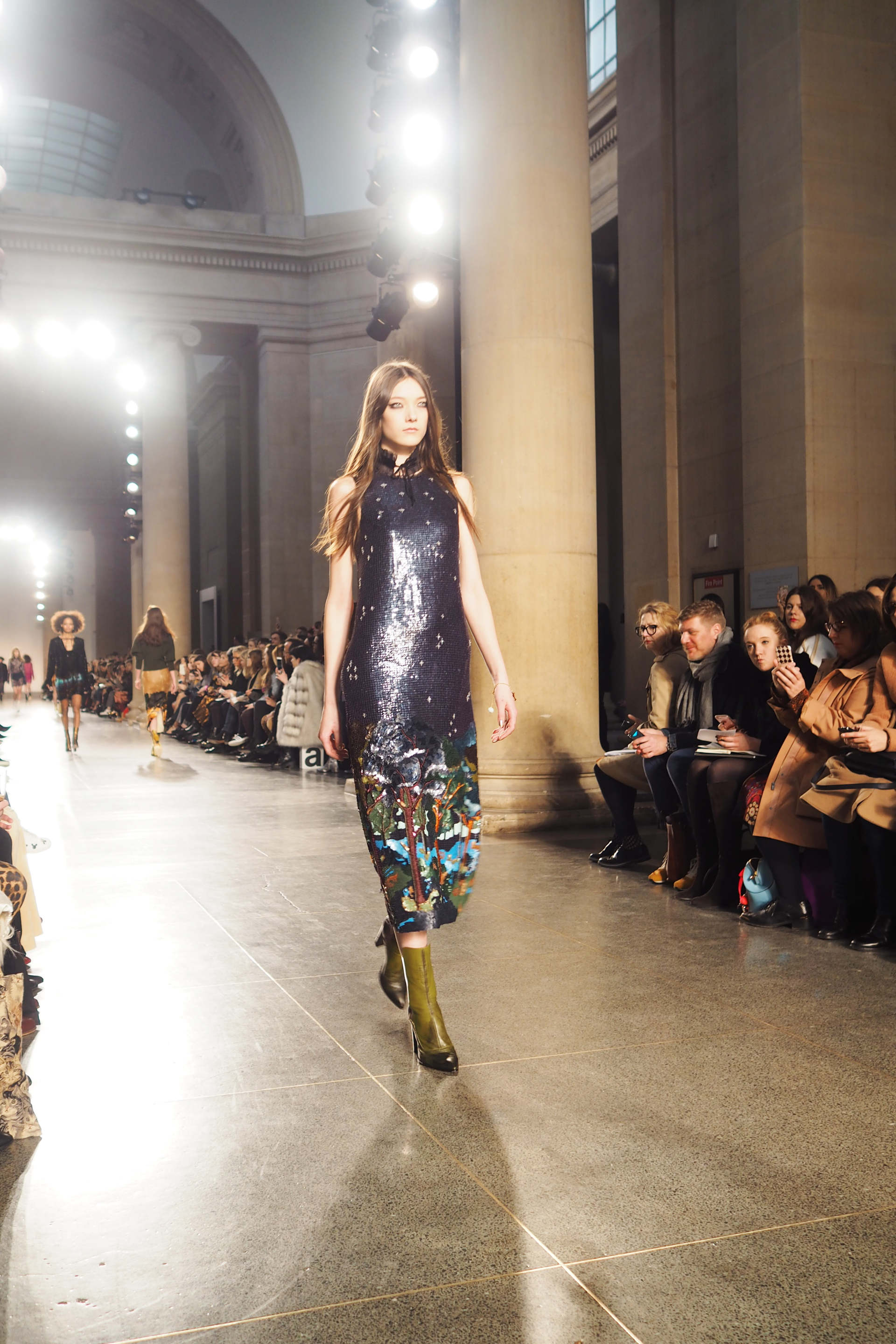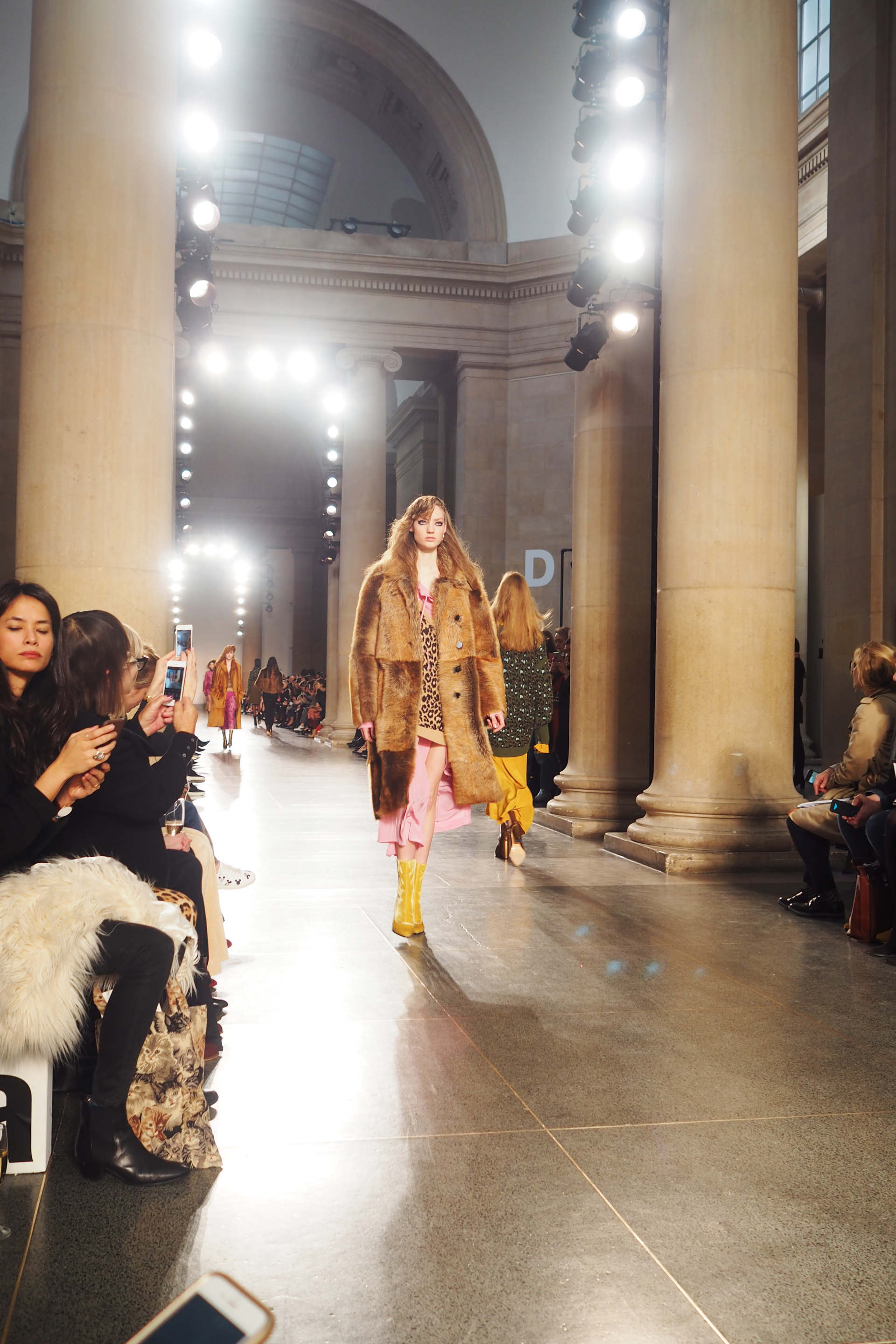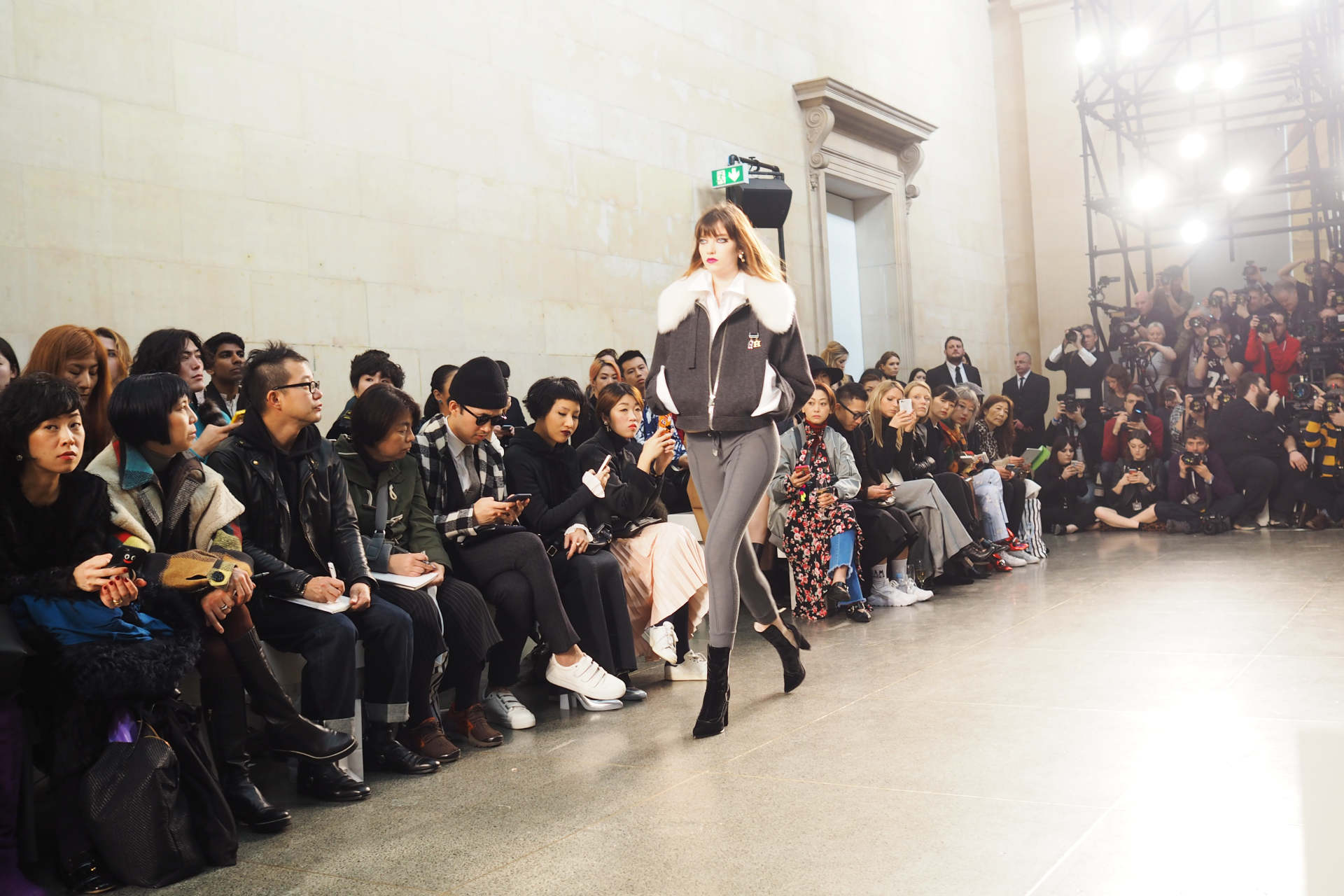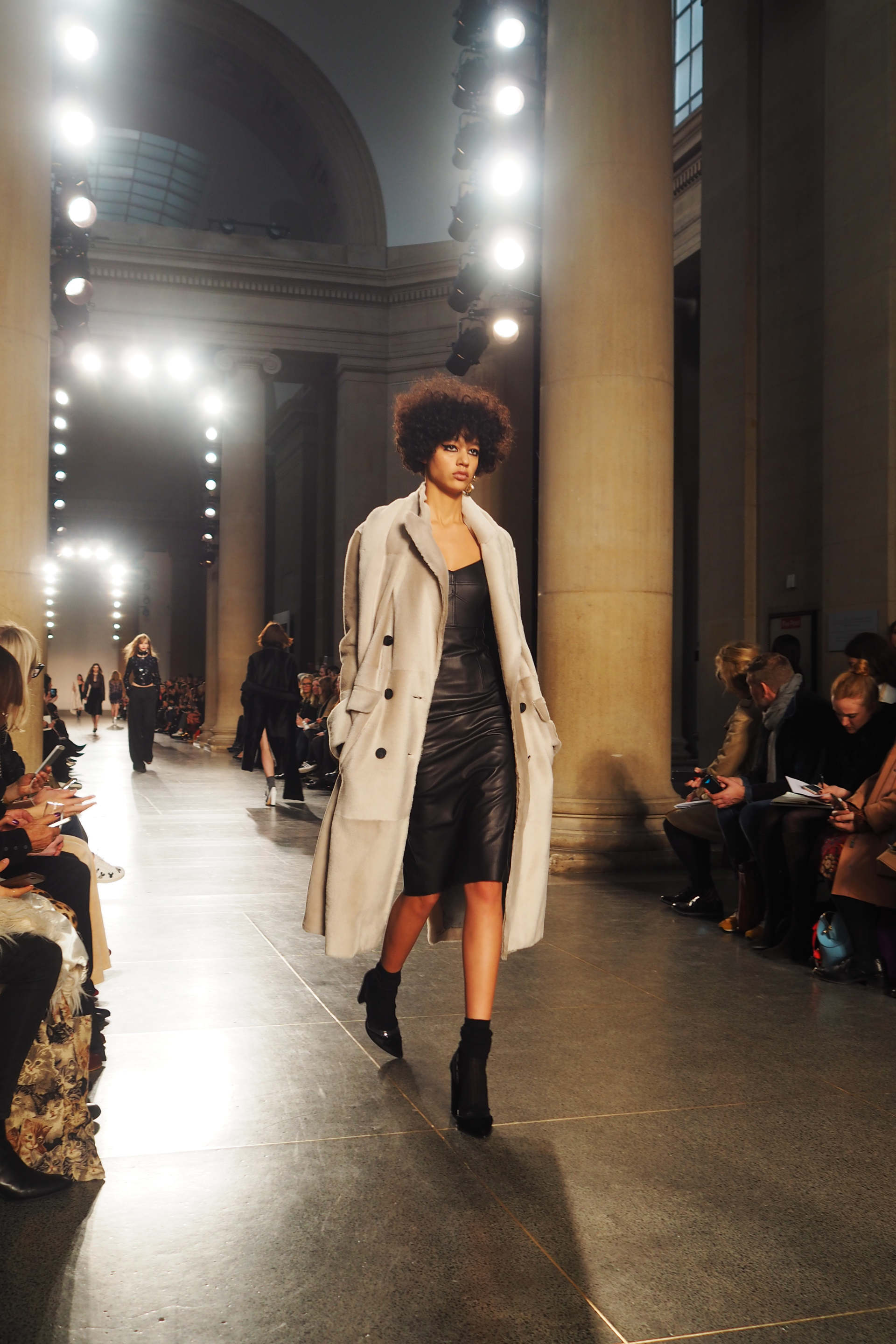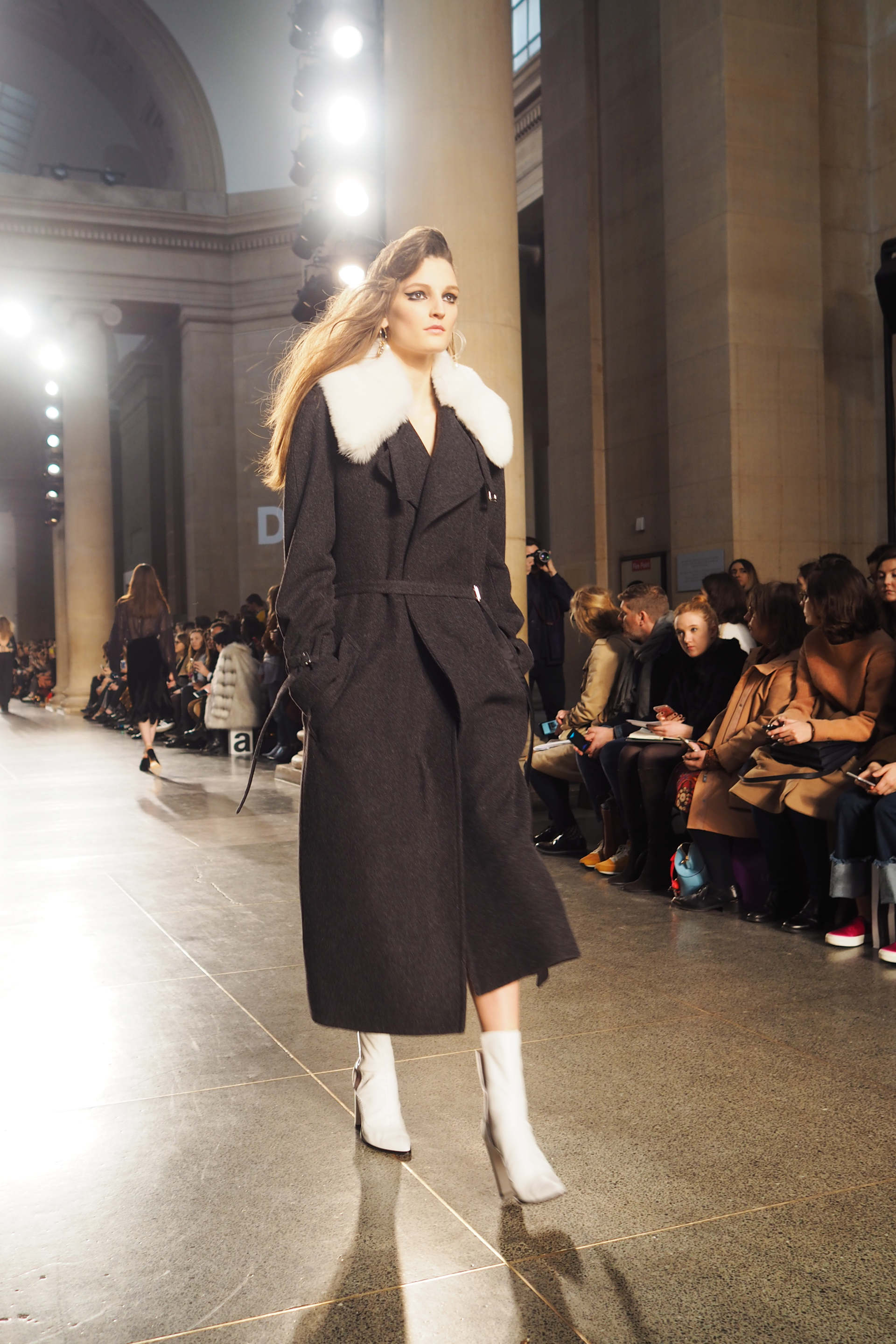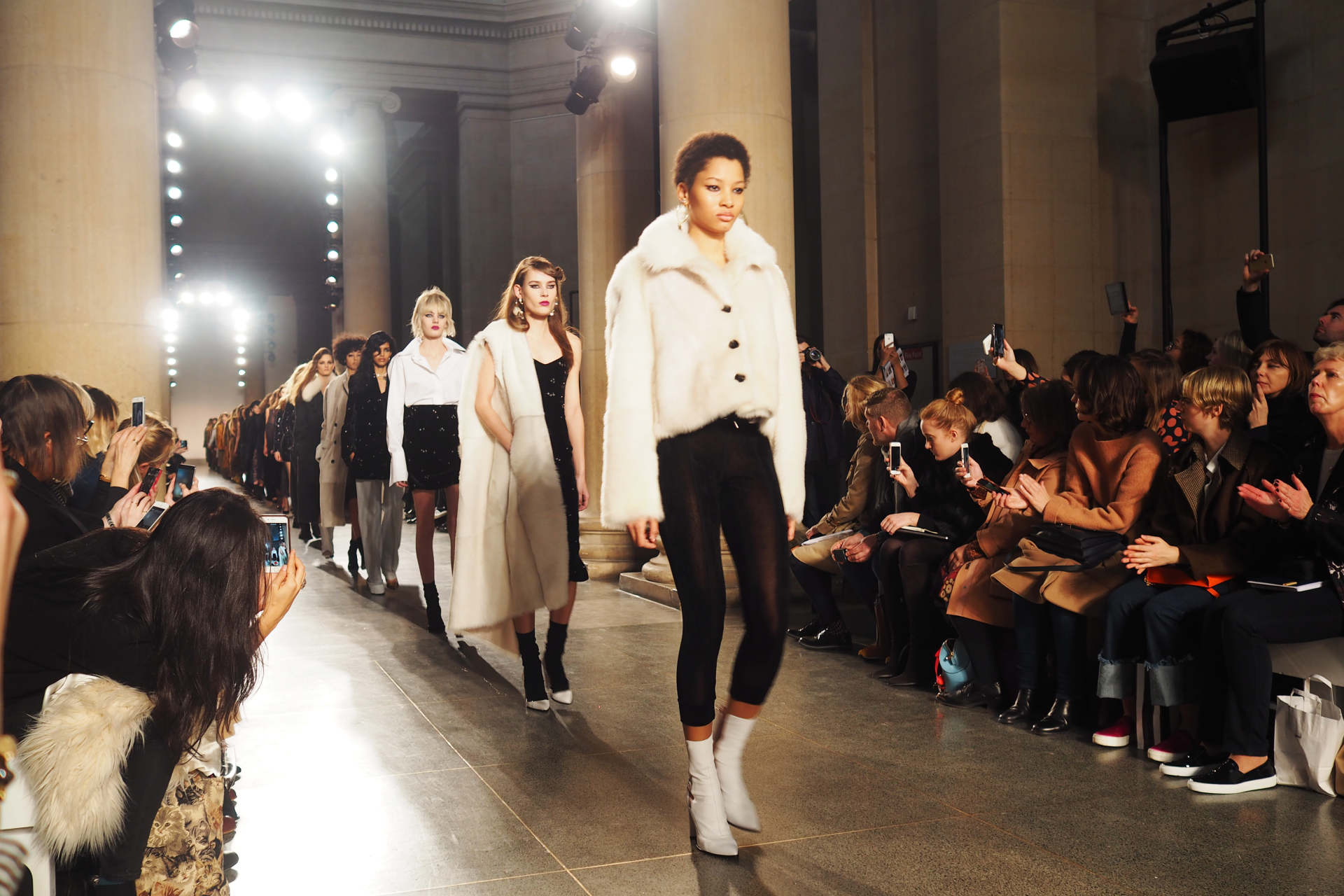 Americana by Mary Katrantzou
I have said it before but I will repeat myself. I don't think anyone does colour and patterns like Mary Katrantzou. I fell in love with her collections a few years ago, when I couldn't take my eyes off of one of her dresses whilst sauntering through Selfridges one day. It was a dream dress, in a feminine cut with something a little eccentric, daring, bold and extremely fun about it. And each season I feel that she sticks to this theme. I have attended two of her fashion week shows, on the front row I am extremely lucky to say, and have been able to witness her newest imaginations come to life.
This time in flames, butterflies, hearts, stars and animal print; where Americana meets the Southern Rodeo. I'm pretty certain that it was Dolly Parton serenading the models on the catwalk as a spectrum of rich colour tones and prints strutted too and fro. The cartoonesque shapes on coats, dresses and stoles in a multitude of fabrics, totally stole the show for me. And mixing the Americana prints into mini dresses, skirts and mini jackets turned each piece into an Autumn statement staple. Autumn doesn't have to be about dull or muted tones and Mary Katrantzou definitely shows us how to have fun with the colder months of fashion.
The hair was slicked and smoothed using L'Oreal Professionnel Techni Glu Gel by Duffy for L'Oreal Professionnel.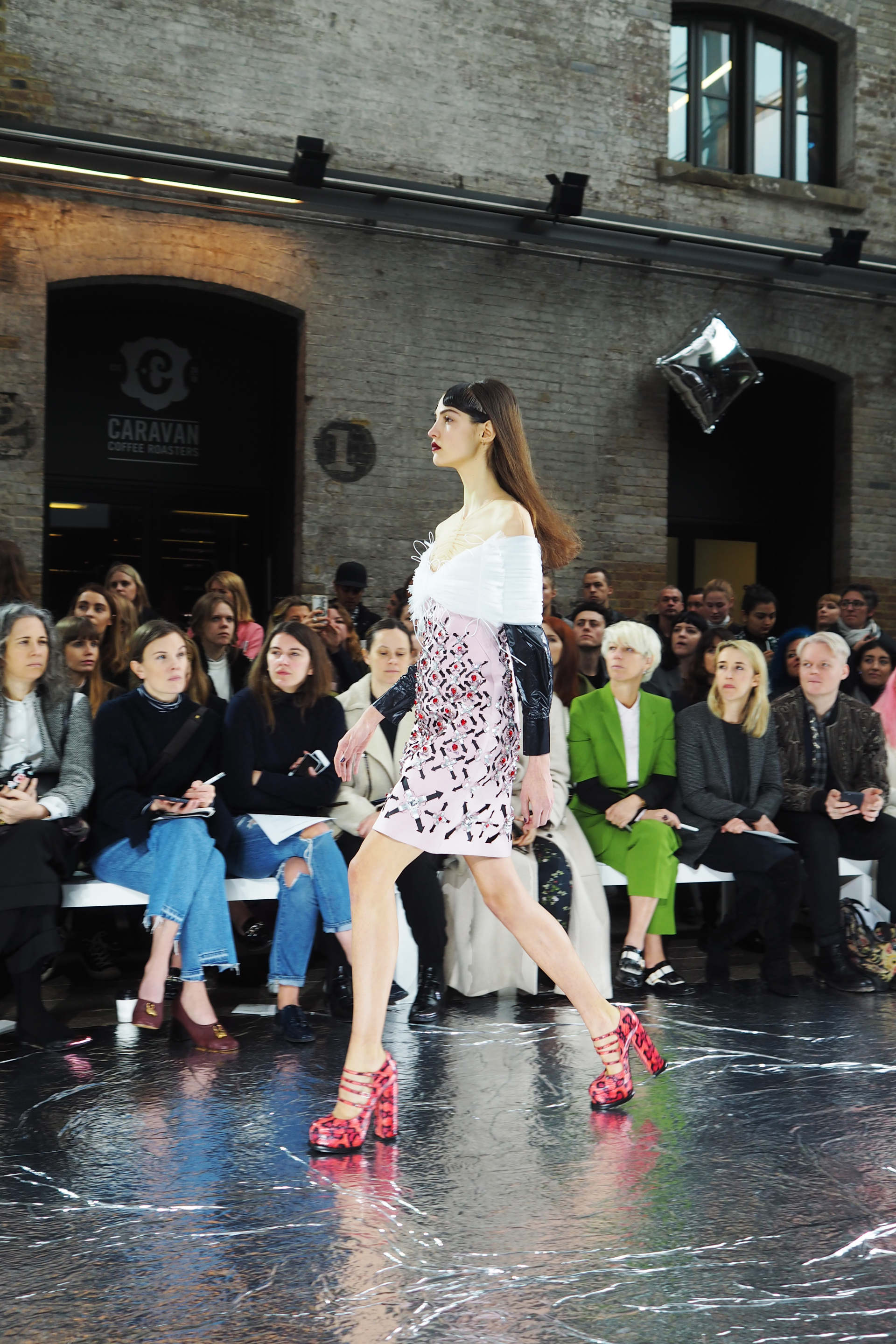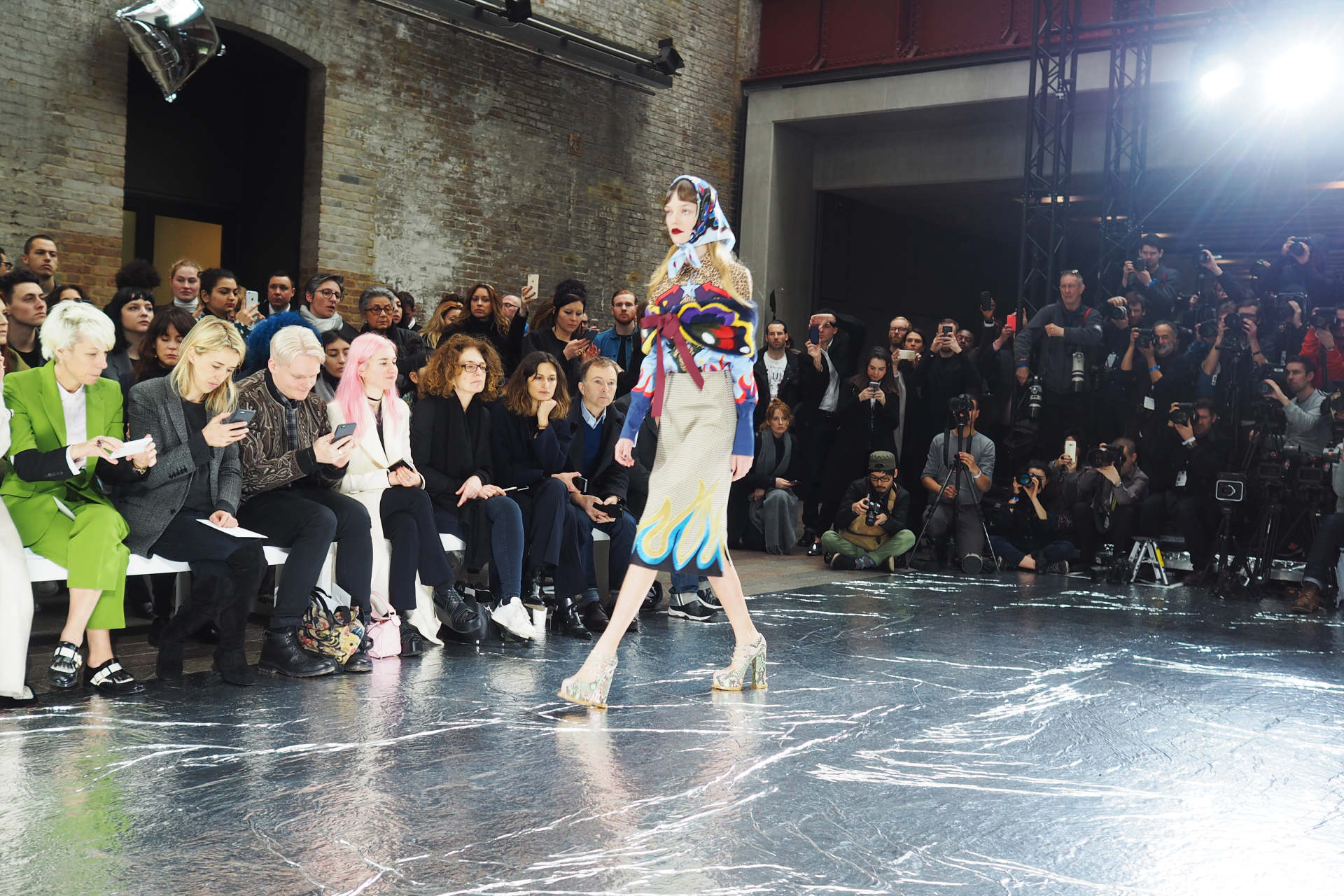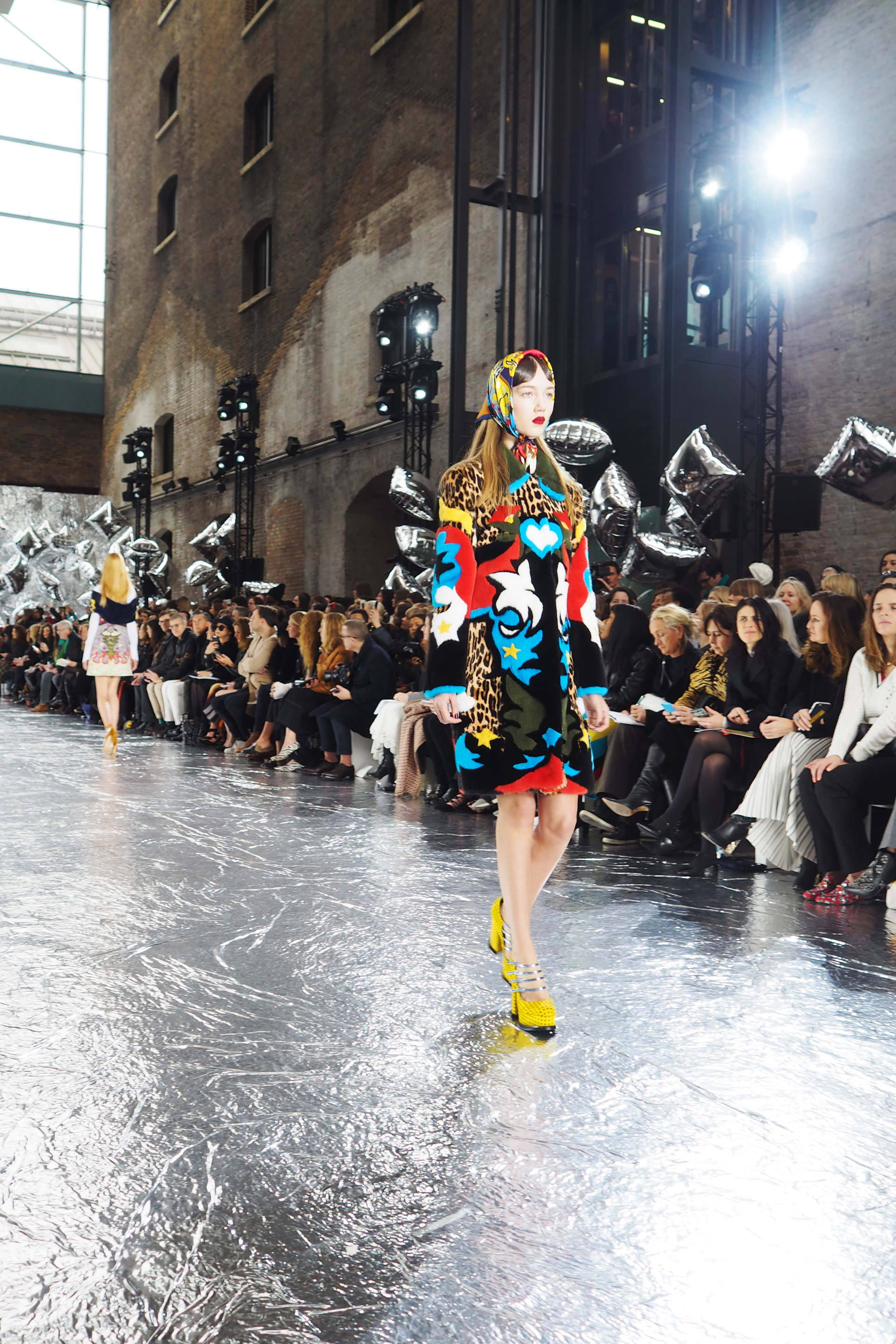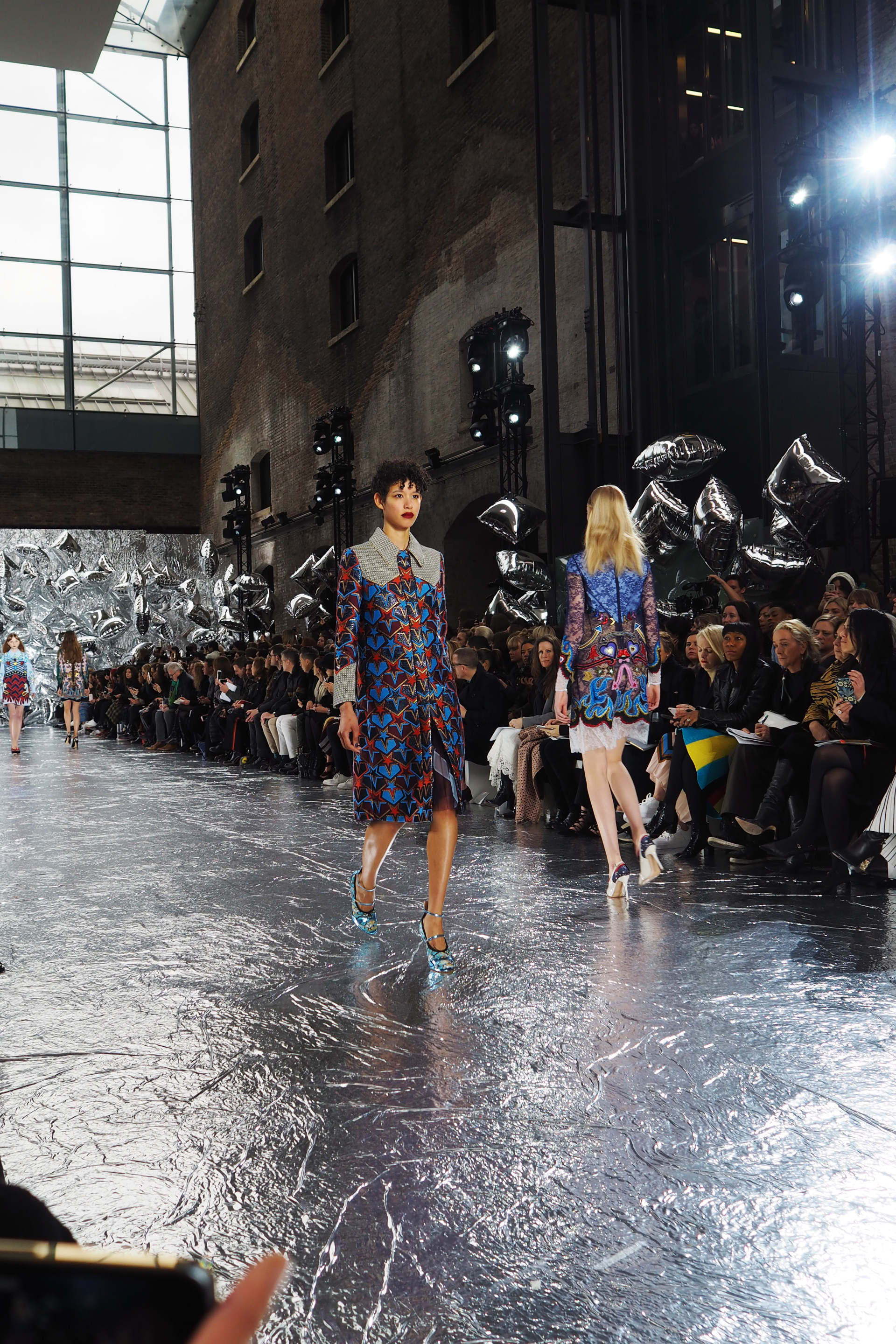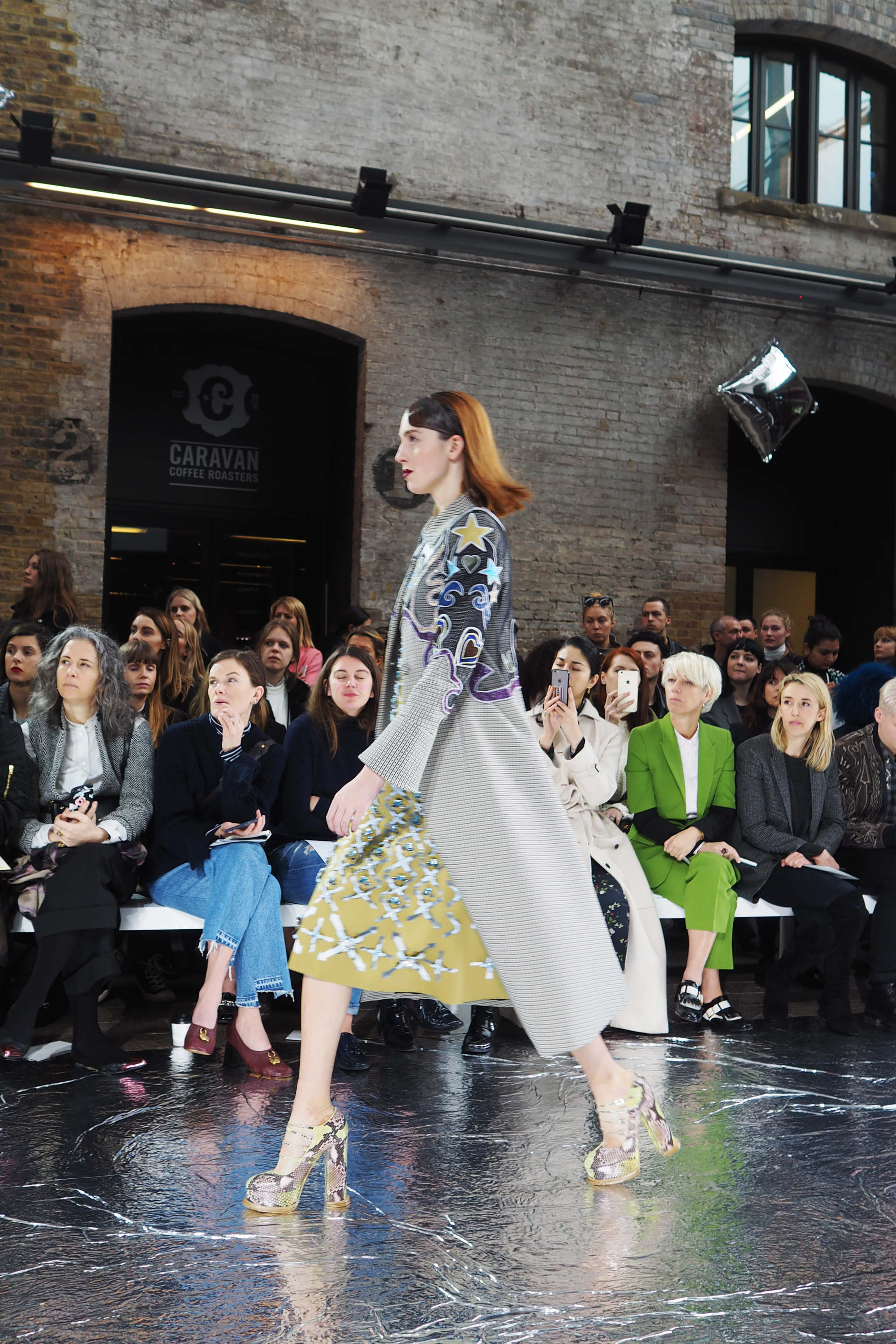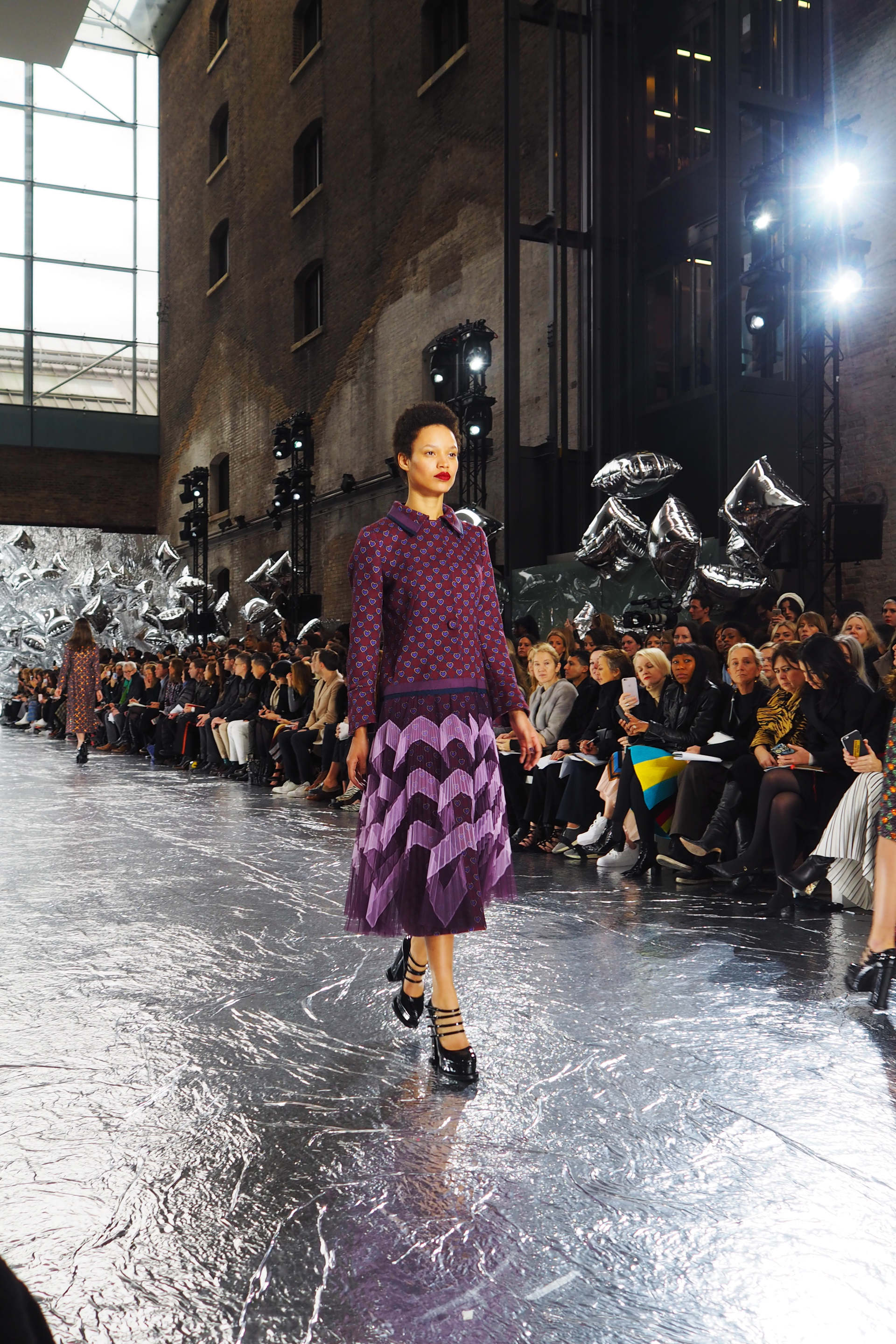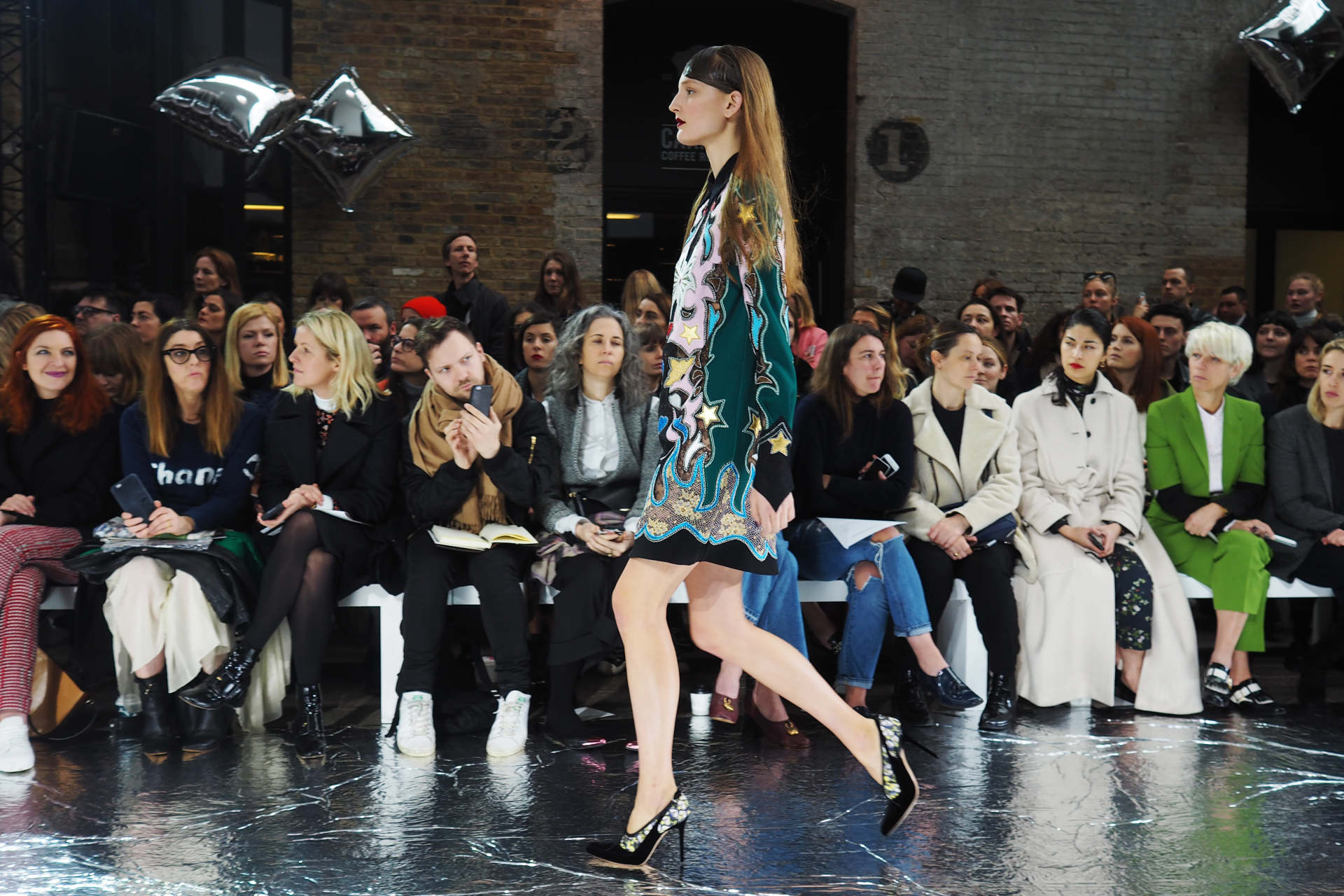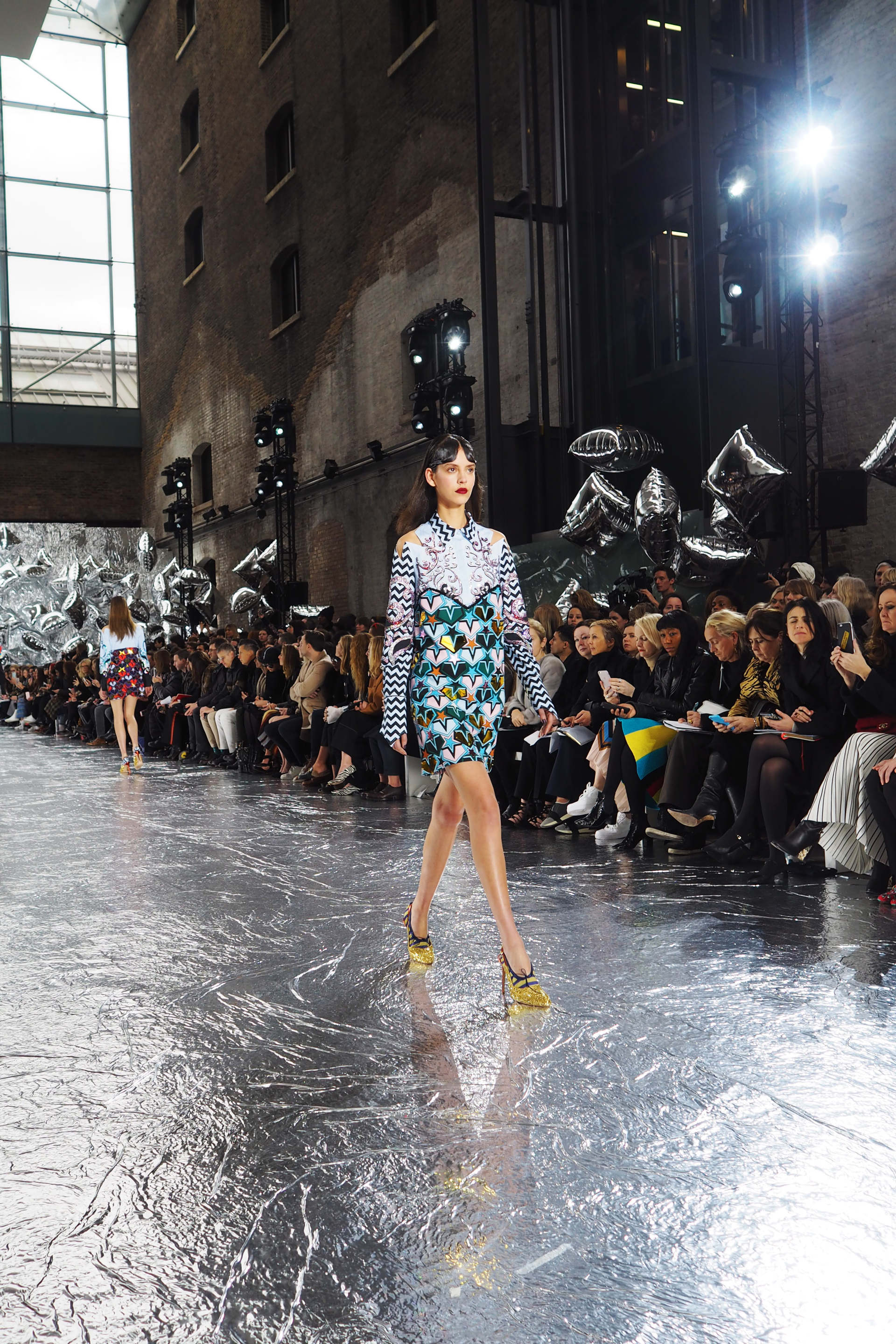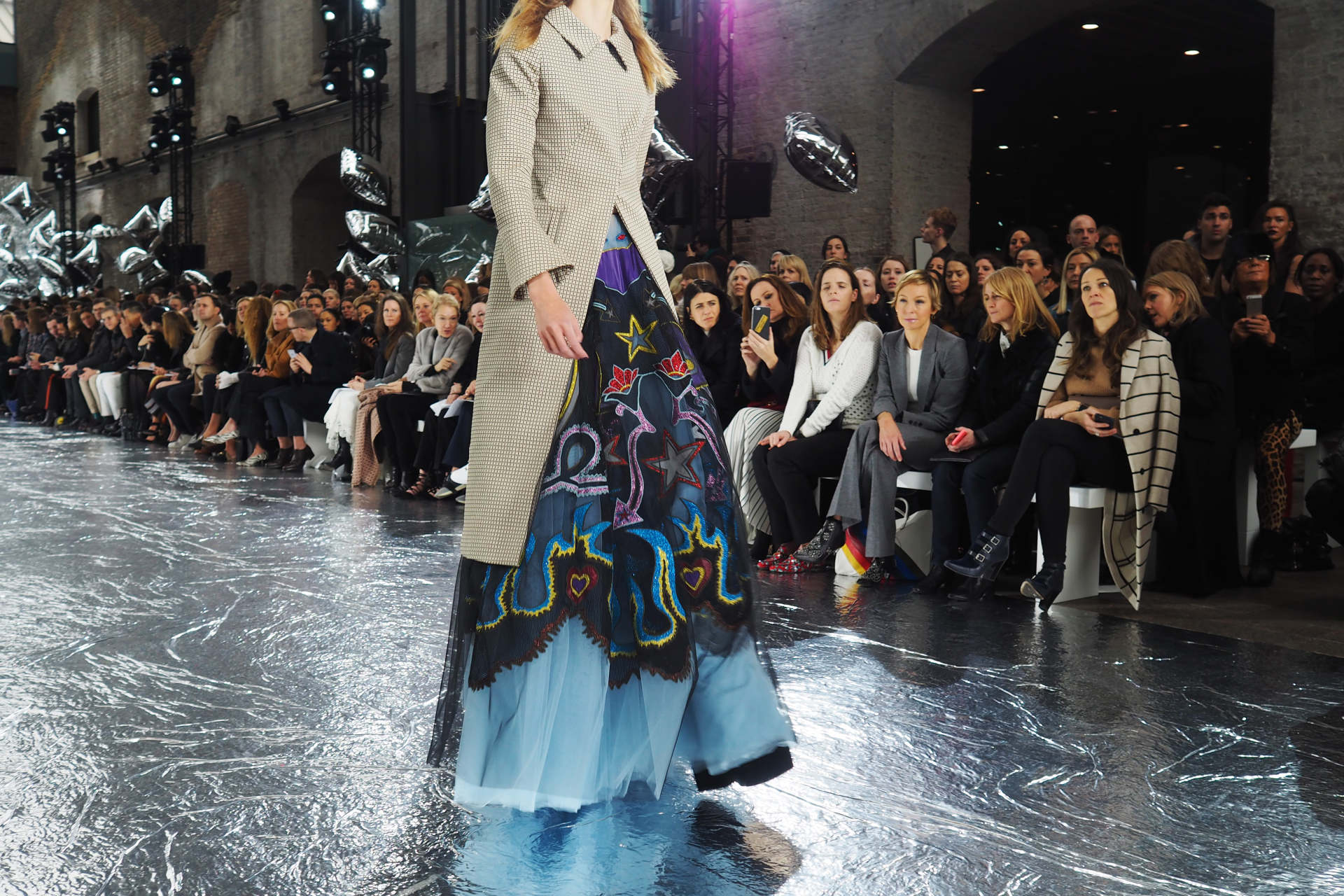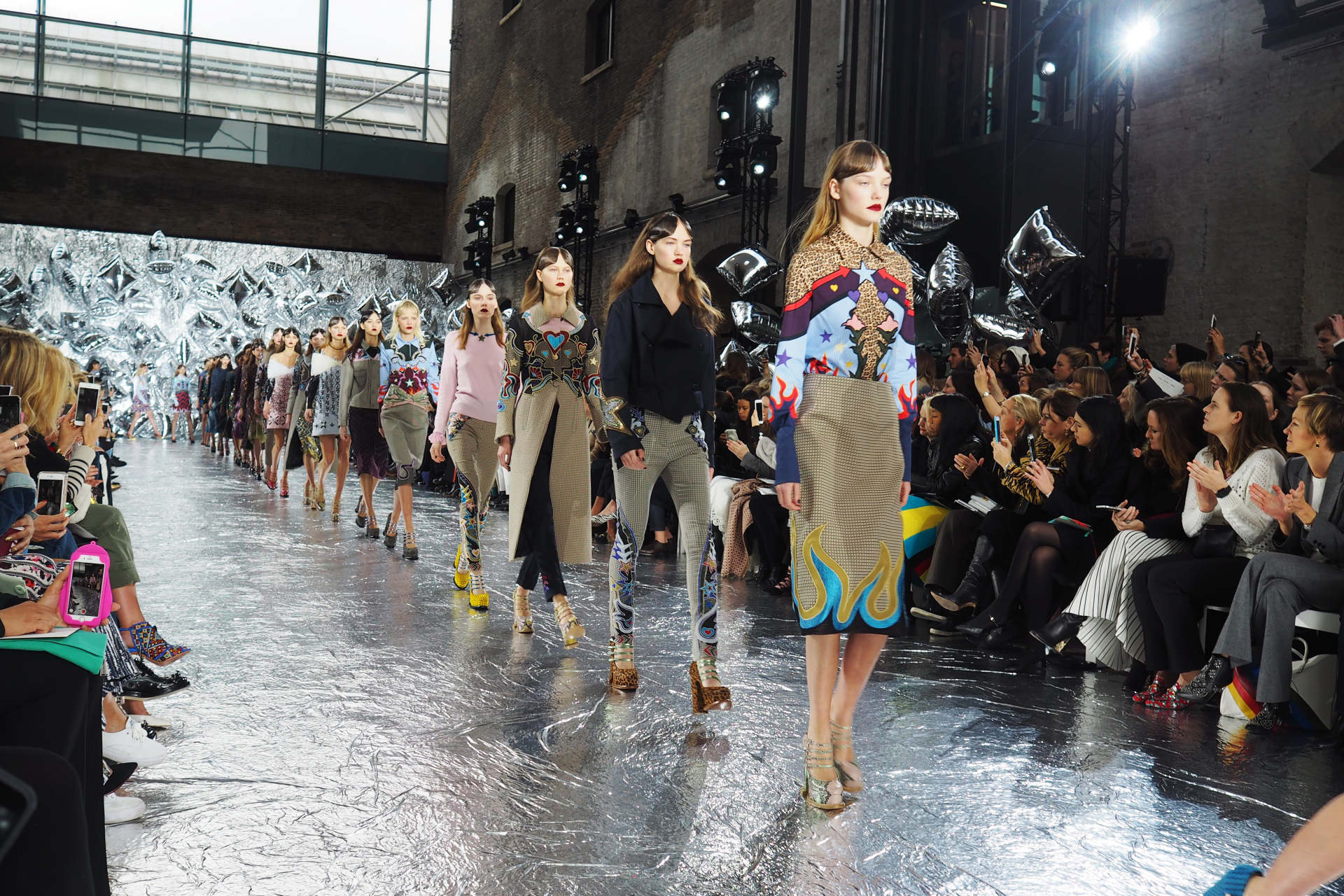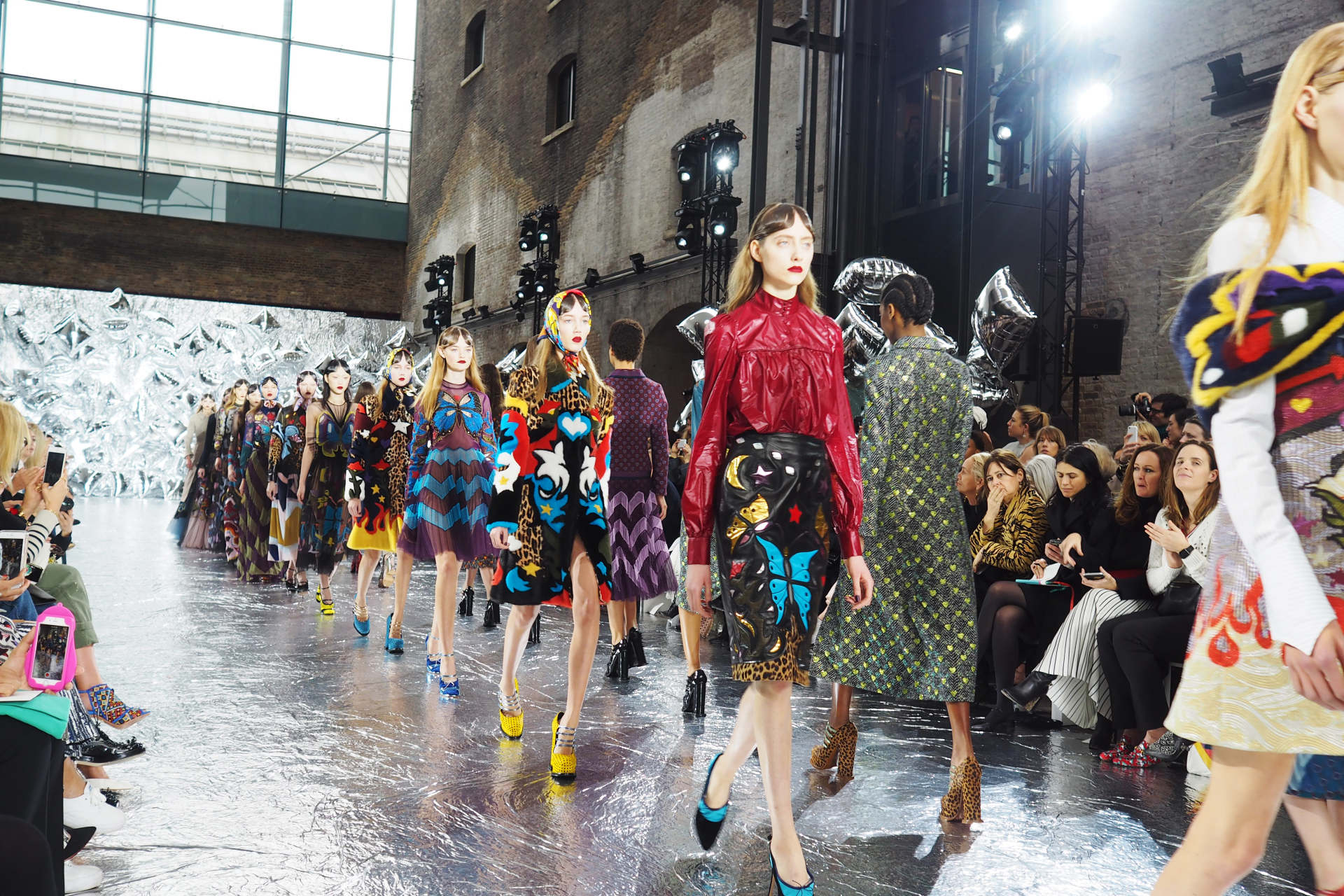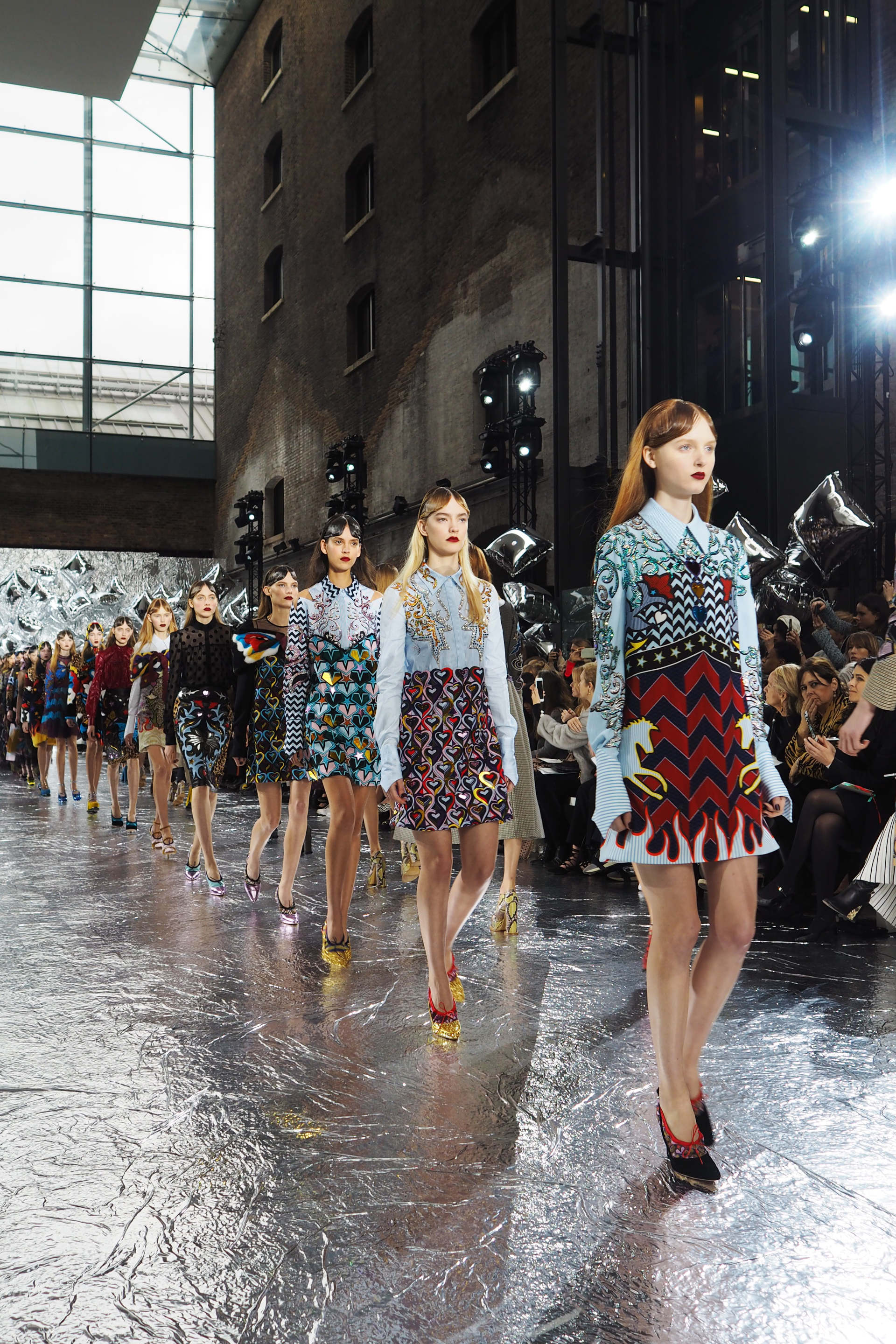 Patterns in Pixels by Anya Hindmarch
After the cool robotic catwalk and dance displays of the previous season, I was expecting something really extraordinary from Anya Hindmarch. And walking into a large theatre with back-lit cubic staging had me thinking I was in for a treat.
The models strutted out to molecular sound effects and a digitalised soundtrack, taking to the stage one by one whilst cubes from the flooring rose from beneath and began to move into varying positions. It was a 3D experience, a light show, a performance and a runway; and this season saw some of Anya's most beautiful designs.
The Pixelated theme ran throughout the accessories and clothing, with Pacman, Tetris style pixel patterns and pixelated camouflage being prominent throughout the collection. The oversized jackets sporting leather patch pixels caught my attention immediately, and honestly, I cannot stop thinking about Autumn and how soon I can get one of those into my closet. They are absolutely perfect. And I am so pleased to see roll necks and high neck fastenings are remaining in style for another year. Luckily my wardrobe won't be totally redundant!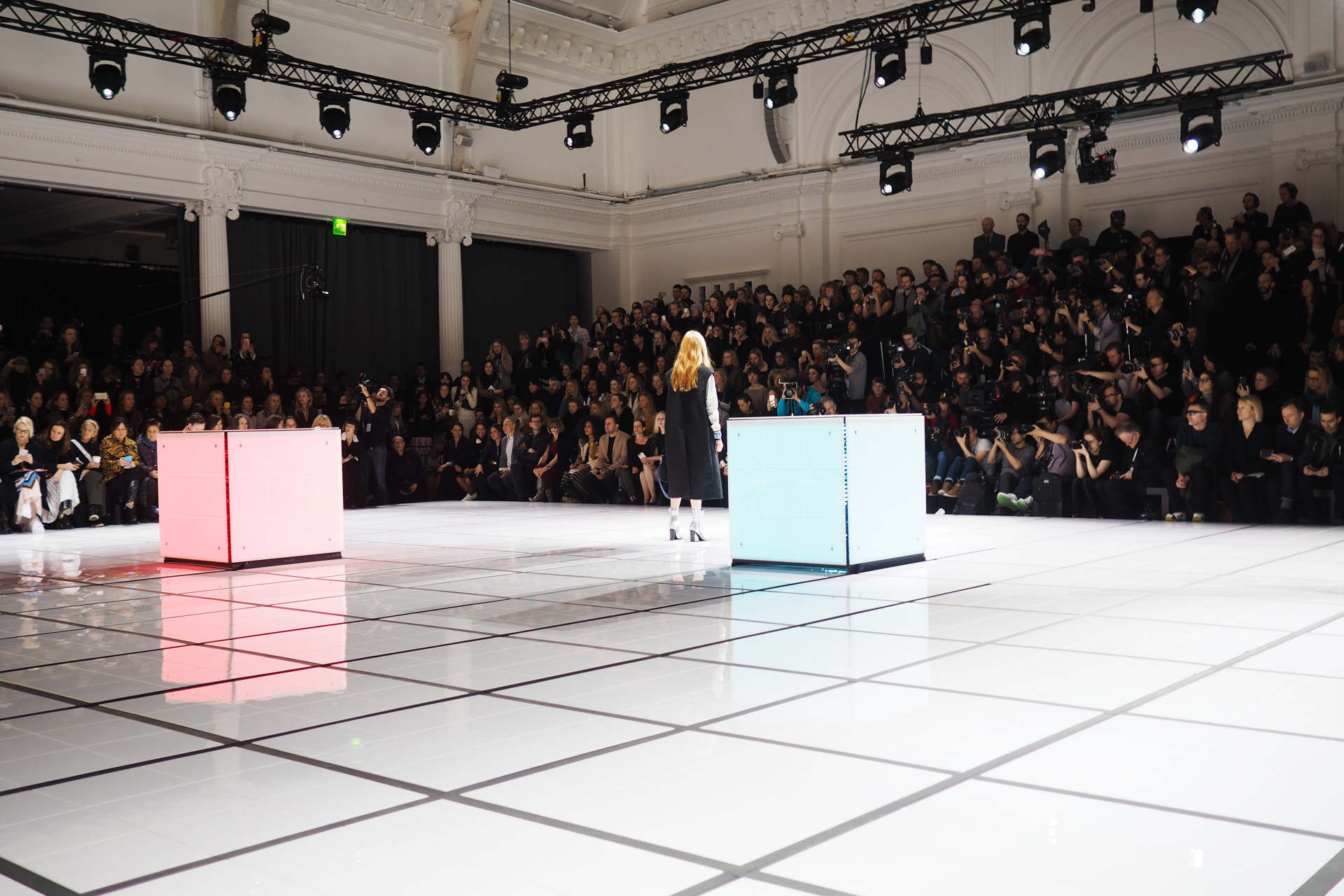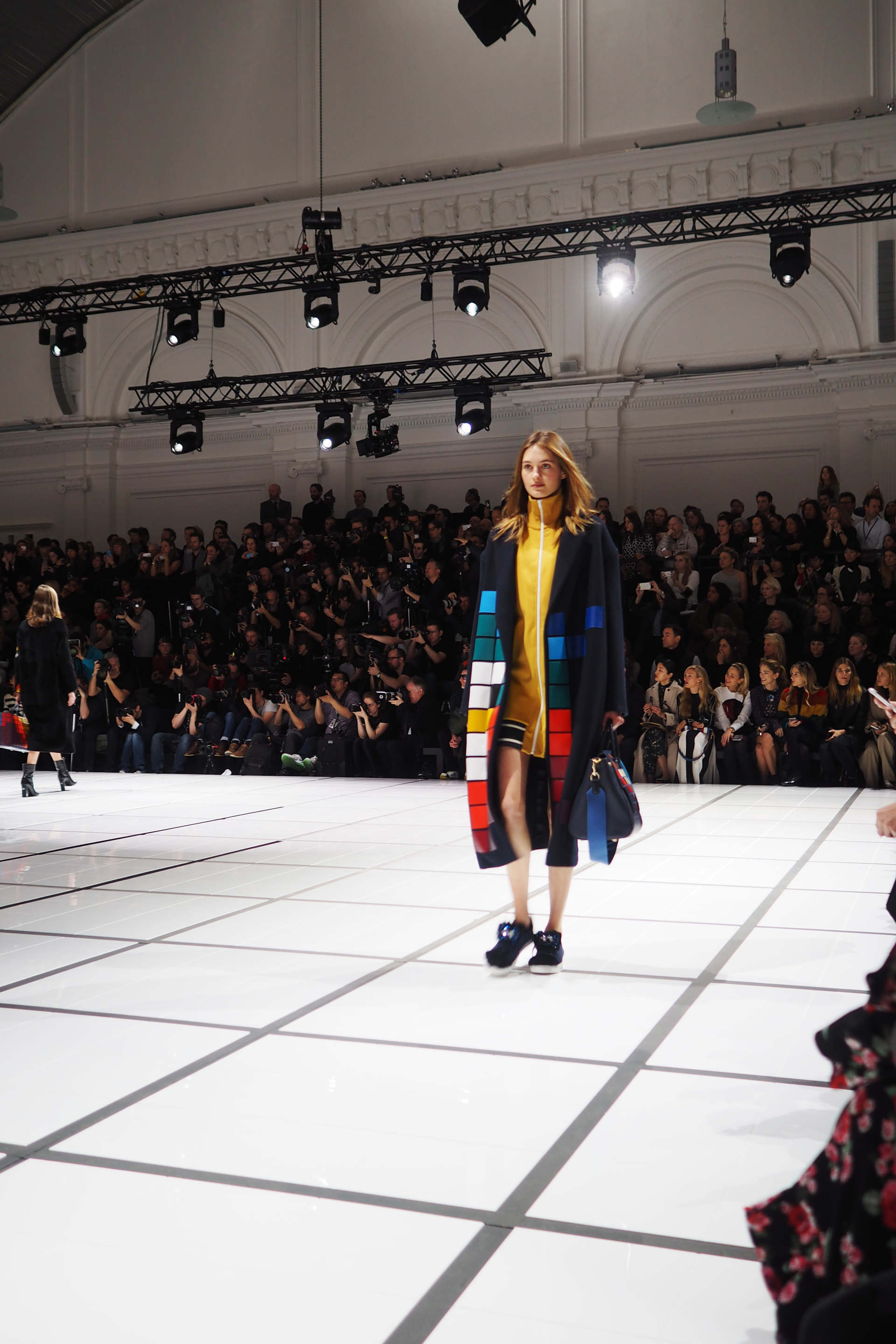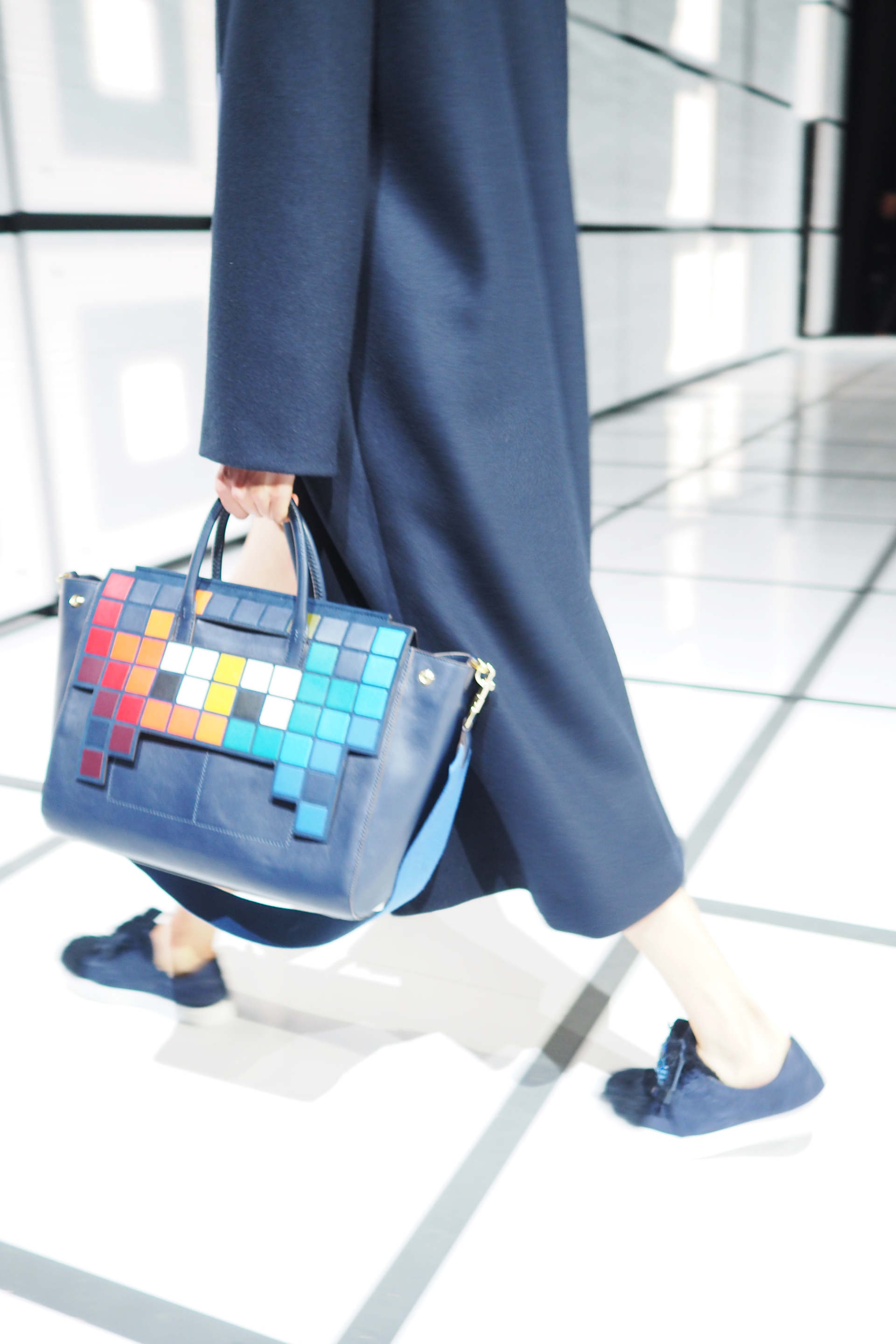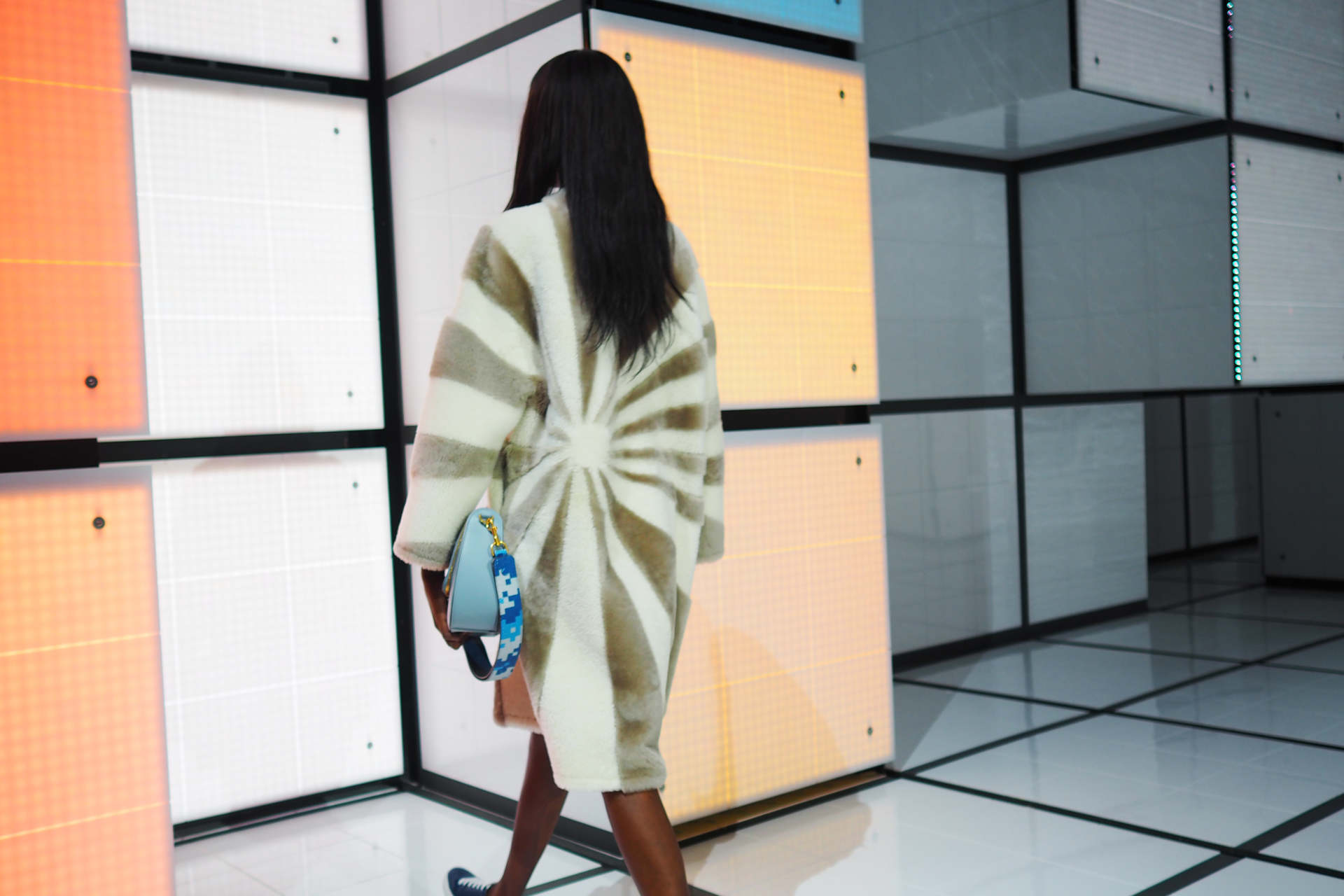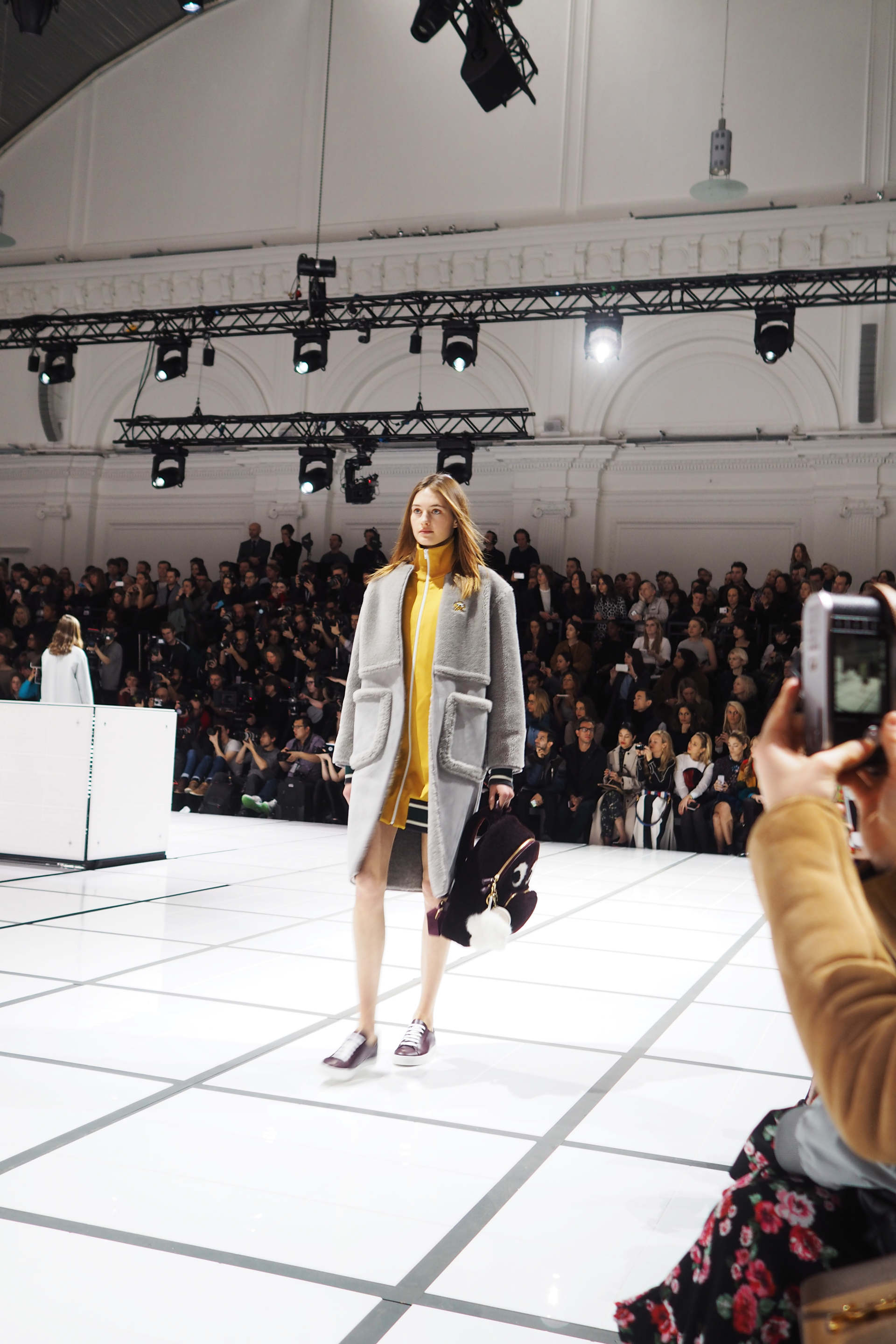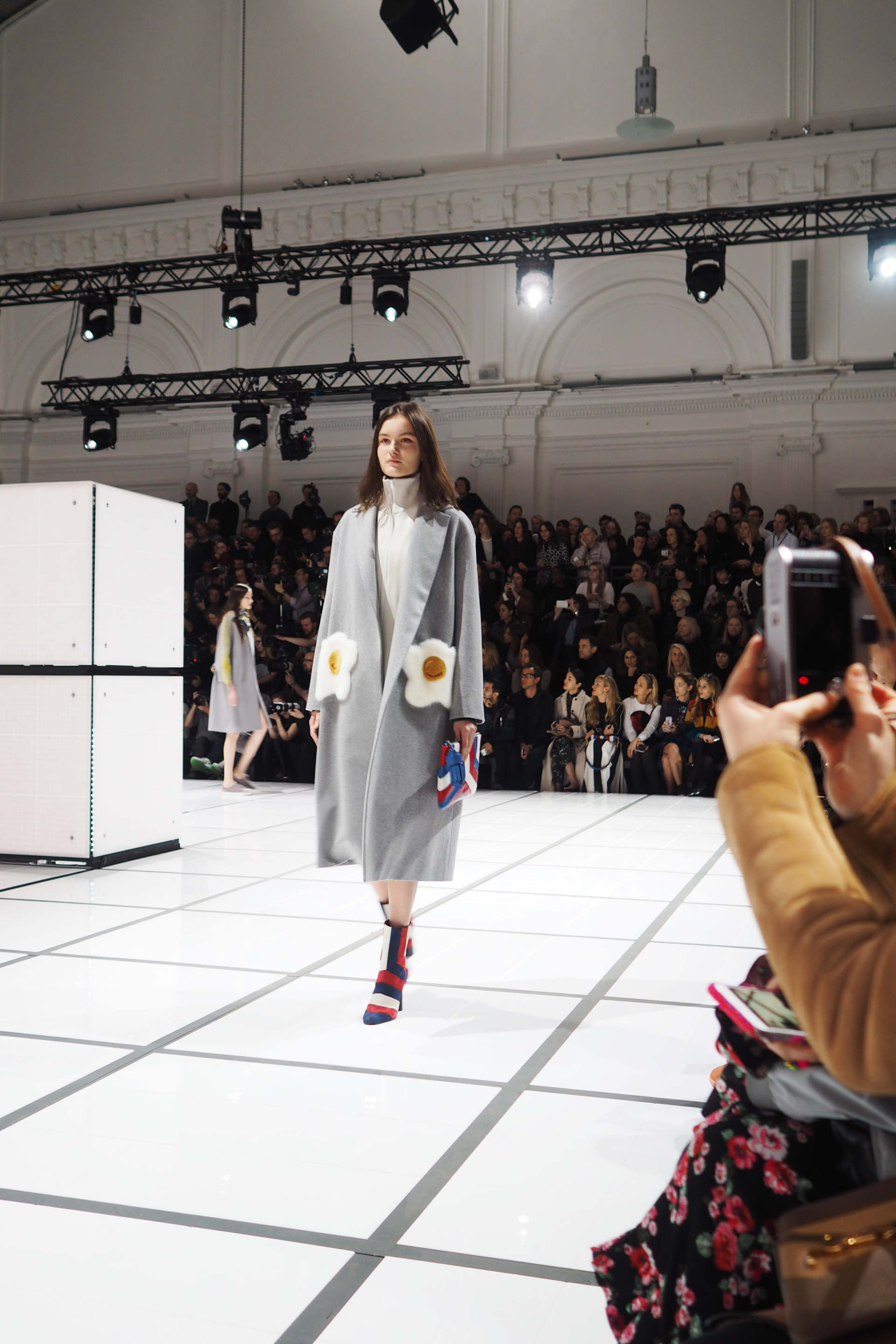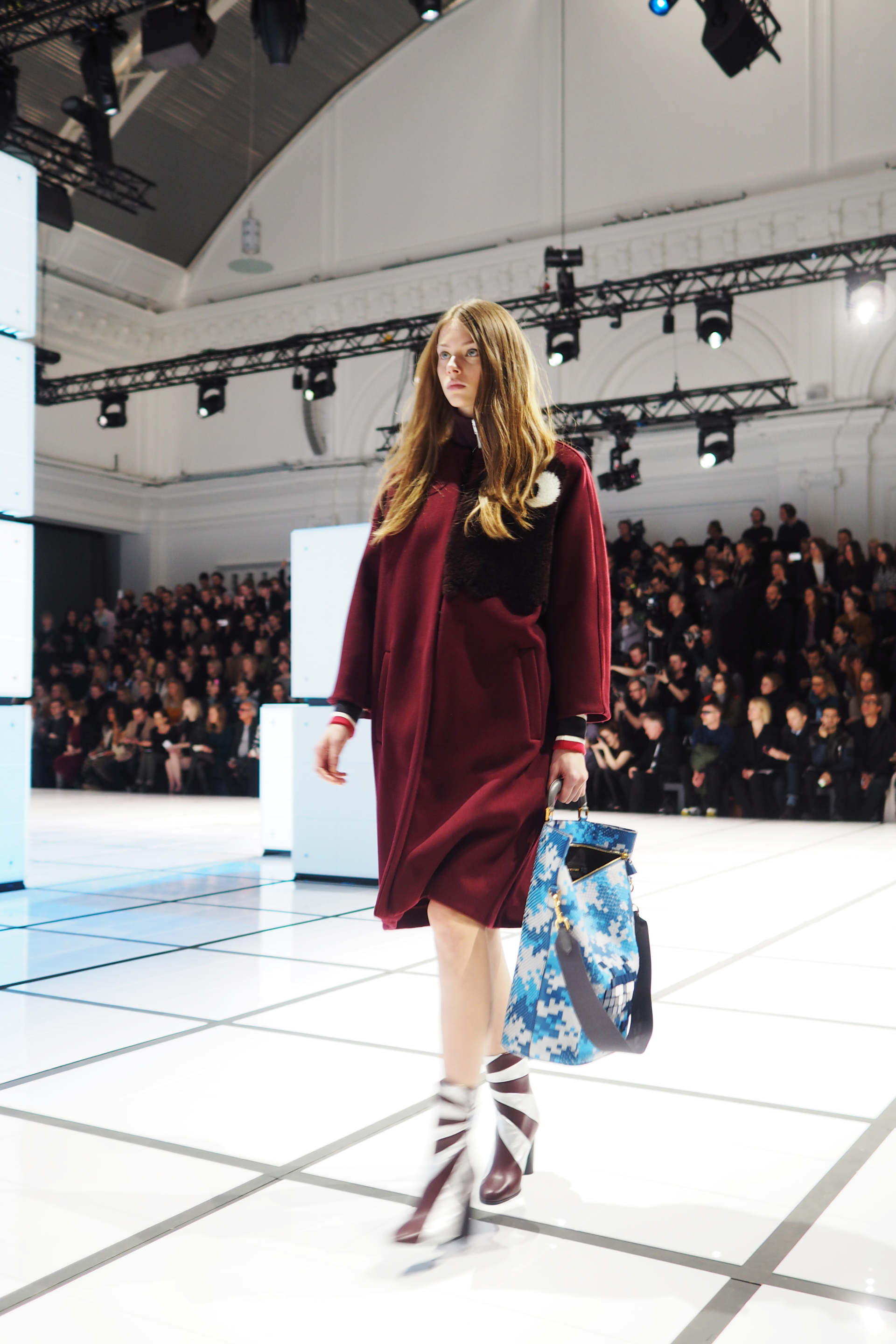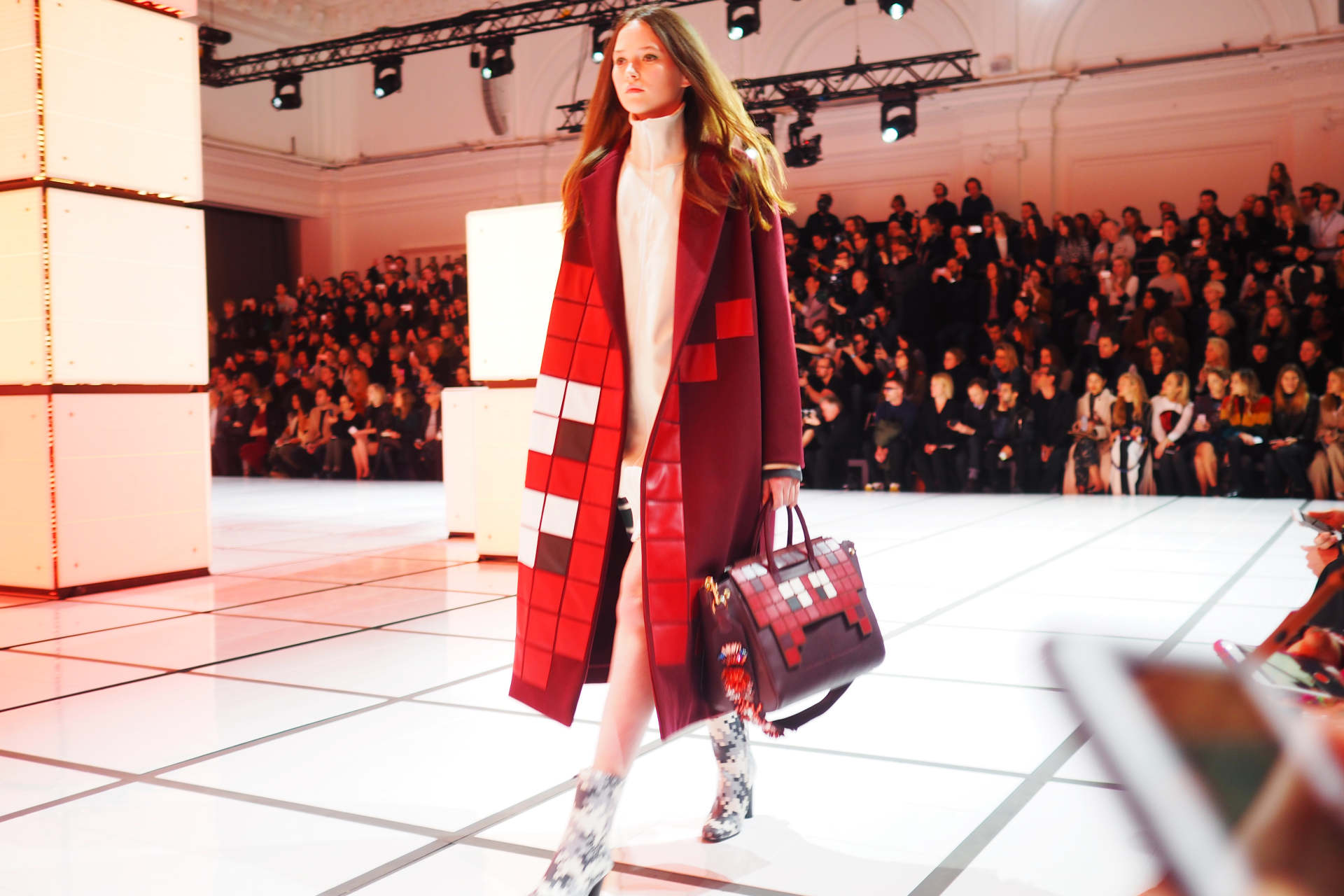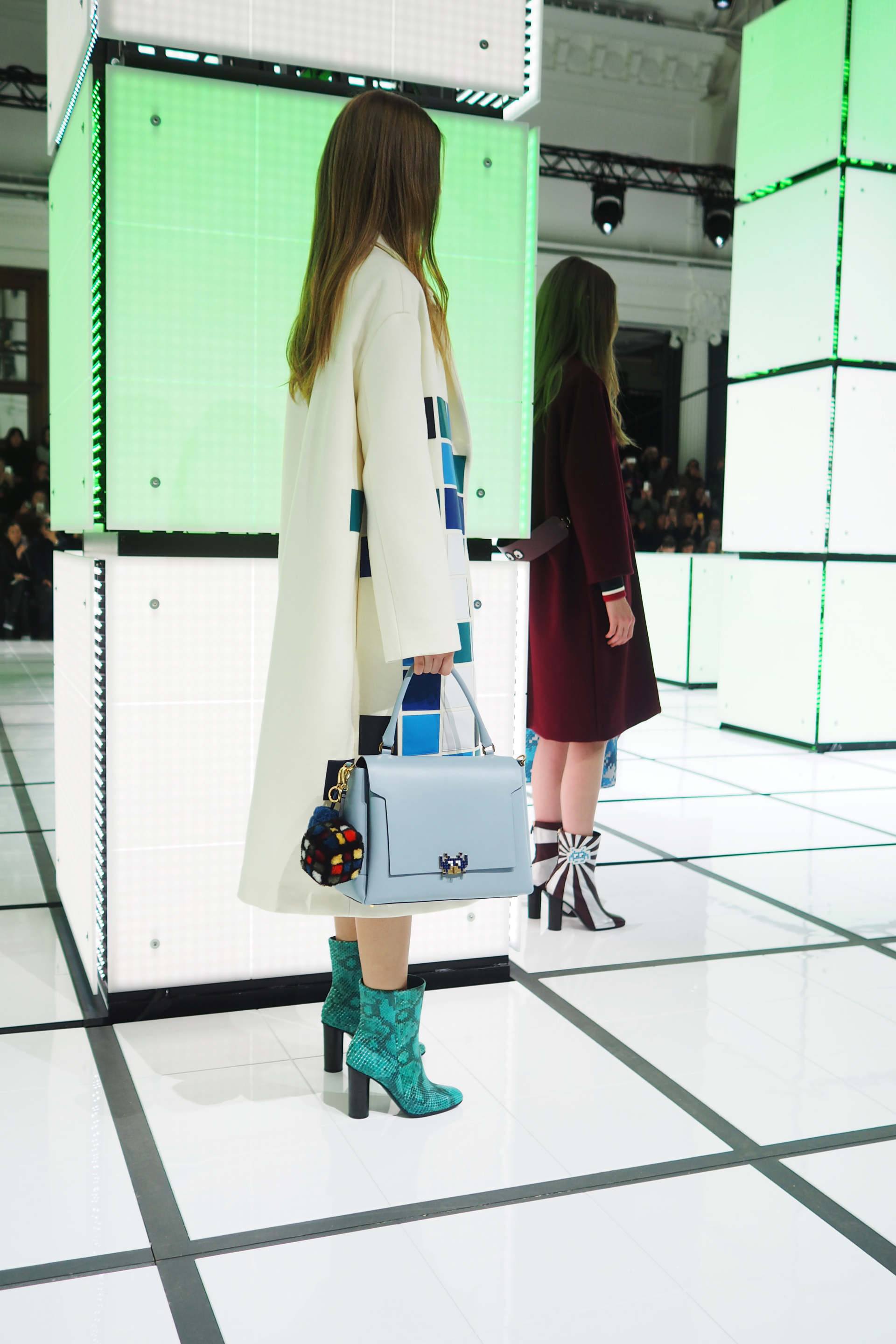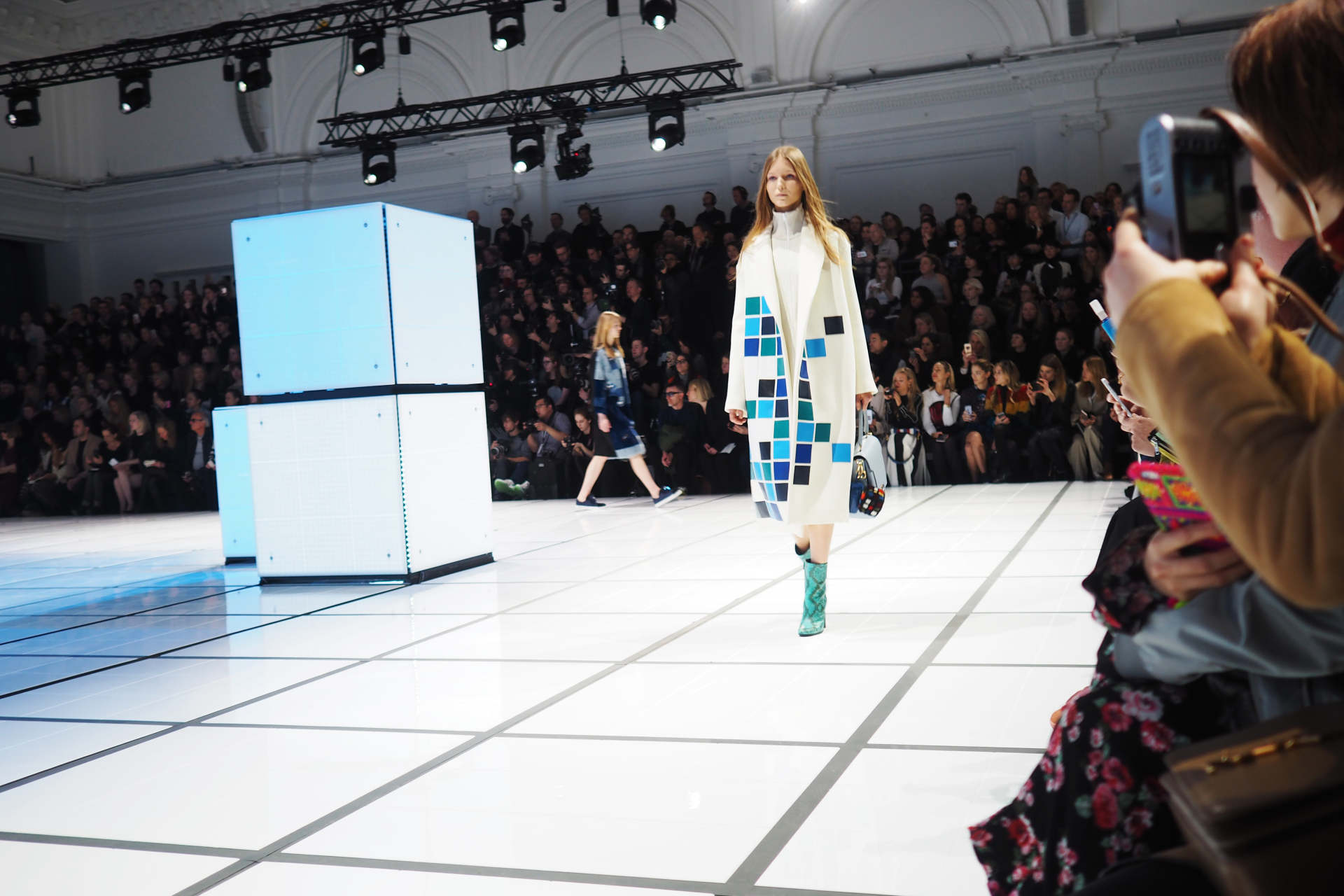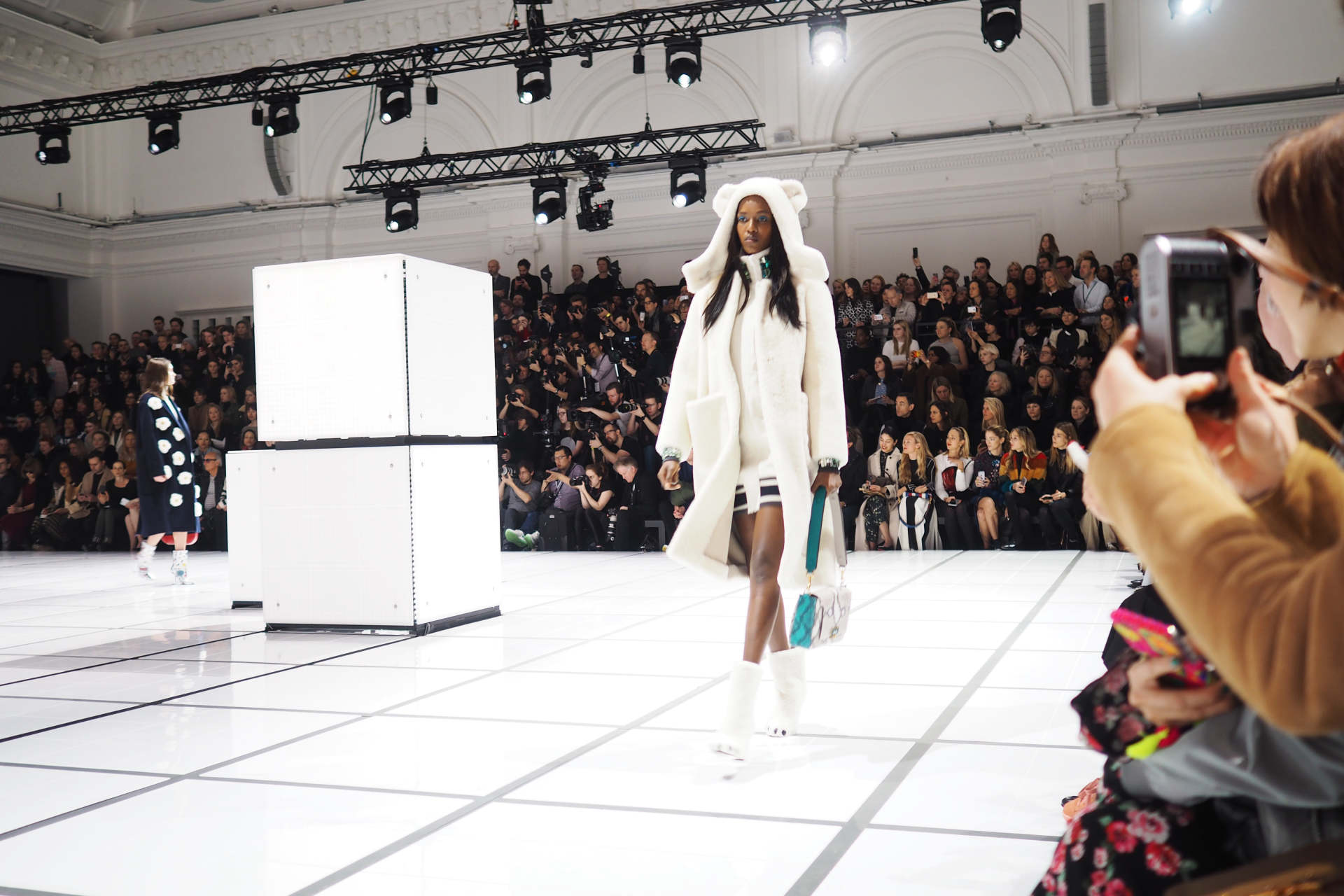 End of day 3! Which designers have you loved the most so far this season??
Sign up here for a weekly catch up of everything Inthefrow