London
Sights to See, Places to Eat, Where to Stay
Well, last week was a total whirlwind. I really wanted to share exactly what I got up to, as it was a jam packed week of beauty, fashion and friend catch ups! Plus give you a few insights into my best London recommendations!
I was whisked off to Paris with Givenchy to preview their newest Beauty collections and the release of the new Givenchy Live Irresistible Eau De Toilette; which I can confirm is even more beautiful than the Eau de Parfum! Spending a few days in Paris shopping the boutiques with some of my favourite blogger ladies and sampling the finest cuisine in L'Avenue and Cristal Room Baccarat, I left the country not really wanting to return to the UK.
Yet, the day later I was back in the heart of London for a mini city break. I realise I live in the city now, but not directly in the centre, and certainly not inside a swanky hotel. So I wanted to tell you all about what I got up to, who I saw, what I ate and where I stayed, as a little diary entry. It's been a while since I just wrote something in diary form and for this weekend I felt it was appropriate.
Here is a quick run down of everything I got up to…
A lot of my best photos from Paris are all now in Instagram form, edited, cropped and squared, because my favourite shots from the trip always end up on my feed! But I did manage to take just a few shots of my favourite moments! As I said, it was myself, Amelia, Suzie, Tamara and Sandra, spending a night with Givenchy at Le Meurice Hotel. We dined at the Cristal Room Baccarat, and got told to shush for making too much noise. We shopped in Chanel and Chloe and left with purchases in hand, and we dined on the tastiest room service breakfasts after wonderful morning massages. We also visited Angelina for the BEST hot chocolate I have ever tasted. The rumours really are true! And of course we attended the press preview of the new Givenchy Live Irresistible fragrance, the new Gentlemen Only Parisian Break Fragrance and got to play around with the stunning new Les Saisons Healthy Glow Powders which are a radiant introduction into the bronzer market!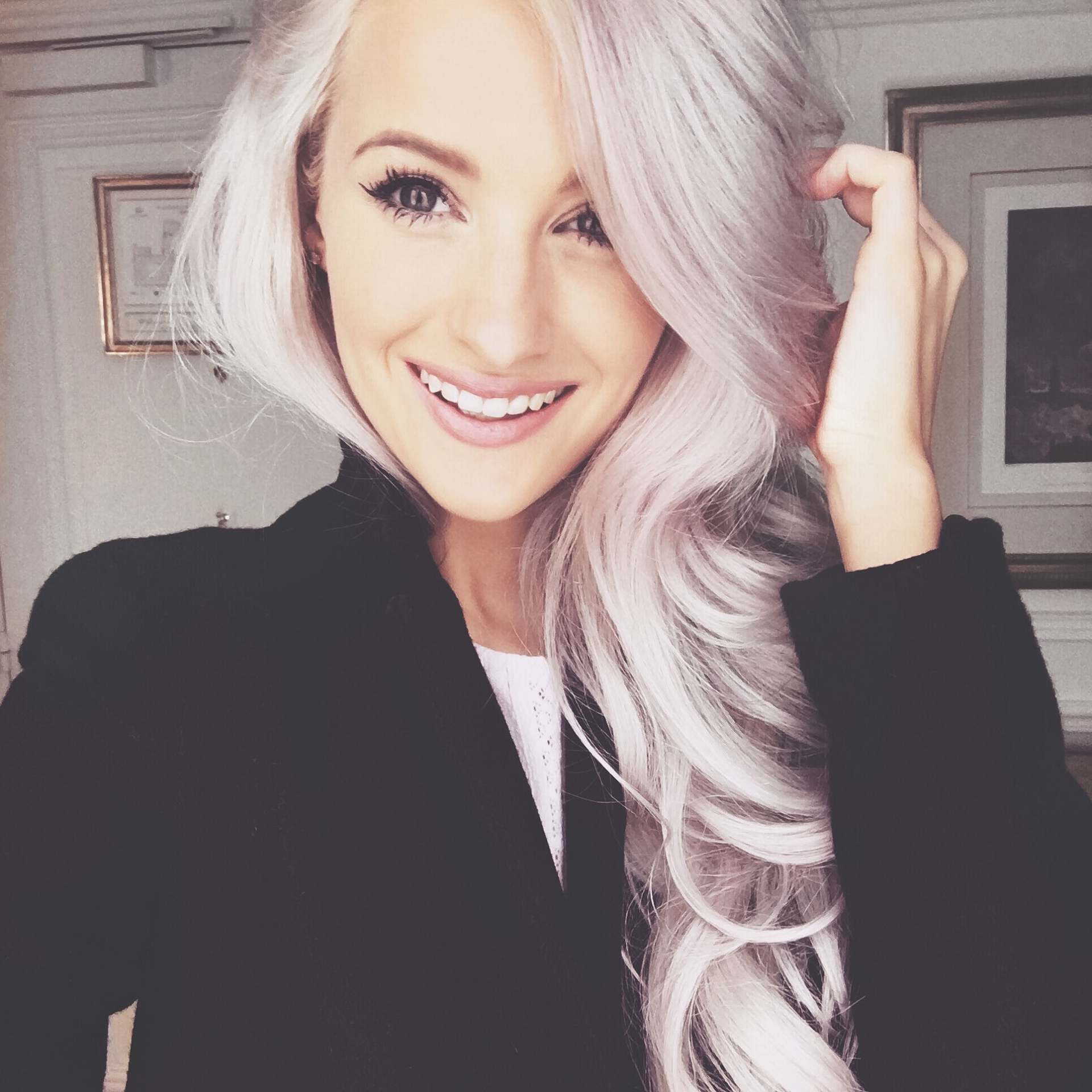 And if you'd like to see more from Paris, it turns out that I also vlogged it!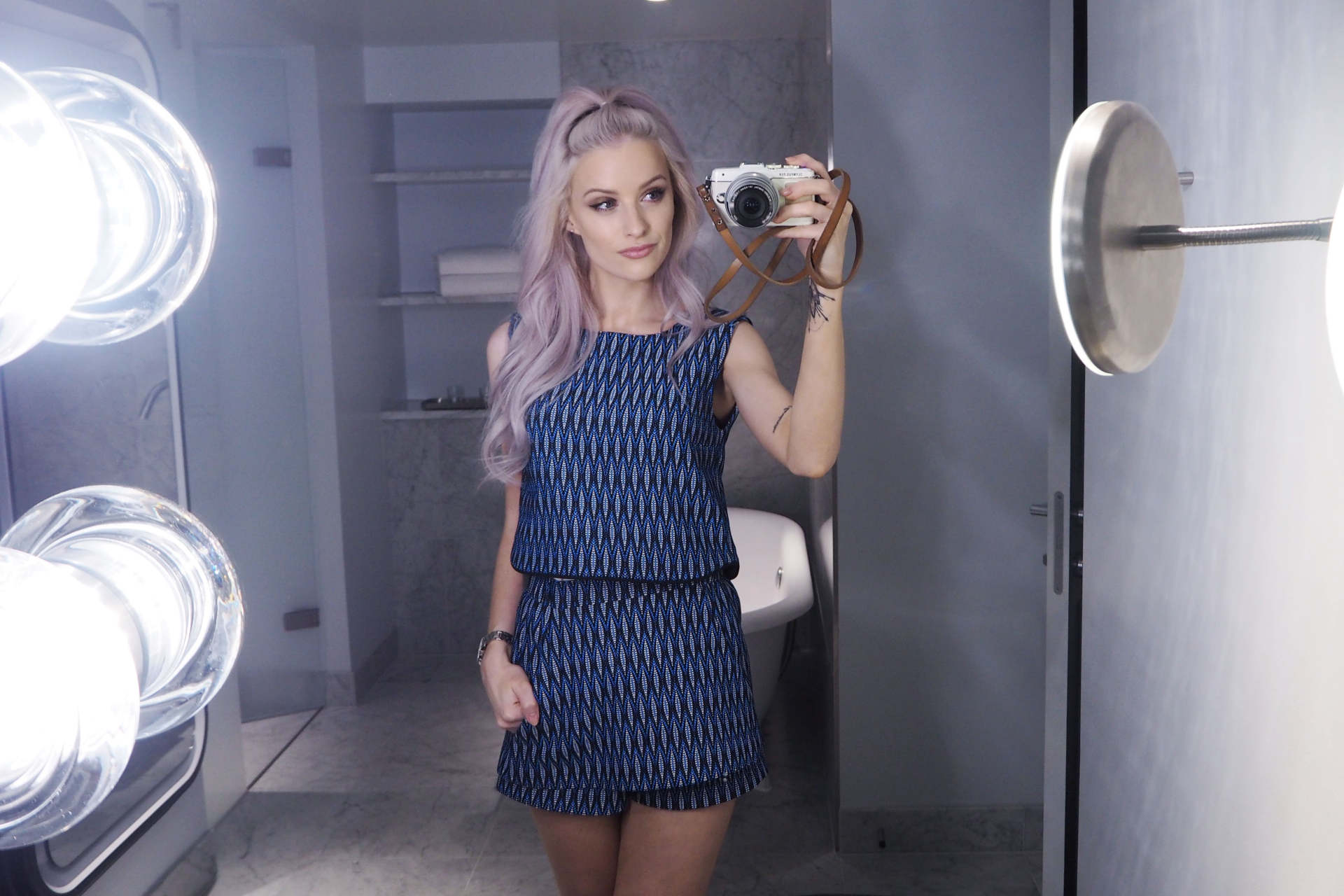 Onto London, where I made my way over to the Mondrian Hotel. This time it was for a huge Clarins event, and by huge, I mean that they rented out the entirety of the Pink Gallery Room in Sketch to host all of their guests. Bloggers from the US, Europe and the Middle East all came over to hear about the new Multiactive day and night creams and to nibble on the delightful treats at one of my favourite restaurants.
We stayed at The Mondrian Hotel in their beautiful large suites with views of the Thames, and again sampled the wonderful breakfast menu. There's nothing more relaxing and lavish than a hotel breakfast in bed. Of course this was after we had headed over to the Shard for a Yoga lesson looking over the city. Recommended only on a sunny day!!
Quickly rushing home after breakfast, I repacked my little suitcase and headed back into Central to meet my bestie and fellow travel blogger, Steph from Eat Travel Love. I had organised a chilled weekend for us at Dukes Mayfair, a boutique hotel tucked away near Green Park Station. It has such a classic London feel to it, maintaining a traditional London vibe and a more mature feel and we felt right at home straight away. This is where Ian Flemming wrote some of the Bond Films and therefore the Martini Bar was calling our names. We did try to drink a Martini each, but the hard liquor certainly got the better of us.
Our room was cosy with a really traditional feel; clean, a great size and classic in style. None of the really overly minimal and modern traits that I have been seeing so often in new London Hotels; this is certainly one for those that prefer something cosy and traditionally London.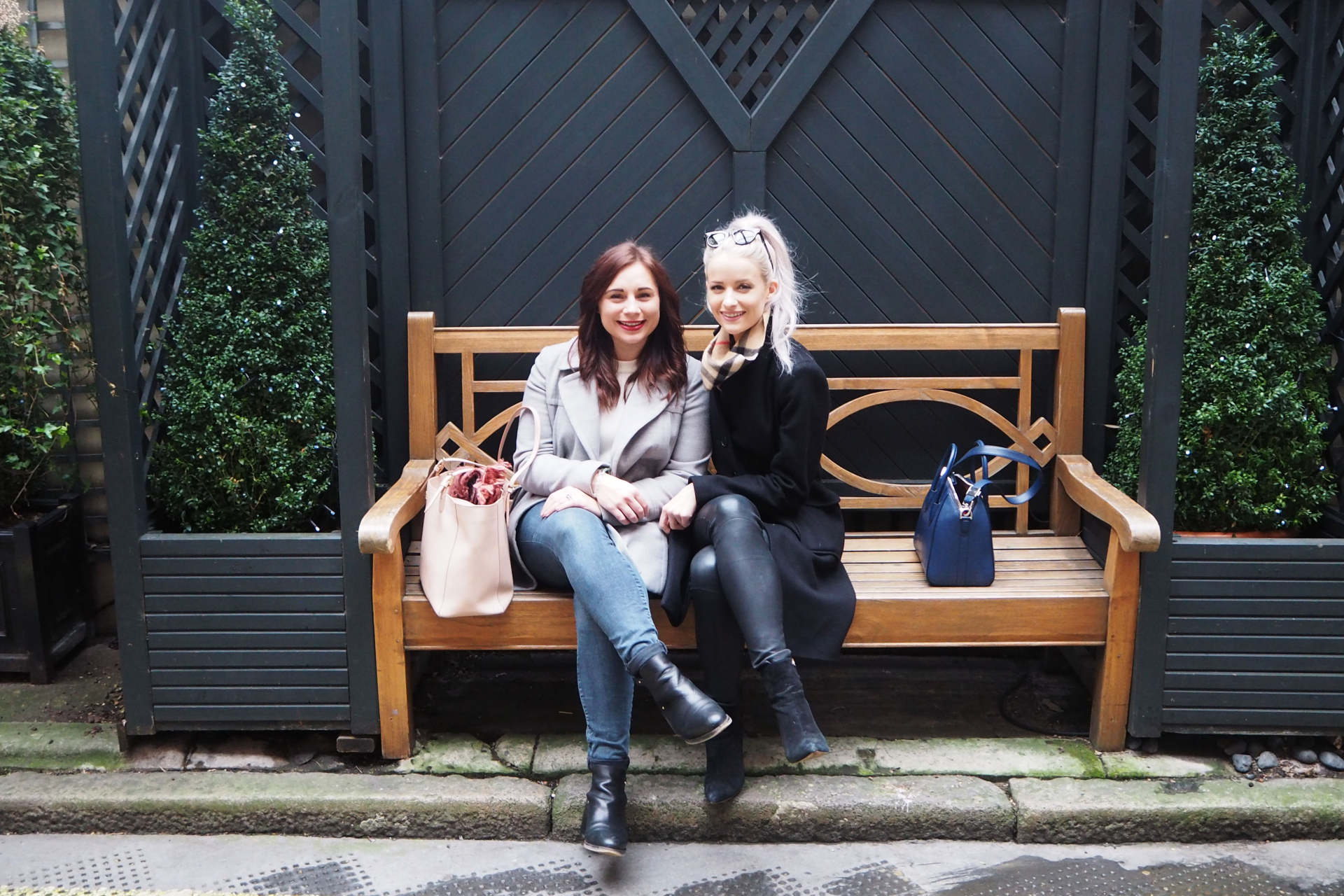 They had left us mini meringues to welcome us and freshly fried potato chips, which we devoured in a matter of minutes. Right before we headed out to Fortnum and Mason for a shop around and a hot chocolate at The Parlour.
After filling our bellies with warm chocolate fluids, we made our way back to the room where we changed for dinner. I wore the exact same outfit for dinner that I had worn the night before at Sketch with the girls; I know, slight blogger faux pas. But hey, the outfit was already packed and I absolutely loved it, so on it went again! You can find all the links for the outfit in the London Outfits box above!
We headed down to the hotel's restaurant, Thirty Six, which honesty I cannot recommend more. It is very hotel-like in its aesthetics and atmosphere, BUT, the food is absolutely beautiful. Truly Michelin Star quality (if you ask me), wonderfully presented and served to us by the most polite and lovely staff members. We had such a brilliant evening. We sipped on a delicious New Zealand Sauvignon Blanc and treated ourselves to three courses from the menu (£60 for 3 courses FYI). Steph started with Scallops whilst I opted for a Goats Cheese and beetroot starter. Nothing was left on those plates. Then onto a beetroot and goat cheese risotto (I had a theme blatantly), whilst Steph chose the Fish and Chips. Both were exceptional. Then onto dessert, and seeing as myself and Steph bond massively over our obsession with cheese, a cheese board landed in front of both of us to finish. We ate and ate and left extremely satisfied. This is one to visit if you're looking for somewhere quiet, excellent and exquisite.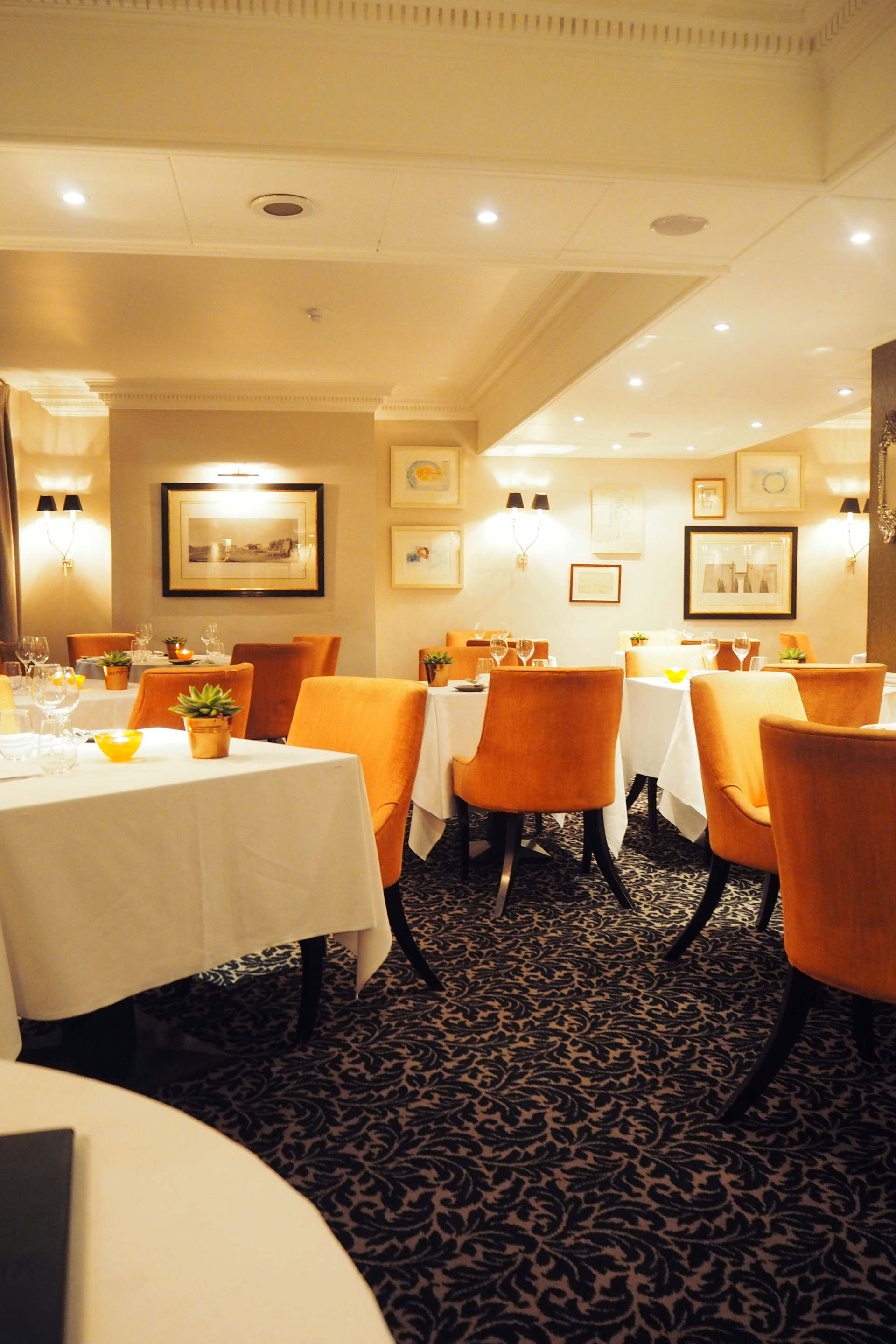 Oh yes, I also vlogged the weekend too!
And to finish off the week, a day of shopping on Bond Street. With London and Paris Fashion Weeks looming, I have been organising what exactly I am going to wear this year, and so a trip to my favourite Boutiques was in order. Mainly for inspiration but also on the off chance that something caught me eye.
And it didn't disappoint. We headed to Topshop, Longchamp, Dior and Chanel plus a few hours in Selfridges and lets just say that we needed to get a cab home due to bag issues. I would love to link the items I bought, but Longchamp, Dior and Chanel do not sell their products, or these products, online. So it will require a trip to the boutiques yourself if you like anything.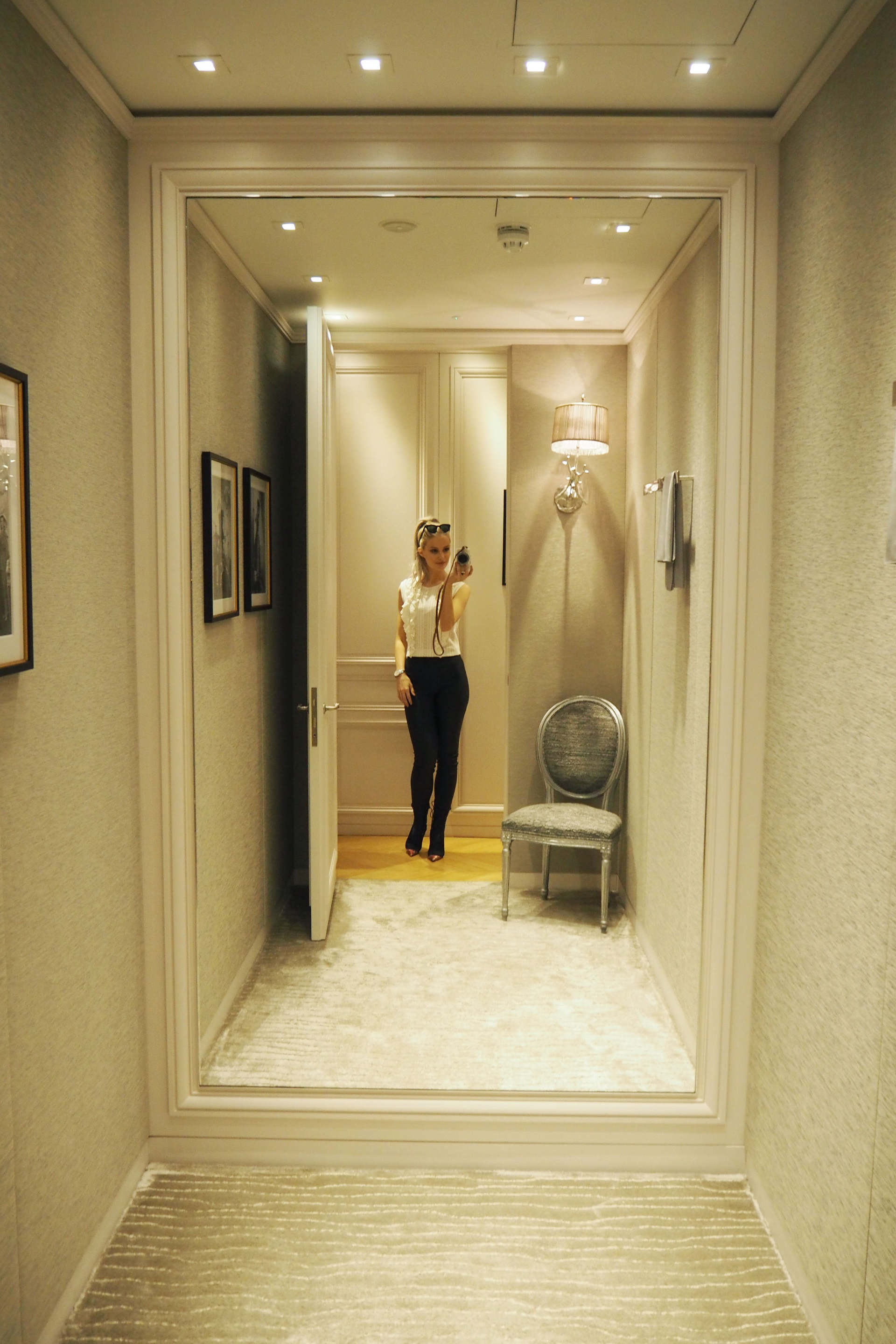 But just in case you're interested in what everything looks like that I decided to splurge on, I decided to film a haul! I'm conveniently wearing the Longchamp jacket and showing the Chanel and Dior shoesies! I didn't buy the Dior Diorissimo bag, but its high on my list!
What an eventful week! Now I'm sat chomping on a huge Reese's peanut butter heart, overlooking my beautiful Red Roses and romancing the idea of a sexy Valentines Day whilst actually writing this post in silky pyjamas. Alex's birthday was last night and therefore being late to bed last night has led us to a very very lazy Sunday indeed.
I hope you're all really well, enjoying V Day regardless of whether you're with or without another half and also eating copious amounts of brownie, chocolate, icecream, pizza. I'm right there with you!
Sign up here for a weekly catch up of everything Inthefrow