The Beauty Cupboard
Dior Spring Pastels and Glowing Gardens
Recently, I must admit that I'm finding it hard to make my beauty content any more pretty – all of these recent collections are just absolutely stunning! I am really enjoying putting full branded looks together, as a way to highlight the best products in the latest releases and how they work on the skin. I read a lot of blogs that do not show the products on the face, and I must admit that I leave feeling a tad disappointed. And therefore I always try to include at least one picture of me wearing all of the products in question, just so you get more of an idea of texture, colour and finish. And I can offer you more of an idea of which products are absolutely worth splurging on for the season!
The latest Dior Spring release has pastels down to a tee. The pastel lime and sky blue varnishes, the bright pastel pink blush and the pinks and corals running through the lip glosses, lipsticks and shadows make such a refined collection. But for me, it's the gleaming golden metallics from the highlight and eyeshadows that got me inspired.
Read on for how I wore them together and which products I feel are this seasons must-haves!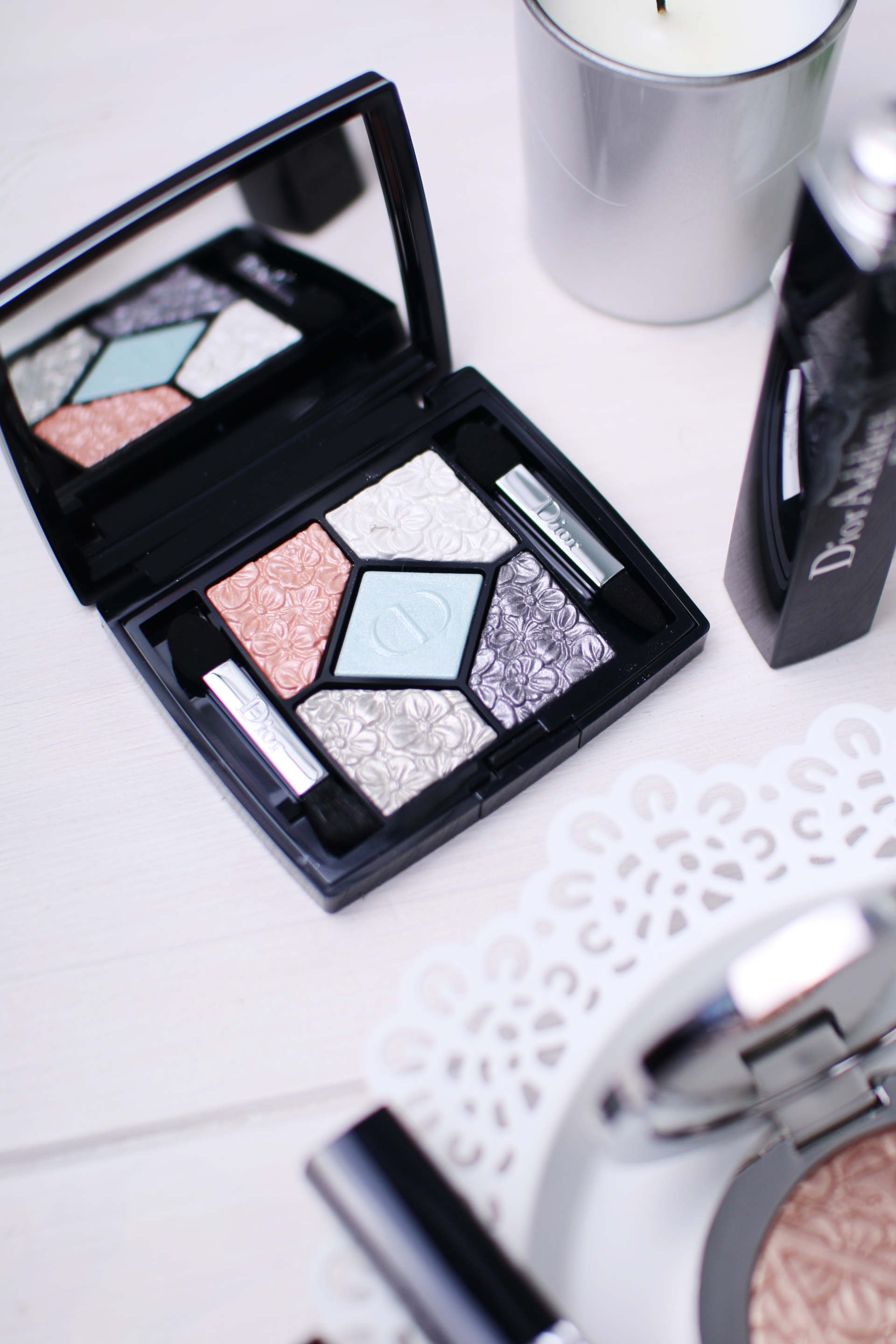 The Dior Spring eyeshadows, Fusion Mono in Equinox (Pewter Gold) and Blazing (Copper Gold) and the Glowing Gardens Palette, are definitely the winning products for me in this collection. Their pigmentation is absolutely beautiful and the metallic content just gleams so vividly when it catches the light. Whilst I usually add a matte shade into the crease of my eyelid, I couldn't help but go all out with the metallic shimmers. Blending the coral shade through the crease, the grey to the lid, the snow white to the inner corner and using the dark grey to wing out a cat eye flick! Over the very top I also added a touch of the Fusion Mono eyeshadow in Equinox with my finger – but these could just be used separately, over bare lids to add a gleam of light. I absolutely adore these pots and whilst I have never been a mono shadow girl before, these have gone with me everywhere since I found them!
But then again I must give a huge shout out to the Nude Air Illuminator. This was the product that really grabbed me and has become my highlighting product of choice every since. The brightness and pigmentation is absolutely incredible, warming and illuminating the cheek bones with an icy golden shimmer. This is also the product that has sold out in a lot of places, so if you're interested, have a peek at my links for the last places I could find it, or have a search on the counters in Selfridges, John Lewis or Debenhams!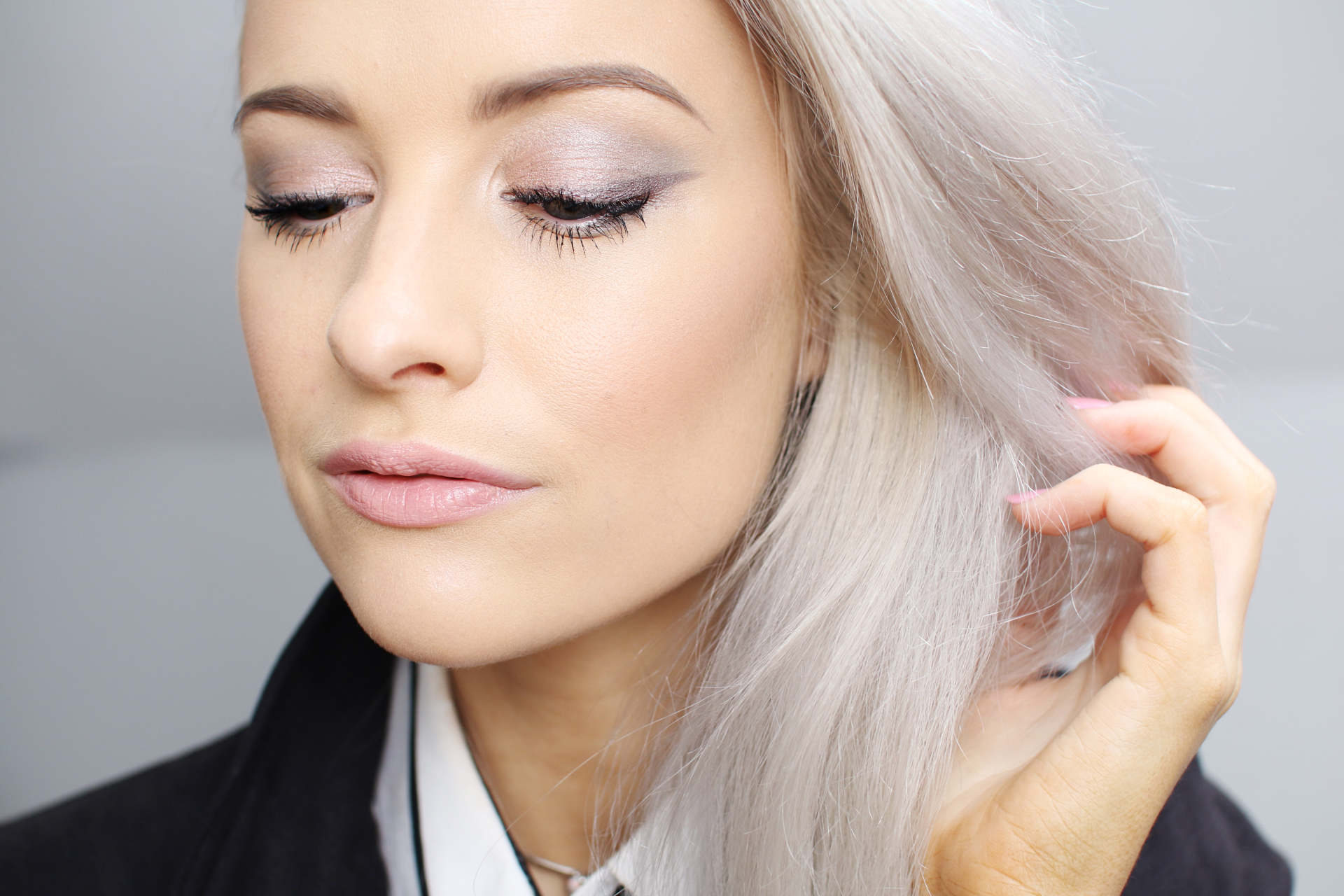 Another powder product you will definitely swoon for is the Dior Spring Glowing Gardens Blush. The powder is again wonderfully pigmented, a vibrant tone of pink but with much more subtlety. When it is sweeped onto the cheeks, the finish is much more natural and lightweight, but of course if deep pink is your thing, build up that colour as much as you like. With a touch of the Dior Baume in Rosebud, I found the colour on the lips and cheeks worked beautifully. I had already applied my favourite Dior Addict Lip Glow Balm to my lips before patting the lipstick over the top, rather than building up the colour too vividly.
But for more of a nude finish, I have currently tucked the Dior Rouge Nude Lipstick in Swan into my makeup purse as that perfect pink nude. It adds a wonderful sheen of vivid colour to the lips in that everyday nude finish.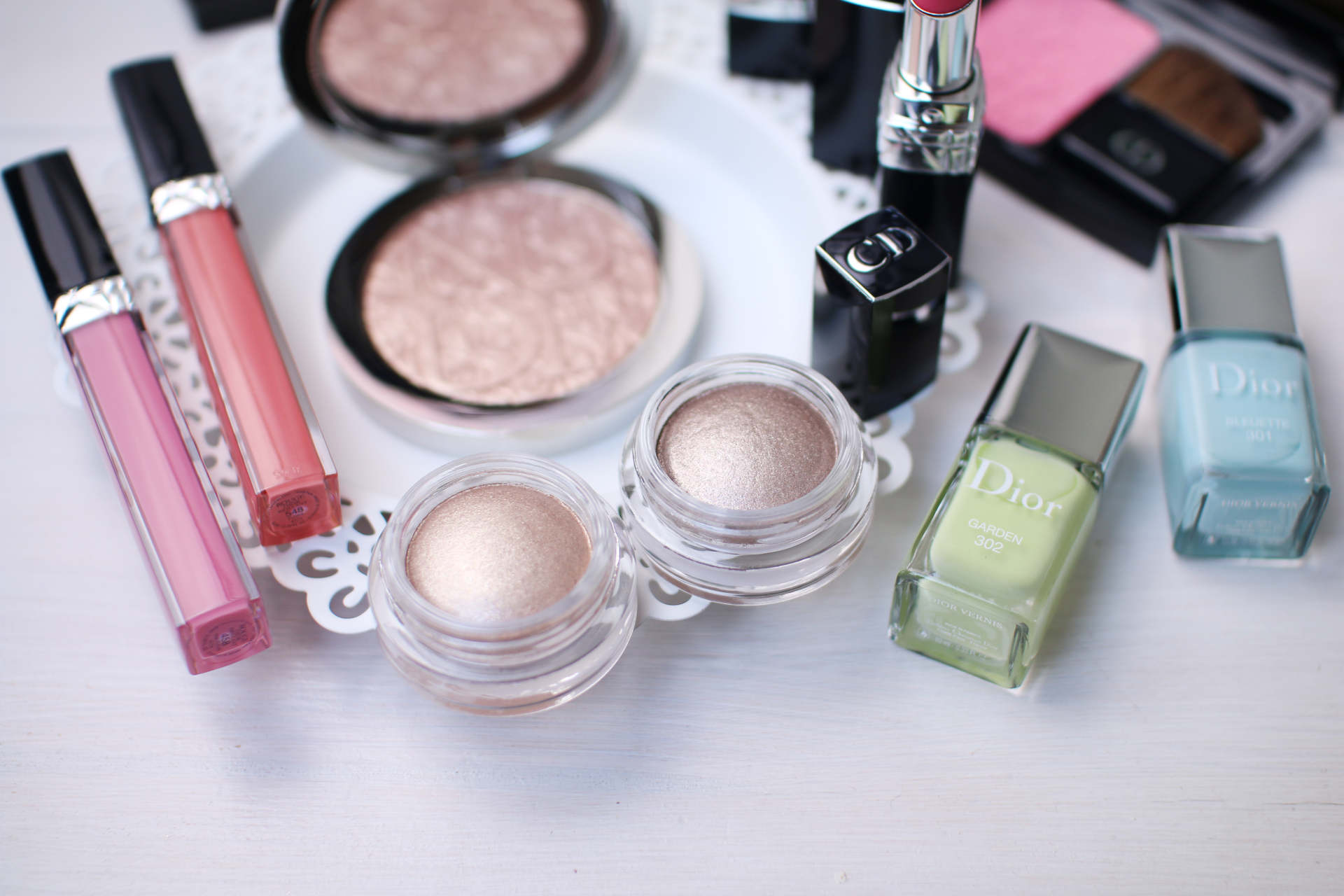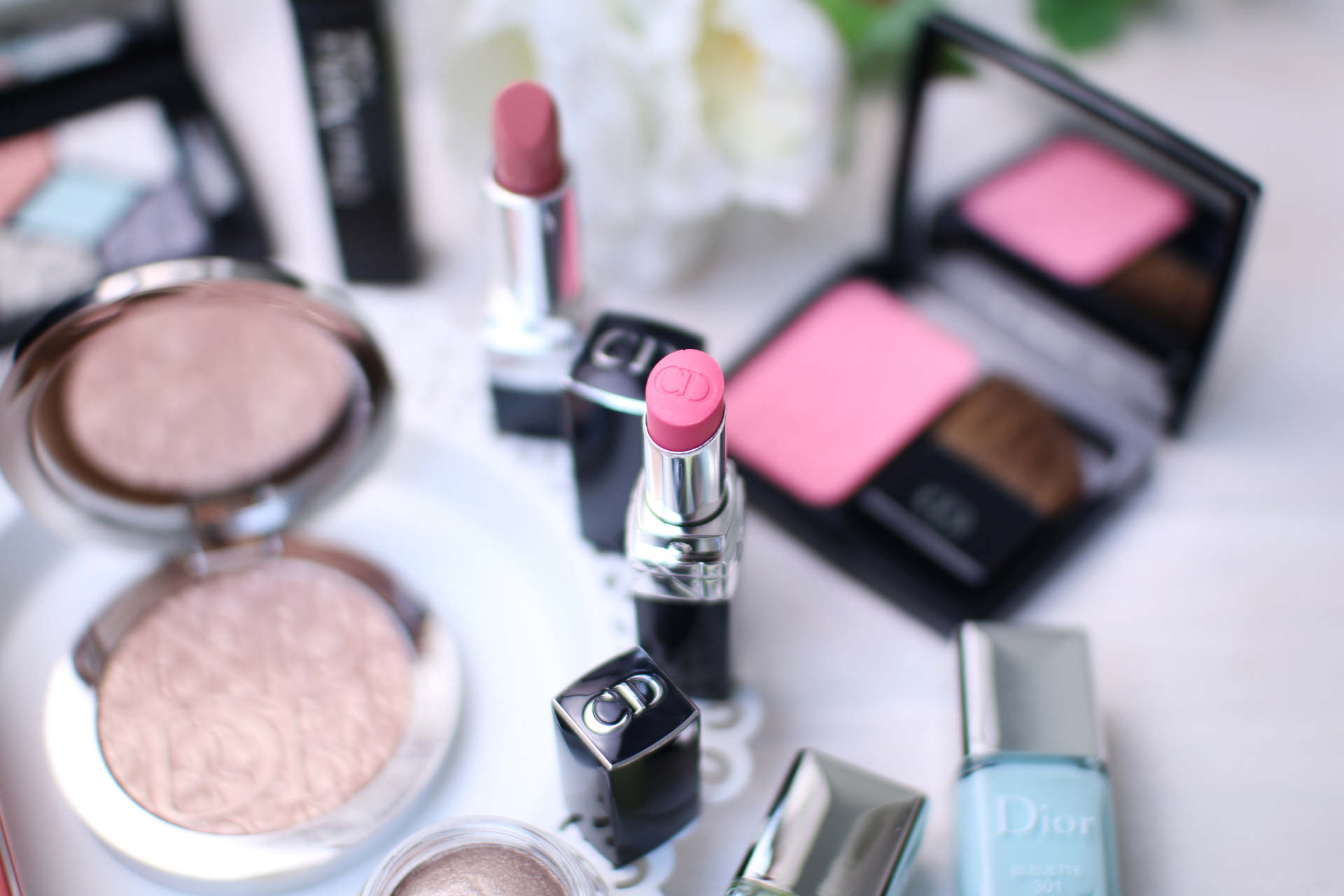 I also wanted to swatch the four lip products here just for a touch of comparison. The two Dior Spring Brilliant Glosses, the pink in Fine Fleur and the Coral in Flora alongside the Rouge Nude in Swan and Rouge Baume in Rosebud. Fine Fleur gloss would look absolutely incredible over the top of Swan for a nude pink glossy lip whilst the Flora gloss would be a gorgeous shiny finish over a bare lip on holiday. The glosses are not sticky either, leaving more of a hydrated and ever so slightly tacky feel to the lips which seems to reduce after a few minutes.
For me, the colours and finishes of these four lip products is exactly what I look for in my lip colour collection. Vivid but not overpowering, wonderful quality without stickiness and in shades that can really compliment and enhance one another.
I can't tell you how long it took me to find every single one of those links for the products online! This collection is obviously selling out pretty quickly! I really need to try to bring these limited edition collections to you a little speedier, so they're not so out of stock when I come to review. However, I think you should find everything you need in the box above.
Which product do you love the most? I must say its all about the powders for me: the eyeshadows, the blush and the illuminator are just absolutely wonderful, so if you're mulling over a few pieces, it would be those I recommend first.
Sign up here for a weekly catch up of everything Inthefrow