Paris
Giorgio Armani Prive Couture
With the Ready to Wear Fashion Week's growing closer each day, I have already started planning what I'll be wearing for each day of the shows. So you can imagine how confused I was when faced with choosing an outfit for a backstage peek at the Giorgio Armani Prive Couture show. What does one wear to photograph behind the scenes of one of the most anticipated shows of Couture week?! To have been invited to the event is beyond an honour and a privilege, as I'm sure you won't have seen another blogger stepping foot inside the home of Giorgio Armani's beautiful Couture show previously.
And it was something I could not wait to share here. As you know, fashion, beauty and travel are my three biggest loves, and this trip combined all three. Couture fashion meeting luxury beauty, all within one of the most beautiful cities in the world. It was absolutely a pinch me moment.
I am so pleased to share the look of the show, which is so wonderful for the coming months. Combining a number of Giorgio Armani's newest beauty products, with others coming in the following months, the look offered a wearable yet statement finish and highlighted the wonders of the Armani Beauty collection!
Adorned in black, 20's waved bobs, each model's look was individually checked by Armani Beauty's Creative Director, Linda Cantello, for absolute perfection and unification.
The skin was kept pale yet glowing and luminous, enabled by Armani Beauty's newest foundation, Maestro Glow. A foundation that has swiftly become one of my two favourite bases. Stippled into the skin using the fingertips, the combination of oils and pigments within the solution helps to light the skin, whilst offering a medium coverage. The oils evaporate gradually to leave the skin kissed with pigments and a perfected glow.
Brows were one shade darker, moving more towards the black shade of the bobbed wigs but with a grey undertone. They were not perfected or clean, but wearable, chic and realistic. And to the nails, Armani's Night Viper, a vampy, deep plum.
The face was finished with neither bronze of blush, but powdered through the centre of the face to reduce unwanted shine. The lips were finished with two shades of Lip Maestro Drama (coming soon) to create a new shade, Floating Mauve, to also be released in the coming months. The shade sits between a plum and lilac toned pink, for a new version of luxury mauve.
And the pièce de résistance, the graphic liner. With the lash line coated in a thick black line, the crease of the eye socket was also drawn in black pencil, before being finished with a black, shiny liner. Mr Armani spoke of his interest in a true black, shiny finish to the liner, to which his Creative Director found a solution. I believe the liner is to be released in the coming months also! Taking new concepts and ideas and making them a reality is something that Giorgio Armani Beauty does extremely well; keeping this brand constantly innovating and truly ahead of the competition.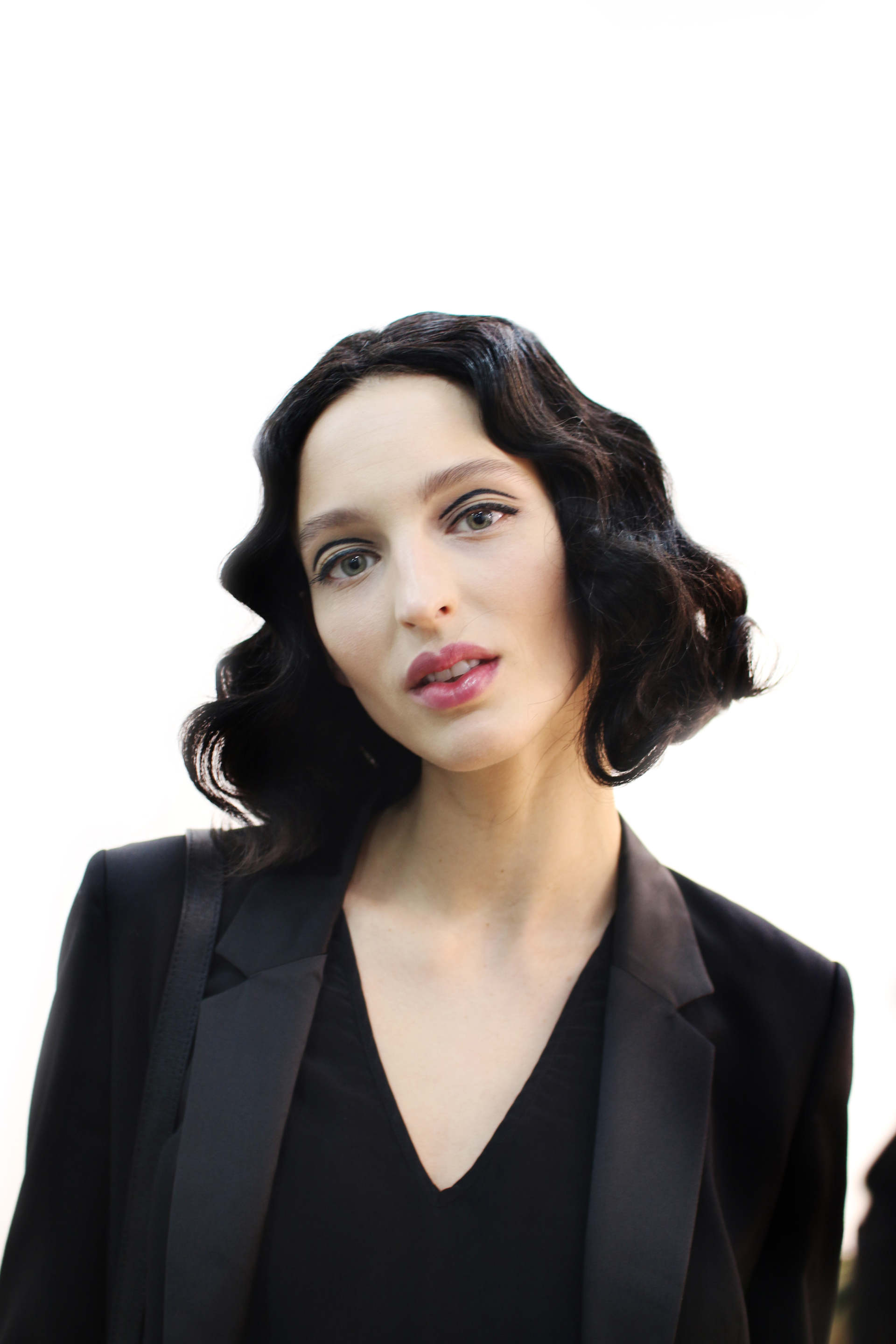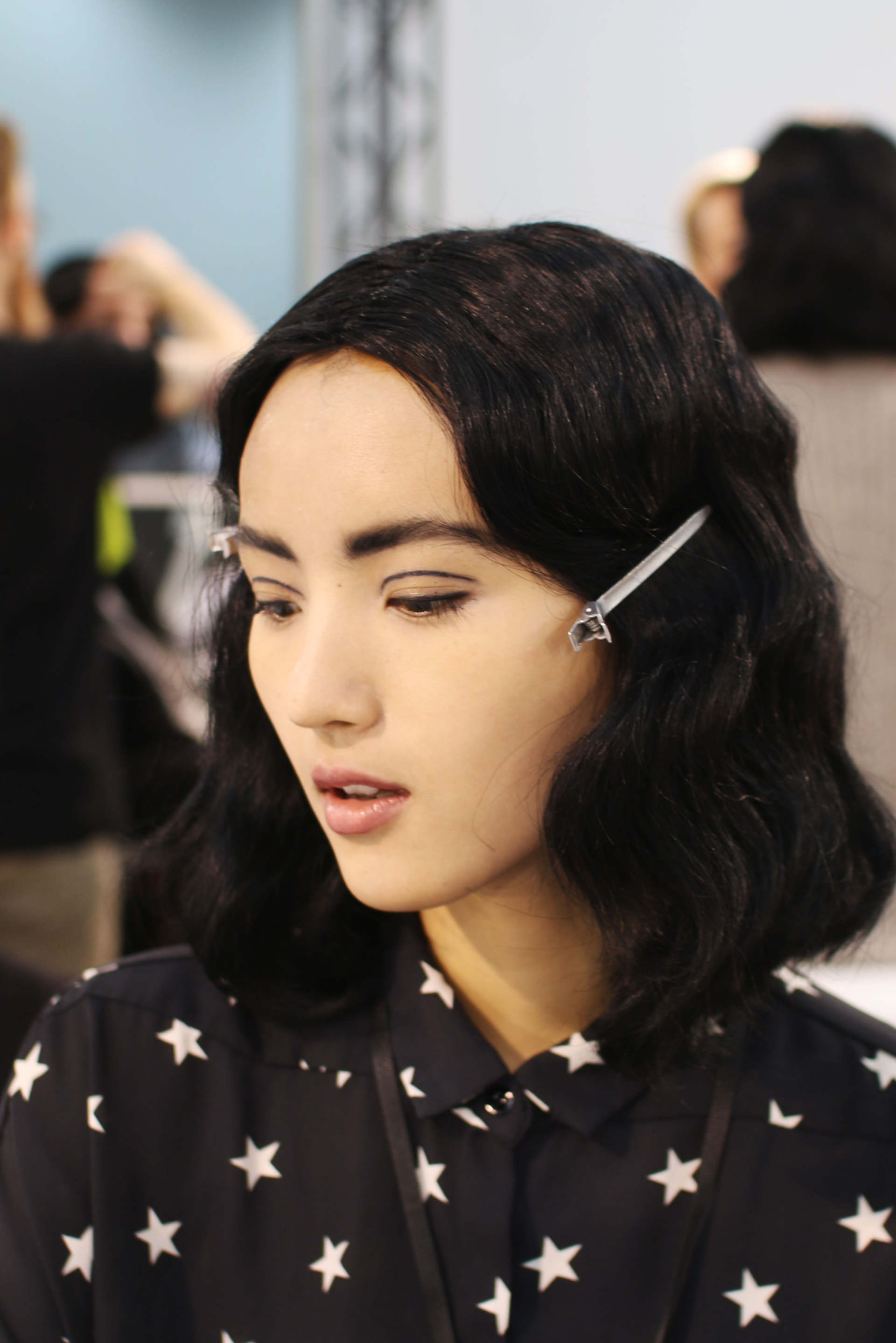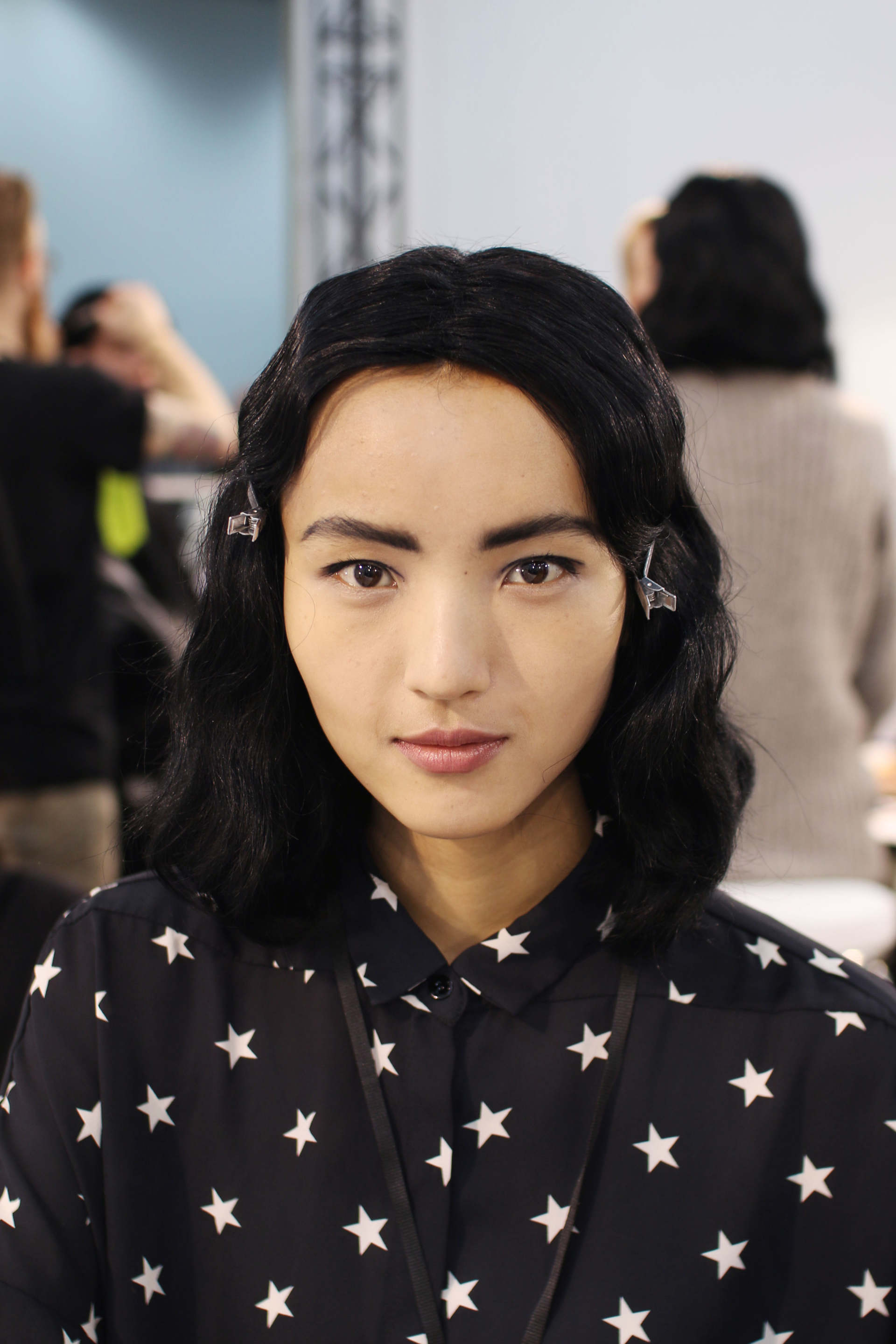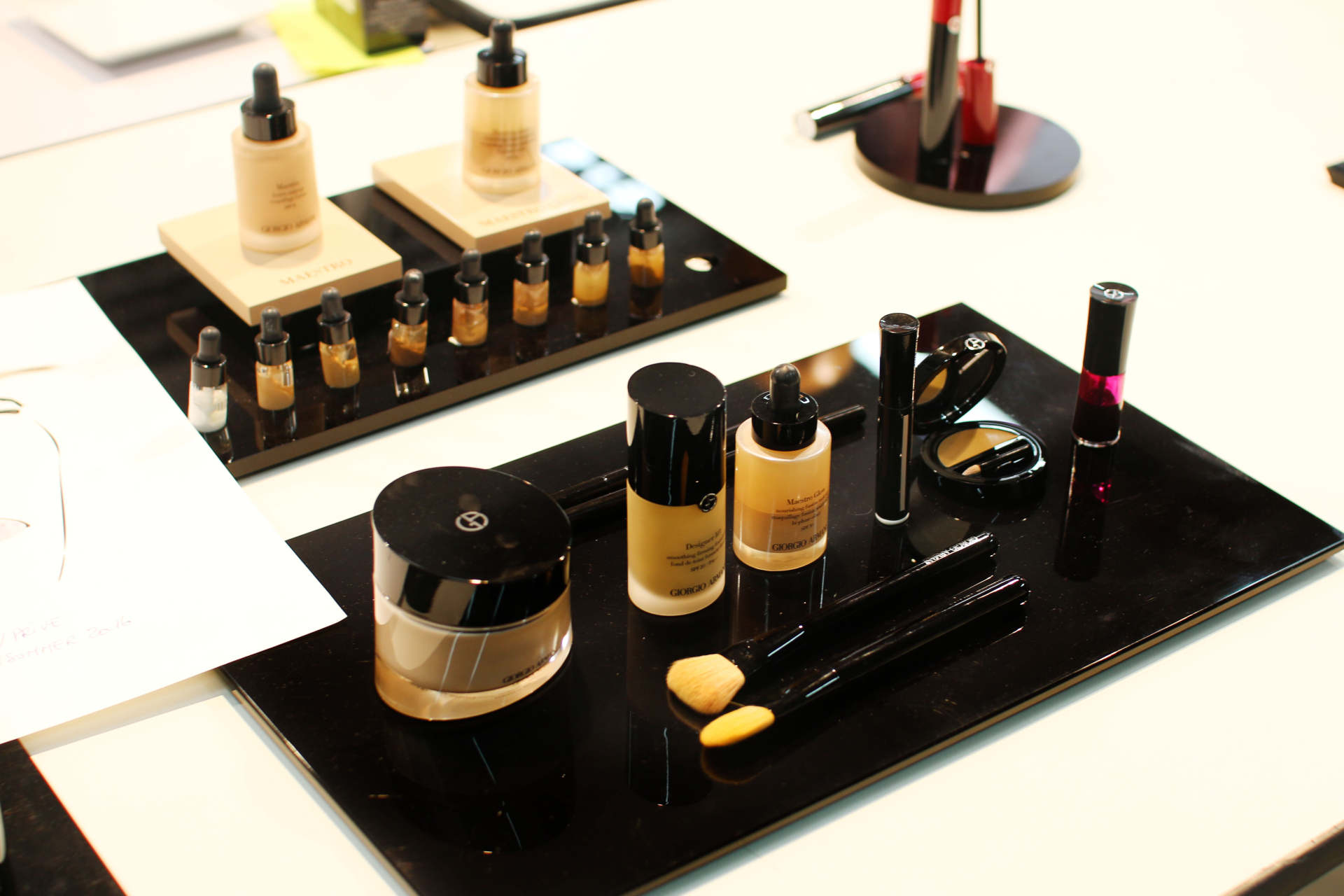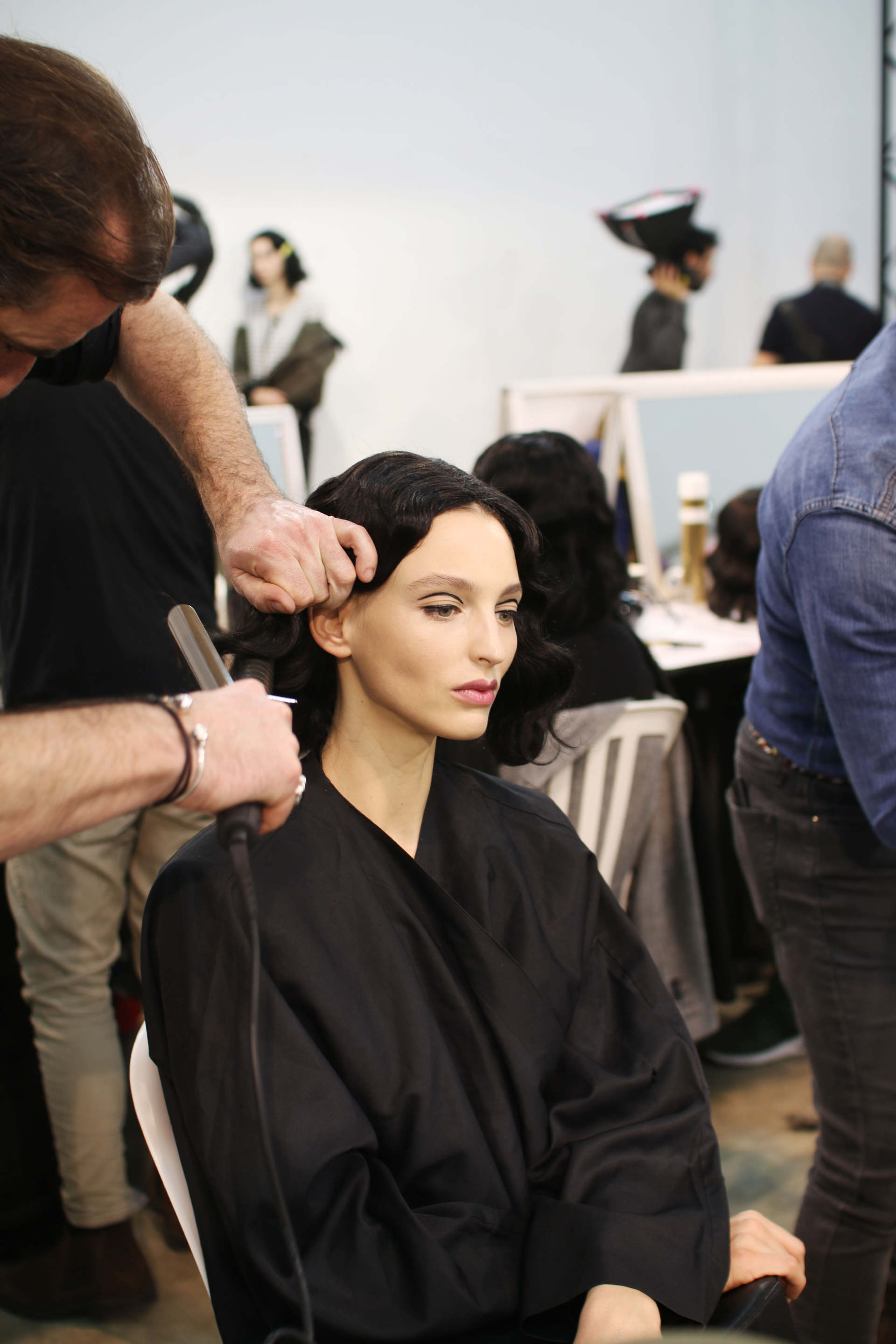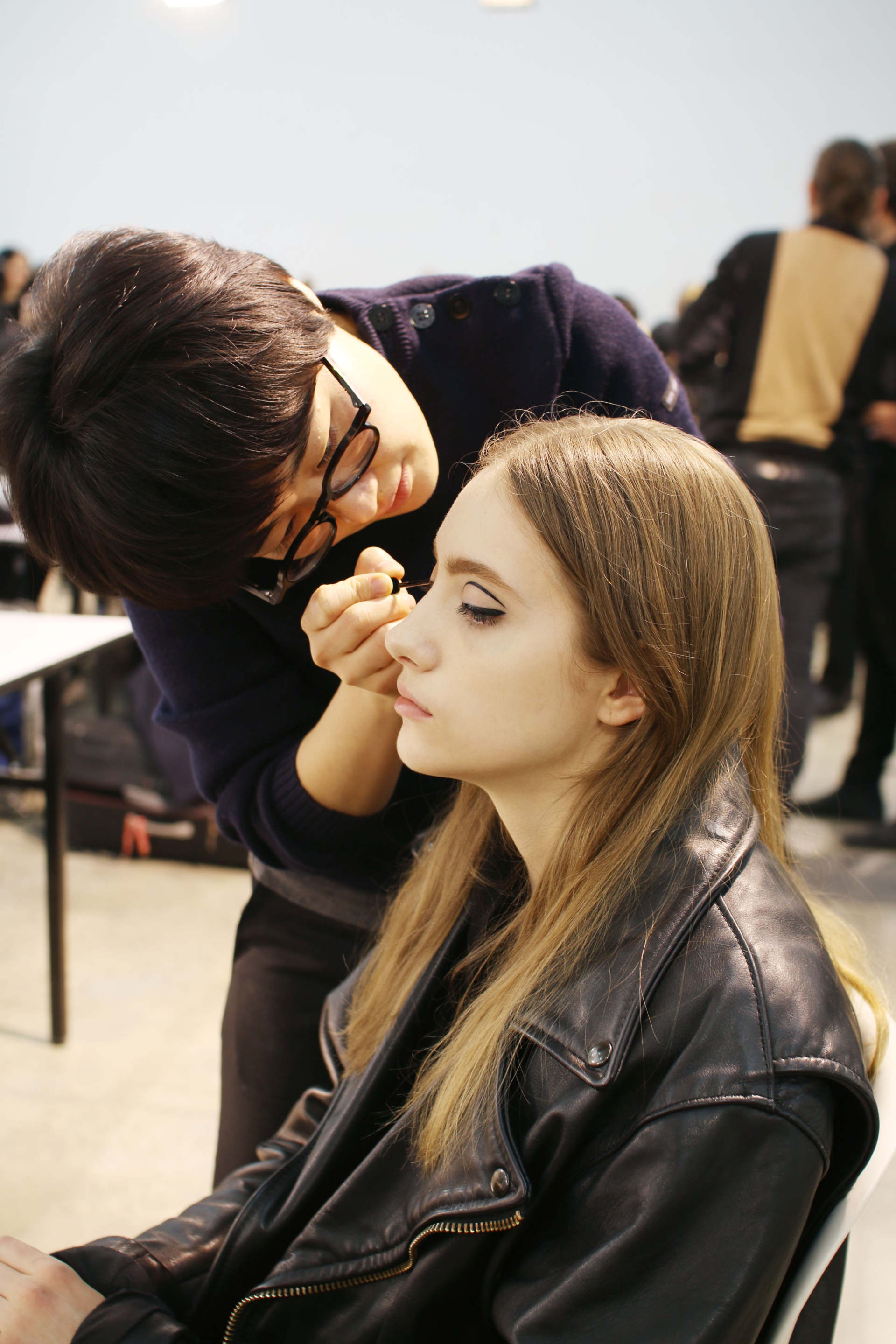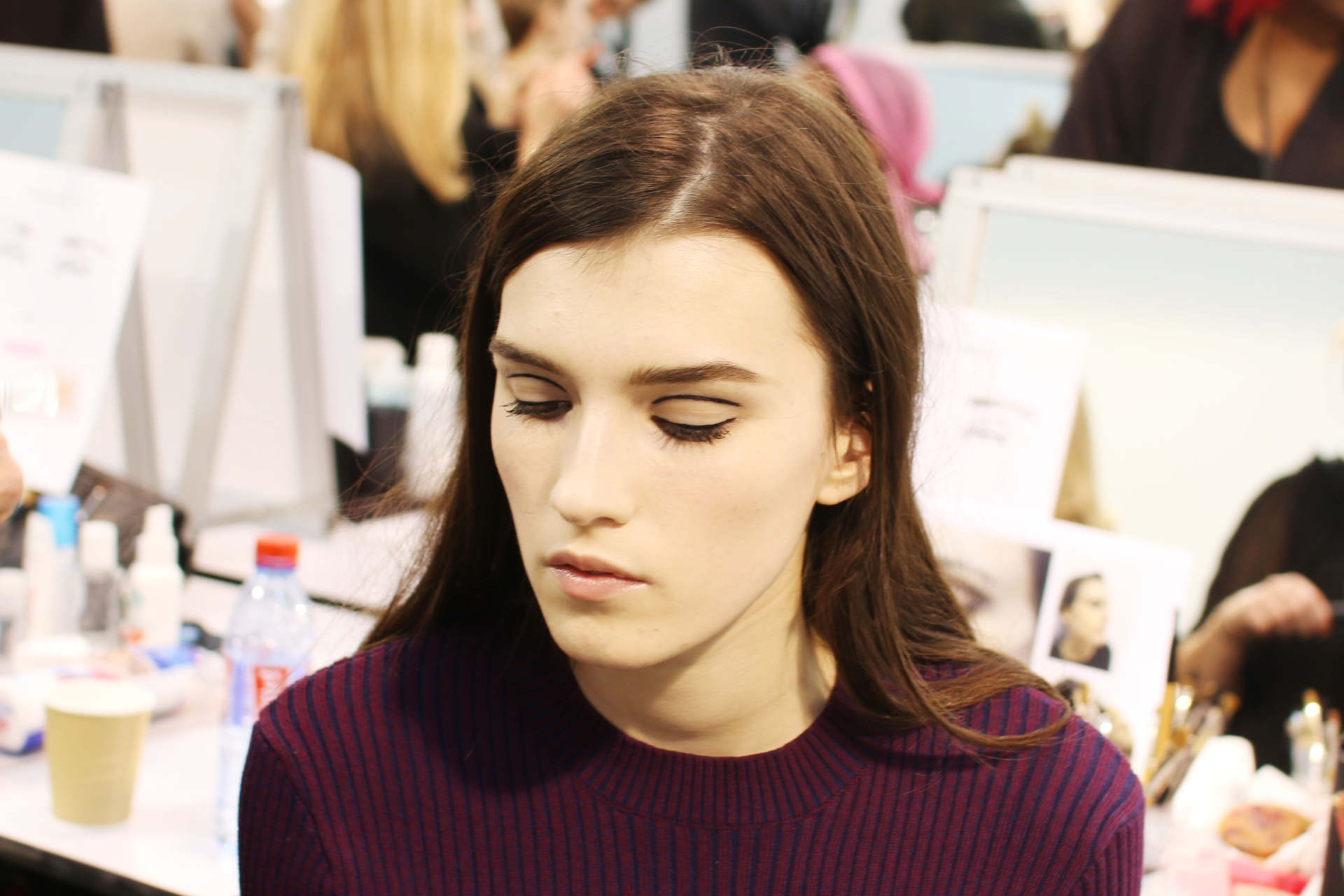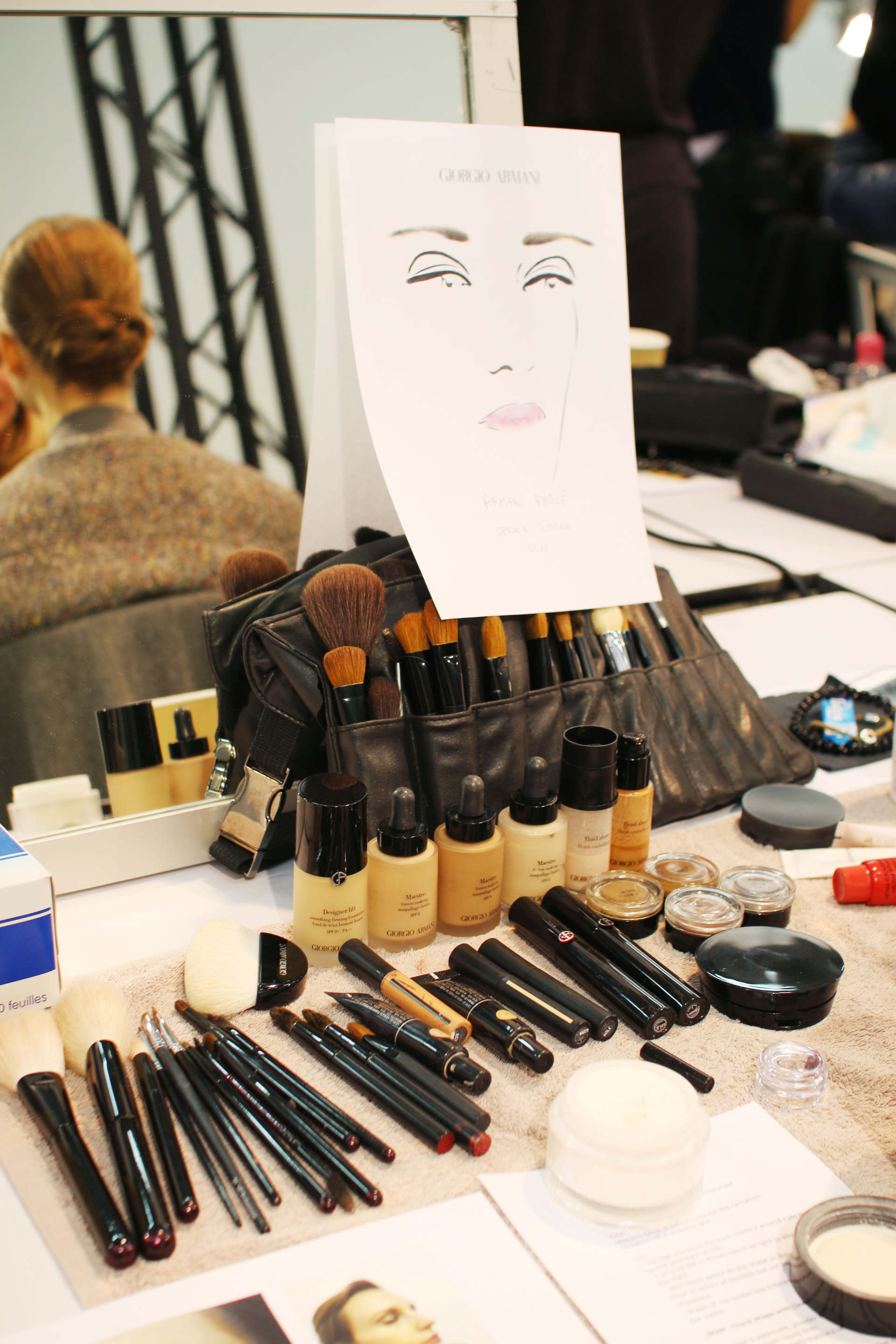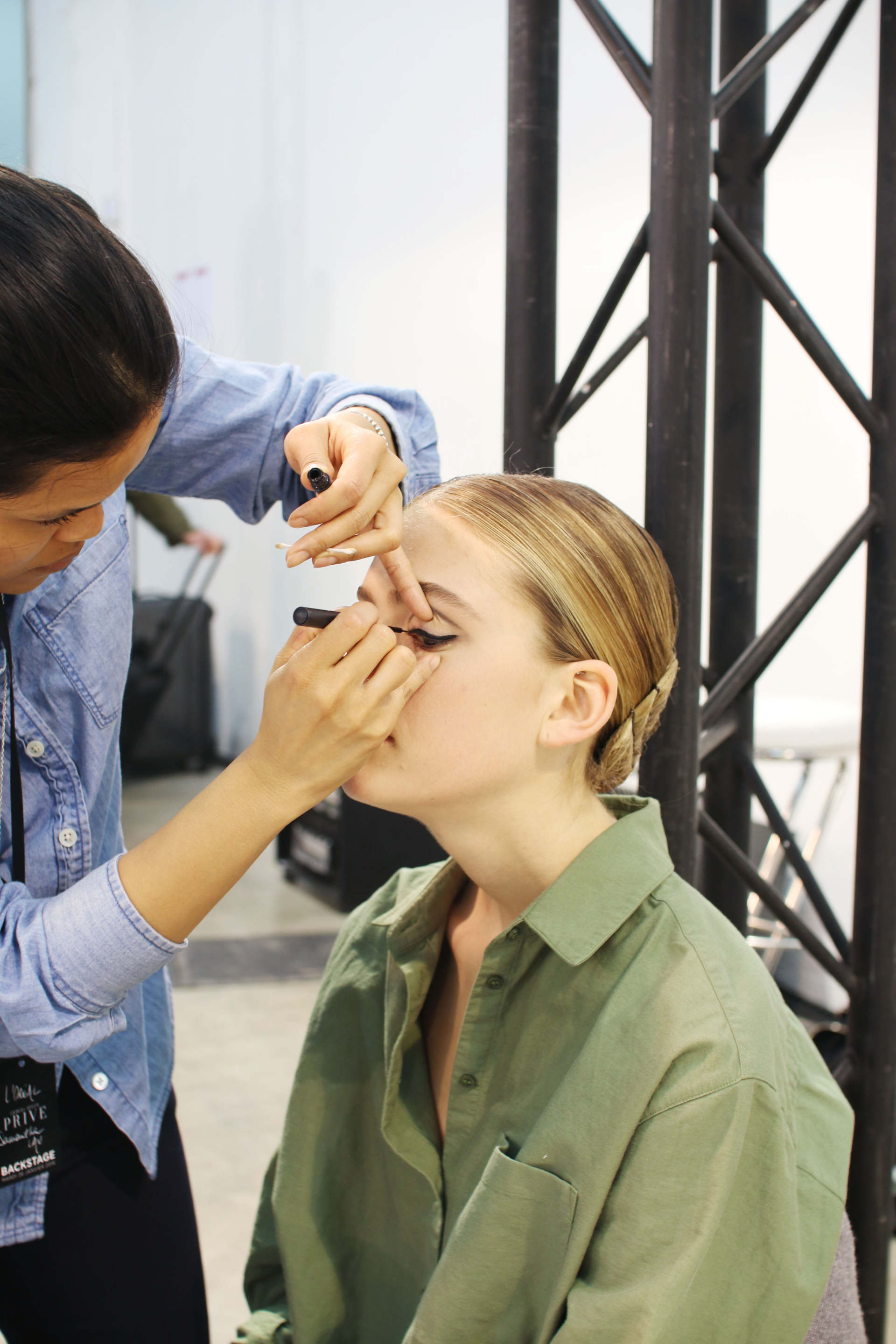 Finishing off the Armani Beauty experience, I was invited to a private meeting with Creative Director of Armani Beauty, Linda Cantello and International Marketing Director for Armani Beauty, Johan Lundin. They spoke of the newest products to the Giorgio Armani product family and their own excitement and interest in each new offering, talking through their features, qualities and innovations.
About the new, and absolutely wonderful foundation, Maestro Glow, Johan spoke of the five oil content and skincare features of the product. He described it as a skincare serum with pigment, that creates luminosity in a pearl free way. The oils evaporate on the skin to leave the pigment set onto the skin, flawless and perfected. This has a higher coverage than its predecessor, Maestro, with added nourishing properties and a luminosity that is not greasy or heavy. Due to the oil content, they recommended applying with the fingertips, but I have personally applied this with a brush from the back of my hand and find that I can create a flawless finish with both methods.
Further products new to the collection include new colour varieties of Eye and Brow Maestro, in green, blue, red, purple, yellow and cream. Bright, pigmented, wax powders that can be used on the brows, lashes or lids, and also work wonders as liners. You may know that I only use the Brow Maestro in number 2 for my own brows, and swear by its consistency and qualities. The new Brow Maestro's will be released around March.
A new Lip Maestro Drama collection will be released around May to June. A collection of pink, matte lacquers, with fantastic staying power and pigmentation. And additionally, a new range of matte eye tints will also be added to the range, in a stunning collection of nudes and neutrals that are perfect for every day wear.
A new skincare range will also launch soon, but I will share more information concerning its launch as soon as I hear more. I can honestly say that it could be a game changer for a lot of women.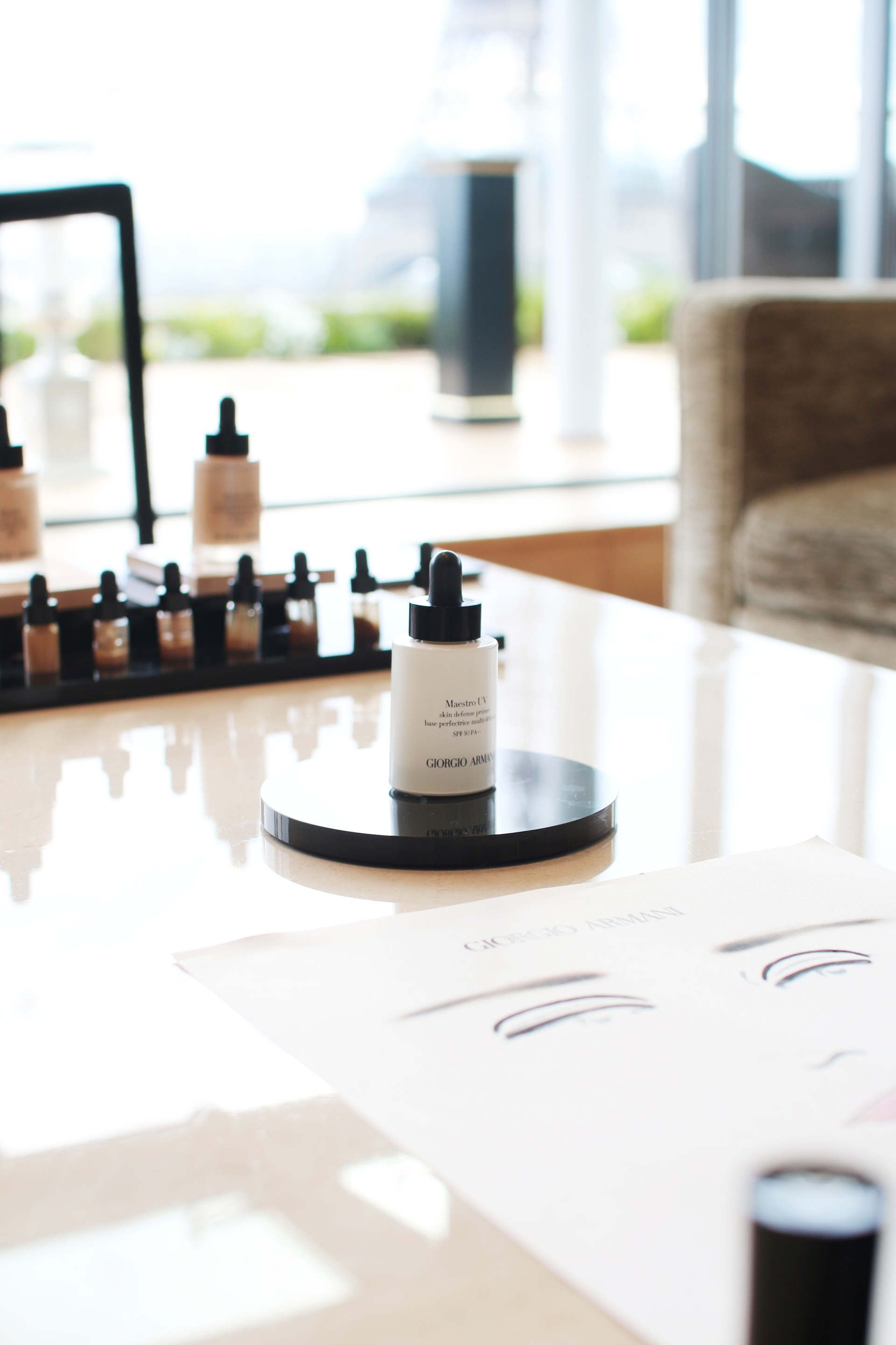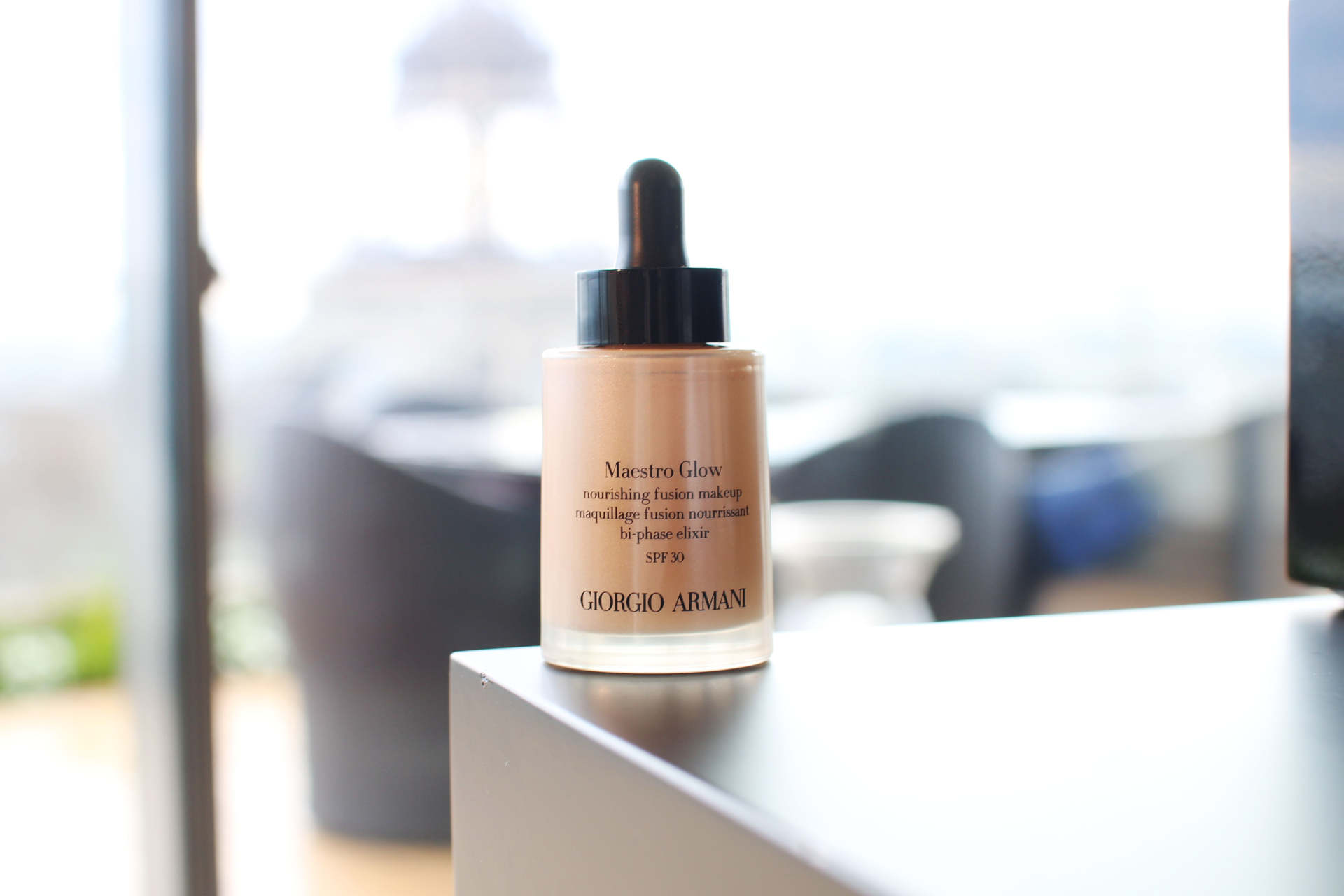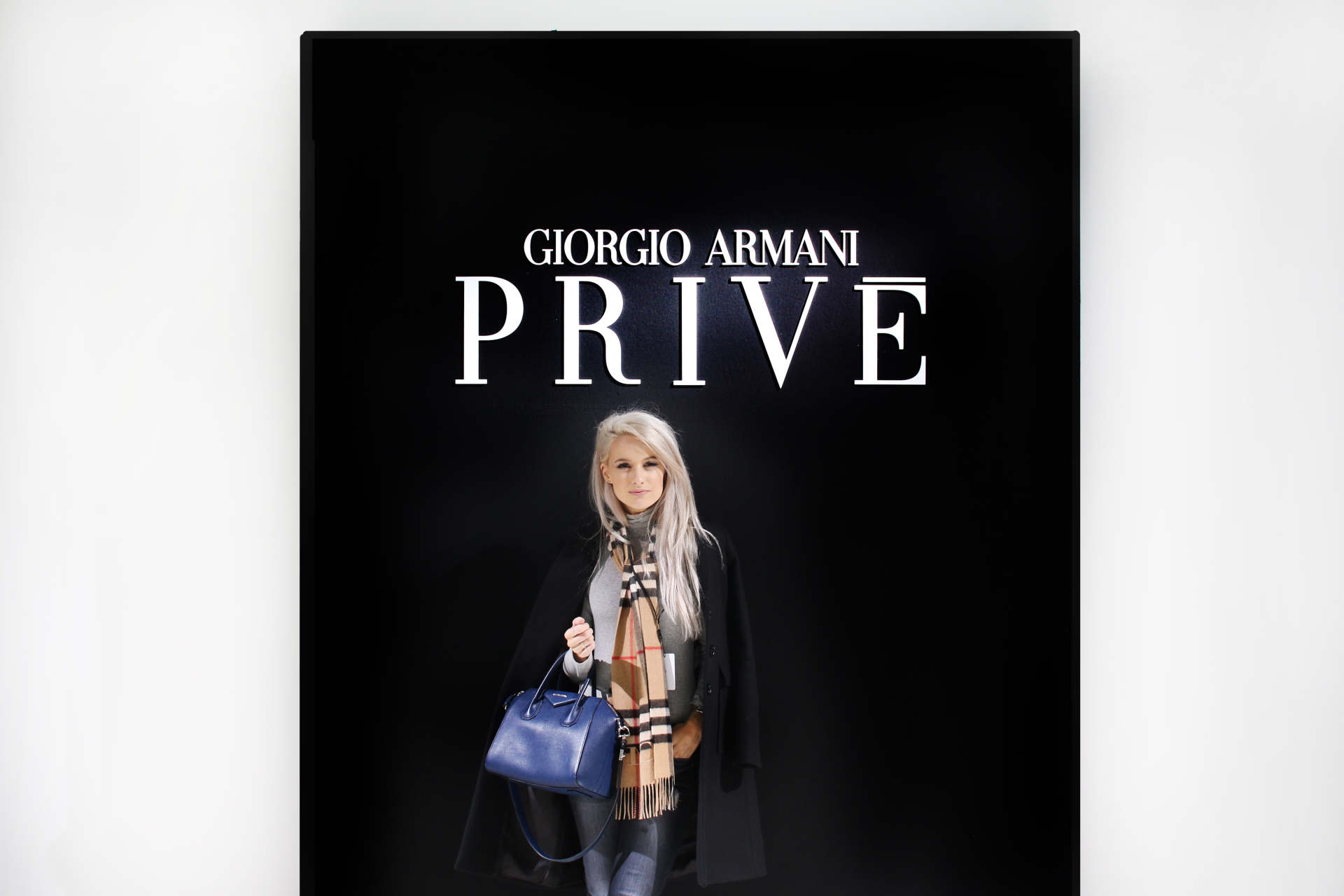 With a camera in hand, and a backstage pass in the other, I was dressed to work and explore a new territory. My outfit needed to be sensible and professional, made up of my most current loved pieces. Wearing a new pair of Parisian designer boots, by Gordana Dimitrijevic (Use Inthefrow10 for 10% off!), I threw my Maje wool coat over my shoulders and my Givenchy Antigona into the crook of my arm. A simple yet flattering grey marl roll neck tucked into a pair of 7 For all Mankind Jeans finished off the look with a Burberry scarf to add the final layer.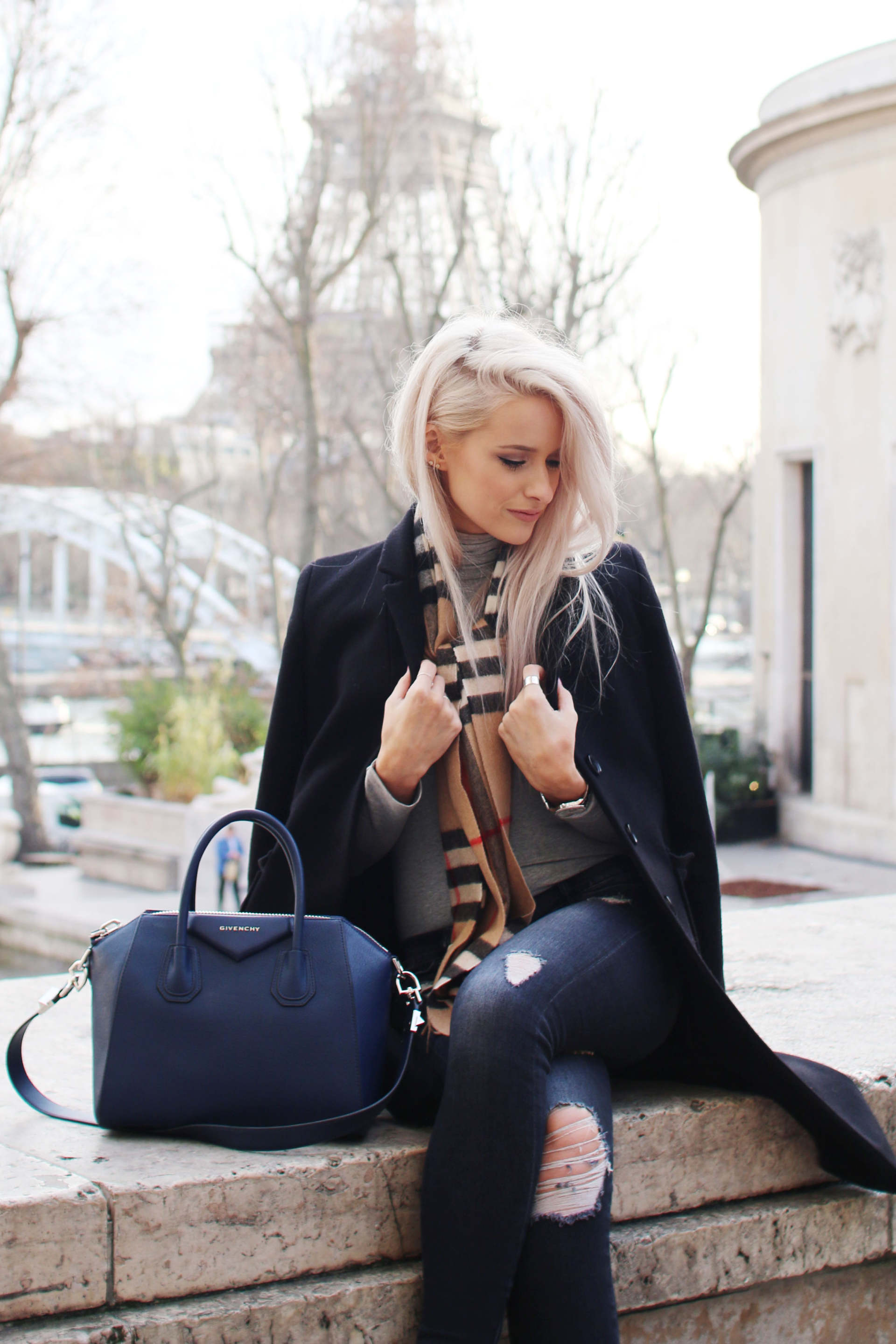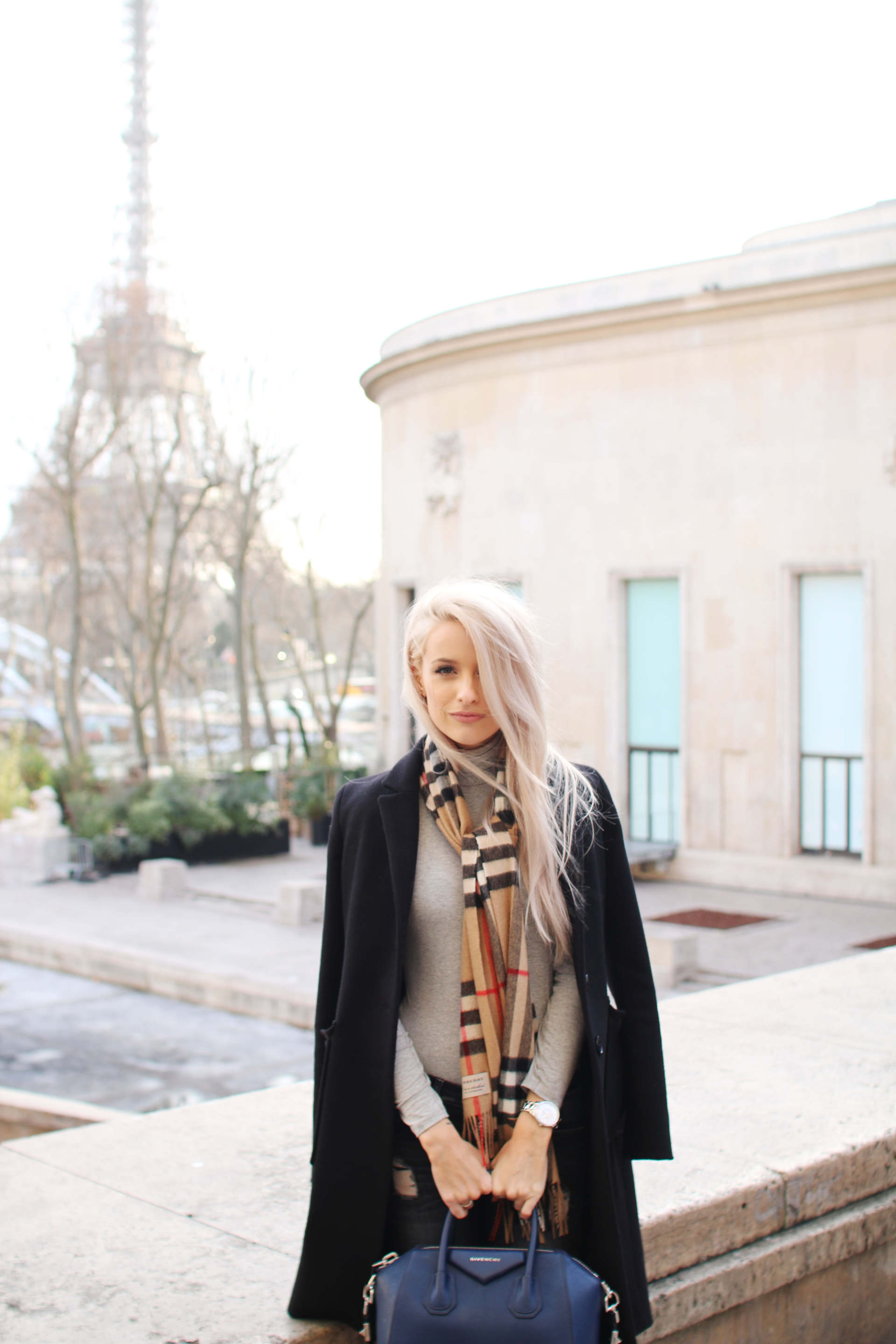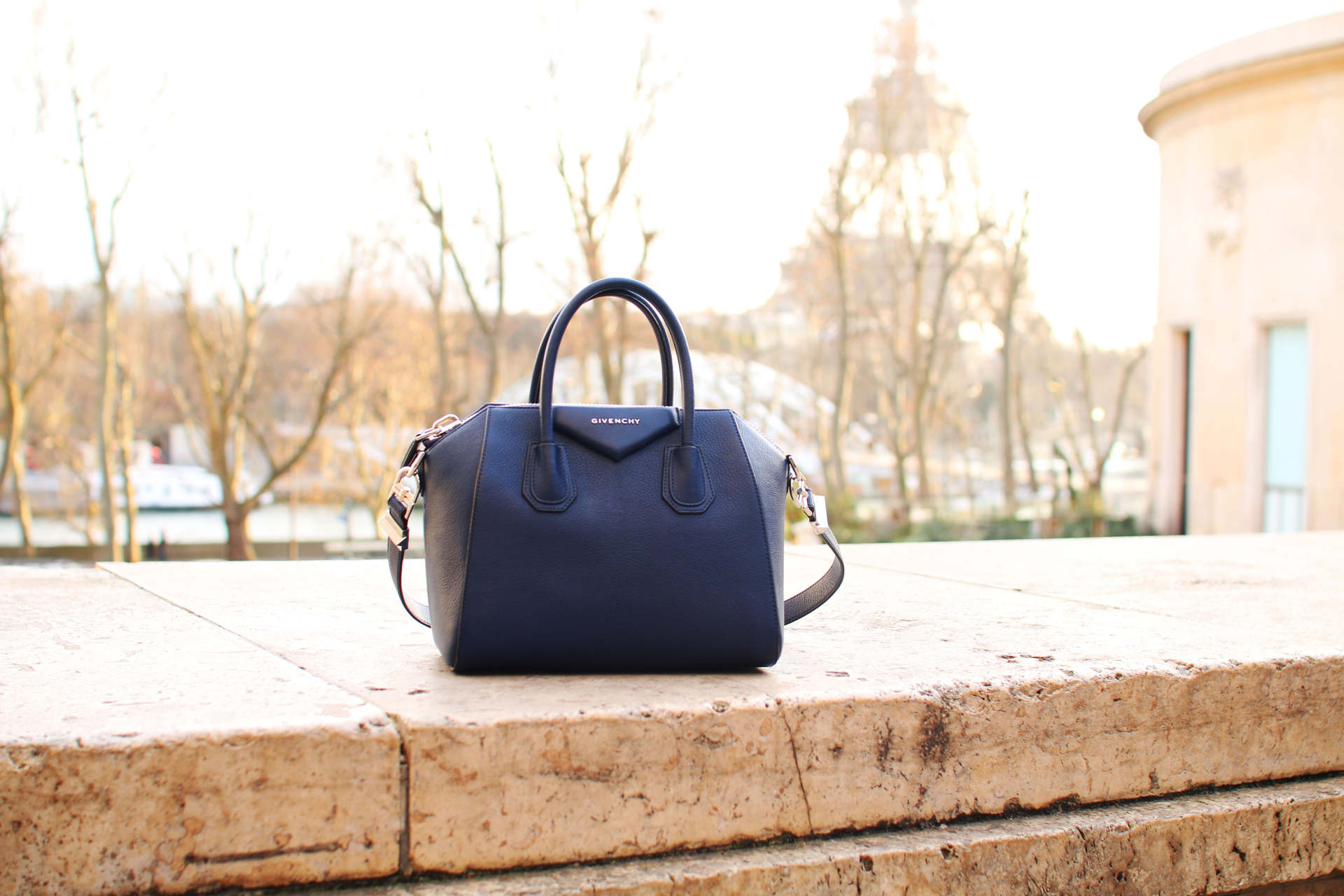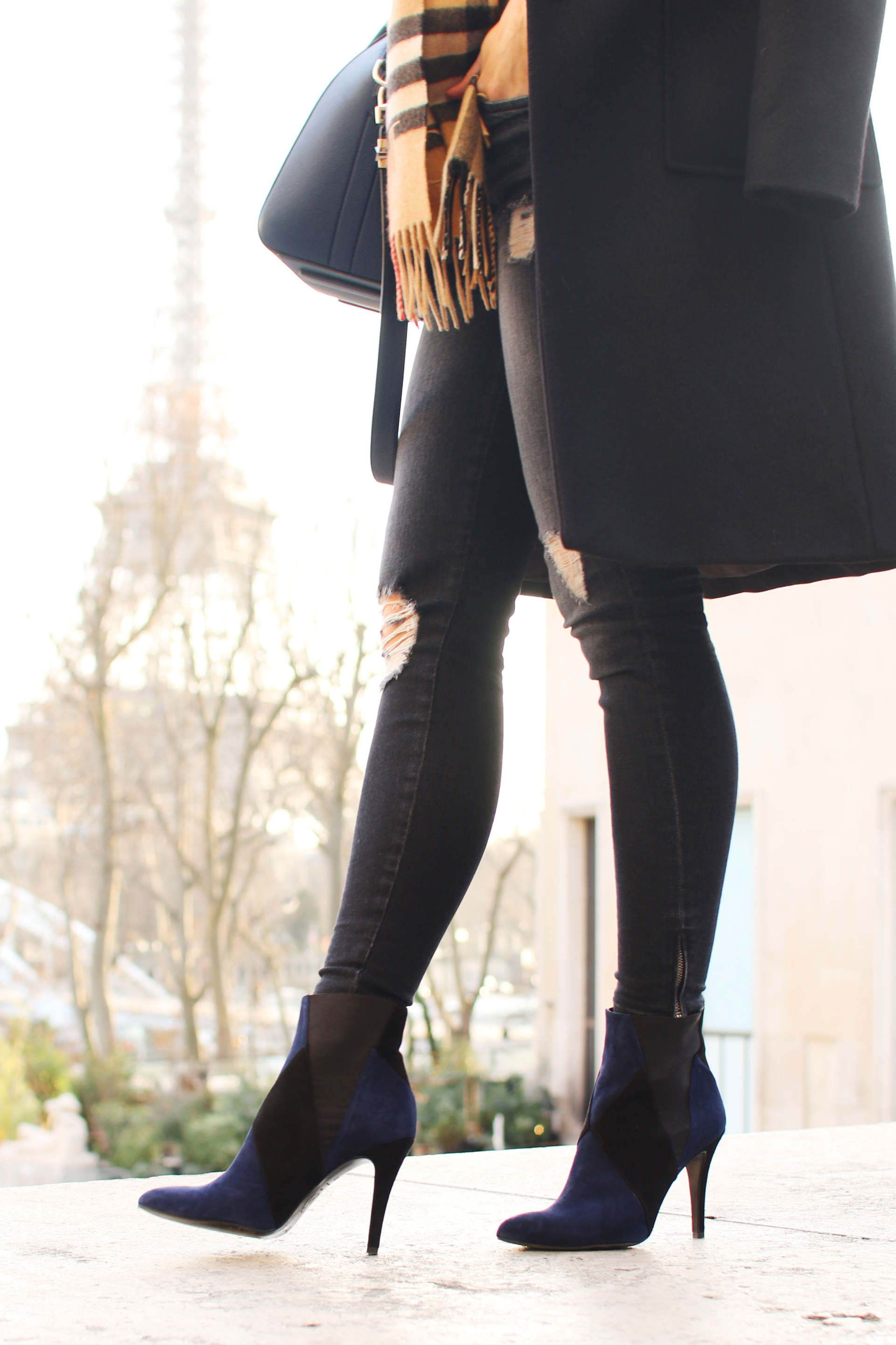 I cannot wait to share more information about the new launches as soon as they arrive, and as soon as I have samples in hand. This is a brand that I believe in and use daily and I am over the moon to have been given the opportunity to explore the brand from a closer perspective. I really hope you may be inspired by their look and newest collections and please do ask away if you have any questions!
What do you think of the Giorgio Armani Beauty Look for their Couture show? I thought it was one of the most wearable and beautiful makeup looks I have seen for a show in a long while, and I will definitely be trying out the style for spring!
Sign up here for a weekly catch up of everything Inthefrow