The Maldives
Visiting Paradise
The Honeymoon destination of dreams, and the Islands that only offers pictures of paradise is the one that they call The Maldives. I had gathered my own perception of this group of little Islands, spread out across the Indian Ocean, mainly from the Instagram albums of my favourite bloggers. The sand is white and cool and the Ocean is that distinct shade of Aqua. The sky however, can be different shades depending on the season you visit, but in general, glorious sunshine and clear blue skies are what fill your vision over head. And I knew that I needed to visit these Paradise Isles to see it for myself. And when I had the chance to, I certainly was not ready to fall in love the way that I have.
I feel that the Maldives is in the majority of people's mind as an expensive, seasonal and honeymoon couples only, type of holiday experience. And that only once in a lifetime could you visit. And whilst in some respects, these perceptions do apply, they are not entirely true. Whilst the winter season is generally the most expensive season, due to the weather being more dependable and glorious, the rest of the year still offers incredible weather for the most part, and therefore lower prices. And it certainly is not just for honeymooners. These Islands cater for children of all ages and adults of all ages. From babies to grandparents, for the person who wants to relax and enjoy free time, the Maldives could not be more idyllic.
And thus, I wanted to offer you a few choices of places to visit and things to do, whilst also covering what I got up to back in October!
Anantara Kihavah
The trip was for the purpose of experiencing the Maldivian culture, sampling the food, sights and sounds of the Islands and viewing three, luxury 5 Star Resorts. Each one was unique in its offering, decor and approach and it was so insightful to catch a glimpse of just how different your holiday could be, depending on which resort you choose. The first hotel that we stayed with was Anantara Kihavah, and without meaning to sway anyones opinions here, I must personally say that this Island was (only just) my personal favourite.
I have stayed in some luxurious resorts this year, but I don't think anything could quite top this Island. From the service and hospitality, to the food, staff, atmosphere and surroundings, it was beyond what I ever expected Paradise to be. We stepped off of the sea plane onto the jetty and looked out over the Ocean to the Islands before us, and we all literally gasped in awe. It is simply breathtaking.
Anantara Kihavah is a five star resort, loved by the famous and celebrated, as well as those who simply need some time away. The ultimate peace and quiet. The Maldives is the type of place for those who are not overly interested in walking here, there and everywhere to keep their minds occupied. For those who wish to sit reading, chatting, drinking, eating, relaxing in all of its forms, you will be in your element. Of course there are things to do, such as water sports, yoga, swimming, spa treatments, cooking lessons, snorkelling, beach sports; but mainly visitors prefer to stay in their villa, lapping up the waves, walking along the sand and enjoying being with their companions.
The villas are out of this world. You walk into the villa, with your bicycle waiting for you outside, towards closet space to house your suitcases and to hang all of your clothing as well as a fridge and everything else you could need. The main bedroom has a super king sized bed, a seating area, TV and book shelves, surrounded entirely by windows and leading out onto the decking where a double swing bed lays before you. To the left you have your private pool and sun loungers, as well as your own walkway to the Ocean. You are able to swim beneath your villa if you wish, as well as out to sea, to return to your own villa steps whenever you please. Even the bath tub, outdoor shower and the toilet flooring have glass panels looking down towards the Ocean below. Your holiday is truly about being immersed with nature and the beauty of this Island.
But a luxury is that your villa is entirely fenced off from the rest. A number of times I went for a dip in the pool, in nothing but my skin and makeup and without feeling like a huge cliche, I felt totally alive. At night, when the sun went down and there was nothing but the moon and the stars, again I went and swam in the pool and stared out into the distance at the waves sweeping underneath the villa. I cannot describe to you, that feeling, and what I would do to be right back in that spot in this moment.
For a couple, or a group of friends, you can enjoy staying in your villa for the day, ordering food to your villa, so you do not even have to leave. But walking onto the Island, the food is truly exquisite. The breakfast buffet is undoubtedly, the best I have EVER (I mean this) EVER, experienced. Everything was fresh, delicious and with so much choice. I was like a kid in a breakfast store.
And when you want to emerge from your private, secluded and small corner of this tiny Island, you can walk around the whole Island in just 15 minutes.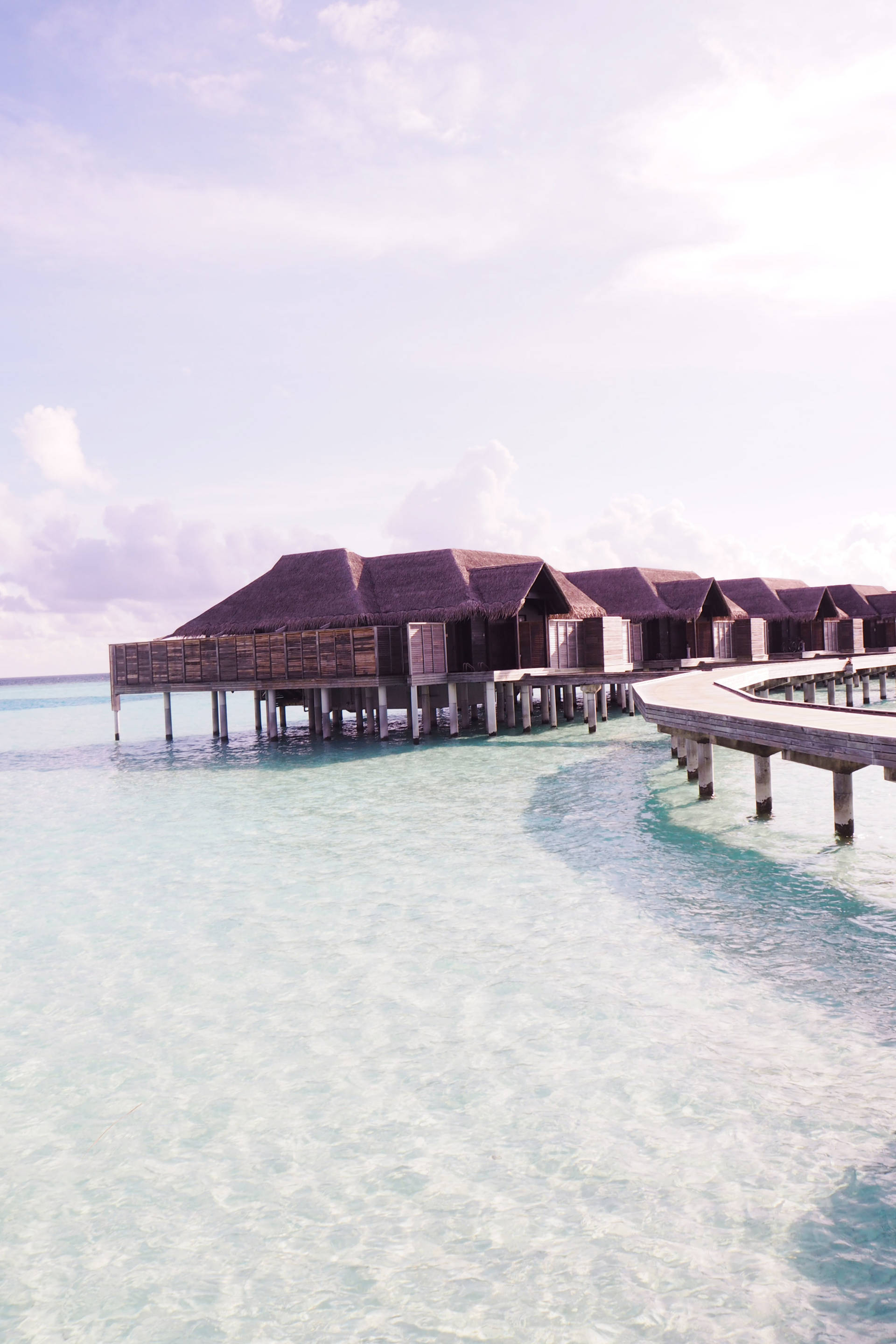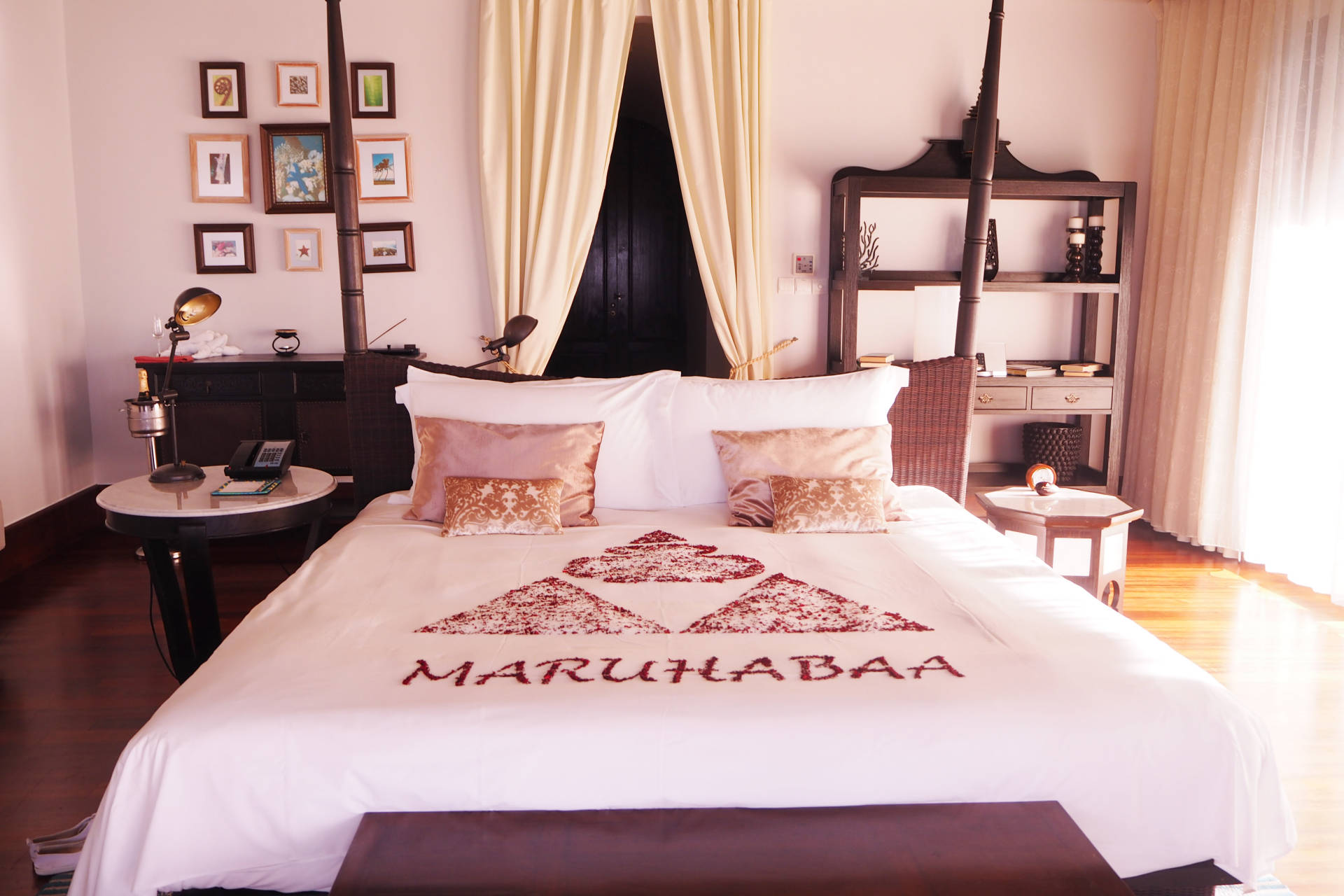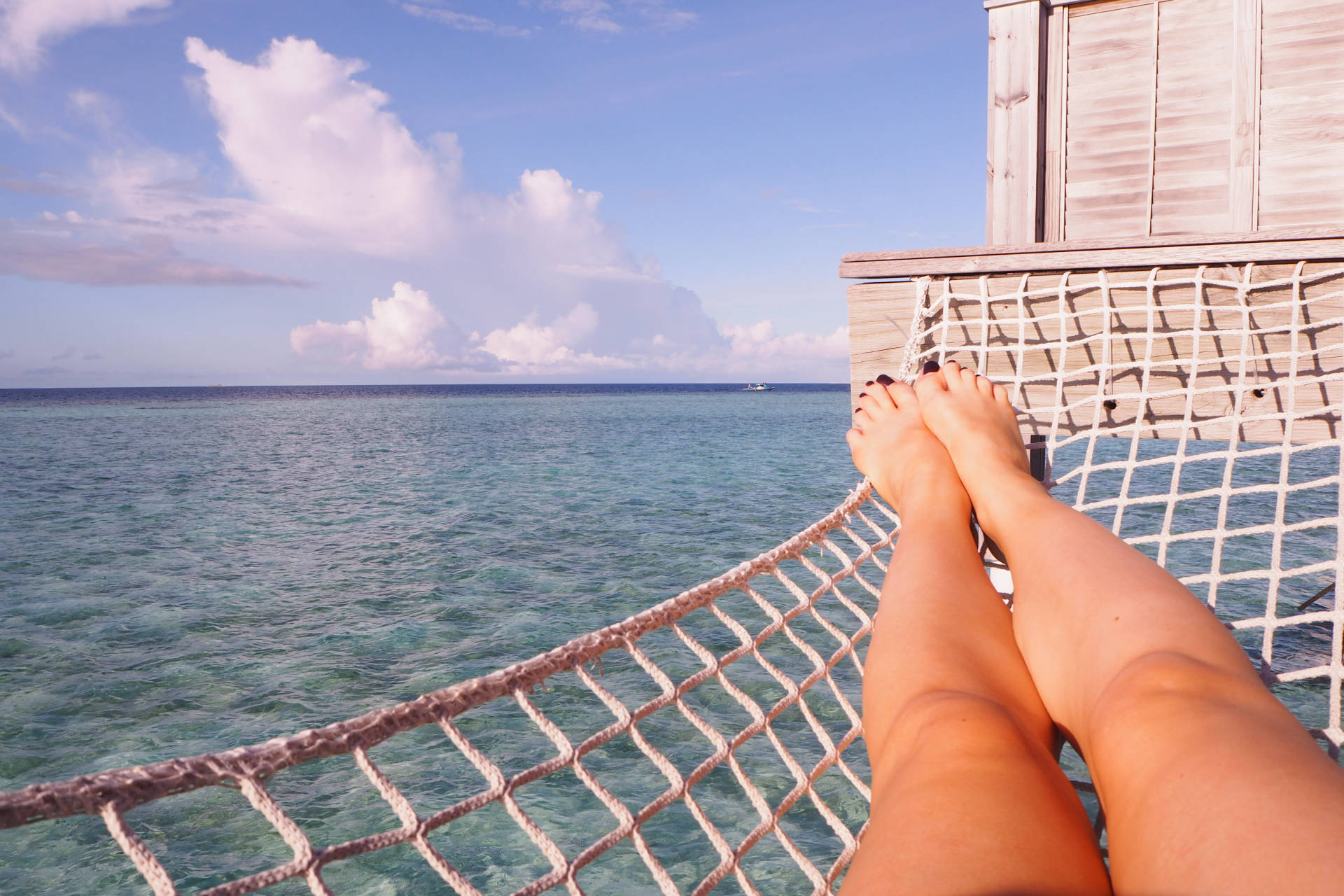 Underwater Restaurants and Cuisines
One of the highlights of this hotel for me, is the Underwater Restaurant, Sea. This is the coolest dining experience you will ever have, surrounded by the sunshine and the Ocean on 3 sides of the room. You need to book to make a reservation, as there are only around 7 tables inside, making it a special and romantic dining experience, but it is an absolute must! We visited during the day, first thing in the morning, as well as late at night, just to see the colours of the Ocean change with the daylight, and it was so magical. On the morning that we left, we all ran to the windows as soon as we saw a shark swim past our table, and although I have the biggest fear of sharks, seeing a small shark in real life, swimming past my croissants and fruit bowl was out of this world!
But there are five other restaurants on the Island to try, all with different cuisines from around the world, and if you are looking for something completely unique, you can also customise an individual romantic evening on the beach, with your own private server. After speaking with the enthusiastic manager, he was happy to report that anything can happen on this Island for their guests, within reason of course. But generally, your wish is their command, and they would be happy to make your experience as wonderful as possible. Do you think they could try flying in David Beckham for a week in my villa with me?!
And I musn't forget to mention the spa. With five large private villas that look out over the Ocean, you can have all manner of spa treatments, whilst looking down through the massage bed, through a window to the Ocean below. You can also get your nails and hair done in the salon or spend time in the spa relaxation area, with pools and large beds looking out to sea.
Per Aquum Niyama
The second resort of the trip, led us over the Ocean by sea plane for the second time, to Per Aquum Niyama. This is a larger resort that caters much more for families, but couples still have an amazing time here. It is a little more modernised than Kihavah, with less traditional touches and a little more glamour, in some respects. This time, we were situated in beach villas, with our own section of beach and a large pool to the outdoor. There is a large sofa bed, an outdoor table and sun loungers also to the exterior, with a view looking out over the beach and the Ocean, and yet you feel completely secluded.
But for me, the highlight of this villa was the outdoor bathroom. The bathroom doors open out from the bedroom to reveal a half open bathroom, with trees overlooking all sides and an outdoor shower at the far side of the 'room'. A huge bathtub, literally big enough for two to sit next to each other, is on one side whilst two sinks are placed to the other, with a closed off toilet and another closed off shower. But in the evenings, if it happens to rain, sitting in the bath underneath the roof, whilst watching the rain come down in front of you, is an incredible feeling.
Again, the bed is mammoth and there is a huge TV for anyone who wants to chill and watch films in bed with the windows flung open. That isn't for me, but I know some people love to watch TV for relaxation on holiday, and fair enough, this holiday can allow you to do whatever you want!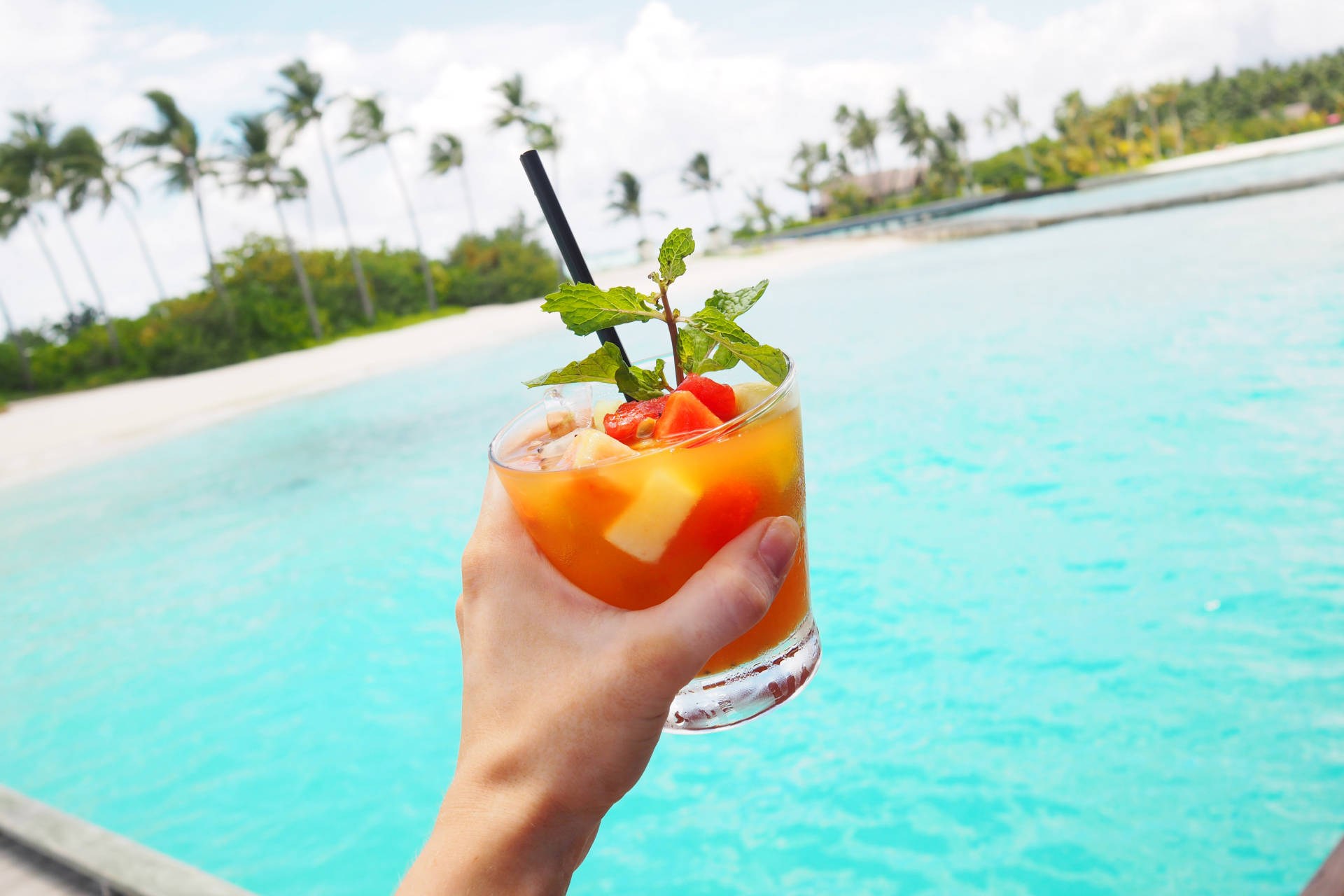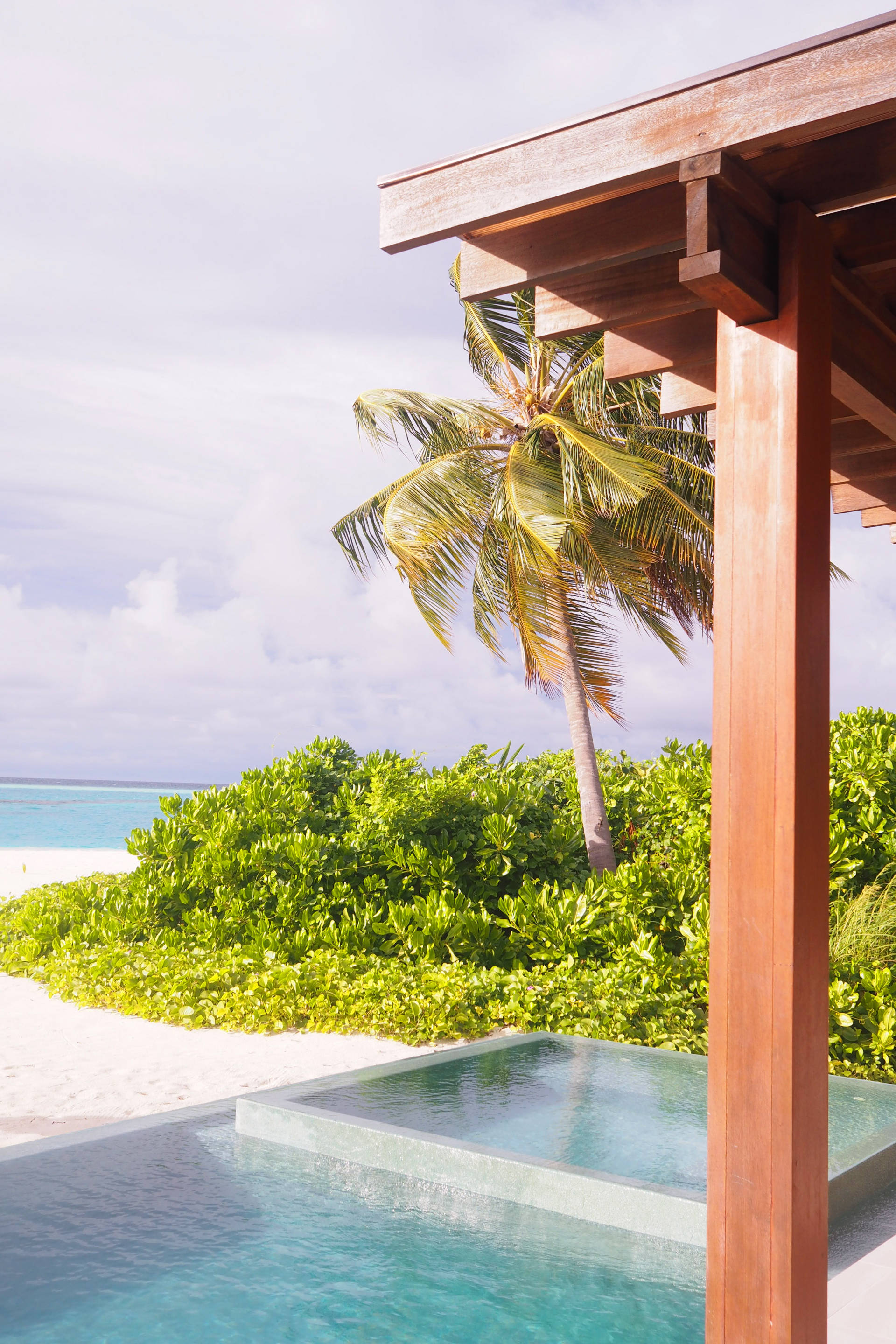 Two of the ladies on our trip were also treated to the luxury two bedroom pavilion, complete with a huge white party sofa, a private treatment room, a bar, a jacuzzi and larger pool. Let's just say, it is something that Kanye West would stay in if he visited.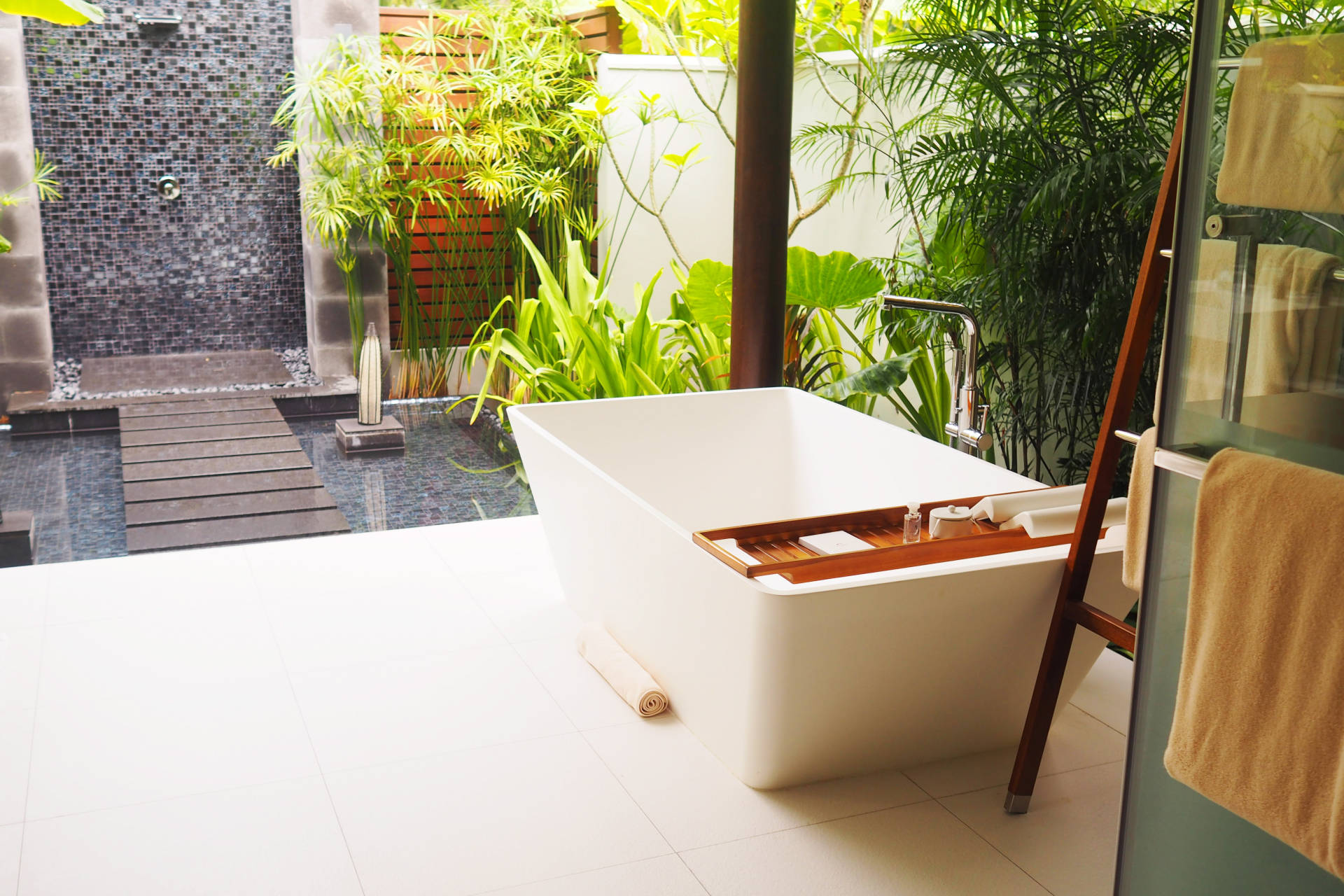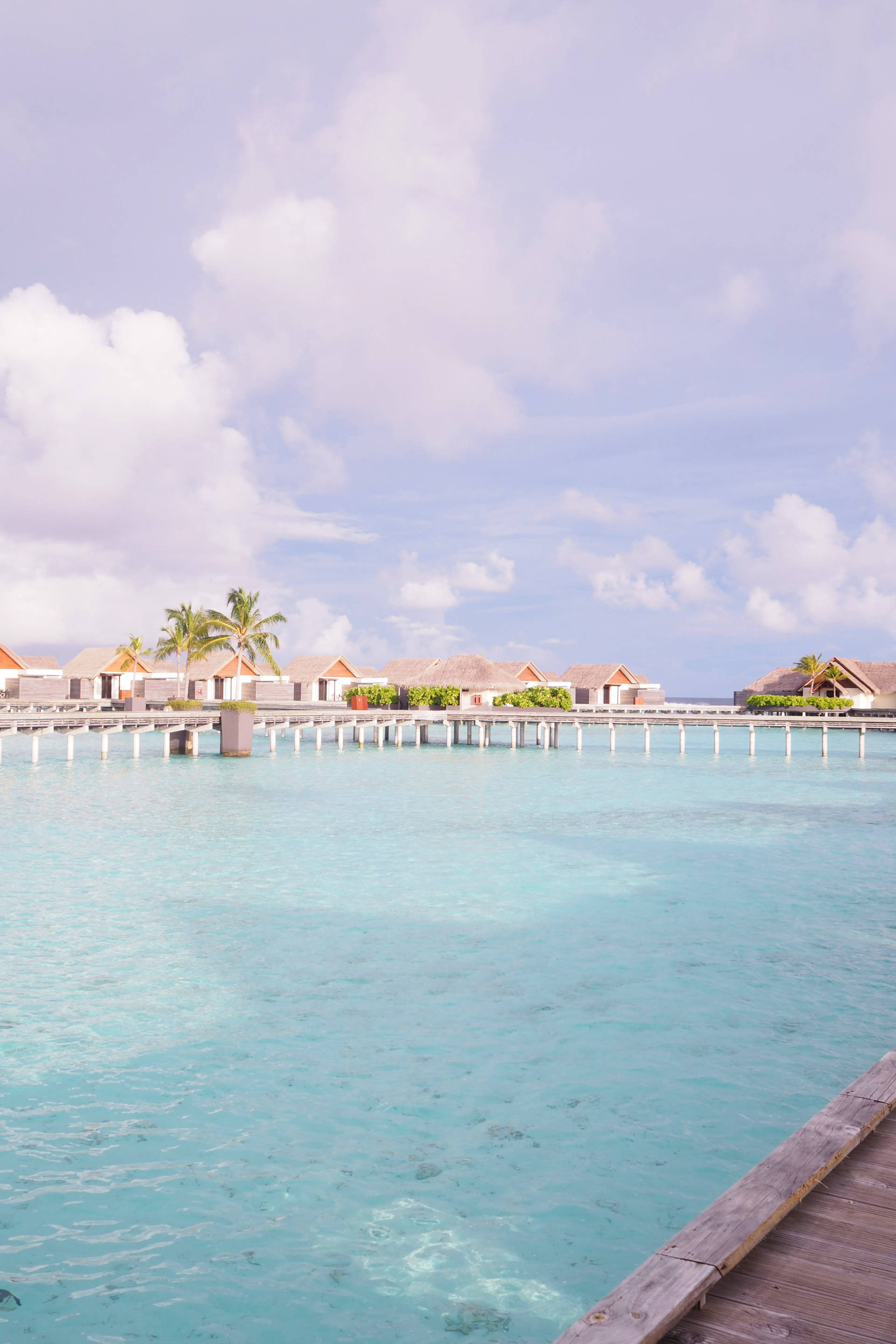 One of the coolest things for me about this resort, is the restaurant and club, out on the Ocean. You must take a boat over the water to reach it, which in the evenings, when the sun goes down, it pretty spectacular. There is a restaurant here as well as a club underneath the water, similar to the Underwater Restaurant. Again the decor is more modernised and youthful than Kihavah, but the idea of clubbing under the water is pretty amazing. We stayed here for drinks overlooking the water before heading back to the Island for dinner.
And again this Island has a number of restaurants to choose from. The most notable being Nest, a restaurant built into the trees, like tree houses, with a cool Jungle feel. The food was absolutely delicious, and it was such a cool experience being amongst the trees in such a surreal setting. However, you definitely need insect repellant, as a few mosquitos certainly managed to escape the fogging and meet us in the trees that evening.
But there are a number of other fantastic places to eat, snack and dine, including Tribal, an African themed restaurant which we enjoyed on our second evening. The African chef and staff made the evening so special, and the Ostrich starter was more than divine. We all had such a fantastic evening, even if it did start to rain and we had to move further under shelter, but it finished off our stay at Niyama so perfectly!
And for breakfast, there is another excellent buffet up for the taking in one of the main dining areas. It has a huge choice of breakfast cuisines from around the world and I certainly didn't mind mixing up a few random favourites to create my perfect breakfast dish.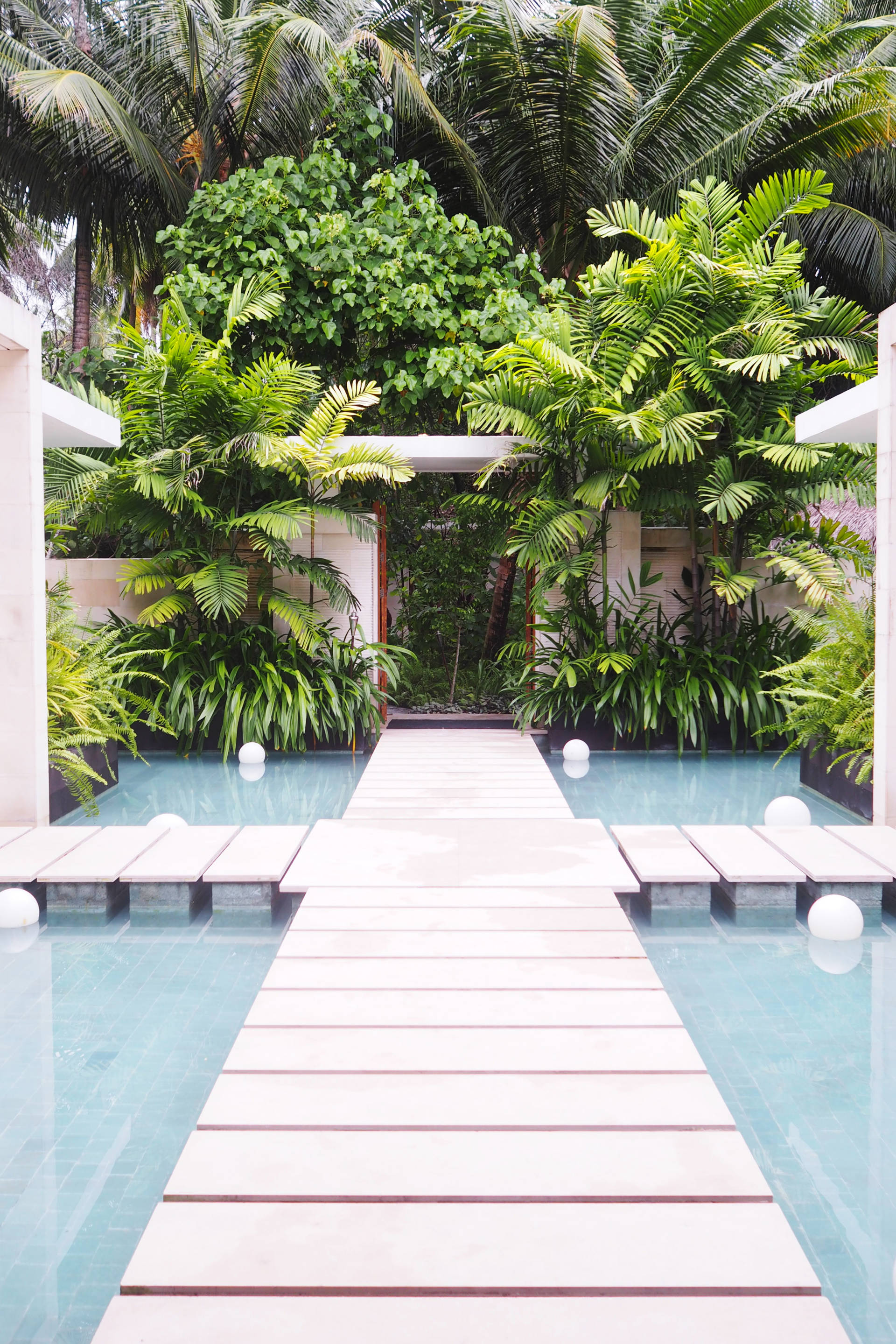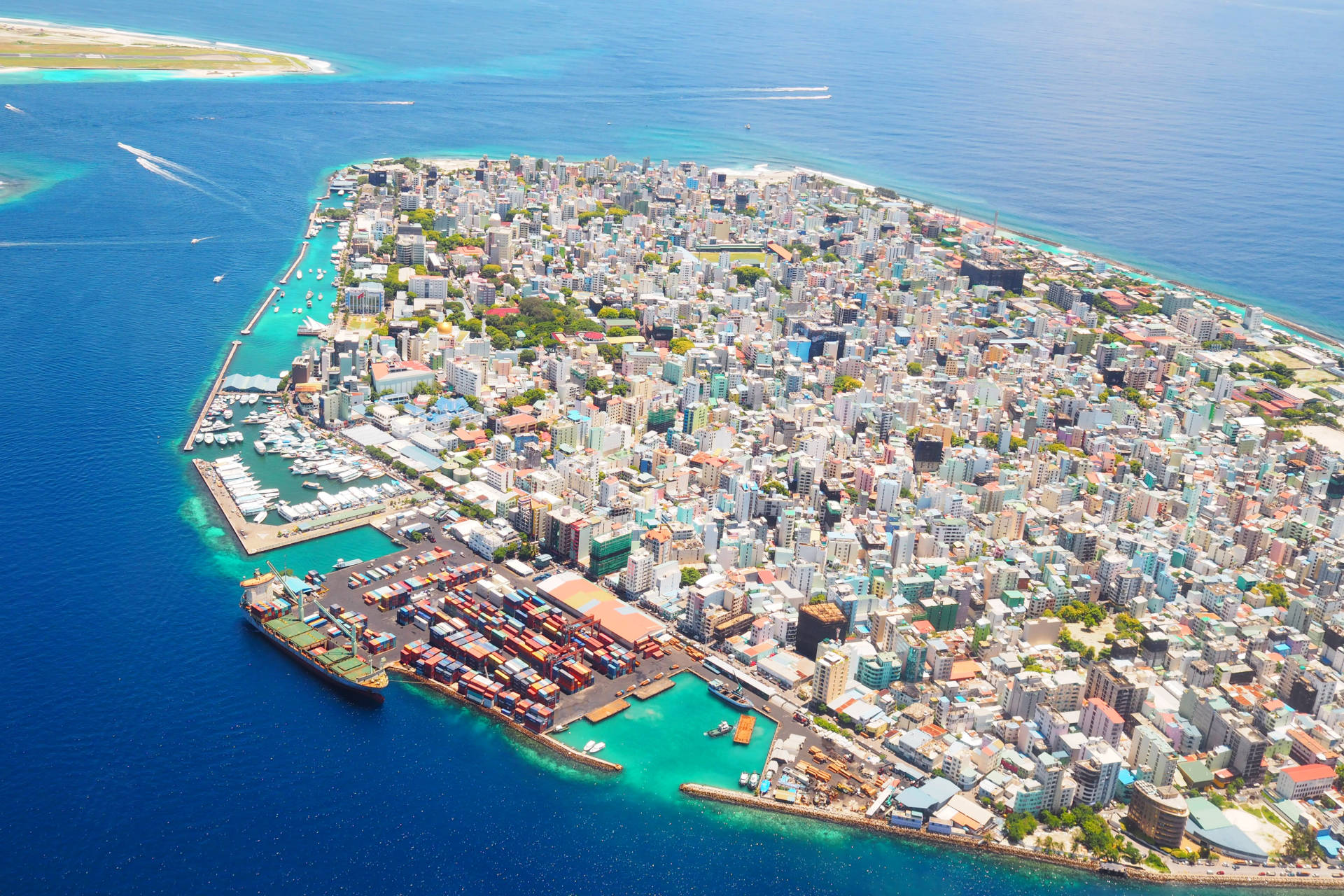 Anantara Naladhu
The final resort on the agenda, this time took us by boat over to the nearby Island of Naladhu. This is a collection of three Islands, Naladhu, Dhigu and Veli, and whilst we stayed on Naladhu, visitors are able to explore all three of the Islands, making this the largest area to wander around out of the three resorts. And again, each Island is a little different.
Dhigu is fantastic for families, with a great kids club and a more family led vibe. Veli has a larger number of the luxury water villas and caters for couples and honeymooners wonderfully, whilst Naladhu is great for all of the family if not more for older adults looking to relax and enjoy. Yet, visiting here allows you access to all three Islands, via footbridges and also by a small water taxi, and therefore you also access three amounts of activities and restaurants.
Again, all three Islands are true paradise with stunning views and wonderful waters. And quite frankly you will never want to leave. Temperatures stay at around 30 degrees, but without the sticky and suffocating feeling that some climates often bring. At all times I felt warm, yet comfortable, and having warm water to step into in the sea and private pool is such a bonus. I have been told that the Maldives stay a similar temperature all year round, but that the rainier seasons are in the summer months, hence why the winter is so popular. Yet, this is definitely a year round destination, as you are bound to have some fantastic sunshine even if you are showered with quick storms at certain points in the day.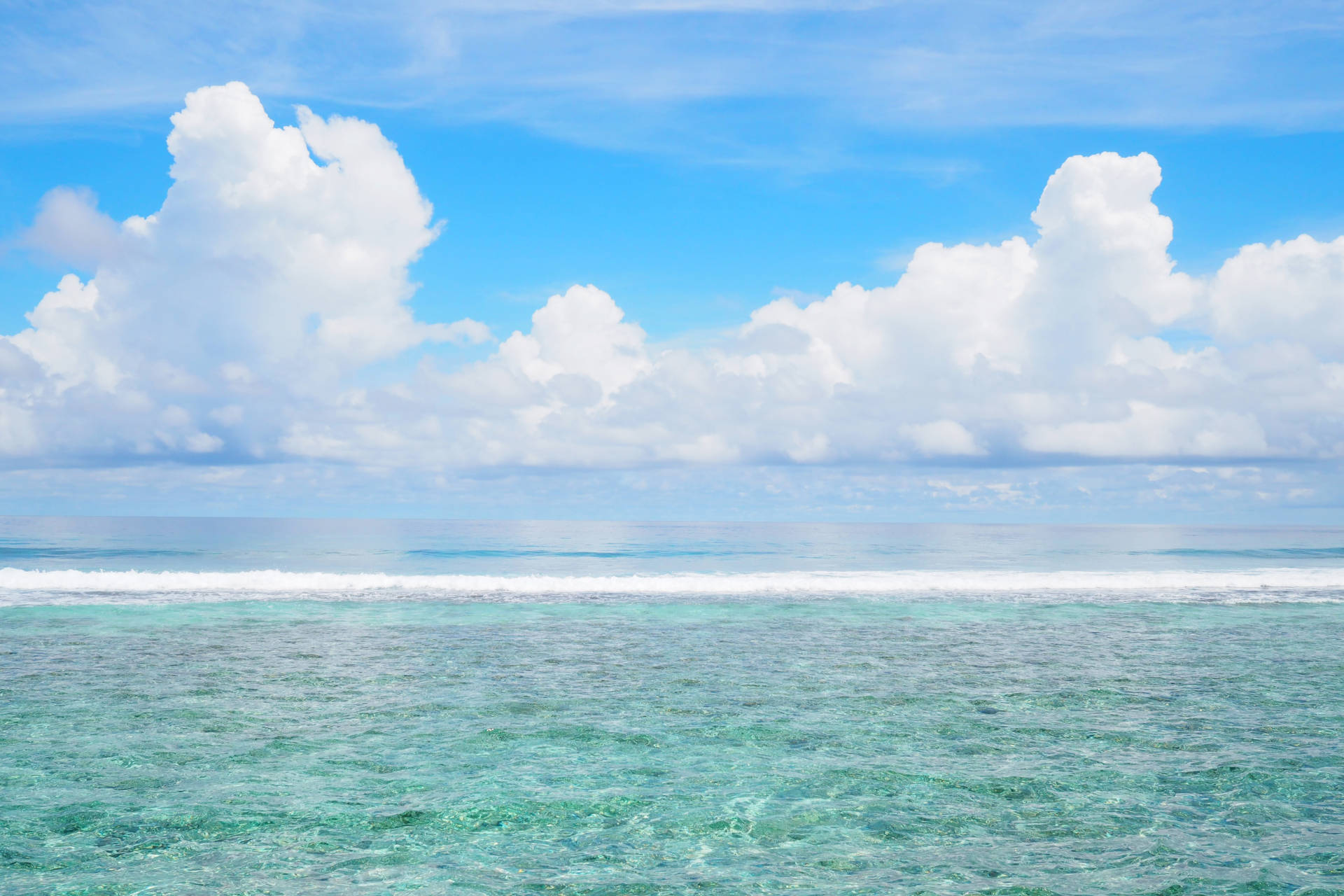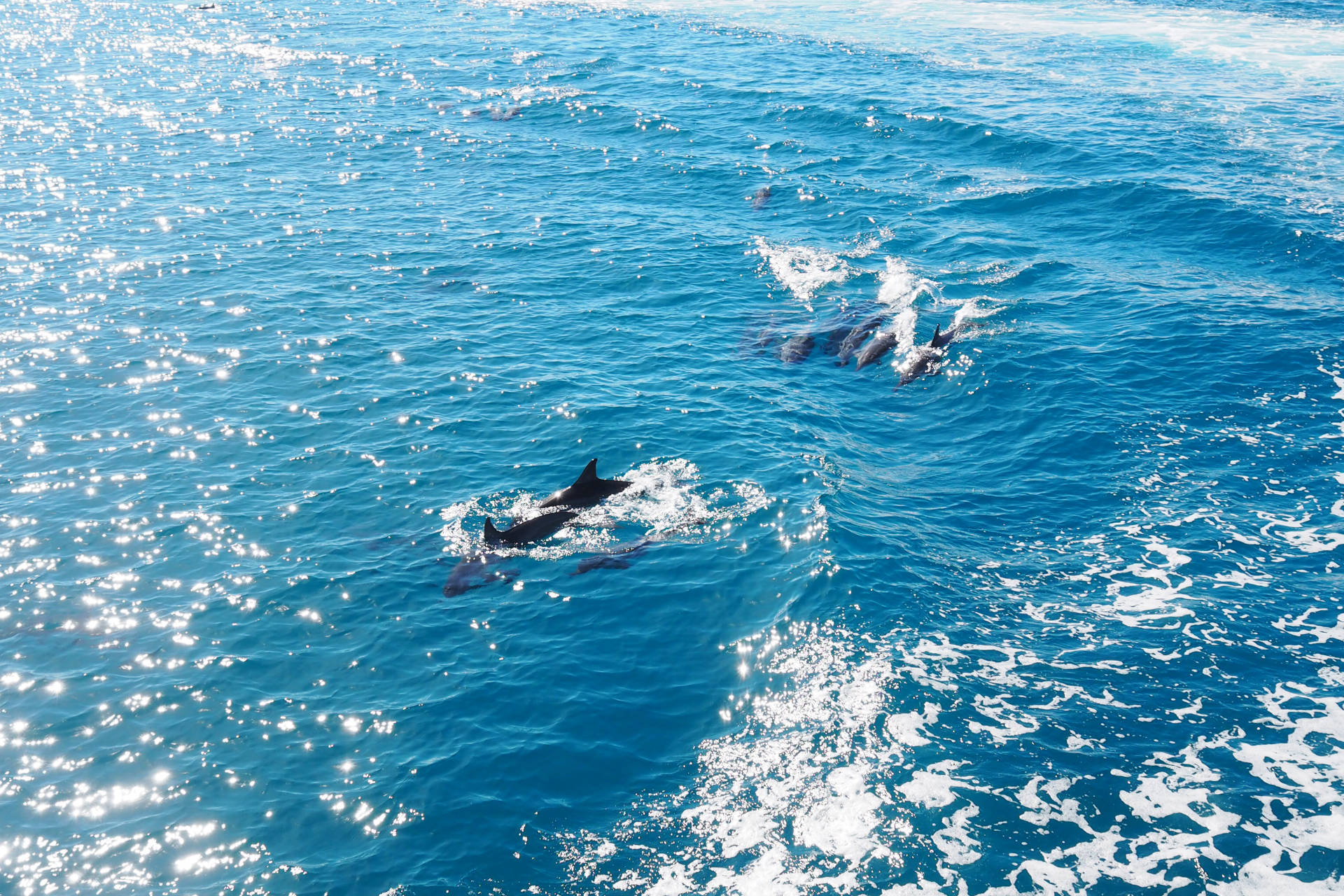 From the Beach to the Water
We stayed this time in Beach/Water Villas, where the villa is accessed from the Island and wanders out to the Ocean before you. Just looking over my balcony I could see Rays, Eels and fish swimming along in the shallows, and although you cannot swim in this area, the view is spectacular. Sun loungers are ready for your relaxation and a table is covered by a canopy for any outdoor meals.
But the highlight of this villa is the outdoor bathroom/pool. Laid out very similarly to Anantara Kihavah, these villas have instead removed the bathroom wall to open up the bathroom into the outside. Whilst sitting in the bathroom bathtub, only a transparent plate of glass sits between you and your enormous pool on the outside. It made the whole villa so special and luxurious, with so much of the outside being welcomed into your hotel room. Again there is an outdoor shower and an indoor shower, plus the bath that is half inside and outside.
And once again, the bedroom was exquisite, truly enormous and yet completely cosy. I honestly didn't think the villas could get any better after I left the first two resorts, and at the moment I walked into this room, it really did.
And additionally, the wonderful thing about the villas on Naladhu Island is that you have your own personal staff member looking after you at all times. They leave a phone with you to call them, and whatever you need, whether it be a lift around the Island, or food or drinks, they will be there to help. And the staff are so welcoming and friendly, they only enhance the whole experience for you.
Oh, and you also get your own private, secluded beach bed for the days you want to relax by the waves!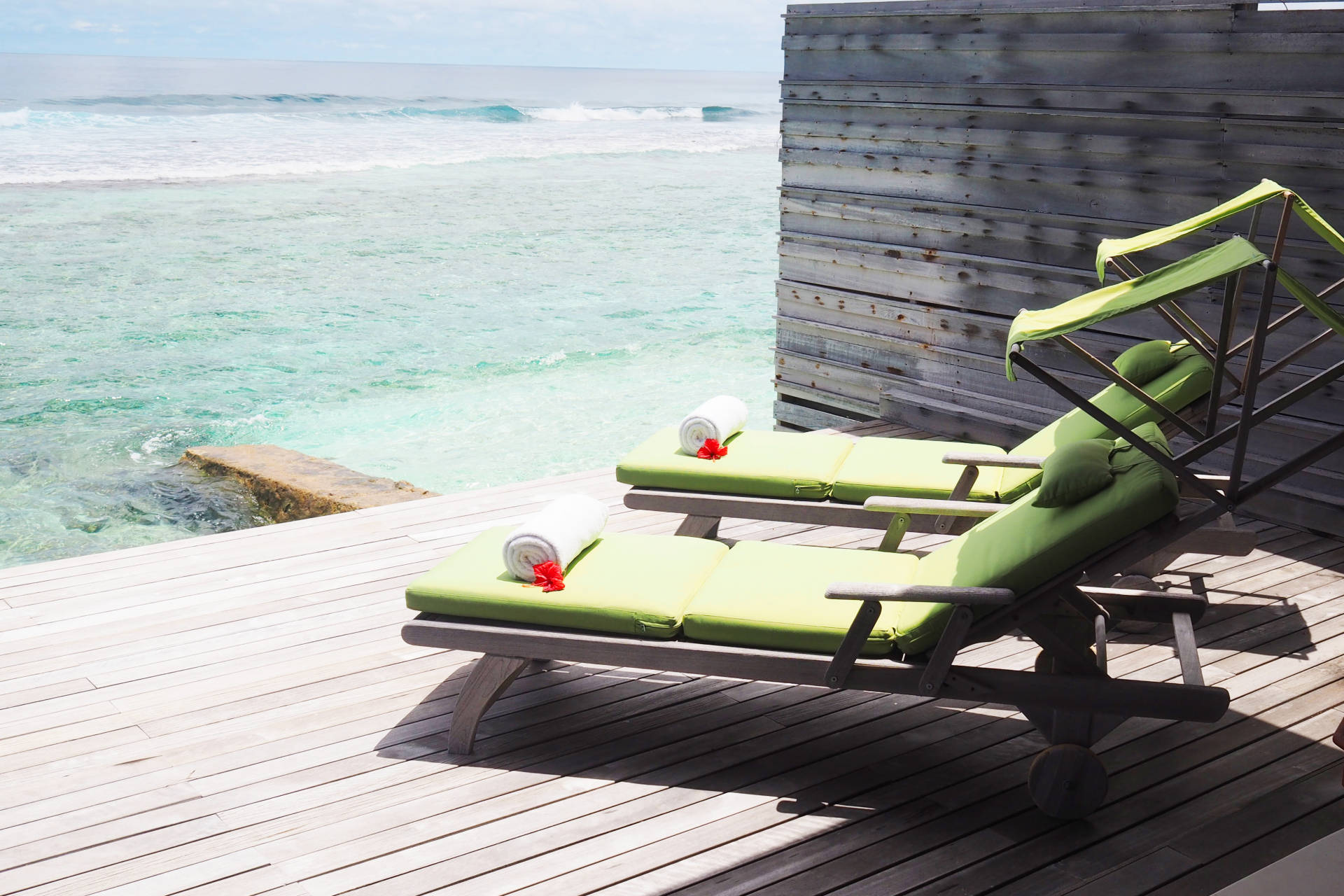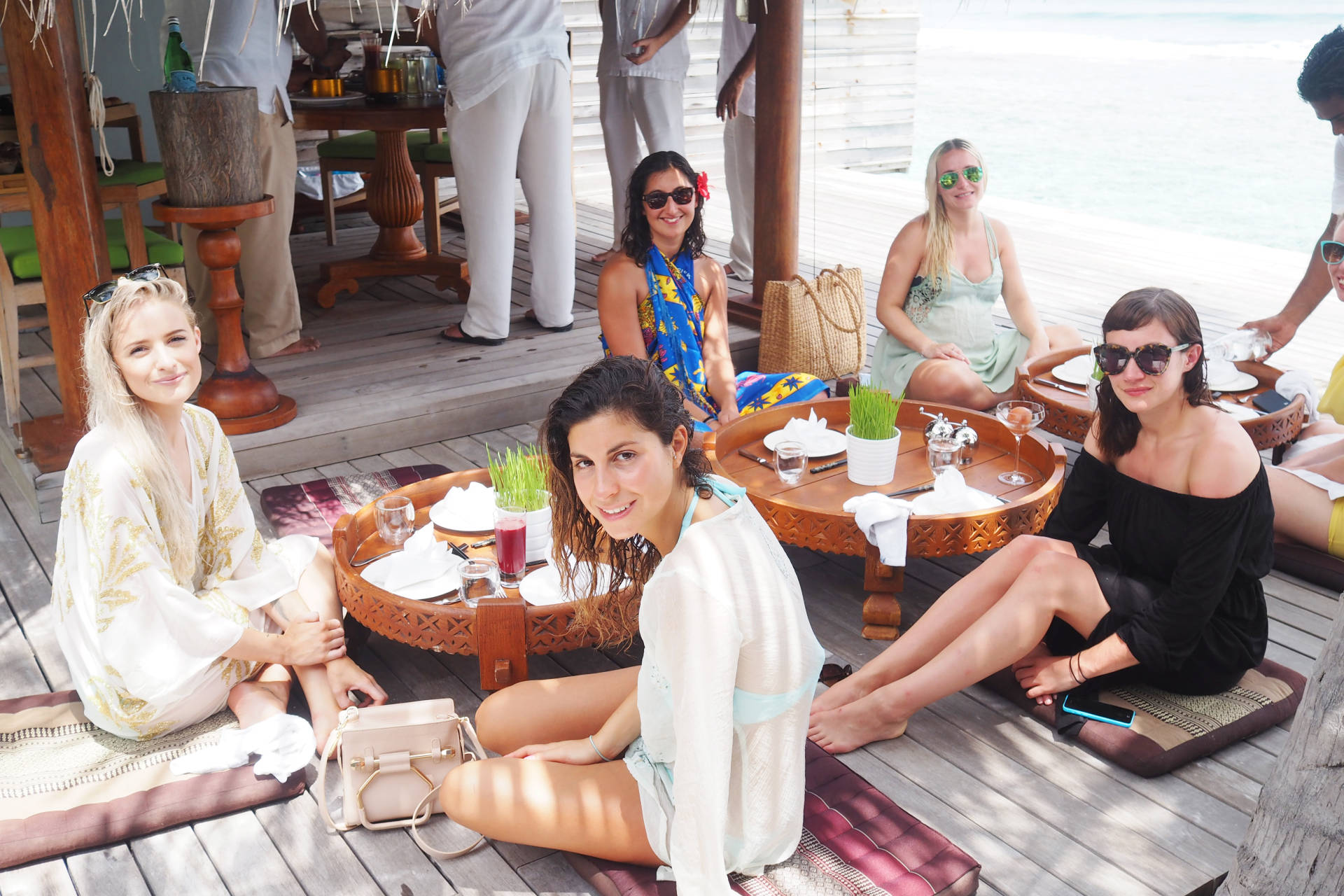 At points during the day and night, the Islands are fogged to eliminate as many mosquitos and insects as possible, which makes your stay so much more comfortable. Which is what I have captured above. We were walking along a footbridge from one Island to the next as the Island was being fogged from within, and the haunting rolling fog looked so beautiful in the sunset.
We left the Island by Yacht in the morning, back to the capital of Male. And on the way, we were greeted by a large group of Dolphins, swimming and playing alongside the boat. It was the perfect way to end such an outstanding holiday.
Honestly, I don't know if many other sunshine destinations could beat the Maldives now, in my mind. It's going to take a truly outstanding resort and destination to make me lose my overwhelming love for this set of Islands. I cannot describe to you how perfect everything was, and I think it is one of the first times in my life that I have shed a tear on leaving a holiday. It was a place that stole my heart as soon as I landed.
These are just three Islands in the Maldives, each with its own character, personality and unique features. And it is all about choosing the right one for what you are looking for. The ultimate in relaxation for me were Kihavah and Naladhu, yet Niyama is brilliant for a little more to do and see. And whilst I also loved the beach villas, the first water villa definitely stole the show for me. The ability to wander into the ocean from your balcony is unlike anything I have ever experienced – yet taking a bath next to your pool is equally as outstanding.
For anyone looking to book a trip to the Maldives, primarily if you're looking for a honeymoon destination, you're looking at the right place. I don't think you will find anywhere more romantic and idyllic. For couples needing a get away together, again, you are looking at the perfect place. I know that I am already looking at holidays for me and Alex for 2016! And whilst you will already have guessed that the Maldives is not the most inexpensive destination in the world, it is certainly a holiday worth saving for. If you look around for deals, or book for the months in the year that are not as popular, you will find the prices drive right down. And equally, you do not need to stay in a 5 star resort like these, to really experience what the Maldives has to offer, which again will bring down the price tag, a touch!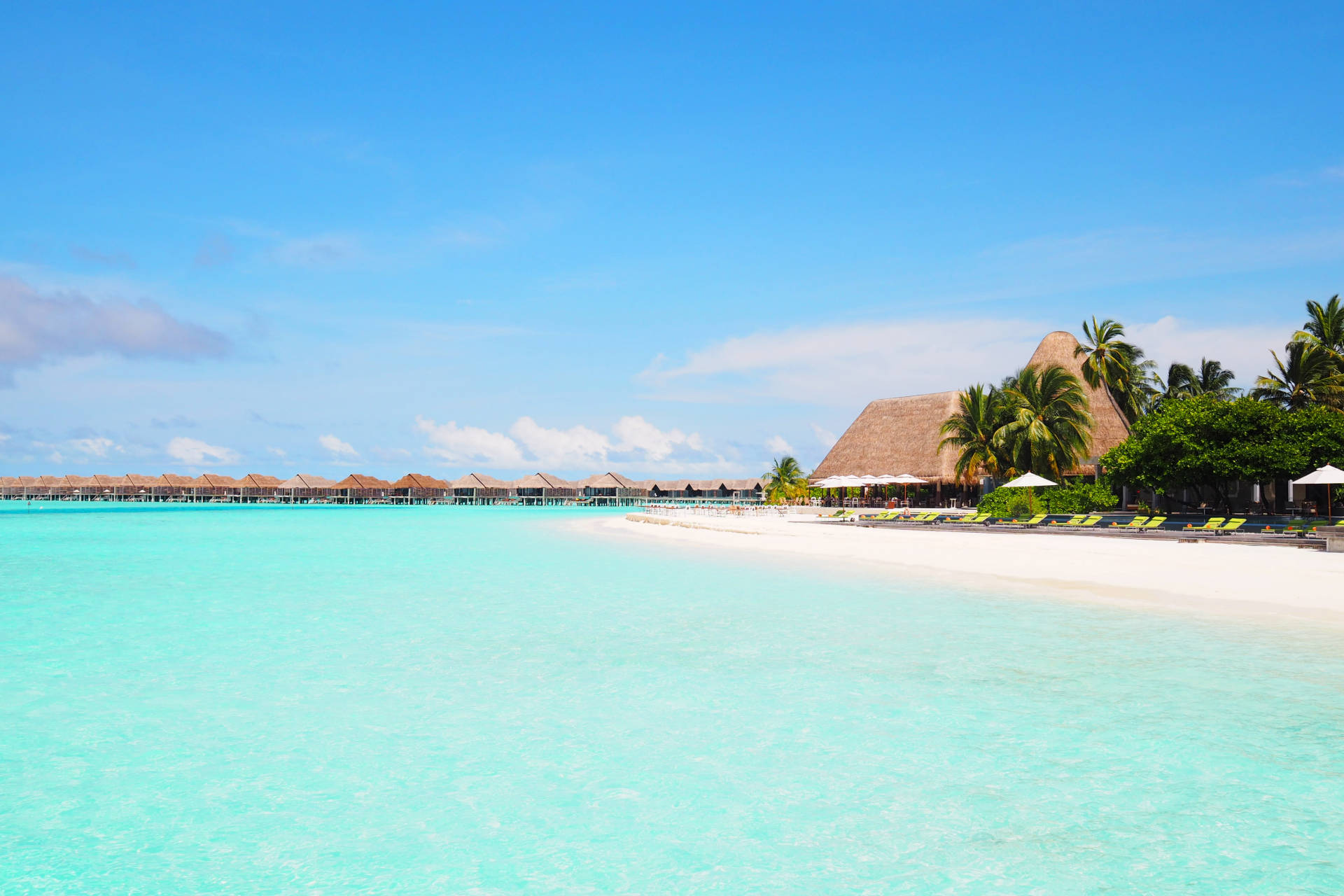 More details for booking:
Prices from £2,999 per person, based on 2 adults sharing a Beach Pool Villa for 7 nights including daily breakfast, return economy class flights with Emirates from London Heathrow, and seaplane transfers. So £6k+ in total for two people for a week. Have a peek at this link for some more offers also or call them on 020 3733 6700.
ITC Luxury Travel (01244 355 527) has prices from £2,435 per person based on 2 adults sharing a Beach Studio for 7 nights on a half board basis, including return economy class flights with Emirates from London Heathrow, plus seaplane transfers.
This is the most expensive of the villas we stayed in as it is larger and has a few extra features. But also have a look at some of the deals for Veli perhaps, as you may find the prices a little lower, or check the website for availability and offers. This resort also does not need to be reached by sea plane, which will reduce the price a tad also. Sea Plane transfers are around £700+.
Sign up here for a weekly catch up of everything Inthefrow