The Beauty Cupboard
Nars x Steven Klein Colour Collection
Sneak peeks and articles have just started appearing online for the launch of the new limited edition collaboration between Nars founder, François Nars and iconic photographer Steven Klein. And I am so excited to be one of the first to show you the collection, up close and personal with all the details you need to know.
I have been planning this blog post for some time, and after playing with this collection for the last few months, without being able to tell you all about it, it has been pretty difficult. I had to remove sections of a new video I filmed a month or so ago, when I remembered last minute that they were still top secret. But the secret's out, and the new Colour Collection can finally be revealed.
Incorporating three glosses, lipsticks, shadows and varnishes, this is a collection that will certainly not disappoint avid Nars enthusiasts and collectors. It has everything you will need for your Autumnal to Winter makeup collection, from khaki greens, shimmering brights and those wonderful deep plums and reds that we all lust after for wintery outfits.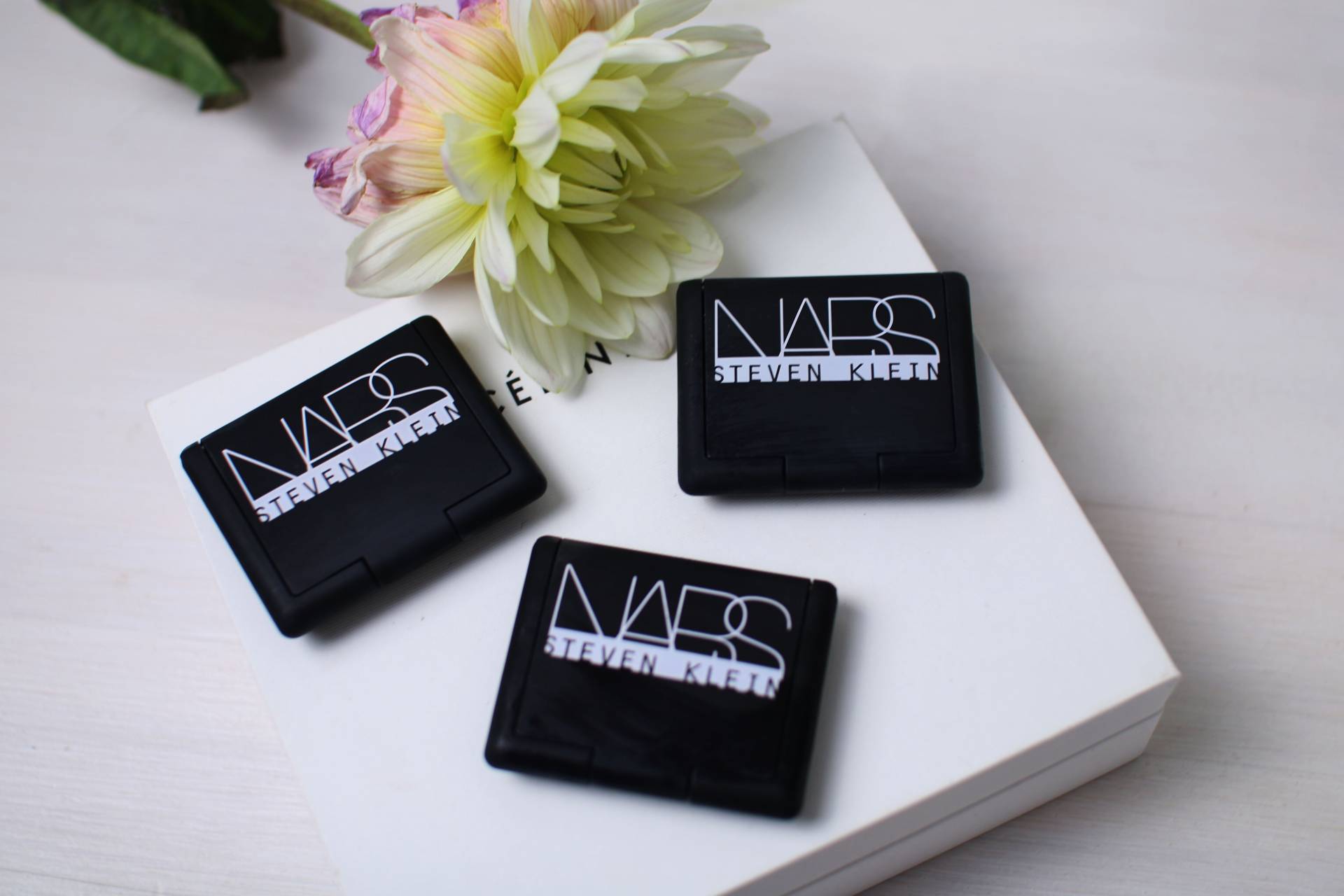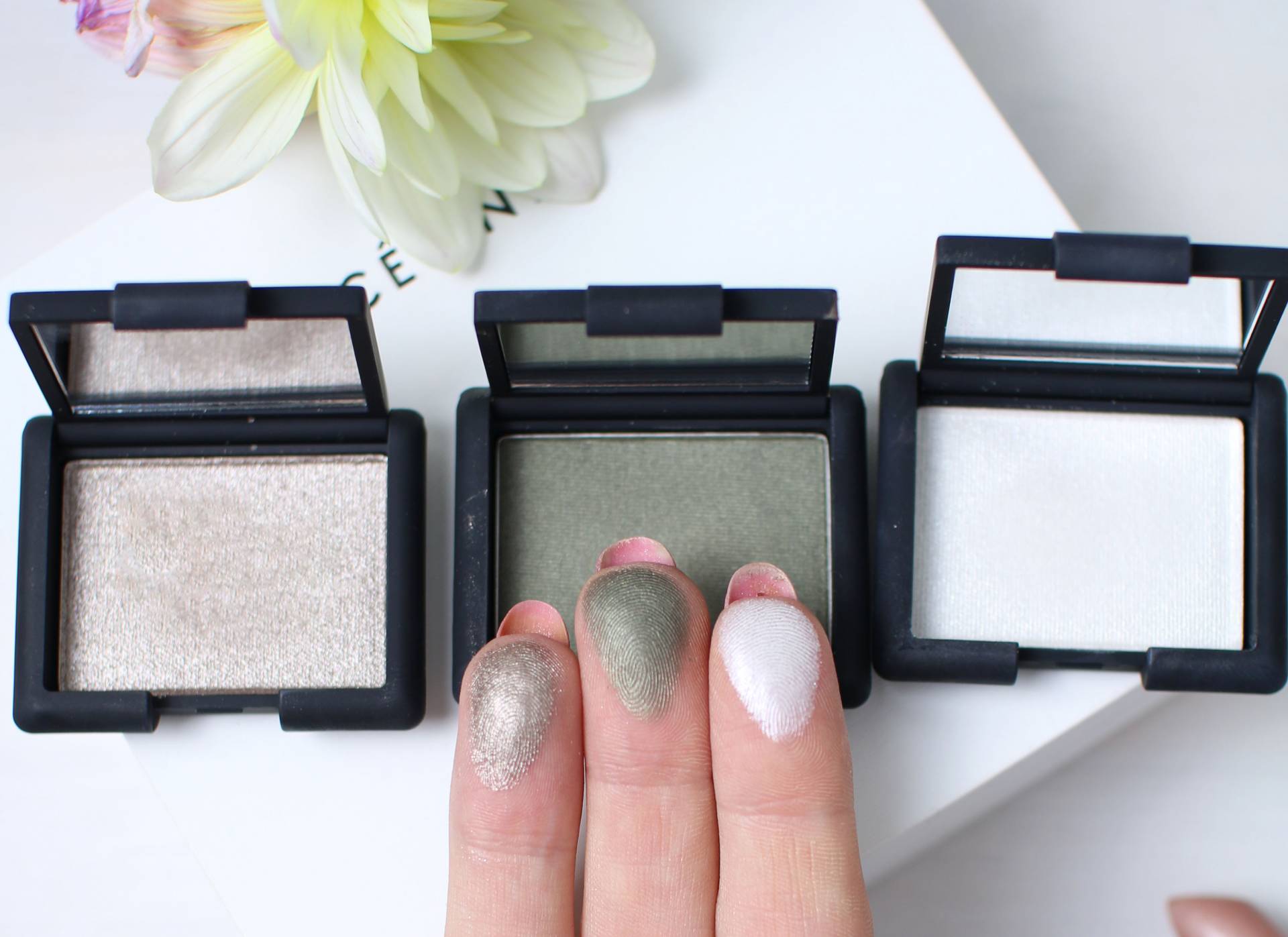 Individual Powder Shadows – £18
Let's start here. Three eyeshadows make up some of the most exciting pieces for me. As soon as I opened their adorable, tiny lids, I ooo'd and agh'd over the complementary and truly holiday season shades.
My favourite, 'Stud' with its metallic, pewter, highly pigmented finish, is one of those shades that I will wear constantly over the next three months. Guaranteed. It is bound to be a best seller not only due to its wearability but its high impact, light-catching coverage. It blends with a dreamy consistency whilst offering a buildable and full coverage shadow and I feel that so many make-up lovers will lose their minds over the ways they can wear this shade.
Yet, this season is also all about those beautiful khaki and olive tones and I was so pleased to see this collection incorporating the winter's signature shade. Named 'Never too Late,' this shadow is deep olive green with a golden shimmer undertone. Not as sparkling as Stud, and with slightly less pigmentation, but still just as blendable, buildable and high impact. These two shades together were a match made in heaven.
And for me, no eye look is finished without a bright pop of highlight, which I found from 'Mortal'; a bold, snow white glistening shadow. Again with ultra pigmentation, blendability and millions of particles that shimmer in the light, this shadow is that magical Christmas white that everyone needs in their kit. Inner corner highlights, brow bone highlights and even cheek highlights, are all catered for with this high impact shadow. As a trio, these three are your Autumn eye look, sorted.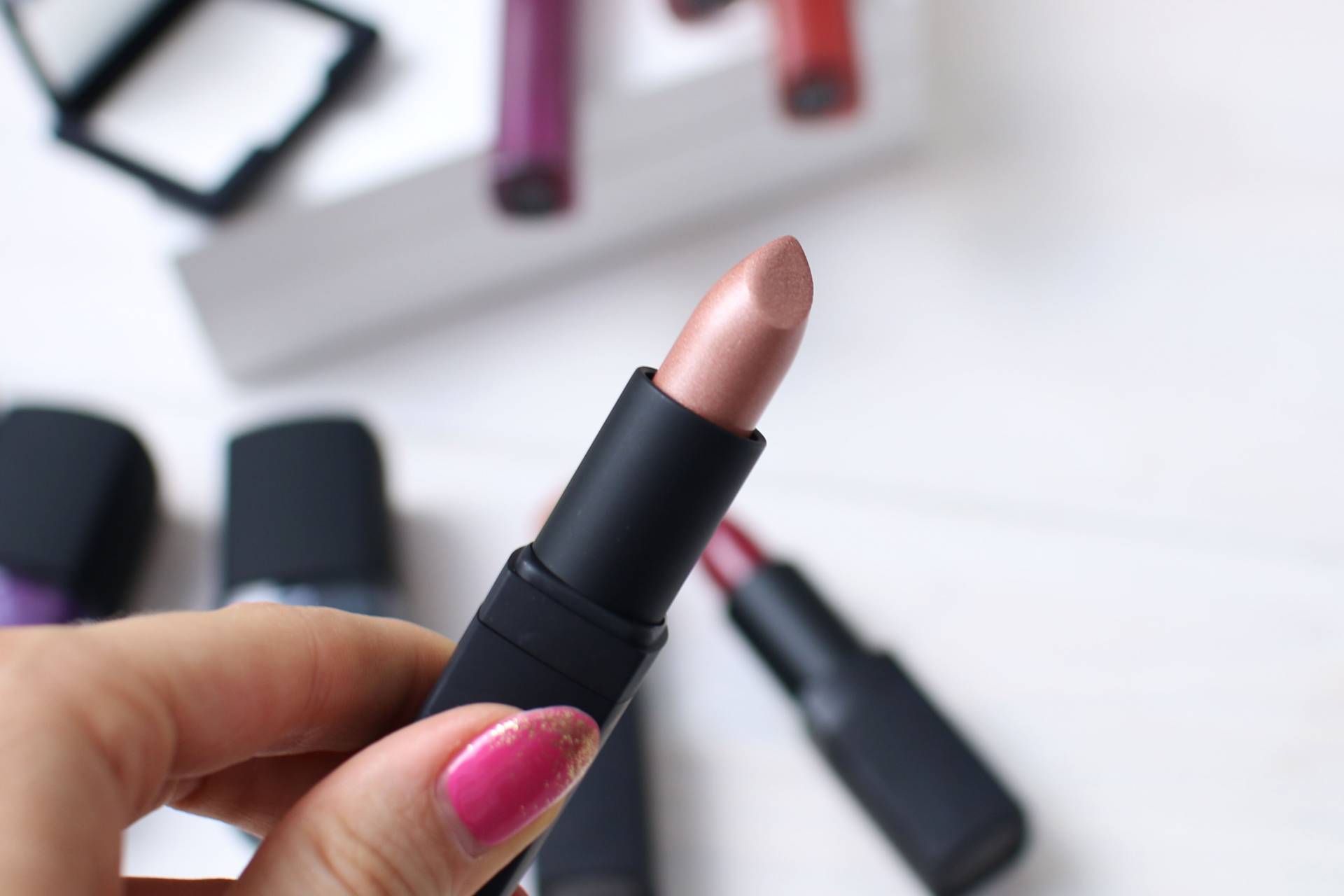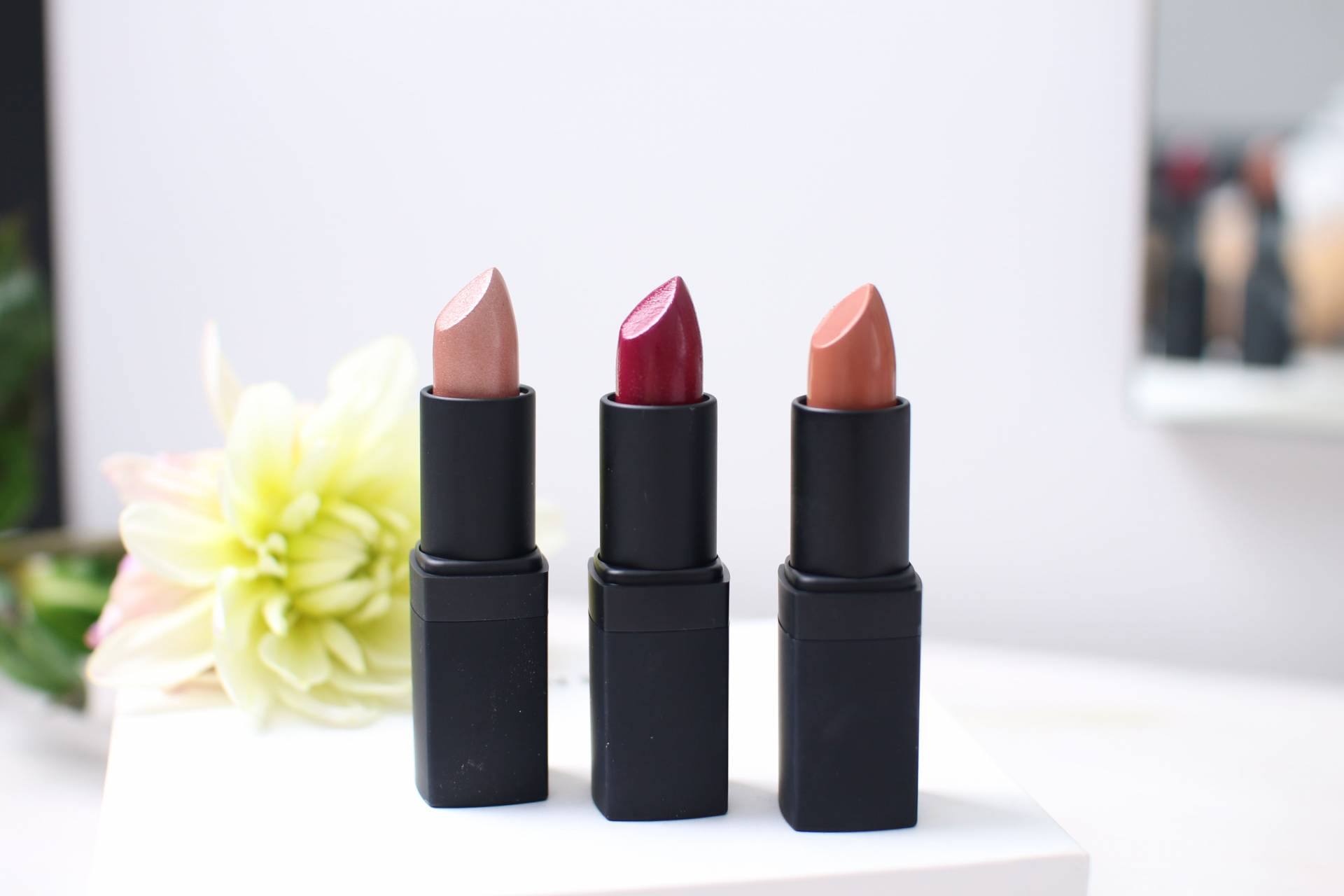 Killer Shine Lipsticks – £20
Three Killer Shine lipsticks have been incorporated into the range, including two nudes and one striking raspberry rouge.
'No shame' is a date night fuchsia, a confident bright lip and a fresher alternative to the generic autumnal plums.
'Redemption' catches the light as though you have added a champagne highlighter to your lips. I feel that this could be layered over your favourite nude lip for further intensity and shine.
'Besame Mucho', the caramel nude, will be for the lady who loves to go for the bold and neutral nude lip, without fuss and completely classic.
Lipglosses – £19
For those that love extra shine for their lips, the collection includes three lipglosses in saturated, bold lacquer finishes.
'Special Force' is the deep, blood red. A more sophisticated red lip, without the generic Christmas vibe.
'Fast Life' is the deep rose with a shimmer finish, and for my skin tone, this is almost a 'my lips but better' shade with ultra shine and pigmentation.
And 'Provoke' is the statement deep violet. Edgy, cool and alternative with a touch of gothic glam.
Each shade is a deeper, toned down version of a generic autumnal shade range. And with this diversity and a darker, creative and sophisticated finish, the collection is given a cool and edgy character. Almost as though the lipsticks have been designed for the creative who wants to be alternative. All in highly pigmented, saturated shades, each gloss can be applied over bare lips as a lacquer gloss finish for ultra shine and high impact colour. No lipstick is needed with these glosses. They pack the punch all by themselves. Plus, they're not too sticky!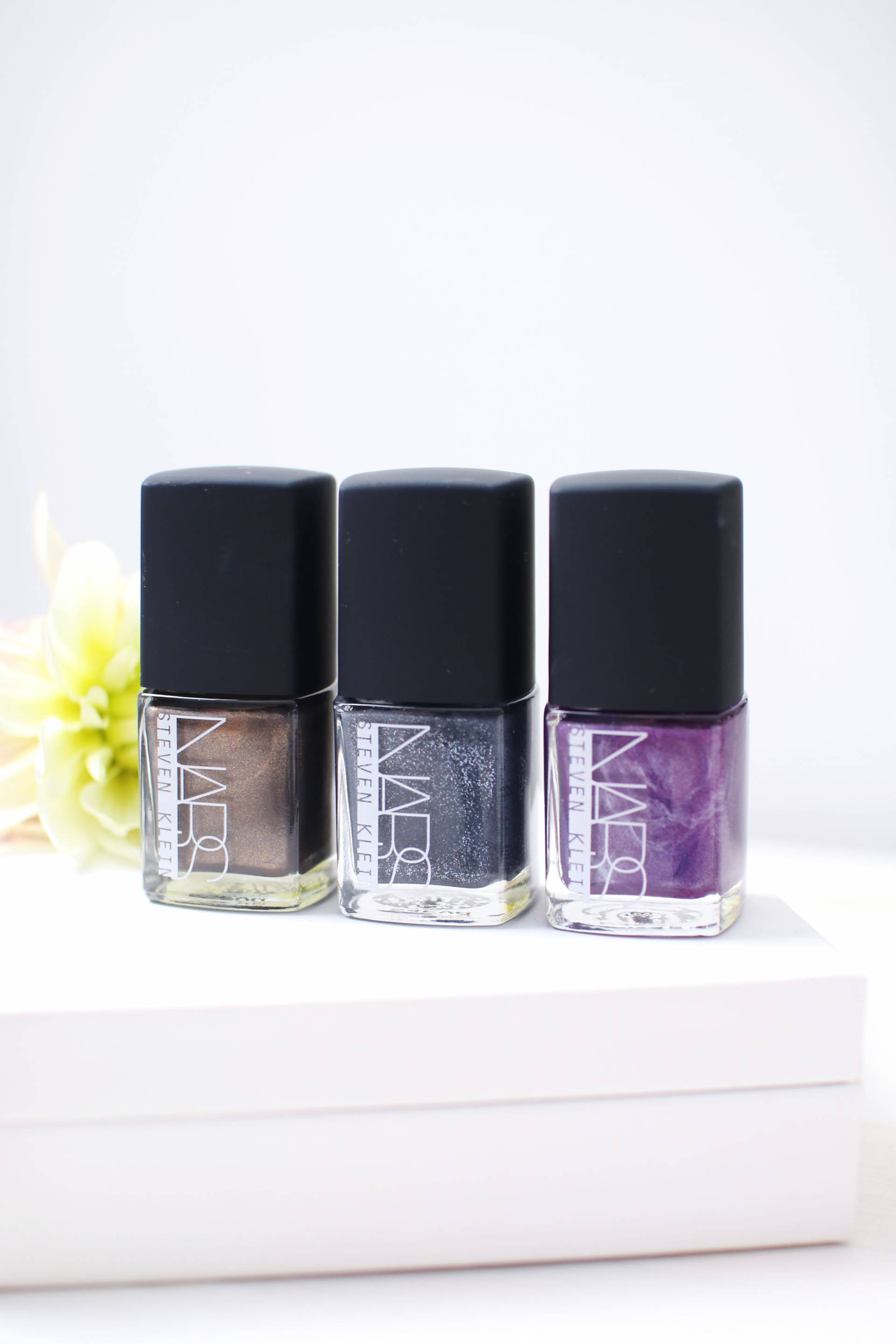 Nail Varnishes – £15
And moving from the face to the nails, the collection caters for the varnish coveter. What Wintery look would be complete without a bold nail shade?! And Nars certainly have you covered. Biggest apologies for the state of my nails. Shellac has led me to cut my nails short to start again.
'Hard to Get' is a khaki, gunmetal, metallic varnish, that appears a deep dirty green in the shadows and a shimmering golden khaki in the light. Perfect for this autumns key colour trends, this is bold, alternative and with a hint of grunge.
'Black Fire' is the grey, slate-blue varnish, with a touch of silver shimmer that almost creates a textured finish. Again, this is muted and a lot cooler than a regular blue varnish.
The final polish, and the one that I feel may sell out like hot cakes is 'Night Creature.' A violet purple, with a touch more brightness than the previous two shades, but still with a muted tone, this is a wearable variant of the purple shades we all look forward to for the winter.
Makeup Details
–
Mortal shadow to inner corner
Stud shadow to lid
Never Too Late shadow lightly to outer corner and crease
Redemption Lipstick
Nars Sheer Glow Foundation in Deauville
Nars Virtual Domination Palette
And the part you might be most interested to learn; when and where you can pick up your new Autumn makeup essentials?! The Nars X Steven Klein collection will be available from the 1st of November online at Nars Cosmetics as well on all Nars counters nationwide.
I am also so excited to announce that I will be hosting a Meet-up with Nars at the beginning of November at the Nars Steven Klein pop up in Soho  – more details to follow! You can come along, say hello, have a peek at the collection and treat yourself to a few of your faves if you wanted to! I cannot wait to meet some of you!
Which pieces are you most excited about and desperate to try?! If you'd like my recommendation for which I would definitely urge you to pick up when you purchase, I would say Stud Eyeshadow, No Shame Lipstick, Fast Life Gloss and Night Creature Varnish. Each are shades that I will be using frequently over the next few months! I can't wait to hear what you think!
Thankyou to Nars for working with on this sponsored post!
Sign up here for a weekly catch up of everything Inthefrow