Kihavah, Maldives
The Red Maje Leather Biker
You may have noticed Maje products creeping onto the blog for the past six months or so. Admittedly, I have become a bit of a fan girl for this brand. The effortless Parisian chic style, beautiful luxe fabrics and wearable fits have made this brand my go-to for the latest on-trend pieces, and therefore my wardrobe has started to fill up with their recent styles. One of which I wear constantly, the suede tanned goatskin biker jacket which I feel is by far the best suede biker in the market.
But I also have a lust for leather bikers at this time of year. They're warm, edgy, slick and so easy to throw on with everything. And I am exited to say that Maje has once again brought a beautiful piece to the market that fulfills all of my leather jacket dreams.
The MajeXclusive, Limited Edition biker is a cherry, deep raspberry red. Vibrant and bright without being too brash, and just the perfect pink tones as to remove any post-box red hues. I don't wear red too often, as the tones don't often suit my hair colours, but I find the shade of this is the type of red leather jacket I have searched high and low for, for the past few years.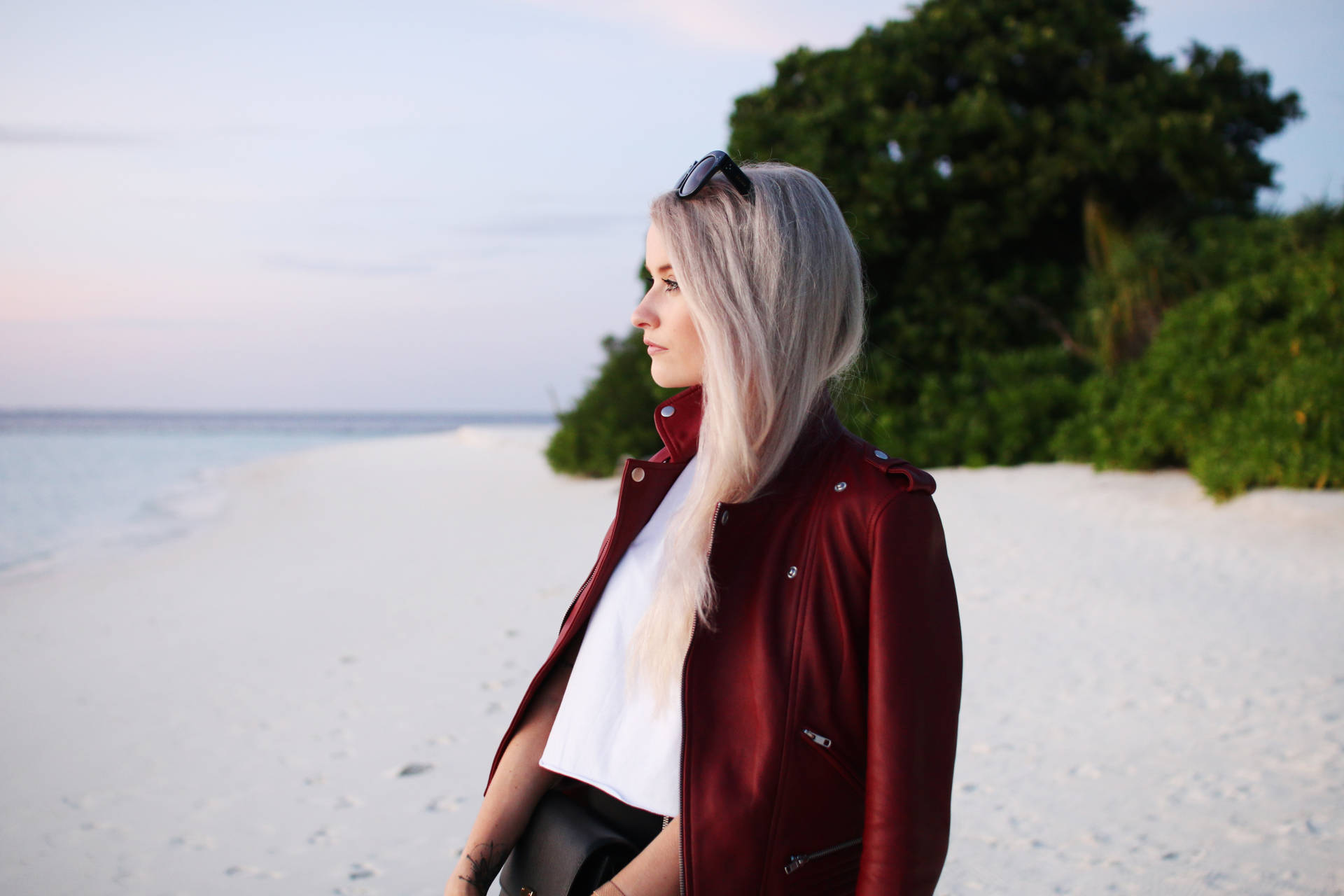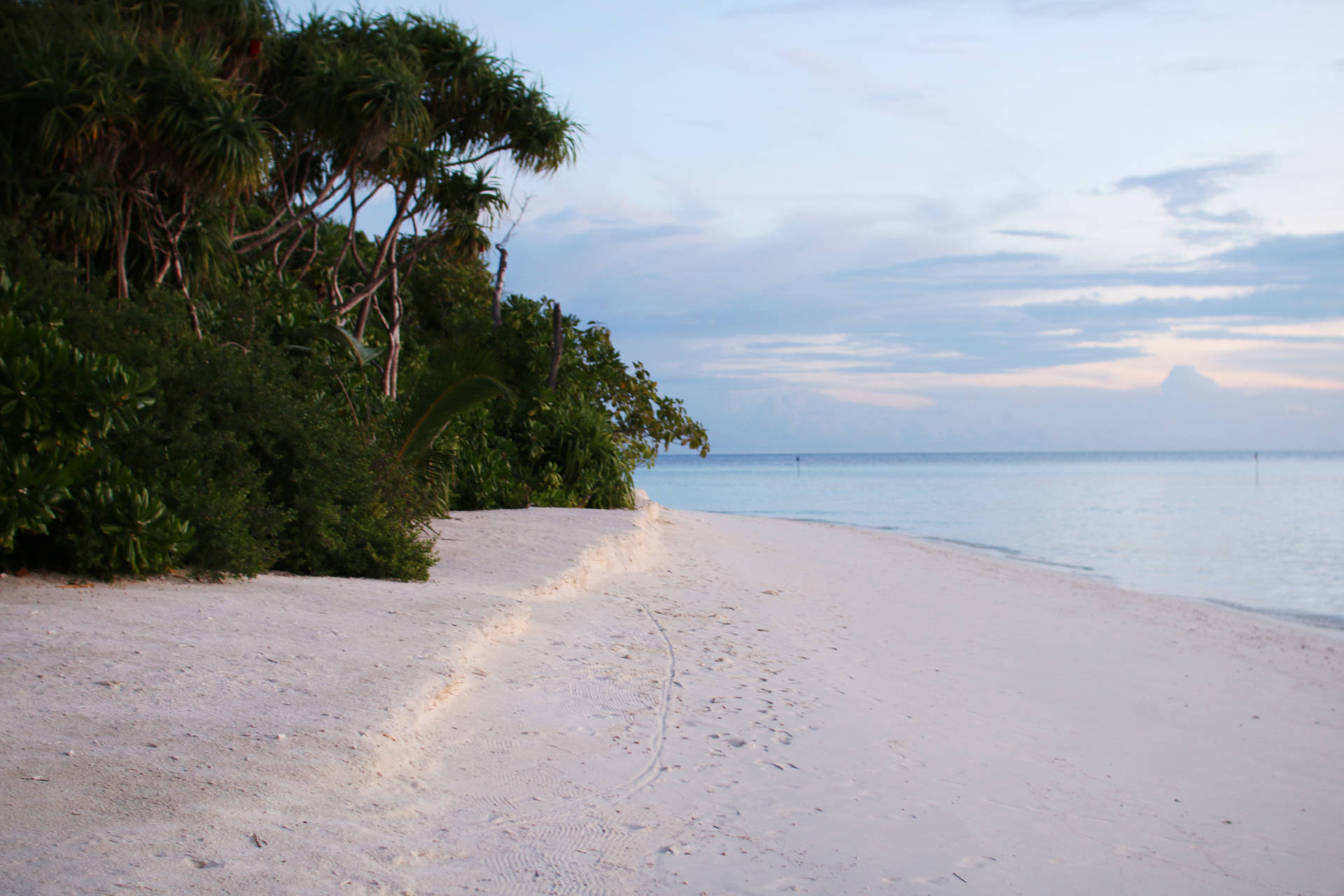 Set against the unbelievable views of the Anantara Kihavah Resort in the Maldives, I was lucky that this one evening was a little cooler than previous days. The sun was setting and I headed out for a lone walk along the sand in front of the water villas, and flung the leather jacket over my shoulders as a little cover up.
In most (slightly cooler) sunshine climates at the moment, where the evenings can be a little chillier, this jacket would be such a great way to add a little more style to a casual outfit, offering a pop of colour and more personality. Granted, in the Maldives it was a tad too hot for such beautiful material, but of course I couldn't pass up the opportunity to take photographs in paradise.
But regardless of holidays, the leather jacket is an Autumn/Winter essential. A fantastic piece for layering over knitwear, plain tees, long sleeve jumpers and completing with a scarf.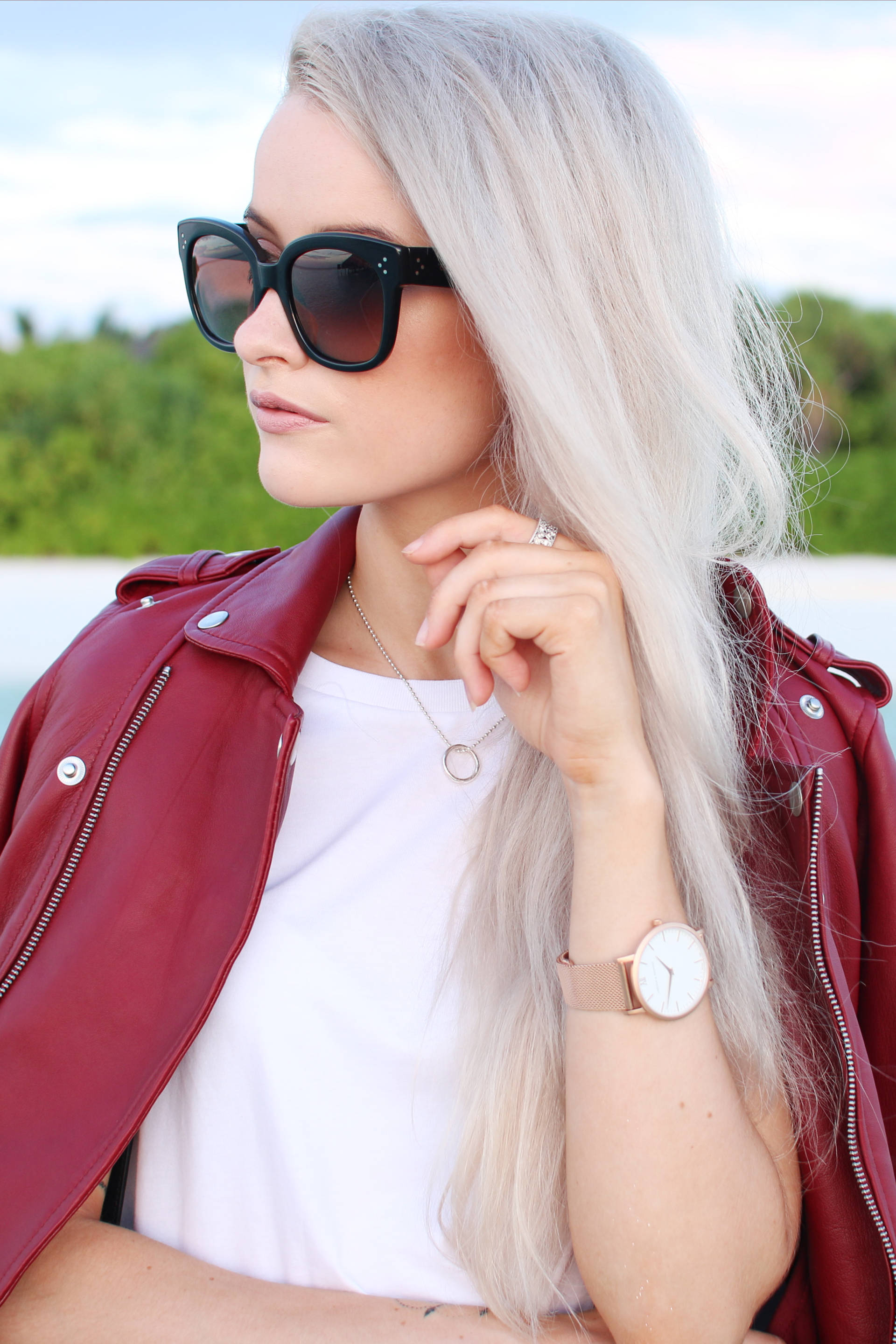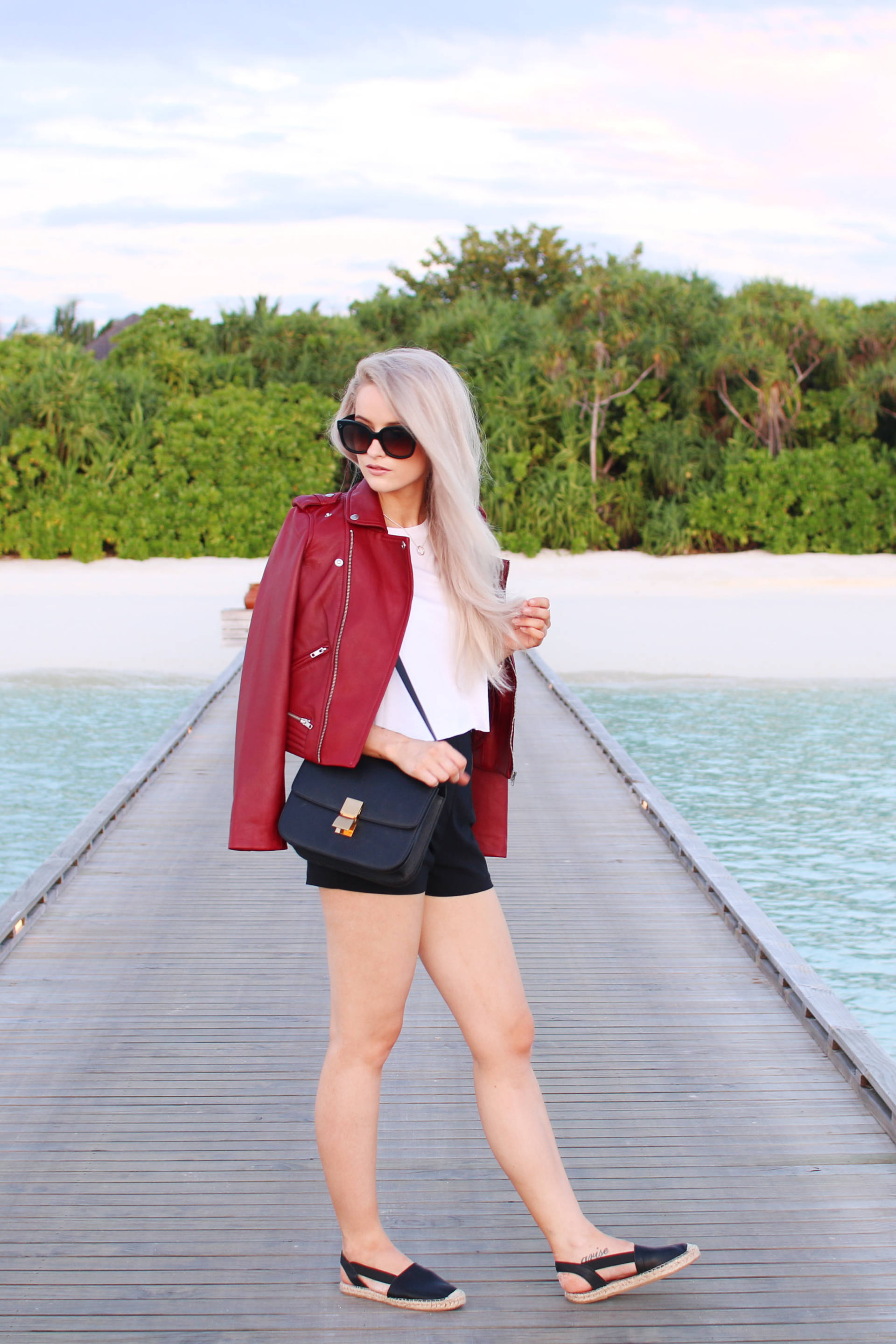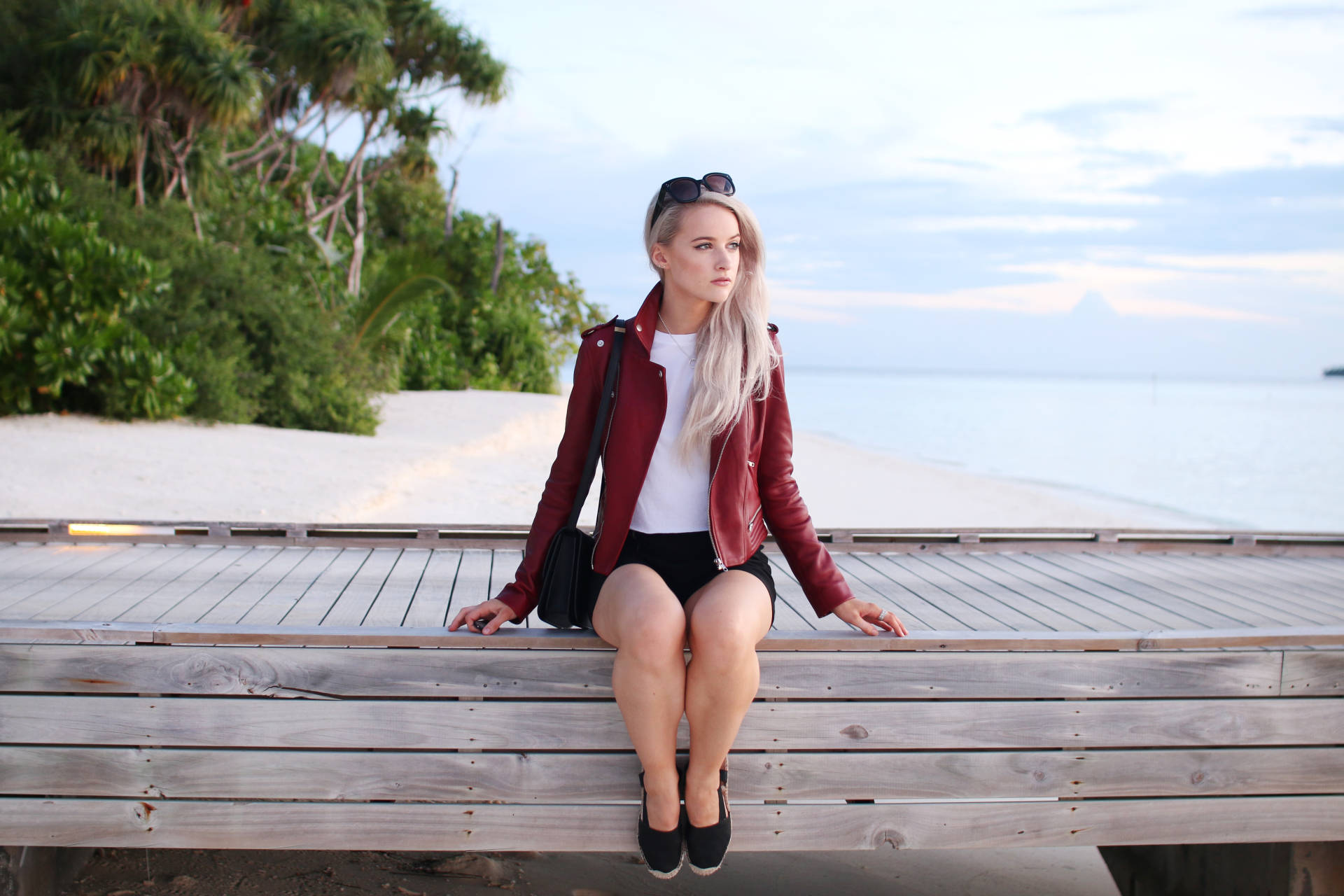 For the cooler months, you can wear your leather biker with so many pieces already in your wardrobe. If you're pondering on the idea of adding a leather jacket to your wardrobe but you're unsure as to whether it will be a worthwhile investment, here are a few items I would wear it with:
Skinny jeans in a contrasting colour to the jacket
Fitted trousers with heels
Denim shorts, with or without tights and ballerina flats
With a longer mini dress, or jumper dress, paired with over knee boots and even tights if you wish.
With a pencil skirt and tights (or none) for work, with heels and a cute clutch bag in any material other than leather.
Simple black leggings, not in a thin jersey fabric, with a longer t-shirt or cable knit or chunky jumper
The easiest way, with a plain white tee and your favourite slim or skinny jeans.
Over a simple playsuit, mini dress or jumpsuit for an evening
As a way to casual up a dress for an evening out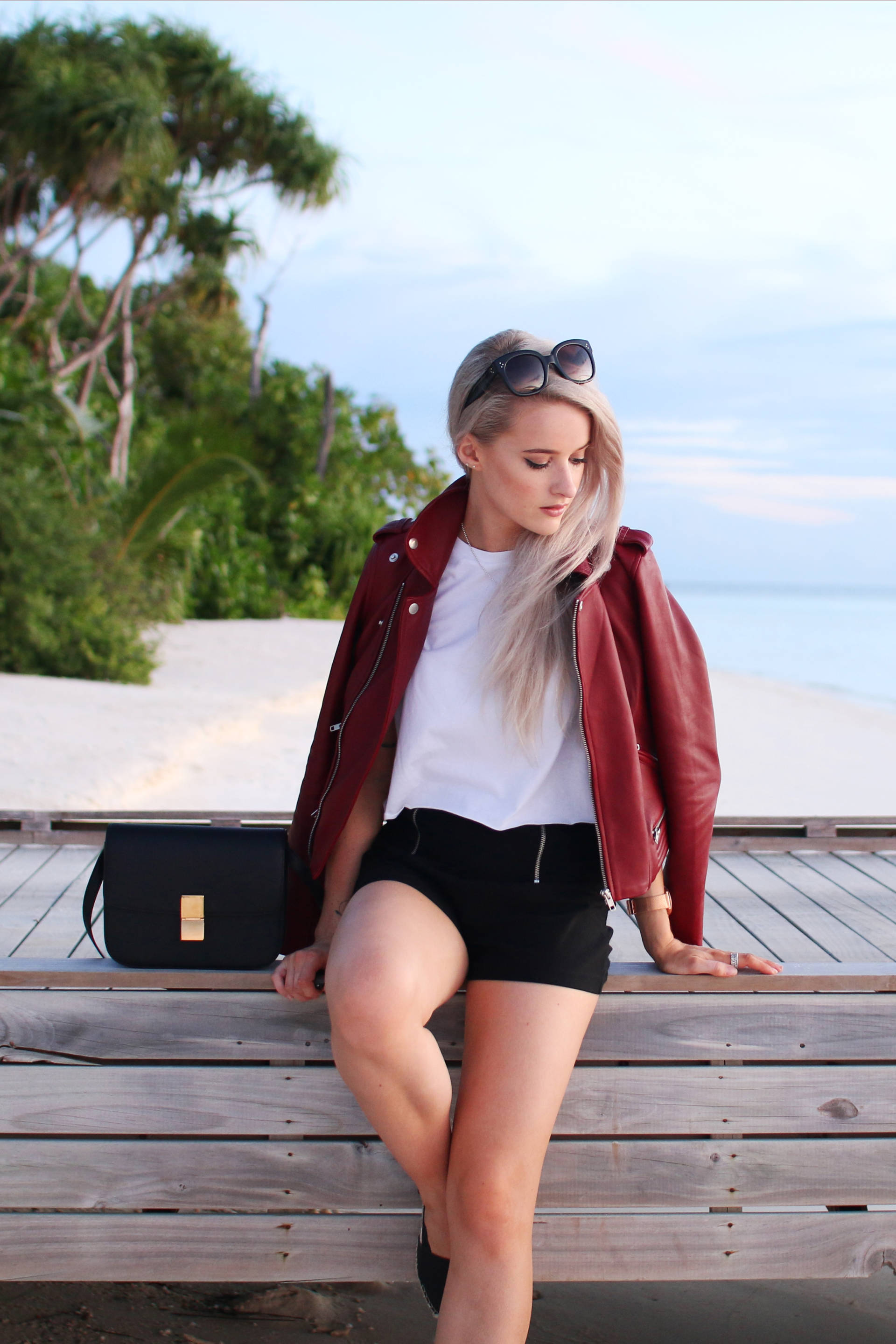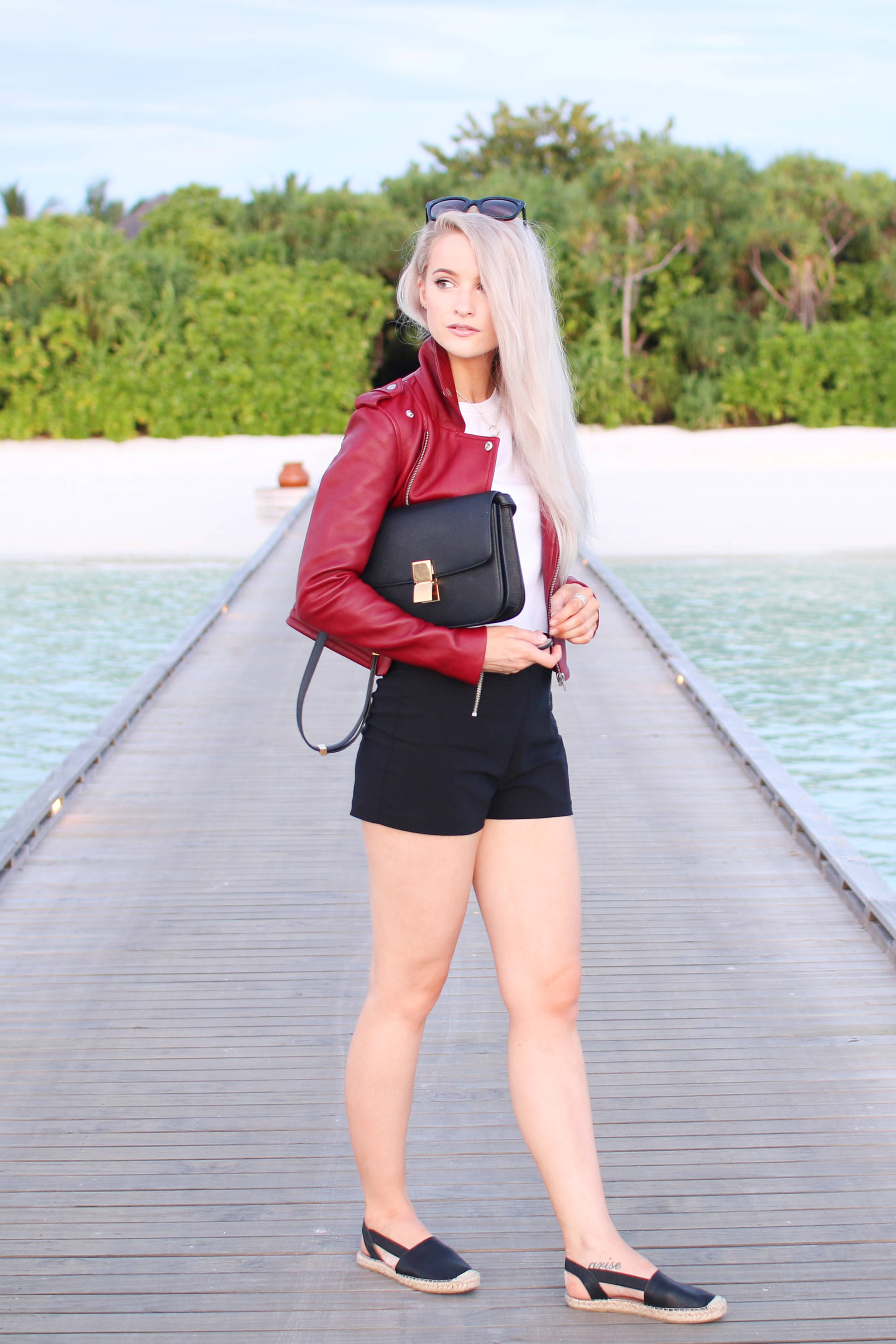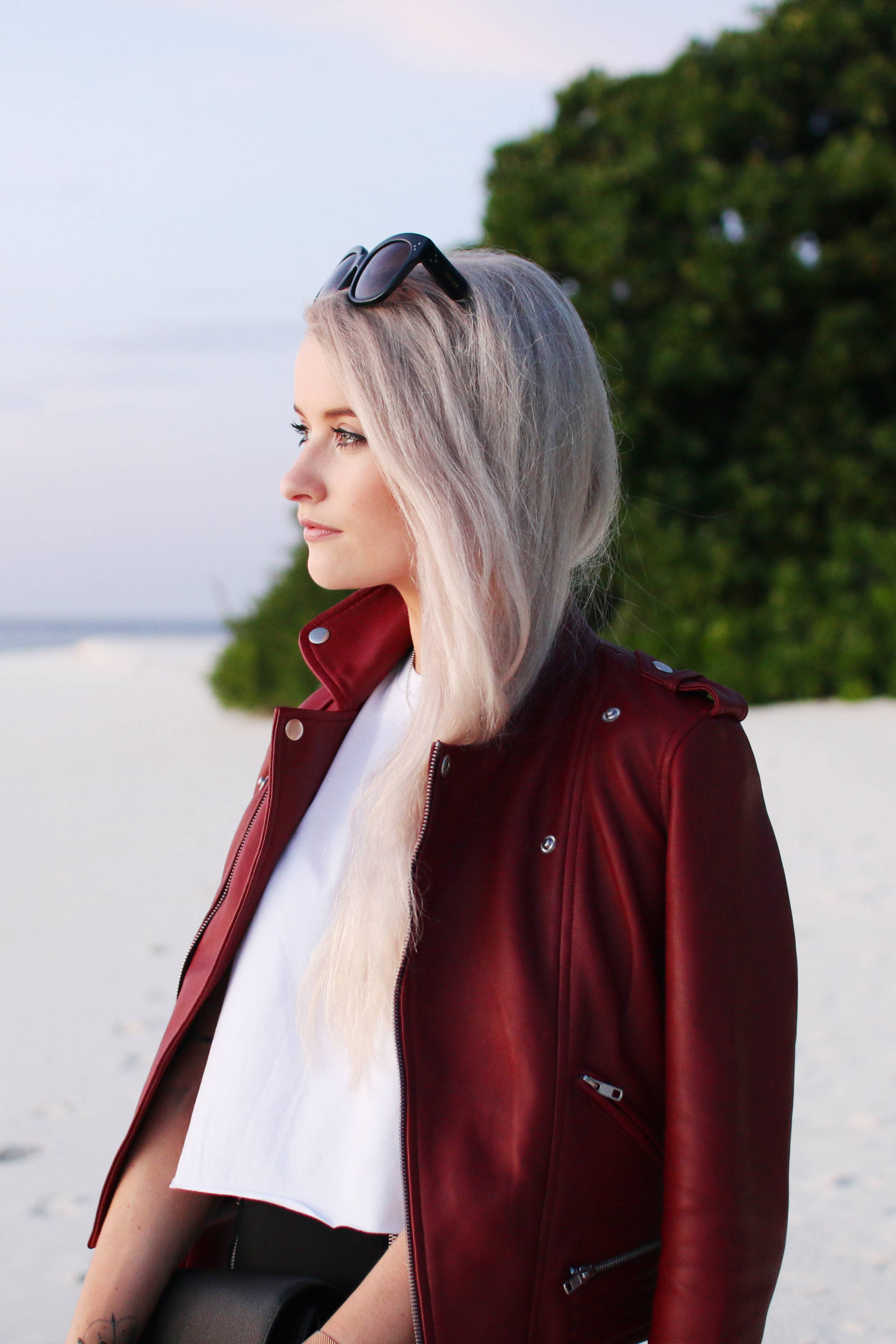 And a cool leather jacket is only made more of a statement with some simple or bold accessories, depending on how much you love to accessorise. Personally, I prefer simple but beautiful jewellery that often will provoke conversation, but larger statement pieces such as huge glasses and a structured handbag.
Your favourite sunglasses
A chunky knit scarf
Thick black rimmed glasses
A knit beanie in a similar or contrasting shade
Small structured clutch or backpack in an alternative texture
An amazing fedora in a similar or contrasting colour
Simple silver or gold jewellery depending on the shade of the jacket
Heeled boots always make a statement and give the jacket even more edge, but flat stylish shoes with a pointed toe or cool trainers or converse can be just as effective.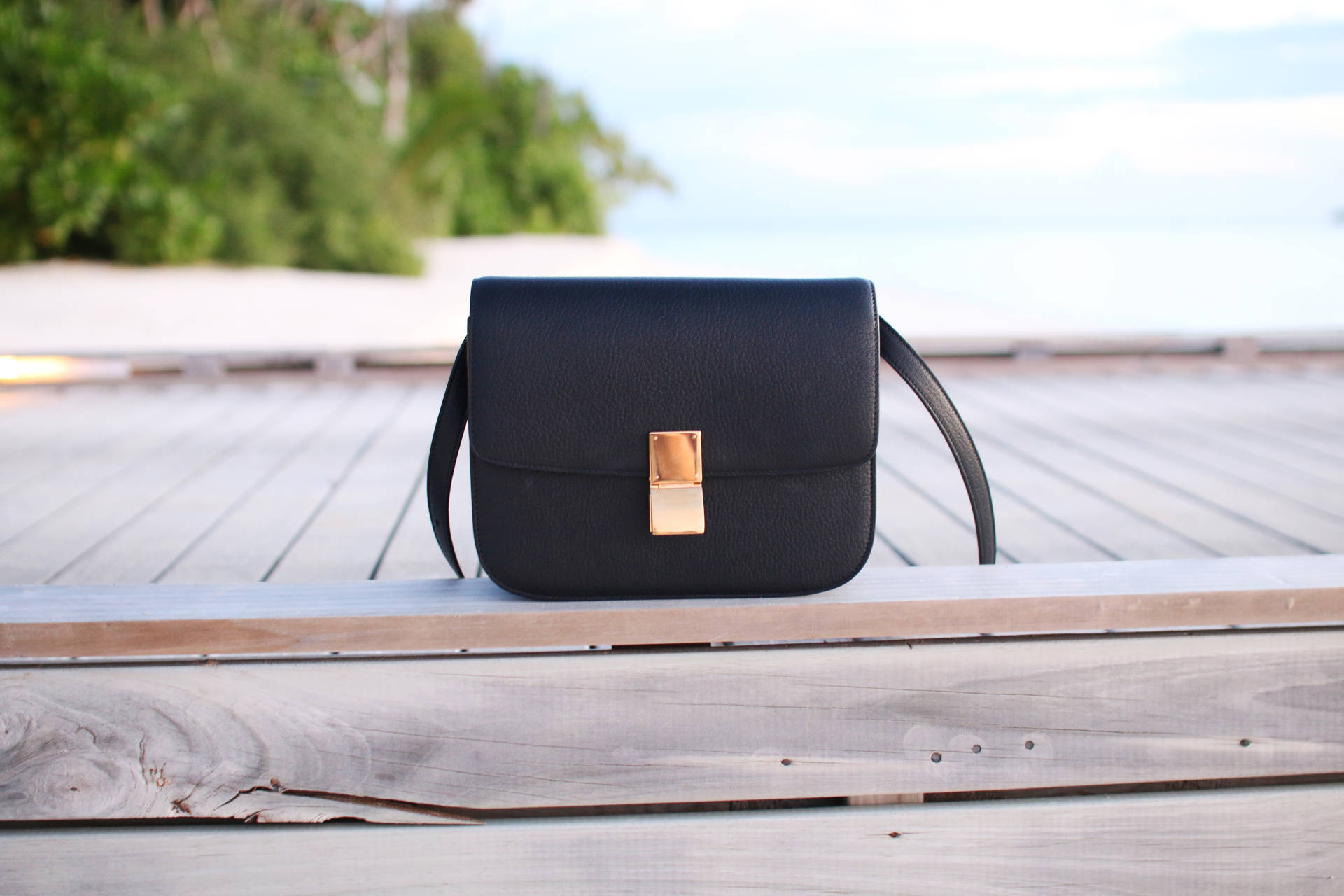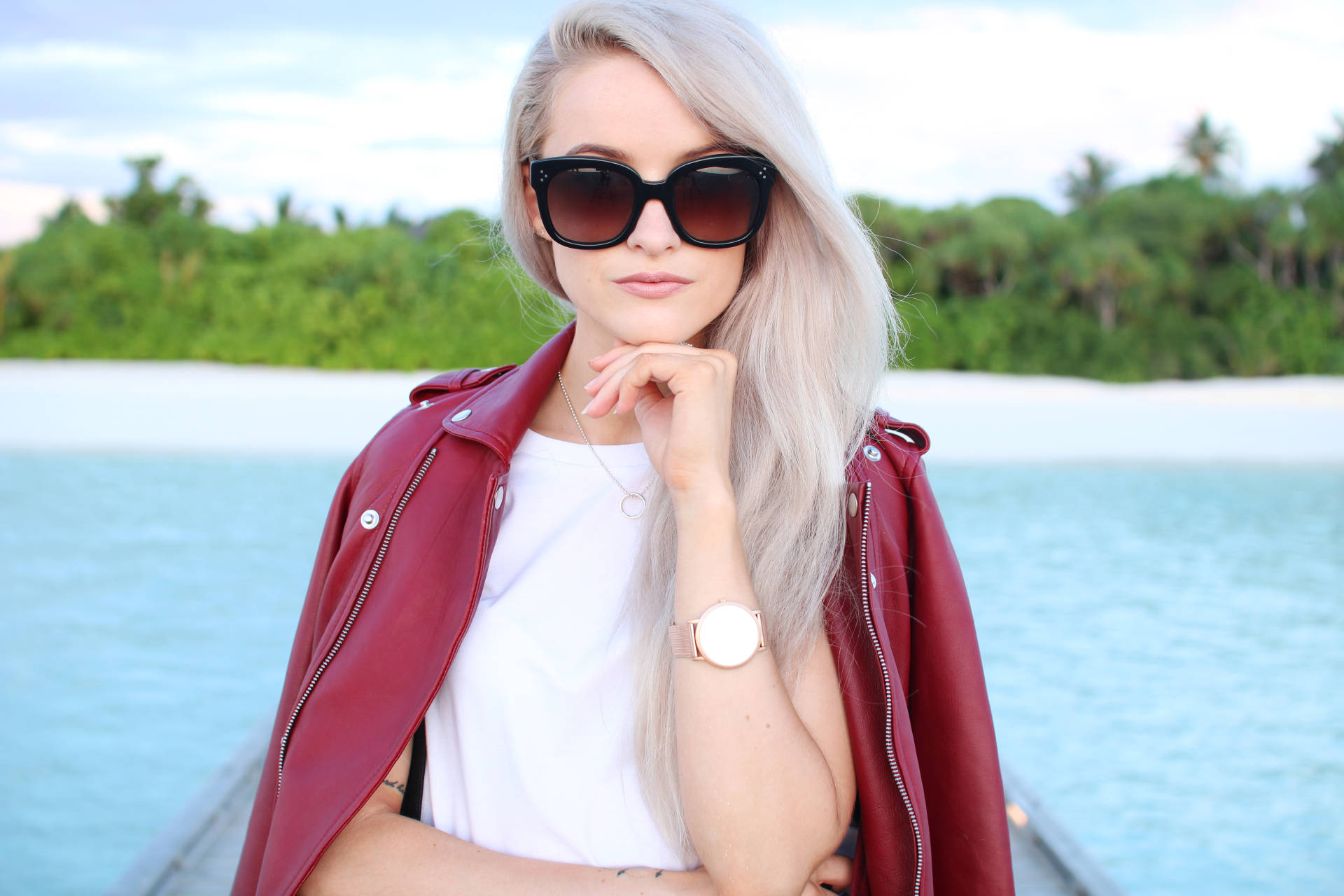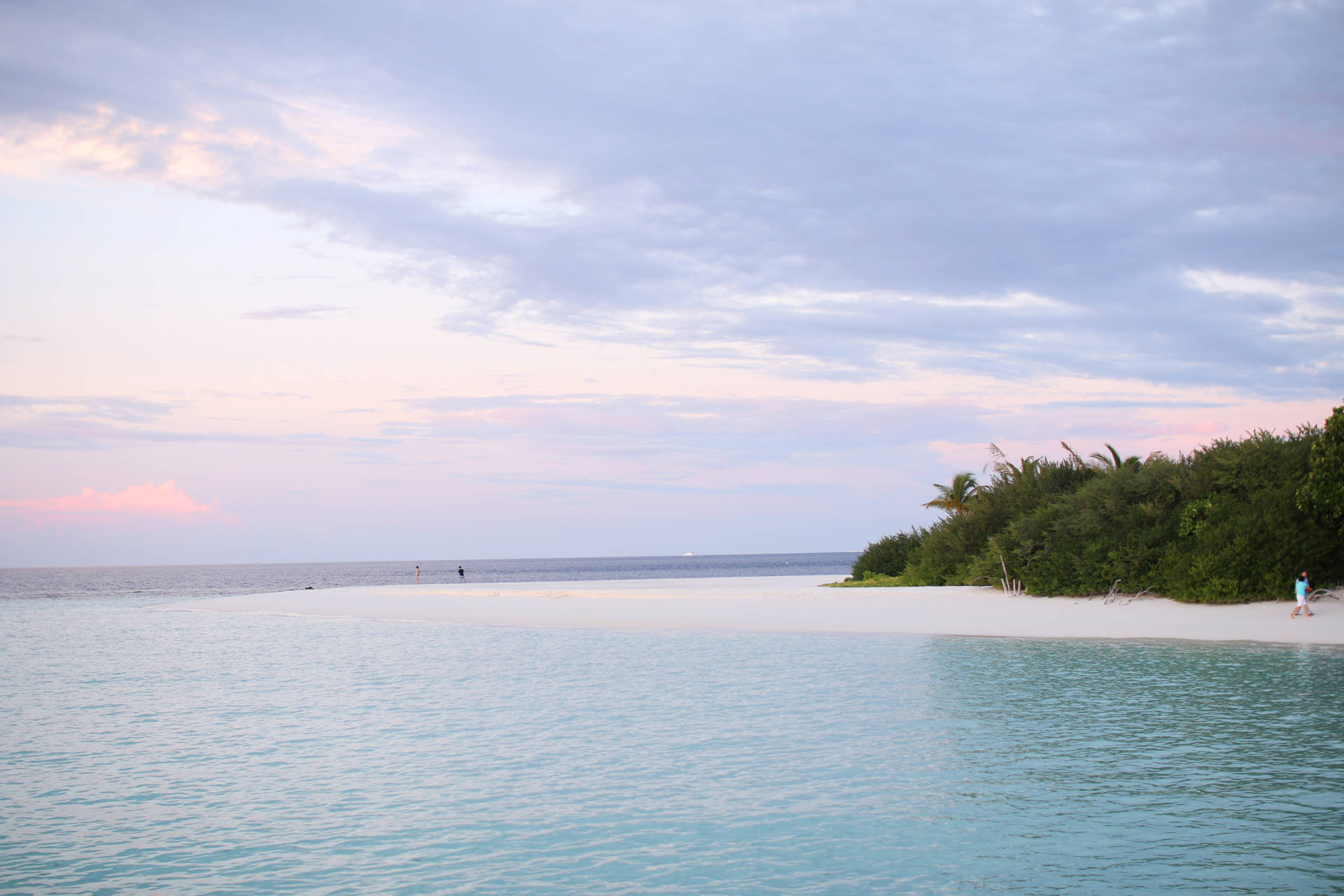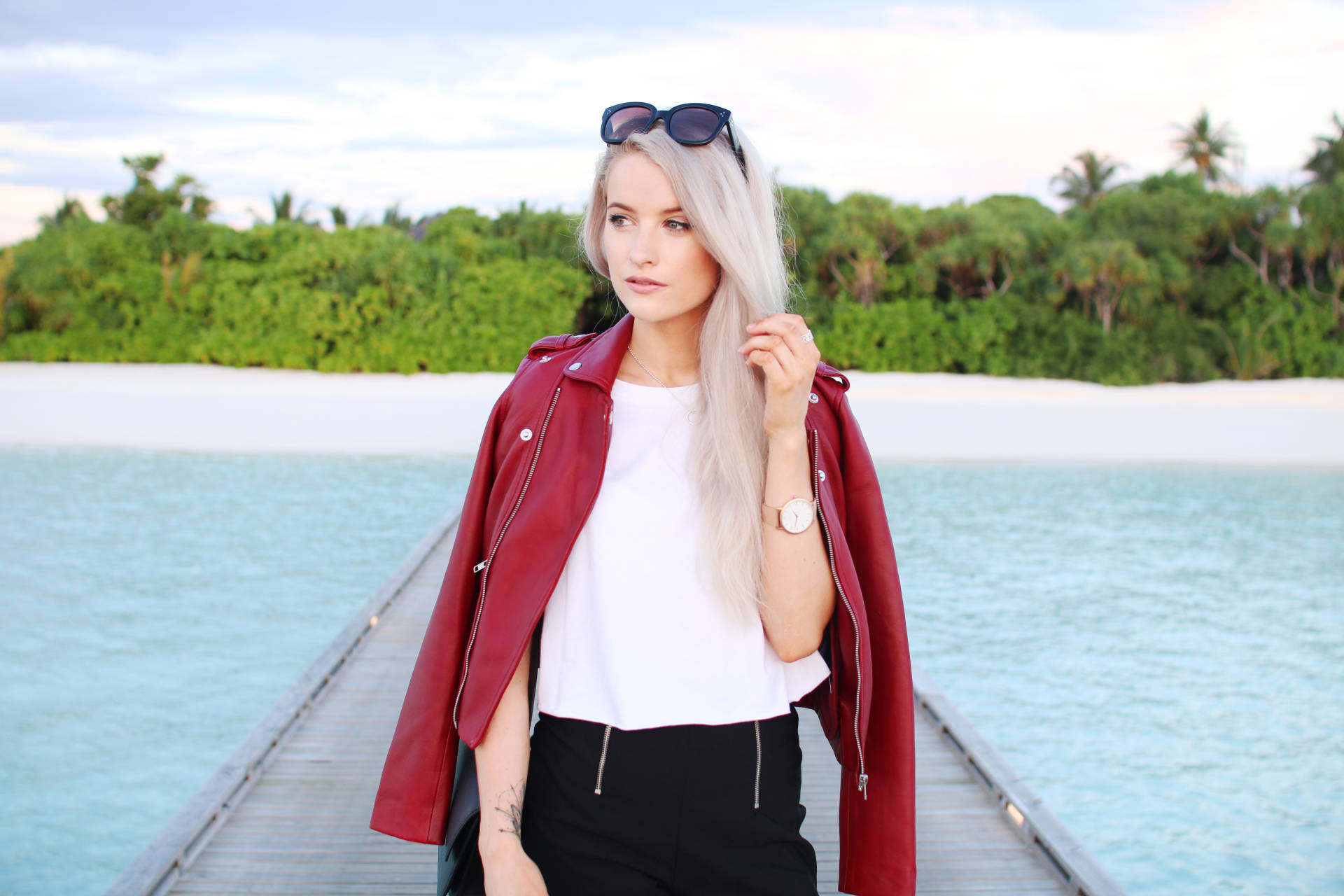 It was a true pleasure for this post to be sponsored by and in collaboration with a truly favourite brand, Maje.
Sign up here for a weekly catch up of everything Inthefrow