Your Own Space
The Importance of Pampering
I have recently shared with you my favourite ways to a clear and perfect cleanse. Having set routines is so important when it comes to wellness and looking after your skin, and I personally love being excited to use particular products at the end of the day.
This post takes this one step further, into the importance of having a set pampering routine, not only for your skin and body, but for your own mindset and emotions. I know for a fact that if I didn't have these little face and body rituals at the end of the day, or on a free afternoon, I wouldn't feel anywhere near as confident as I try to be.
Having a pampering session can really help to clear your mind, help you focus on yourself, your wellbeing and health whilst indulging in some of your favourite skincare products. And when it becomes your routine, it can become your own personal ritual, daily or nightly.
.
''Transforming everyday routines into more meaningful rituals"
.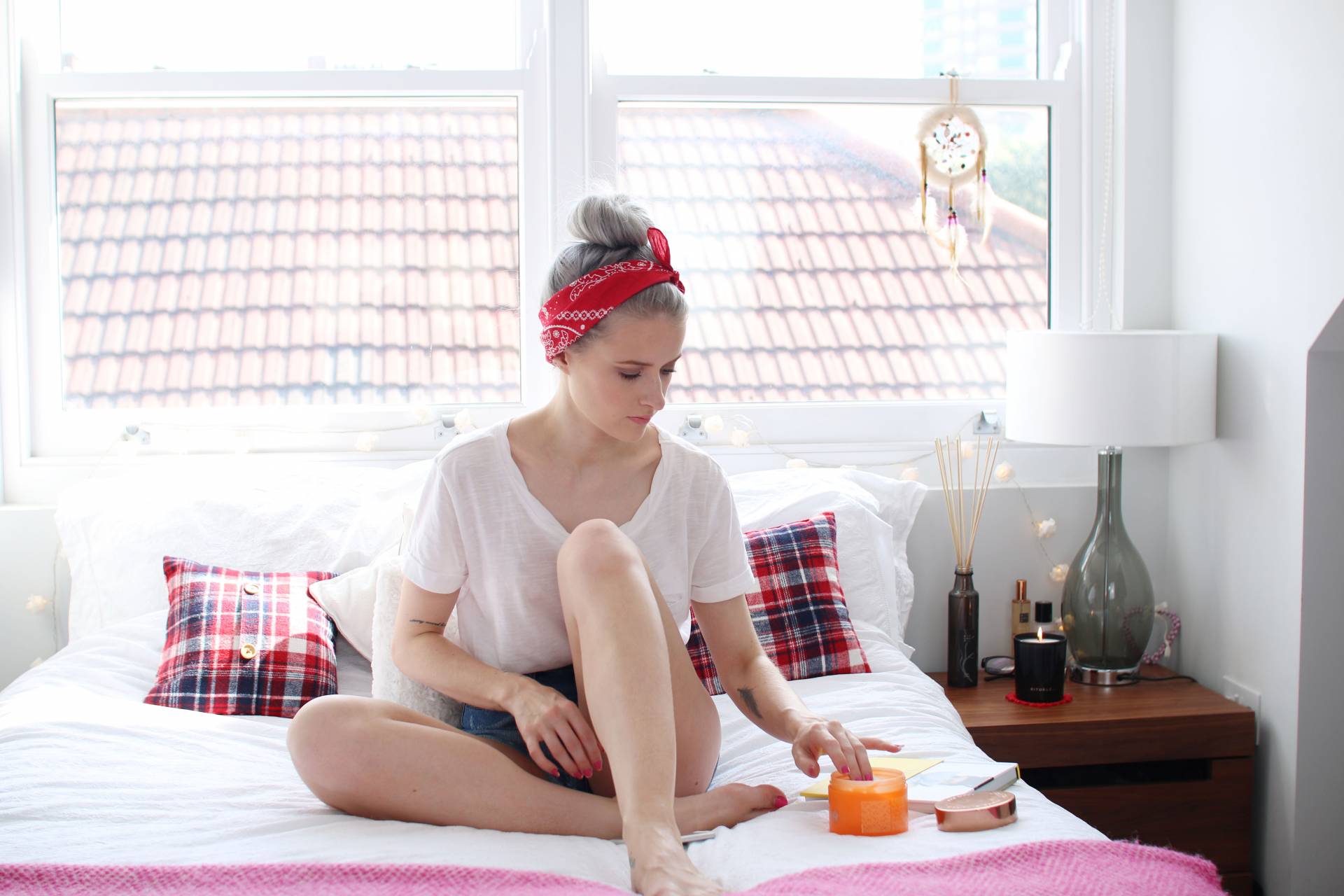 In honesty, Rituals is a brand that I was not as aware of until very recently. The Rituals founder set up the brand 15 years ago, with the idea that an everyday routine could be a moment of indulgence with the use of beautiful products. Not only skincare and beauty products, but those items around the home that you use from day to day, and just that little bit of extra luxury could transform the daily routine. From homewear products such as candles, tea cups, bath robes and washing up liquid, to bathing products and even clothing. Each product injects that little extra luxury into your daily routine to transform it into a more meaningful ritual. And what a wonderful concept.
And thus, after trying out a range of Rituals bath, body and homewear, from the Laughing Buddha range, the understanding of the importance of pampering and routines has become really apparent. I have been trying and testing the range for a few weeks and really focusing on how I use them all in a Ritual. From showering with foams and oils, scrubbing with the thick sugar scrub to remembering to moisturise my body with body creams, spritzing with body mist and relaxing with the scents of the fragrance sticks and scented candle, the routine makes me feel like a new woman. Clean, confident, positive and smelling truly divine, I must say.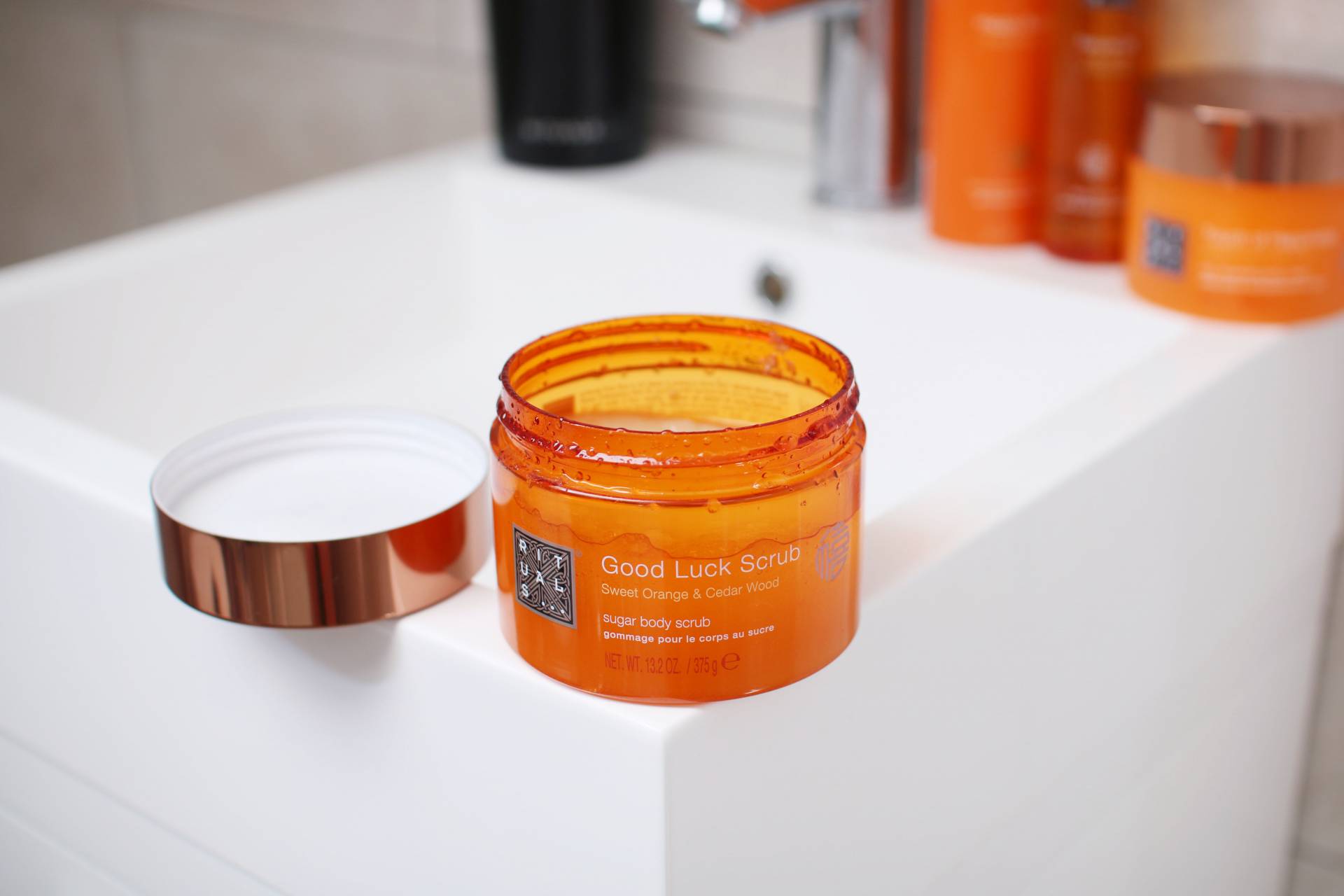 Recently, I am truly obsessed with body scrubs. As an avid tanner, there is nothing that will remove the flakes of tan from your skin like a body scrub. And this one is one of the best I have ever tried. With an oily texture and a really gritty sugary consistency, this really exfoliates the skin with intent. The scent, like all of these products is luxurious orange with cedar wood, whereby the citrus flavours are cut through by the smokey cedar wood for a more rounded fragrance. It is absolutely beautiful, uplifting and most definitely a luxury.
A shower oil is a new addition to my showering routines and for those days when I feel my body is in need of a little more moisture, I pump this onto my bath lily before rubbing it in my hands to create a foam. Never before have I known a shower oil to work into a foam but this product is unlike any others I have tried. In the same delicious scent, this can be worked all over the skin to reinvigorate, clean and soften the skin.
Another product unlike any I already own, the foaming shower gel reminds me of the texture of shaving foam. Released from the can in a gel texture, that foams and volumises with water and movement, this creates a wonderful thick foam to clean away the day. Again I pump this onto my bath lily, massage it in the water to foam and massage it all over in circular motions. I love using this and applying the Shower Oil all over as a second step. Why not.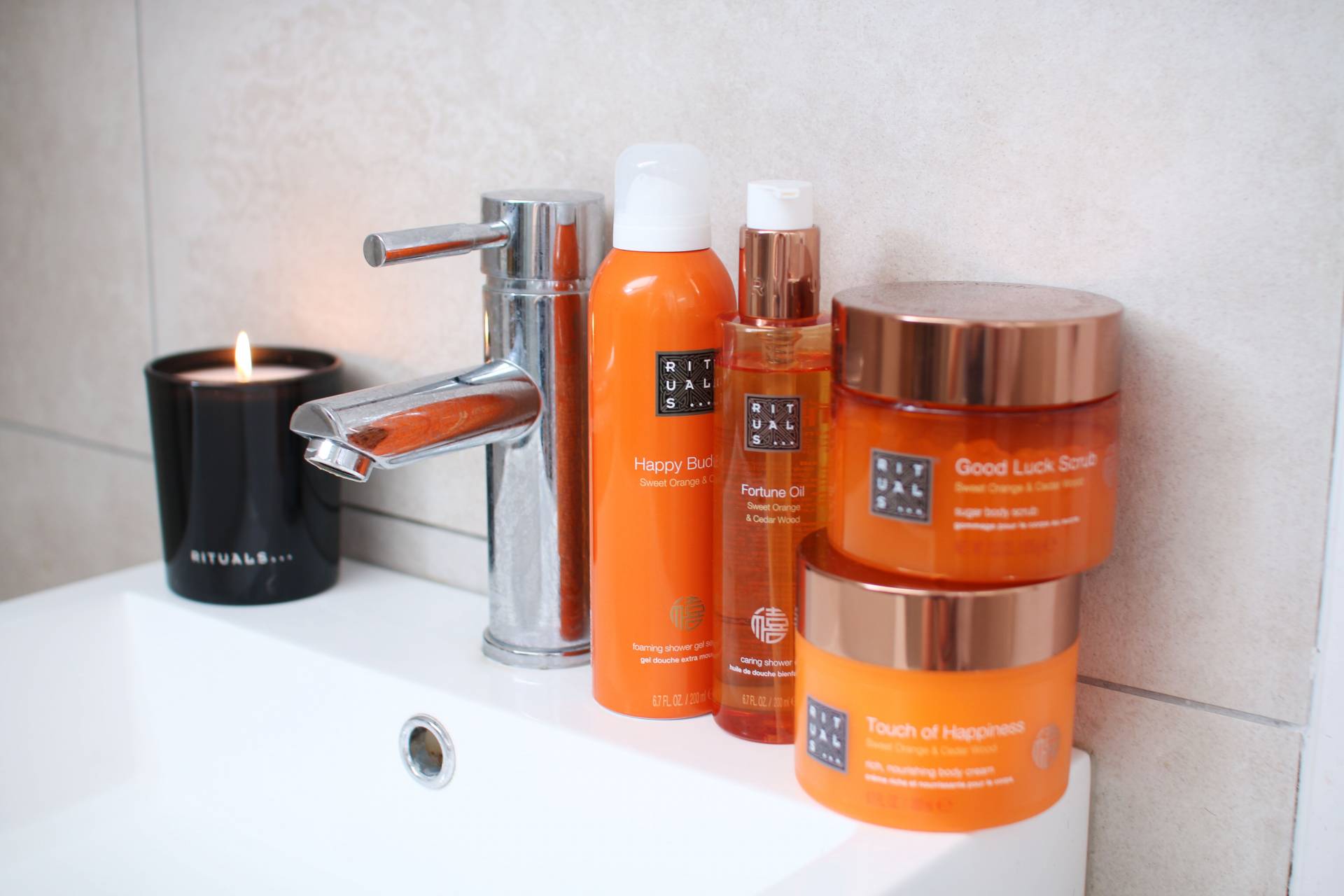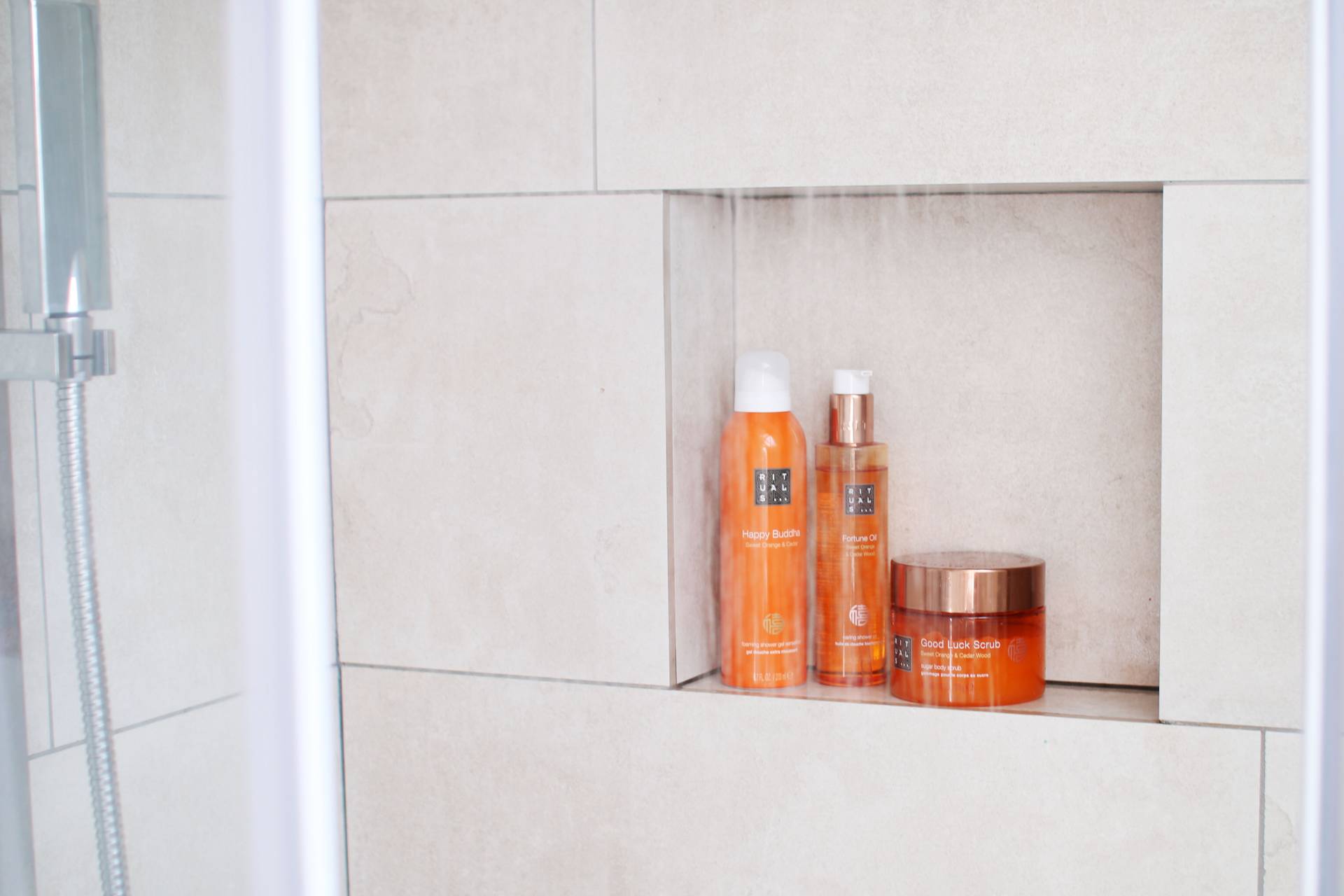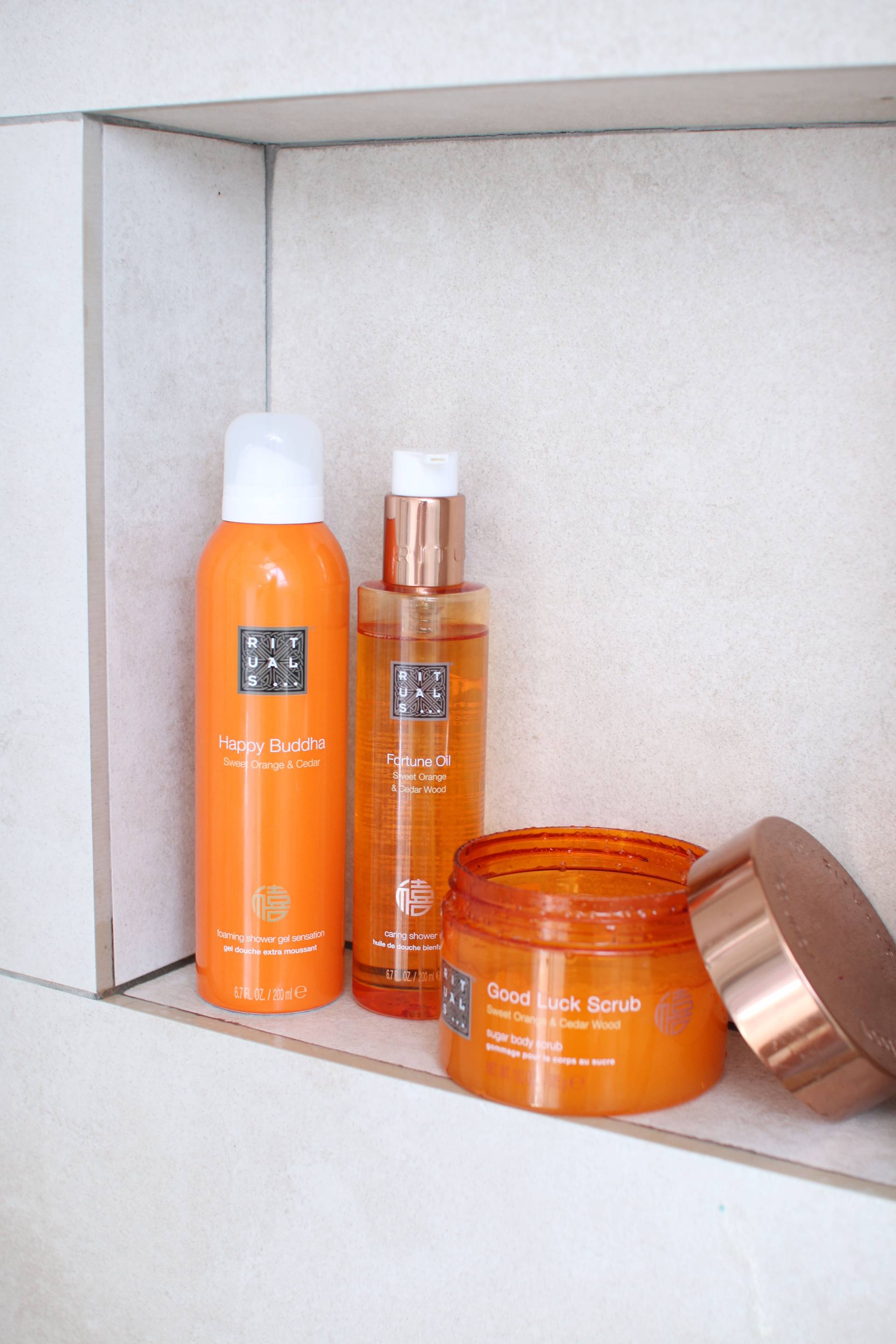 Granted, body creams are probably my most underused product and I have hundreds of them in my bathroom, I'm sure. I just get so lazy when it comes to moisturising. But I find, the best tip is to have your body cream somewhere easy and accessible, or you won't use it. Leave it by your bed to apply before you hit the hay, place it by your sink for when you're brushing your teeth at night or perhaps next to your towels for when you jump out of the shower. That way, you'll be reminded to apply it at the end of your routine.
The rich and nourishing Rituals body cream is soft and light, quickly absorbed and the perfect step to finish off your showering routine. My body never smells as divine as it does when I use shower gels, scrubs and body creams in a collection. And knowing I smell fantastic raises my confidence ten fold.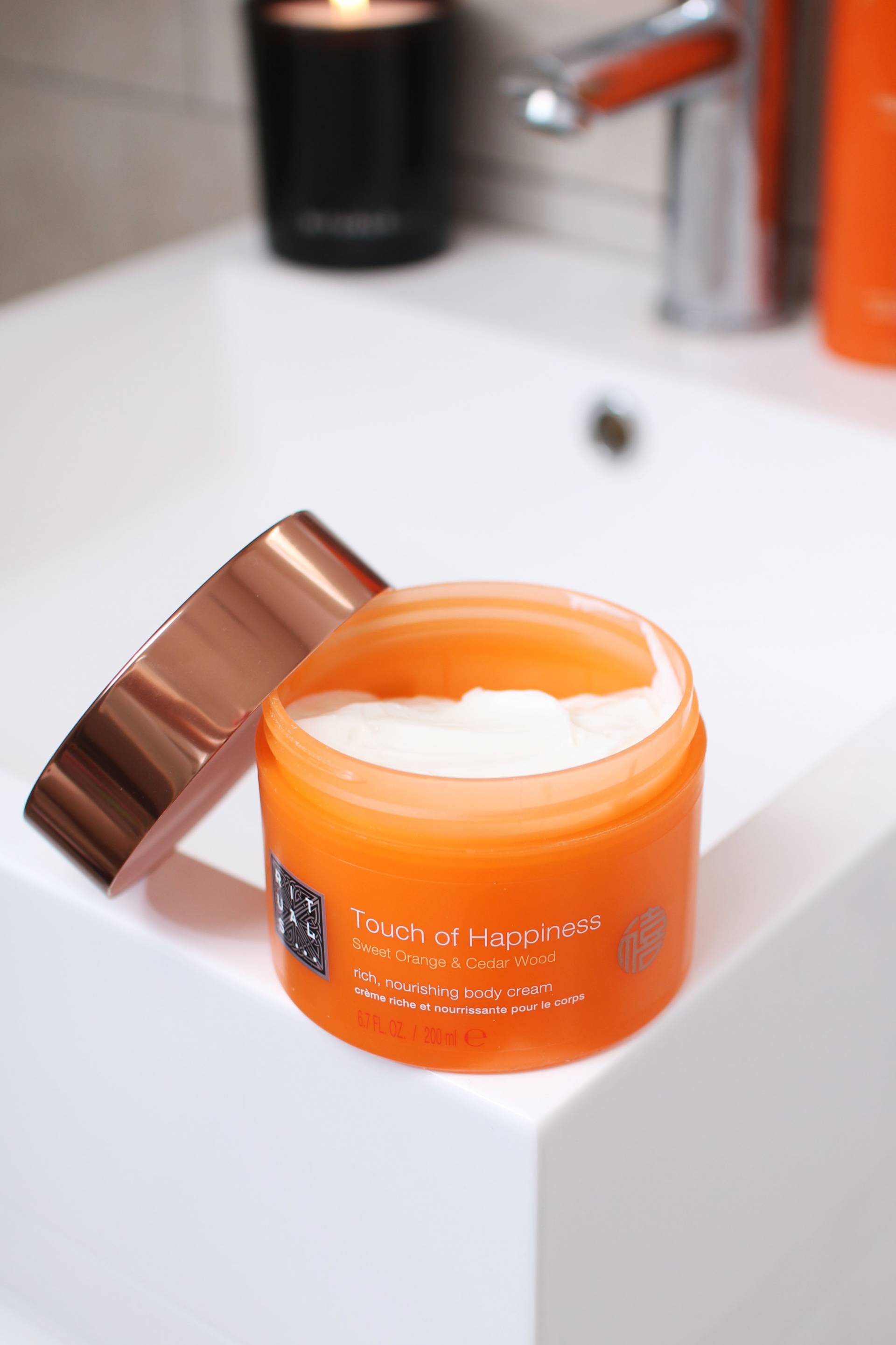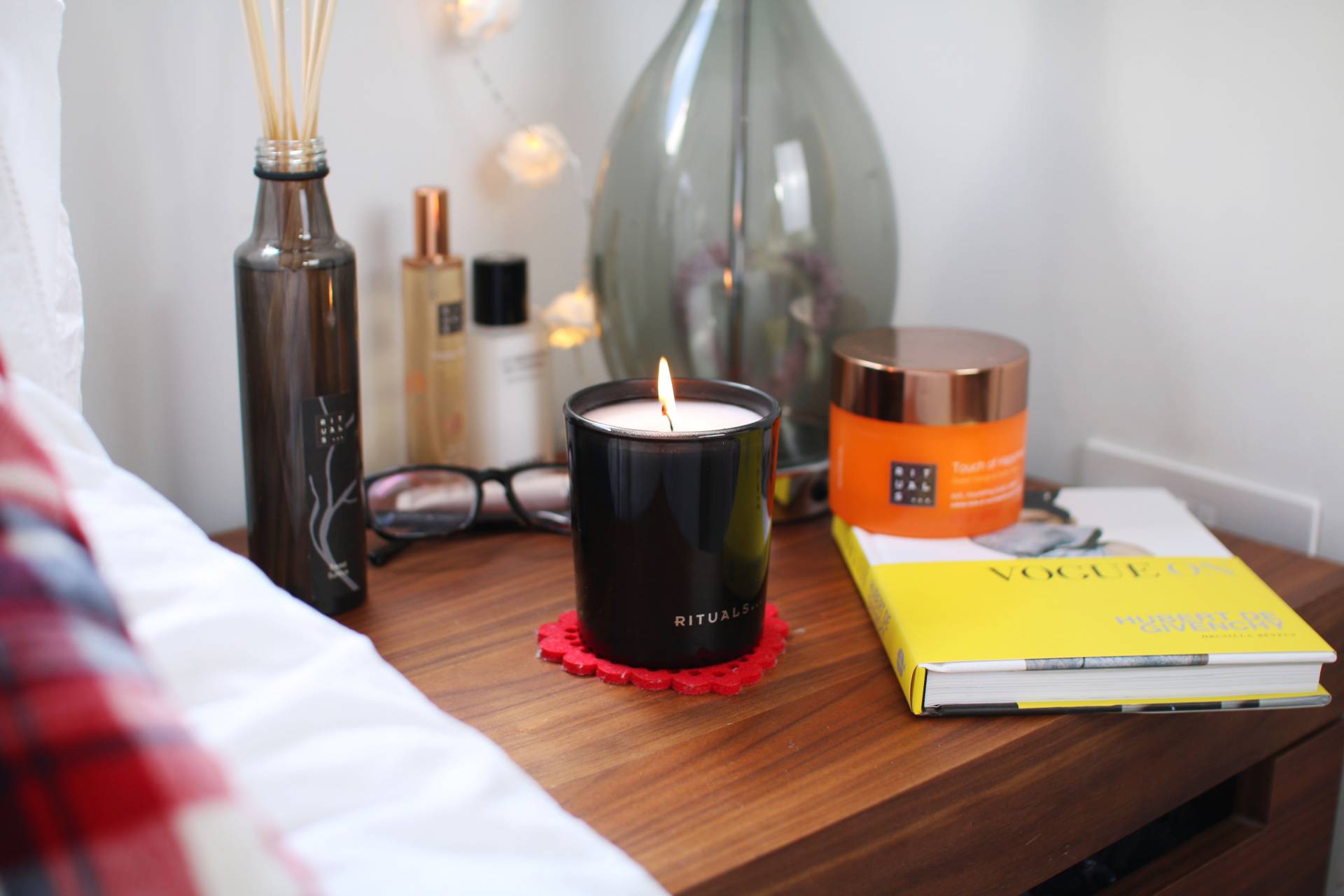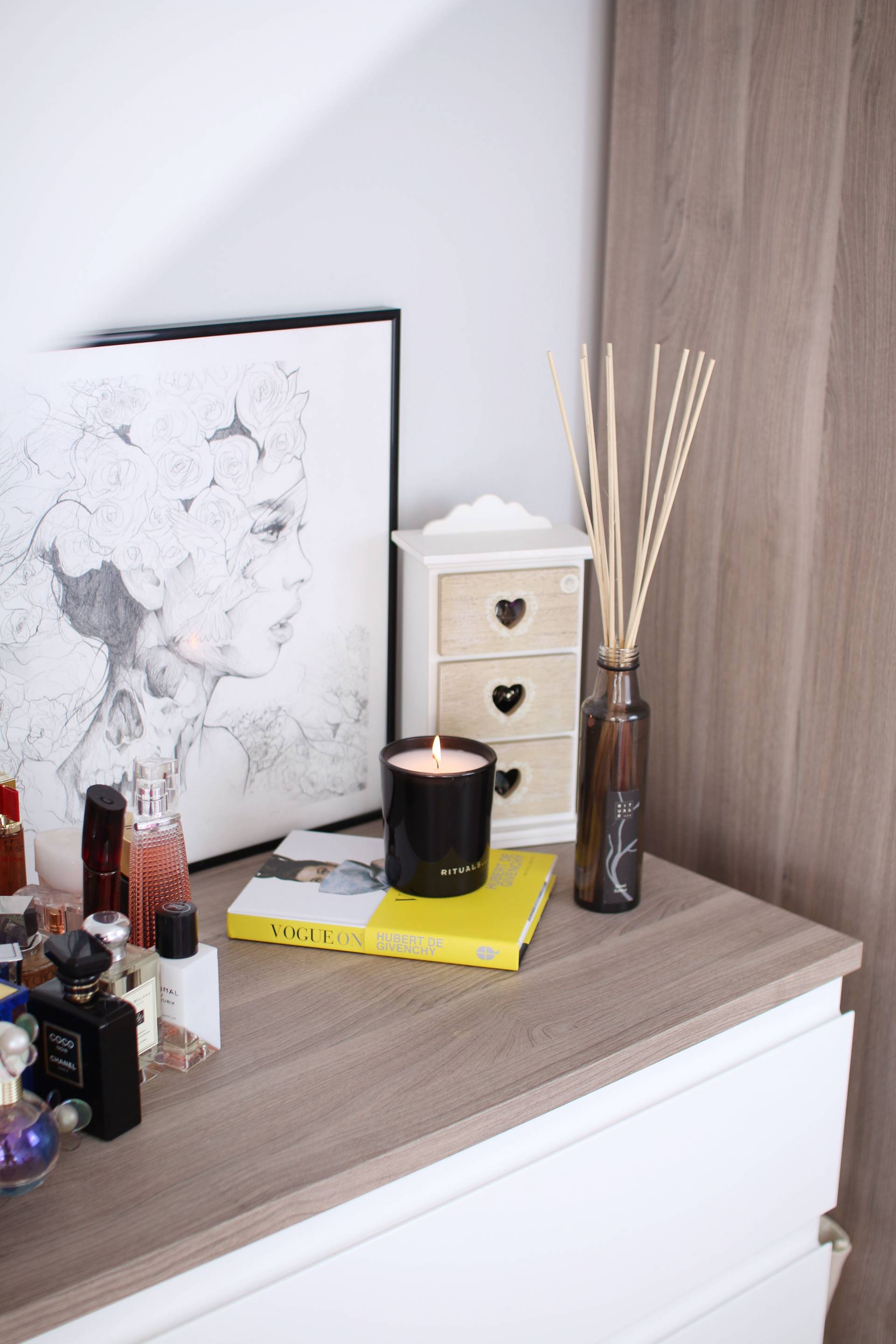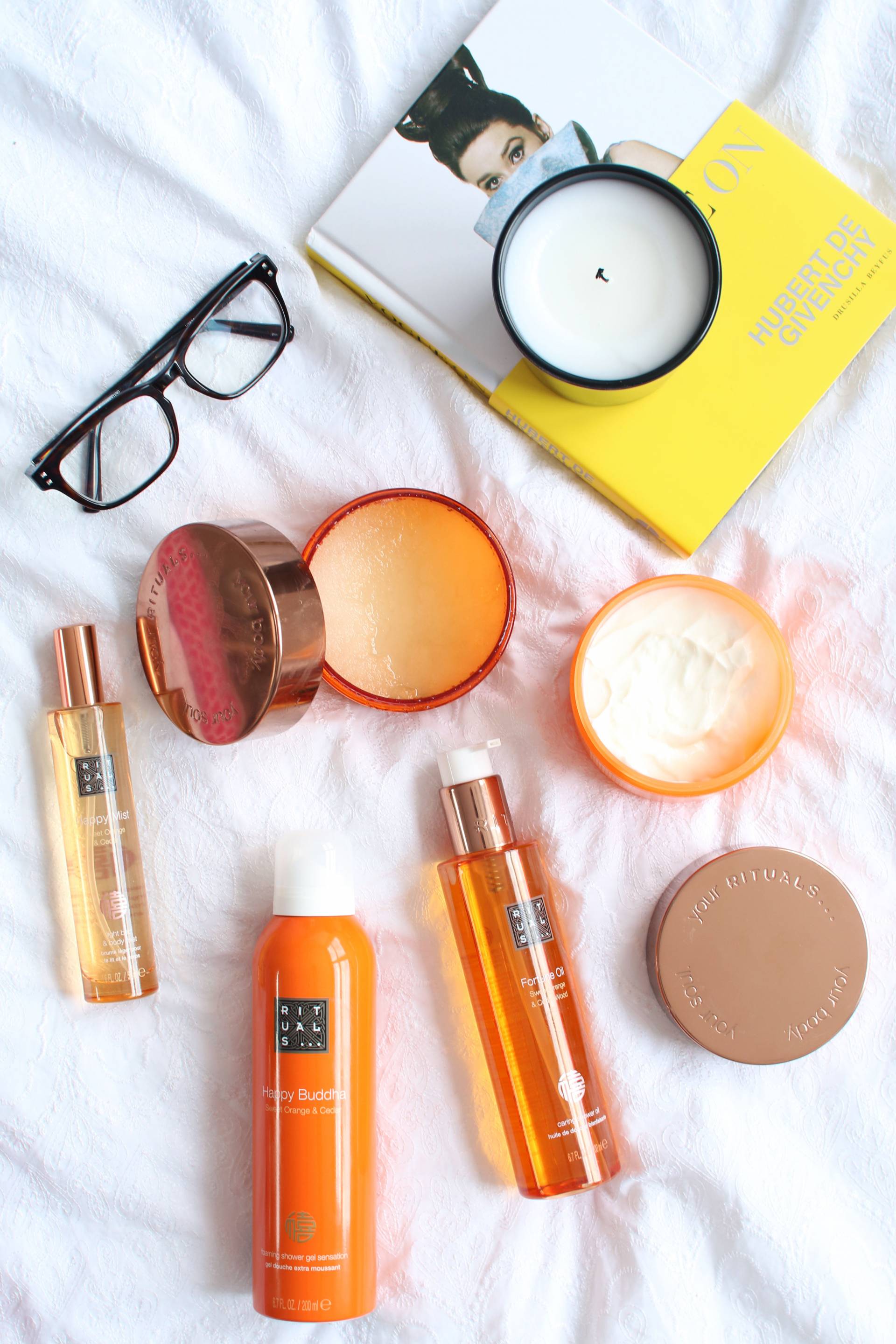 And for those finishing touches, or nights when you just want to relax, unwind and destress, dressing the house in complimentary scents is such an uplifting way to continue feeling fresh and positive.
The Sweet Sunrise Fragrance Sticks are great for leaving in your bedroom for when you jump into bed at night with a book. They fill the room with such a strong and comforting fragrance that is so wonderful and calming at the end of the day.
The Sweet Sunrise Scented Candle is a great accompaniment, and set next to the fragrance sticks, or even left on your coffee table for nights in front of the TV, the scent is beautifully relaxing.
The Happy Mist Bed and Body Perfume is the last step in the routine. Spritzed onto your bedding before sleep, or even used as a body perfume, it continues the fragrance from the skincare routine throughout the day. For me, I love these sorts of sprays, to leave in the living room and to mist the air on days when I want to awaken my mood and feel a little more positive.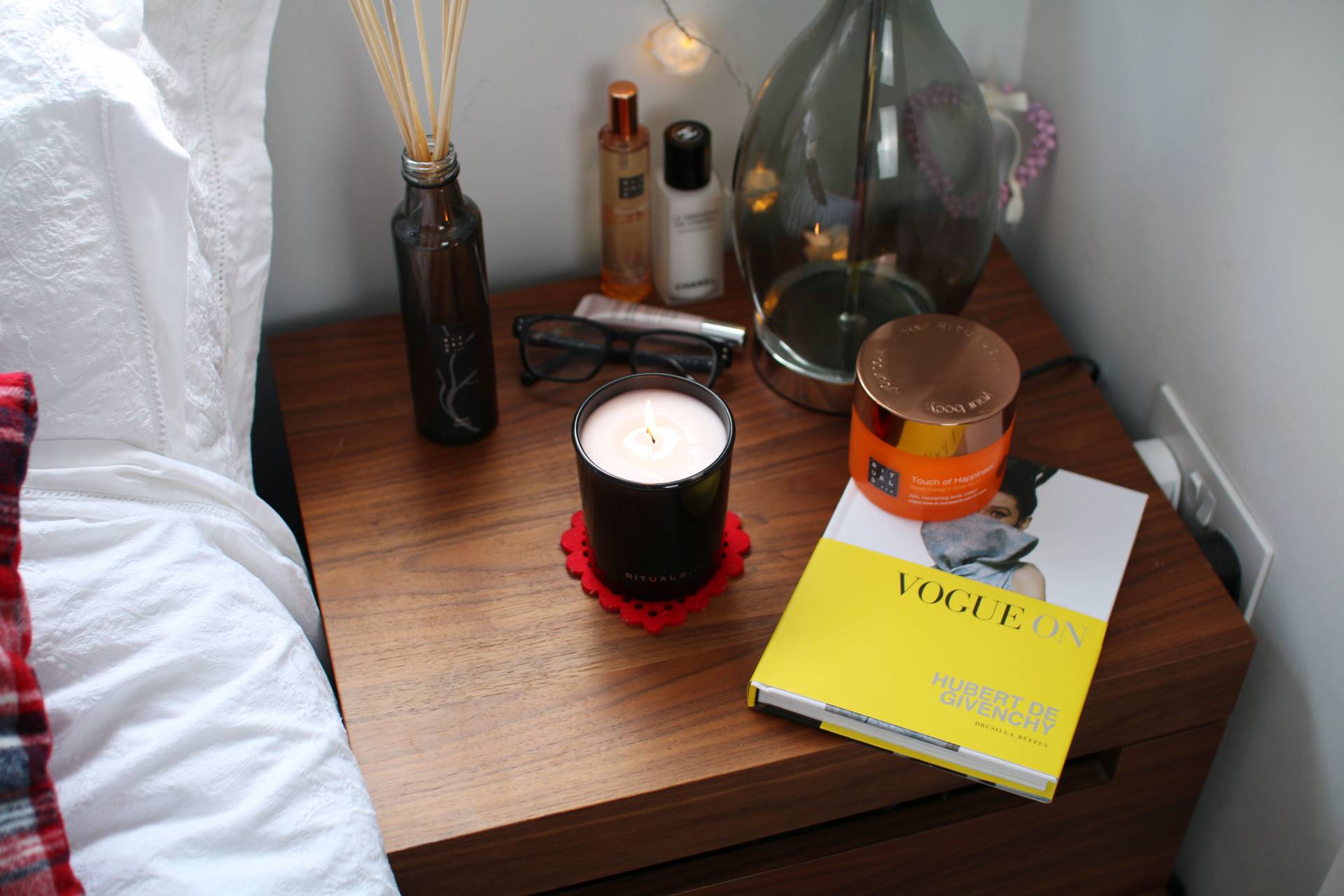 Id love to know your feelings on Rituals! Have you indulged in their luxury routines and changed up your own rituals? Or might you be intrigued to do so? I'd love to know what you think!
Kindly sponsored by, and in collaboration with, Rituals. As always, all feelings, reviews and opinions are my own.
Sign up here for a weekly catch up of everything Inthefrow