London, UK
LFW S/S16 Day 5
And then it was the final day. I checked out of my beautiful, minimal room at the St Martins Lane hotel, packed my new pink Ted Baker cases into my four door Smart Car and headed off for the first show of the day. I'll be honest, at this point I was pretty tired, and with this being my earliest morning yet, I was in need of a really long lie in.
But yet, off I went, ready to start the day and finish London Fashion Week the way I started it. Starting with Anya Hindmarch, a brand that I have adored for so long and who have really revamped their style so much over recent years. It meant that I was really excited to see what they had to offer this season, especially as I had heard that they love to put on a show.
From there, I had to jump in my car and rush it over to the Amanda Wakeley show. I was wearing two of her beautiful pieces, a long woolen green coat and a leather python tote, so I was panicing as to whether we would make it over there in time. I was fifteen minutes late when I turned up, but luckily just in time.
Hair by The Hershesons Team for L'Oreal Professionnel
This was a hair style that suited the collection and theming of the catwalk so succinctly. The hair was pulled back tightly into a very graphic side parting, in order to match the graphic lines of the staging for the show. It was a porcelain doll look, with the hair fixed tightly with elastics and L'Oreal Fix Move Gel layered onto the hair for a high shine and slicked back finish. The look was finished with Techni Art Shower Shine Spray, for further lacqeur and high shine, almost with a lego hair feel.
High Street Revival by Anya Hindmarch
I am so in love with the direction that Anya is taking her accessories for the past few seasons. I remember about 6 years ago, being introduced to the brand, the cute bow logo and the feminine and classic styles. Fast forward to now and the bags are bright, vibrant, unique and unlike anything else on the market. Completely different to what the brand may have started with. But I love that they have completed reinvented accessories whilst adding some fun and playfulness.
This season saw so many nods to the high street stores. In some cases, glaringly obvious, yet it took me a few looks to realise just how many references had been incorporated into this collection. The John Lewis references I noticed, with bags reading 'John', the word 'Never' for their famous slogan, as well as 'Need it in a hurry?' on a little clutch, for John Lewis's move into speedy online selling. I didn't even notice at the time, that the John Lewis stripe pattern was also printed over so many pieces of clothing, including an amazing pair of white boots.
As to my knowledge, this is the first season that Anya is incorporating shoes and clothing to her line of successful accessories, and I think it is a fantastic move. The boots, the rucksacks and the sweatshirts, lets just say I would like one of each in my wardrobe.
There were so many pieces in this collection that I absolutely adored. Whether it was the blue rucksacks with the Nationwide logo, the blue boots with the Boots logo emblazoned down each side, the blue and white backpack with the Mothercare logo patterned across it, or the WH Smith logo worked all over orange-toned totes. It was so cleverly pieced together and completely reinvented some of our most well known, high street brand logos.
My favourite piece though has to be the white backpack with the cherry red John Lewis stripes. As soon as I saw it, it was destined to have my name on it come Spring!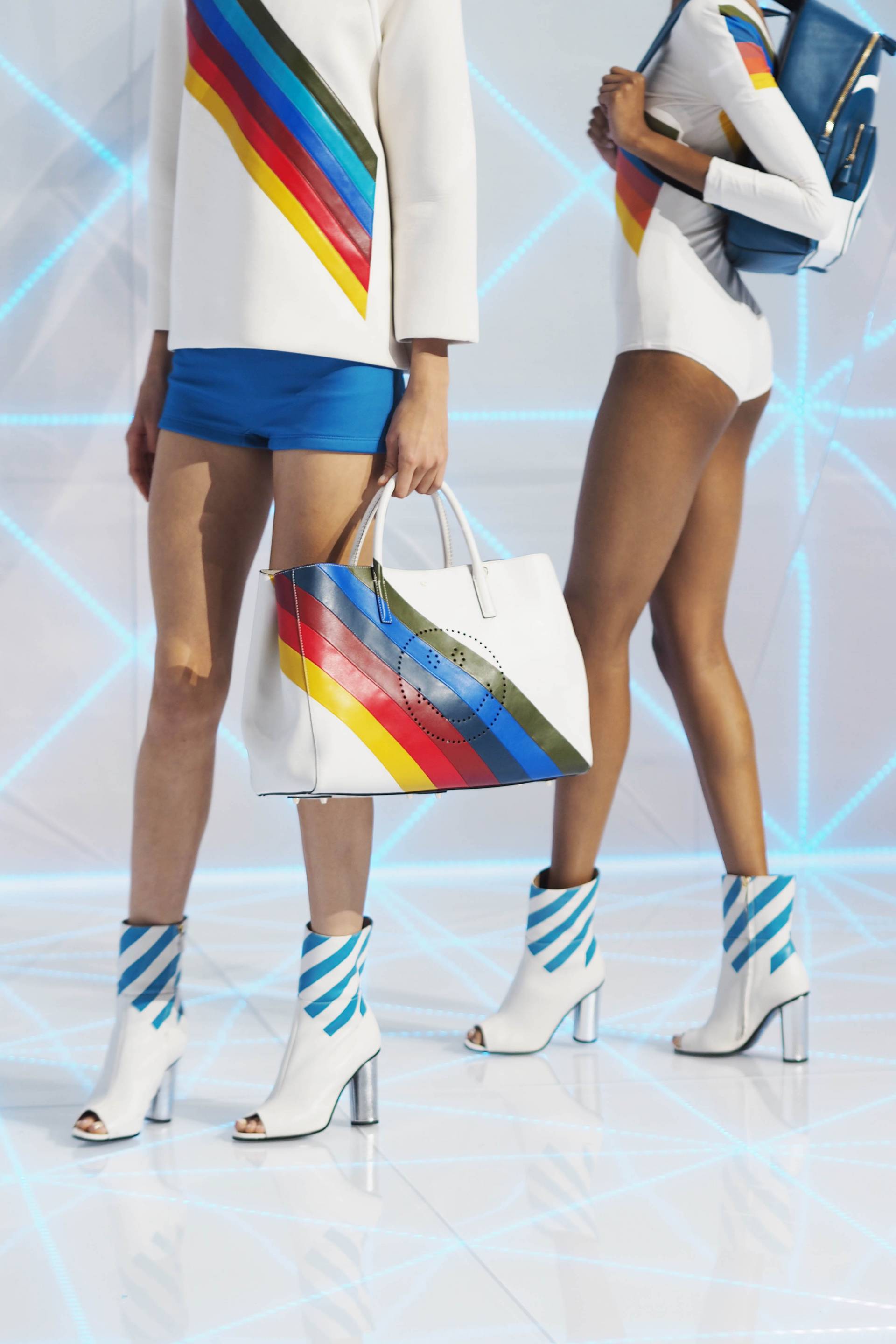 The Feminine Modern Woman by Amanda Wakeley
Light, floaty, feminine pieces were the name of the game with this collection. Amanda often likes to work with a neutral colour palette and structured silhouettes, and whilst this was a little more summery and floaty, the beautiful muted toned were still there. Greys, silvers, blacks and whites were all developed into luxurious feminine power pieces with blush pink tones as the highlight shade.
I feel as though the collection was designed for the successful, stylish woman. The kind of lady who knows exactly who she is and who she is dressing for. There is certainly an assured and confident feeling to the shapes and cut of the clothing, whilst remaining extremely feminine.
It's just a shame that I was sat where I was, as I wasn't able to take many front view shots of the garments, yet in a few cases, it was the back of the outfit that held the prominent detailing.
It was a beautiful and relaxed show that really made me rethink my clothing direction for the spring months. Feminine power dressing sounds rather fun!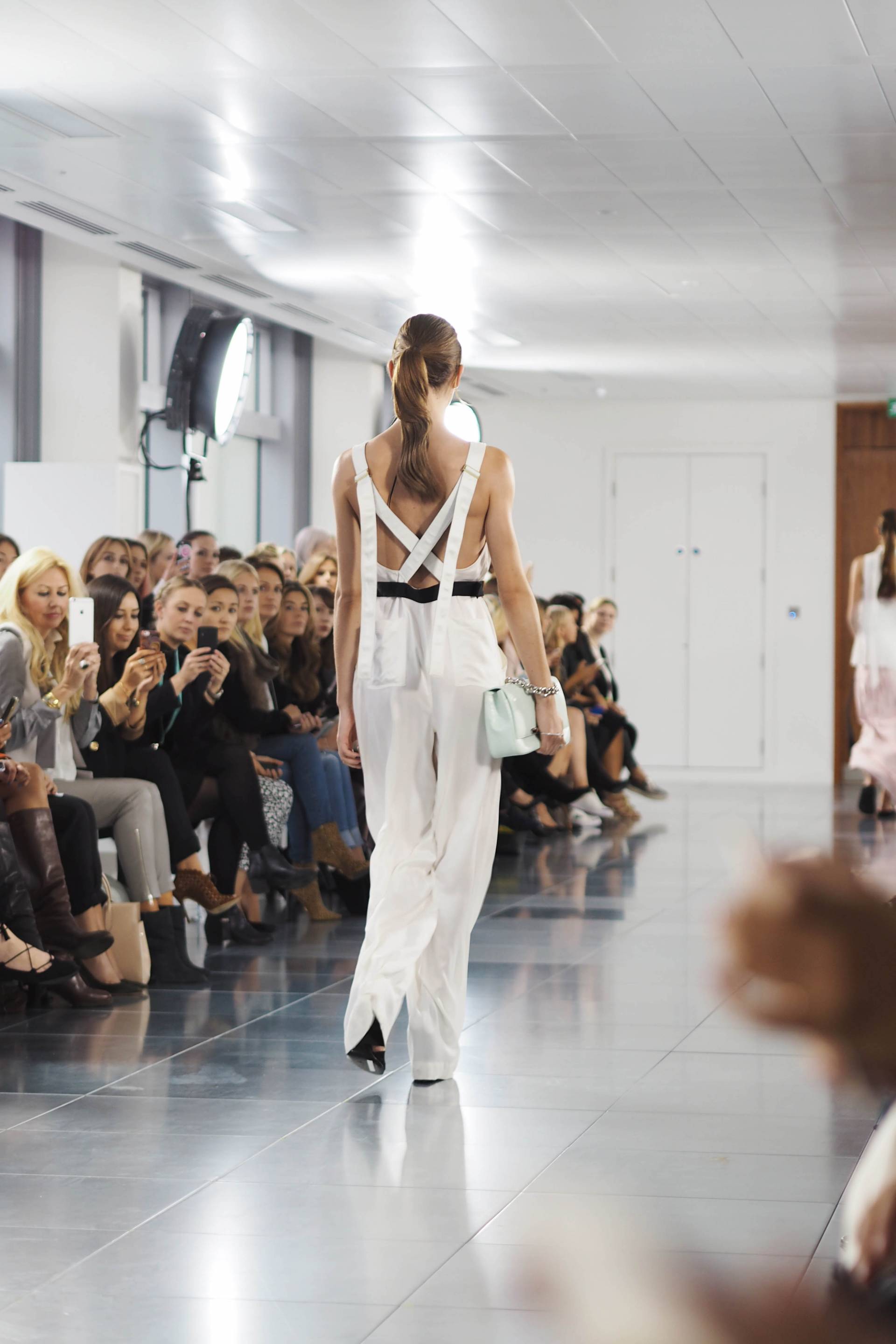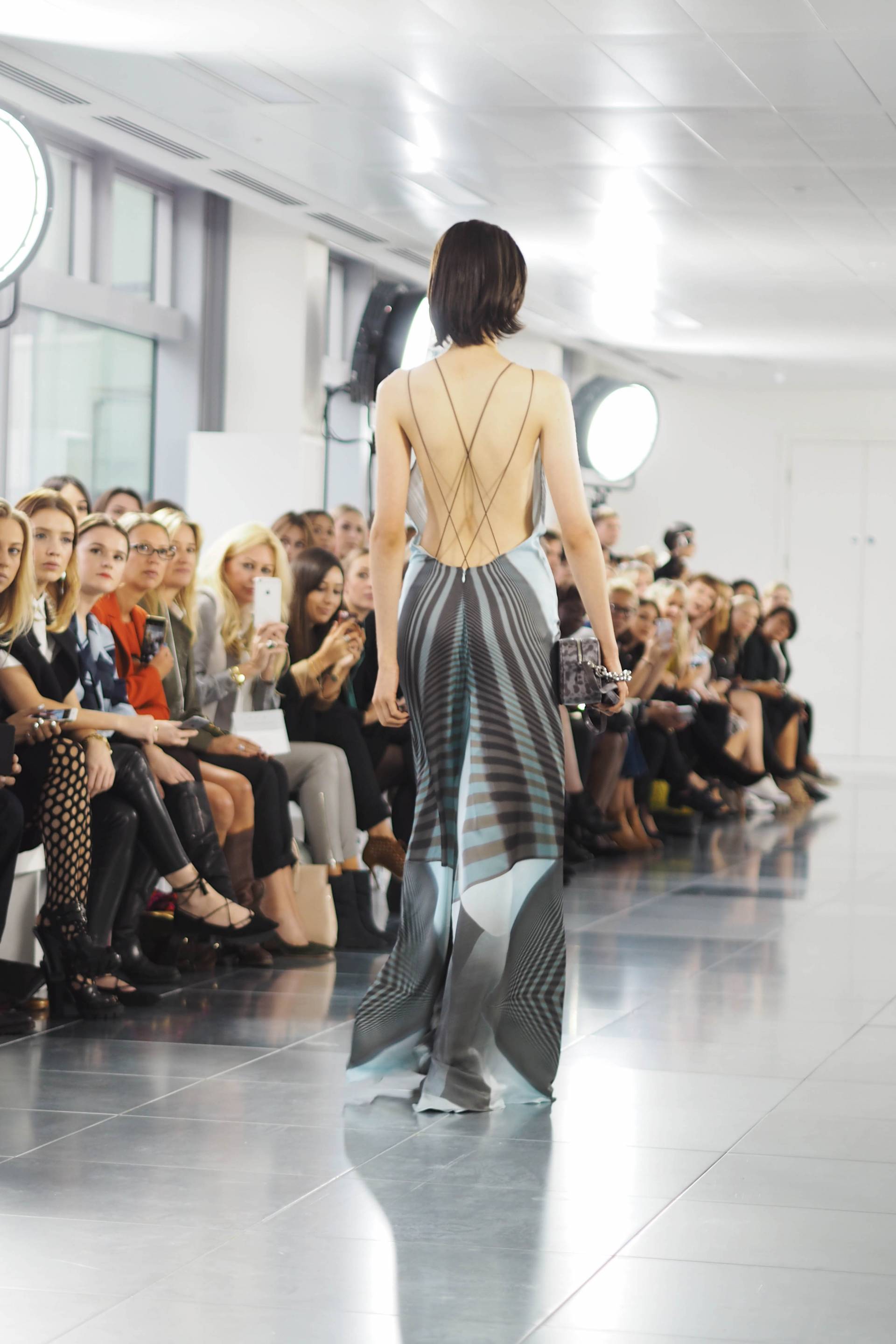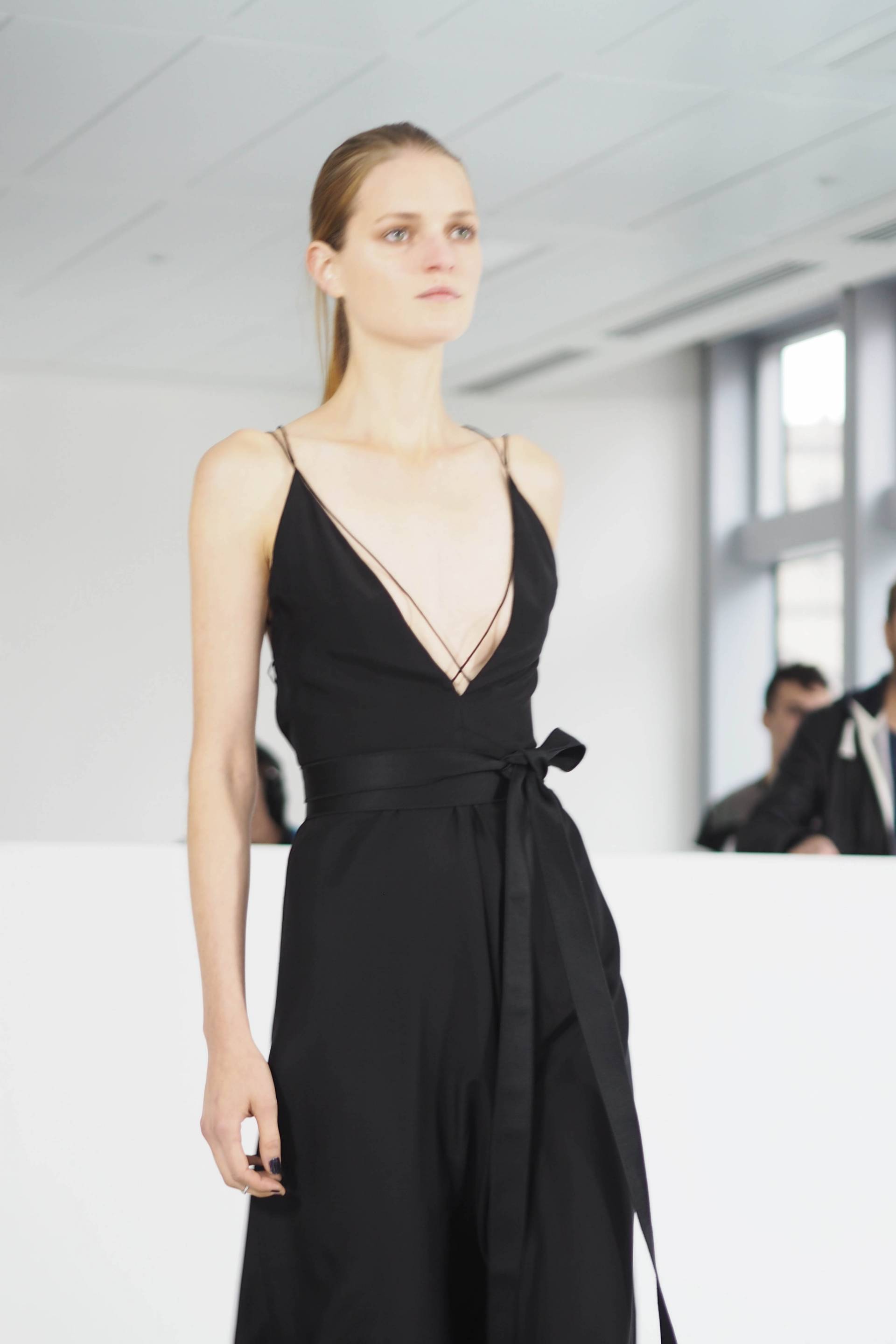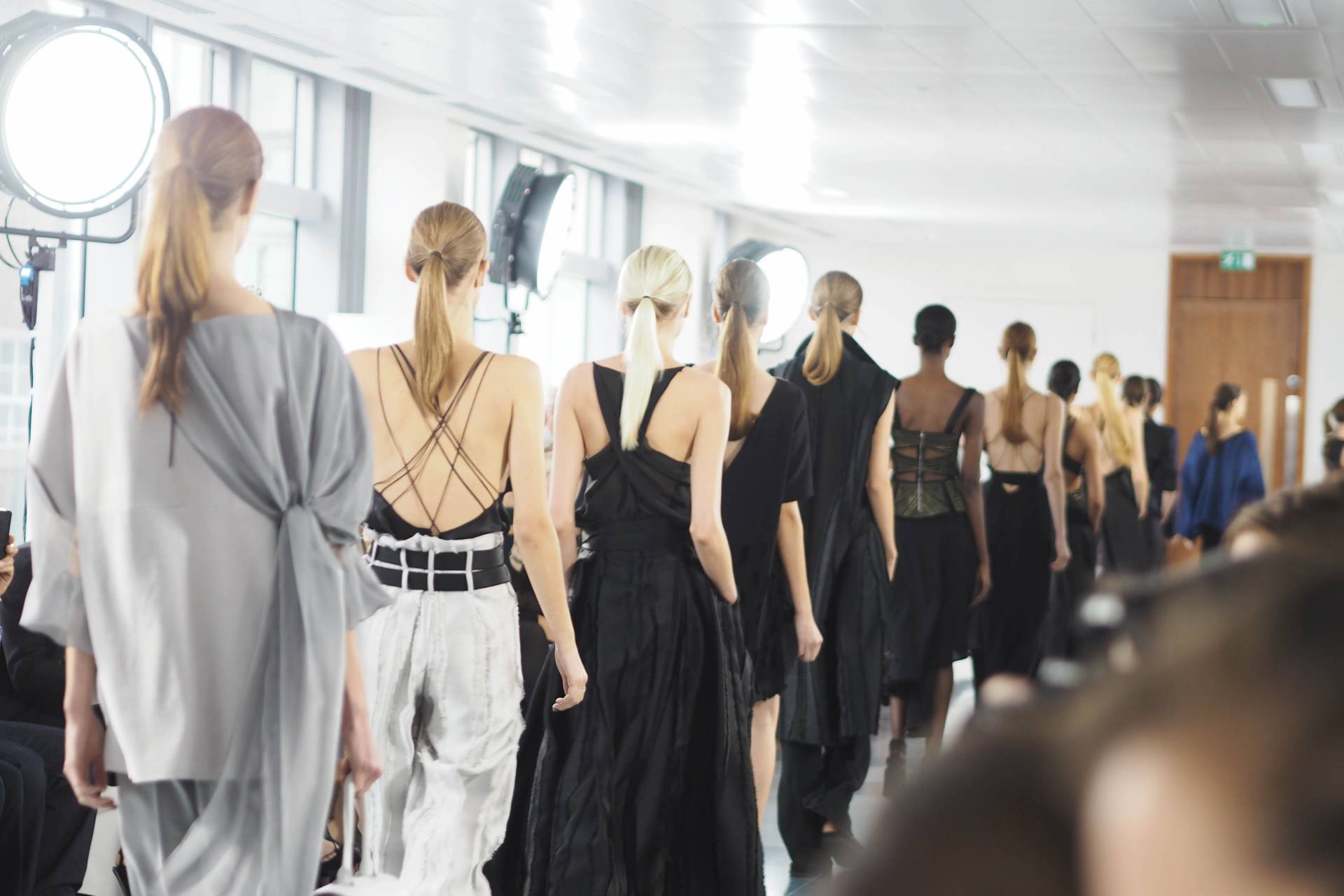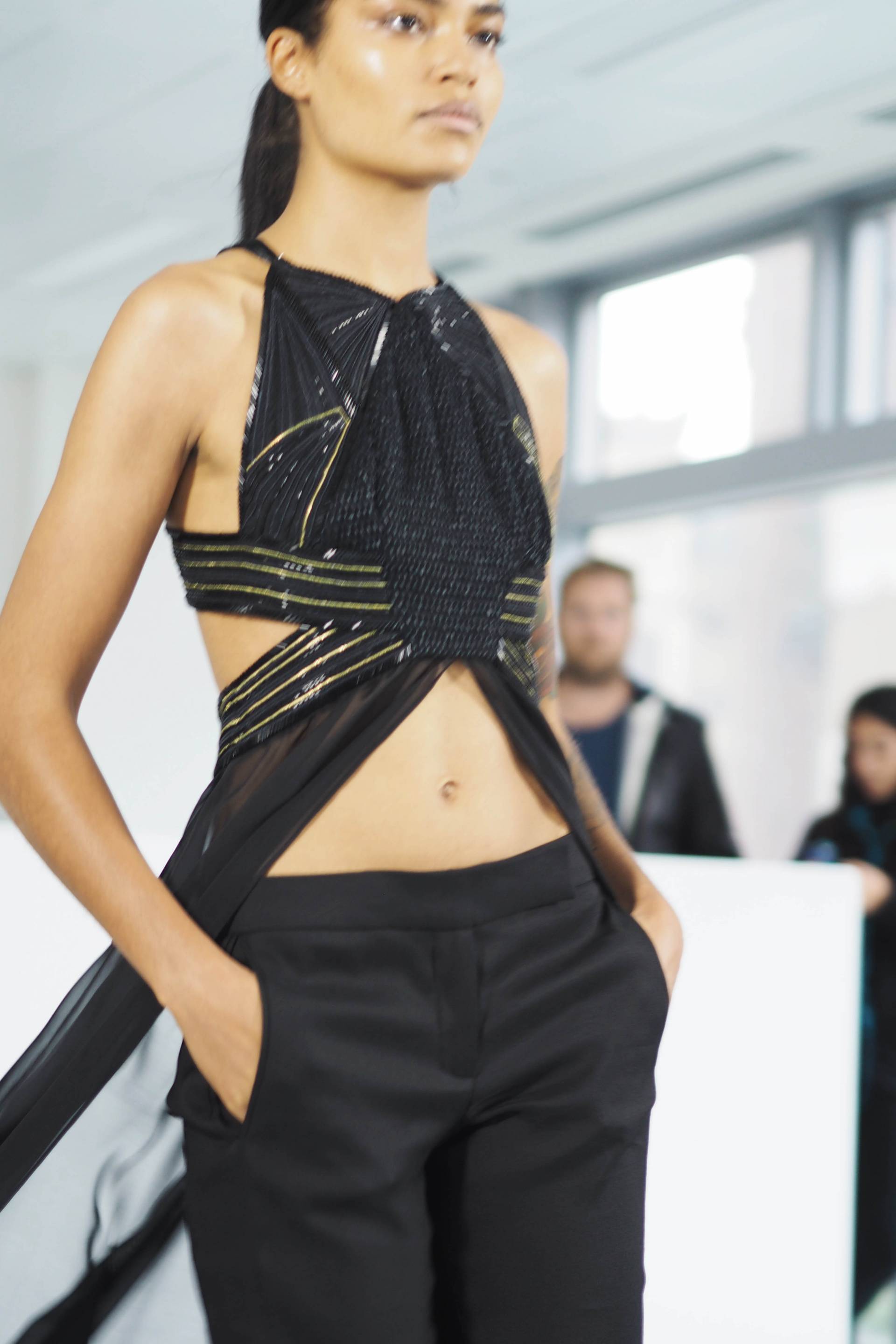 And that is it. Fashion Week is over for another six months. I really hope you guys enjoyed reading about the shows I loved this season and the pieces I think you should be gearing up to find in the spring months! If you missed any of the posts from London Fashion Week, just head on over to the Fashion Insider area to read back on all of the posts from the week!
If you would like to see what I was wearing on the fifth day, then just have a peek at this post also!
Thankyou to all of the photographers I worked with this season.
Thankyou to Smart ForFour for offering me a lovely driver for the weekend.
And thankyou to the St Martins Lane hotel for making my job so much easier by letting me stay closer to the action in Covent Garden!
It's been the best London Fashion Week yet!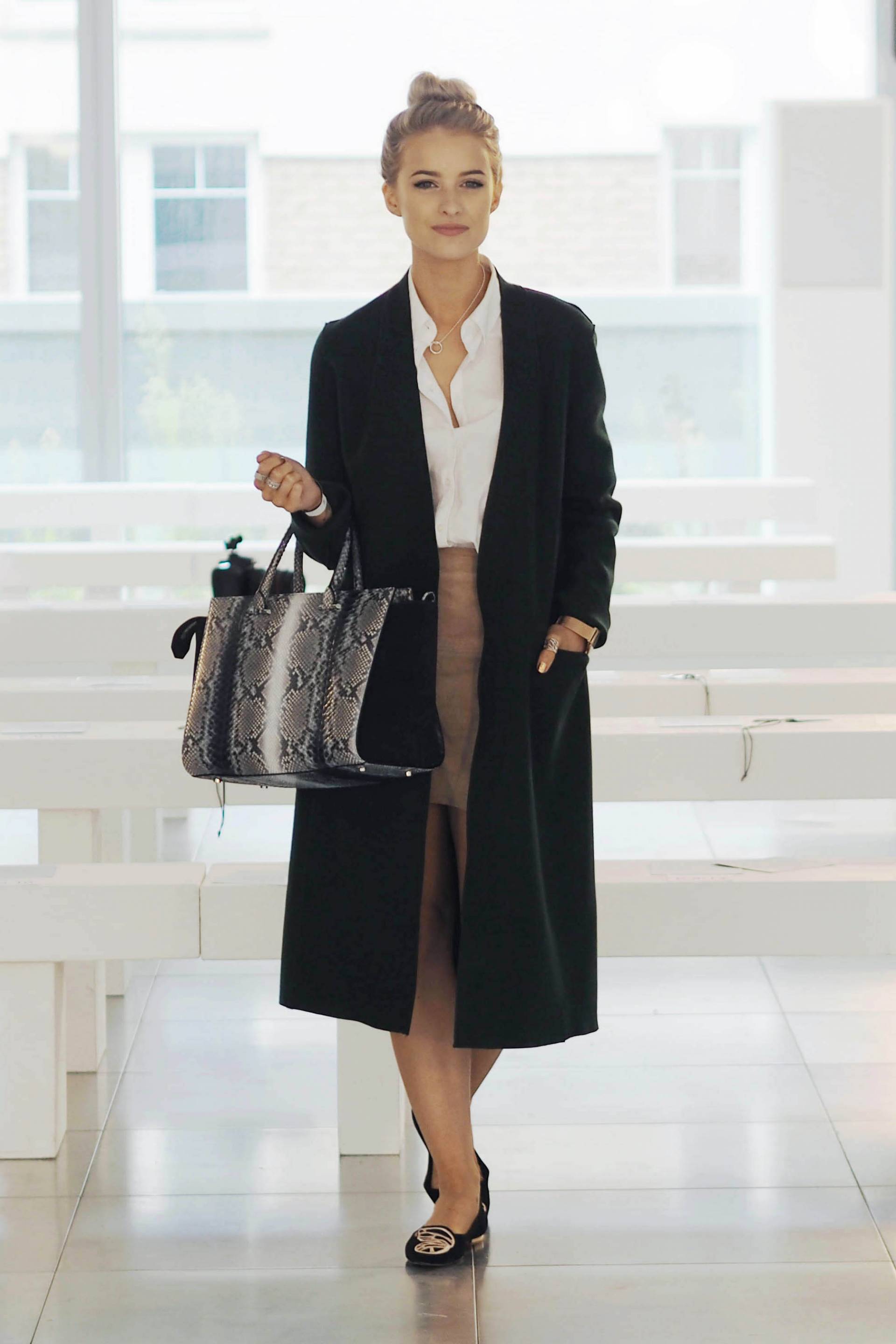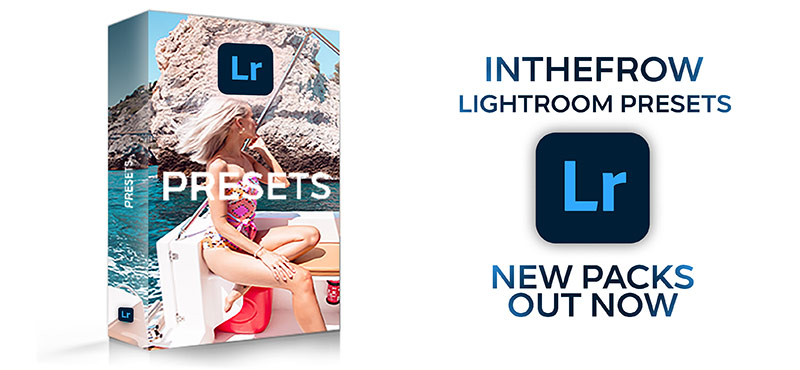 Sign up here for a weekly catch up of everything Inthefrow