London, UK
LFW S/S16 Day 3
This was a long, but very exciting day. Sitting front row at not only Topshop Unique but Mary Katrantzou was beyond my wildest blogging dreams. When I studied Fashion Retail at the University of Manchester, we would research and study London Fashion Week in detail and I would wonder and question how exactly one could obtain a ticket for such an exclusive show.
Eight years later, and I am sat on the front row for two of my favourite brands. It was a pinch me moment and a massive honour, and is a motivating feeling to know that my writing and this blogging publication is moving in a very exciting direction.
The day started with Sophia Webster, moving on to Topshop Unique and a very quick move from backstage at Vivienne Westwood to Mary Katrantzou. I had to choose between seeing the Westwood or Katrantzou show, as they were placed just too close together for my nerves. So I headed backstage at Westwood quickly to see how everything was coming together, before heading off in my Smart Car to Mary Katrantzou.
Under the Sea with Sophia Webster
Hats off to Sophia and her team, as they create something spectacular year on year. I was blown away last season by the cool space age theming, so I was expecting something unique and unusual again this season. Walking into the presentation, Mermaid Launderette, it was exactly what a creative mind would imagine. Models dressed as mermaids, perching inside shells, adorned with mermaid tails and resting on rocks, alongside or even sat inside, large drum washing machines. It sounds a tad unusual, but of course the Queen of shoes made it fit together harmoniously.
Last season I was swooning over the Bibi butterfly flats, and ran out to buy them as soon as they were released. So of course I was on the hunt for my next summer heels purchase, as I perused the latest collection. In fact, the product I came away lusting over the most, was a black and white printed clutch that you can see in an image below. I absolutely need this for my summer wardrobe. Plus the thigh high pastel-beaded heels are to die for!
With obvious marine influences and beading being a key theme, Sophia has managed to make a collection of very unique shoes, all with alternative styles. In some ways, the alternative patterns, embellishment and materials, perhaps shouldn't work as a collection. But the fact that they are quite obviously Sophia Webster shoes, and carry particular recognisable traits, brings them all together succinctly to form a varied, fun and playful collection.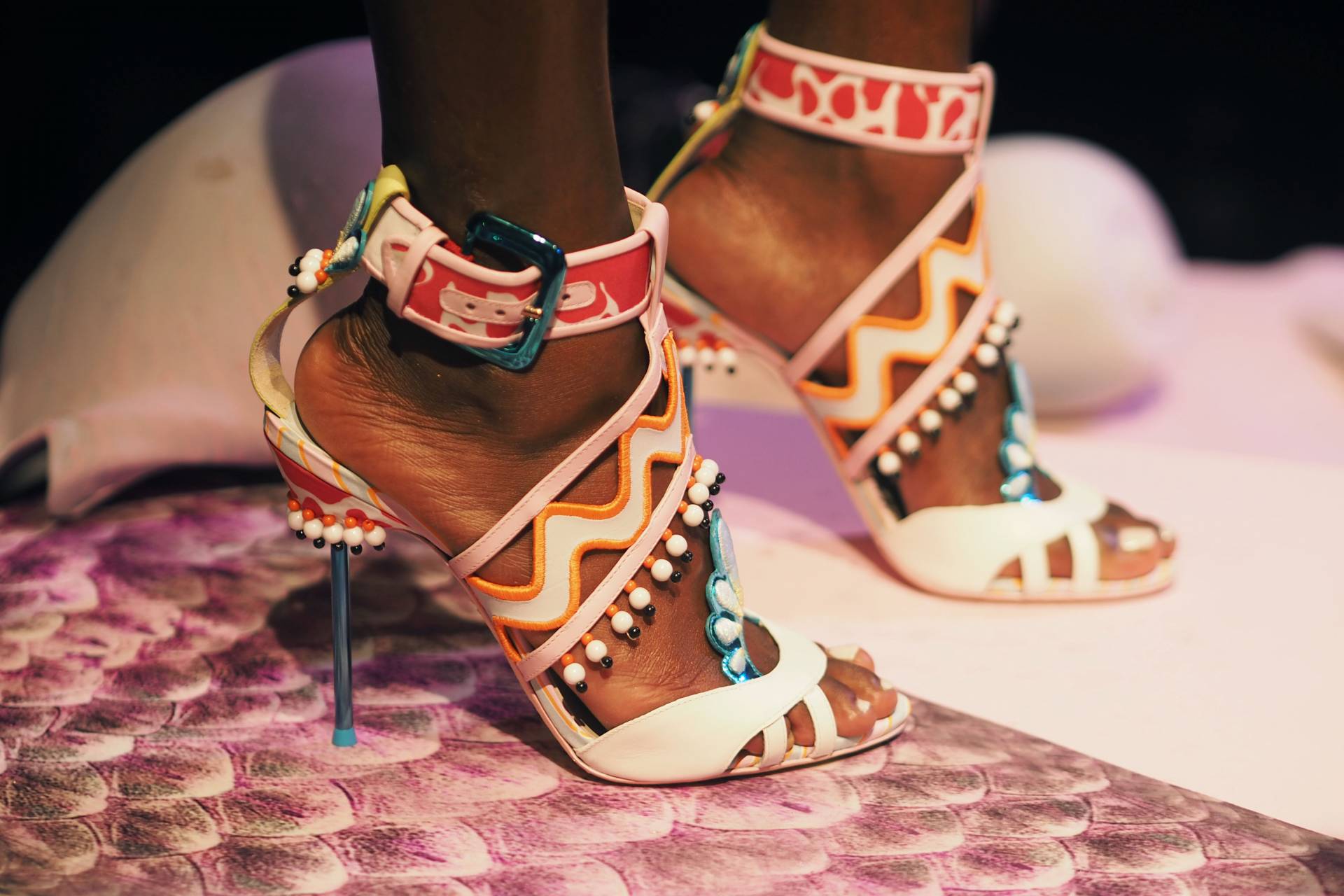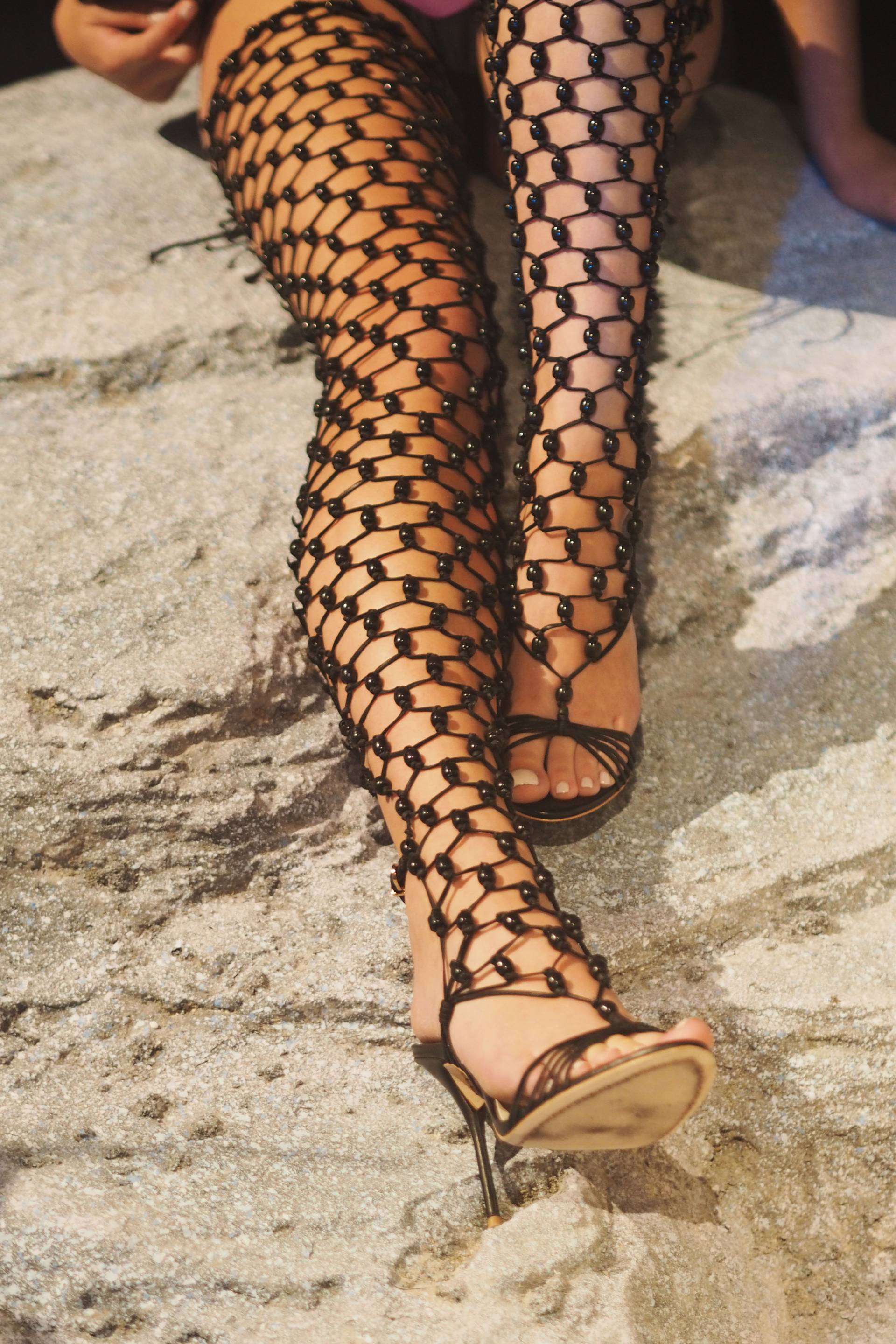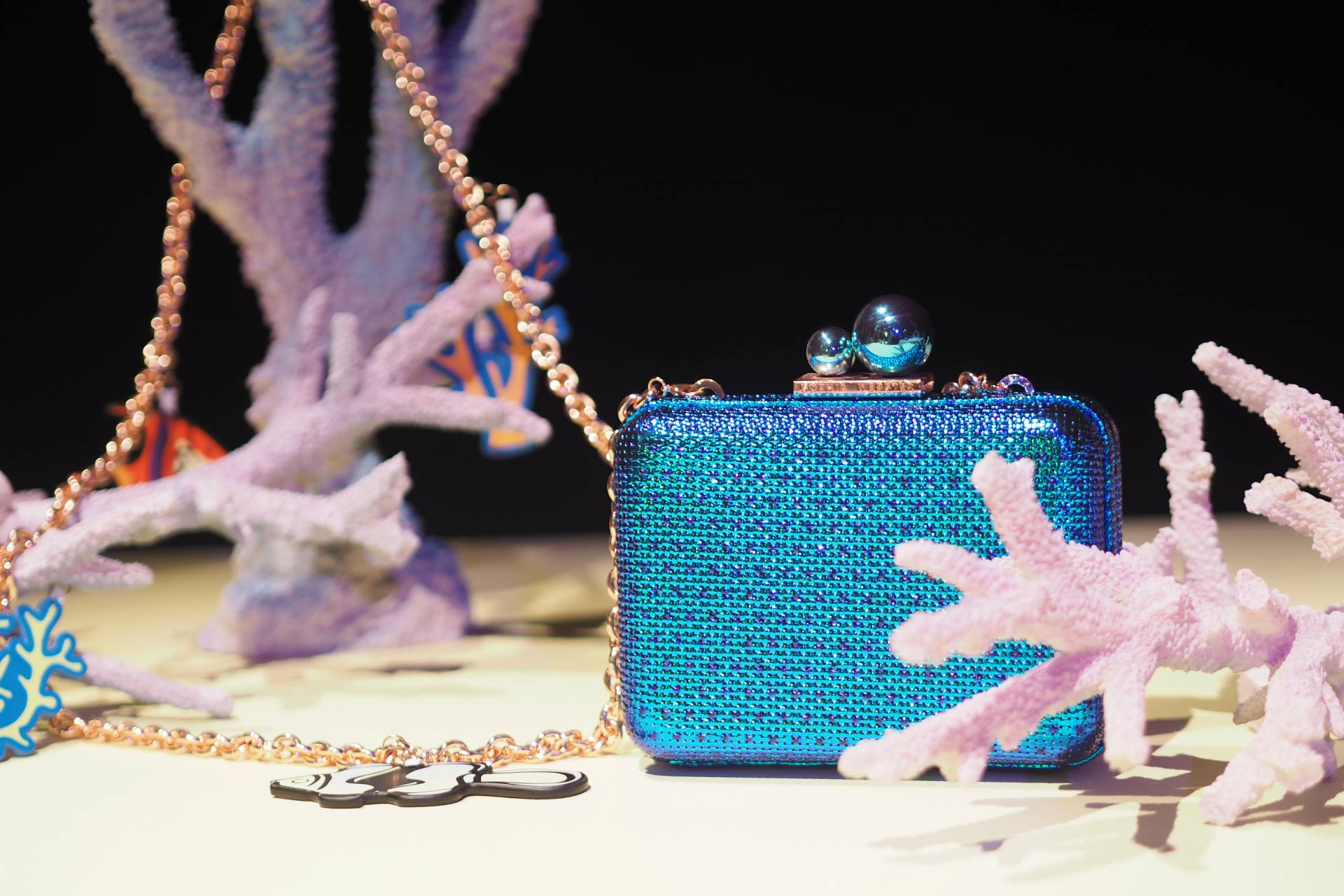 Courtney Love meets Girl Next Door
Backstage at Topshop Unique, Topshop Beauty was of course catering for the makeup, with L'Oreal Professionnel looking after the hair. Hannah Murray put together a look based around a matte red lip, applied without extreme attention in order to create a realistic and wearable finish. The product is applied straight from the bullet, blotted and then reapplied, to offer a bolder build up of colour. Black kajal liner was smudged into the lashes for a lived in finish with copious amounts of mascara applied to the top and bottom lashes for a clogged and overapplied appearance. This look is one for the girl with little time or precision on her hands, who just wants to apply the products she knows she loves, in as little time as possible, whilst still looking like a rock star.
For the hair, Anthony Turner for L'Oreal Professionnel worked with each girl individually, creating a unique look inspired by the great 80's Popstars. Grace Jones, Debbie Harry and Whitney Houston were all influences, and each girl was given their own 80's idol look depending on their own individual traits. Whilst each style was completely unique, Anthony used Tecni-Art Pli for the majority of hair styles, for volume, hold and setting.
80's Throwbacks and Idols
There was a retro vibe to the collection. Almost like a child in her mums vintage closet playing dress up. Oversized blazers with satin collars, large fur pastel coats, polka dot prints and leather statement pieces. Floral influences were injected via silk blouses with foliage patterning, and pastel floaty dresses with chaotic leaf prints. Thigh high splits were a theme I was loving, as well as the cropped trousers throughout the collection. Whilst I must admit it might not be my favourite Topshop Unique collection, there were so many cool ideas here that I will absolutely be incorporating into my looks for summer. I am a huge fan of tailoring, so the variety of collared jackets and shirts in this collection really stood out to me. And the matte red lip is something I'd love to rock so much more in the summer months.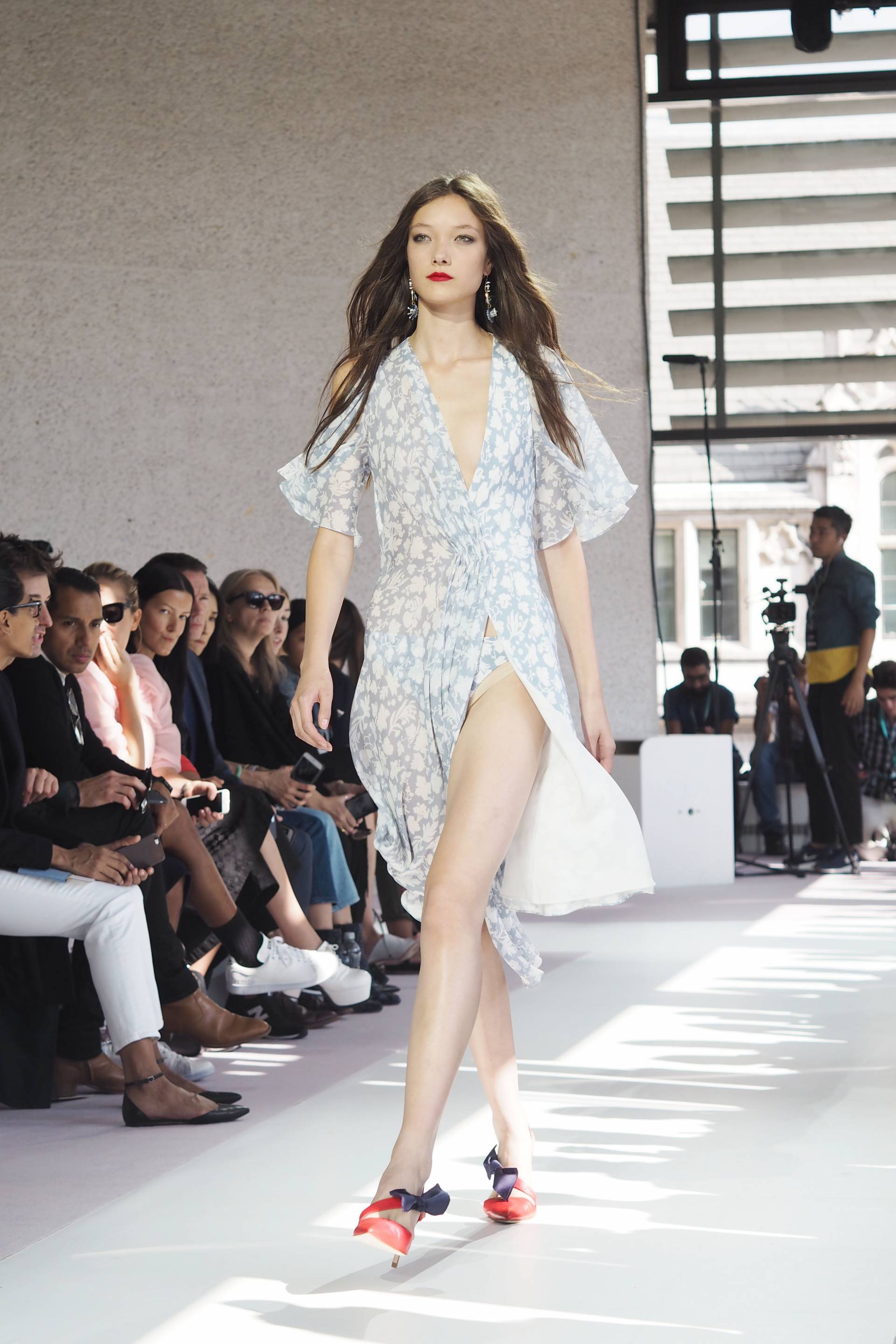 Bow Hair Ties at Mary Katrantzou
Being able to sit front row at the Mary Katrantzou show was beyond an honour for me. I am a big big fan of this brand as a lot of you may know from the numerous times I have included her pieces in wishlists and the time I wore one of her incredible bandeau structured dresses to a movie premiere. And each season, my love for her creativity, use of colours, prints and textures, only grows and grows.
This season, the hair was taken care of by L'Oreal Professionnel, who seem to have been looking after the best names in the business this season. Again with the use of their key products, such as Mythic Oil, Metallic Gloss and Tecni-Art Pli, Paul Hanlon created a look incorporating a bow neck tie. Looping it through the hair from the front of the neck, the bow is tied at the back of the hair, harnessing the hair to the neck. The hair was initially lightly curled, and then swiftly straightened to provide a worn out, yesterdays curl for a Parisian chic finish. Mythic oil or metallic gloss is then applied over the hair to provide a sheen and shine whilst the hairspray keeps the back of the hair flattened and in place.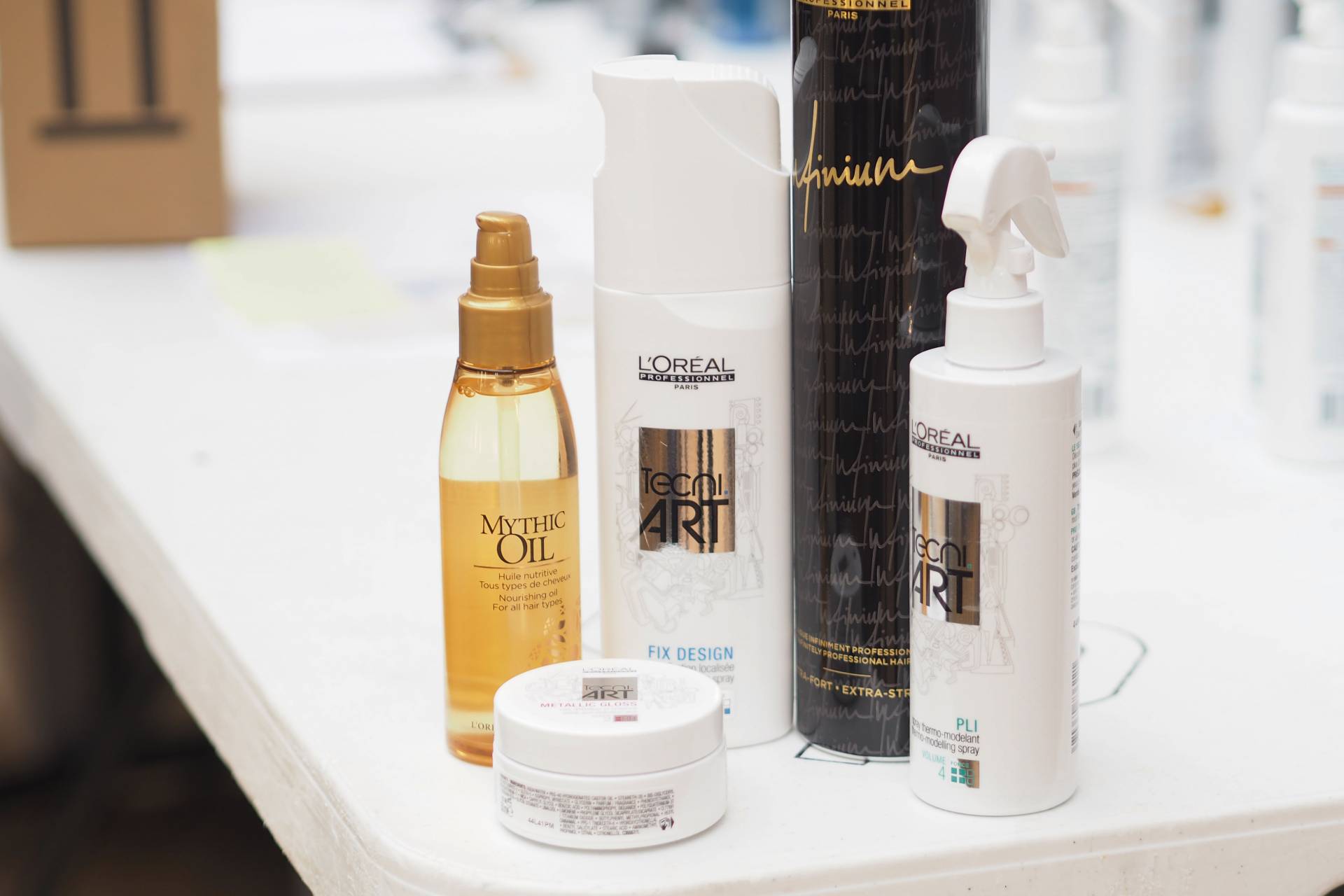 Shimmering Mermaid Tones by Mary Katrantzou
The flooring was covered in blue wrap to imitate water beneath the models feet, whilst a large mirror marked the end of the runway, positioned diagonally down towards the floor as to provide a view up the entire runway for those viewing the show. Light bounced off every part of the mirror, creating an ethereal atmosphere in the room that was only added to further by the light bouncing off the sequins and metallics in the clothing.
This season Mary has created garments in luxurious gem stone shades of royal blue and purple, teal and burgundy. But used alongside ditsy floral prints, some of the pieces looked almost 70's vintage meets bohemium babe. A range of the collection involved embellishments, sequins and beadwork, whilst others used quilting techniques and ruffles, and others relied on micro floral prints. Yet due to an obvious colour theme, each range of garments was obviously part of the next and carried a recognisable characteristic. Garments were either V Neck or high neck, skirts and dresses were always mini, and the gemstones tones were apparent throughout.
I think the key pieces for me would be the sleeveless minis pictured just below. They are so wearable for the summer nights but are so noticeably Katrantzou pieces. And that is what I adore the most about this brand.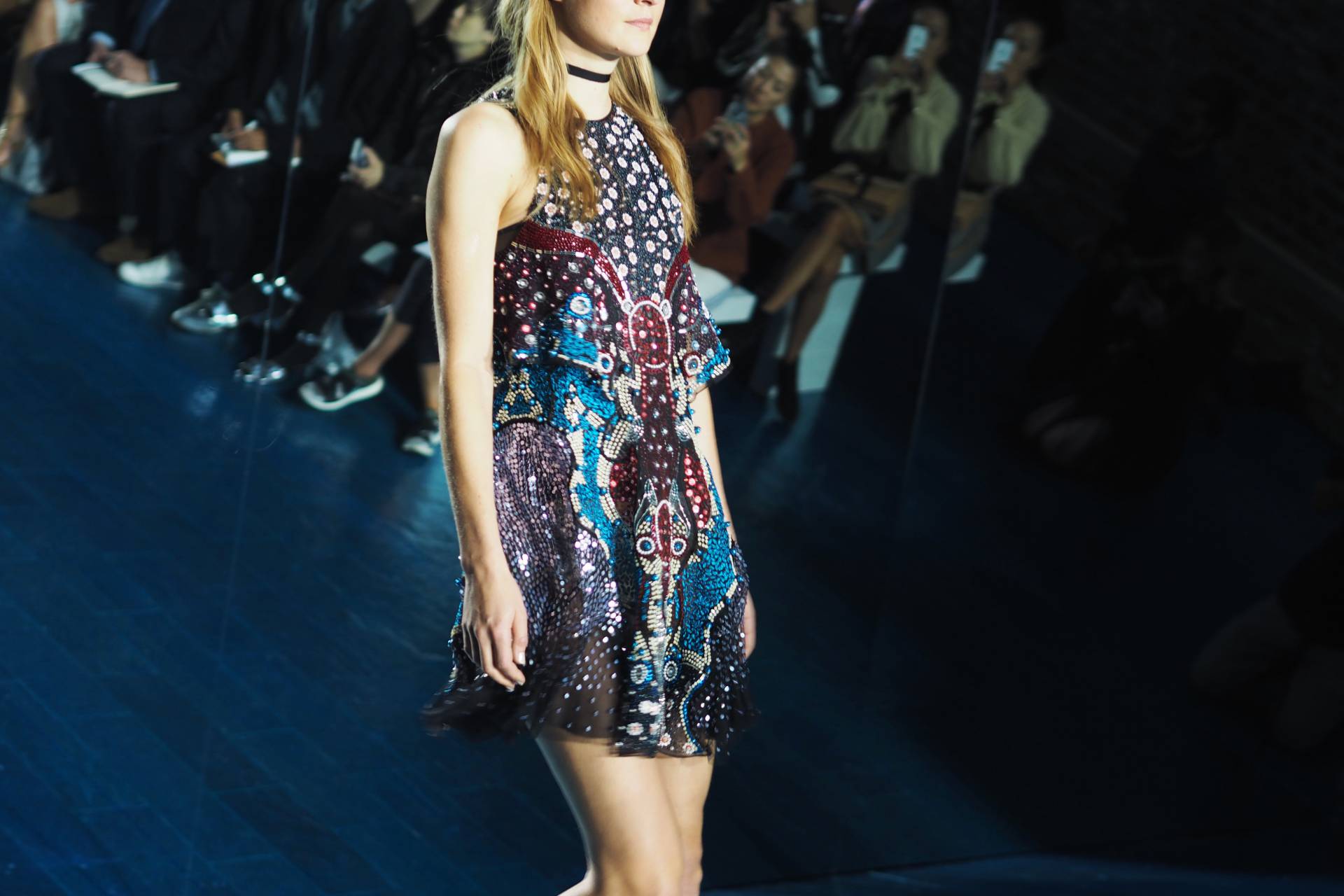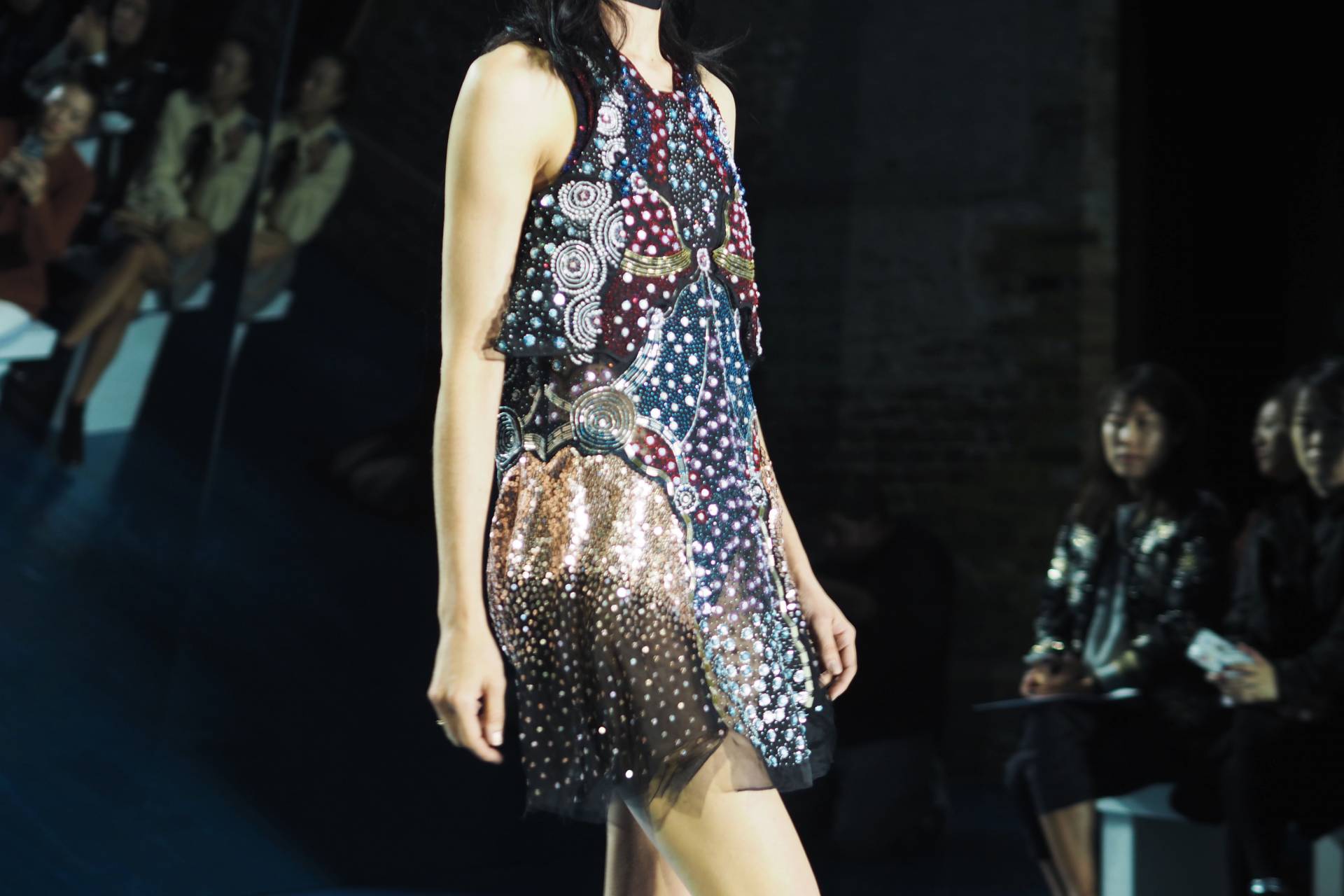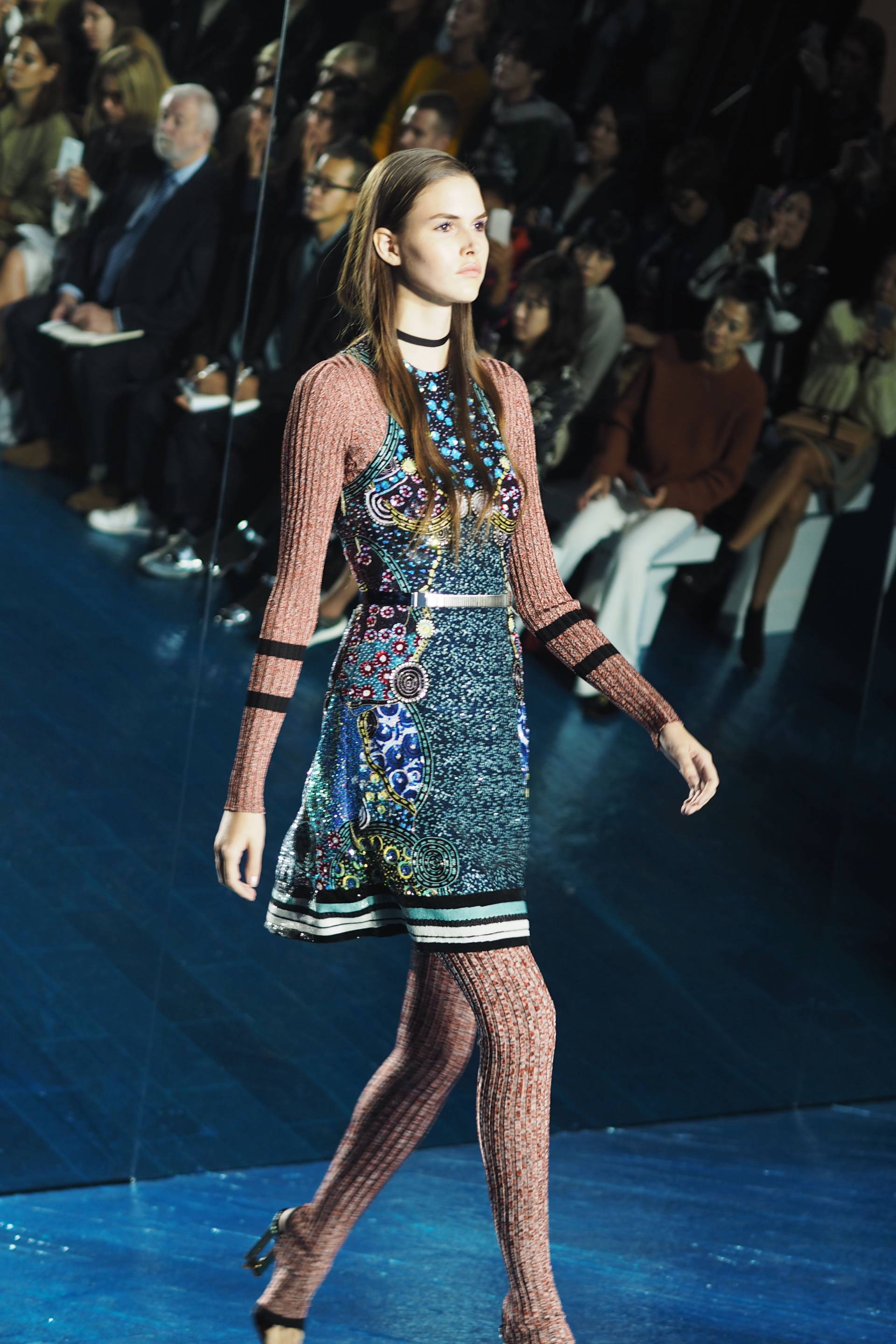 Let me know in the comments if you're enjoying the LFW coverage and any other feedback! What has been your favourite collection so far?
Sign up here for a weekly catch up of everything Inthefrow