London, UK
LFW S/S16 Day 2
After a busy start to Fashion Week on the Friday, read all about that here, I was looking forward to having a slightly less hectic diary for the Saturday.
Luckily, the rain stayed off all day, providing beautiful lighting for street style and outdoor venues and it made all the difference to the Julien McDonald show especially. Rainy days make everything so difficult when you are stood in queues, or trying to get from A to B in a cab, like everyone else in London apparently. But the semi-outdoor venue for the Julien McDonald show definitely benefited from beautiful sunshine outdoors, casting extra light over the historic architecture.
From the Julien McDonald show, I headed over to an afternoon tea hosted by Georgia May Jagger, to celebrate the official collaboration between LFW and Gareth Pugh, who designed the official tote bag for the season. Lets just say there was enough cake for all of London to celebrate.
Metallics and Snow White at Julien McDonald
I was invited to the Julien McDonald show this time last year, and I remember it being the highlight of my fashion week. One year later, and he is still creating incredible clothing and displaying them in the most magical venues in the city. Tucked inside the historic Smithfield Market, we were seated in tiers, overlooking the runway running through the crowds below, and although I wasn't sat on the front row for this show, it was still a true highlight.
The key theme for me was metallics. In intricate cut outs and lattice effects, sequins, foils and quilting, there were a number of shiny, glistening metallic shades on the runway from a yellow gold, to a burnt red, copper and silver. The detail was inspirational and the patterns in the maxi's, minis and midi created a recognisable theme and style. I'm really pleased to see metallic's make a comeback for Spring Summer, especially as they are often given an affiliation to the winter and Christmas months. But I am personally a huge fan of metallic prints and sequin details and incorporating them into my spring and summer looks will not be difficult.
It was an experiential show and one that is certainly going to stand out this season. There was an electricity in the air, and the sunshine pouring through the old windows above provided such a beautiful atmosphere.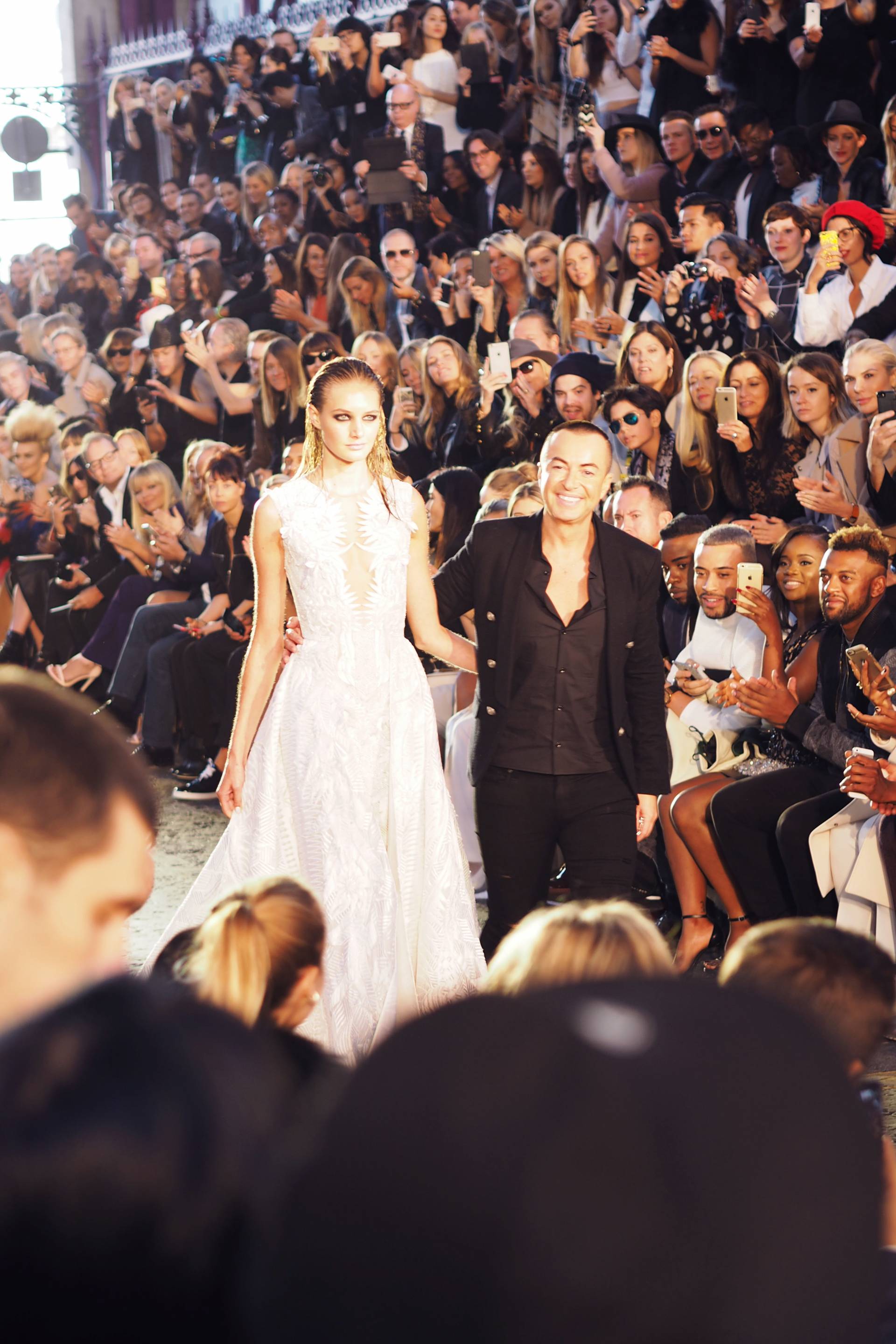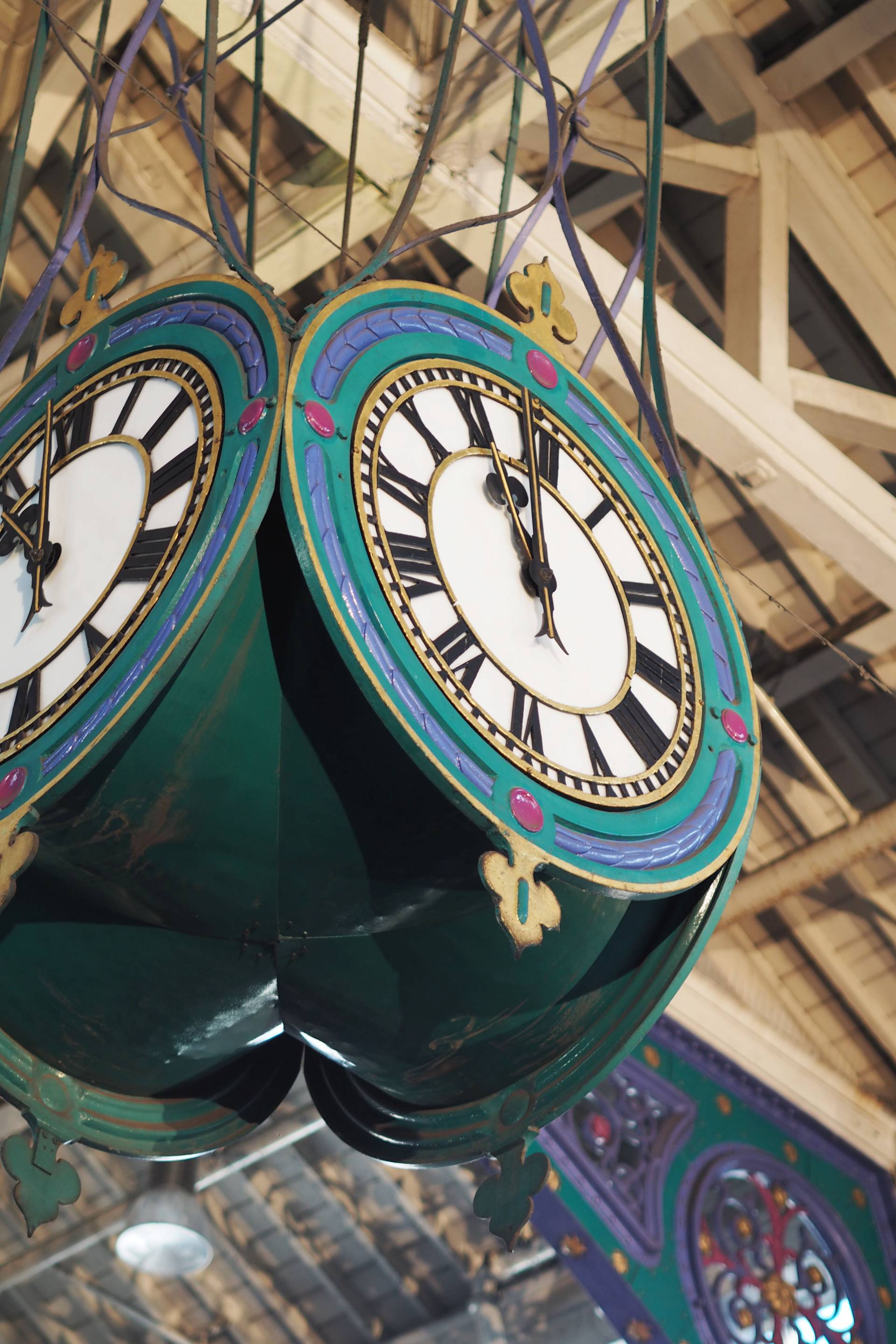 Gareth Pugh Afternoon Tea
Mad Hatters Tea Party with Georgia May Jagger and Gareth Pugh
Without knowing what to expect from the Gareth Pugh afternoon tea party, I was primarily overwhelmed by the size and amount of cake that was laid out in front of me. Bombas and Parr had laid on a magical spread, with the most beautiful, five tiered cakes from Crumbs and Doilies covered in wonderful toppings and icing. I literally felt like I had fallen into a bizarre Alice in Wonderland experience, with a Punk band playing in an alcove, smoke billowing from a bowl on the table, and jellies, cakes and sweets laid out for what would have fed a small army.
I quickly took a seat, mainly so that I could take a moment to observe my surroundings. With Georgia May Jagger chatting with journalists in the corner, and Drew Barrymore in a side room taking selfies with guests, I tucked into a large slice of cake and enjoyed a few hours of down time. Gareth Pugh was unfortunately not at the party, as he was preparing for his show that afternoon, but he had designed the official London Fashion Week tote in association with Sunglass Hut and we were lucky enough to take one away at the end of the party. Below, you can see a few of my LFW essentials strategically placed, and escaping, from the tote.
Massive thankyou to Smart Car forfour for chauffeuring me around the city for the shows!
More daily coverage is on its way tomorrow and for the rest of the week, so please be sure to let me know in the comments if you enjoyed the post and any other feedback! Check out all of my London Fashion Week posts right here!
Sign up here for a weekly catch up of everything Inthefrow