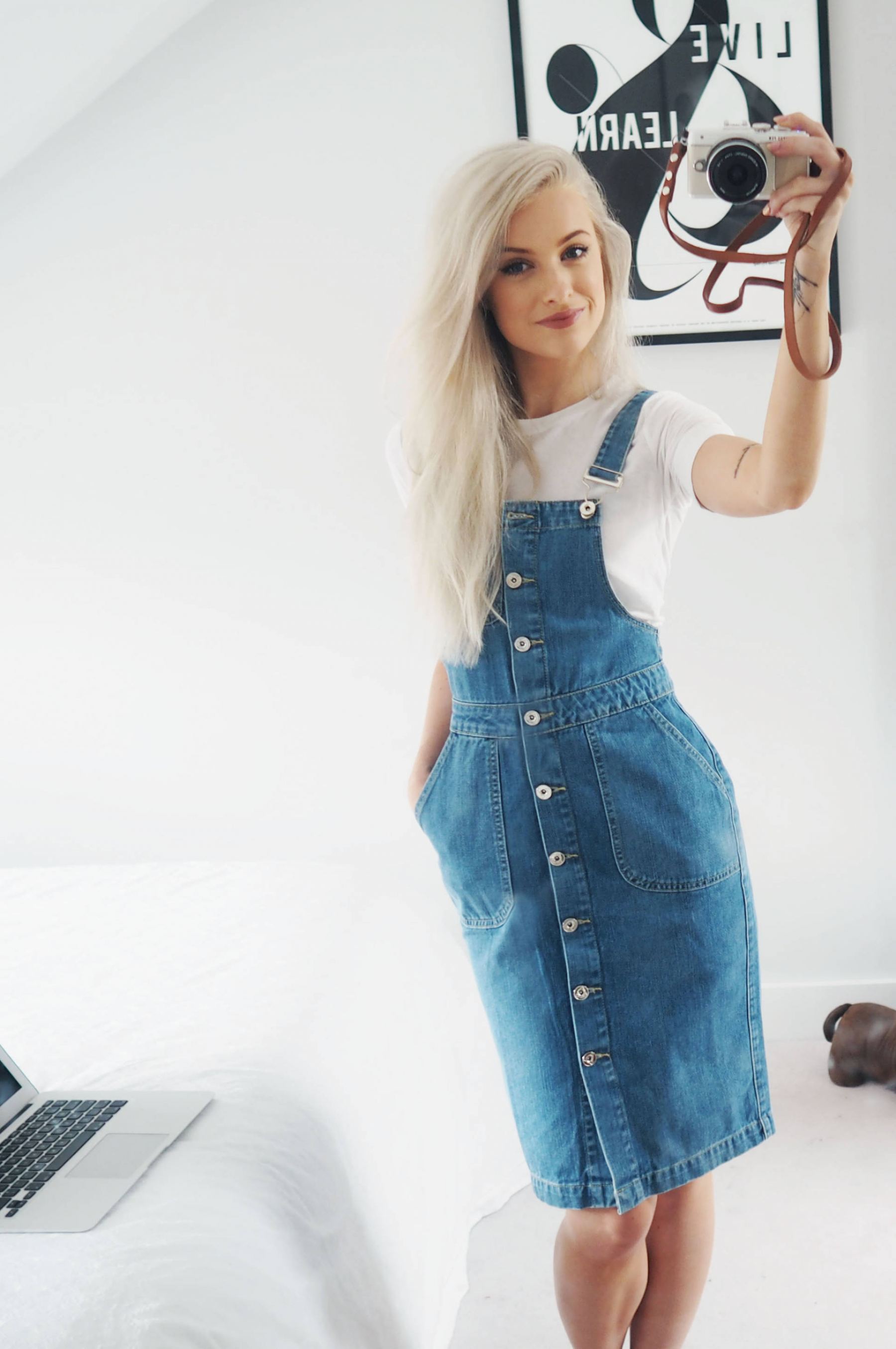 London, UK
Denim Pinafores at Opso
Well hello bedroom selfie in mirror photo. Long time no see on Inthefrow. You may have noticed recently that photography got kicked up a notch and I escaped from my front room to take outfit shots in actual lighting. I managed to work out ways to capture outfit moments when I was out and about, and I cant tell you how relieved I was. Don't get me wrong, in some cases, indoor outfits can be all you need to show off a great ensemble. But for the direction I am taking Inthefrow, I needed real lighting, backgrounds and situations that naturally showed where and when I was wearing my latest wardrobe.
Well, on this day I went back to my roots and quickly took some shots in my mirror before I headed out for the day, for a quick Barrecore lesson and a lunch date with my oldest friend Nat. I wasn't sure if I would be able to get some shots of me in this adorable denim pinafore, so I figured some selfies were in order. Plus have you seen how white and grey my hair is now?! What do you think?
We headed to Marylebone High Street, to try out a Greek Tapas restaurant called Opso, for catch ups, life talks and a whole load of feta cheese…
I'm finding it really difficult recently, to write food reviews that do not sound the same. I adore food. Its my favourite way to spend my time; in a restaurant eating and drinking with friends or family. And since moving to London, and redesigning the blog, the food section is an area I'm trying to expand. I'm hoping you've seen the area called London Foodies, where each place I have visited is geo tagged in a map? Have a peek!
Anyway, I have been visiting and reviewing some fantastic restaurants, and that is the issue. 99% of the time, they're fantastic. Brilliant, superb food and places I would absolutely go back to. Which makes it hard for me to write post after post telling you to visit, when Im worried youll be like, really?! Another amazing restaurant? Surely not!?
Well in fact, I really am being totally honest. Each place I have visited, apart from maybe one or two, have been excellent, and places that if asked for a restaurant recommendation in a particular borough, I'd immediately shout out their names. I get invited to review a restaurant, me and Alex go along, eat, and leave with lots of photos. And I enjoy trying new places so so much. But I do not get paid to write these reviews. If that was the case, you would never see a bad review ever again, as I wouldn't take their money if it was so awful. I write them because I adored the food and I want to give you all some recommendations for places to get yourself out and about.
So I'm sorry to bore you, if that is the case, but this is another excellent restaurant. Opso is really brilliant with a cool, London atmosphere, yet brimming with a modern Greek charm. The food is beyond excellent too. Have a peek at the menu if you don't believe me. The ball of feta cheese was out of this world. Creamy, spreadable and with so much flavour. We just buttered it onto pieces of bread and delved in.
And the pastry dish filled with spinach and feta, of course was just something out of a Santorini dream. Whilst we were overlooking Marylebone High Street, and not the coastline of the white and blue Greek Island, we were still totally smitten. Sipping on sangria cocktails, reminiscing on old memories from our primary school days, we enjoyed the London sunshine on a little outdoor table. Bowls of Chicken Legs and bread and olives later, and we were suitably full and ready to get shopping.
This is a wonderful place to dine with a friend on an afternoon in the city. Or, even in the evening after a long day on your feet. Definitely a friendly catch up or casual date night venue. It has a really cool London vibe, and I will definitely be going back!
Sign up here for a weekly catch up of everything Inthefrow