The Beauty Cupboard
3 Tips for Clarified Cleansing
Skincare, exfoliation and cleansing are the key words on everybody's lips recently. Products in the skincare category have never been so intelligent and niche up until recent years, with many brands now offering a wide selection of tailored products, to suit every skin type and each individual requirement.
Yet, often it is best to strip it down to the basics. Whilst good skin will primarily be derived from a good diet and drinking copious amounts of water per day, having a great skincare routine in place will definitely help. And I'm at a point where I am happy with the products and ways in which I am applying my skincare, morning and evening. My skin has become brighter, clearer and application of makeup is completely different to what it was a few years ago when my skin just did not want to be covered in foundation.
In this post, I will take you through my skincare steps to a more clarified cleanse, primarily using products from the expert cleansing brand Caudalie, and discuss the ways in which I have really improved the appearance of my skin over the past six months.
Recently, I really feel as though I have developed a cleansing routine that works wonders for my skin. I was always so lazy with cleansing, and although I have never been a girl to leave her makeup on before bed, I don't think I cleansed my skin quite as thoroughly as I should have. But then I wondered why a spot would appear on my cheeks or forehead and I would scowl at my skin for being problematic. When in fact, in most cases it was probably down to my skincare routine being lacking in any real substance and true understanding.
For years I used an exfoliating face wash, rubbing it all over my face to 'remove' my daily makeup, rinsing my face and drying my face on a towel. Said towel was often stained with tanned marks from the residue from the makeup, often from the very edges of my hairline, and yet I carried on with this routine for years.
Until recently, when I delved into my stash of skincare and started to put together a thorough routine, that included two cleanses and other additional steps to ensuring my skin was cleaner and brighter. Here are my three skincare steps and recommendations, beginning with a morning and evening cleanse, a deep clean exfoliation, and finally purifying and detoxifying facial masks.
Step 1: Morning and Evening Cleansing
1. Currently, I am using the new Caudalie Make Up Remover Cleansing Oil as my daily cleanser. Whilst the packaging is bright and appealing, the product inside has also had me reaching for it morning and night. The oily substance not only helps to break down makeup at the end of the day, but is a pleasure to massage into the skin for a morning cleanse. If I am cleansing my skin in the morning, I will apply the product to a large cotton pad. The softer the cotton pad the better, as a coarse cotton pad will exfoliate the face more than you may be expecting. Yet, in the evening, I will often use my fingers to work the oil over makeup to help break it down and bring it out of the skin. 
2. I sweep the cotton pad over the face and neck, paying attention to any problem areas or sections that will accumulate more sweat or dirt during sleep or the daytime. Using a cotton pad to apply will enable you to pick up a little more dirt than your finger tips can, whilst also providing a small amount of exfoliation for dead skin on the surface.
3. Wash the cleansing oil from the face using water, or if you prefer, use a toner on a cotton pad to wipe away any excess oils. After using a cotton pad to apply the product, I prefer to use my hands with water to avoid exfoliating the skin further. I find the Caudalie Cleansing Oil is gentle and soothing whilst also excellent at providing a clarified cleanse to the skin before or after makeup. The oily consistency really helps to cling to makeup and break down any products on the skin for easy and thorough removal.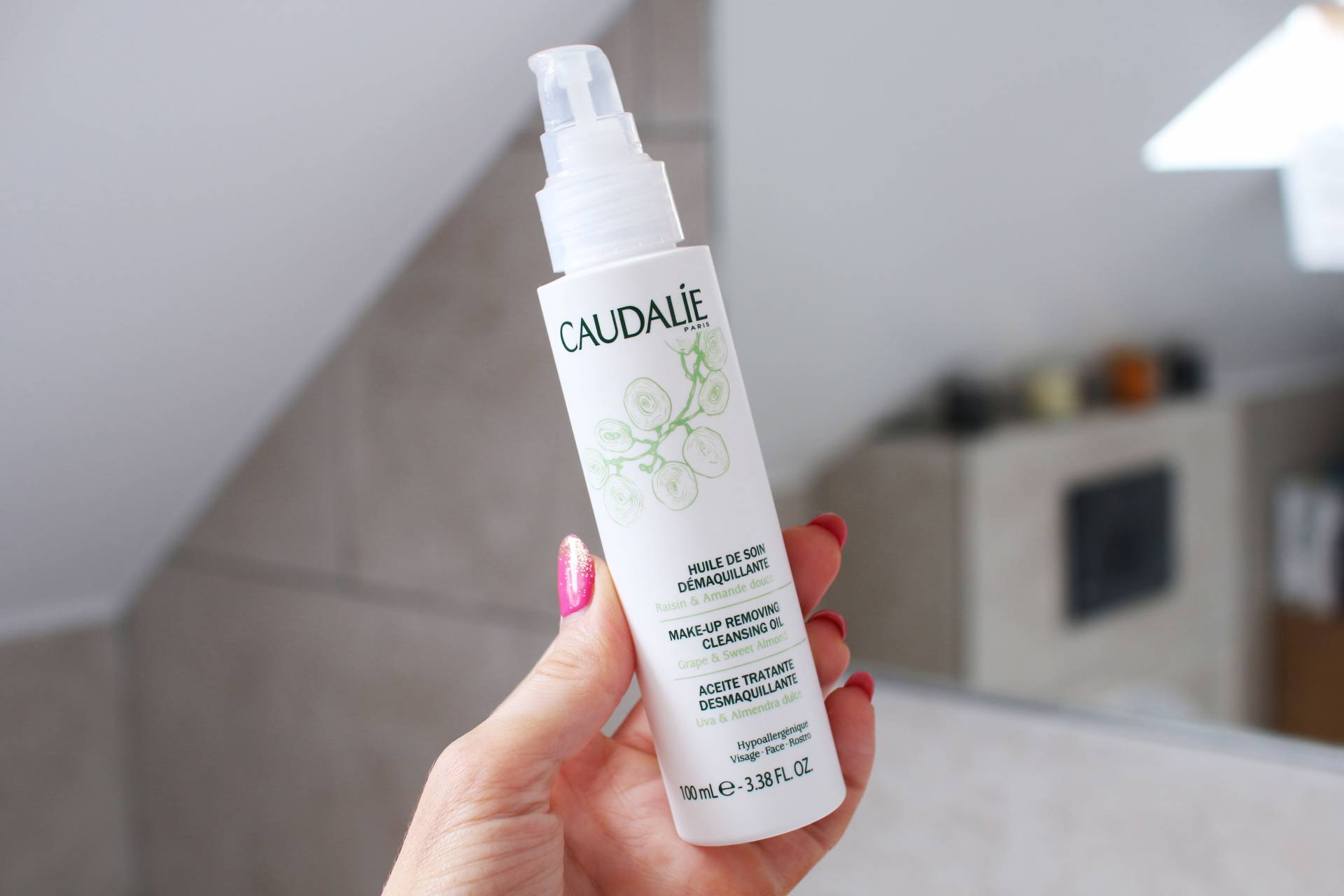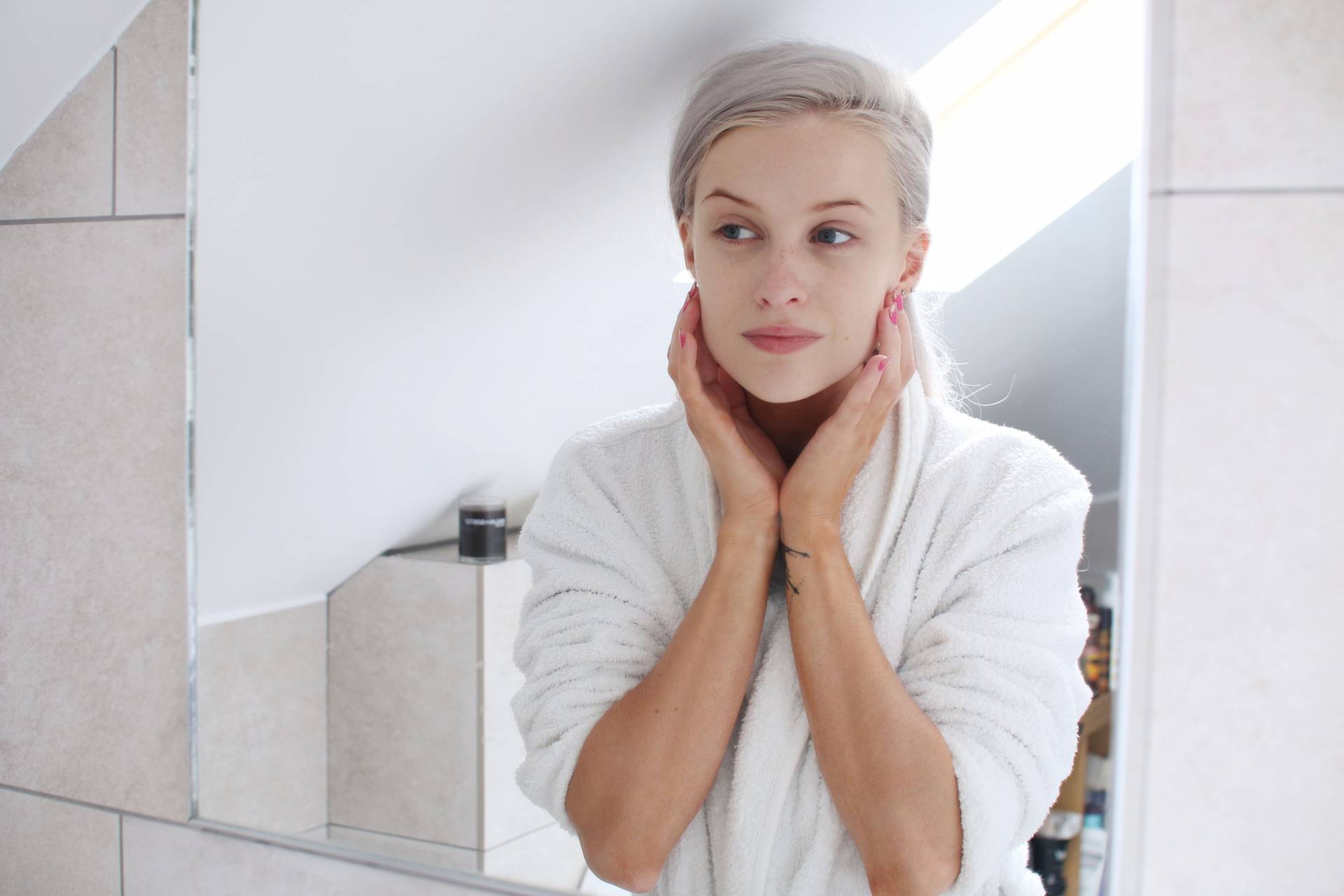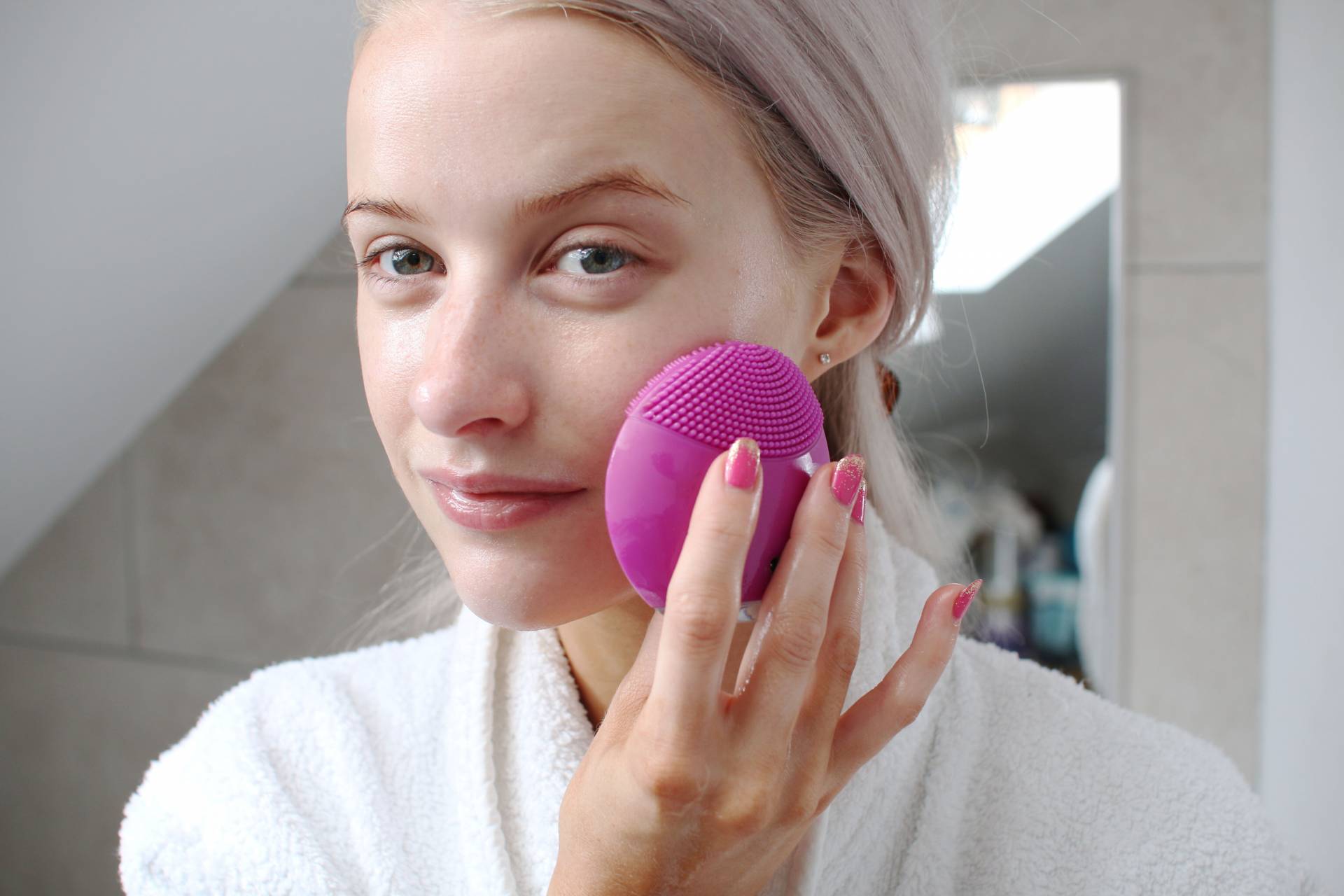 1. For a fuller and deeper clean, I apply the Caudalie Cleansing Oil all over the face when dry, massaging into the skin and providing an even application. I really love the way that it feels on the skin, providing a soft and smooth coverage that will help to brighten and clear on removal. I think this is why I have become so smitten with this product in particular.
2. Using whichever cleansing and exfoliating gadget you prefer, there are many available depending on what you prefer, I am fond on the Foreo Luna Mini Cleanser due to its synthetic brush head, massage the exfoliator softly around the face to work the cleanser deep into the skin and to pull out any additional dirt. The Caudalie Cleansing Oil works really well with gadgets as it doesn't load the gadget with too much product, but the oily consistency enables the brush head to move around the face without pulling or being too abrasive.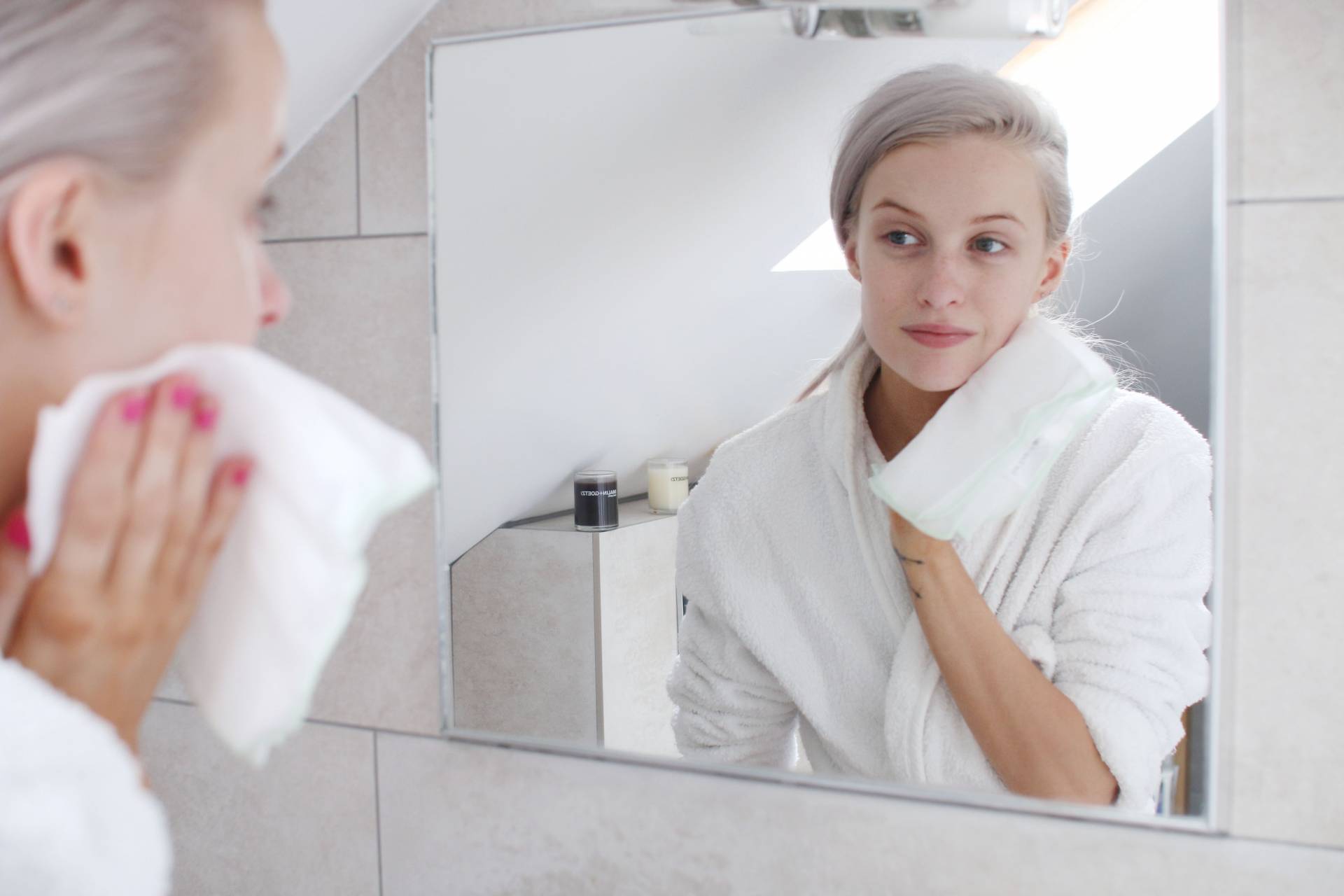 3. Rinse the face using water, or as I prefer, use a cleansing cloth dampened with warm water, to wipe away all excess product and dirt. This will provide additional exfoliation and help to remove all traces of dirt that may be left on the skin.
Step 3: Masks and Purifying
1. After exfoliation, a true pamper session would not be complete without a finishing face mask. These three masks from Caudalie are all that I have been using recently, and each are aimed at alternative uses. I really adore the Purifying Mask for brightening my face, without leaving it feeling dry or tight.
2. Apply the mask all over the face with your fingertips, working it around the eye area and all over the face where youre looking to purify and cleanse. Leave for ten minutes, or as long as the instructions state, and wash off with your hands. I prefer to use my hands rather than a cleansing cloth, again as I do not want to over exfoliate – especially if I have been using a peel or intensive face mask. 
As I mentioned, water and a good diet are paramount to better skin, but having a carefully planned routine is an easy, and I think, enjoyable step to clearer skin.
Developed by the skincare and cleansing experts at Caudalie, the new cleansing oil has quickly become a favourite in my routine and can be used to not only cleanse the skin in the morning, but to break down waterproof makeup (not so much waterproof mascara) and remove excess dirt from the skin after a long day of makeup.
Using it with a facial brush has become a favourite for me, as the consistency works so well without leaving the skin feeling tight or over-exfoliated.  But even on its own, used on my fingertips or with a cotton pad, can wipe away excess dirt and leave the skin feeling refreshed, nourished and still hydrated.
Whilst it is an oil product, it is suitable for all skin types, including oily skin, and is developed from 100% natural ingredients.
This advertorial was kindly sponsored by, and in collaboration with, Caudalie, @CaudalieUK. Yet, my usage and enjoyment of these products has been entirely natural and honest, as always.
Sign up here for a weekly catch up of everything Inthefrow