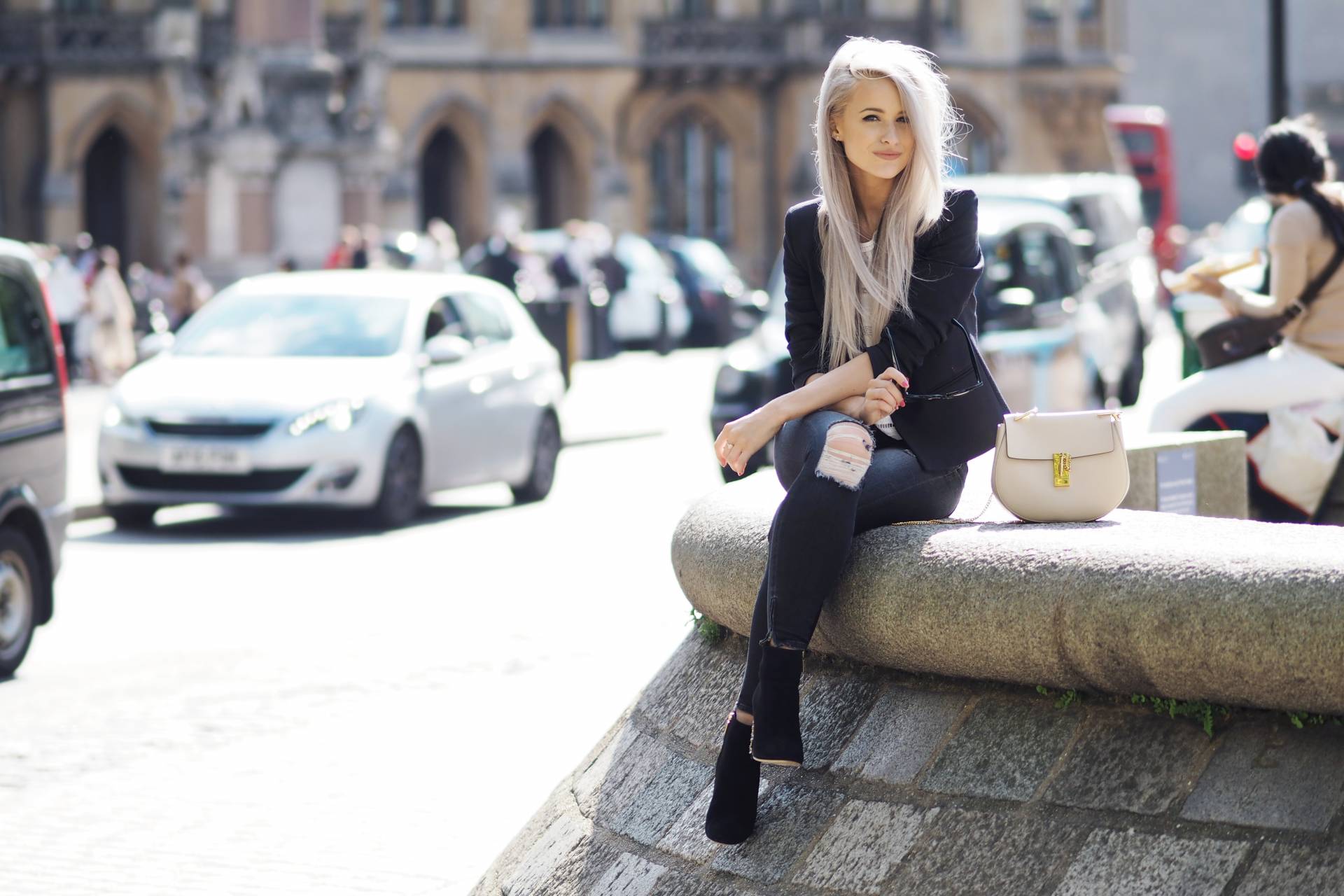 London, UK
A London Diary
I've never really put together a day in the life type post before, but I figured that I had so many shots from this particular day that I wanted to share them all with you.
My bestie Rebecca was over for the weekend, and having friends over means that I try my best to get out of the house and explore parts of London I might not usually venture into. And so I booked into Conrad St James near Westminster for an absolutely stunning Afternoon Tea, after which we wandered around Westminster in the sunshine taking in the true London tourist spots.
After a few hours had rolled by, it was time for dinner back in central London and we tried out Hotel Chantelle, just behind Selfridges, and with such an adventurous and unique menu, we were spoilt for choice!
For all the juicy details and photo evidence, just keep on reading…
Oh and by the way, all of these photos were shot on the Olympus Pen EPL7 with the 75mm Lens, for which I have an exclusive 25% off code right here.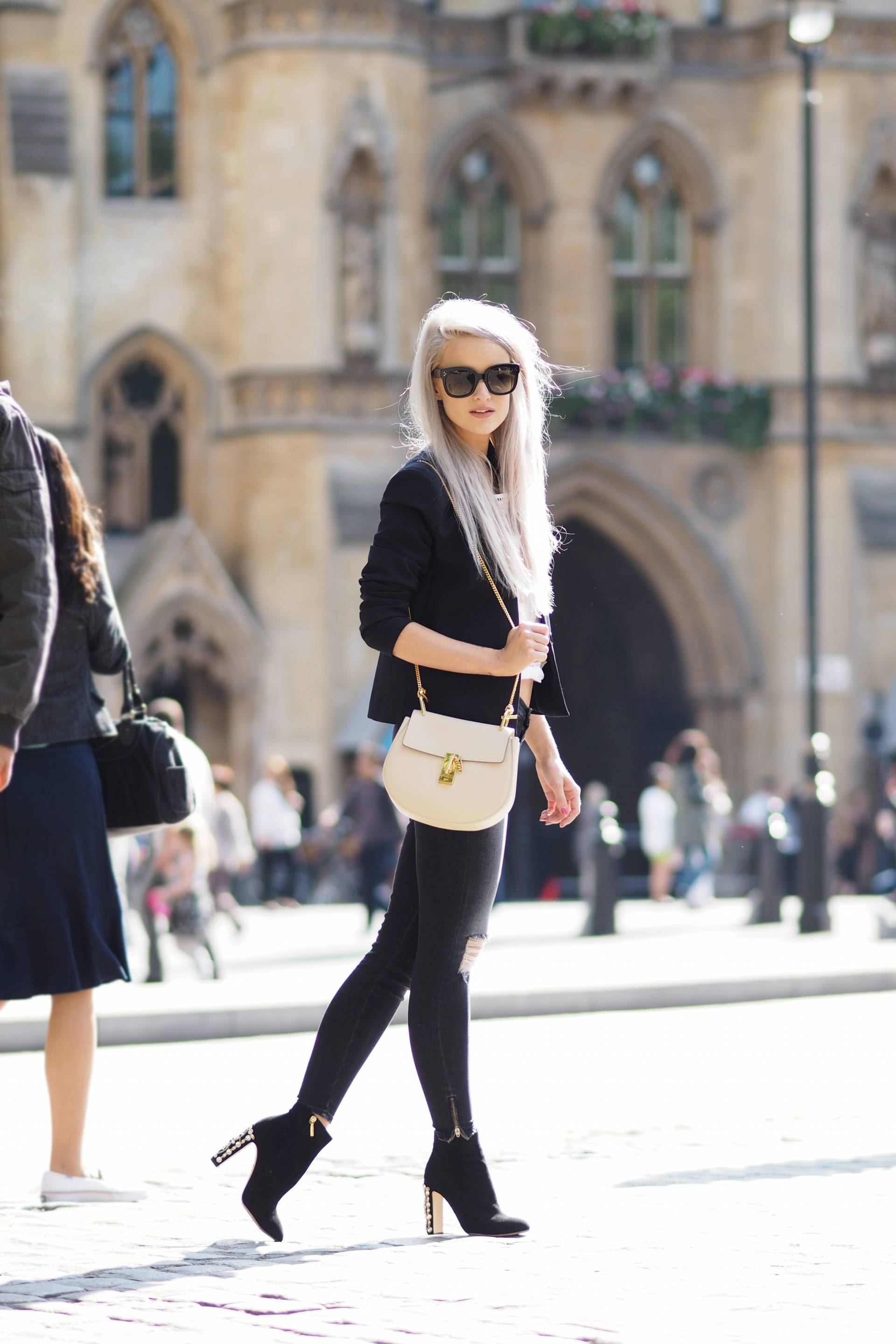 How gorgeous is this area of London?! As soon as you escape Westminster Underground, you're greeted by the Palace of Westminster and Big Ben looming directly above you. And when the sun is shining, it doesn't get more inspiring for the architectural enthusiast. There are greens and gardens around where you can go along and sit, or if you keep exploring around the area, the buildings continue to be large and astounding. This is somewhere where I need to bring Alex for a day out, just so we can buy Costa drinks, hold hands and wander around the area all wrapped up in woolly scarves – Im referring to the winter months here of course.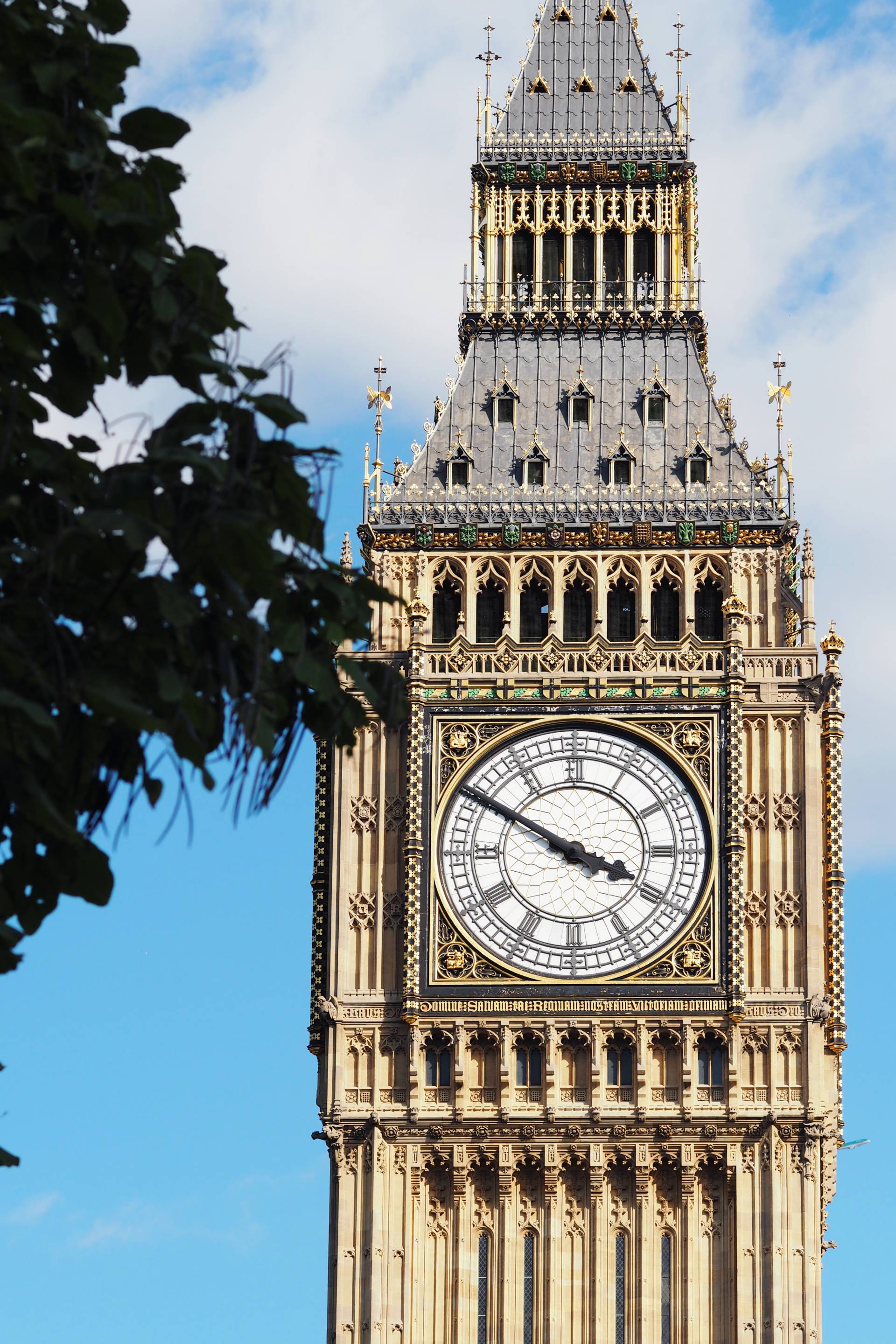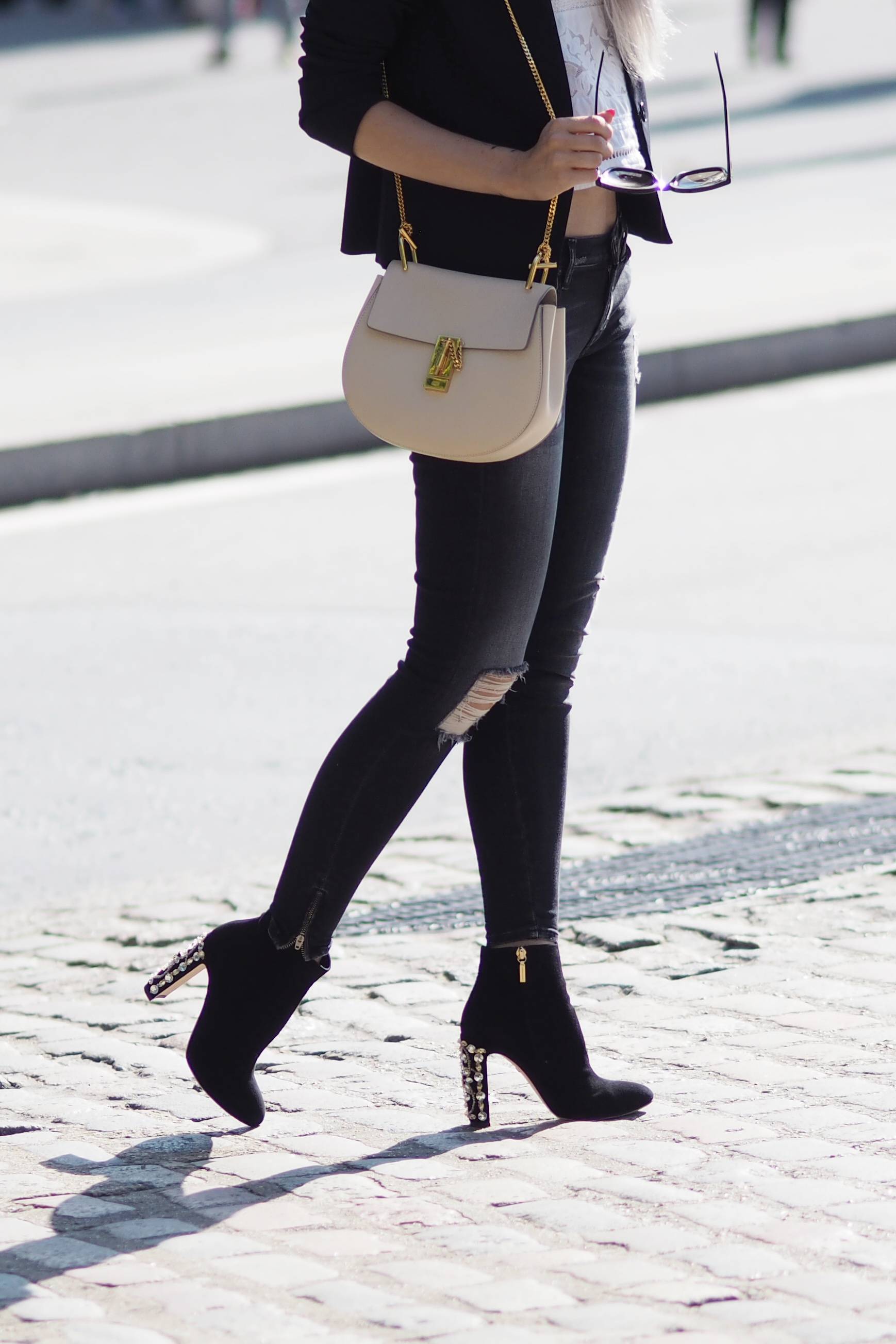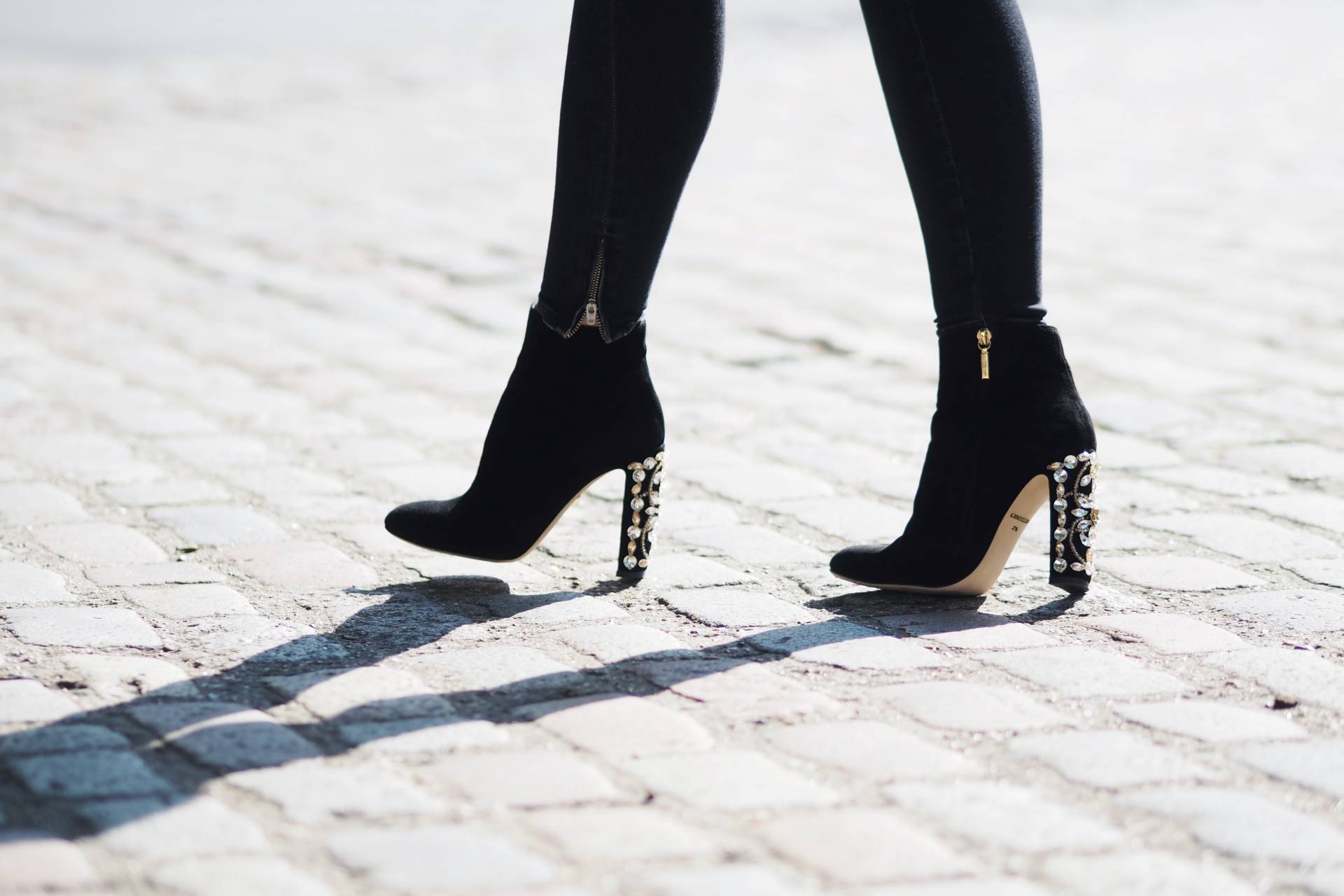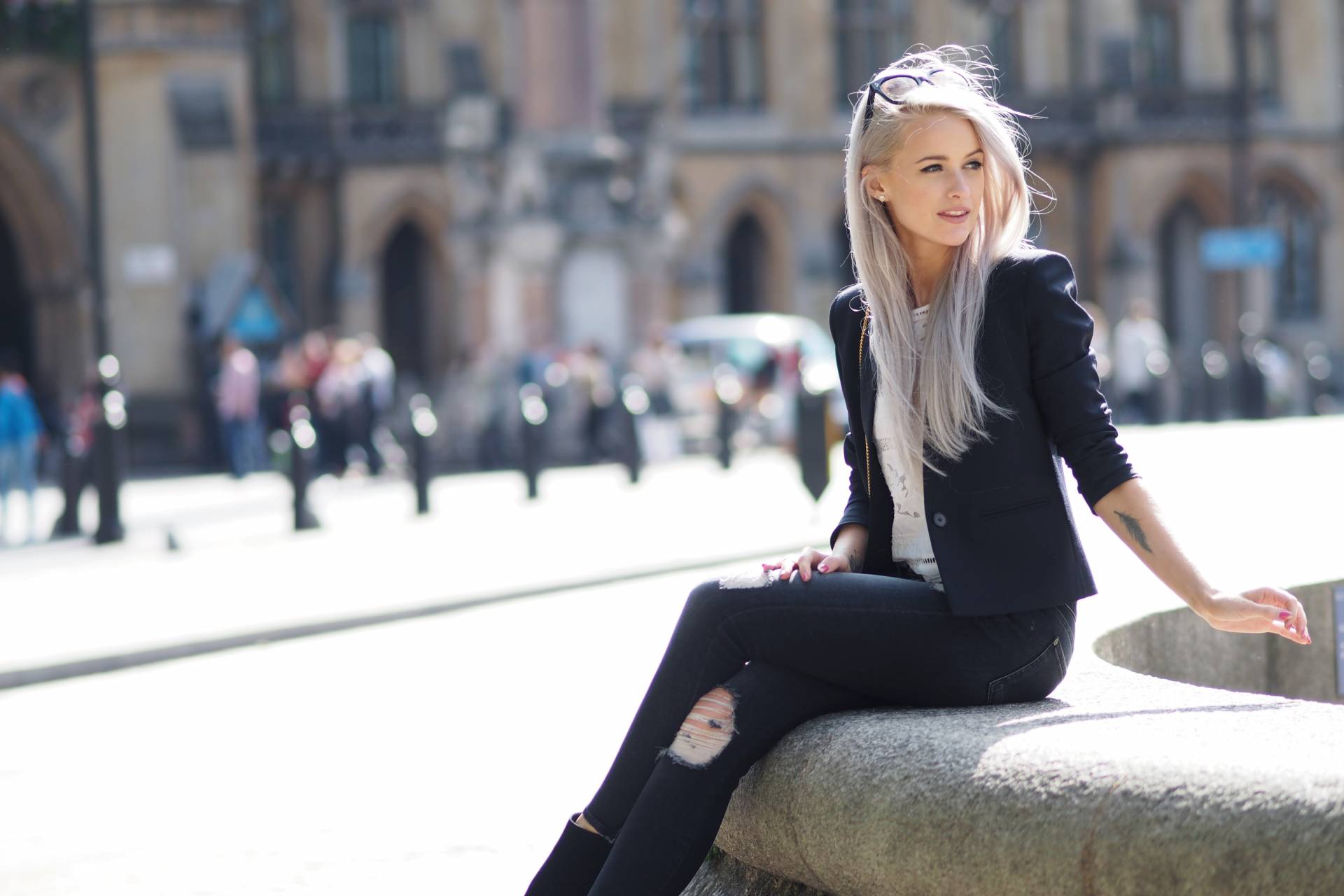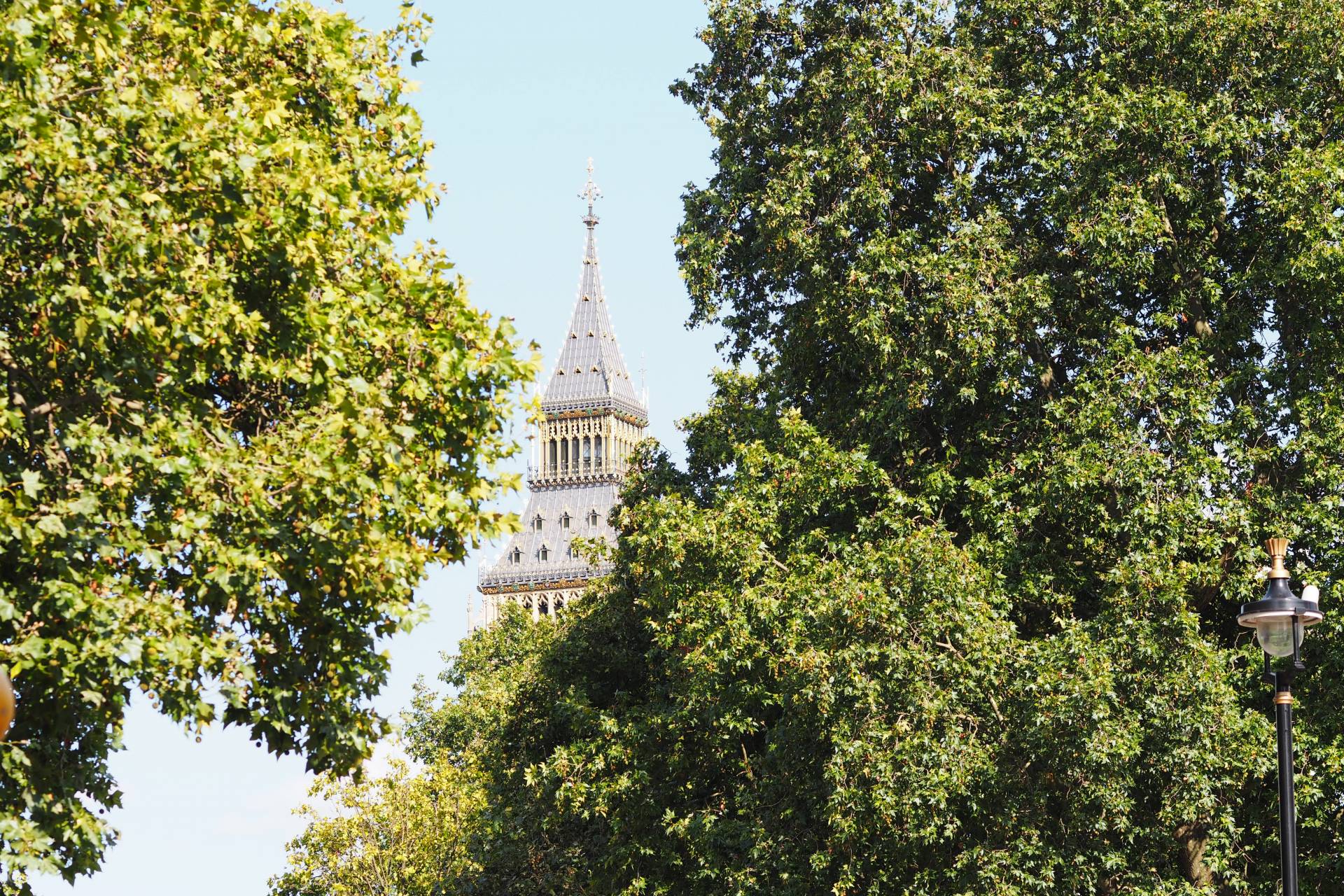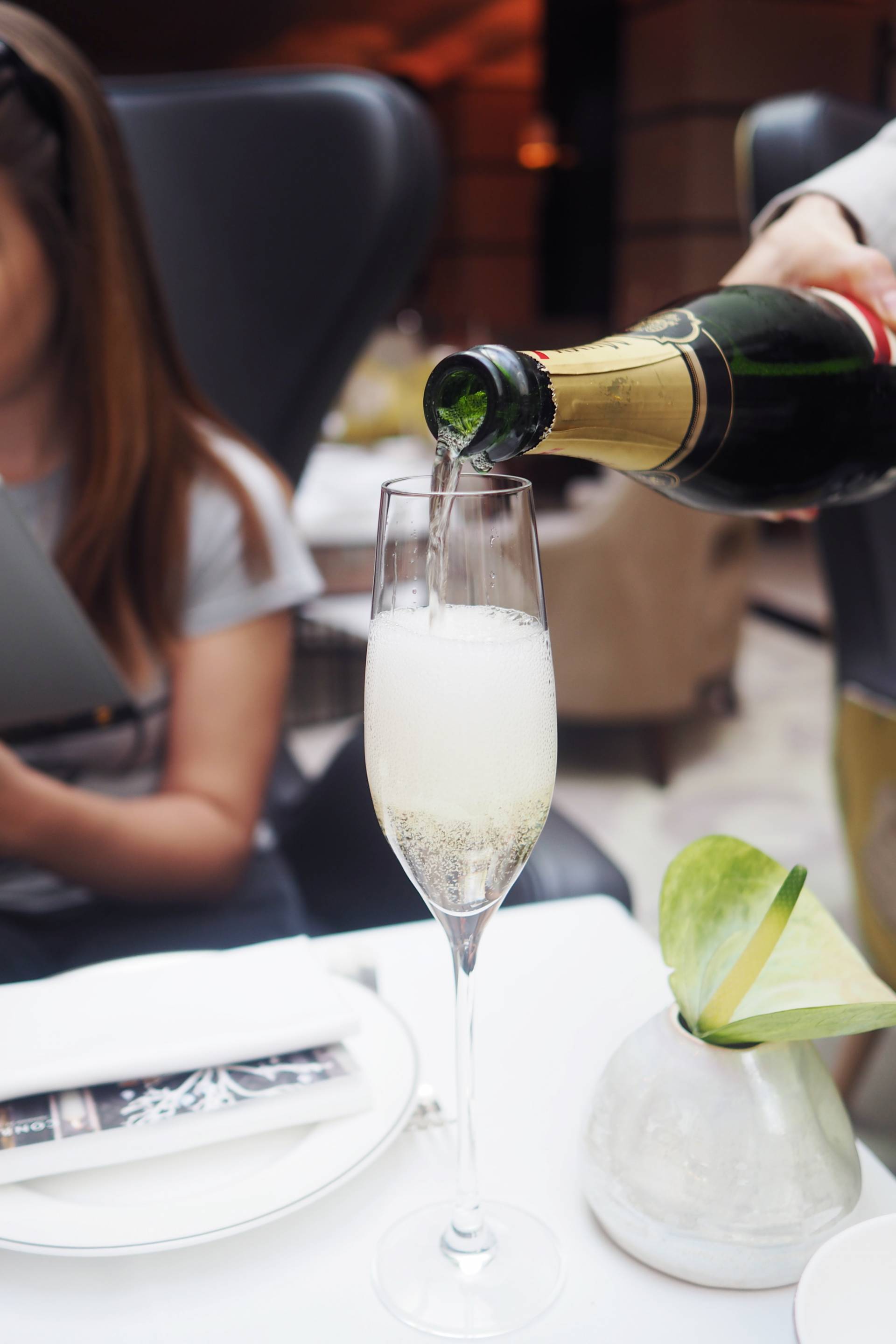 Conrad St James, Westminster
Autumnal Afternoon Tea
Just ten minutes walk or so from the entrance to Westminster Underground is Conrad St James Hilton Hotel – which is also directly across the road from St James Park underground! Oh well, Westminster is far easier for me to get to. The Hotel itself is gorgeous, premium and in a rather fantastic spot in the city, and the door staff were more than eager to help us find our way into Emmelines Lounge, where we were to be seated.
The new Autumn Bramble Afternoon Tea has just started and will be available until November time I believe, after which there will be a new theme for the wintery months. I love the fact that they theme the afternoon tea, rather than serving a generic lunch, day after day. It definitely provides an incentive to return for another visit, when you know that the menu will be slightly revised.
But afternoon tea could actually never be generic for me; I adore the whole event too much. Cake stands, champagne flutes and clotted cream scones are a luxury that I indulge in infrequently, but when I do, it really is the most perfect way to spend the afternoon.
The unique part of this afternoon feast was the desserts to the finish. After nibbling on the cutest rectangular sandwiches, fruit and plain scones, the most superb mixed berry curd and a beautiful goats cheese bulb wrapped with beetroot and sesame seeds, the sweets were brought to the table. Arranged on a clear perspex box, that housed autumn leaves and foliage, sat chocolate bark, blackcurrant and liquorice macarons, pumpkin cheesecake and apple and blackberry tart. But the presentation was superb and so much thought had gone into the preparation. Me and Rebecca let out a number of 'Wow"s when it reached the table and were unsure as to whether we should break the presentation to nibble. Of course, we did, and I proceeded to turn my lips and tongue purple from the macarons.
But the presentation and service throughout were perfect. The room was comfortable yet luxurious and I almost feel we should have been wearing white gloves and sipping tea throughout the whole experience. But of course I ordered the hot chocolate.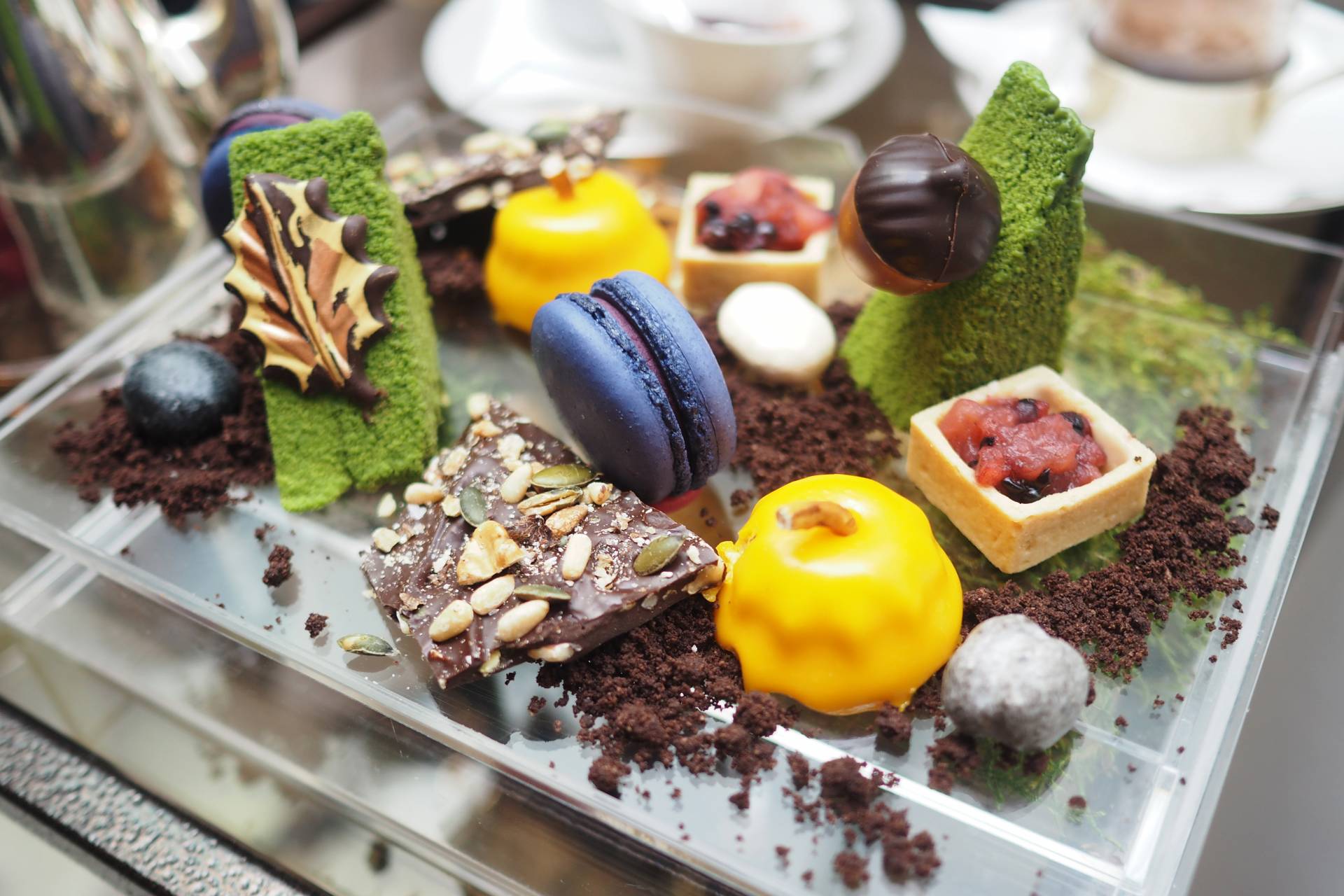 Hotel Chantelle
Hotel Chantelle and Waffle Chicken
And the final event of the day, an incredible evening at Hotel Chantelle. Tucked behind Selfridges on Oxford Street, and just a five minute walk away from Bond Street Underground Station, Hotel Chantelle is a restaurant rather than a place to sleep. And one of those restaurants that has more of a members only, cool club scene vibe. Its probably the fact thats its low lit with lilac lighting and has the music playing quite loudly, but it makes for a really cool, yet sexy date night venue. It isn't somewhere smoochy and romantic, rather it has a Friday night feel and I really loved how different it was to most of the venues I frequent in the evenings.
The menu has such a unique array of choices also, from Chicken and Waffles to Burrata injected with oil, both of which we tried. And there is such an assortment of options on the main meal list, I was pretty stuck as to what to choose.
I must apologise for the photos for the meals also – as you can see, I definitely didn't photograph them! Due to the cool low lit lighting, I wasn't able to take any foodie photos of worth, so luckily their lovely team were able to help with some shots of the food that we ate, to give you a real idea!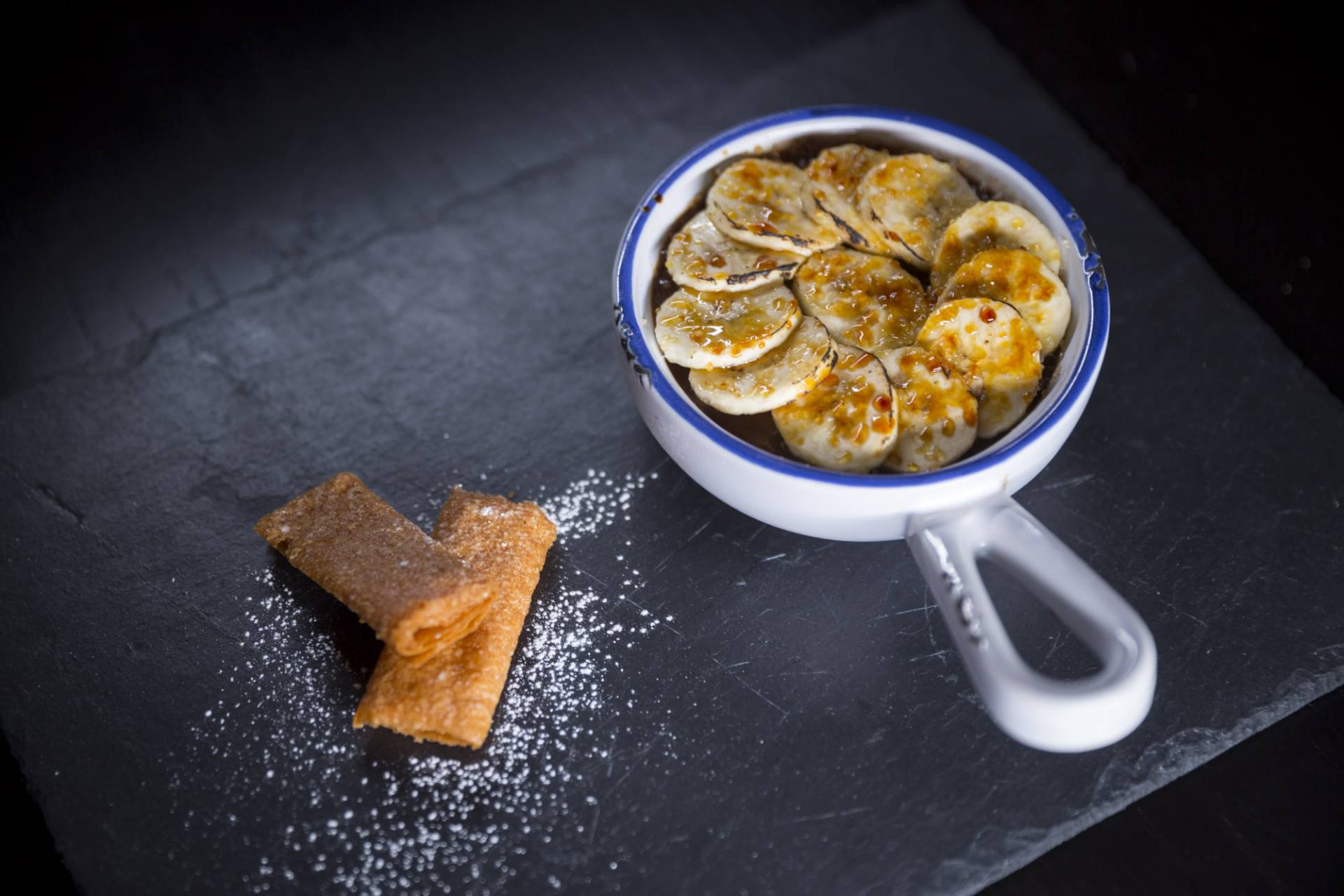 The biggest shout out of the evening has to be to the Chocolate and Peanut molten pudding, which if you're a peanut butter fan like me, you may need to try this immediately. I am already planning my next visit, just to order this pudding again. It was absolutely divine with every single mouthful!
The Burrata was also delicious, surrounded by tomatoes and injected with a needle of oil; it was certainly artistic. But the taste was fantastic as I expected. And the Chicken coated in waffles and candy floss were a definite treat, and one for the person with a sweet tooth.
We also ordered the Drunken chicken parmesan, breaded, flattened and coated in vodka, mozzarella and parmesan, but oh my was this a large dish. I probably managed a third and was totally full. And the Grilled Filet of Beef was also a highlight with cauliflower puree and baby onions. With wine and cocktails, the meal, ambience and evening was fantastic and my goodness I definitely need to go back soon for the molten chocolate pudding!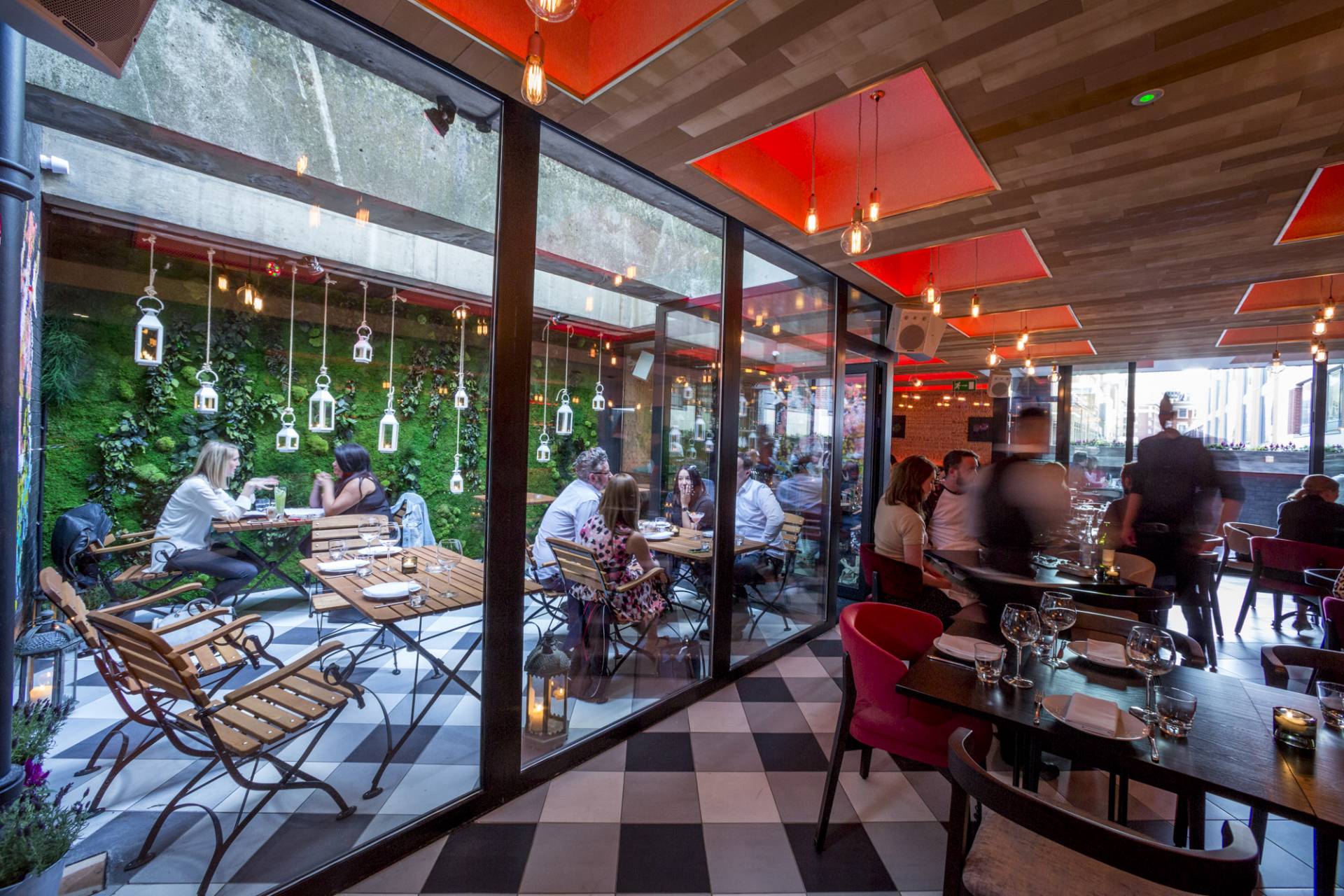 Such a full and fun day in London city. Visiting these new places only reminds me of how much there is left to explore! And these boots are certainly made for walking.
Sign up here for a weekly catch up of everything Inthefrow