Gresham Street, London
Lovebox to the Trading House
My first British festival of the summer. I say British specifically, as I was lucky enough to head over to Primavera Festival in Barcelona a few months ago and hopefully you caught all of those posts. This was the first british soil festival I had been to in quite a long time actually, as after Leeds festival in 2005, I think I was slightly deterred from visiting one again. But this was Lovebox, based in London and luckily, held on a weekend with blazing sunshine.
I was invited along with the lovely ladies who look after Collection Cosmetics (more on their cool new collections very soon) with a lot of gorgeous bloggers that I unfortunately do not see enough. And amongst that group was the beautiful Carly Rowena who you will see a little further down the page. We spent the day sipping fruit ciders, catching up on beauty, fashion and gossip and dancing to a few tracks we actually knew.
If you asked me now why I wore my Chanel Espadrilles to a festival, I'm unsure I could come up with a good reason. I was in a hurry and picked up the most beautiful shoes I could see. I'm pretty sure that must be it. Definitely not recommended though!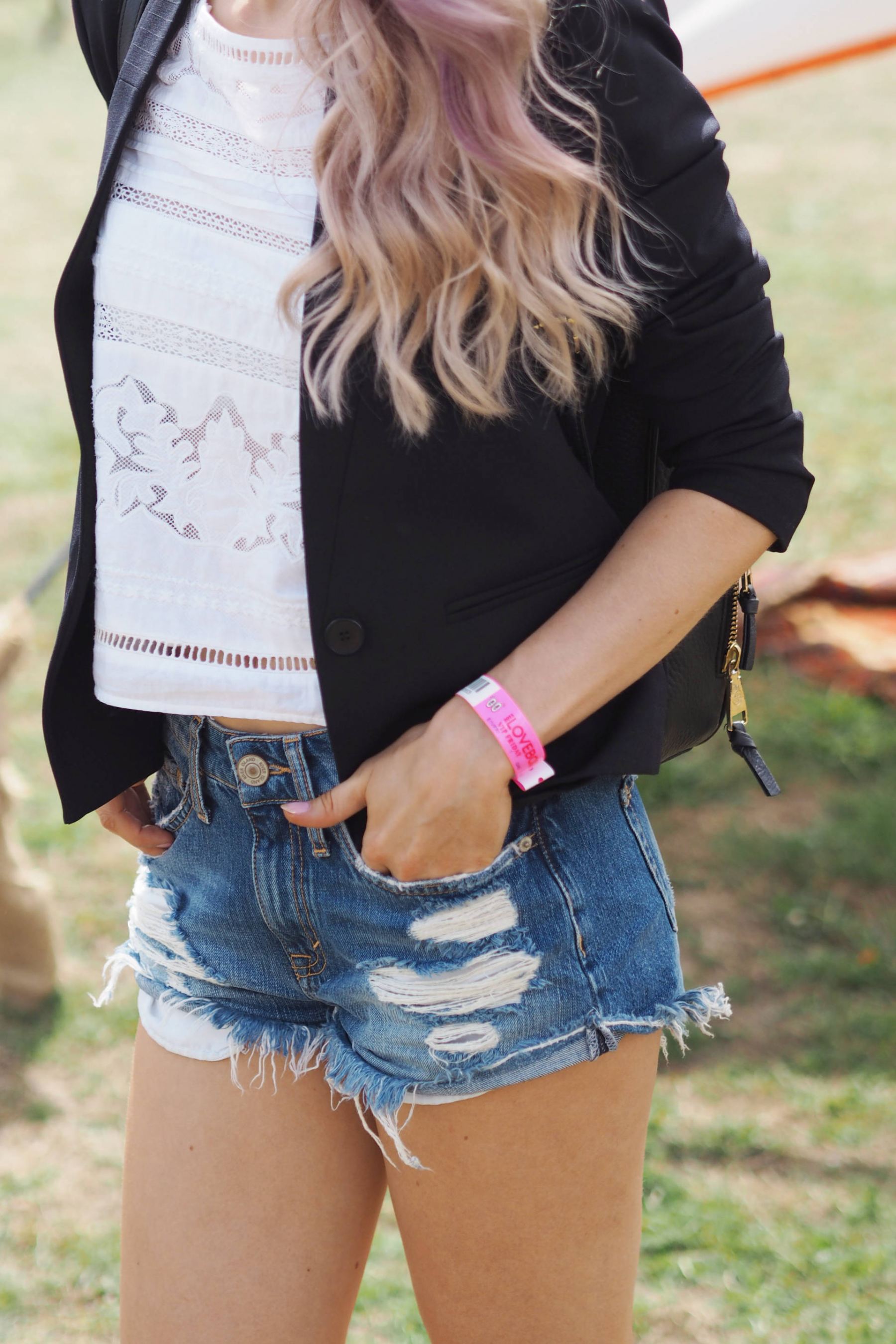 And here are the Chanels, looking a little dusty from the ridiculous terrain that was blowing all over everything. But rest assured, they cleaned up pretty nicely after a little dusting at home!
After a day with the ladies, I left the park covered in dust and in need of a sit down, beverage and a good plate of hot food. I met up with my bestest Rebecca, who had come down to London for a Wedding Dress try on at Westfield, and who had also not even seen my new flat in London yet! I found her at the station and we headed over to St Paul's tube stop on the central line, bound for the newly opened Trading House.
I don't venture over to this side of the city very often, so this was a lovely adventure for me, and of course Rebecca who doesn't visit the capital all that often.
We headed inside the restaurant that was bustling with after work drinkers and a guitar player and made our way to the seated area at the back.
I didn't realise initially that the Trading House is a part of Living Ventures, a group that owns a number of amazing restaurants in the city. I adore their Manchester restaurants, including the Oast House, Botanist, Alchemist, Grill on New York Street and Australasia (so pretty much my favourite restaurants) so as soon as I realised the connection, I got pretty darn excited.
The atmosphere and decor inside the Trading House reminded me of a modernised Gentlemens public house. Taxidermy animal heads on the walls overlooking ornate chandeliers, all set inside a low and yellow lit bar. So much character, alike to the other restaurants in the group, and the type of place that I imagine people adore for drinks after work as well as for a sophisticated pub meal to end the day. As in honesty, the menu is definitely reminiscent of old-school pub meals, or 'Home comforts', that have been injected with class and that London chic food elegance. Whilst it has those hearty favourites, such as a cauliflower cheese pie that I ordered, scampi and chips and lamb hotpot, it has also thrown in some cool and alternative choices, such as mix-and-match deli boards, hanging kebabs, salads and a pretty awesome array of starter courses. My favourite pate is on the menu, but again, the pate was out of stock when I visited – it's just too darn good obviously.
I went for the Camembert to start with, which was, of course, delicious and served with a stock pile of bread for dipping. Yet, watch out for the huge pieces of garlic stuffed inside, as I was unfortunate enough to bite into two and luckily didn't capture the moment on camera. Rebecca went for the traditional prawn cocktail, as she loves the classic starters, and quite frankly might turn into a prawn at some point.
Moving onto mains, Rebeccas Deli board consisted of some great choices of Palma ham, Caesar salad, potato salad and the tastiest home dried tomatoes we had ever tasted. I went for the Cauliflower cheese pie, and although I didn't overly enjoy it, I feel it was just a bad choice on my behalf. I think I was just in the mood for cheese, and when it came inside a pastry crust, I just wasn't expecting it to be so heavy. There was so much more on the menu I could have ordered, and I was a little disappointed I had chosen so hastily! Don't make my mistake!
As always, the selection of drinks is outstanding at the Trading House, alike to their other restaurants, as they serve so many types of cocktails and wines. You will be pretty spoiled for choice if you like your alcohol. I went for the Watermelon Martini and Peach Melba Bellini whilst Rebecca ordered the tasiest Rasberry Amaretto sour. Drink envy.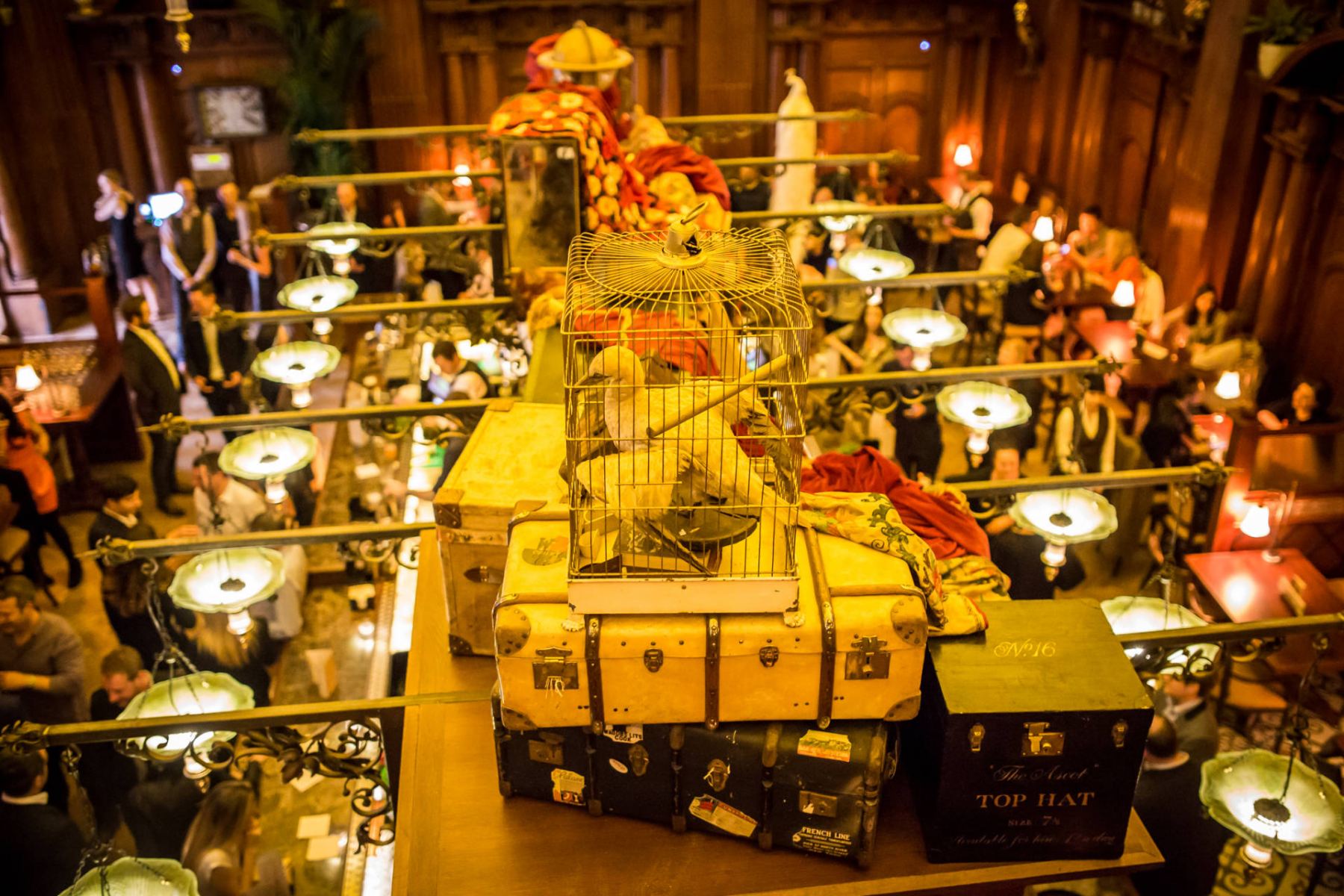 And again, moving onto desserts I made another hasty move and ordered the strawberry and marshmallow kebab. It comes as you would expect and you can drizzle chocolate sauce all down the edges for an amazing treat. But, I went for the safe option, whereas Rebecca chose the Sticky Toffee Pudding and it was divine. Don't get me wrong, the sweet kebab was delicious, but nothing in comparison to the gooey, yummy goodness over on Rebecca's plate. She well and truly won the food, and drink, game that evening.
Although I didn't choose my meal correctly that evening, maybe it was the copious amount of dust I had ingested that day, I know this is a place that will only thrive and thrive. This group of restaurants really know what they're doing, creating playful and unique characters for each of their restaurants, with menus that appeal to every type of foodie. The Trading House is somewhere I would recommend to someone looking for a place they don't need to dress up for, but can wander in on an evening and expect a tasty meal in a cool and vibrant environment.
And for anyone that does want to visit, Trading House were generous enough to offer my readers a discount of 20% off their food if you book a table here! So so pleased they could work with me on such a cool incentive, as cheaper food is always more than fine by me, and I'm sure, by you! The offer is available until the 4th of September if youre planning on a meal out any time soon!
Enjoy!
Sign up here for a weekly catch up of everything Inthefrow